In view of the current situation due to the outbreak of Corona Virus; Inner Line Permits for Leh Ladakh have been put on hold. As per the memo issued by the administration of Ladakh yesterday, "In view of the prevailing situation, and as a precautionary measure; all Inner Line Permits (ILPs) issued by the District magistrate office are hereby withdrawn with immediate effect; and no Inner Line Permit shall be issued till further orders".
What this means as a tourist for you is that you should not plan your trip to Ladakh until this order is revoked and things return to normal. Visiting Leh Ladakh as of now means that you will only be able to get to Leh City but cannot go towards Nubra Valley, Pangong, Tso Moriri or any other sightseeing place. Below is a copy of the memo.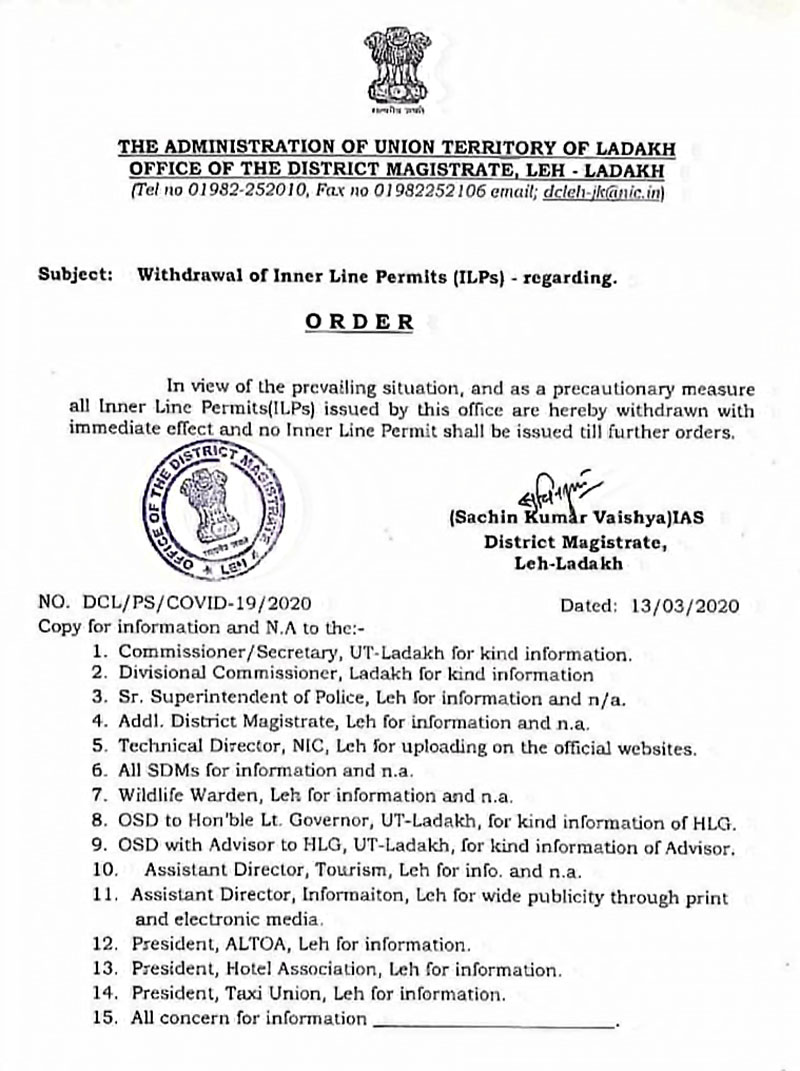 Permits for Leh Ladakh put on Hold
This, however, does not restrict your movement on Manali Leh or Srinagar Leh Highway. You are free to start your journey from Manali, travel to Leh and then return via Srinagar City.
This too, however, cannot be done right now as both the highways are closed. As of now, your only option is to reach Leh City by Air and return.
Srinagar Leh Highway is expected to open by early April; and if the weather remained good, Manali to Leh road too may be opened by late April or early May. If the Corona Virus situation did not improve by then; and you cannot postpone your plans; then yes, you can at least experience the highways for now and see the Leh City. Other sightseeing places in Ladakh will have to be left out for another trip at another time.
If it was to me though, I would best not travel right now. Going all the way to Ladakh and then coming back without sightseeing just seems like a waste of time, money and efforts. In terms of personal safety as well, it is better not to take risks until the virus has been dealt with. Ladakh isn't going anywhere; but if you somehow got infected somewhere, you surely will be going to the hospital and getting quarantined.
Two sites at Ule and Rumbak villages known for Snow Leopard sightings have also been shut down for at least a month.
Two Ladakh Residents Tested Positive for Corona Virus
Two people have yet been tested positive for Corona Virus in Jammu and both were identified as residents of Ladakh. They had both returned from Iran to stay in Jammu and were found infected with the virus. The UT administration has appointed two nodal officers posted at Jammu to look after them and contact infected persons daily. (Source)
You can keep following this thread and I will post an update as soon as the situation is back under control; or you can also follow the Community Forum thread. Until then, stay safe and keep your plans on hold for now.