Spiti is a magical land and there is no doubt about it. I do not mean that you will find real magical creatures here; but the effect it will have on you will be no less than magic itself, a charm. Thousands of people drive on what is famously known as the "Spiti Circuit" and take back home memories of a trip that they will all cherish for years to come. No matter when and how many times you return to relive the experience, your first trip to Spiti valley will always remain your best. You will talk about what happened when you first went to that land called Spiti for a long time. If you too were thinking coming of here, and the plan is to visit Spiti Valley in July this year; then below in this article are a few tips on how you can do so.
Also read: How to Plan a Trip to Spiti Valley – A Complete Travel Guide
Spiti valley remains open for tourism throughout the year. People continue to visit in all 12 months but if you talk about the peak tourist season, I will say that it is limited to the months of June, July, August and September. Manali Kaza highway gets declared open for tourists sometime by late May or early June which pretty much marks the beginning of tourist season in the valley. Come July and every tourism activity including hotels, guest houses, restaurants are all operational. So yes, a trip to Spiti Valley in July is definitely possible but you must keep in mind a few things which I will talk about in the post below.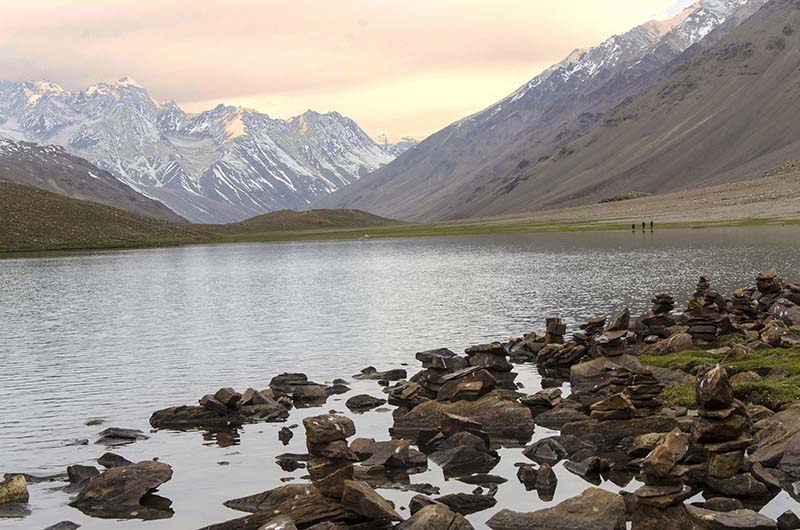 How to reach Spiti Valley in July?
There are two ways that you can enter Spiti valley. One is while traveling from Shimla via Reckong Peo, Pooh, Nako, Tabo and Dhankar. This is the longer of the two routes and from Shimla; it will take you at least 2 days to reach Kaza, the headquarters of Spiti valley. There are however no high altitude passes in between and the increase in altitude is very gradual; due to which this road remains open throughout the year.
The other route is via Manali. This route is way shorter than the Shimla route but will take you across two high altitude passes and one of the worst patch of roads you have ever been on. The journey from Manali to Kaza is of about 7 to 8 hours depending upon your speed and a total of 210 kilometers.
Also read: Spiti Valley Roads Opening and Closing Times
Within this short distance however are two high altitude passes; Rohtang La and Kunzum La; both of which are well known to receive high amount of snow each year. Kunzum Pass as a matter of fact is one of the earliest passes to get snowfall. It can snow here anytime after September mid; due to which the stretch between Manali and Spiti remains open only for 4 months. It gets declared open sometime in late May or early June and only after this you can complete the entire Spiti circuit.
Even though it is longer, another benefit of going via Shimla is that because of the gradual increase in altitude, you are less prone to be suffering from symptoms of high altitude sickness. If traveling with family, then Shimla should be your preferred starting point for the journey.
Is Spiti Valley Open in July
The answer to this questions is a definite yes. The entire Spiti circuit remains completely open during the month of July. The roads connecting the valley to rest of the country via Shimla and Manali become accessible at this time. All internal roads within Kinnaur, Lahaul and Spiti too remain open throughout the month. Since it is the peak tourist season, all hotels and guest houses too will be operational. Other tourism related businesses like bike rentals, taxis, hiking, trekking etc remain available at this time. So yes, to answer in one line, Spiti valley is all open in the month of July.
Please do keep in mind though that the roads here are highly prone to landslides. A particular section of the road getting washed away and blocked for several days altogether is not an unusual thing here and can happen at any time of the year. So before you start for the trip, it will be a good idea to get a rain check done and make sure that the roads are all open.
Also read: How to Handle Acute Mountain Sickness in Spiti Valley?
Monsoon in Spiti Valley
Yes July is when Monsoon in the valleys of Lahaul and Spiti arrives and this will be your biggest concern. It is monsoon that can cause moderate to severe landslides anywhere in the region; and it is monsoon that will cause numerous water streams along the way. It is monsoon that will keep you drenched for hours as you ride along. So the first thing you will need to do when you go to Spiti in July is to waterproof everything if you were going by motorcycle. If you were driving in your car, then still make sure that you have proper rain gear because you will definitely not be sitting in your car all the time.
Another thing to note here would be to get a check on the weather done before heading to Spiti. If you are getting news of severe rainfalls and landslides all across Himalayas, it would be best to give up the plan for now; and postpone it by a few weeks or months; until it is safer to go.
Motorcycle Trip to Spiti Valley in July
If you are traveling on a motorcycle, it would be wise to carry clothes and all your belongings in water proof bags and even then, wrap those bags in plastic sheets or tarpaulin before you rope them on motorcycle. Always carry extra plastic bags and tarpaulin just in case the one you are using gets torn. Keep your electronics, wallet and important documents wrapped in a plastic sheet all the time. Carry a good quality rain suit because you definitely do not want to continue riding in such cold temperature while you are soaking wet.
Changing clothes every time you get wet is also practically not possible. Your shoes too must be water proof. Pack clothes that are light in weight and will dry fast enough. If you can, do carry an umbrella as well. Before you start on your trip, get your motorcycle serviced and the entire wiring checked to ensure there is no wear and tear that may cause short circuit in rain.
Check your tires before you start on the trip. If the tires are old and worn out, replace them. Ride in a lower gear very slowly through the slush. Ride through the tracks made by four wheeler and trucks as the slush is less there.
Traveling to Spiti Valley in July by Car
If you are traveling in a car, avoid putting any luggage on the roof as far as you can but if you must, then put stuff that is not at risk of getting ruined by the rain. For example your camping gear if you are carrying any or Jerry cans for fuel if you haven't filled those up already. If you are roping any bags up there, then ensure that everything is tightly wrapped in plastic and there is a thick tarpaulin covering the roof. Take out all electronic items, papers, wallets etc before you mount the bags on the roof.
Protect your Camera
One electronic device that gets used the most on trips like this and is at risk of getting ruined is your camera. Buy a rain-sleeve for your camera if you can. If not, then ensure that you keep it protected from not only rain but also moisture. Do not carry your regular DSLR bag; rather buy a waterproof bag for your camera and accessories.
Driving Tips for going to Spiti Valley in July
One thing that you need to be prepared for is driving through slush and water crossings in July. There are several areas where rain plays havoc creating a lot of slush, like Rohtang Pass, area between Reckong Peo and Nako ; or the entire Manali Kaza route for that matter. Heavy rains can wash away parts of narrow road leaving vehicles struggling through slushy bends. Taking your car across such stretches can be a challenge and you need to be extra careful while doing so.
While crossing a nallah in a car, please stop for a minute, step out, inspect the crossing and then take your car across very carefully. If you are still unsure then wait for a little while for another car to arrive and follow its lead. Stay in the first gear, do not half clutch and cross over in a single go while maintaining the momentum. If there is slush around, then ask your fellow travelers to step out of the car so that they can help push the vehicle if you get stuck.
Accelerate slowly to ensure that your car doesn't skid. You really need to go easy on the gas to avoid your wheel spinning. Avoid any sudden movements on the steering, accelerator or brakes as this may send your car spinning. If you are highly doubtful of your driving skills and are not feeling too comfortable with the idea of driving on such roads, then I suggest you hire a driver who is a local from Manali.
Keep Buffer Days in your Itinerary
Next concern is of landslides caused by rain and to tackle that, you must keep a couple of days in buffer. There is a high possibility that certain part of the highway may close down for a few hours or even a couple of days because of landslide in which case you will have no choice but to go to the nearest town and wait it out. You also need to be careful while driving through areas that you see effected by rain or have a lot of dirt or mud around because it is not always a major landslide but smaller ones too. Some stones may just slide down from the top damaging your vehicle and injuring you. Good part however is that BRO has put up warnings in areas where this may happen. If you see a board that reads "shooting stones", stay alert.
What to wear in Spiti valley in July?
Monsoon once again will play a major role in this. It is definitely not going be too cold except for nights. Days will be pleasantly warm but yes, wind can change this all of a sudden. Weather of Spiti is a bit tricky in this way. When I say tricky, I mean that you will feel cold if there is wind and you will feel OK the moment the wind stops. If you were standing in the sun, you will feel warm but will feel cold if you stepped out of it. Sun will keep you warm but will also start to burn your skin if you stayed in it for too long.
So when you pack your your clothes for Spiti valley in July, you will first pack all your regular cottons. Make sure you are packing clothes that can dry faster if required. After your cottons, put in a few light woolens but definitely not the heavy ones. After woolens, pack a heavy windproof jacket that has a hood to protect your neck, face and ears. Gloves of course will be an important accessory to put in. Most important of all would be to pack a rain gear. Find a good rain proof jacket and bring it along. If you were traveling by car then carry an umbrella as well.
Also read: Clothes for Spiti Trip – What to Pack?
This is what you should be packing for visiting Spiti Valley in July.
A heavy windproof jacket (waterproof if possible)
Cap or Hat if your jacket did not have a hood to cover your head
Pair of thermals
Plenty of Cottons
Light woolens
Regular Sports or trekking shoes
Regular Socks
Sun Glasses
Other Items to Pack
Some of the other items that you may need are as below.
Sunblock lotion with highest SPF that you can find
Lip Balm
Nasal Drops
Pain Relief Spray
Moisturizer
Toilet Paper
Gloves
Rubber Sandals
Packing Your Stuff
If you were traveling by car then you got nothing to worry about in this aspect actually. Just do not put anything on the roof of the car and you will be OK. If however you were on a bike trip, then there are two things I would recommend you to bring. First are the large polythene bags; the type they give out with clothes when you go shopping in malls or showrooms. Second thing is a few meters of that large black polythene cover you can get at the hardware stores. When packing your bags, first wrap all your stuff in polythene bags and then pack it.
Finally, wrap your bags in the black polythene before roping it on motorcycles. This will keep your bags protected from both water and dust. Even if it did not rain, you will still be crossing water streams so water proofing everything will be important.
Water Crossings
Now let us talk about the water crossings. Or rather, let me put it this way. Summer has arrived and sun is shining bright. Temperature is cold but not cold enough to keep everything frozen. Snow is melting fast and is fueling life in those water streams; some of which are small rivulets and some large nallahs. Monsoon too has joined the club and is raining it all in the streams. It is party all around.
Also read: Mobile Network and Data Connectivity in Spiti Valley
Jokes apart, water crossings are a serious matter; and while it is fun to be crossing them, you can get hurt as well. There are a few large water crossings on the way that are notorious like the infamous Malling Nallah after Nako. Majority of them however are between Kaza and Manali. During my last Spiti trip, I counted over 60 water crossings on this stretch, of which about 50 were on the small 60 kilometers section between Batal and Gramphoo. So yes, that is roughly one water crossing per kilometer. That was actually in August but even in July, you will find water crossings in ample amount.
Best Vehicle for Spiti Trip
Do not even think about bringing a hatchback or Sedan out here in July if you have even the slightest amount of love for your car. And if you did, then skip Manali and go back to Shimla from Kaza. If you still want to cover Manali route then make sure that you hate your sedan/hatchback; and have good driving skills. Motorcycles are all OK but if you are riding a 150CC one, then better ride solo and as light as possible. If you are with a pillion then an Enfield would be a better choice; either a 350 or 500 cc.
Car or Motorcycle?
There is really no set or definite answer to this as it will entirely depend on what you are more comfortable with. It is entirely a personal preference. If however, you do not have a car with good ground clearance, it would be better to opt for a motorcycle.
Get your Car / Motorcycle Ready
Irrespective of whether you decide to travel by car or motorcycle, the most important thing to do is to get your vehicle ready. Mechanics in Spiti valley are a rare thing. Until Kinnaur Valley, you will keep coming across Mechanics but once you reach Upper Kinnaur, there are no mechanics after that until Kaza and then until Manali. So you must pay close attention to getting your vehicle serviced and ready for the tough journey ahead. Replace or repair whatever seems dicey and carry some necessary spares along.
For a detailed description on how to prepare your vehicle for Spiti trip and what spares to bring, please take a look at the two articles below.
How to Prepare your Car for Spiti Trip?
How to Prepare your Motorcycle for Spiti Trip?
Petrol Pumps in Spiti Valley
Gas stations are not really a problem in Spiti and unless your vehicle was giving severely low mileage, you do not need to carry spare fuel. Until Reckong Peo, you will keep coming across petrol pumps at regular intervals. Between Peo and Kaza, for a total of 200 kilometers, there is no fuel available and then there is none between Kaza and Manali as well for about 160 kilometers. But a tankful at Peo should be enough to get you to Kaza and then another at Kaza should be sufficient to see you in Manali.
Hotels in Spiti Valley in July
You will not have any problems in that aspect anywhere on the circuit. From Shimla to Kaza to Manali, all hotels and guest houses at every major stop point will be functional. Spiti has not yet been affected by the maddening tourist rush like Ladakh so you do not even need to book your stay in advance. Just arrive at your destination, find a hotel per your liking and negotiate an on the spot deal.
For Budget planning, keep an average of Rs. 1500 per day as minimum accommodation cost. At some places you can find hotels cheaper than this, and may have to pay more at some others; depending on your negotiation skills.
Snow in Spiti Valley in July
It will be hard to find snow in Spiti valley in July. Whatever little snow is left will be at top of either Kunzum Pass or Rohtang Pass; nowhere else. You will definitely not catch a live snowfall; unless you were running high on luck and it started to snow at Kunzum and Chandratal while you were there.
Chandratal in July
The accessibility of Chandratal completely depends on the opening of Kunzum Pass. Sooner the pass opens, sooner the lake will too. But by July, both the road to Chandratal and the camp sites here are all open. Camping here for the night will also be probably your coldest night of the entire trip so be prepared for it. The 14 kilometers long road from Batal to Chandratal will have your heart jumping to your mouth at several places if you were in a car. This is a very narrow road, barely wide enough for one car, completely broken, with water crossings and slush and is also very steep at several places.
Also read: How to Plan a Trip to Chandratal?
Public Transport in Spiti
Like all other tourist related activities, public transport too will be completely operational. The HRTC Manali to Kaza bus resumes its service in the month of June; Shimla to Kaza runs all year long. Apart from the buses, you will also easily find shared cabs on the route. The section where there is no public transport is between Batal and Chandratal where you will either have to hike or hitch hike.
Shimla to Kaza in July
To summarize this part of the journey, you may encounter rain until Reckong Peo but after that chance will be less. The bad part of the road will be between Pooh and Khab, Pin Valley and then between Dhankar and Kaza. There won't be many water crossings in between and Malling Nallah at Nako will be the largest.
Also read: Why & When you should travel to Spiti from Shimla
Manali to Kaza in July
This part of the journey will be on a completely broken road. It can rain anytime here and you will cross enough water streams to last a lifetime. The only good section of the road will be between Manali and Rohtang, rest is all broken and damaged. At some places, there are even boulders on the road. And don't be too happy about Manali – Rohtang stretch either. The road will be good but the traffic jam will have you biting your nails and pulling your hair in agony. Yes, there are traffic jams longer than the ones in city here at Rohtang.
Also read: Why & When you should travel to Spiti from Manali

Spiti Valley Weather in July
Weather in Spiti valley in July will mostly be pleasant. Days will be moderately warm but nights will still be very cold. Clouds will play hide and seek all day long and it may rain at anytime. The chance of rain however is mostly around Manali, Shimla, Lahaul and Kinnaur valley rather than Spiti itself.
Spiti Valley Temperature in July
Day temperature in Spiti valley in July will fluctuate between 15 to 25 degrees Celsius; depending on where you are and what time of the day. Temperature at night will drop to close to 10 degrees. Please note that around Shimla and Kinnaur, this temperature can be a bit higher; and at Chandratal, it will drop even further below.
Also read: A Complete List of All Tourist Places in Spiti Valley
Sightseeing in Spiti Valley in July
Now let us take a quick look at what all places you can visit during your trip to Spiti in the month of July. The answer actually is "pretty much everything". The entire valley of Spiti and the neighboring areas of Shimla, Kinnaur, Sangla, Pin, and Kullu are all accessible at this time. Let me break down the information by areas, starting from Shimla and ending at Manali.
Kinnaur Valley in July
Shimla / Narkanda in July
July is actually the off-season in areas around Shimla and Narkanda. So there will not be many tourists around but it will be open for tourists. You will definitely be able to find a place to stay easily and can visit all of the tourist attractions here. Hatu Peak in Narkanda is a great place to visit on the way.
Sarahan in July
Sarahan too will be open for tourists in July. Weather here is, in fact, more pleasant than in Shimla and Narkanda. Road conditions will be good all the way till Sarahan. Bhimakali Temple here is worth a visit. There is a bird sanctuary as well in Sarahan but it remains closed during the months of July and August.
Sangla in July
The town of Sangla will remain open in June. Weather will be pleasant during the day and cold at night. The road between Karchham and Sangla is a bit bad in some places.
Also Read: Food to try in Spiti Valley
Chitkul in July
The road from Sangla to Chitkul is a mix of bad and good but you will be able to reach Chitkul easily. The natural beauty and the tranquility of the place are what makes Chitkul worth visiting and including in your itinerary. There is a day-long trek from Chitkul which can bring you to some amazing vistas.
Kalpa in June
Kalpa, in fact, remains open for tourists throughout the year except for some days in winter when heavy snowfall may block the road between Reckong Peo and Kalpa. In the month of July however, you can easily reach Kalpa. The view of majestic Kinner Kailash peaks is what makes this town a great destination to visit.
Pin Valley in July
Not many people really venture towards Pin Valley while going to Kaza. Even I covered it during my third trip and ignored it entirely the first 2 times. The good part is that you can actually visit Pin without spending too much time if you were short on days. While traveling from Dhankar to Kaza, there is a road that deviates towards Pin Valley near Attargo. From there, Mud Village is hardly 30 kilometers. So you can actually visit Pin Valley in just about 2 hours and continue to Kaza if you were short on time. If you had a day to spare then I will recommend you to spend sometime here and enjoy the amazing scenic beauty of the valley.
Spiti Valley in July
Nako, Tabo and Dhankar in July
All these three towns fall while on the way to Kaza and they will all be open. Accommodation will be available at all three places
Kaza in July
The town of Kaza is the headquarters of Spiti valley and this small town, in fact, remains busy throughout the year. If you arrived here in July, you will find plenty of tourists around and will easily find a place to stay. In fact, come here in any month of the year and you will find it busy still. Hotels in Kaza remain operational the entire year. This is the place where you will find all basic things in Spiti Valley including petrol pump, mechanic, medical assistance and pretty much everything.
Kibber /Komik / Langza / Hikkim / Chicham / Tashigong
These are some of the remote villages of Spiti valley and are very scenic. If you have time, then definitely stay for a day in Kaza; and explore these tiny hamlets. Accommodation in these villages is available in the form of paying guest only. You can actually cover all of them in a day's trip. Start early from Kaza, explore these places and return by evening.
Kunzum Pass in July
The Pass of Kunzum gets declared open sometime in May but can get delayed some time. Like in 2019, the road did not open until the first week of July. But this was really an odd instance. Historically, it is open by May end or early June at the latest. What this means is that you can plan a journey on the entire Spiti Circuit in July and visit Kunzum Pass as well.
Also Read: How much a Bike Trip to Spiti Valley will Cost?
Chandratal in July
Chandratal too is accessible in the month of July. All campsites will be up and running and you can plan a night stay as well at the beautiful lake. Historically, the road to Chandratal gets open in early June after Kunzum Pass is freed of snow. After that, it takes about 10 to 14 days for the campsite owners to set up their tents and start receiving visitors.
Monasteries in Spiti Valley in July
Monasteries in Spiti are actually open the entire year. It doesn't matter when you come, you will be able to spend some time in the monasteries to learn and observe. The following monasteries offer night accommodation to tourists if you wish to stay for the night.
Key monastery near Kaza
Tabo Monastery
Dhankar Monastery
Kungri Monastery in Pin Valley
Komic Monastery
Things to do in Spiti Valley in July
Apart from sightseeing at all the other places, listed below are some other tourist activities that you can enjoy in Spiti Valley at this time.
Camping
Trekking
Photography
Star Gazing / Night Photography
Attend local festivals
Try some local food
Shopping
Paragliding
Rafting
Thing is that most of the adventure activities like paragliding, rafting and trekking are usually shut down during the monsoon season. If you were however traveling in early part of the month, you will be able to do all that I listed above.
Also Read: Shopping in Spiti Valley – What to Buy
Festivals in Spiti Valley in July
For a complete list of festivals celebrated in Spiti and their timings, I will recommend you to take a look at Festivals in Spiti Valley – A Colorful Celebration of Life. I have listed the festivals in this article with great details and months they are celebrated in.
Snow in Spiti in July
You may find some snow at Kunzum top and Rohtang Pass but that will mostly be it. Snow is all gone from all the other areas on the circuit and these are the only two places where you will find snow on the ground in July. Chances of catching a live snowfall are next to none. It does not snow in Spiti in July. Even if it did, it will again be at Rohtang and Kunzum top and not too much.
Lahaul Spiti in July
I am adding this point here since there is usually a confusion around this. People tend to think Lahaul and Spiti as the same place which is actually incorrect. Lahaul valley is the area around Keylong and Udaipur; where Spiti valley is the area around Kaza and Chandratal. These are two different valleys and you will only be visiting Spiti unless your itinerary also includes a stay at places like Keylong, Jispa, Udaipur etc. Irrespective however, Lahaul Spiti in July are both open. If time permits, you can include both these beautiful valleys in your travel plan and explore more.
Road Conditions in Spiti Valley in July
Starting from Delhi, the road will remain mostly smooth all the way till Rampur. It starts to deteriorate a little after that but doesn't get too bad. Between Rampur and Karcham, the road is mostly a mix of good and average. The road between Karcham and Chitkul is a narrow one with some bad stretches in between. From Karcham to Nako is a mix of good, bad and average. The road between Reckong Peo and Pooh is a bit of a dangerous stretch. This is a shooting stone prone area and this is where two bikers from Punjab died after some boulders fell on them from above while riding.
Nako to Kaza is mostly all average but it starts to get worse as you get close to Kaza. The 30 kilometers long road to Pin Valley is all badly broken dirt trail. From Kaza to Manali is one nightmare of a road with so many water crossings that you will lose count. The road to Chandratal is barely wide enough for one car and is a dirt trail all the way with a few water crossings in between.
Acute Mountain Sickness in Spiti Valley
Mountain sickness in Spiti valley can be a problem if you started from Manali side. The increase in altitude then happens to be a bit sudden for your body to accommodate and this may trigger the symptoms of AMS. If you, however, went via Shimla, your journey will be spread over a few days and increase in altitude will be gradual. Altitude sickness, in this case, will be very rare. The places where a person has the chances of suffering from AMS the most are Chitkul, Nako, Kaza, and Chandra Tal. Of these as well, Chandratal is the spot where you are most likely to be down with AMS and this is the reason why a trip from Manali side with a stop at Chandratal is not advised.
Also Read: How to Travel from Manali to Spiti Valley
Permits for Spiti
There are no permits required for a trip to Spiti for Indian nationals, either from Shimla or Manali side. The only spot where you will need a permit to go to is the Shipki La Pass. Foreign nationals, however, are required to acquire an inner line permit for completing the circuit. I have covered this topic in great details in a different post, How to Obtain Inner Line Permit for Spiti Valley that I will recommend you to read.
Spiti Valley Trek in July
Trekking routes in Spiti are open in July except for a few in Kinnaur that may become inaccessible after it starts to rain towards the end of the month.
Camping in Spiti Valley in June
Like Trekking, camping too is possible pretty much everywhere in the valley. Chitkul and Chandratal are the two most favored campsites on the circuit but you will find a few at other spots as well. If you were carrying your own gear, there are a lot of spots where you can pitch your tent.
Spiti Valley Road Trip Itinerary
In the end, let me recommend an itinerary that you can follow for your road trip. For the sake of this article, I will assume that you are traveling from Delhi. If your journey was starting from a different place, then only the travel on Day 1 and last day will be different, rest of the details will still apply.
Delhi to Shimla / Narkanda – Day 1
Shimla / Narkanda to Chitkul – Day 2
Chitkul to Kalpa – Day 3
Kalpa to Nako – Day 4
Nako to Mudh Village (Pin Valley) – Day 5
Mudh Village to Kaza – Day 6
Kaza to Kye Monastery / Kibber / Komik / Chicham / Langza / Hikkim / Tashigong to Kaza – Day 7
Kaza to Chandratal – Day 8
Chandratal to Manali – Day 9
Manali to Delhi – Day 10
The itinerary above is keeping in mind that you do not travel too much or too less on any given day. Journey on Day 1 and 10 of course will be the longest as you travel from and to home; on rest of the days it is an average of 5-6 hours of travel at most.
Also read: How to Plan a Trip to Pin Valley?
How safe is Spiti valley?
Spiti Valley is a very safe place as long as you drive sensibly, avoid any altercations with people, do not take unnecessary risk and plan your trip well. People of Spiti are very humble and will do everything to help the tourist folks. Crime here is very low. But in the end, you will have to act sensibly on your own for your trip to be a safe and enjoyable one. You must also have some driving experience in the hills before you bring your car or motorcycle on this route.
Important FAQs about Spiti Valley
Last but not the least, below are a few most commonly asked questions about Spiti Valley.
1. Is July a good time to visit Spiti valley?
Yes, July is a good time to visit Spiti valley but it would be better to plan in early July to avoid the monsoon.
2. Is there snow in Spiti in July?
Not in the lower areas but you will definitely find some at top of Kunzum and Rohtang Pass.
3. What is the best time to visit Spiti valley?
The month of September can be considered as the best time to visit Spiti but much of it will also depend on what exactly you were looking for.
4. What is Spiti Valley famous for?
Spiti Valley is famous for its natural beauty. It is the least populated region of India. The slow transformation from lush green hills of Shimla to Barren brown of Spiti and then back to green of Kullu Manali will definitely take your breath away.
5. How do you travel to Spiti Valley?
Due to its location, a trip to Spiti is only possible by road, either by your own vehicle or public transport.
6. When does Manali Kaza road open?
Manali Kaza road opens towards late May or early June.
7. Where is Pin valley?
Pin Valley is located about 60 kilometers from Kaza, the headquarters of Spiti Valley, towards Dhankar.
8. Where is Chandratal Lake Situated?
Chandratal Lake is situated in Spiti Valley, about 16 kilometers from Batal and 18 kilometers from Kunzum Pass top.
9. Is Spiti valley worth it?
Yes, Spiti Valley is definitely worth every single penny and minute that you spend here. A trip to this part of India will leave you with memories that will last a lifetime. It is a must visit place for every Indian.
Can we visit Spiti Valley in July?
Yes definitely you can. Continuing from the point above, even if you cannot plan in first half of the month and can only go towards July end then by all means, do carry on with your plans. Just keep the above points in mind and have a safe journey. In order to summarize the information I provided above,
Spiti Valley in early July
Better time to go, will avoid the rain, entire valley will be open but there is a very small chance Manali to Kaza road may be closed blocking Kunzum Pass and Chandratal.
Spiti Valley in July End
If you are visiting Spiti valley in July, then try to plan your trip in first half of the month; if possible at all. In later part of July and towards its end, monsoon just adds unnecessary hassle and may spoil the fun out of your trip. Riding around in rain is fun but definitely not in Spiti. Out here, roads are broken and dangerous; and riding or driving with water beating down on your windshield or helmet is the last thing you want.
I do hope the information above on visiting Spiti Valley in July was of help. If you have any further questions; or need any other details; please feel free to ask in the comments section below; or at our Community Forum; and I will be glad to answer.