The call from the Gods to be at Sach Pass and to ride from Killar to Kishtwar had been ringing for a long time. Somehow it went unresponded for a while but then finally I couldn't stop myself and picked it up. I was invited to come to see for myself this remote land and its biosphere.
The timing coincided with the 15 August long weekend. I floated the idea in my local group but no takers there. I guess they didn't get the call.
So I was the chosen one and solo it was. I first got the 'very important' approvals from my parents and my wife. With that done, I was all set for the ride on the 12th of August with the route finalized as Ludhiana-Chamba-Bairagarh-Killar-Kishtwar-Jammu-Ludhiana.
Then the weather Gods also got into the loop and I was ordered to postpone the trip by week for my happy traveling. But this gave me some additional time to prepare for the ride ahead.
Killar to Kishtwar Road Trip Preparation
During the preparation for the trip, I ordered a set of saddle stays for my KTM Duke390. Somehow they got delayed. Not wanting to delay my trip, I had to improvise with a regular bag bungee tied securely at the back.
I got a cigarette lighter attachment fitted from battery directly to power my phone; and an air pump as advised by a veteran of Sach Pass and fellow BCMTian Amandeep Grewal.
I requested and borrowed the air pump and puncture repair kit from a fellow BCMTian, co-rider of my Spiti ride in September2015, friend; and also a KTM D390 owner Praveen Dua Ji. I also got my tires slightly overfilled keeping in view the stony and rocky terrain.
Also Read: How to Plan your Trip to Sach Pass – Himachal
Killar Kishtwar Itinerary
I did not have too many days for the trip so my itinerary was a short one.
Ludhiana to Bairagarh – Day 1
Bairagarh to Sach Pass to Killar – Day 2
Killar to Kishtwar to Jammu – Day 3
Jammu to Ludhiana – Day 4
Two days before the ride Praveen Dua Ji called and said that he will be joining me in riding till Chamba as he had some work there.
Ludhiana to Bairagarh – Day 1
So on 19th August morning at 5.30 am, two KTM D390 rolled into the sunrise, headed for Chamba.
With the KTM390 cruising at a cool-110-115 kmph on the empty early morning highways, we reached Mamoon Cantonment Pathankot at 7.15 am and stopped for a cup of tea.
A drizzle started while we were there and Parveen Ji realized that he was not carrying a raincoat. With guidance from the tea stall owner, we went to the Railway station market about 3kms into the town. Luckily, we found a shop that was opening just his shop shutter and had raincoats. We bought one and just as we were rolling out, the drizzle turned into a downpour.
We donned our raincoats and off we rolled into the downpour. By the next 40 km we were fully drenched INSIDE our raincoats and so decided to stop for breakfast.
Our breakfast of aaloo-piaz parathas. We took a good 45 minutes to eat our breakfast but the rain didn't abate. With no option, we decided to carry on nonetheless. The idea was to lose as little time as possible but the progress was painfully slow.
The rain stopped abruptly the moment we entered the Chamba valley at Banikhet and were greeted with lush green farmlands. After packing our rain gear, we clicked some photos, and off we were to Chamba, speeding on the welcoming dry tarmac.
Chamba
We reached Chamba at 12.45 pm. After filling petrol in our bikes we moved in opposite directions. Parveen Ji towards Hadsar for his Mani Mahesh Kailash yatra and myself towards Bairagarh and onwards to Sach pass.
The road to Bairagarh goes along the river Ravi at first. After some time, it leaves the Ravi behind and runs along its biggest tributary, the Kundla River.  Both the rivers are very scenic but the overcast conditions didn't allow the most appropriate captures.
Also Read: Sach Pass to Spiti Valley – Adventure & Excitement
The road was initially good but I soon encountered broken and no road conditions with heavy dumper truck traffic ferrying sand. I had my lunch of rajma-chawal at the village Alawas at around 4 pm at a Dhabha run by a very hospitable guy named Karam Deen.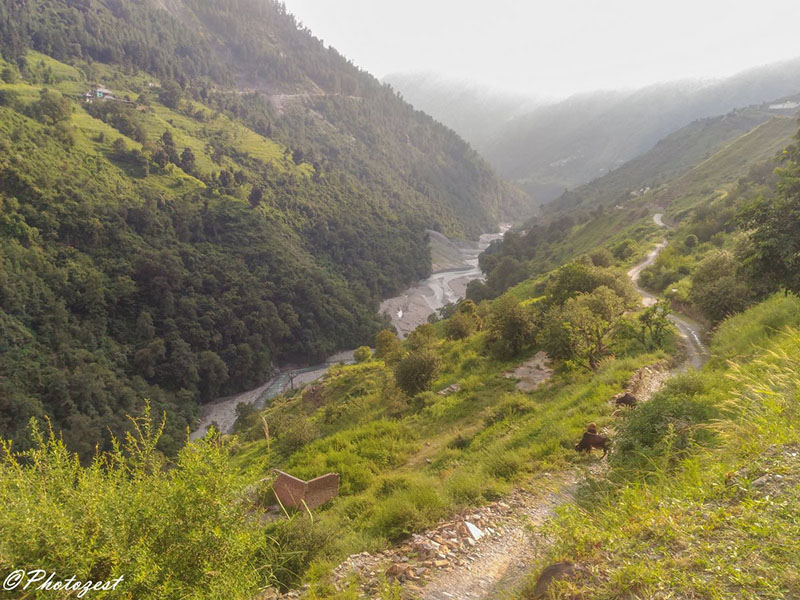 Bairagarh
I reached Bairagarh which is 85kms from Chamba at 5.45 pm. After checking out various stay options, I opted for Chamuda Hotel at Rs. 900 for the night. It was a clean airy room and bathroom with a geyser. This place also has CCTV coverage for the parking.
I had a bath, lubed the chain of the bike, had dinner over a conversation about the details of Sach Pass, and retired for the night at 8.30 pm for a fitful sleep. Ludhiana to Bairagarh via Chamba had been a 385 km ride with almost 240 km of it being mountain riding.
Also Read: Sach Pass and Spiti Circuit – Trip of a Lifetime
Bairagarh to Sach Pass to Killar – Day 2
The morning dawned clear and bright at Bairagarh. I got up at around 7 am and it was chilly enough to make me wear a fleece pullover over my nightdress. I took a leisurely stroll around town greeting everybody who was up and about. My smiles were returned with warmth.
A few energetic kids wanted me to accompany them up a hill where their herd of cattle was tied. It sounded fun but i was short on time so I gently refused. I went back to the hotel at 7.30 am and inquired about breakfast. I was told that the cook will come at 8 am.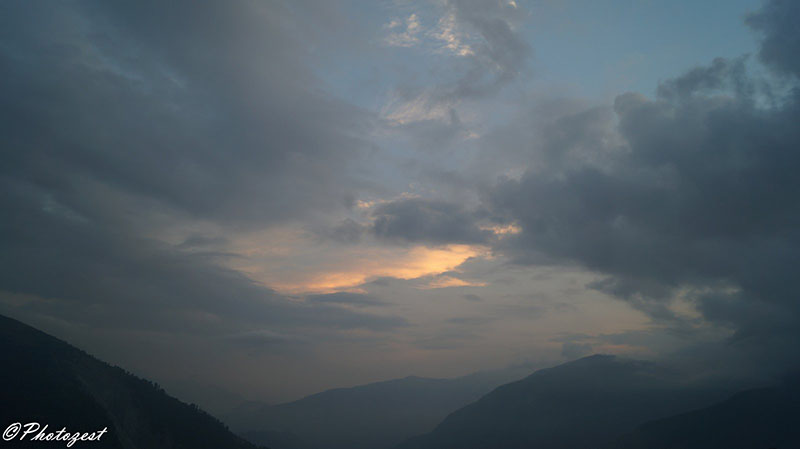 The Coffee Episode
So I requested the staff for coffee. I told them to please mix a spoon of coffee with 2 spoons of sugar in a glass and bring it to me for creaming/beating. They were surprised at the request but brought the ingredients nevertheless. After creaming it properly, I took it to the kitchen upstairs and handed over the glass to the staff; instructing them to put one part milk and 3 parts water boiled together into the glass and give it to me in my room downstairs.
A few minutes later, they brought me an odd-looking liquid in the glass-which definitely didn't look like coffee. On inquiring that what have you guys done, the staff said that the cook asked him to put jaggery (gudd) in the glass. That is why the liquid is odd colored.
I could figure out that this was most likely because of overnight milk has gone bad. I told the waiter to get me another mixture of coffee and sugar, stand in front of me when I beat it, bring me fresh milk and then see for himself what a cup of coffee looks like; which I eventually got.
But this took well over 45minutes. I ordered the breakfast of omelet and parathas, packed luggage, and mounted it on the bike while sipping coffee.
Also Read: Sach Pass Bike Trip from Delhi | An Unforgettable Trip
Bairagarh to Satrundi
I moved out after settling the bill at 9.14 am and started for Sach Pass. I barely went 2 km out of town and the weather turned cloudy. Just as I was entering the Kalaban area, an intermittent drizzle started. This would accompany me until Bagotu.
I was in no hurry and was soaking in the atmosphere which was rightly very scenic but the drizzly cloudy weather limited photography. Lots of small waterfalls and water crossing came along the way. The road now was stony and my overfilled tires were making me bounce on the seat; with absolutely no cushioning on the bumpy road.
But this discomfort was the price that I was ready to pay to minimize the chances of tire damage/punctures as I was alone. I met with a few bakkerwals with their sheep and horses grazing in the scenic grasslands. One group told me that they would have served me tea if I had arrived a few minutes earlier. They were winding up their breakfast and packing their utensils.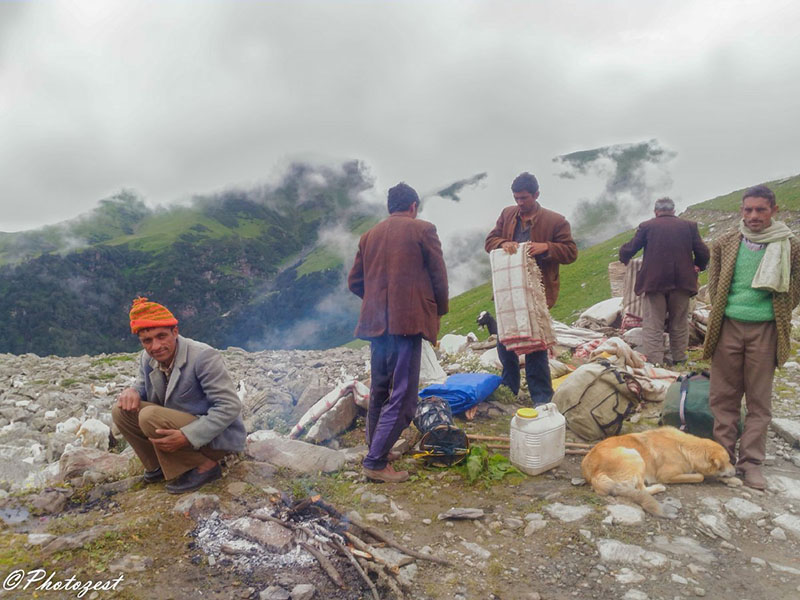 Now the snow could be seen in the ravines and mountain tops. When I reached the Satrundi check post, I was videographed by the police personnel there along with all RC and license copies and contact details.
There was a well-equipped Dhaba there with provision for meals near the check post. If I had known about this, I would have moved out of Bairagarh without wasting time for breakfast and could have easily saved an hour.
Satrundi to Sach Pass
After Satrundi, the landscape becomes more barren and rocky. While I was absorbing the scenic beauty of the helipad area, a group of eleven WET Australian bikers with their back up Bolero came down from the Sach Pass area. They started at 7 am from Killar and it was now almost 11.45 am.
So I kind of got the idea what the ride down from Sach would be like. But my "Blor Betty", my D390 said "Giddy up boy" and off we climbed slowly and steadily as the road surface deteriorated from a stony path to wet boulders with dirty snow on the mountainsides.
The weather was now cold and I wore my fleece pullover under my riding jacket. But my hands were getting frozen due to the damp summer riding gloves. I had to ride real slow for the fear of falling on wet boulders and it took me well over one hour to reach Sach top with frequent breaks to admire the serene and absolutely stunning surroundings.
I thanked the deity, Mata Ji, at the top for allowing me safe passage and crossed over from the Chamba valley to the Pangi valley on the other side. Surprisingly the sun came out for a few minutes while I was at the top bathing the whole place with a pleasant glow and warmth for which I was heartfelt gratitude to the Lords of Sach.
Just as I crossed over to the Pangi valley, the landscape changed from a open wide valley to a narrow valley not more than a couple of hundred meters across. As I stopped to view the ice walls, it hit me-The CHILLY wind.
Also Read: Sach Pass in October – The White Wonder
Sach Pass to Bogotu
My wet gloves led to numb hands. My helmet has a top air vent that is stuck in an open position. Hence the insides were wet from the area around the vent.  It suddenly felt like I have an ice cube stuck of the top of my head inside my helmet.
A few hundred meters down the road, the rain joined the part in earnest. I covered my DSLR bag with its rain cover and wore my raincoat. Due to the wet boulder-strewn road and sharp descent, progress so very slow. A couple of shepherds walking down the slopes through the shortcuts could easily keep pace with my performance on a motorcycle and were smiling at my predicament. Nature is a great equalizer, isn't it?
My bike's ABS was working overtime. The rain stopped after about 30-40 minutes and then it became foggy. I had to keep my helmet visor open to avoid misting. I removed my raincoat. By this time due to the icy dampness inside the top of the helmet and keeping the helmet open and maybe due to the AMS, I developed a headache which slowing started getting more painful.
Just as I was nearing the Bogotu dhabas, the sun came out. The Bogotu nallah posed in front of me with full glory covering a distance of approximately 100 feet across. I stopped to gauge its flow force and depth and realized it was around 1.5 feet deep in the center and around 10 inches of water at the sides.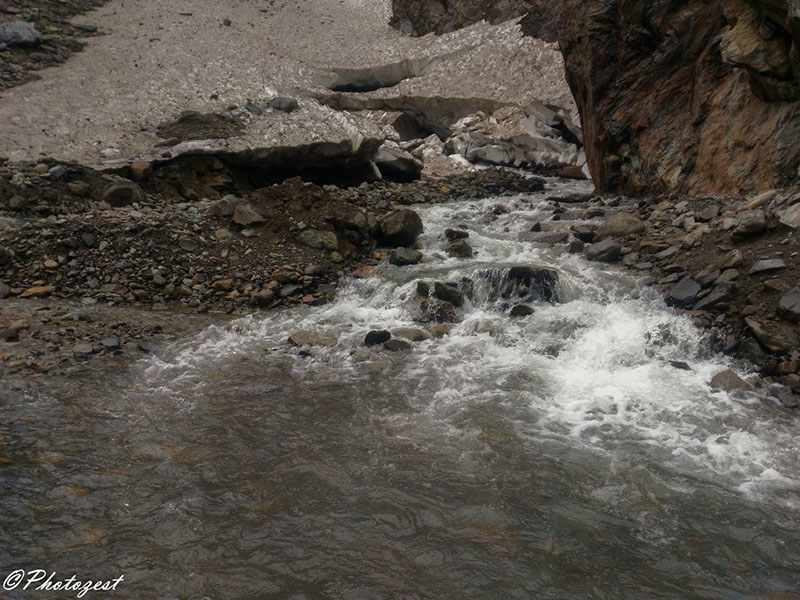 Bogotu Nallah
The patch along the mountainside had been trampled bypassing four-wheelers and so ruts were visible. I decided to ride along the outer edge and calculated my trajectory where there was some evenness in the size of stones below the water.
I gingerly tiptoed into the water and held constant steering and speed. But alas, in the deepest section a stone shifted under the front wheel and I had to balance with my left foot. I instantly felt the sting of the ice-cold water. So the nallah won.
After crossing the nallah, I smiled back at it accepting the defeat of my riding skills graciously. The Bagotu dhabas were empty as I rode in and ordered tea. I removed my wet shoe and wrung my socks dry and put them on the KTM's exhaust pipe to heat dry while sipping my tea.
Just then two jeeps full of chirpy college girls and their teachers arrived and alighted at the dhaba. Suddenly modest I and my fully loaded bike were the sole center of attraction for 18-20 girls and ladies.
Man, that sure felt good. I thanked the Lord's that be for my stroke of luck.
I had initially planned to move on after tea but my headache had not abated despite the beautiful environment and company. So I decided to have some food also, to recharge the belly batteries. I had half a plate of Rajma rice, paid up, and moved on.
Also Read: Trip to Spiti Valley and Sach Pass in XUV, Safari and ISuzu
Bogotu to Killar
The dry wind now carried the stony sand and grit with it and I could feel their pricks on my exposed neck. Some road work was also on as I descended.
That the snow walls still stand in end August tells about the cold weather always at the top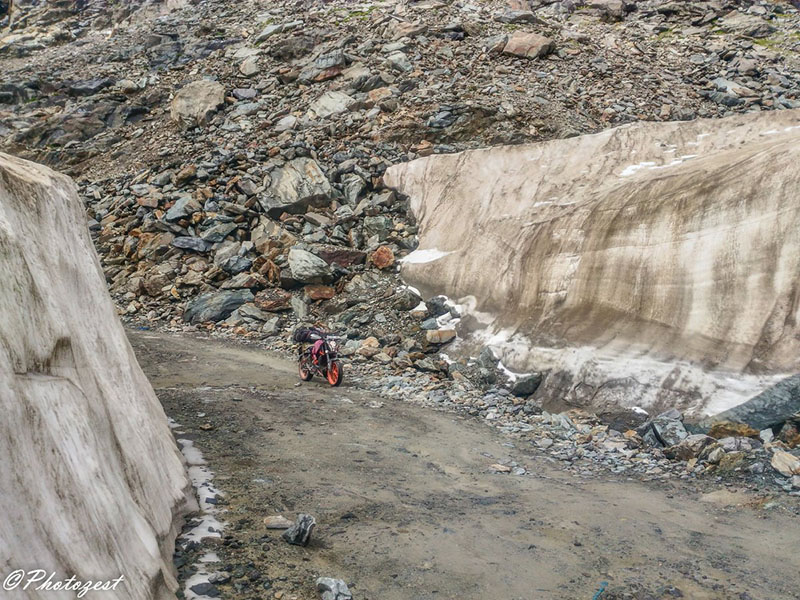 This road led to some village up the valley which I didn't explore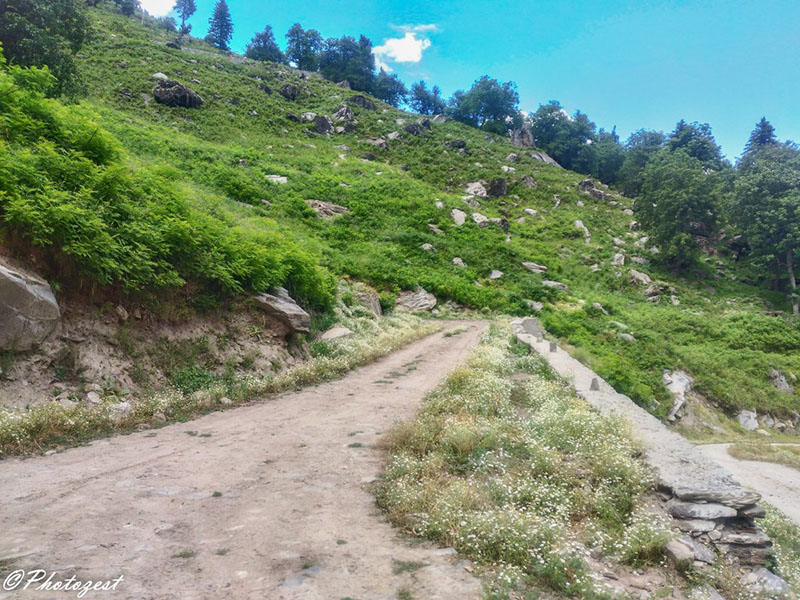 Resting at the Chandrabhaga Bridge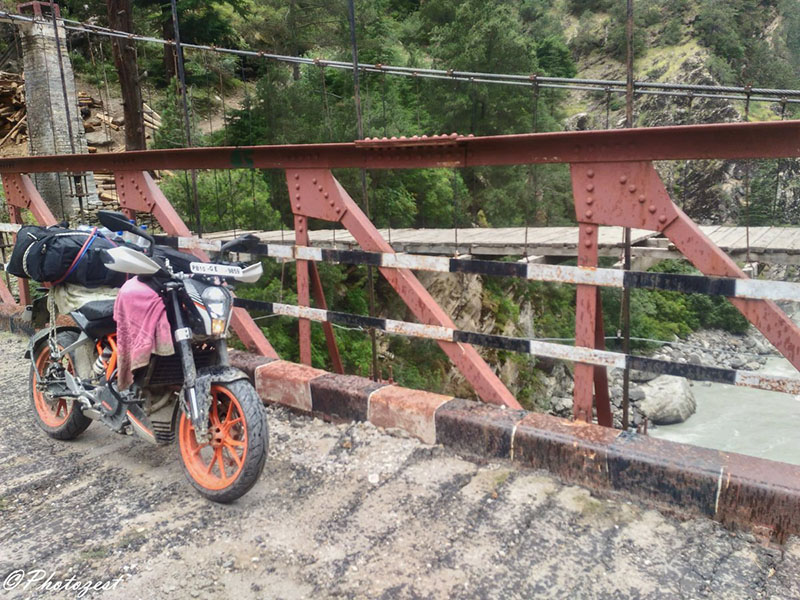 And she flows fast and furious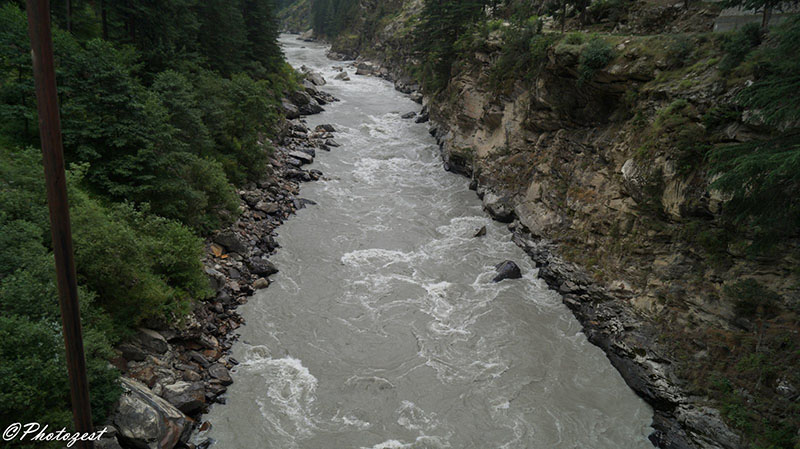 The headache progressively got worse as I rode down. I didn't feel like taking any pictures and hence this section has the least photos. The countryside had changed from craggy rocky peaks to luxurious alpine forests. Very few vehicles crossed me on the way up. A couple of Sumos, a tempo traveler, one HPRTC bus, a Scorpio, 4-5 pick up jeeps, and two motorcycles, that was it.
I crossed the Chandrabhaga Bridge at around 5.30 pm and rode onwards to Killar.
Killar
At Killar, I checked the Raj Hotel and Chamunda hotel and felt they were pricey. So I rode into a tea shop and inquired from the locals where to stay. One of them guided me to the Chandrabhaga homestay where I stayed in a fully wooden paneled room for Rs300 (room exactly the same as in the famous Latoda huts). I took medicine for the headache finally and after an early dinner, it was time to call it a day by 8.30 pm.
Also Read: The Haunted Guest House At Sach Pass
Killar to Kishtwar to Jammu – Day 3
The alarm rang at 5.30 am and I woke up fresh with the first bell. I put on my fleece pullover on my nightdress and ventured out of the homestay into one of the cleanest and most fragrant air I have ever felt.
There had been some overnight showers and it was full light outside thou the sun was yet to come up from behind the mountains. I took a long stroll on the road and exchanged greetings with the few other early risers. One elderly gentleman in classy traditional attire stopped to have a chat and wished me well on my further trip to Kishtwar and back home.
In the meantime, the shop in front of my homestay which had to serve me breakfast had opened up and the workers were doing the cleaning and preparing tea. I ordered a cup. It was good so had another one, all the while answering questions from the workers. They all spoke Himachali accented Punjabi and came every year to work 10 months in Killar from Chamba.
As the workers started kneading dough, I went back to my room and started getting ready to move on. I packed everything, loaded the luggage on the bike, cleared the dues at the homestay, and moved to the breakfast shop. It was 7.15 am. I asked for breakfast and was told that the cook was on the way and I will have to wait. My grumbling stomach told me to wait even though I pondered upon the idea of moving and have something to eat on the way.
I finished the breakfast of omelet and plain parathas and moved out. It was 8.14 am by the time I started the ride into the glistening sunny road towards Kishtwar.
Killar to Sansari
The place where I stayed. I forgot to click the photo of my nice room.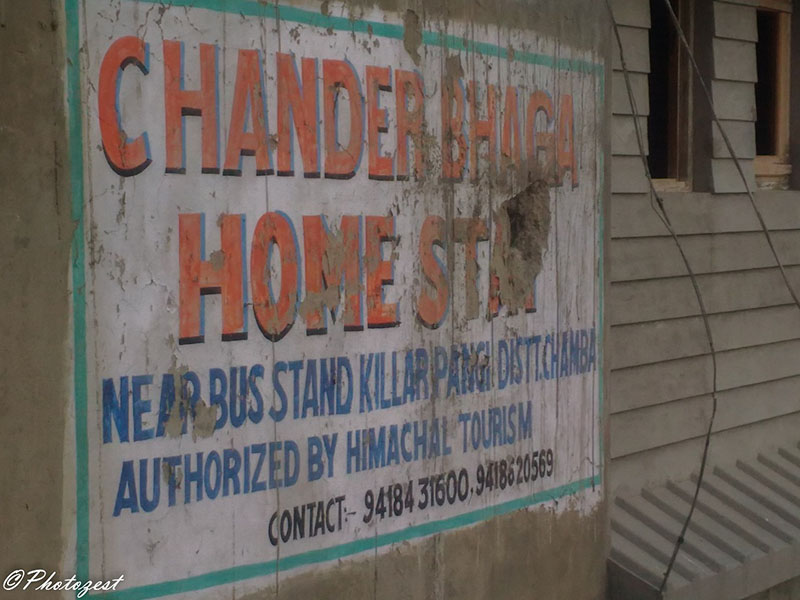 The road was absolutely lonely with jagged mountainsides. After around 10kms of riding on rubble due to the road widening work going on, I reached a small broad patch from where a road goes to the now hot destination of Sural Bhattori. The distance was only 19 km uphill but I resisted the temptation to go there and kept it pending as an excuse to come into the Pangi valley again. I continued riding ahead towards Kishtwar.
A solitary packed Sumo crossed me at the village named Luj. The road started descending shortly afterward towards the Himachal Pradesh and J &K border outpost of Sansari. I noticed that cannabis weed grew on both sides of the road in gay abandon and whatever cattle were grazing were munching coolly on it.
Also Read: Hudan Bhatori and the Beautiful Hudan Lake
The police outpost at Sansari was manned by very well educated and mannered new police recruits who entered my I.D details. I had a long conversation with me about my KTM, my journey, and whatnot. Their accommodations were very clean with good washrooms up the roadside. They offered me tea which I politely refused to cite my tummy is full.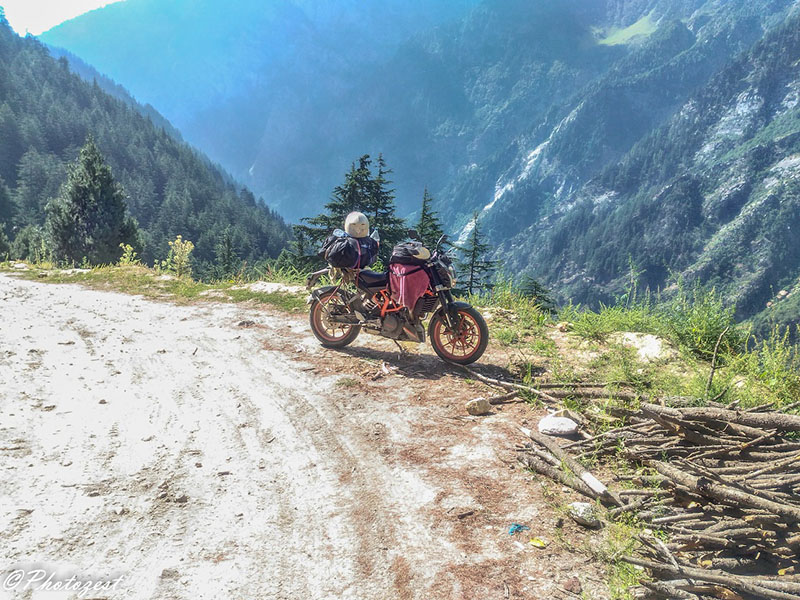 Just across the police outpost is the Sansari nallah which was in full force and carried an awesome amount of water. The river Chandrabhaga is referred to Chenab from here on. The river widens at this point to accept a large amount of water from the nallah.
Sansari to Ishtyari
The moment I crossed the Sansari bridge, I was in JK territory and the region is known as Padder valley. Now the road turned up into a steep incline in a series of hairpins and gained altitude fast. The road here is nothing but a rock-strewn muddy path. I had to half clutch the KTM with care to avoid wheel spin. The road rendered slippery due to the overnight rain.
I took a short stop here to rest the bike and take in the fragrant air and enjoy the solitude. While resting, the thought of the predicament of anybody trying to go down this slippery road did come up, and just hoped he cross it safely.
Here I came across some families walking along the road and waved to them but they didn't respond.
Shortly after this stop, I came up to the beautiful village of Ishtyari which is a big village with a high school.
Crossing this village and one can see the full section of the so-called Cliff Hanger road in front of oneself.
I sure was excited.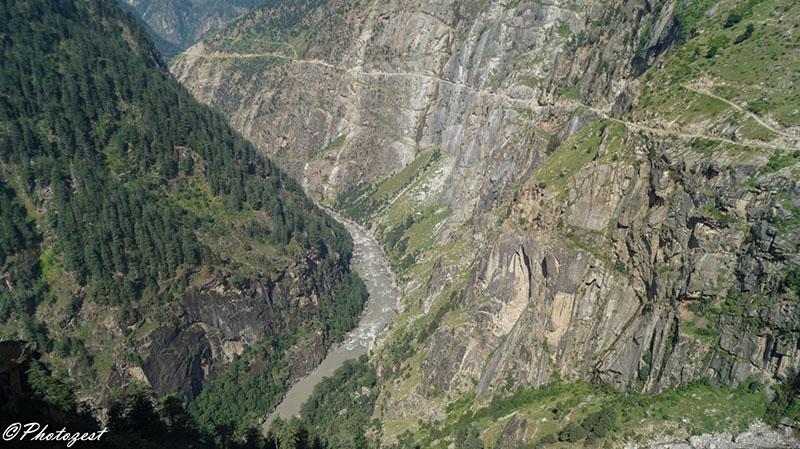 I rode this beautiful section of the road with frequent stops to fully take in the atmosphere and paid my gratitude to mother nature for her beautiful architecture of the landscape. The good thing for me here was that most of the road was soft mud and my ride got that much more comfortable.
Also from Ishtyari, vehicles started to show every once in a while.
Ishtyari to Tyari
I proceeded to the next village named Tyari and found a small shop and had a tea break. I started talking to a young lad running the shop. He told me that the whole of Padder valley is inhabited by Rajputs, whether Hindus or Muslims. They all live in peaceful co-existence with pea, potato, barley, majra, and rajma being the main crops. Pea cultivation is predominant in the higher reaches.
He told me about a valley higher up-Gandhari Valley and said it was very very beautiful and a must-visit. I thanked him and moved on. It was 11 am by now and I had covered only 40 km in 3 hours.
Also Read: When is the Best Time to Visit Sach Pass?
Tyari to Kishtwar
Kishtwar was still 80 km away so decided to rein in my breaks. I crossed 3-4 more beautiful villages, water crossings, and nallahs. Of these, Sol village is the transit point for 25 tons of peas every day, brought down from the villages high up.
The place was teaming with mules. The Sol nallah was also a strong strong flow of water.
At around 1.30 pm, I reached Gulabgarh. It is the starting point of the Mata Machail Yatra of 32 km. It runs along the Machail Nallah to the Machail Mata Shrine.
I crossed the town towards Hatoli where I met with a fresh landslide and was delayed by an hour as the road was cleared.
The roads were broken in places right up till Kishtwar which is a very picturesque town. I didn't click pictures much except at the Kishtwar Char Chinar Chowgan Park as I was now running short of time. The park had more animals loitering around than people.
A strong army presence is evident from Kishtwar onwards. It was almost 6 pm by the time I crossed Doda bypass and noted the route cut for Bhaderwah and Bhasoli for some other trip.
The Char Chinar Chowgan in Kishtwar.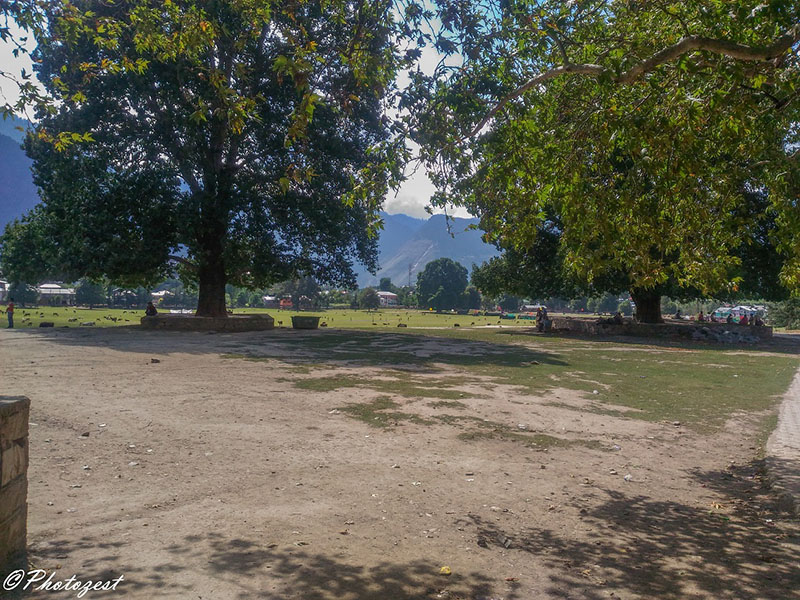 Kishtwar to Jammu
And from there I rode straight to Batote. Here I took a short break for a cup of tea and a plate of noodles. I then passed through the Chenani tunnel and onwards to Udhampur.
I did stop at the new shops of the famous KUD mithai wallas and collected sweets for home. The road before Udhampur is undergoing widening and it was very dusty.
I rode nonstop till Jammu and was in Jammu at 8.45 pm safe and sound. By the time I checked into a hotel, I was very tired and with a fatigued backside. I took a hotel, had a delicious dinner, and was off to sleep.
Jammu to Ludhiana – Day 4
The next morning, a 5 hours long high-speed ride with a breakfast break had me back at home at 1.15 pm.
Total Kilometers: 1119 km
Total Travel Time: 79 hours
Takeaway: Memories of a lifetime
With grace from the Gods of mountains, passes, forests, bikes, and tires and the blessings of parents my trip was safely complete.
How to reach Killar Kishtwar Road?
Kishtwar Kishwar road can be approached from three sides.
Sach Pass Route: The first is the route that I followed. You will first get to Bairagarh via Chamba or Dalhousie and then cross Sach Pass to arrive at Killar. The next day, you can travel from Killar to Kishtwar. This is also known as the Killar to Kishtwar route Pangi valley.
Keylong Route: The second way is to reach Killar from Keylong and Udaipur. For this, you will first have to reach Keylong via Manali first. From Keylong, you will travel to Killar via Udaipur and then Killar to Kishtwar the next day.
Kishtwar Route: The third way is to do the journey the other way around, from Kishtwar to Killar. For this, you will first have to get to the town of Kishtwar either via Patnitop from Jammu or via Anantnag from Srinagar.
Killar to Kishtwar Bus
Yes, there is a daily bus available on the route but the frequency is limited to just one or two in the entire day. A more frequent mode of travel is shared taxis that even the locals travel by. It costs almost the same as the bus.
Killar to Kishtwar Distance
The total distance from Killar to Kishtwar is 121 kilometers.
Conclusion
I hope the travelogue and information above on traveling from Killar to Kishtwar was of help. If you have any questions or need any other details, please fee freel to ask in the comments section below, or at our Community Forum, and I will be glad to answer.