Sightseeing in Lolab Valley means that you move from one village to another, enjoying the place's natural beauty, seeing its water springs, and spending some time observing the local life of the region. There is really no one place or village that is more beautiful than another. Rather, it is the entire valley that you should explore.
How long will it take you to do that? Well, it depends but one day is sufficient in my opinion. But for that as well, you will have to say either in Lolab Valley itself for the night or somewhere nearby. Planning this as a day trip from Srinagar is not ideal, though doable. You can either find accommodation in Lolab Valley itself or stay somewhere near Kupwara.
In our case, we stayed for the night in a hotel in Kupwara, which unfortunately we regretted because of the bad condition of the hotel. The next day, we started our tour of Lolab Valley and spent about 6 to 7 hours traveling from one village to another, in the form of a circuit. The post below is a brief narration of our sightseeing in Lolab Valley. To read the previous parts of the travelogue, you can take a look at the links below.
You can also take a look at the YouTube video below that I shot during our travel to get a better idea of the place. It can help you decide whether or not you should include it in your Kashmir itinerary.
Sightseeing in Lolab Valley
How was our experience of Lolab Valley? Well, to be honest, it was a mix of excitement and disappointment. The disappointment was in terms of the weather and the fact that authorities are not making enough efforts to promote this area as a tourist destination, even though it has all the needed potential.
The excitement was because we were traveling around in a region that was not even open to tourists until a couple of years ago. It is a part of Kashmir that has long remained off the tourist map because of the militancy-related problems in Kupwara but is now starting to see a rise in the number of tourists each year.
Also Read: How to Plan a Trip to Kashmir – A Complete Travel Guide
Kalaroos Caves & Satbaran
We started from our hotel in Kupwara at around 9 am and first went straight to Kalaroos Village. This village is famous for its caves that are said to be part of an ancient tunnel system to Russia. This is why the name of the village is Kalaroos, roos meaning Russia.
The second thing that makes this village famous is the giant Satbaran Rock. It has 7 door-like carvings on it but no one knows who made the carvings. There is no historical or archaeological data available about this rock but it sure looks mysterious.
We spent about 2 hours in Kalaroos, exploring the caves and Satbaran. I have talked about this in the previous part of this travelogue and I would request you to take a look at it. After sightseeing in Kalaroos, we then drove out of the village and moved on to see the other villages of the valley. But before that, there was a high-altitude pass that I wanted to cover.
Zamindar Khan Gali / Z-Gali Pass
Zamindar Khan Gali is a high-altitude pass located about 21 kilometers from Kalaroos Village. It is popularly known as Z gali and is at an altitude of 3150 meters (10,334 feet). On a clear day, you can also get a view of Nanga Parbat from the top of Z Gali.
The top of the pass is located at a distance of about 21 kilometers from Kalaroos and 32 kilometers from Kupwara. It is one of the lesser-known passes of Kashmir. Only a few have been there because of the fact that it is not open to tourists without getting a permit.
Machil Valley
After Zamindar Gali Pass, if you drive down another 15 kilometers to its other side, you will reach Machil Valley. There are about 15 small villages located in this valley. The group of these villages is known as Machil and it is the last village on the border sitting right along the line of control.
Machil is a Dardic name meaning fish, which are in abundance in the streams in this valley. It is a charming village with lush green meadows during spring and summer.
The problem however was that to go to both these places, you need to get permission from the DC office in Kupwara. Lolab Valley has been declared open for tourists but Machil Valley still remains closed. To get there, one still needs to go through all the formalities and secure permits.
We did not have the required permission to go that way so Machil Valley was anyway not a part of the itinerary. But I wanted to see if we could at least go to Z-Gali Pass and return from there.
The road to Zamindaar Gali Pass and Machil Valley is the same that you take to reach Kalaroos Village. You drive on this road for about 10 kilometers from Kupwara and if you turn right, you will enter Kalaroos but if you continue on the same road, it will take you up the Z-Gali Pass and further to Machil.
So after visiting the caves, we drove out of the village and reached this main road. We were about to take the turn to Z-Gali when I noticed a few Army trucks parked along the main road. So rather than driving up and then getting sent back somewhere midway, we decided to ask the Army folks.
Also Read: Mobile Network in Kashmir & Data Connectivity
Kalaroos to Khumriyal to Badibera
Much to our disappointment, we were told by the Army that we could not go to Z-Gali without permission. We will be sent back from the first post itself and driving that way was in vain. We were disappointed but at least thankful that we asked around or would have driven a few kilometers extra to no avail.
Nonetheless, we started on our way back to Khumriyal. At the time of this trip, information available about Lolab Valley on the net was almost negligible. I really had no idea about the best way to plan this trip or our sightseeing itinerary. The little information I had was gathered after talking to the locals only.
This is what Lolab Valley looks like, paddy fields everywhere.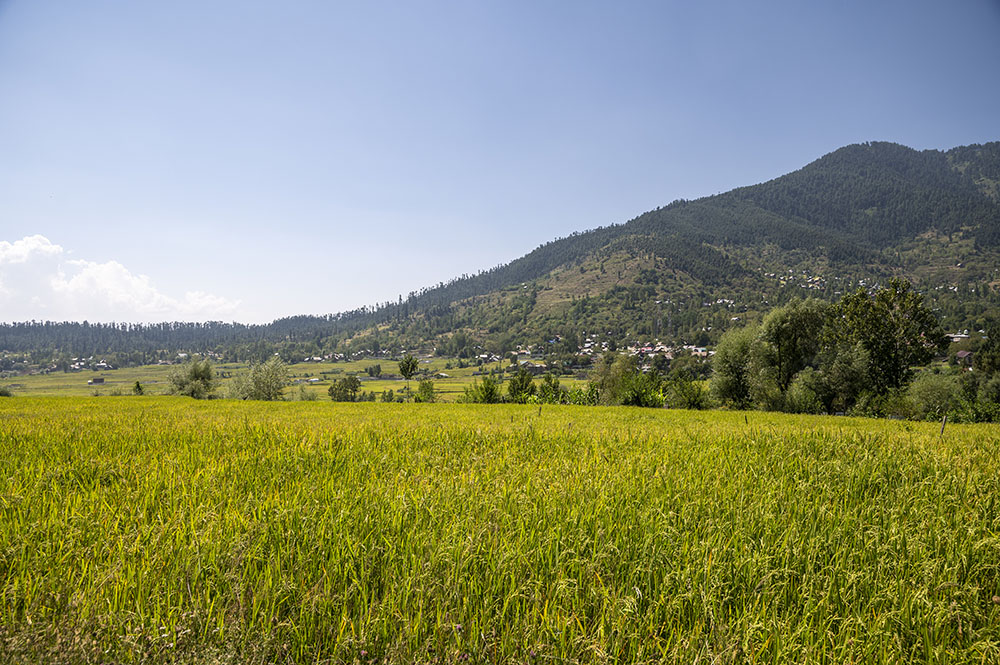 This is the view of the entire valley from Satbaran. The village on the slope of the mountain is Kalaroos.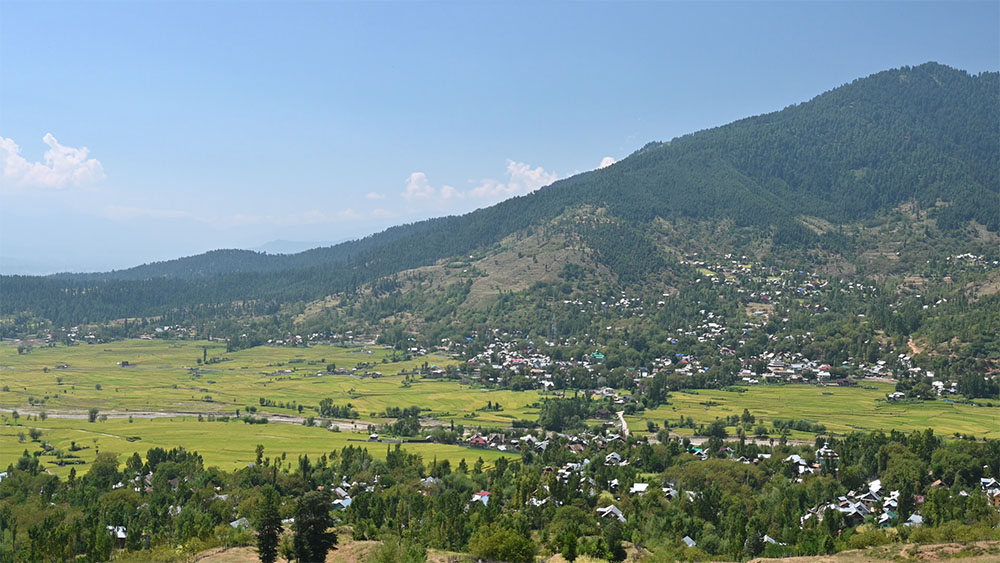 So the best plan that I could come up with was to complete the sightseeing in the form of a circuit. See the map below. From Kupwara, we reached Khumriyal Village. That is where the road to Kalaroos Village bifurcates to the left. After visiting Kalaroos, we were now driving back to Khumriyal so we could go toward the other villages on the other side of the river.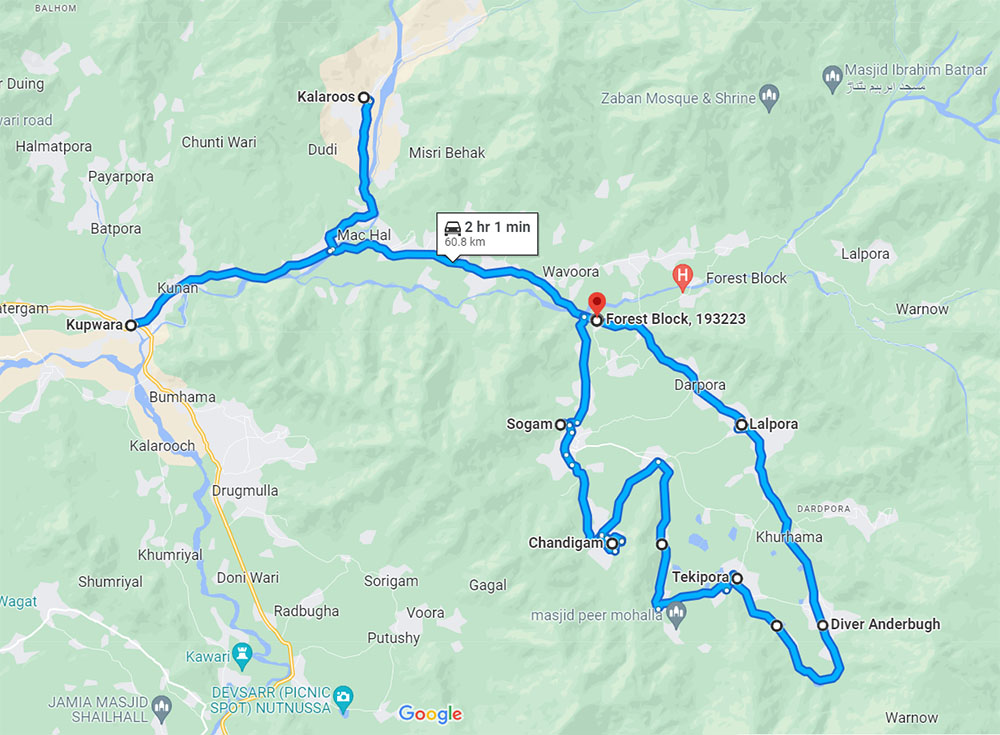 The drive back to Khumriyal did not take long. We crossed the market area, then a small bridge, and were now driving toward the small village of Badibera. This was going to be the center point of our circuit. From Badibera, we were to turn right and then circle back to the same point.
Sogam – Chandigam – Gundmancher
We reached Badibera in no time and turned right. I will keep posting sections of the map so that you are able to relate to the journey.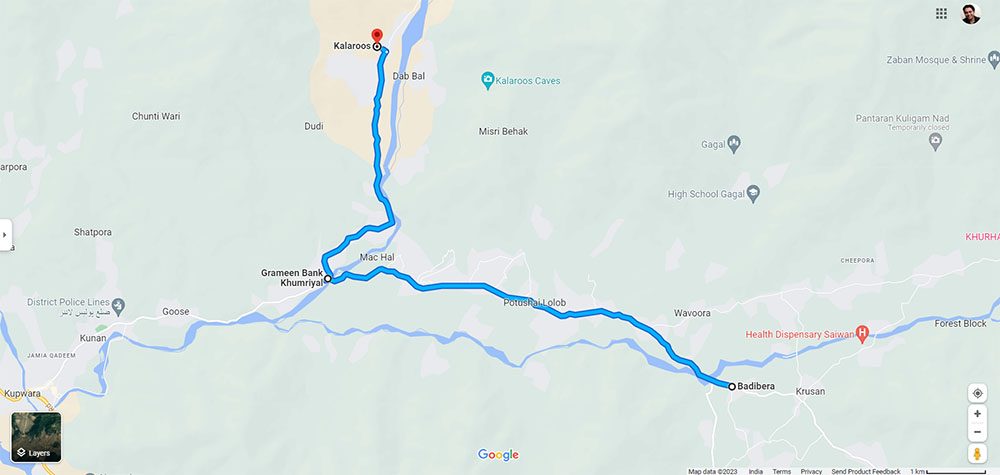 Lolab Valley is a part of Kashmir that is underdeveloped in terms of tourism and receives minimal tourists. Once upon a time, efforts were made to promote it as a tourist destination but were never completed. Signs of those efforts are still scattered all over the valley though.
You will keep coming across recreational Eco parks and grounds that were once a feeble attempt at developing the region but now lie ignored. Nothing out here is in good condition except for the road. The condition of the road throughout the valley is super smooth.
Sogam is the largest village in the valley and serves as administrative headquarters as well. After Badibera, we crossed Sogam Village and arrived in Chandigam Village.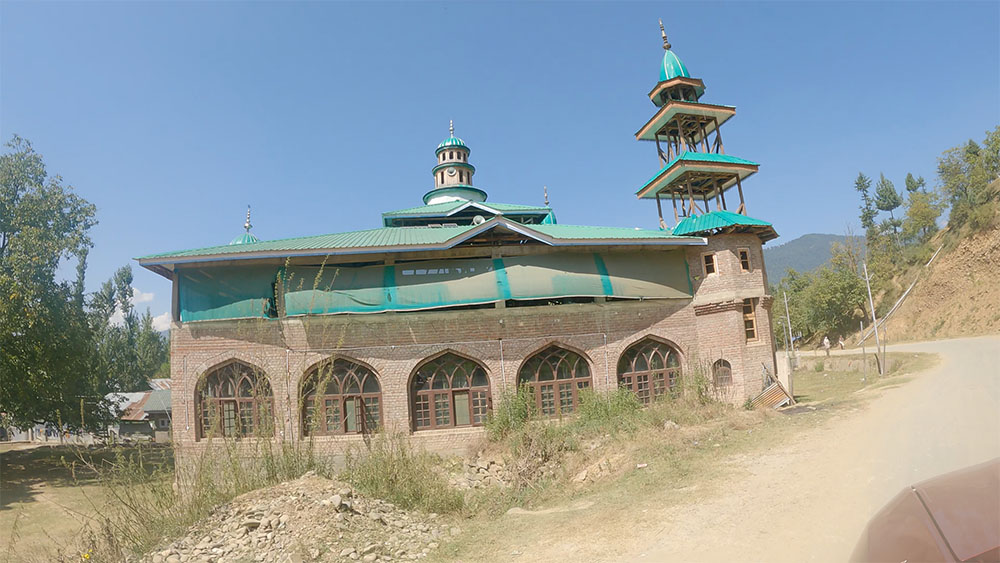 Chandigam is the place where the JKTDC rest house is. I have not stayed in it but from what I have been told, it is a well-maintained rest house and a good place to stay in Lolab Valley. Other than that, Chandigam is just another quiet little village and there is nothing worth seeing that I know of.
We crossed Chandigam and started on our way to Gundmancher. What I was really chasing were these small blue dots that we were seeing on Google Maps. There were several of them all over Lolab Valley and it made me wonder if these were actually small lakes. See the map below.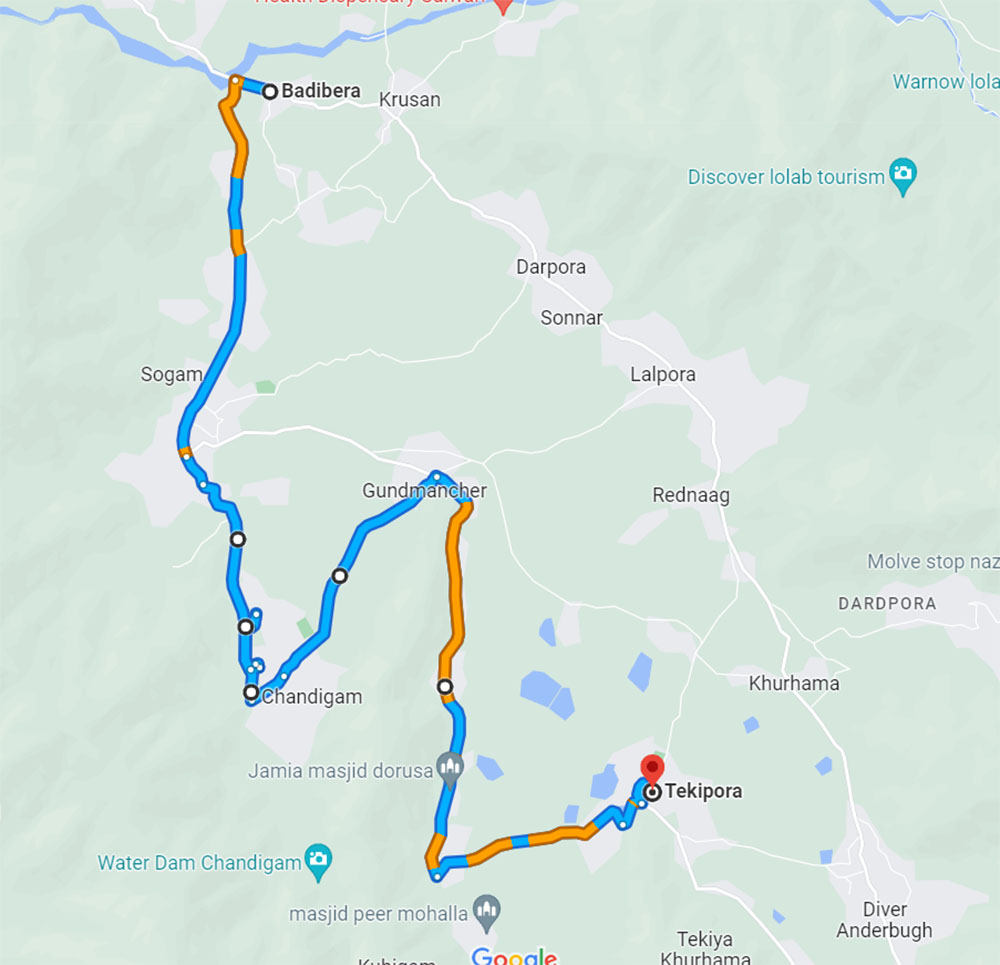 Tekipora
So my plan was to reach Gundmancher and then circle to Tekipora from there while seeing these lakes. Since the road was good, it did not take us long to cover the distance. We crossed Gundmancher and were soon in Tekipora, starting at something that I thought would be a beautiful lake. This is what we saw.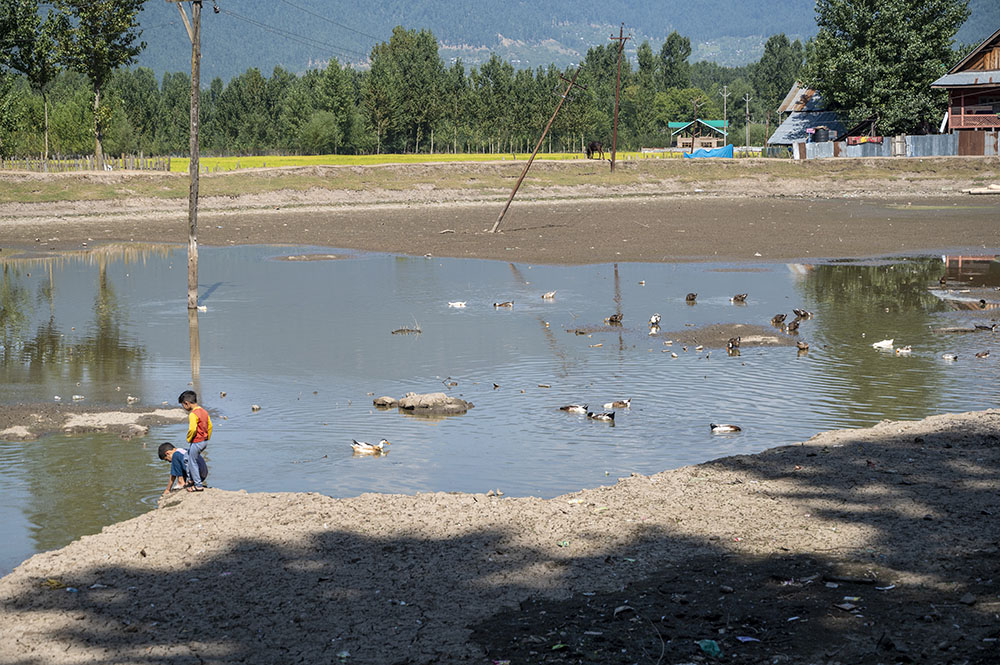 This is when I realized that what we were looking at were just village ponds, dirty and not pretty at all. Well except for the ducks swimming in it. They were sure pretty. I do not know if I was disappointed or not but I still got down from the car to click some pictures of the ducks at least.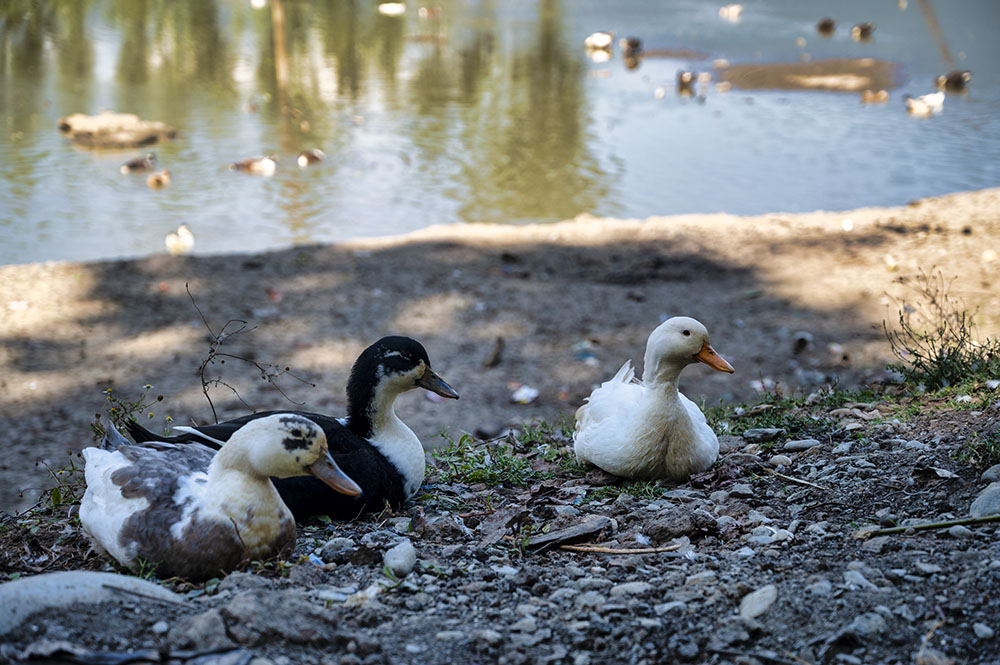 While I was doing that, a village boy walked up to me and looked at my Nikon Z6 ii with interest. They do not see many outside tourists out here. Me and my camera definitely invoked his interest.
He started talking to me, asking where I was from and how much the camera cost. I answered his questions and in return, he advised me to backtrack a little and go toward Wani Dorusa. This is what he was suggesting.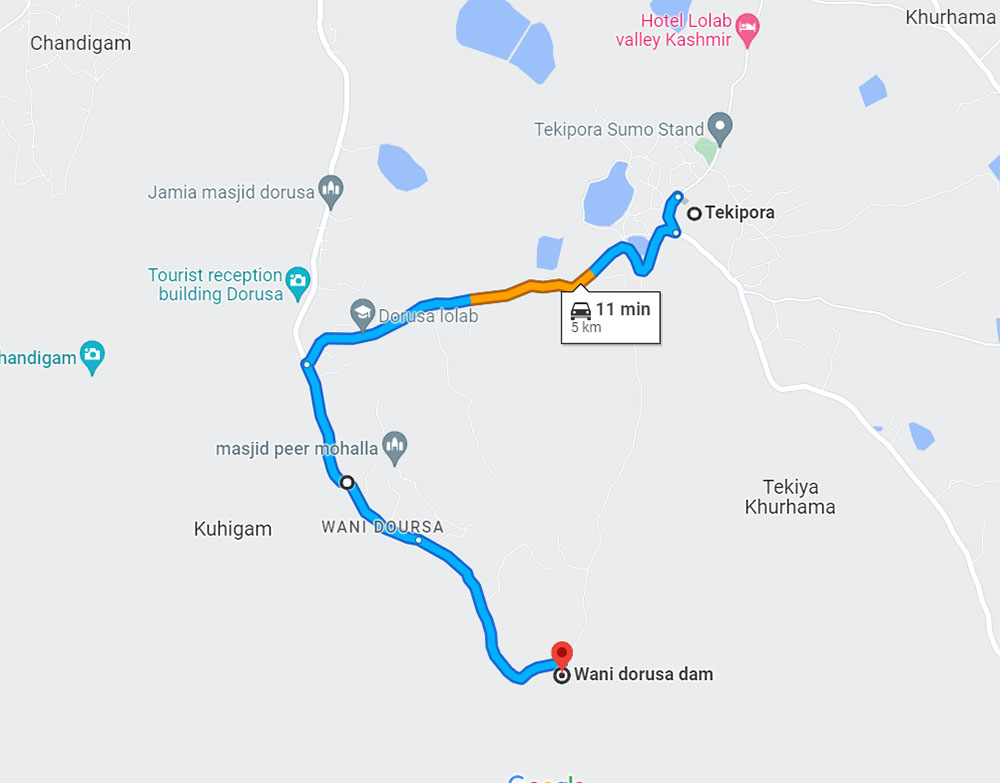 As per him, the region that this road passes through was really beautiful and I should see that. He also talked about another huge lake there that I should take pictures of.
I saw no harm in doing what he was suggesting. After all, we were just exploring, going wherever the road took us. So I turned the car around, drove back a little, and started driving up a narrow road.
Also Read: Clothes for Kashmir Trip – What to Pack
Wani Dorusa
This road was gradually climbing up and with the increase in the altitude, we were also driving through the forest area. The boy was right about one thing. This indeed was a beautiful area that he sent us to.
The road climbed up a little and then went back down to Tekipora Village. I think it was a distance of about 7 kilometers that we drove, in the form of a circuit. I did not mind this part of the drive at all.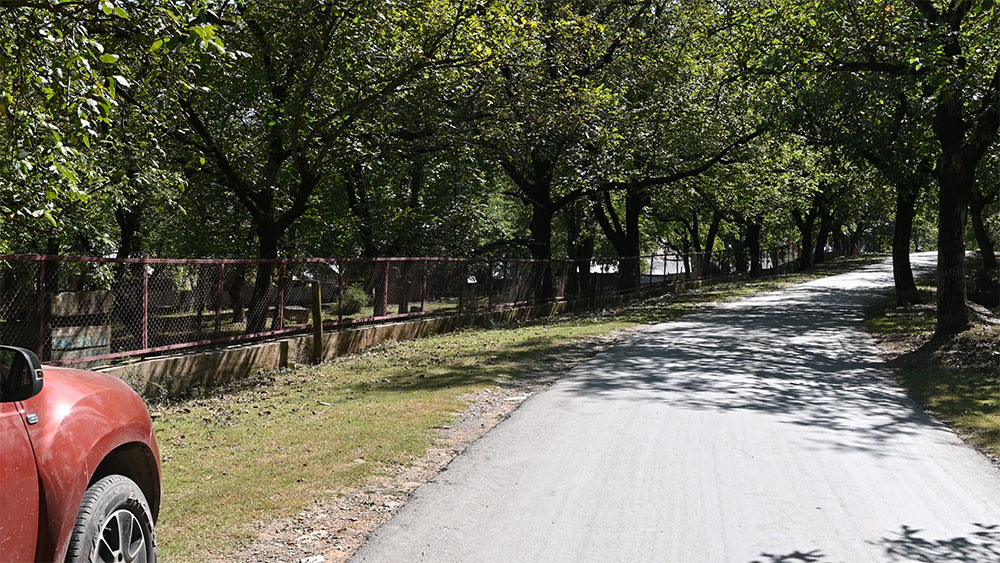 We circled on the entire road and reached back Tekipora again but I did not see anywhere the lake the boy was referring to. I later found out that it was another water reservoir built up in the forest to harvest rainwater and the water flowing down from the streams. To get there, we would have to leave the car and walk up a short distance to reach.
Not going there was a wise decision though because I later found another such dam in the valley and that too was anything but scenic. Now after Tekipora, we started driving up to our next destination – Kairwan.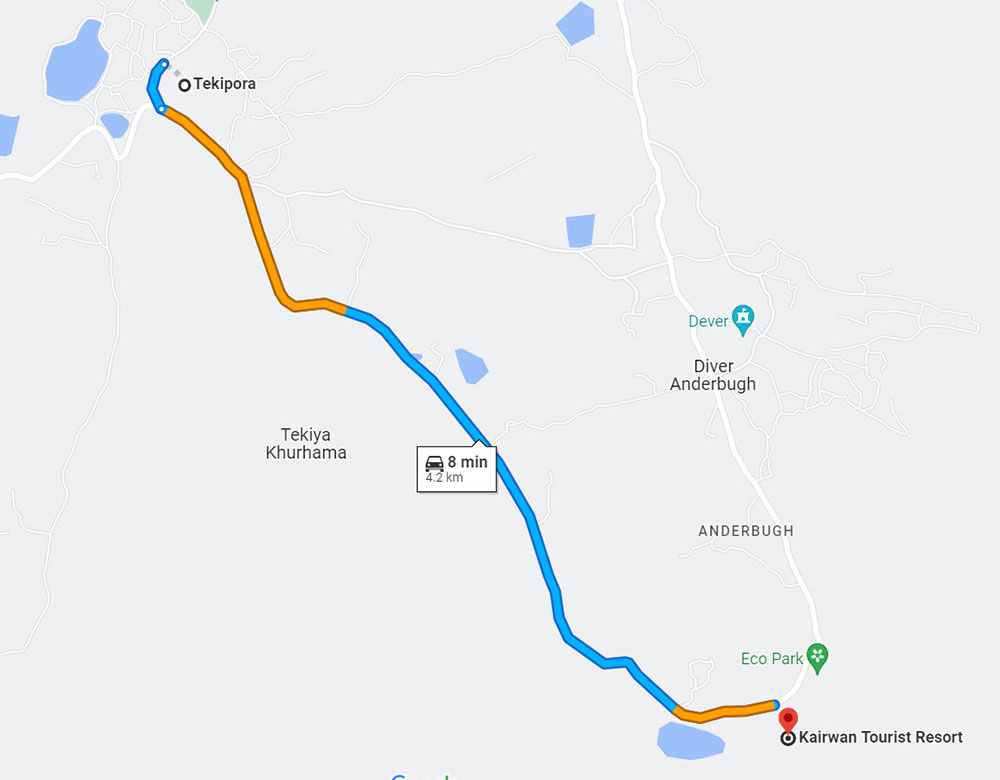 Kairwan
Kairwan is at a greater altitude than the rest of the villages in Lolab Valley. This is also the village that was once on top of the plans to be developed as a tourist attraction. In fact, they even built a tourist resort and an ECO park out here but all that is now ignored and in bad shape.
Kairwan is also the starting point of a few treks into the forests of Lolab Valley. One trek leads to a high-altitude pass called Trimukha Top and another to a meadow called Nagmarg. There are actually a few other treks as well going to the other parts of the forest.
I however was still foolishly chasing another blue dot on the map. It read water dam on it.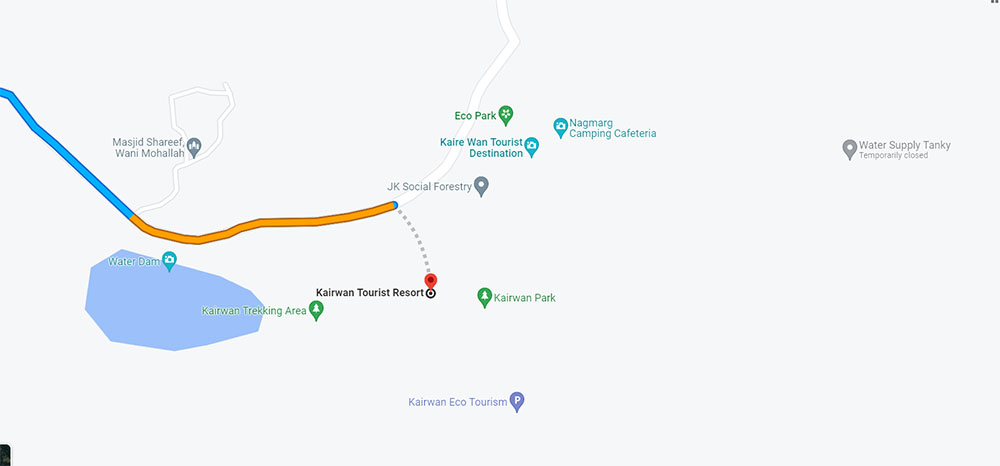 My thought was that if it is a dam, then it must be large and there must be a river flowing into it. I did not see a river on the map though, just the blue dot reading Water Dam. After a short drive, we reached this spot and left our car.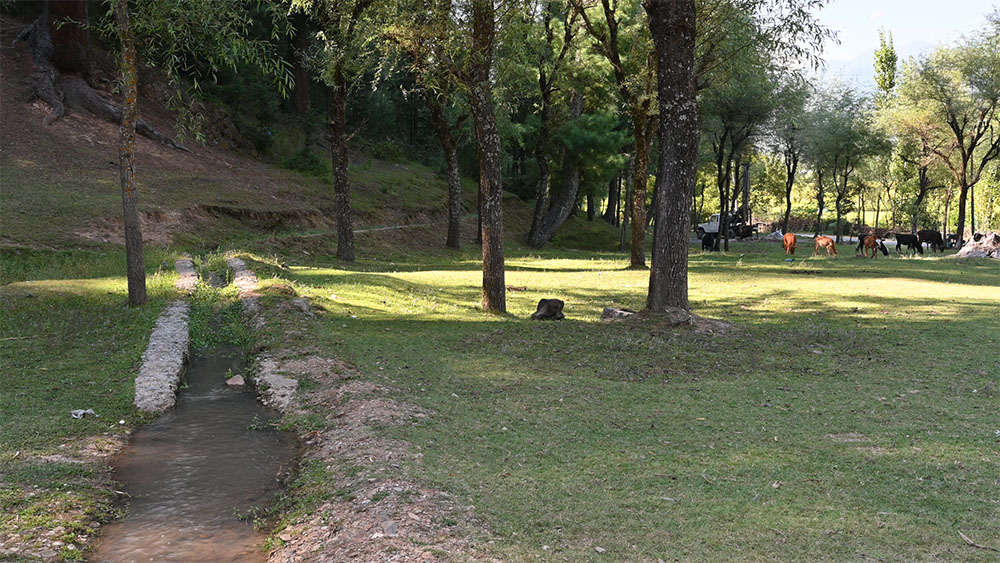 From there, we walked for about 100 meters uphill and this is what the water dam turned out to be.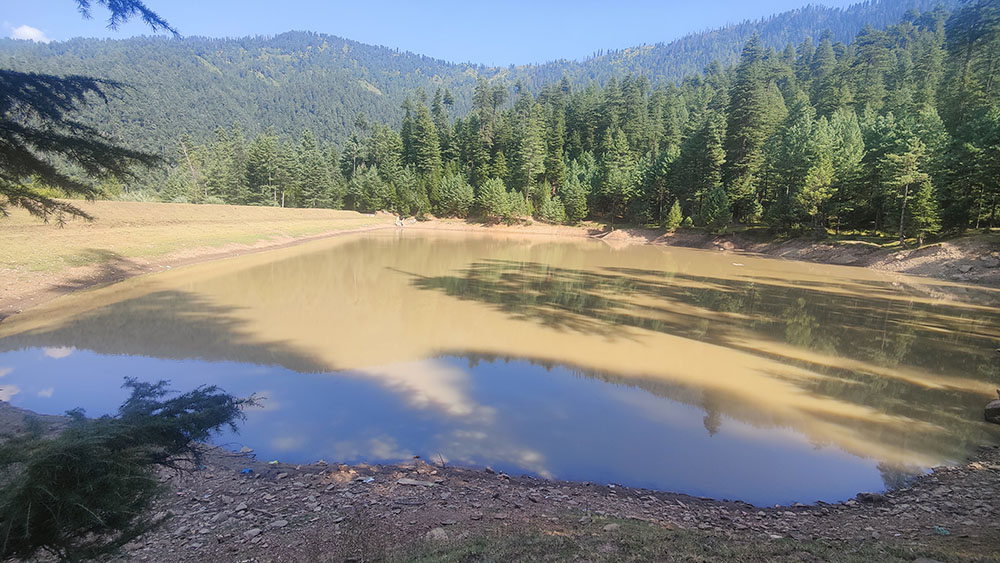 It was just another water reservoir, built for the purpose of harvesting rainwater and water from the melting snow. This dam even had an outlet for the water to flow down into the villages.
Even though the dam was far from being pretty, the location was quite scenic. It was a very peaceful spot and we spent about 30 minutes just sitting on the grass there.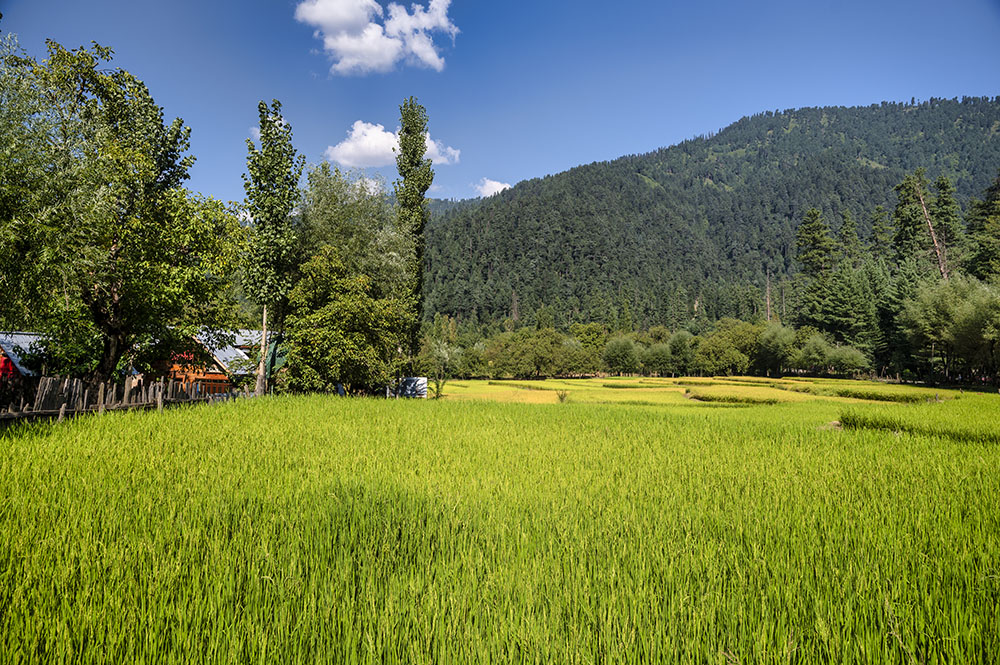 Some more locals here were intrigued by seeing tourists in their valley and walked up to me to have a conversation. They requested me to help promote the valley which I promised that I would.
Diver – Lalpora – Badibera
Our sightseeing of Lolab Valley mostly just ended at this spot. The hot weather and the harsh sun were driving us crazy and making it difficult to enjoy the views. It was burning hot and even sitting in the car with AC running at full seemed like a task.
From Kairwan, we drove down to Lalpora and started on our way to Badibera, to complete the circuit.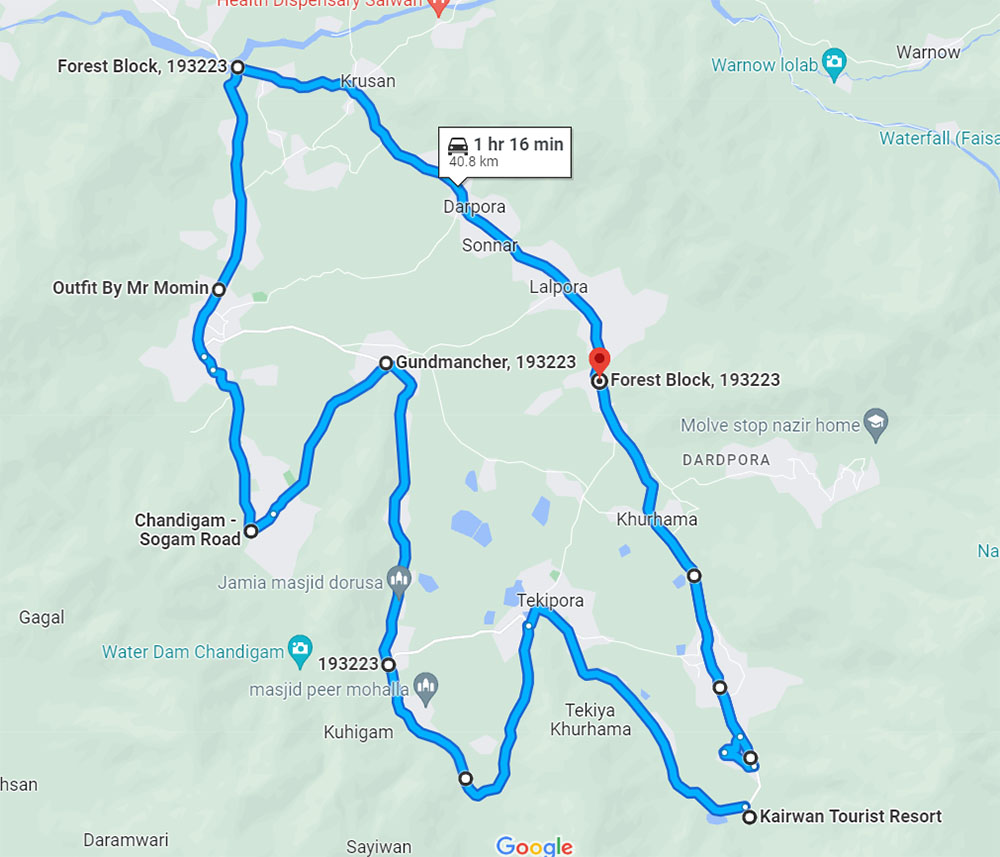 For a minute, I thought of taking the road toward Warnow and seeing that side of the valley but in my heart, I knew that it would be nothing new. We will just drive through a few more villages and that would be it. So we gave up that plan and soon reached Badibera.
From Badibera, we drove back to Khumriyal and then arrived in Kupwara.
We were going to stay on this side of Kashmir for a couple of days because I also wanted to see Bangus Valley and Keran Village. The previous night, we had stayed in a hotel in Kupwara but for the next three nights, our stay was booked in a JKTDC rest house near Chowkibal. It is located in a small village called Reddi, about 6 kilometers from Kralpora.
JKTDC Rest House – Chowkibal
It is a beautiful rest house located right next to a river. The rooms were well-maintained, spacious, and had clean bedding. The name of the caretaker here is Iqbal and his phone number is 968 264 9223. You can call him directly to book your stay.
The rest house has a kitchen as well and you won't have to go out to have food. You can just let the caretaker know and he will cook for you as well. You can read a detailed review of this rest house at J&K Dak Bungalow – Reddi, Chokibal.
The rest house in Kralpora is behind the Kralpora Police station if you want to stay there. I have not stayed there but from what I was told, it is also in good condition.
After Kupwara, we drove for about 15 kilometers and reached Kralpora, another major town on this route. After Kralpora, we traveled for another 6 kilometers and finally arrived at the rest house. It had already started to get dark by then.
Not much happened after that. We rested for a while, had dinner, and called it a day. The plan for the next day was to go explore Bangus Valley, another one of the lesser-known valleys of Kashmir. Please click on the link above to continue reading the next part of the travelogue.
Sightseeing in Lolab Valley – Conclusion
In the end, to conclude, it is the natural beauty of Lolab Valley that is its primary attraction. It boasts stretches of apple, cherry, peach, apricot, and walnut orchards, giving it the status of the 'Fruit Bowl of Kashmir'.
Together, Satbaran and Kalaroos Caves are the biggest tourist attractions of Lolab Valley. There are however a few other places of interest that I will list down below.
I cannot verify these details because I have not been to these places. This is the information that I found on the web actually. Maybe the next time I am in Lolab Valley, I will try and look for these spots.
There is supposedly the final resting place of the saint Kashyap Reshi located in Lolab Valley, at a distance of about 1 km from village Lalpora. There are two springs near this spot, one called Lavnag and another one called Gauri Spring.
I did not know about these places during my visit to Lolab Valley so I cannot really confirm where these are or if the springs are worth visiting. This is on my list to see the next time I go to Lolab.
I read about a new Tourist Site in a village called Kairwan that was being developed by the authorities but I did not really find anything when I went there. But I know that it is an eco-park somewhere up in the forest that was developed by the forest department.
I hope the travelogue, pictures, and information above on sightseeing in Lolab Valley were of help.  If you have any questions, you can contact me on Instagram and I will be happy to answer. You can also consider subscribing to my YouTube channel and asking a question there.