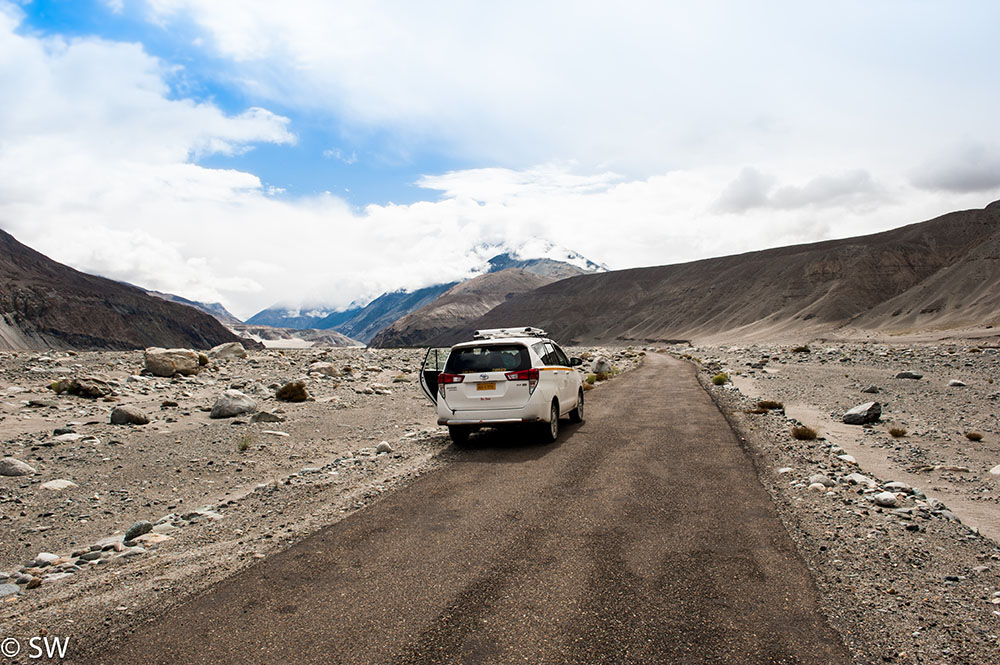 With the start of a new year, preparations for a Ladakh trip this season are already on for a lot of people. One question that has been looming around the last couple of years takes importance yet again. The question of self-drive car rental in Leh Ladakh, whether or not these can be used for the trip.
Before we go any further in the topic, let me first mention that there is no self-drive car rental in Leh Ladakh yet. This means that if you hire a taxi here, it will come with the driver. You may request the driver to let you drive for a short stretch. But for most of the journey, you will have to remain in the passenger seat.
Also Read: How to Plan a Trip to Leh Ladakh – A Complete Travel Guide
Secondly, you cannot drive around a self-drive rental in Ladakh that you brought in from any other city. This includes both Manali and Srinagar as well and applies to even motorcycles.
Self Drive Car Rental in Leh Ladakh Still Banned
Just to give a little background, it all started in the year 2015. Ladakh Taxi Union decided on their own that they will not allow anyone to rent a taxi or motorcycle outside Ladakh and use it for local sightseeing.
I would like to stress 'on their own' here because there is no such law in place. If we actually go as per the law, any taxi that has an All India permit is free to be driven across the country, including Ladakh. So whatever Ladakh Taxi Union decided was their own self-invented and imposed law.
They did it in the name of 'Ecosystem'. Ladakh as per them was getting damaged because of people driving around on their own. Why did they do this, how could they do this and why the administration did not do anything about it is however an entirely different story.
Taxi Services in Ladakh
We all know that Ladakh is a barren wasteland, a cold desert. What makes it even more difficult is that this wasteland is accessible by road only for 5 months a year. People here heavily rely on tourism as a mode of living. Whatever they can earn from tourism is limited to just these 5 months.
Almost everyone here is one way or another connected to making a living out of tourism. Taxis are one of the most common ways to do it. I read somewhere on the web that the majority of the locals here have bought cars on an EMI basis and are using them for tourism purposes.
They are to pay EMIs each month and save enough to support their family. All that money has to be made in just these 5 months.  Everything was OK until the concept of self-drive taxis was introduced.
People would rent a taxi from elsewhere in the country, drive it to Ladakh, use it for local sightseeing and bring it back home. This of course was the best way for a trip to Ladakh because everyone wanted to have the fun of driving on the adventurous roads that the region offers.
Also Read: Updated Taxi Rates in Leh Ladakh
Attacks on Tourists
This started to hurt the locals though because then their taxis would just remain parked and weren't getting used at all. The same concept applied to motorcycles as well. People would rent a motorcycle from outside Ladakh, bring it to Leh, and use the same motorcycle for visiting nearby areas as well.
Slowly this trend started growing. The locals in Ladakh decided that if they did not do anything, pretty soon their taxis and motorcycles will just remain parked. The only people renting those will be the ones who reach Ladakh by Air and that number was not high enough to support everyone. Hence they came up with this law for their own benefit.
How could they do this and why there was no action taken against it? It is because the local administration is run by locals after all. Everyone the government officers have their own taxis available for rent, as a means of extra income.
What followed after this in 2015 was quite unfortunate. Ladakh taxi union put up barricades and started checking vehicles. When they found taxis rented outside Ladakh, they stopped and sent those back to Leh.
A few of the tourists objected to this. The argument a few times turned violent with vehicles getting vandalized and tourists attacked. When this got circulated over social media, it created a panic due to which people even canceled their trips to Ladakh that year.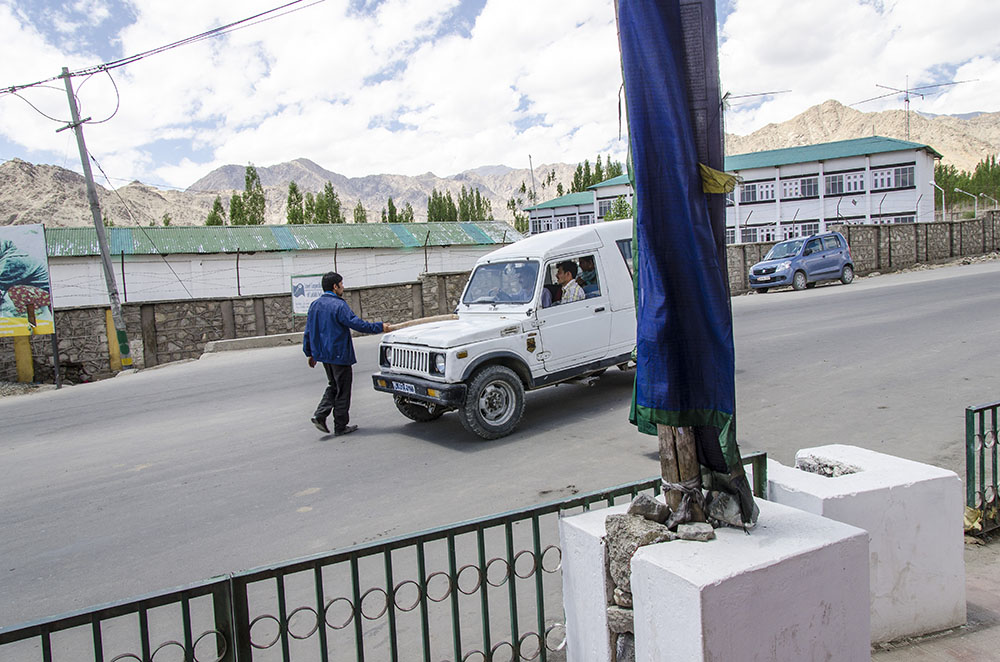 Can you Bring a Self-Rental to Ladakh?
So coming to the question, Is this law still applicable? The answer is that yes it is. When it comes to a taxi or a motorcycle rented outside Ladakh, irrespective of whether it is self-drive or with a driver, you can only use it as far as to reach Leh.
No one will bother you on Manali to Leh or Srinagar to Leh highway. However, once you reach Leh, you must leave it parked at the hotel and rent another taxi or motorcycle in Leh for visiting nearby areas like Pangong Tso, Nubra Valley, or Tso Moriri.
Even for sightseeing in Leh City, you will either have to rent a taxi, a bike, or an automatic scooter like Activa.
Taxi Rules in Leh Ladakh
Below is a brief summary of the current rules in place regarding taxi services and bike rentals in Leh Ladakh.
There are no self-drive vehicles available in Ladakh. You must hire a local taxi in Leh with the driver.
Only taxis registered within Ladakh can be used for sightseeing in Ladakh. You cannot use a taxi or motorcycle rented outside Ladakh beyond Leh. It does not matter if the taxi is self-drive or with the driver. If it was rented outside Ladakh, it is good enough only until Leh.
Srinagar and Manali are part of it too. If you rented a taxi or motorcycle either in Manali or Srinagar, you can only use it to reach Leh either via Srinagar Leh Highway or Manali Leh route. You may get stopped somewhere once you get closer to Leh. If that happens, please be patient. Produce all the required documents and you will be OK.
Once you arrive in Leh City though, you will have to leave the car/bike parked at the hotel and rent another one in Leh City for local sightseeing in Ladakh.
The same rule applies to large vehicles like tempo travelers or minibus etc.
Zanskar Valley
For visiting Zanskar Valley, you must hire a Kargil registered taxi/motorcycle from Kargil. Even a Ladakh or Srinagar registration number would not do. For Zanskar, it has to be rented from Kargil.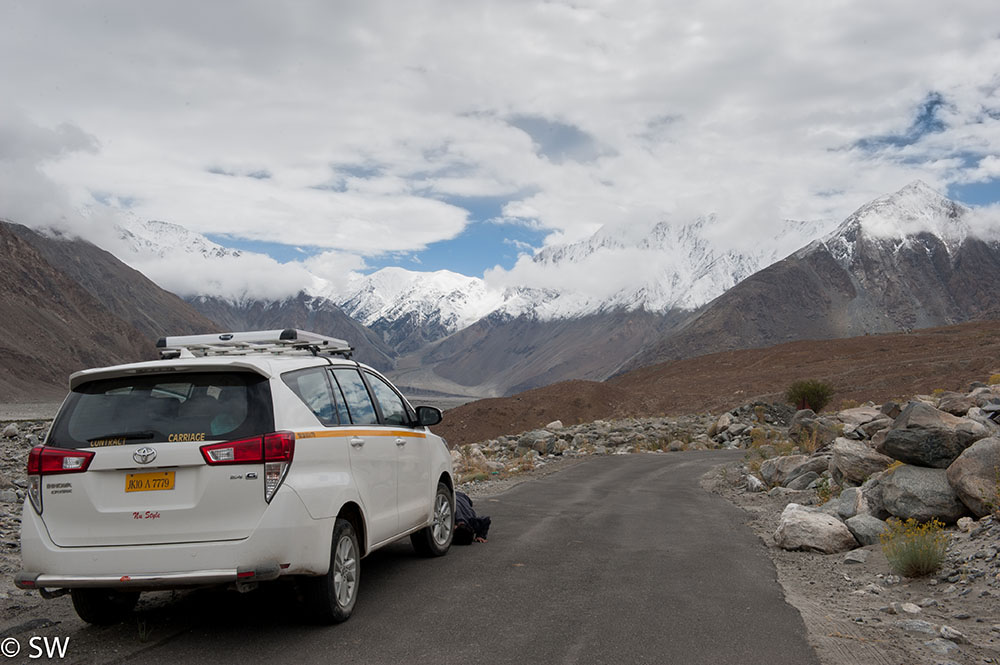 Vehicles registered to Family / Friends
Another confusion remains to be around vehicles belonging to friends or family. These are again a NO. Only bring vehicles that are registered either in your own, or your parent's or sibling's name.
If you are doing so, then ensure that you are also carrying some sort of identification or document that proves your relationship with the owner of the vehicle.  If the vehicle is registered in your friend's name or even in your cousin's name, it is best not to take it to Ladakh. It may sound ridiculous but that is how it is.
If you are bringing along a motorcycle/car belonging to a friend, you will again have to rent a motorcycle in Leh for local sightseeing.
Last year the locals set up check posts just before Khardung La ascent and near Sakti. They were stopping and checking all non-local motorcycles going towards Nubra and Pangong. Even though your motorcycle will have a white number plate if it is not in your name they will send you back to Leh.
Vehicles Registered in your Own Name
There is no restriction in place for private vehicles. As long as the vehicle is registered In your name and you have all the documents with you to prove it (RC, Insurance papers, PUC), you are free to bring your vehicle to Ladakh and take it anywhere you desire.
Your vehicle could be registered in any state of India. There is no rule around bringing privately owned vehicles registered elsewhere.
Also Read: Bike Rental Rate List of Ladakh
Bikes
Motorcycles too are subject to this entire frenzy. For local sightseeing in Ladakh, you must rent a motorcycle from Leh. For Zanskar, you would need to rent it from Kargil. If you are however on your own motorcycle and have all the documents to prove it, no such restriction applies.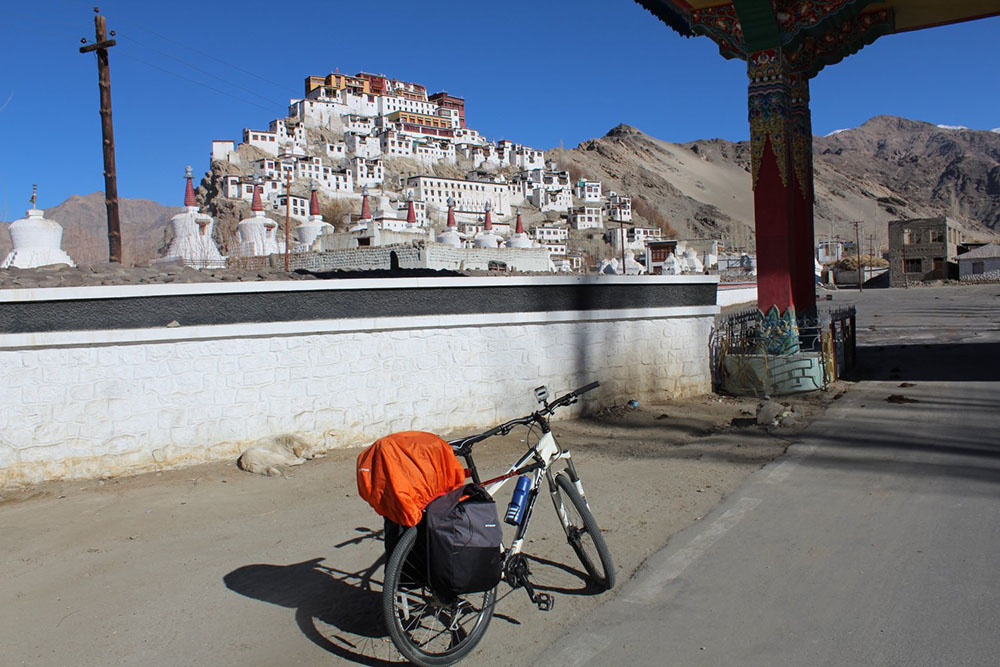 Self Drive Car Rental in Leh Ladakh Still Banned – Conclusion
Please do not try to work anyway around this and follow these conditions laid by the local taxi union. Do not take any chances of any sort thinking 'let us see if anyone stops us'.
Several of these incidents have already turned violent. Even some private vehicles were attacked because they were part of a convoy that had self-drive taxis in it. Tires have been deflated, windshields broken and in some cases, even the body of the vehicle was pierced with metal rods.
On a lighter note, there is no restriction applicable to Bicycles and Horses. If you are on either of these, feel free to pedal or gallop to anywhere you like.
I hope this information on self-drive car rental in Leh Ladakh was of help. If you have any further questions, please feel free to ask in the comments section below or at our Community Forum, and I would be glad to answer.