This article is in continuation of a previous one and a part of my Ladakh and Zanskar Travelogue. The post below provides a detailed log of Day 13 of our trip as we drove back from Padum to Kargil, after spending 2 days in Zanskar Valley. To read the previous parts of the travelogue, please click on the links below.
The day began very early at 5 am. It was the day we were supposed to bid adieu to Zanskar for some time to come. We were on our way back with Kargil being the destination for the night.
We left our hotel by 6 am; admiring the beauty of the barren landscape in the morning light. We were a bit stressed about the car's condition. So the idea was to reach Kargil as early as possible to see if something could be done to repair it. Although it was unlikely that any repair work would've been possible there, but still, as a wise man once said, "hope is a good thing, maybe the best of things".
Day 13 – Padum to Kargil
Bidding adieu to our hotel Gay-skit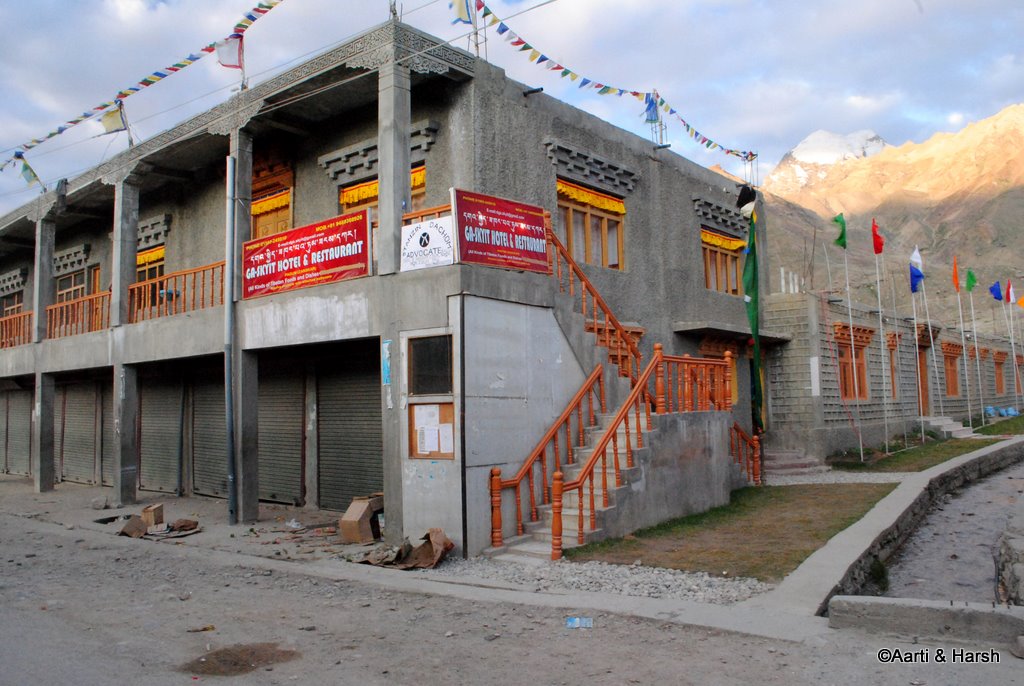 The main Padum bears a deserted look so early at 5 am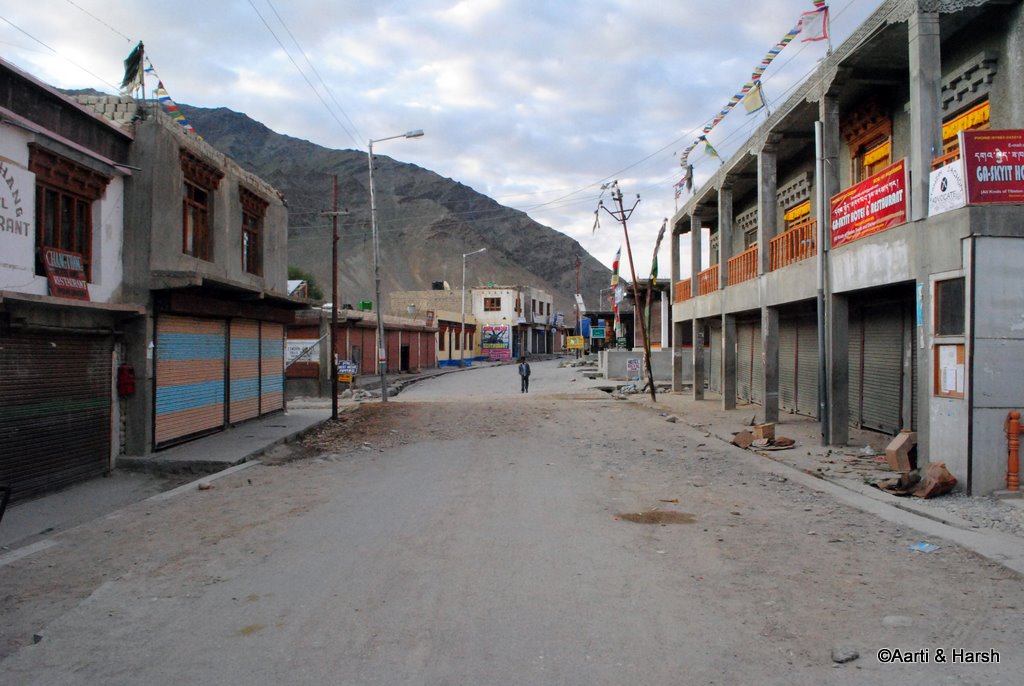 The initial 20 km is all tarmac! Not bad to begin with.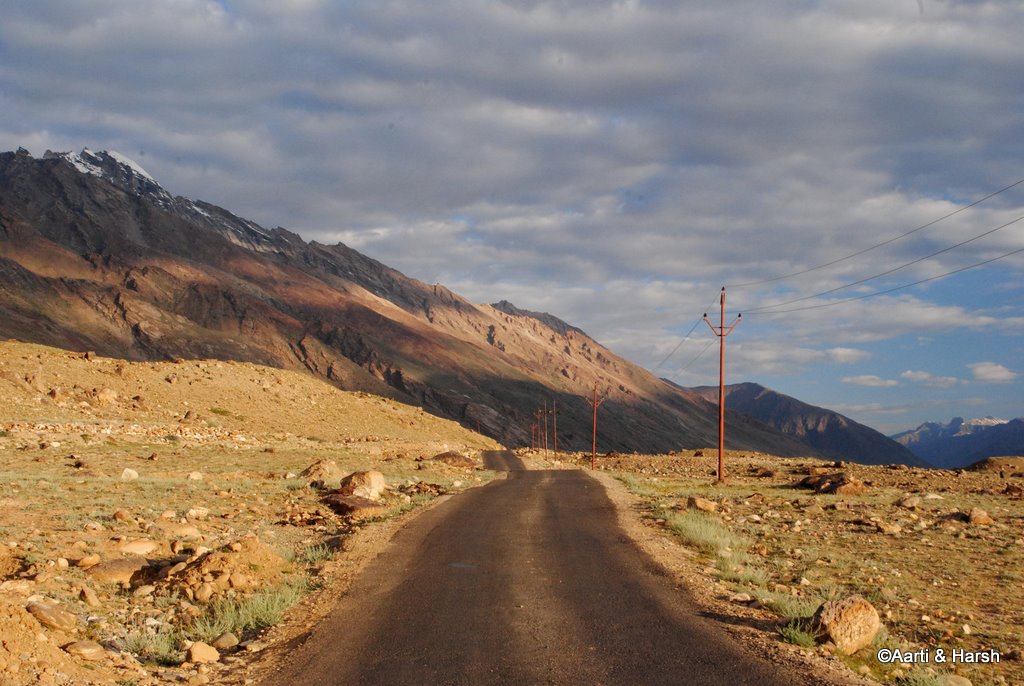 The road turns into gravel and stones immediately.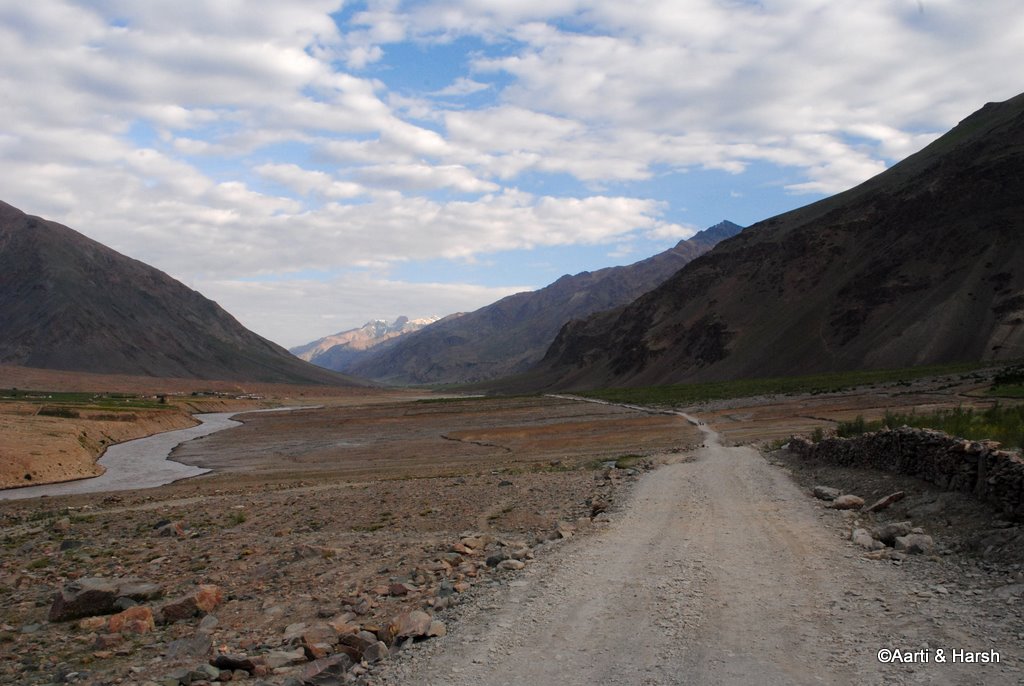 Stod spreads wide near a village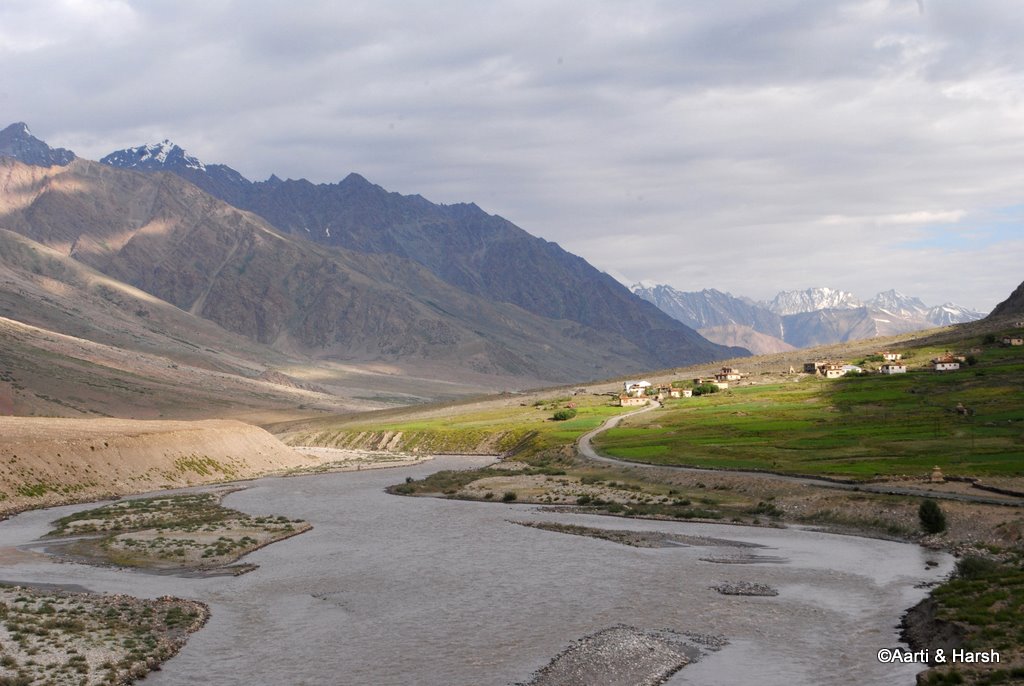 Breakfast with a View
Around 7:45, when we'd started feeling really hungry, we took Kiyang to the banks of the Suru, took out our little stove, and heated the only ready-to-eat packet we had left – Gajar ka halwa! It was pretty windy, and the stove had to be kept inside the car to keep it from getting extinguished.
So, at 8 in the morning, on the banks of the Suru river, in the remote Zanskar region, the two of us, all packed up in sweaters and jackets, had a breakfast of piping hot Gajar ka halwa! And as someone rightly said: "Gar firdaus, ruhe zamin ast, hamin asto, hamin asto, hamin asto". (Loosely translated: If there's paradise on earth, it's here, it's here, it's here).
Also Read: How to Plan a Trip to Zanskar Valley
Tasty breakfast at such a picture-perfect spot. It felt as if things really could not get any better. Well, they did – Aarti allowed me to smoke a cigarette without shouting too much.
Parking spot next to Stod for breakfast.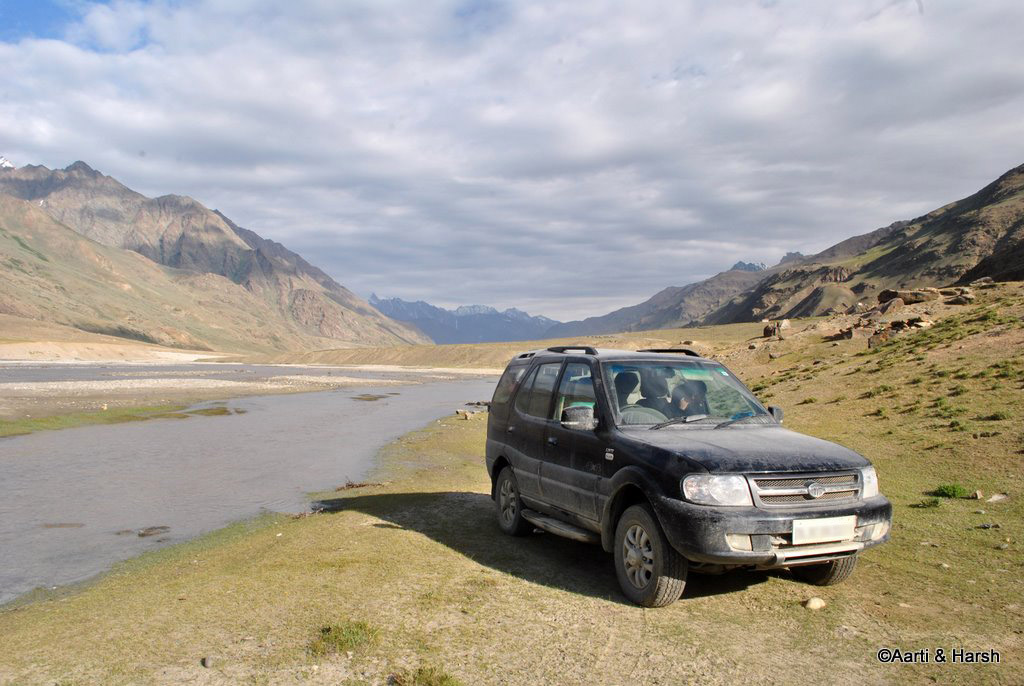 Away from the windy valley, the stove burns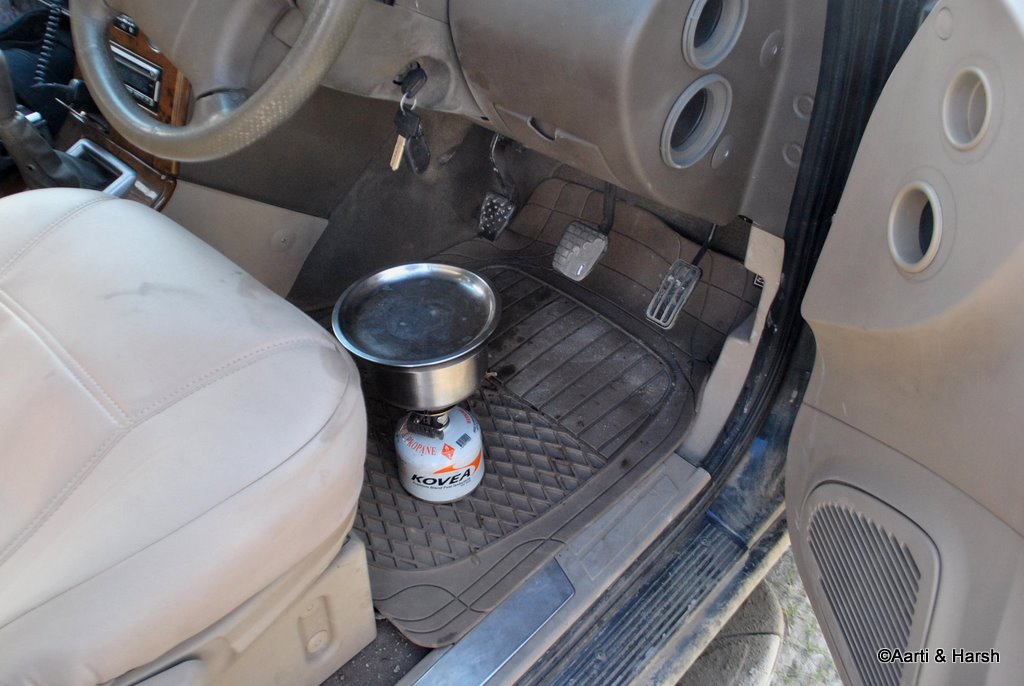 To prepare an exquisite Gajar ka halwa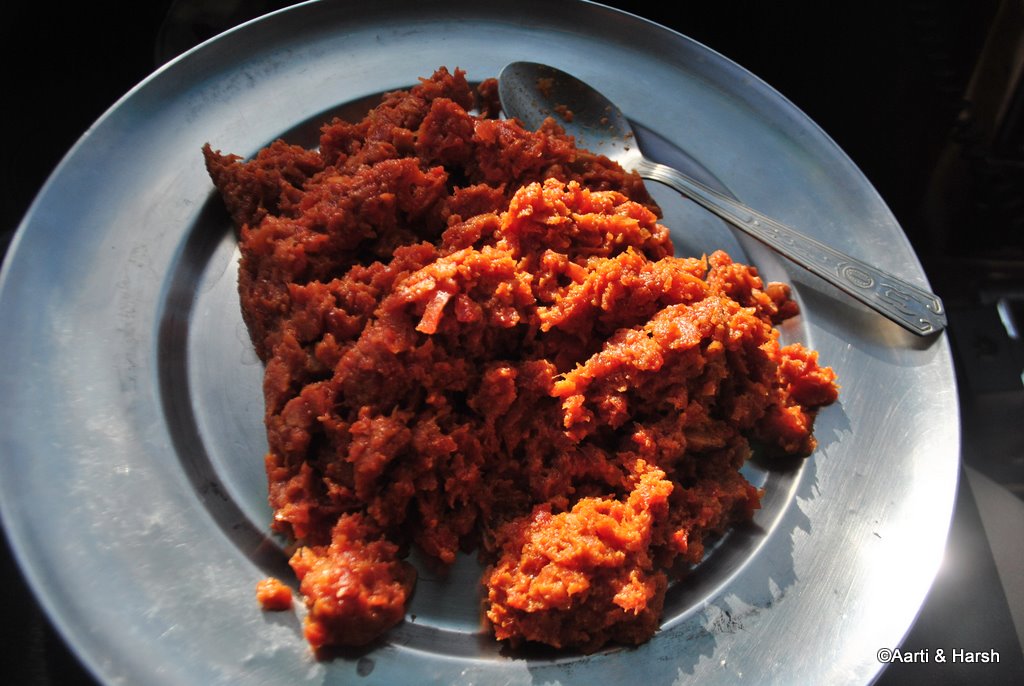 Drang Drung Glacier
Thereafter, back on the road, we did not stop for too many photographs and just kept going. We were doing very well on time and had reached the Drang Drung glacier already at 10 am. Now that is a sight which you cannot help but a photograph, and so we spent a few minutes there, again taken in by the grandeur of the scene before us.
Few lake formations near Drang Drung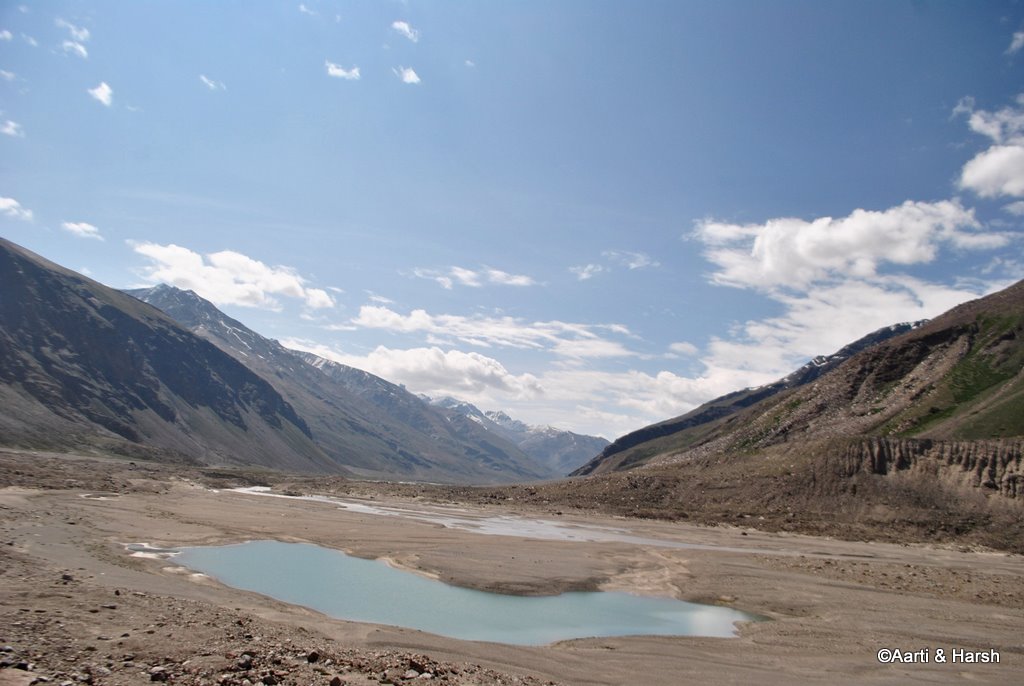 The ever-fascinating Drang Drung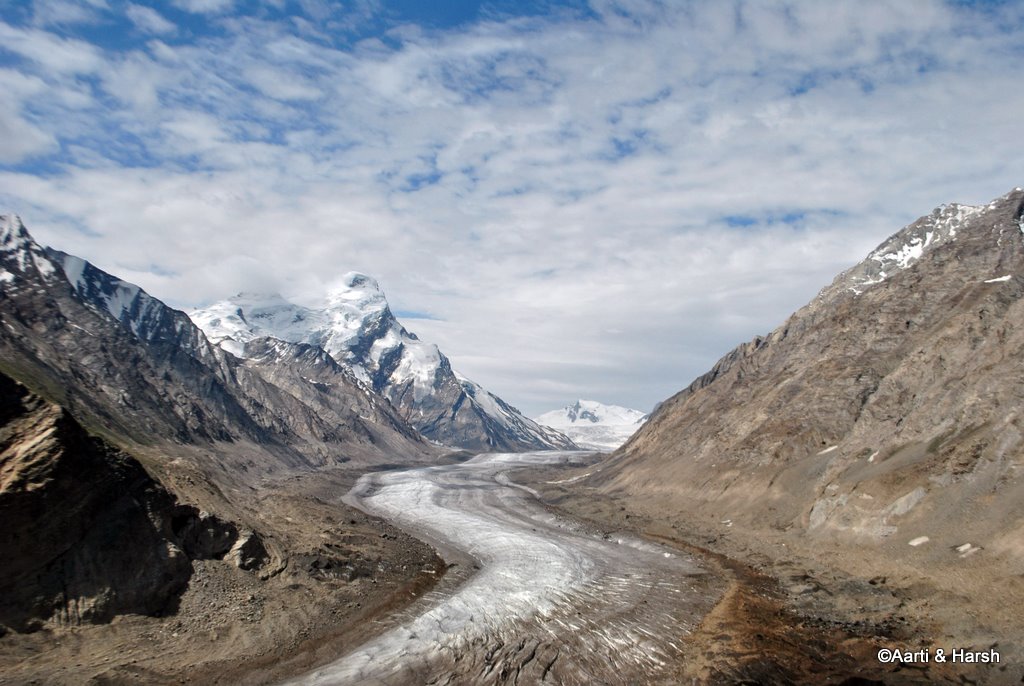 Lakes at Pensi La
​
The descent to Rangdum was easy, and we were there by 11:30. We stopped at our friend Tashi's dhaba for an early lunch, as we'd promised him we would three days ago. Then, after making another promise of sending Tashi his photograph, we hit the road again.
Rangdum Gompa, we meet yet again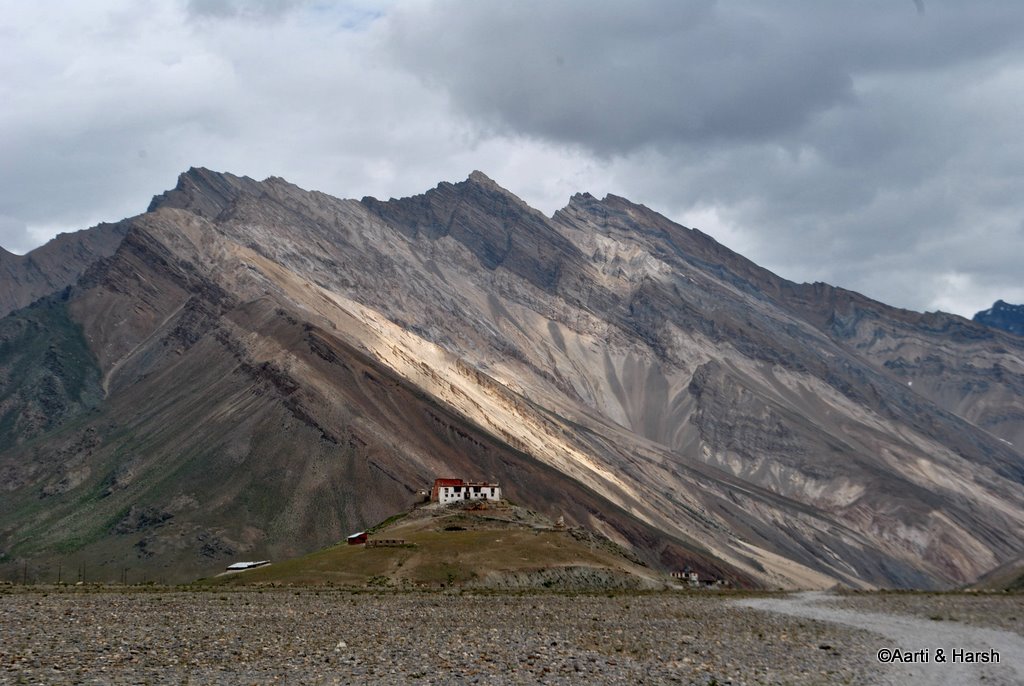 Marmots start to appear again, this time they fail to excite us.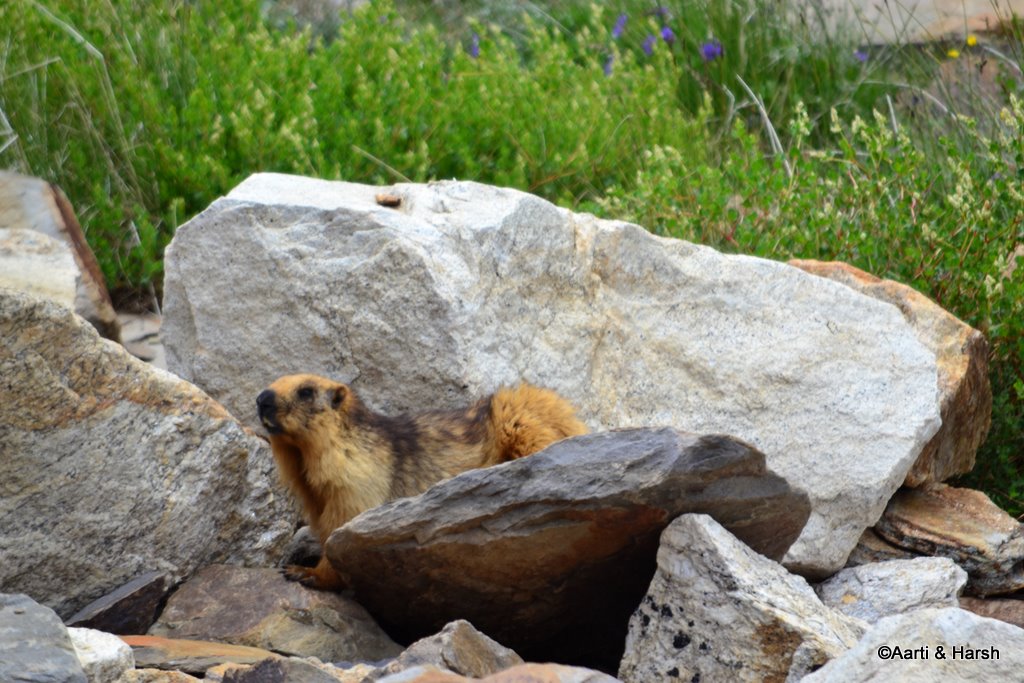 Car Trouble
On we went, our bodies now used to the constant rattling of the car on the un-tarred road, happy that we would make it to Kargil by 4 if we maintained our current speed. And then, when we were about an hour away from Parkachik, it happened again. Kiyang sputtered, and we looked at each other, not knowing what to do now.
The only thing that could be done was to drain the sedimenter. So I got out out the car and readied myself to perform the now-familiar drill of lying down on a mat near Kiyang's exhaust and unscrewing the sedimenter to drain the water that had accumulated in it.
Only this time, in my frustration maybe, I screwed back the sensor with a little more strength than required, and it came off! The bloody design is so flawed, I mean who in their right mind would make a plastic screw of a metallic component? That's cost-cutting my dear friends, and that's how Tata Safari is cheaper than let's say a Toyota Fortuner (of course, there are many other factors as well and not just a plastic screw).
So there we were, stranded at 3500 m above sea level, beneath a glacier with diesel leaking through the sedimenter, and the only thing stopping the leak was my finger which was shoved up the sedimenter. And I, of course, was lying on my back on the ground.
Also Read: How to Prepare your Car for Leh Ladakh
No Help Around
I stayed there for about 10 minutes, panicking and kicking myself for not carrying M-Seal or some adhesive that would've got me out of such a sticky situation. In this remote part of the world, help could be another hour or two hours away. I was resigning myself to be in an uncomfortable position when I heard the roar of a taxi. Aarti tried to flag it down, but the guy did not stop!
Now let me take a break here to explain, as I perceive, the difference between people on the Manali – Leh highway and those on the Leh – Srinagar highway (or in this case Padum – Kargil highway). Had this been the Manali – Leh highway, the taxi would've stopped without Aarti even having to flag it down and would've asked if he could help.
However, on any other highway, people just pass through and don't ever stop! Such is the difference between camaraderie on different highways in India.
Troubleshooting
The first objective was, of course, to stop the leaking fuel. After a few minutes of panic, my brain started working again, and I remembered that the oil filter had a pretty similar screw to the one that had come off, minus the sensor for the sedimenter. Fortunately, I had kept an extra oil filter and was thrilled to see that the part did actually fit.
With the fuel leak stopped, I cranked up the car again to see to my horror that the sedimenter light went on! The sensor connecting the sedimenter to the engine ECU was dangling in mid-air. This led to a high RPM and the manual suggested the driver not to drive the car for a long period in such situations.
I knew that there was no water there now, but it was only the sensor acting up. Upon closer inspection of the sensor, it became clear that the two strobes were connected by a drop of liquid which was conducting the required electric signal to fire the ECU sedimenter warning up.
I wiped the strobes dry with a piece of cloth and then bandaged it well with non-conducting tape (electric one). By doing that the signal for the sedimenter immediately went off and the RPM was returned to a normal engine beat. So after about an hour of struggle, we were good to resume our journey.
Also Read: Tourist Attractions in Zanskar Valley
Padum to Kargil Distance
The distance between Padum and Kargil is about 230 kilometers in total which may not seem like much. But when you put it together with the bad roads, it can take you as long as 8 to 10 hours to cover. Thankfully, we started from Padum early in the morning which gave us some leverage. Even after an hour wasted fixing the car, we knew that we will still be able to make it to Kargil in time.
Pinnacle peak where we were stuck again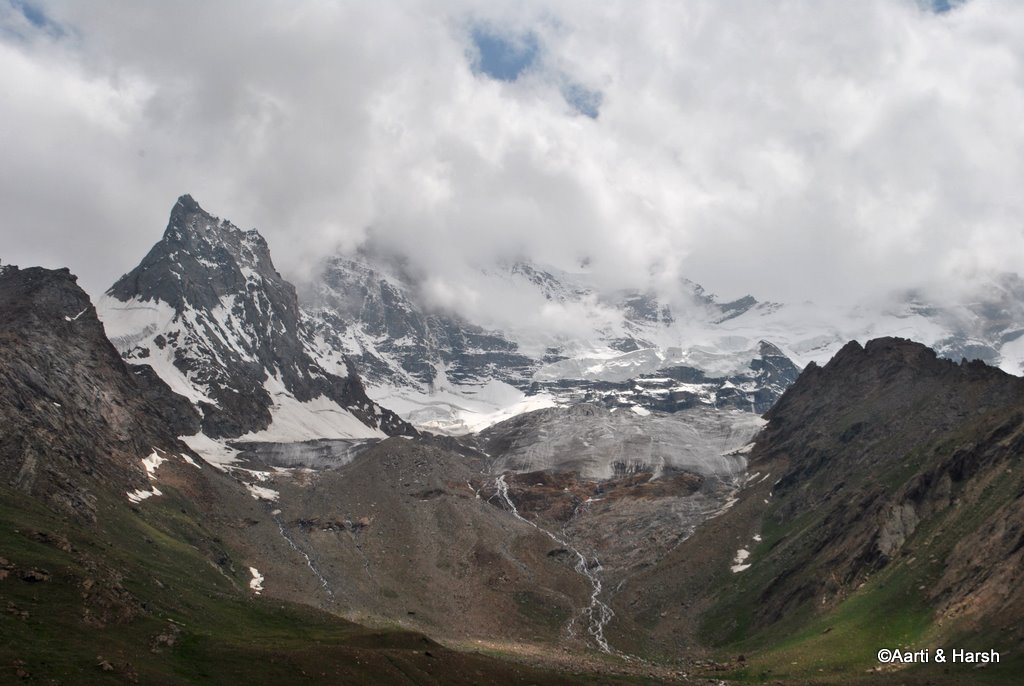 Parkachik
​Another hour later as we were crossing the Gumri glacier close to Parkachik, it happened again. The sedimenter warning went up and the RPM went wild again. I went down, again, to check on the strobes, due to a water splash the strobe was wet again and was conducting.
Also Read: Mobile Phone Connectivity in Zanskar Valley
The tape was unwound, the strobes wiped dry, a plastic was tied to the strobe so that further water splashing does not affect the strobes and we marched on. And of course, since I was down there, I drained the sedimenter again!
Gumri glacier near Parkachik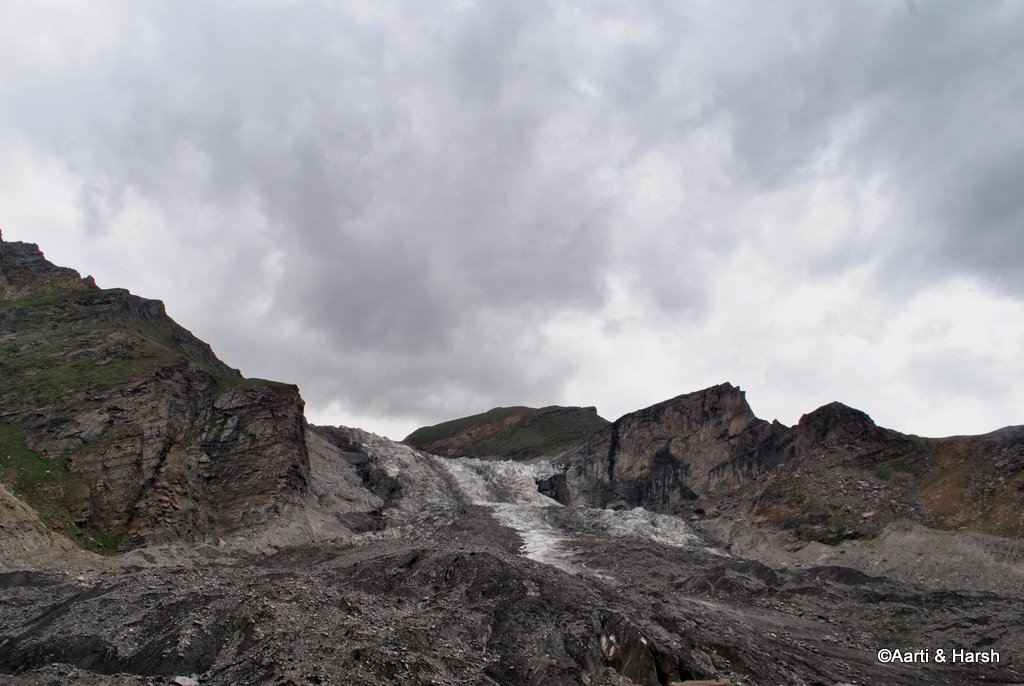 Kargil​
At Sankoo, 40 km before Kargil, we managed to locate the road that goes directly to Dras through Umba La. This road branches off from the main market in Sankoo. Had Kiyang not been unwell, we would definitely have taken this road and then stayed the night in Dras. Well, some other time I say.
We managed to reach Kargil, despite all these delays, by 6 pm. The casualty of all this was, of course, the peace of mind and photography. It's difficult to shoot under such trying circumstances.
Aarti checked into D'Zojila, and I again went around to what seemed all the mechanics in Kargil to see if they could fix the sedimenter. But Safari spare parts are hard to come by in a small town like Kargil, and after several futile attempts, I returned to the hotel around 7.30. After a quick bath, we went into the market for a dinner of Kashmiri food.
Padum to Kargil – Conclusion
I hope you have enjoyed reading the travelogue so far. After Padum to Kargil, our plan for the next day was to drive to Srinagar via Zojila and Dras. Please click on the link above to read the next part of the travelogue. If you have any questions, please feel free to ask in the comments section below, or at our Community Forum and I will be glad to answer.