This article is in continuation of a previous one and a part of my Ladakh and Zanskar Travelogue. The post below talks about Day 9 of our trip as we drove from Kargil to Rangdum, through the beautiful Suru Valley. We had already spent 8 days traveling from Manali to Leh and then Leh to Kargil while covering the Sham Valley and Batalik route on the way. To read the previous parts of the travelogue, please click on the links below.
Usually, people try to cover the entire distance of Kargil to Padum in a single day. It is easily doable as well. Except for the bad condition of the road, it is mostly a straight drive. If you started really early from Kargil, you will easily make it to Padum by late afternoon.
But in doing so, people tend to miss the beautiful Suru Valley that they pass through. Everyone is so focused on Zanskar that they just rush through the entire stretch and miss all the beautiful sightseeing spots in between. We did not want to do that and hence decided to break the journey into two days; Kargil to Rangdum and Rangdum to Padum.
Day 9 – Kargil to Rangdum
Finally, day 9 dawned on us. It was the day we'd been waiting for since the beginning of the trip. Our plan for the day was to reach Rangdum and stay the night there. Kargil to Rangdum is only about 130 km, so we knew that there was no need to hurry. We got up late and only left the hotel by 8:45 am or so. It was now time for Zannn-s-kaaaarrrrrr!!!!
Suru Valley
We left the town of Kargil. Suru flowing beautifully on our left, the valley was becoming greener. The road was superb here, and we were gliding. We knew that the road was tarred only till Sankoo, some 40 km away from Kargil. So we were enjoying the pleasure of driving on tar while it lasts.
Suru river flowing next to a fantastic tarred road.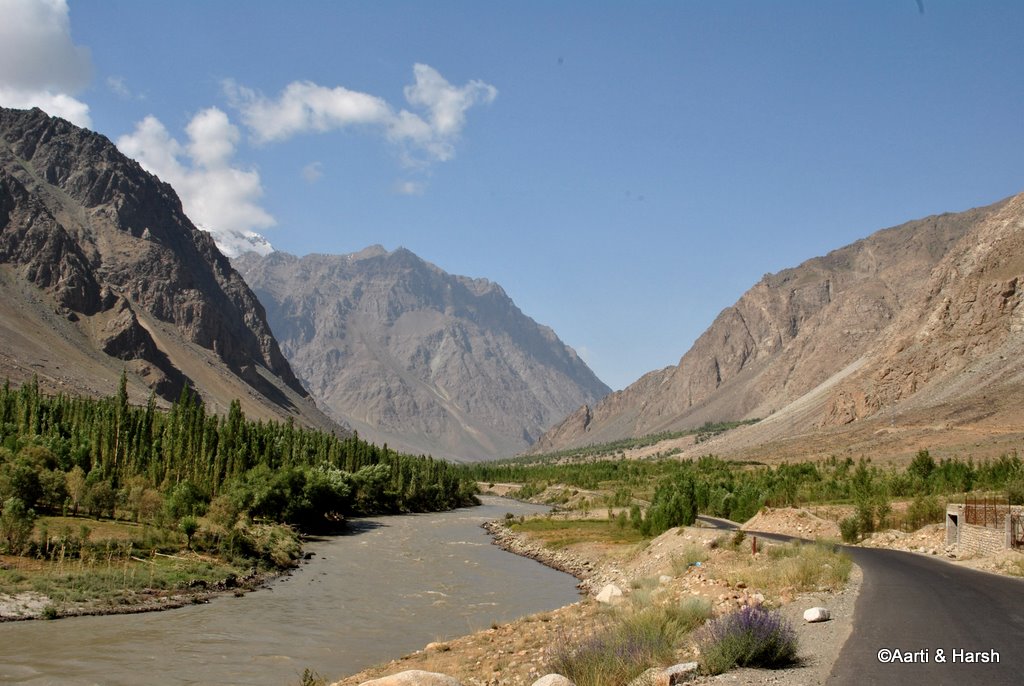 Maitreya Buddha at Kartse Khar
Our guidebook (which by the way is an excellent guide with intricate details of all places), mentioned a rock carved statue of Buddha at Kartse Khar, a village near Sankoo. The detour for this village is bang in the middle of Sankoo. One crosses over the Suru river and proceeds east for about 7 odd km, before coming to a well-marked cut for the statue.
The 7m tall rock carved statue of Maitreya Buddha is pretty amazing. What is more amazing though is that it is situated in a primarily Muslim populated area. Even more surprising is the fact that the statue is worshipped by visiting Buddhists almost on a daily basis.
Also Read: How to Plan a Trip to Zanskar Valley
A little research told us that Buddhism came to Ladakh not from Tibet, but from Kashmir, in an era before Muslim prophets turned the local populace into Islam. This probably also explains the location of the statue.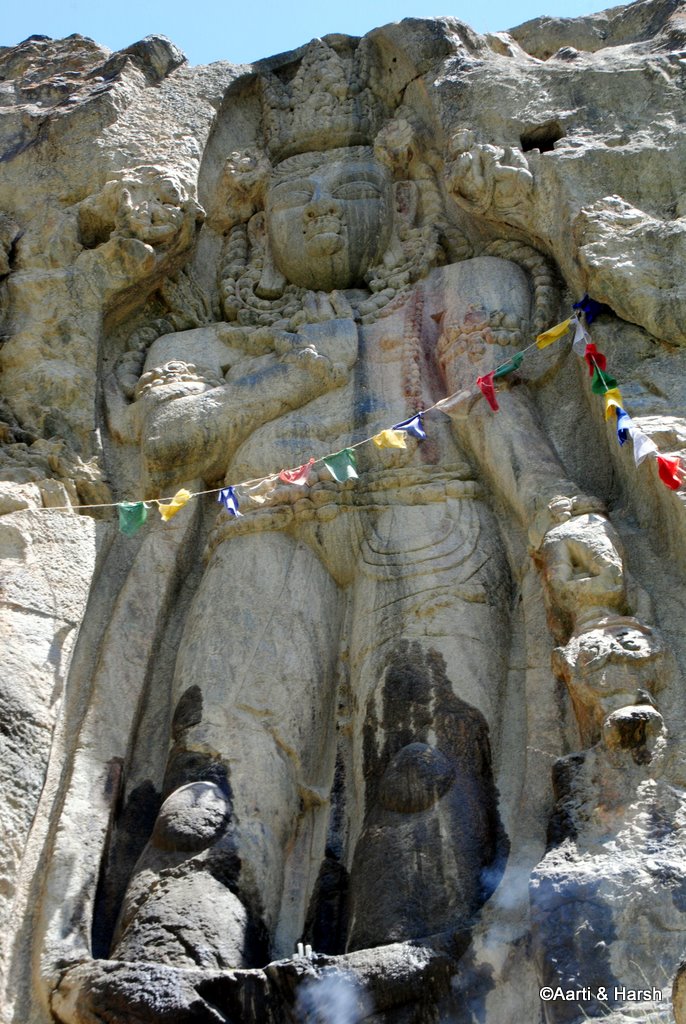 Kargil to Rangdum Distance
The total distance between Kargil to Rangdum is only about 120 kilometers. The road can really be divided into two parts. The first stretch between Kargil to Sankoo is a smooth tarred road and the remaining 80 odd kilometers is a dirt road.
But in all probability, you should easily be able to cover the distance in 4 hours if you drove straight and 6 – 7 hours with plenty of sightseeing breaks in between. Since we had the entire day, we were not worried about the destination and were more focused on visiting the attractions in between.
What to see between Kargil to Rangdum?
Suru Valley has a long list of attractions that you can cover between these two places. There are several more that you will see between Rangdum and Padum and then around Padum. You can continue following this travelogue to know about these places or you can use this article Tourist Places to Visit in Zanskar Valley as a quick reference guide.
Purtikchey
We were back on the highway by 11:30 am, the entire detour taking about an hour at the most. We then resumed our journey toward Rangdum. The Suru river was faithfully accompanying us. In about an hour, we reached Purtikchey. Here the river expands to fill a relatively wider valley with an outstanding view of the Nun and Kun massif. We were able to see one of those peaks, the other sadly was shrouded in clouds.
The meadows in Purtikchey would have made for an ideal lunch spot, but for us, it was too early for a lunch break. Several locals, including some school children, had come all the way from Kargil for a picnic on the river banks. I would highly recommend people moving towards Zanskar to break a night here instead of doing it at Kargil.
It does turn barren between two villages even in the Suru valley. But greenery returns, the river basin at Purtikchey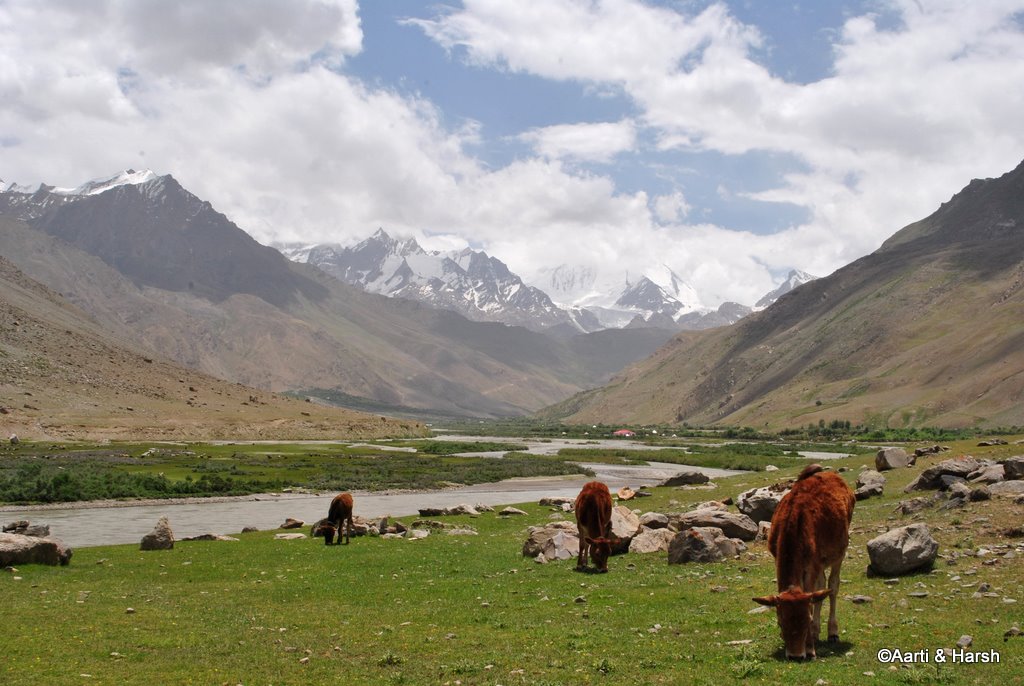 Panikhar
Just before Panikhar, we were told by the policeman deployed at the checkpoint to cross over to the right bank of Suru. The road is a little better as compared to the one on the left bank. Since our breakfast had been very light, we ventured into the village to search for a dhaba but were unable to find one. We thought it might be better to break for lunch now at Parkachik.
Lush green near Panikhar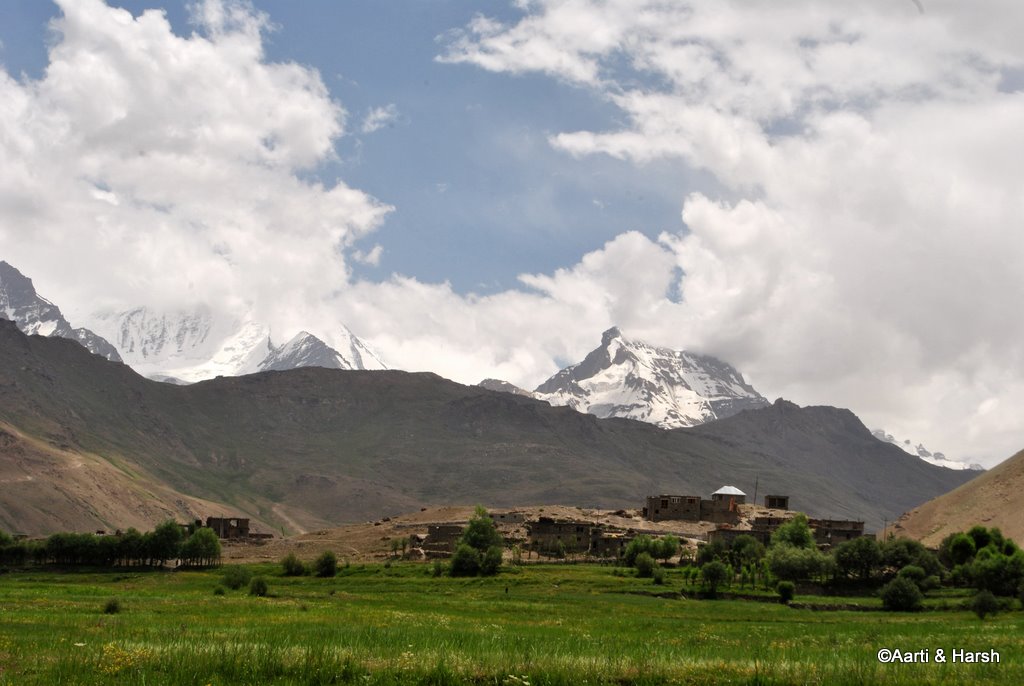 The road now starts to climb a bit, taking us quite high, leaving the Suru river below. The initial 10 odd km of the climb is on an okay road, after which the tire-ripping road to Padum begins. Jagged stones are strewn all over the road, and if one is not careful enough or unlucky, these stones have the potential to severely damage the tires.
The greenery also reduces from here onwards, the landscape turning more barren. The road is devoid of any population after Panikhar, and one only finds a few small settlements scattered here and there till Padum.
Beyond Panikhar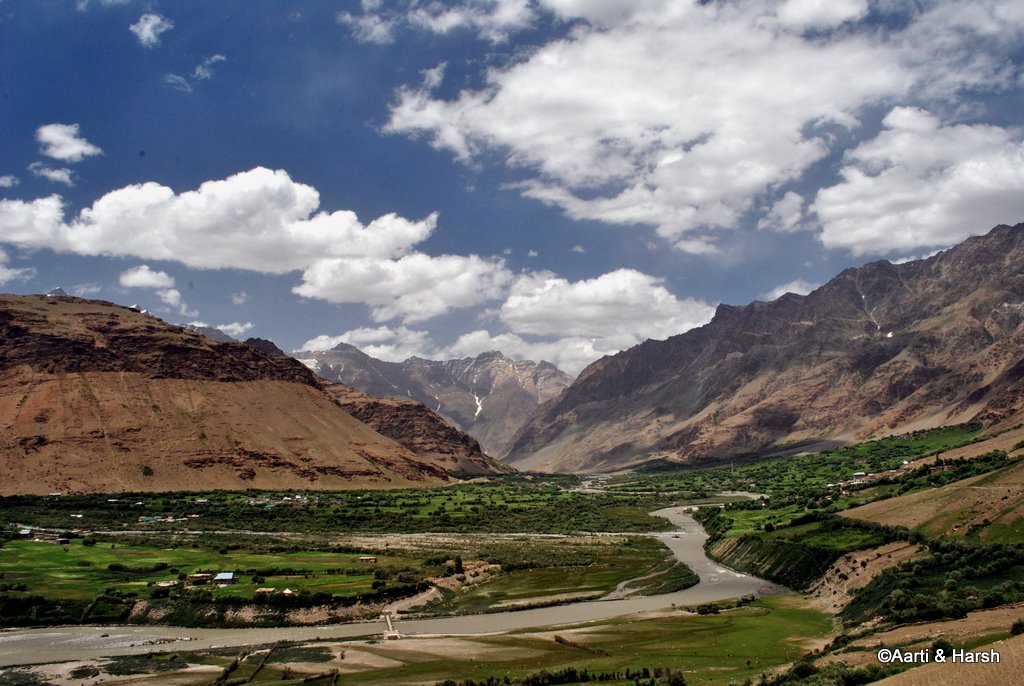 Parkachik
We reached Parkachik village around 2 pm, and by that time we were hungry enough to eat a horse, figuratively speaking. We had not anticipated the utter lack of dhabas on the route and were not able to find anything at Parkachik as well. The excitement to see the Gumri glacier just after Parkachik was building.
Also Read: Mobile Phone Connectivity in Zanskar Valley
And suddenly, after we turned on one of the many bends on the road, we saw it! The Gumri glacier in all its glory. What a sight! Our jaws were hanging open! This was the first time either of us was looking at a glacier so close to the road, and it was an overwhelming feeling! It was a sight to behold and sight also difficult to describe in words.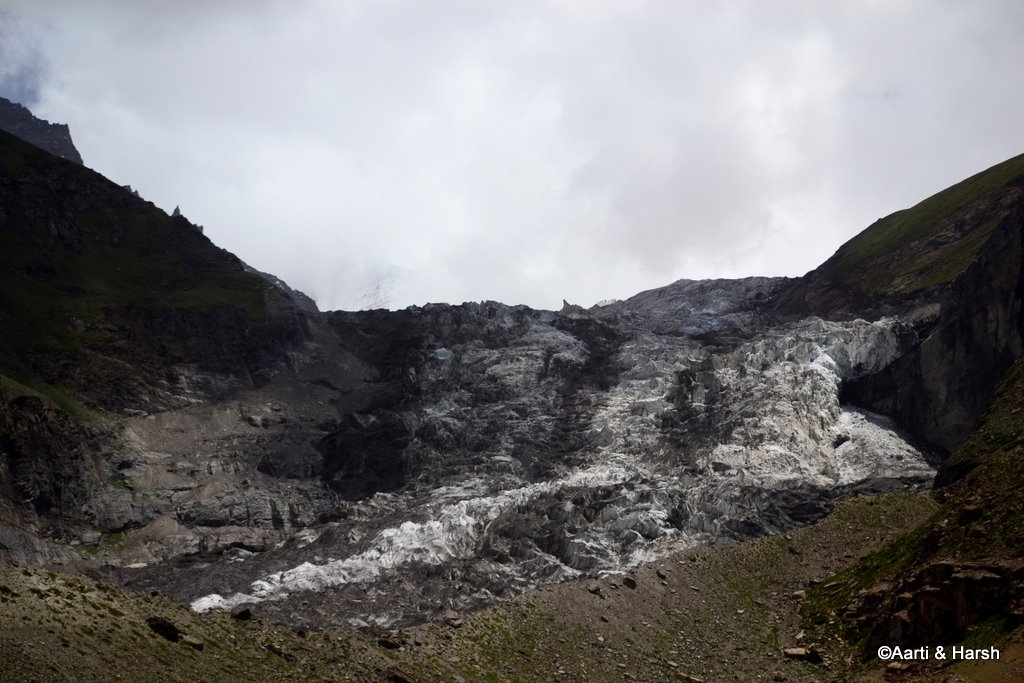 It was now getting difficult to ignore our growling stomachs, and so we decided to make our own lunch there while soaking in the vistas around us. Out came our camping equipment – our little stove and cylinder – and Maggi packets with tomato puree which we'd bought from Sankoo, inspired by the tomato Maggi we'd eaten near Hamboting La.
Cooking and eating next to the glacier was an awesome experience, and we thoroughly enjoyed those 45 minutes! Then, around 3 pm, we started again towards our destination for the day, Rangdum.
Little master in action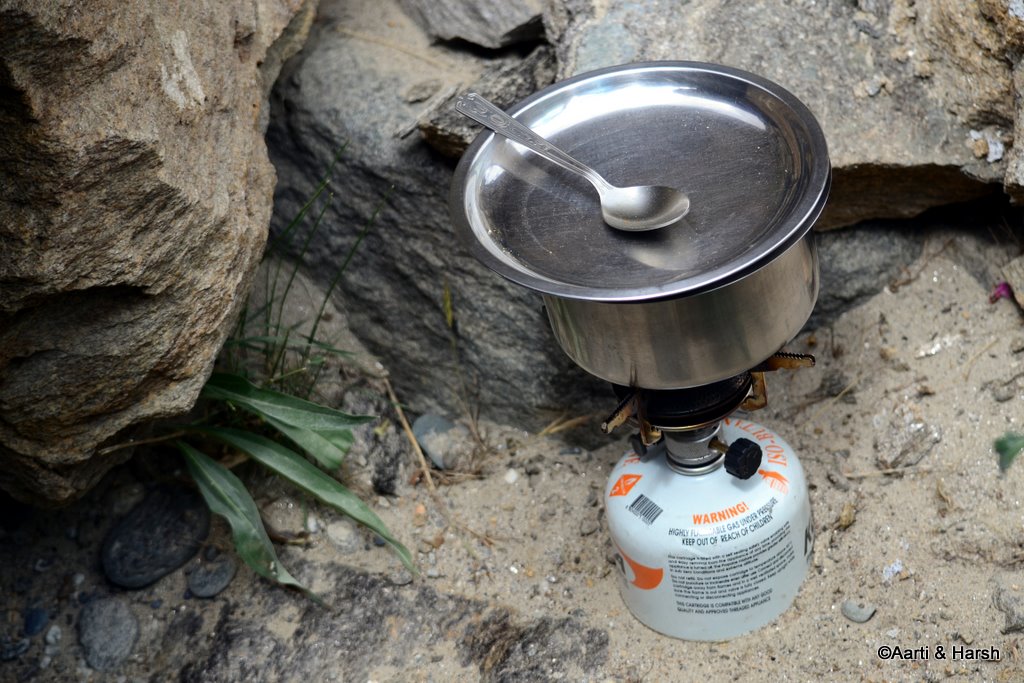 Nun and Kun Peaks
Thereafter, one drives in the shadow of two of the highest peaks between Parkachik and Shafat. In fact, the Gumri glacier comes straight down from the ridge between the Nun and Kun peaks. However, the peak themselves are not visible from the road.
Another lesser-known peak, Pinnacle (6900 m), is clearly visible from the road, and just popped into our line of sight upon turning a bend. Standing at 3900 m and looking at a 6900 m peak right in front of us reminded me of the view of Shivling from Tapovan.
Also Read: Zanskar Valley Taxi Rates
While such views are common on treks, what made this memorable was that we were experiencing them from a MOTORABLE ROAD! After spending sometime beneath the peak, we moved ahead towards Shafat.
Pinnacle Peak (6930 meters)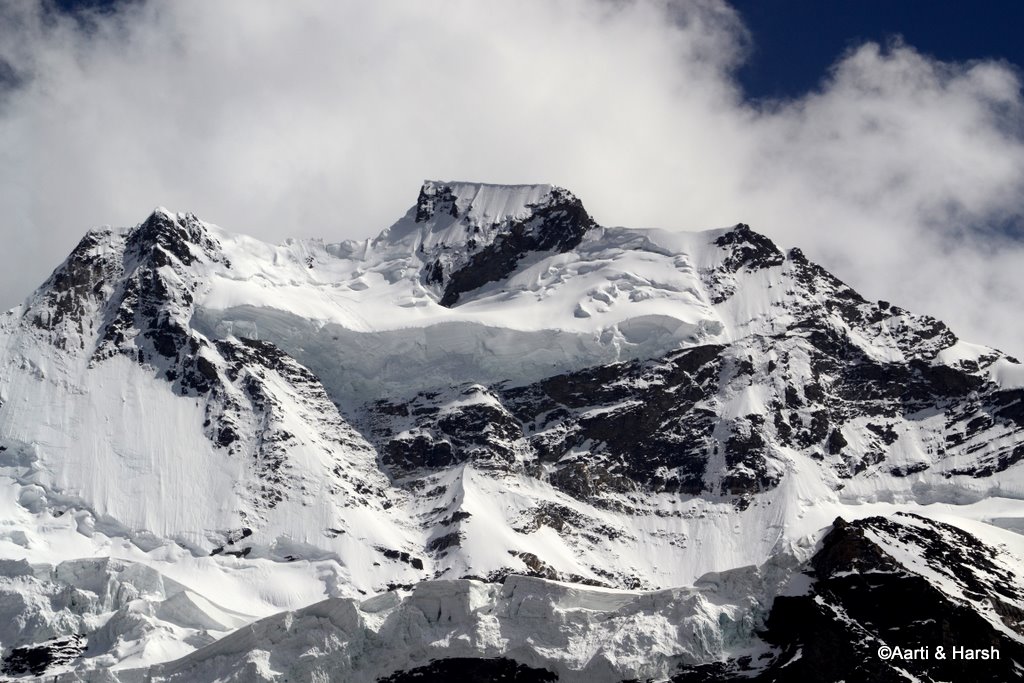 Pinnacle peak and the glacier beneath
Shafat
As one sees Shafat in the distance, the valley broadens, and a green carpet welcomes the tired traveler. This is also the place from where the marmot infestation begins!
The valley between Shafat and Pensi La can actually be named 'Marmot Country'! It would take a really unlucky person to not sight a marmot while on the way to Padum. The first few marmots we saw excited us, then they started appearing every two minutes, which was great to see as well.
But when all we could see were marmots popping up here, there, and everywhere, we simply decided not to stop anymore! We'd never thought that a day would come when we wouldn't stop our car when a marmot was sighted! So much was the infestation that at times we had to brake really hard to stop from hitting one as it ran across the road.
A marmot in a marmot country!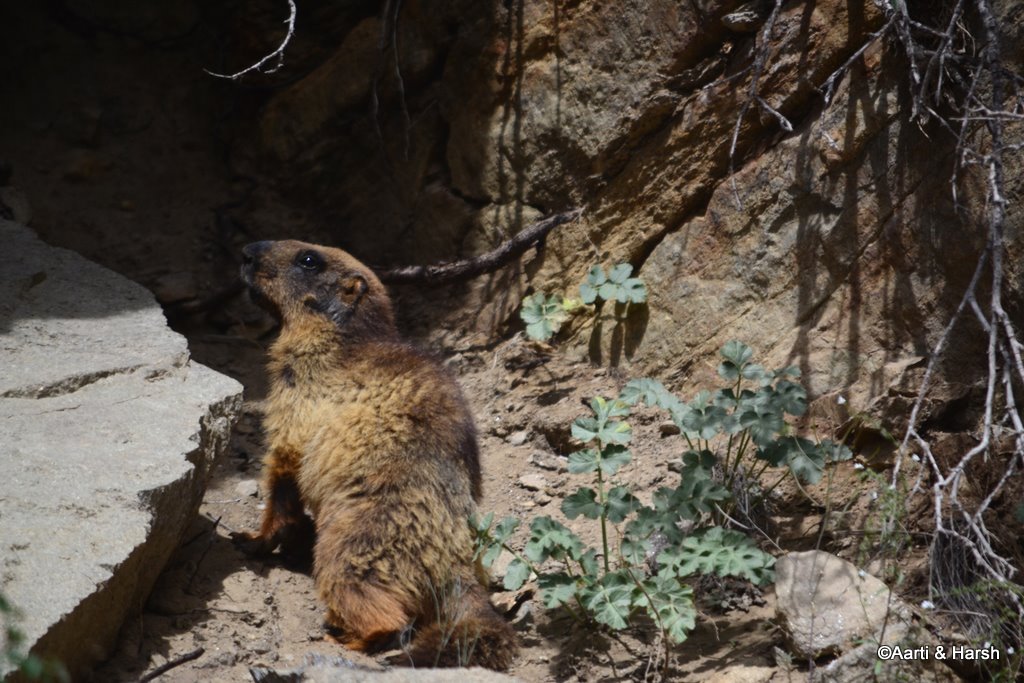 ​View of Shafat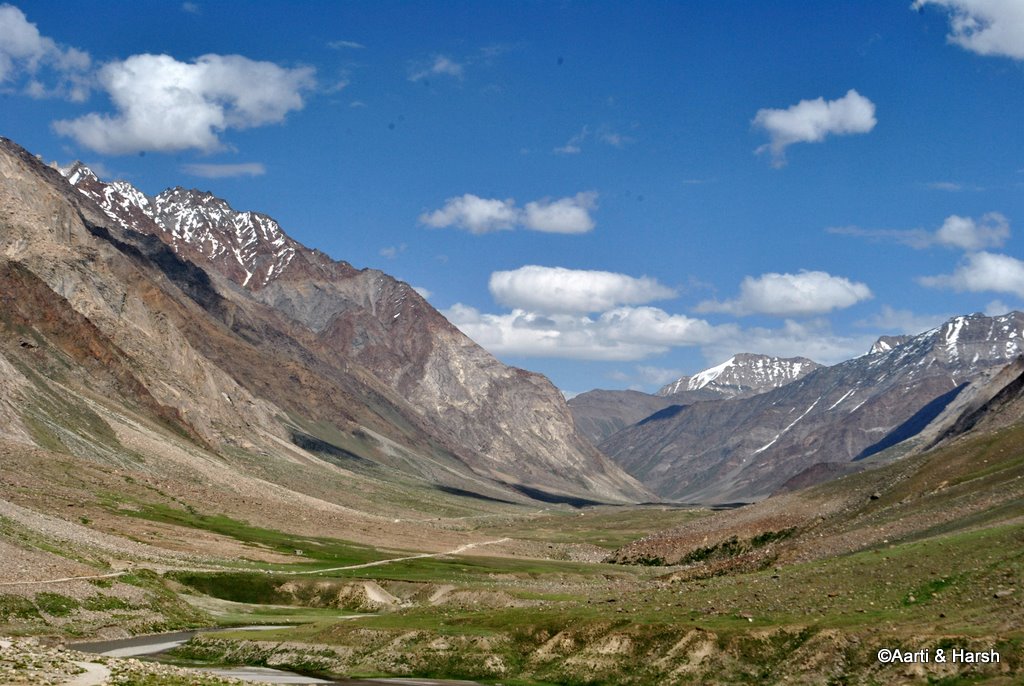 The wetland before Rangdum is probably the reason for this abundance of marmots. And it was not only marmots, but several birds, horses, and lots of other mammals. Our progress was slow because of this sudden bombardment of fauna, and we took about an hour and a half to reach the Juldo village, a part of the Rangdum area, about 22 km away.
Also Read: Leh to Zanskar Itinerary – How to Plan your Journey?
Rangdum
Rangdum is not really a village, but rather an area of about 7 odd km, which includes the villages of Juldo and Tashi Tongse with the Randum Monastery lying in between the two villages.
A pregnant mare shows aggression as I try to come close to the herd.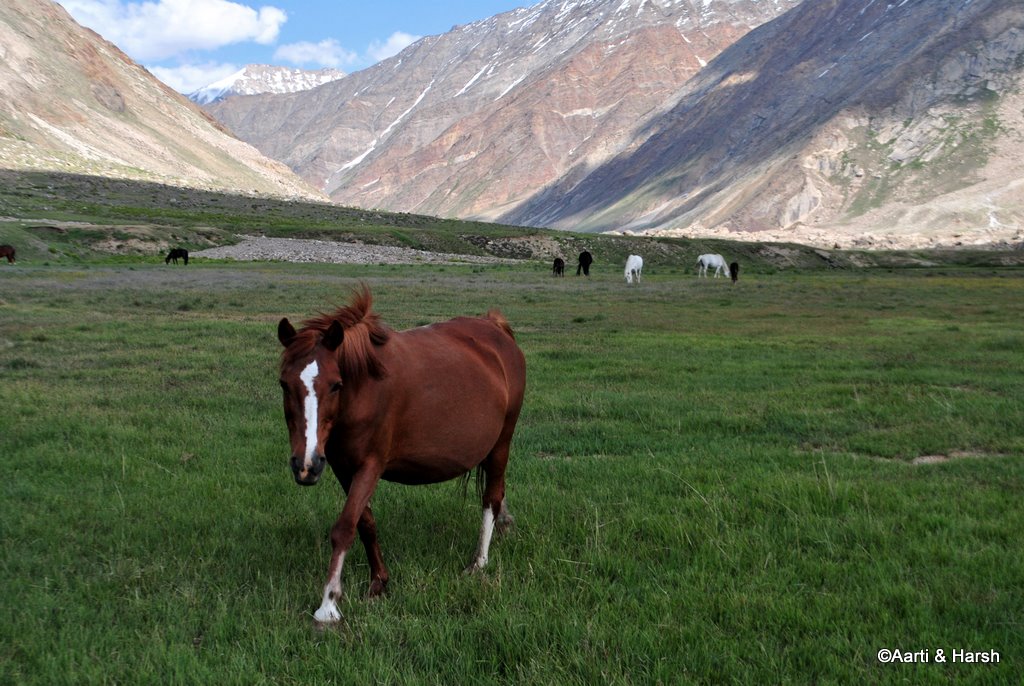 A white yak calf found in between a herd of sheep.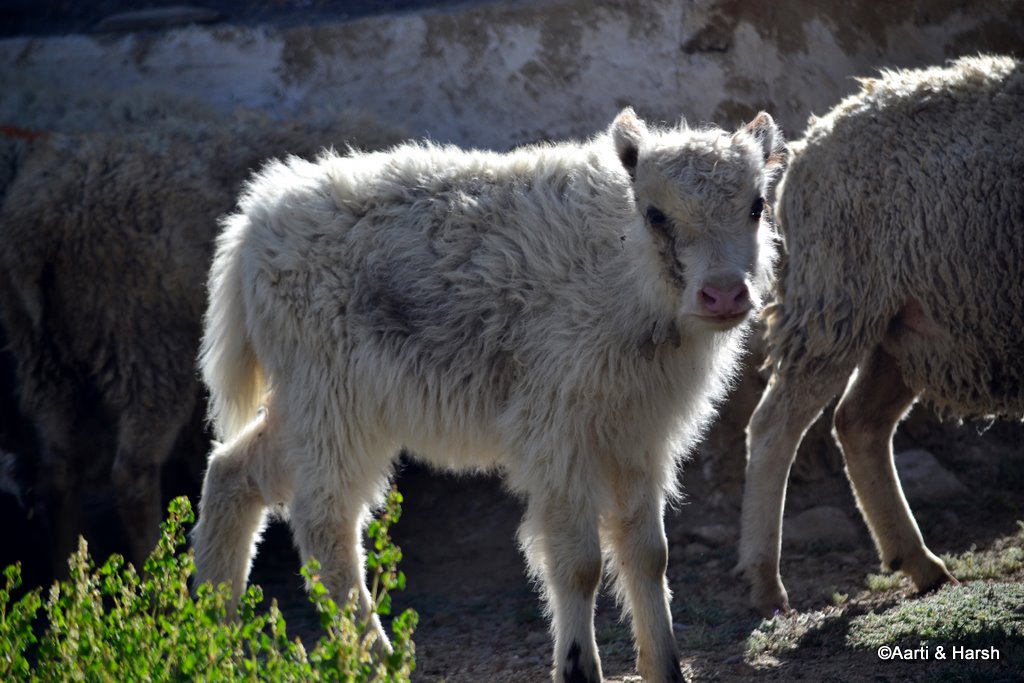 On reaching Juldo, our immediate course of action was to find a place to stay for the night. The obvious options were
a) to find out the caretaker for the JKTDC rest house and get a room there
b) to talk to a 'deluxe' camp put up there
c) to find a place to pitch our own tent
We found the caretaker who informed us that the only room in the rest house was taken. However, he did have a VIP room but the catch was that should any VIP arrive in the night, we would have to vacate the room. On that precondition, we took it and thankfully were not troubled by any visiting dignitaries in the evening.
There was a dhaba opposite the rest house, and we decided to have dinner there. However, we forgot to actually tell the dhaba guy that we would like to have dinner at his shop.
Also Read: Zanskar Valley Bike Trip – A Solo Bike Ride to Zanskar Valley
Rangdum Monastery
​With the boarding and lodging all set, we decided to may hay while the sun was still shining. We moved on towards the Randgum Gompa situated atop a hill, about 7 odd km from Juldo.
The river basin is huge at Rangdum and the road obviously sticks to the ends of the basin. But it was mostly dry, and almost all vehicles were taking short-cuts through the basin towards the Gompa.
It had a few water crossings, the best ones we'd come across since our journey began, and so we decided to play around a little. I splashed Kiyang through two such water crossings while Aarti clicked. The photo-shoot turned out quite nicely and was good fun as well.
And splash!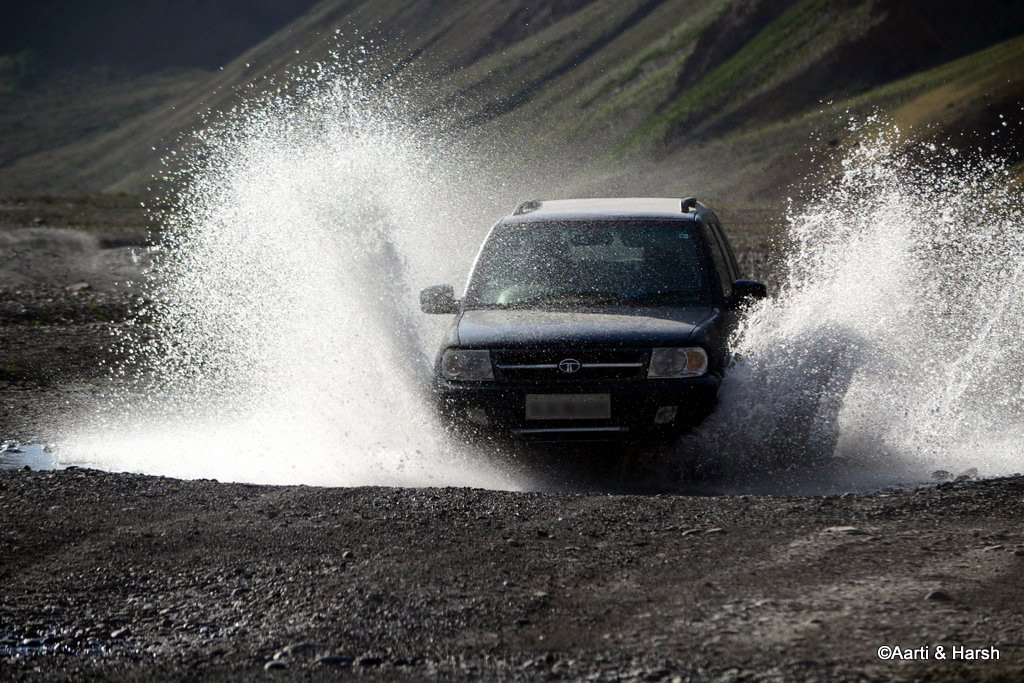 Rangdum Monastery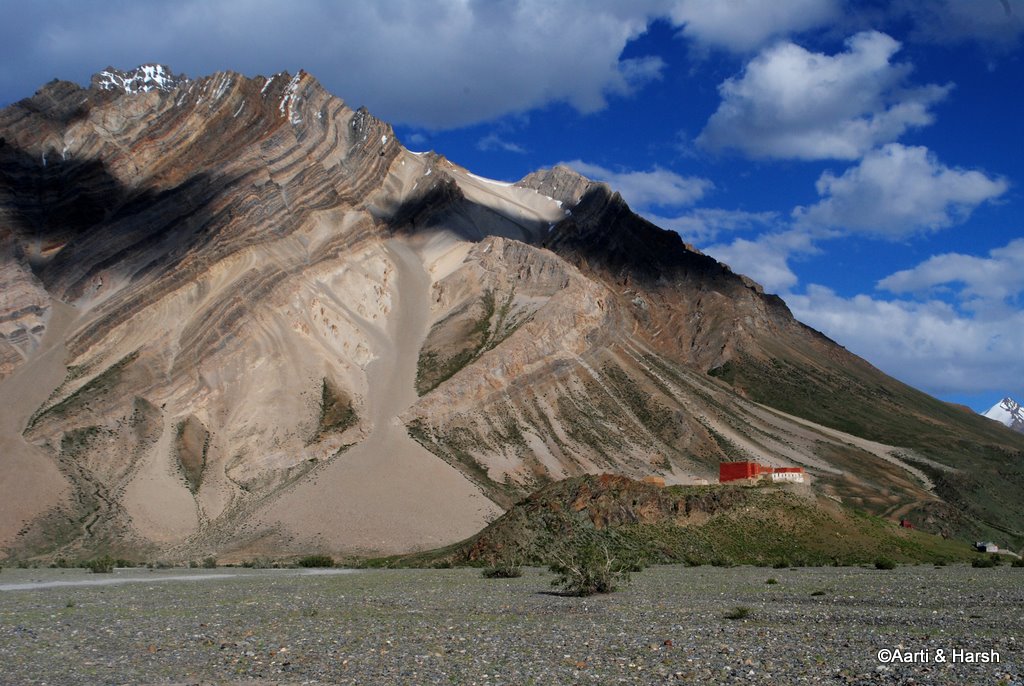 Not being the religious kind, we are usually clueless when it comes to things one can do at a monastery. The interiors of the Rangdum Monastery were pretty much the same as those in most of the other monasteries in the region. The USP of the monastery lies in its location and the commanding views that it has to offer. I would recommend it just for its views. The view of the Nun and Kun peaks from the monastery on a clear day would be spectacular, especially in the morning.
Also Read: Zanskar Valley by Public Transport – How to Plan a Trip?
Juldo
​After spending about half an hour at the monastery, we headed back to Juldo for the night. We went straight to the dhaba opposite our guest house, only to find it shut. We then enquired about other dhabas around and were directed to Tashi's dhaba, where we spent the most treasured evening of our trip.
Panzi La dhaba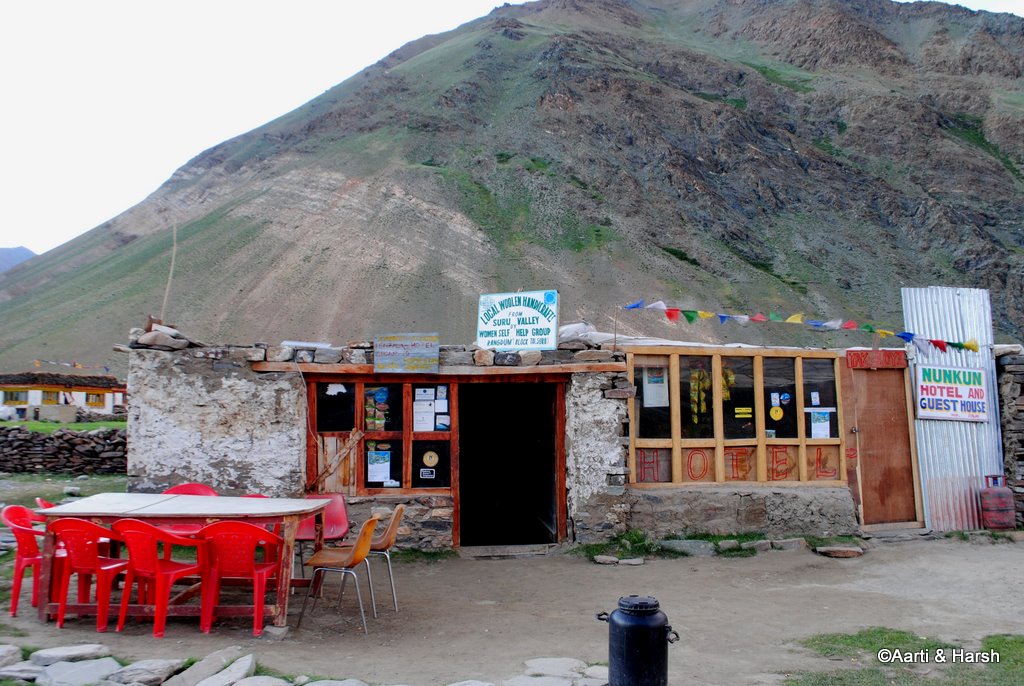 ​Tashi's Panzi La dhaba is one of the few dhabas located next to the police station in Juldo, and was the only one that was open that evening. As we ordered food and got comfortable, we chit-chatted about nothing in particular with a bunch of locals in the cozy little dhaba with the warmth of the kitchen stove shielding us from the cold outside.
Cognac
I shared the Cognac I'd brought along with them and realized that no matter how much I love the taste and feel of some good Cognac. I can never appreciate it as much as these men do. Their faces clearly betrayed how they cherished each sip of that Cognac; and it was a great feeling to give them that pleasure. The taste was obviously new to them, and Tashi was actually smacking his lips loudly after each sip!
As we talked, we heard their take on the harsh winters in this cold region and their tactics to wade through it. We got to know that tourists actually ski all the way to Padum in February and March, and as one would guess, these are mostly foreigners.
They told us how the Chadar road is their lifeline in the winters; how children of rich people go to Jammu to study, and those of the not-so-rich end up in Leh; how they spend 5 months in a year holed up in their houses, with nothing to eat apart from rice and soup, and nothing to do but chant prayers. It was humbling to get to know their lives, and we did not want the evening to end.
We finally called it a night at about 10 pm, looking forward to witnessing the majestic Drang Drung glacier the next day.
Do you need a permit to travel from Kargil to Rangdum and Padum?
No there is no permit needed to travel anywhere in Zanskar Valley. Inner Line permit is needed for traveling only on the westerns side of Leh, please like Nubra Valley, Pangong, and Tso Moriri. But you do not need any permits for traveling around Kargil, Zanskar Valley, and Sham Valley.
Kargil to Rangdum – Conclusion
I hope the travelogue and information above on traveling from Kargil to Rangdum was of help. Please click on the link above to continue reading the next part of this travelogue. If you have any questions or need any other details, please feel free to ask in the comments section below or at our Community Forum, and I will be glad to answer.