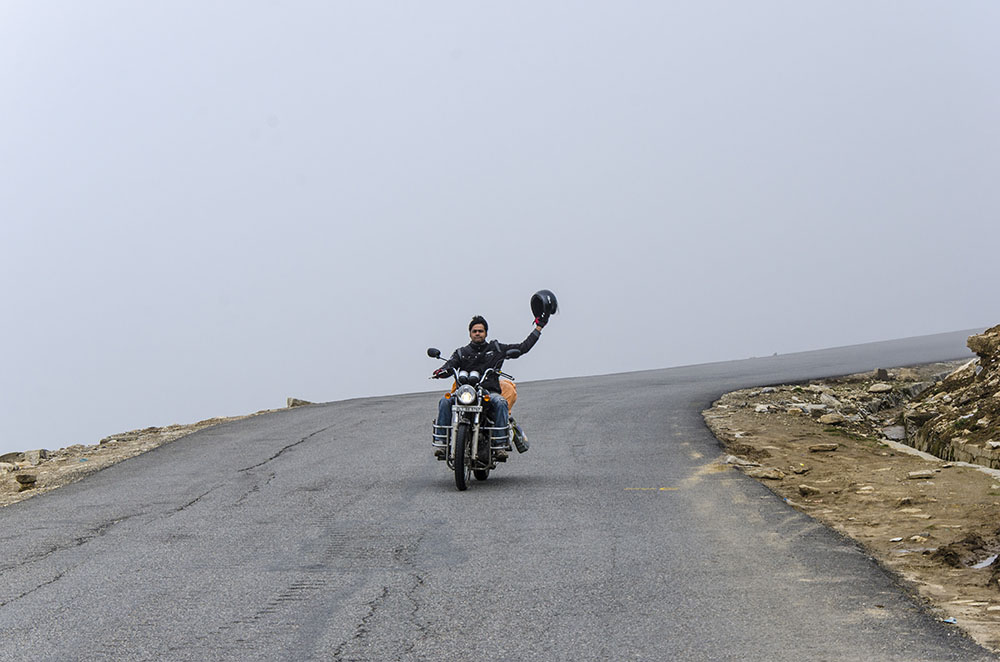 A bike trip to Leh Ladakh is a dream journey for everyone who owns a motorcycle in India these days. For people who don't have a bike of their own, the option of reaching either Manali, Srinagar, or Leh by public transport and renting a bike there is always open. Mentioned below are a few Ladakh bike trip tips that you must keep in mind if you also want to ride a bike to and in Leh Ladakh.
Ladakh in the last few years has reached the top of the list of the most desired destinations in India. Riding a motorcycle on the challenging terrain of Ladakh has become the very definition of motorcycling, biking, fun, and adventure.
Also Read: How to Plan a Trip to Leh Ladakh – A Complete Travel Guide
As the number of total tourists went up, the number of careless tourists too increased. What happened next? Well, people started dying in Ladakh. No, I am not kidding. Do a Google search and you will find people who died while on a trip to Ladakh either in a motorcycle accident or as a direct result of acute mountain sickness.
Why did this happen? Because they either were not prepared or took things for granted. No matter how much tourism here increases, the fact that cannot be denied is that the very nature of Ladakh is harsh and unforgiving. A simple mistake here can ruin your trip at the very least or cost you your life at worst.
Bike Trip to Leh Ladakh
So am I then discouraging you from making a bike trip to Leh Ladakh? No, I am not. All that I am stressing is that you must prepare well and be extremely careful during the ride.
Listed below are some of the most important safety tips that you must be mindful of while planning your dream ride to Ladakh.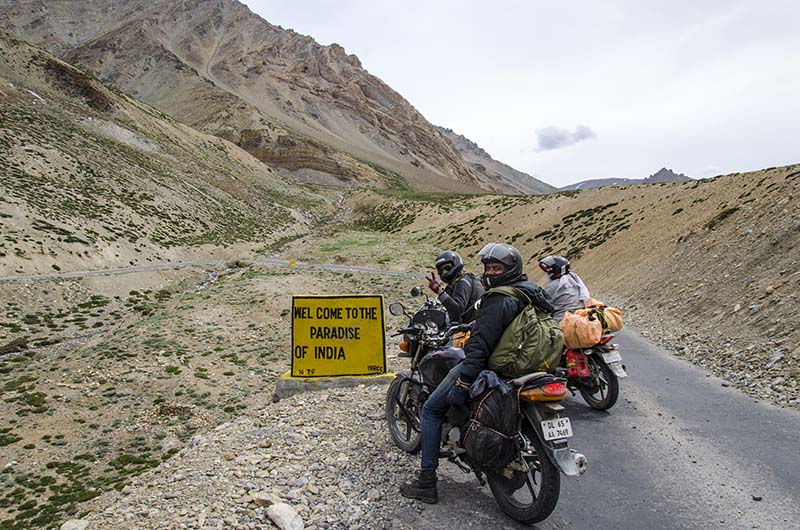 Know Yourself
This is the most important tip of all. You got to ask yourself, why are you making this trip, and are you ready for it. Do you have enough riding experience or are you just attempting it because everyone else is going to Ladakh? And be honest about it.
If you are new to biking and adventure then try a few trips to some other places first and then think about riding to Ladakh. You got to have made at least 2 long motorcycle trips and should have some experience of riding in the hills as well.
The second would be to know yourself physically. What are your limitations? Is there any medical condition involved? Are you physically prepared to handle the brutal reality of AMS?
If there is any kind of respiratory or heart ailment involved then you must give up the idea of visiting Ladakh or at least consult a doctor before you do so.
Can you sit on a motorcycle for 8 hours every day for several days? Do you have a back problem or pain in the shoulders that can become a problem after 2 days of a ride? These are some of the questions you must ask yourself first and if you are unsure about any, better get some surety first.
Know your Motorcycle
The second step would be to know your motorcycle. By know it, I mean you should really be aware of things like –
Bike's performance on steep ascents
How it feels on sharp turns
How much tilt can it take before it skids
At what maximum speed will it still be fully under your control
How much of a load can it take
How does it react to sudden brakes
The average fuel efficiency
Condition of the parts
Can it take a pillion
How much weight can you put on one side without losing control
How long can you sit on it for long hours
If you do not know all this, then take your vehicle for a test ride and find out.
You must also know how to carry out some minor repairs; like taking the wheel out, changing tubes, changing headlamps, etc. You must also carry some necessary spares because finding those is almost impossible on the circuit. You may be able to find a mechanic but if you do not have a spare part, then it is of no use.
For more information on how to get your bike ready and a list of parts to carry, please read How to Prepare your Motorcycle for Leh Ladakh.
Know the Route
The third step would be to know the route that you are planning to ride on. There is plenty of information available on the net these days and thousands of videos that you can watch on YouTube.
Gather as much information as you can and carry an offline map to refer to. Follow a well laid out itinerary and do not just ride blind. Know how much distance you are going to cover on which day and where will you be halting for the night. Stick to the route and follow your itinerary.
Take a look at A Complete Road Map of Leh Ladakh to understand the roads better.
Know the Weather
This will be the next thing to check. You must find out how the weather was trending in Ladakh before you go there. It will apply more if you were traveling either early or late in the season or during the monsoon.
To be on the safer side, plan a trip on Manali Leh Route only between June to September, skip this route in October. If you want to go to Ladakh via Srinagar, then do not plan before May.
If traveling in July or August, check how the weather ahead was. Monsoon can wreak havoc on Manali Leh or Srinagar Leh highway. Landslides can leave tourists in danger and stranded for a long timr. Even in Ladakh these days, monsoon has started to become a problem.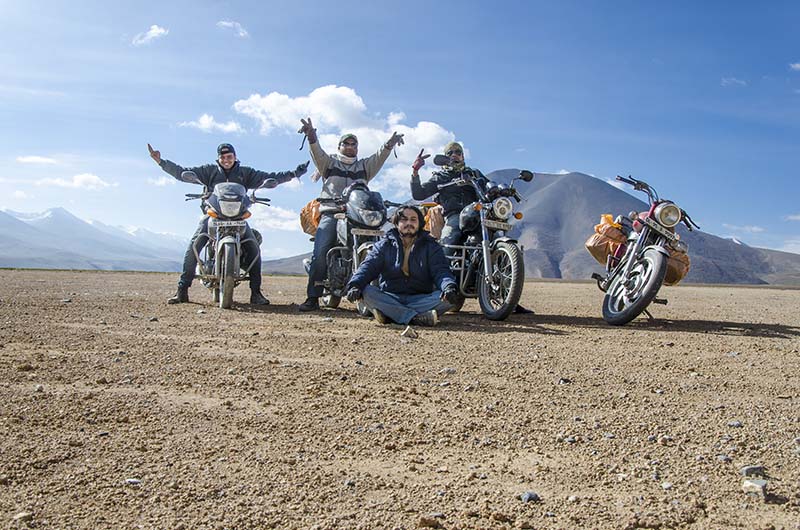 Stay Alert
There are several stretches on the circuit where you will have to be really very careful. These are called the areas of the shooting stone.
The good part is that all these posts are marked by BRO. So wherever you see a board that reads shooting stones, pass through very carefully and do not stop.
Follow the Rules
Unlike the city, there aren't many rules that you need to follow while riding in the hills. Rules here are only a few and are very simple. But all of them are extremely critical and unlike the city where you can break a traffic rule and get away with it every once in a while, breaking a rule in the hills can prove to be a disaster.
Be completely aware of your surroundings. Keep your eyes on the road and never lose focus. If you want to enjoy a view, stop and take a break.
Let the climbing vehicle pass first, especially on narrow roads. Never overtake on a curve and always blow the horn at one. Never be in a hurry to overtake. Blow the horn and give other vehicles some time to allow you to pass.
There absolutely cannot be any speeding at all and do your best to avoid riding after dark. And of course, do not drink and drive.
Also Read: How to Travel to Pangong Tso from Leh
Be Patient
I really cannot stress enough the importance of this one factor. As a matter of fact, if you follow this one piece of advice, the rest will automatically fall in place. Ladakh is not a place where you can afford to rush anywhere at all. Take the ride slow and carefully.
Rather than spending time trying to hurry to your next destination, plan your itinerary in a way that you are not covering any more than 150 kilometers in a way, and not riding any more than 5-6 hours at most.
There will be long rides involved on a day or 2 but you should not be riding all day long on all days. If that is the case, then add more days or postpone your ride for another time when you can.
Also Read: How to Obtain Rohtang Pass Permit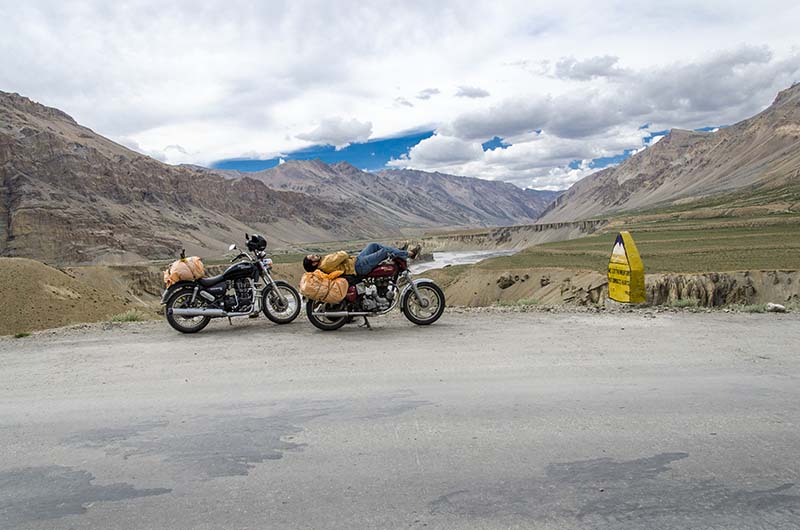 Braking
Now let us talk a little about how you should be handling your motorcycle during the Bike trip to Leh Ladakh. Braking will definitely be the most important part of it.
In the hills, you will either be going upwards or downwards. Going upwards is actually a little easier than going down. All that you need to do is stop accelerating and the bike will stop. Rear braking is what you should be relying upon when riding up.
But while going down, the entire weight will shift on the front wheel and rear braking will become less efficient. A lot of people tend to overuse the front brake while riding down which can actually prove to be a mistake.
A wise thing to do would be to use engine braking and apply front and rear brakes both at the same time.
Also Read: How to Obtain Inner Line Permit for Ladakh
Parking
Sounds easy enough, correct? You will actually have to be very careful in terms of where you park or stop as well. The first rule is to not park at a turn where your bike will be a problem for the passing traffic.
Do not stop at narrow roads either because even then, your bike will be blocking the road. Find a wide enough spot and stop there.
Try not to park with the front of the bike pointing downward. It can first result in your bike falling. Second, it will also become a problem when you have to mount the bike and start riding again.
Try to find a place that is a little plain and not a steep incline. Most important of all, do not stop or park in a shooting stone area.
Also Read: Driving Tips for Ladakh
Stay in your lane
The mountain roads are rarely marked or divided into lanes. There will not be any dividers or markings anywhere. In a situation like this, it will be your responsibility to stay on your side of the road and ride sensibly.
It becomes a problem at turns especially when riders take a wide turn and end up in another lane right in front of an oncoming vehicle.
Ride slowly in a lower gear and stay on our side of the road. And the low gear will apply both whiles going up and down. If you were riding upwards, it will ensure that you have maximum power at your disposal. While going down, it will help you with engine braking.
On areas that were too narrow for two vehicles to pass, keep an eye out for vehicles that were coming from the other direction.
Also Read: Riding to Ladakh with Pillion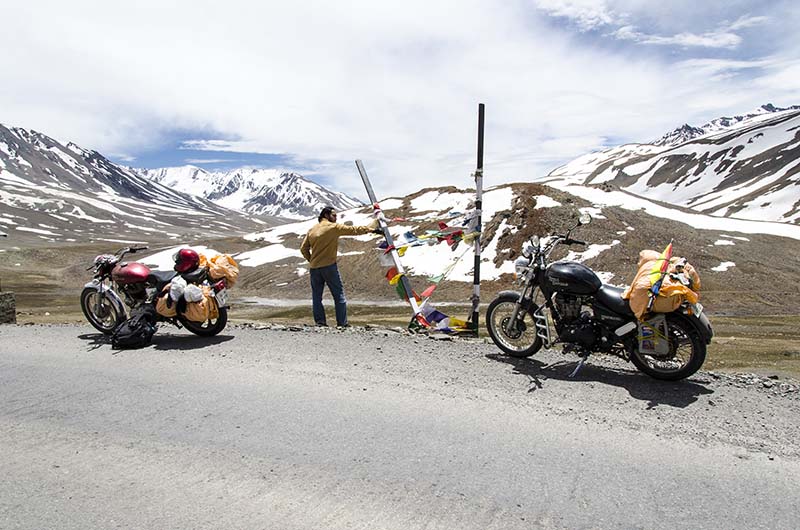 Engine Braking
Now let us talk a little about what engine braking is. It is when you are riding downward in a lower gear without pulling the clutch and letting the engine run.
How does this help? Well, first of all, it will prevent you from speeding while going down. Secondly, it will prevent you from relying entirely on the brakes and use them excessively, which in turn will result in the brakes heating up. Third, your entire braking and stopping will be a lot smoother.
The rule of the thumb is to never ride down in neutral. A lot of people do this thinking that they are saving fuel after switching off the bikes. This is not a good practice and can result in you losing control of the bike.
Do not engage clutch if your bike stalled while going uphill. Let it stay in gear and apply the rear brake even if it meant letting the engine stall out. Engaging the clutch will just have you start rolling backward and fall eventually.
Also Read: Kargil to Padum Route Guide
Water Crossings
Yes, water crossings and you will come across a lot of them. They are in fact one of the fun parts about riding to Ladakh, as long as you did not get hurt. How do you ensure that? Well, the first step would be to not just continue riding thinking that you will be OK.
Take a moment, stop and observe the rivulet in front of you. Take an estimate of its depth, the force of the water and look for a spot that seems comparatively safer to cross.
If you weren't too sure, then wait off another motorcycle or car to arrive and follow their lead. If you were riding with a pillion, then ask them to get off and stand ready as a backup to push the motorcycle in case you got stuck.
Also, take a look at Motorcycle Water Crossing Tips & Technique for a more detailed version of this information.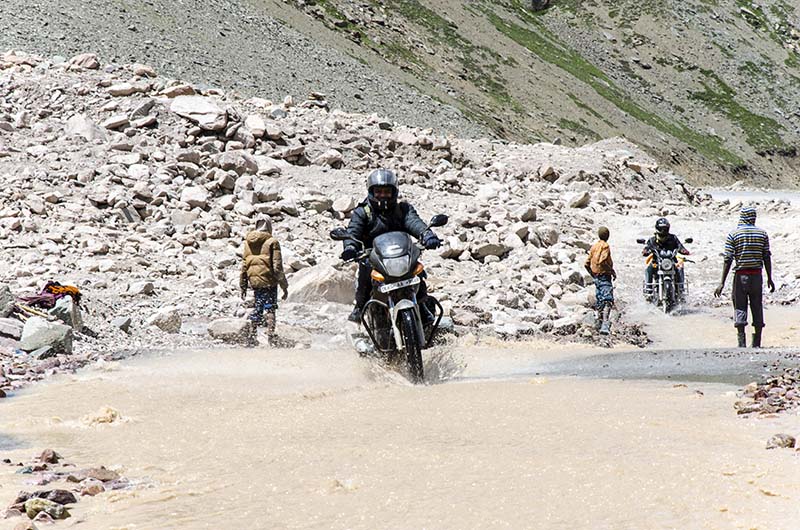 In terms of shoes, I will recommend bringing rubber sandals like in the picture below apart from your other shoes.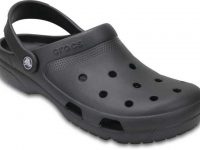 There will be numerous water crossings on the way and you cannot risk getting your shoes at all of them. At the same time, crossing a stream on a bike barefoot will be dangerous.
So a better way would be to carry these sandals as a backup. At a water crossing, put them on, get to the other side and get your shoes back on.
You do not need to buy any other special shoes for Ladakh. I have done all my rides in normal sports shoes and they all worked fine. Save yourself some money and effort there.
Fuel
About a decade ago, you would have needed to think seriously about carrying spare fuel for Ladakh but these days, it is available everywhere on the route in black.
You will pay a little extra but will save yourself the hassle of carrying spare fuel. Please read Fuel Availability in Leh Ladakh – How to Manage for more details.
Rented Motorcycles
Now let us talk about rented motorcycles. Any bike rented outside of Leh, including the ones from Manali and Srinagar, is not allowed for sightseeing in Ladakh. You can reach Leh on such bikes but will then have to leave those parked at your hotel.
For local sightseeing in Ladakh, you will have to rent a local motorcycle from Leh city. This is a very serious matter and please do not make the mistake of overlooking it. There have been incidents when non-local rented motorcycles were vandalized and even hijacked in Ladakh.
Privately Owned Motorcycles
If you were coming by a privately owned bike, it must be either in your own name or your parents or your sibling. A bike belonging to your friend or cousin will not be allowed. If you arrived on such a motorcycle, then you will again have to leave it parked at Leh and rent another one.
Luggage
If you were able to get a luggage carrier installed on the bike, then it will really make things very easy for you. If not, then you can actually make the trip without it as well.
I have never used a luggage carrier in any of my rides. The only thing you got to make sure of is that your bags are securely tied on the bike. Buy a bunch of Bungee cords as well as a few meters of nylon rope. First, mount the bags using the cords and then tie the nylon rope around as a second layer of safety.
Buy one of those large black polythene sheets. I am not sure what they are called so I am just going to call them polythene sheets.
First, wrap your bags in those sheets and then rope them on the bike. It will keep them safe from dirt, slush, mud, and water. Trust me; DO NOT mount your bags without insulating them in a polythene wrap.
Also carry a shoulder bag in which you can keep your wallet, camera, and papers, etc.
Best Bike for Ladakh Trip
There is really no best bike for Ladakh as such. People have done the trip even on scooters and 100 CC bike easily. All that you need to make sure is that your bike is well serviced, well maintained, and ready to take on the tough journey ahead.
A bigger engine bike like RE 350 CC or 500CC will definitely have an added advantage but is not absolutely mandatory. For more details on this topic, please read Which is the Best Bike for Leh Ladakh.
If you were riding on a small engine bike and needed a little motivation, then please take a look at this post, Leh Ladakh on Scooter – An Adventurous Journey.
Best time for Ladakh Bike Trip
Here is a small overview in terms of riding to Ladakh.
Srinagar Leh Highway – From May to October
Manali Leh Highway – June to September
For the rest of the time, after October and before May, the roads to Ladakh remain blocked and you cannot make a road trip. If you asked me, I would say that even in these months, June and September are probably the best time for a bike trip to Leh Ladakh.
Ladakh Bike Trip Tips – Conclusion
I hope the information and Ladakh Bike trip tips above were of help. If you have any questions, please feel free to ask in the comments section below, or at our Community Forum, and I will be glad to answer.