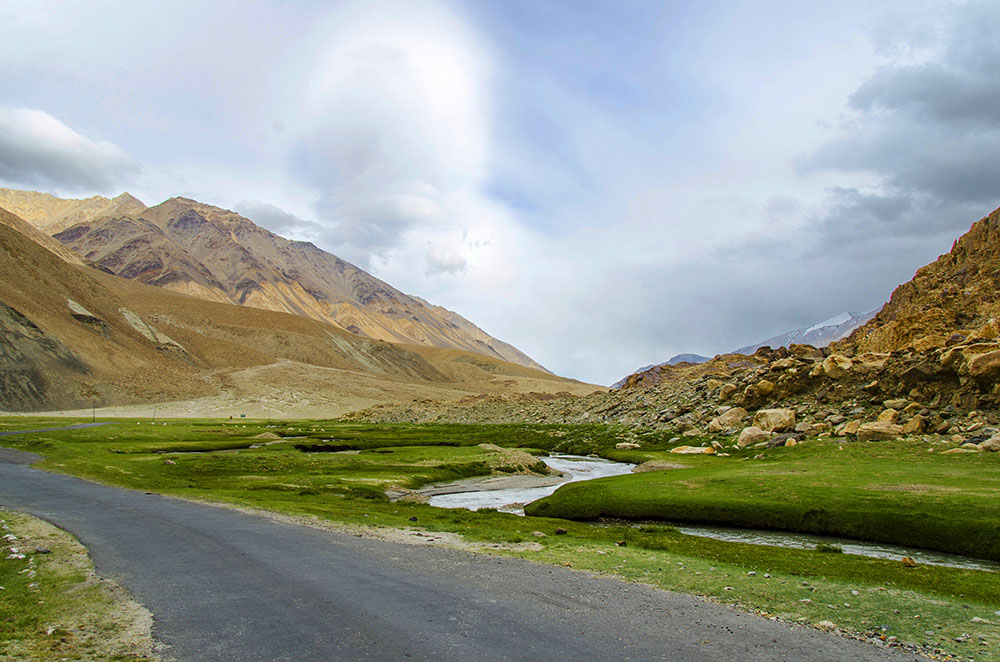 When someone asked me for the first time about a Ladakh 2 days trip, I thought that person was joking. But then I realized that he wasn't joking, and was actually thinking about visiting Ladakh over a weekend. What I couldn't understand however was that why would a person want to do that.
I mean, Ladakh is a place that you consider for 2 weeks and not 2 days. It is not your usual weekend getaway where you can just pack your bags and go. A trip to Ladakh needs time and careful planning. After the recent boost in tourism, it has gotten crowded and expensive too, so you will also need budget planning.
But then after some inputs and help from my side, that person actually visited Ladakh in 2 days. He flew there on a Saturday morning, was in Ladakh for the weekend, took an early morning flight to Delhi on Monday, and was back at work by 10 AM. Crazy? I couldn't agree more.
Also read: How to Plan a Trip to Leh Ladakh
How to Plan a Ladakh 2 Days Trip
What I stated above was an incident from a couple of years ago July. If you too were wondering about a Leh Ladakh 2 days trip over a weekend, I will first tell you why you should give up the idea. But if you still decide to do it then I will also tell you how you can plan this journey; and what are some of the important things you must keep in mind.
To be honest, it is hard to even for me to believe that I am writing this article; that I am telling someone how they can visit Ladakh in 2 days. This is because of several factors that I will discuss further in this article.
Since your time on hand is strictly limited, you will be missing out on most of the tourist attractions in Ladakh and will spend most of your time on the road
Also read: Clothes for Ladakh Trip – What to Pack?
Acute Mountain Sickness in Ladakh
This will be the first and the biggest concern with your trip. You are not visiting a hill station nearby. You are going to Ladakh. It is a cold desert that has high altitude passes, unforgiving weather, and challenging terrain.
There is really no way that you can escape acute mountain sickness (AMS). A slow gain in altitude is the best prevention against AMS which doesn't really happen here.
With a couple of hours, your gain in altitude will be tremendous. It is bound to trigger symptoms of altitude sickness. To know what these symptoms are, please read How to Handle Acute Mountain Sickness in Ladakh.
I wish I could tell you a way around it but I really can't. You will definitely be suffering from AMS on your first day of the trip, and may or may not get better on the second day.
The only thing to add here is that if your condition worsened anywhere while traveling, you must rush back to Leh city and seek medical attention immediately.
Is it serious? Yes, very. People have died in Ladakh due to altitude sickness. A friend of mine also passed away on the shores of Pangong Lake because of AMS and lack of medical attention.
Must Book a Flight
I think it quite goes without saying. For a 2 days trip to Ladakh, you will have to book flights in and out of Leh city. There is no way that you can make this a road trip.
Must Book a Taxi
A private taxi can be your only mode of commute and that too should be booked in advance. The driver can pick you from the airport directly.
You just do not have time to travel any other way. You cannot rely on public transport of course but also cannot go around renting motorcycles.
The first reason is that finding and renting a motorcycle will eat up your half-day at least which you cannot afford. The second reason is that with AMS hitting you hard, there is no way that you will be in a mood to ride around on a bike all day.
So yes, for a weekend trip to Ladakh, you will have to book a private taxi and have the driver pick you from the airport.
Ladakh Inner Line Permit
Inner line permit is a permit that you will need to travel beyond Leh city; towards Nubra valley or Pangong Tso. This permit can either be applied for online or obtained in person from DM office Leh. For more details and related charges, please read How to Obtain Inner Line Permit in Ladakh.
Neither of these however is a choice for you. Like renting a bike, getting ILP too will eat up at least half of your day. So the only option you have left then is to book a taxi driver who can also arrange permits for you.
That way, when he picks you from the airport that morning, he will bring the permits along and you can be on your way.
Will be Expensive
Yes, this journey will last only 2 days but will be a costly affair for a weekend trip. First of all, you will be traveling by air which will cost you several thousand.
Your biggest expense will however be a private taxi. For 2 days, you will end up paying about Rs. 15,000 just for the cab. So including the flight tickets, taxi rental, accommodation and meals, your trip will cost you about Rs. 30,000 for 2 days; depending on how much you paid for your flight.
The only way to reduce this cost will be if you were traveling in a group of 4 – 5 people who can share the cost of the taxi.
Also read: A Complete List of all Tourist Attractions in Ladakh
Will be Tiring
Without any doubt, this will be a taxing journey and you will end up traveling all the time. You will board a flight, land in Leh, and then board a taxi from there.
The entire day you will be on the road while suffering from AMS and then reach a hotel at night. The next day you will be back on the road and then circle back to Leh.
On the third day early morning, you got another flight to catch.
Also read: How Safe Ladakh is for Tourists?
Book Your Stay
Continuing from the point above, after staying on the road all day, the last thing you would want is to go hotel hunting in the evening. So for both days of your travel, you should book your stay in advance. Where you need to book is mentioned in the travel plan further in the article.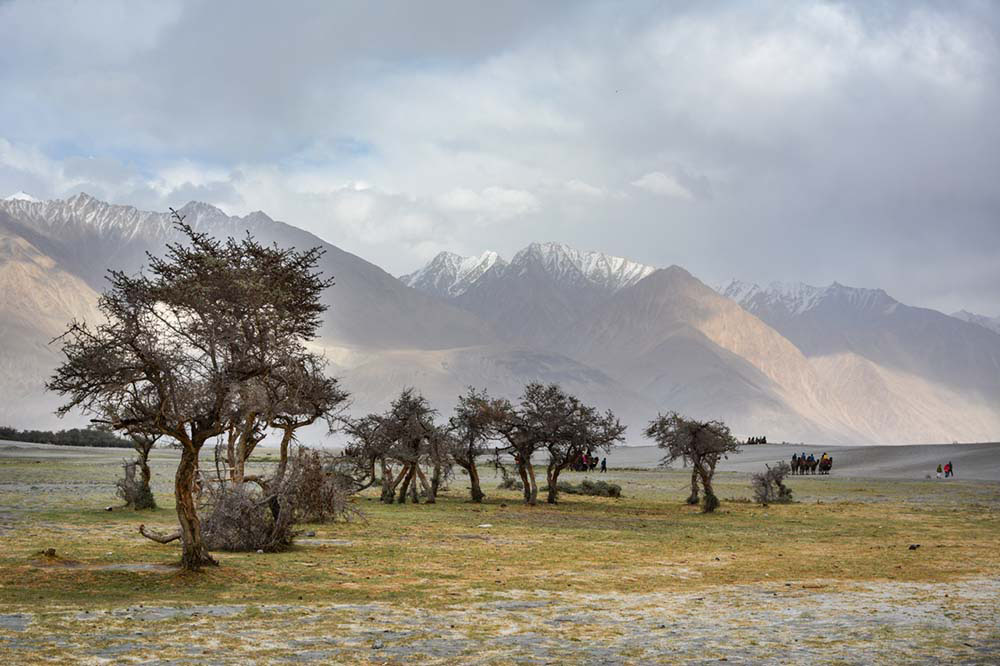 2 Days Trip to Ladakh
So after considering all of the above, the final part is of drafting your itinerary. Your travel plan will be for 2 days and very simple.
Land in Leh. Travel to Diskit and arrive back in Leh by evening – Day 1
Go to Pangong lake and arrive back in Leh by evening – Day 2
Catch an early morning flight from Leh – Day 3
Or an alternate version of the travel plan can be as below.
Land in Leh and Arrive at Diskit – Day 1
Go to Pangong from Diskit and return to Leh – Day 2
Catch an early morning flight from Leh – Day 3
This is the only way that this trip can be done. You cannot reduce the time any further and return home on Day 2 itself. If you want to come back on Day 2 then you should stay in Leh city itself and not go anywhere at all. The only place you will see in Ladakh then will be Leh city.
Day 1 – Arrive in Leh and Travel to Nubra Valley
The first thing to do would be to book a flight that can get you to Leh as early in the morning as possible. Contact your taxi driver the day before. Ensure that he has arranged for the permits and ask him to pick you from the airport directly.
After you arrive in Leh, take a brief break for some breakfast if you want to. Then you would start on your way to Nubra valley while crossing Khardung La on the way.
Once you arrive at Nubra valley, you have two choices. You can either stay here for the night or go back to Leh. This will completely be your personal choice.
Going back to Leh will be beneficial in terms of medical assistance. Since you would anyways be suffering from AMS, you can get medical assistance in Leh city if your condition worsened overnight. This assistance may not be available in Nubra valley.
Staying in the valley could be beneficial because then you would have the entire day to explore Nubra valley. Otherwise, you will just get here and immediately start on your way back to Leh city.
As I said, it is completely your choice. My recommendation would be to decide based on how you were feeling that day. If you were not at all well because of AMS, then a wise thing would be to get back to Leh for the night.
If your condition however was not too bad then you may stay in Nubra valley. Diskit has the largest number of hotels here and is the preferred choice of stay.
If you decided to stay in the valley, then spend the day sightseeing at the Diskit monastery, Hunder sand dunes, and double hump camel, etc.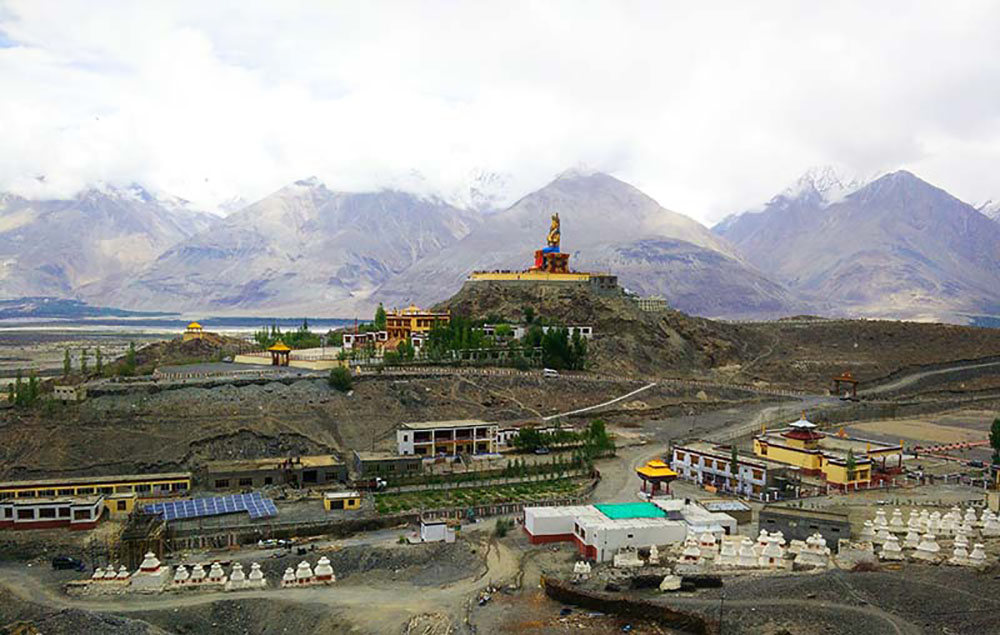 Day 2 –

Visit Pangong Tso
The plan for this day is to visit Pangong Tso. Route details of this day will depend on where you spend the night on Day 1.
If you came back to Leh city from Nubra valley, then you will reach Pangong Tso via Chang La and return the same way. Ensure that you get an early start so that you get some time to spend on the lake, and to take sufficient breaks on the way.
From Leh, you will drive till Karu and then climb up Chang La. Spend some time at the pass, click some pics and then drive until Pangong Lake. Have your lunch at any of the dhabas at the lake, and be on your way back to Leh by 2 PM latest.
If you however stayed at Diskit then this day could be a bit more interesting. Start as early as you can, possibly by 6 AM from Diskit.
Your first destination for this day would be Panamik, a small deviation. See the hot water springs here, have breakfast, and continue traveling to Pangong Lake via Shyok road. The travel time between Nubra and Pangong via Shyok is about 5-6 hours so plan accordingly.
You will then arrive at the lake, spend some time sightseeing, have lunch here and be on your way to Leh latest by 2 PM. This will be a long journey, and it will probably be dark by the time you reach back to Leh city. But you will be able to explore a lot of places.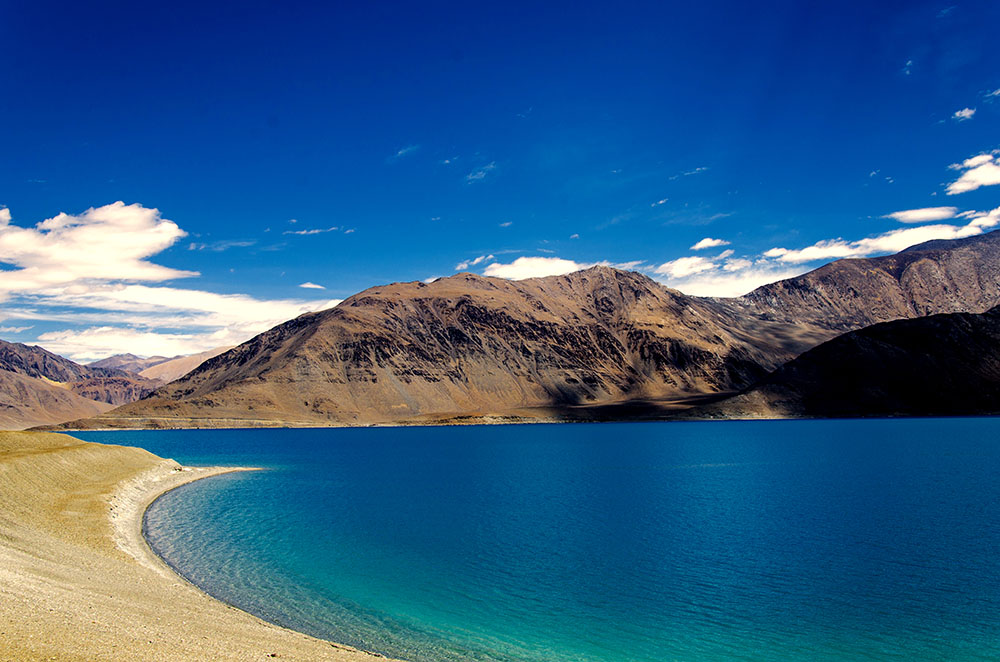 Fly Out of Leh City – Day 3
Book an early morning flight out of Leh city, and make sure that you have informed your taxi driver to pick you from the hotel. There is no transport available so early in the morning here so you will have to make arrangements.
Do let your hotel owner know as well because, at night, they will lock the hotel down. You do not want to be standing at a locked gate in the morning with no one available to open it.
Other Itineraries
A couple of other alternate versions of the journey can be as below.
Day 1 – Arrival in Leh and take a day trip to Lamayuru. You will return to Leh city by evening and stay for the night. On the way, you will see Gurudwara Patthar Sahib, Magnetic Hill, and Indus Zanskar Confluence, etc
Day 2 – Take a drive to Nubra Valley and return to Leh.
Fly out on Day 3
Another version can be like below where you will give up Nubra valley in favor of Pangong.
Day 1 – Arrival in Leh and take a day trip to Lamayuru. You will return to Leh city by evening and stay for the night. On the way, you will see Gurudwara Patthar Sahib, Magnetic Hill, and Indus Zanskar Confluence, etc
Day 2 – Take a drive to Pangong Tso and return to Leh by evening.
Fly out on Day 3.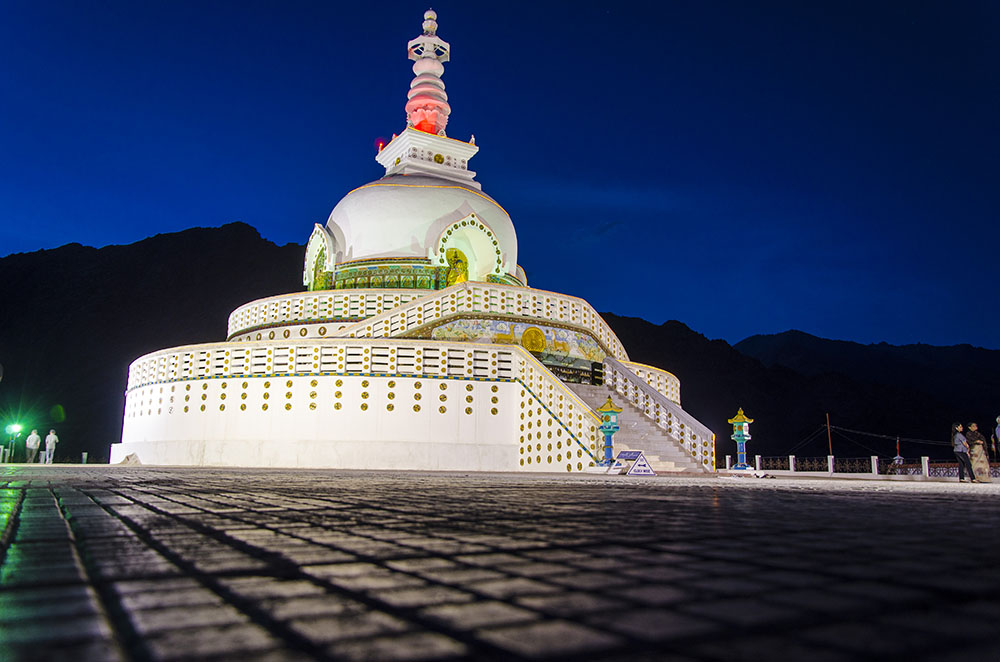 Ladakh 2 Days Trip – Conclusion
That will conclude your 2 days weekend trip to Ladakh. It will be rushed, expensive, tiring, and silly. I must strongly advise you to not risk this because the implications of altitude sickness can be severe and fatal.
I hope this information was of help. If you have any further questions, please feel free to ask in the comments section below, or at our Community Forum, and I will be glad to answer.