A friend of mine, Saket, recently traveled to Spiti valley and Sach Pass in XUV, Safari and Isuzu. Below is an update on the road conditions and how the vehicles performed. Thought to post it here as a few quick tips for anyone planning a trip this way.
Thank you Saket for sharing this information. Pic posted here was clicked by Sachin Rai Vaid, another friend of mine that I am posting with this article.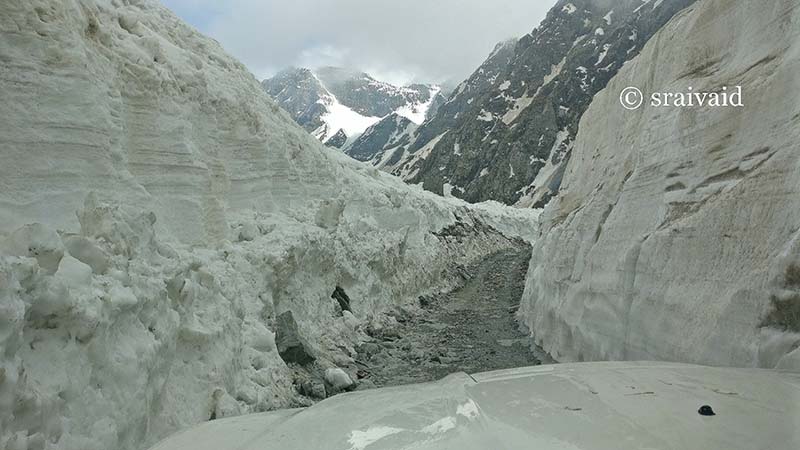 I returned today to Delhi after my trip … A short summary about road conditions . ( we were driving in Safari storm, XUV 500 & ISUZU V Max )
1) Bairagarh to Sach pass – very bad but still better than sach pass to Killar .
2) Sach pass to Killar – Worst roads across the trip .
3) Killar to Khoksar – Roads are much better ( still not in good category ) but be ware of the Nallas , we were stuck for a day because we were trying to cross in 2 nd half ( about 2 pm ) it is recommended to cross them as early as possible .
The above 3 were worst roads of entire trips but still we saw a verna , swift and ertiga successfully cross them .
4) Khoksar to Chandar taal. – The roads were again closed for a day due to a nalla overflowing …. this stretch also had few very challenging parts although less than sach pass to Killar but since we were going up hill it was equally difficult .
4) Batal to Chandar taal – the road is fine but very very narrow .
5) Chandar tall to kaza – After experience of first 4 days this road looked WoW ?? .
6) Kaza to Karcham – The road has been built recently and now it is a very nice road . I was in Kaza in Jan 2016 as well , compared to that the roads now are much much better . For a Spiti trip now there is no need to for a high road clearance car any car can do it .
We drove 2000 Kms in 9 days , camped for 2 nights . We had 3 kids in age 3 years to 8 years and they had no problems with high altitude at any point in the trip .
The trip was an experience of life time , I will share few picks once arrange the digital content i gathered from the trip .
Thanks to Vargis for all the useful information and to others also who shared information about road conditions .
All the three SUV managed well and we did not have any major issue with any of them , we drove a total of 2000 kms in 9 days . My Brief assessment for the three ( Isuzu V Max, Safari storm , XUV Automatic ) is as under.
Isuzu did not face any issue across the trip , all the bad rods were quite easy for it , even the worst nallas were not an issue for the pick up truck . I never used 4H or 4 L apart for once when I went off-roading at river bed near Kaza. The only trouble with the SUV was its size and turning radius. My car ( Rented ) was having an upsize tire which further increased the width by few inch ( 4 – 6 ). Making hair-pin quite difficult. I had to reverse the SUV at some of the sharp hairpin bends specially on the 14 km stretch to chandar taal, and it was really a difficult thing to do . Rear visibility of the car is not so good so making a U turn on mountains was little tricky. High wheel articulation and clearance helped me to force the pick up truck to climb the side slopes at times when I had to give way to cars from other side specially on chandar taal road. Overall this is a perfect vehicle for such kind of trip . Millage I got for the entire trip was 9.2km/ltr .
Sarafi also managed well and did not face any major trouble, but its high weight was evident while going up hill and crossing nallas . Both XUV and safari were not able to cross one of the nalla ( midway between Killar & Udaipur ) and we had to halt for a day and cross it next day early morning .
While going up hill to sach pass Safari got heated ( clutch plate ) but that was more because of driving style . The person driving safari was relatively new to such kind of hill driving and he was using clutch excessively. Under body protection of safari was good and helped a lot of places where its clearance was falling short .
Finally for XUV automatic , it exceeded my expectations, being automatic I was expecting it to be rather difficult while tackling tough ascent and descent but my friend ( Anurag ) did good use of manual mode and XUV managed all the rough terrain quite well . Under body guard for XUV is of Fiber and it could not handle all the beating. On way to sach pass it got the first hit and was damaged , after that we had to tie it with ropes at least twice in a day to keep it hanging , finally while crossing one of other dangerous nalla ( kaoksar to Chandar taal ) it got detached completely . Over all XUV gave a better millage of approximately 10.5.
At the end of the trip none of the 3 SUV had anybody rattles or any under body damage which was a good sign of build quality.
I hope the information above was helpful. If you have any further questions, please feel free to ask in the comments section below or at our Community Forum and I will be glad to answer.