After returning from the Saat Tal trek I was pretty much that I will be able to do the Gangotri to Gaumukh trek as well but it was not clear when. Almost every day I was making a plan and canceling it. Most of the office buddies knew about my plan as I was searching for a travel partner in the office.
I was talking about this place to everyone just to convince them and get them ready to accompany me. But I was wrong. People were ready for the Shimla-Manali trip but nobody was interested in trekking.
So the plan was almost canceled because I was not in the mood to do it alone and get lost somewhere. More than getting lost in the jungle, my worries were leopard, hyenas, and other animals I heard about on this route. But as I was to find out, that was all FALSE.
Gangotri to Gaumukh Trek
After the monsoon ended in September, I started thinking about Gangotri to Gaumukh trek, again and again. I talked with a few friends. They all encouraged me to go for it but none of them was interested in the trek. I was also continuously searching for some travel company who can organize the Gaumukh trek but their charges were way too high.
Finally, I was able to convince one of my colleagues for the trip. He agreed to accompany and my plan was back on. I started reading blogs, watching videos of the route to make myself aware of what to expect. For more details, take a look at How to Plan a Trip to Gangotri and How to Plan your Trek to Gaumukh.
The plan was to start on 7th Oct evening and start the trek on 9th Morning. But God had a different plan for me as my travel partner declined to go just a week before.
"What is this man? this is not good!!! you are canceling the trip because of nothing" I said to him.
So the plan was once again canceled. But before canceling it I had already posted about this on my FB wall as well as some travel forums. It was 3rd Oct when I called it a canceled trip with a heavy heart and people in the office sure took it as a chance to point their jokes at me.
I was not at all happy and suddenly got an FB message from an unknown person, Mr. Ashish Rawat. He was interested in Gangotri to Gaumukh trek. He told me he was on the way to Gomukh last year but due to the permit issue, he had to return.
Travel Partner
I talked with him for 15-20 minutes. I just wanted to make sure he knows the route and he is a genuine person and a travel lover. He seemed like a nice person so I decided to make a plan with him.
On 5th Oct we had a discussion and I applied for leave. Since I had to work on Sunday, I thought to take leave on Monday as a "Comp off". People in IT can easily relate to the "comp-off" thing. 11th Oct was a public holiday because of Dussehra. So I took three days of paid time leave 12,13 and 14 OCT.
Now the big problem was that I was not able to sleep because of the trek excitement and also for the fact that  I had zero preparation as of now.
I spoke with Rawat Bhai about the preparation and travel plan. He told me to carry a small bag as he will be coming with a big one. So his plan was to put my small bag into a bigger one and then we will carry it one by one. But this plan could not convince me when I saw the temperature details of Gomukh. It was in the negative already.
On the D-Day, I had to finish my work before evening so that will catch the bus in the night at 10:30 PM. I Still HAD zero preparation and was looking at my old Puma shoes that made me skid several times on the last trek.
Also Read: When is the Best time to visit Gangotri and Gaumukh
Trek Preparations
It was 2 PM and I managed to finish my work. I told my buddy to call me if anything urgent comes; even though I knew nothing was going to come today. I have faith in Indian Jugad which we use to fix anything.
Working from home turned out to be another advantage. While working or on call, you can still cook food and manage time. I also did the same. Taking some time away, I decided to go to the Decathlon store to buy all the stuff required for this trip. I was not in the mood to ride a bike so booked an Uber from Gurgaon Palam vihar to Sohna road.
On the way, I saw a newly opened Decathlon store on the 1st floor of Huda city center Metro station which brought an immediate smile to my face. I need not go to Sohna road now. I told the taxi driver and stopped there.
The place was full of useful items for travel and trek. So many items were there and it took me more than an hour as I had to buy many things.
Arpenaz 100 Mid Men Hiking Shoes QUECHUA – Rs. 2799
Arpenaz 50 (0-7 degree) sweatshirt Quechua – Rs. 999
Quechua Shocks 2 pair – Rs. 199
2 round neck T-shirt – Rs. 300
1 Polo neck T-shirt – Rs. 400
1 trouser – Rs. 1300
1 Lower cum inner – Rs. 400
ARPENAZ 40 liter backpack, BLUE QUECHUA – Rs. 1399
Total money spent there was somewhere near 8K.
Gangotri to Gaumukh Trek Itinerary
I returned home at around 5:00 PM and started packing. Almost everything was packed at Decathlon itself so I just bought some nuts chocolates, red bulls, Boroplus antiseptic, vaseline, sunscreen, and some first aid box items from a local shop. I packed my camera, basic phone, and some medicine like a painkiller, Diamox because trek altitude was around 14500 Feet, Revital, etc.
You can see packing stuff in the picture below.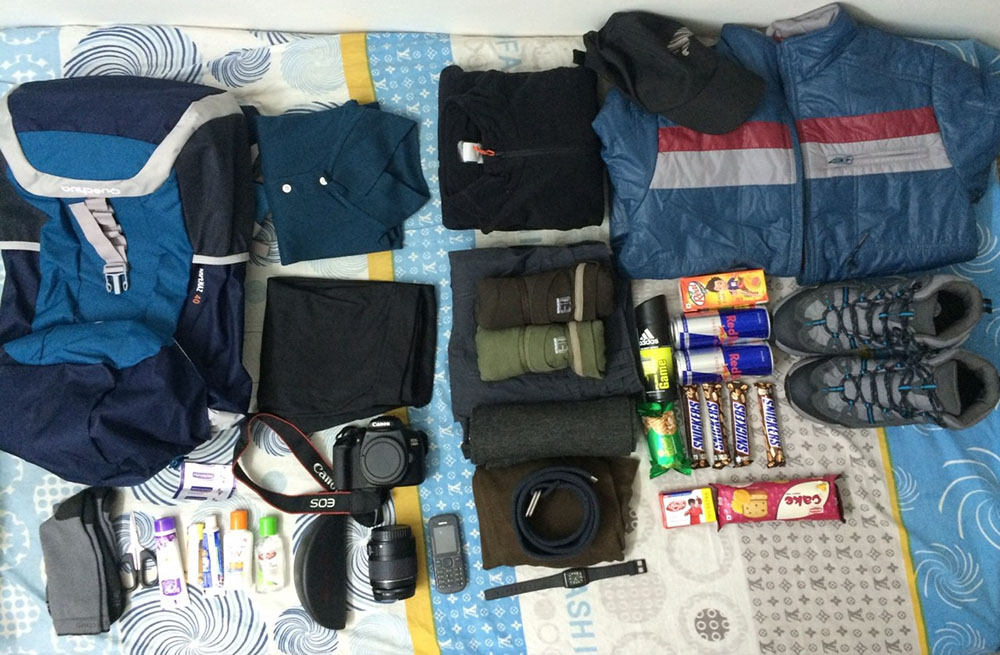 Our trek itinerary was like below.
9th-OCT night – Take a bus from ISBT to Rishikesh
10th-OCT – Take bus till Uttarkashi and stay there at night
11th-OCT – Take an early morning cab to Gangotri. Start Gangotri to Gaumukh trek and stay at Bhojwasa
12th-OCT – Start early morning for Gomukh then for Tapovan and spend the night there
13th-OCT – Start early morning and reach Gangotri
14th-OCT – Visit Gangotri nearby location and take a taxi for Uttarkashi and spend the night there
15th-OCT – Take Bus from Uttarkashi and reach Haridwar/Rishikesh in the night and stay there
16th-OCT – Take Volvo for Delhi
Also Read: Places to visit in Gangotri & Things to Do
Day 1 – Delhi to Rishikesh
As per plan I took the metro at Dwarka Sector-21. Finally my plan of Gangotri to Gaumukh trek was materializing. I met with Rawat Sahab for the first time inside the metro at Dwarka Mod. To my surprise, his bag was not big at all, like he had said. It was just slightly bigger than a laptop bag. Thank god I packed everything.
He was not carrying enough warm clothes which worried me. All that he had was a towel, a sweatshirt, 2 pairs of jeans, 2 t-shirts, 1 shawl, and no cap at all.
His exact words were "I am Rawat. I do not feel cold and I will show you my speed in Mountain."
Today's Travel:
Home to Decathlon by Uber- Rs. 105
Decathlon to Home by Auto – Rs. 80
Home to Dwarka metro by Uber- Rs. 218
Dwarka to ISBT metro – Rs. 27
Total = 430
ISBT Delhi
We reached ISBT around 11:00 PM. As per Rawat's plan, we could easily get the bus but we faced a different situation. Only one Volvo till Haridwar with one seat was available. When I spoke to the conductor, he told me that he would arrange some kind of bench for us which definitely did not sound suitable for a long journey. So we decided to not accept that proposal.
Rawat Sahab had gone for Smoking and talked with some agent who gave us two tickets for a private bus service called "Maharaja Bus service" if I remember correctly. We bought two tickets for Rs. 1100. The bus was going to Dehradun. We will be dropped at Haridwar and will take another bus for Rishikesh.
The bus was standing outside the terminal. It was pointed by the agent that the bus will move in the next 10 minutes. We get onto the bus and quickly reserved two seats. we kept our bags there and started wandering nearby.
The final call from the driver came at 1:00 AM that we are moving now. We got on and rushed to our seats. But when I sat down, I felt a wet surface. Yes, something was spilled there. It ruined my clothes as well as the base of the newly purchased Quechua bag.
Well, we changed seats. The new seat was also not comfortable, that too when your trousers are wet due to some unknown thing. I was eagerly waiting for a Dhaba so that I could wash my clothes. People who faced this situation can recall what I mean.
Also Read: Gangotri and Gaumukh – How to Best Plan your Journey
The Blunder
After 2 hours of a journey, my wait was finally over and the Bus stopped for a 30-minute halt at Hotel Alaknanda Resort. It was a roadside Dhaba-type establishment. I got down and found a tap. That brought an immediate smile to my face.
Now I could wash my clothes, which I did, and dried them a little with the help of tissue paper. The rest of the drying I left to happen on its own. But at least it was not dirty now. I cleaned the bag also.
Rawat Bhai told me that he is prone to Bus sickness as he was feeling sick and had a headache on the bus. This was definitely a big issue. So he bought a bottle of Anardana which he continued to use throughout the trip.
While doing it almost 15 minutes passed. Now it was time to have some Garma-Garam tea.
The tea was unfortunately not good at all. After some time we got a moving signal from the Bus driver, I told Rawat to get into the bus while I will buy two "Mountain Dew" cans.
Both of our habits resulted in a big blunder and got us in trouble this time. Rawat did not get onto the bus and started smoking instead while I was washing the can. The bus started behind Rawat and God knows what he was thinking that time. Within a minute Bus disappeared.
When I returned I asked, 'Hey, where is the Bus, man?'
Rawat just shrugged his shoulders with a confused, guilty, and shocked look on his face.
The Vanishing Bus
We were both in fact in a shock. We didn't have even the bus number. The only thing we remembered was "Maharaja Bus" of Orange color with Blue color towards its back.
Now what? This was definitely a big blunder, enough to put the Gangotri to Gaumukh trek trip to an end right then and there. Bags were there in the bus that too with some money, 8K worth of my newly bought stuff from Decathlon, and my Canon gear.  I almost yelled at Rawat but there was no use of that. It was not going to resolve our issue.
Suddenly we thought the bus number would be on the receipt. There was another Maharaja bus that was there for air filling. We talked with the Driver, told him our problem, and shared Bus number.
He was so helpful, he called the driver of our bus and asked to keep the luggage safe. We were 50% relaxed now but still worried about our luggage.
There was another problem. This bus was completely packed so we had to manage sitting on the co-driver seat. In the driver chamber, we did not feel any smell of Fuel because it was full of non-stop BIDI.
Every once in a while Rawat would urge the bus driver to drive a little faster to which he would calmly reply,
'Sir hamara roz ka kam hai, aap tension na lo, you will get your luggage at Haridwar'
My mouth was completely shut: The trip excitements were all gone. I cursed myself to have planned this trip in an unplanned fashion. The entire route whenever we saw a bus with a blue back, we used to ask the driver if that was our bus.
Also Read: Delhi to Auli Road Trip – An Exciting Adventure
Haridwar & Rishikesh
We reached Haridwar at 6:30 AM. Our old bus was standing there. Finally, we got our luggage back and our plan of Gangotri to Gaumukh trek was back on. We thanked the driver and gave him some money. Initially, he refused to take it but after some request, he accepted it. Seriously, still, those kinds of honest people exist.
Sorry. I forgot to click any pics of our journey so far. You can understand my situation there.
We walked for a kilometer there to find a tea stall. A cup of tea was not bad here. Rawat Bhai had some Parathas which he packed last night from a local dhaba at Dwarka. I refused to eat but he finished it and after some time it resulted in Acidity.
We took a tempo from Haridwar who charged Rs. 30 each and reached Rishikesh. We walked for almost one Kilometer to reach Bus stand.
Day 2 – Rishikesh to Uttarkashi
Initially, we searched for a taxi or Bolero on sharing basis just because of the Rawat Bhai issue. But after spending some time we decided to take the bus. Morning ablution was done at Bus stand itself and then we paid around Rs. 300 each for Uttarkashi Bus.
The bus started at sharp 8:00 AM, with no delay. On the way, we meet another fellow traveler. I do not remember his name I think he was Vishal from Pune-Pug marks. He was going there for Gangotri to Gaumukh trek as well. So we started to chit-chat.
After some time Vishal told us that he had forgotten his ID proofs in the hotel where he was staying last night, so he decided to go back and take it. I shared my number with him and asked him to call whenever he reaches Uttarkashi or send me an ID copy on Whatsapp so that I could arrange a permit for him as well.
Also Read: Rishikesh Bus Time Table – Fare, Frequency & Timings
An Uncomfortable Journey
The weather was good but the bus was not at all comfortable for a long hour journey. The bus took some stoppages en-route.
The first stop was the Chamba market where we stopped for around 30 minutes, There was a local person named "Munnu Singh Rana". He presented himself as an Hakim kind of person and started promoting his own made health products. One Bottle/ Box solution to cure all the disease Blah Blah Blah. No doubt his presentation skills were awesome and he earned almost Rs. 2500 from the bus passengers.
Rawat Bhai was facing an acidity issue so he was keen to buy his product. But I suggested not taking anything from an unknown Hakim and rather buy some medicine like Aciloc or Eno.
After Dharasu band fresh sir filled excitement in us and Rawat Bhai again opened his ANARDANA as he started feeling sick. The smell of Anardana was so strong it got the attention of everybody for some time. Unfortunately, I had to bear it more because I was sitting beside him.
I had already given him the window seat so there was no chance of photography on the way. At 4 PM, finally, we reached Uttarkashi.
Uttarkashi
I was hungry as I had not eaten anything till now except some snacks and 1 liter of milk. Now a local person told us that the DFO office would be closed tomorrow due to the Dussehra holiday so we won't get a permit for Gangotri to Gaumukh trek. This was another big issue. We decided to rush straight to the office, get permits and search for a hotel later.
I was trying to call a friend, Upendra who is Uttarkashi local so that he could arrange the permit. But he seemed out of the station. His phone remained not reachable.
To add to the problems, we didn't get even a single auto or rickshaw to the DFO office. We had to walk all the way. When we asked people for directions and how far the office was, everyone told us it's just 1KM away. We kept on walking for god knows how long. From the bus stand, it was definitely more than a kilometer.
Also Read: Delhi to Jim Corbett Road Trip – An Exciting Adventure
Permits for Gaumukh
But we were super excited and reached the office finally. The officer there was not in the good mood. He tried to convince us to take a permit in Gangotri itself. But after some request, he agreed with one condition that we must take a guide and we agreed.
While doing the permit paperwork I met Dinesh Bhatt who runs adventurous trips in Uttrakhand/J&K. We had a very good conversation and he was nice enough to offer me almost half a kg of walnut. I would say some awesome walnut they were. It was so easy to break with hands themselves. Don't be surprised, he only taught me how to break it like a pro.
While returning from the DFO office we faced a little rain but we kept on walking. We now cared the least as we now got the permits.
That is when I received a sudden call from Upendra. To my surprise, he was just 50 meters from where we were. Oh man, can't explain the feeling when you find someone known at an unknown place. We talked for a couple of minutes and then he dropped us at a hotel Bhagirathi. He convinced the hotel manager to reduce accommodation costs to 300 per night.
We wandered there for some time on his Bullet and then called it a day. Things were all set now for our journey ahead. We had the permit, our luggage, and we were tired enough to get good sleep for sure.
Two things we will have to do tomorrow, first to take an early morning taxi till Gangotri, second to hire a guide there.
Day 3 – Uttarkashi to Gangotri to Bhojbasa
Finally, the D-Day arrived. We started to pack our bags to catch the 6:30 AM shared Taxi. But things got delayed a bit and it was already 7 AM by the time we checked out of the hotel. We were 30 minutes late due to last night's party. We paid our bills Rs. 950 and headed towards the taxi stand.
We found a taxi waiting but it was not yet full. They were waiting for more people to come. The taxi driver told us he won't move until he gets 10-11 passengers. To our pleasant surprise, we found Vishal in the same taxi. He had returned from Rishikesh last night. It was good to see him again.
Middle bay of taxi was already engaged by 4 people from the Indian Navy. But there was another big problem yet to be handled.  Rawat Bhai refused to sit in the back seat, saying that it would be tough for him as he can't handle vertigo. The next taxi was after an hour and no assurance for a window seat still.
I and Vishal were luckily able to convince him as we told him that will pay for two seats in the back so you won't face any issue.  Finally, the taxi moved at 7:30 AM. After a bumpy ride, Rawat started giving a creepy look and another session of Anardana started.
We were in still our T-shirts because the weather was pretty decently warm and clear! We Stopped at Gnaganani for tea/sutta break. It was freezing there. I bought one cap for myself and asked Rawat as well. He was already shivering but out came the same reply, 'I am Rawat'.
Also Read: Road Trip from Delhi to Kinnaur and Mussoorie
Gangotri
At 11 Am finally, we reached Gangotri. The taxi charges were Rs. 160. We had a brunch and packed Aloo Parathas for the day. We were three people now, me, Rawat, and Vishal.
Some uncle Ji joined us as well for the trek. We met him in Gangotri only. He was not sure but just wanted to go. He told us that if he faced any difficulties, he would return.
We checked everything again and out came yet another problem. Vishal told me that he has to get the permit from the Gangotri forest office. This was now not possible as the office was already closed for the day at 9 AM. We did not know what to do and I definitely did not want to leave Vishal behind. But we are Indians, so we find Jugad everywhere, right?
We had a permit for three people, Me, Rawat, and a Guide. So the plan now was that Vishal will be the Guide.
Check-Point
We started the trek. After about 1 kilometer, we reached the check-post. They checked our luggage and took a count of the plastic material that we were carrying. And then we played our card, proposing Vishal as our guide, that failed miserably.
Initially, they did not agree that Vishal was a Guide. His overall look and appearance were totally different and anyone could tell he is an outsider and not a Uttrakhand local.
We were denied permission to proceed any further. But after much persuasion, they allowed us. It was kind of a mess. We did a hell of a lot of talking. Finally, they told us that they knew this trick already since we weren't the first ones to do so. Surprise Surprise. But since we talked gently they allowed us and gave a warning not to try it the next time.
Also Read: Delhi to Lansdowne – A Weekend Drive
Trekking to Gaumukh
Overjoyed, we started moving towards our destination, Gaumukh. So far my photography has been limited to just a few shots with my cellphone. But now it was time for my Canon to come out.
Start of the trek after the check-point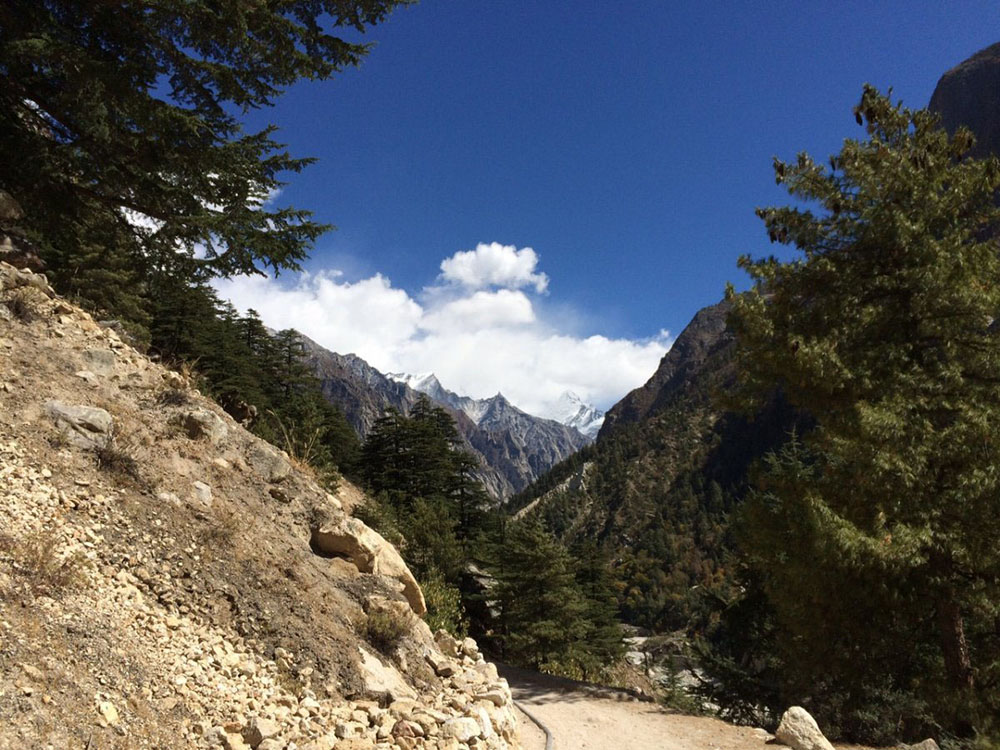 Some other mountain peak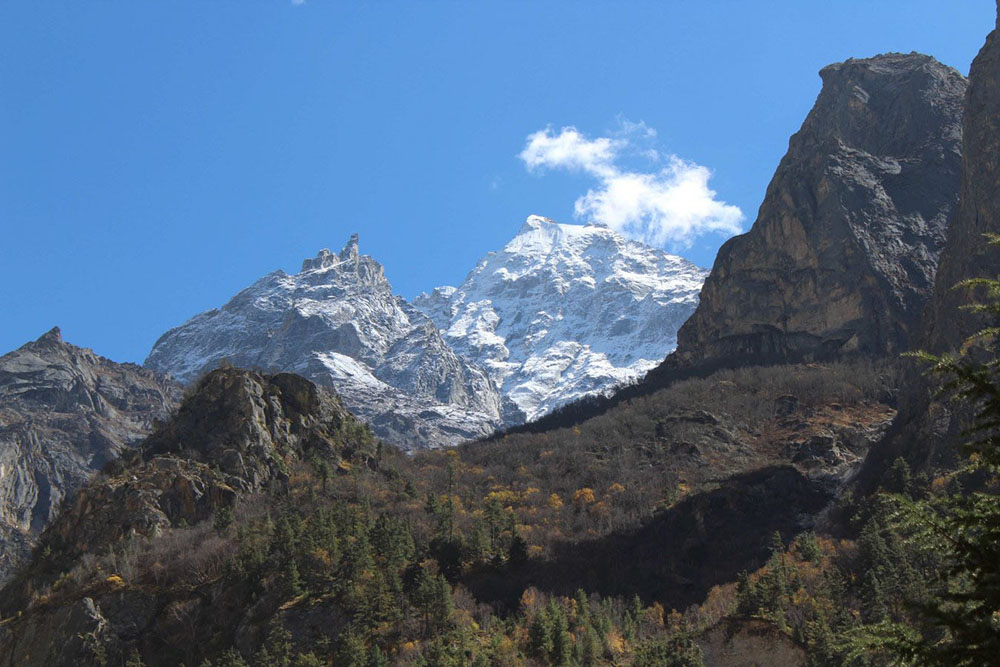 Rawat with that uncle Ji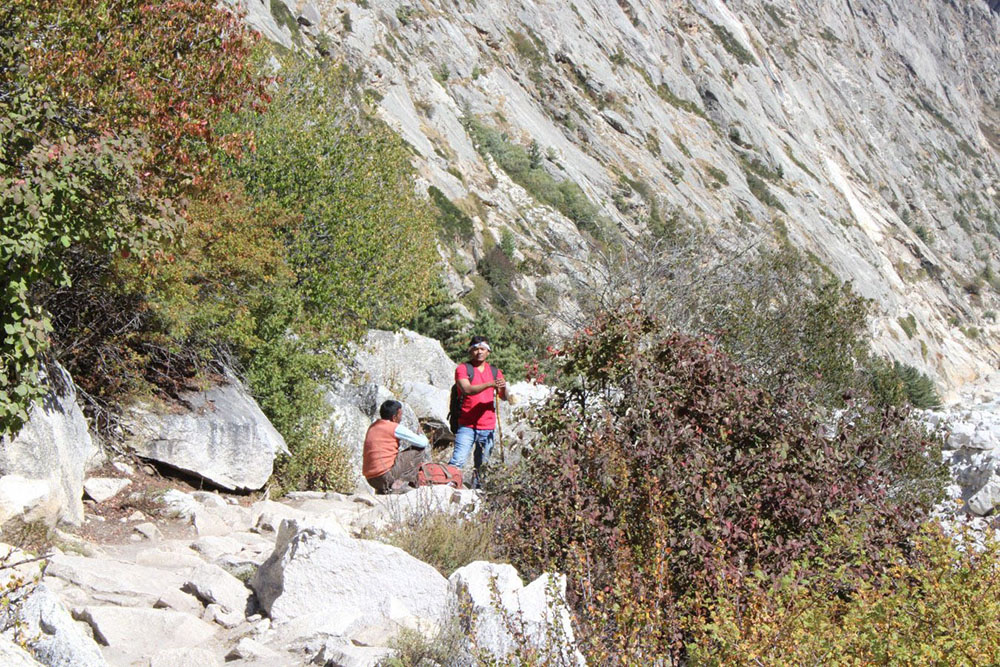 Slowly we were gaining altitude. A lack of oxygen was felt at several places that pushed us to take a rest. During the whole trek, we took almost 10-15 short breaks. Without a break sometimes, it was impossible to move further.
Crossing the wooden bridge. No defined trek. Walk on these paths carelessly and you will hurt your knees for sure.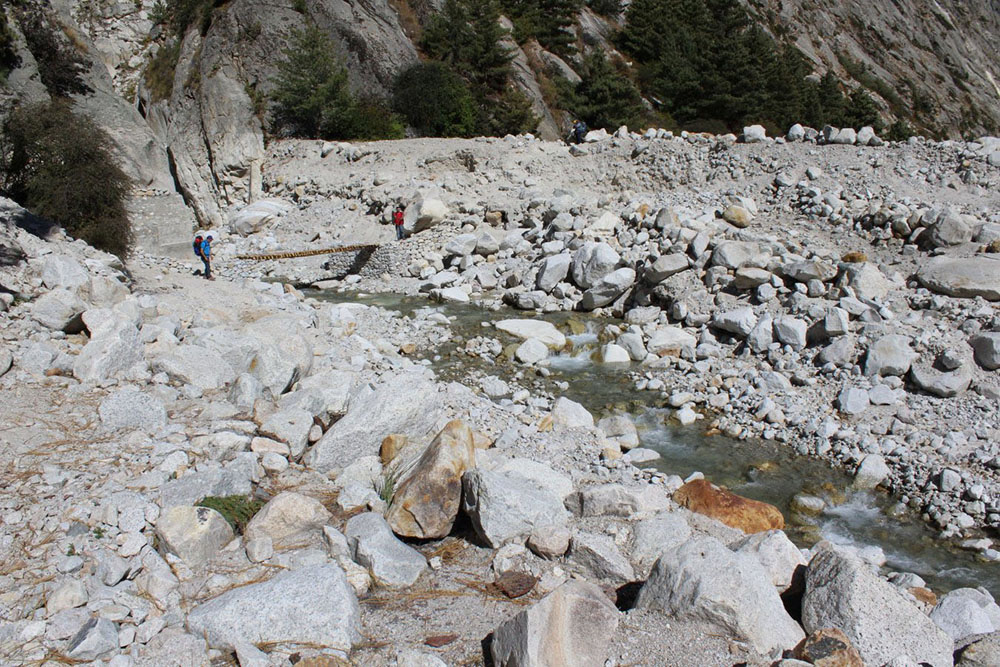 We kept on moving and our path started getting rough.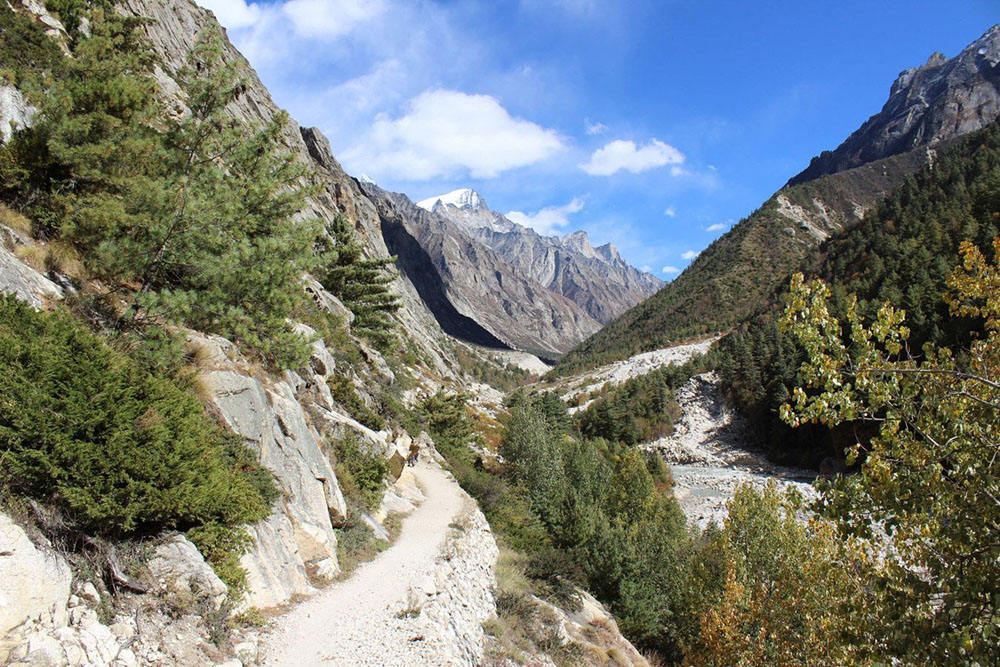 Rawat Bhai and myself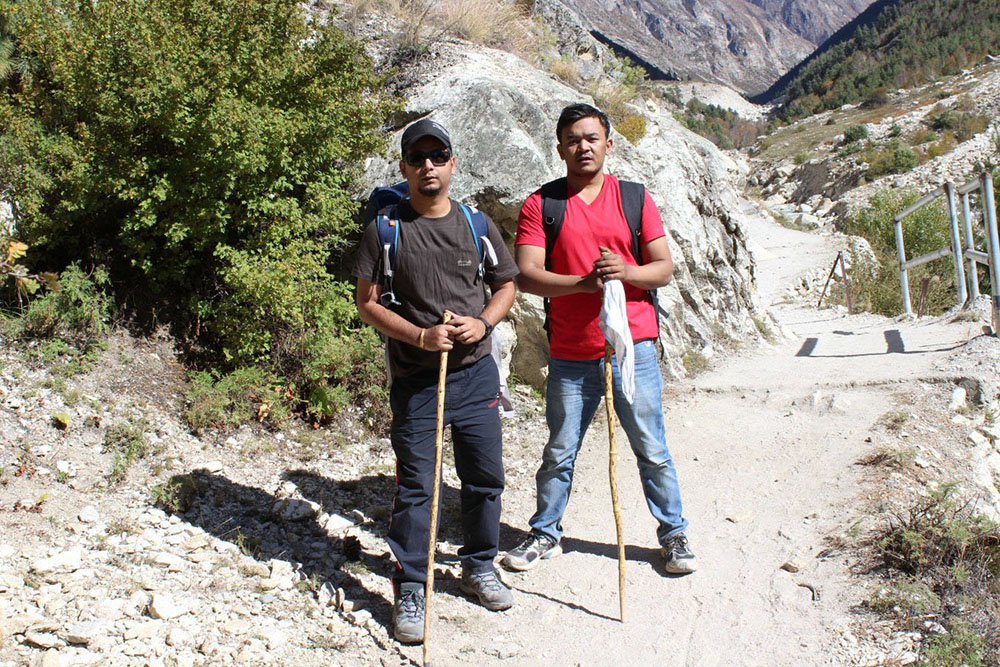 Now you can differentiate the difference between a rock mountain and a glacier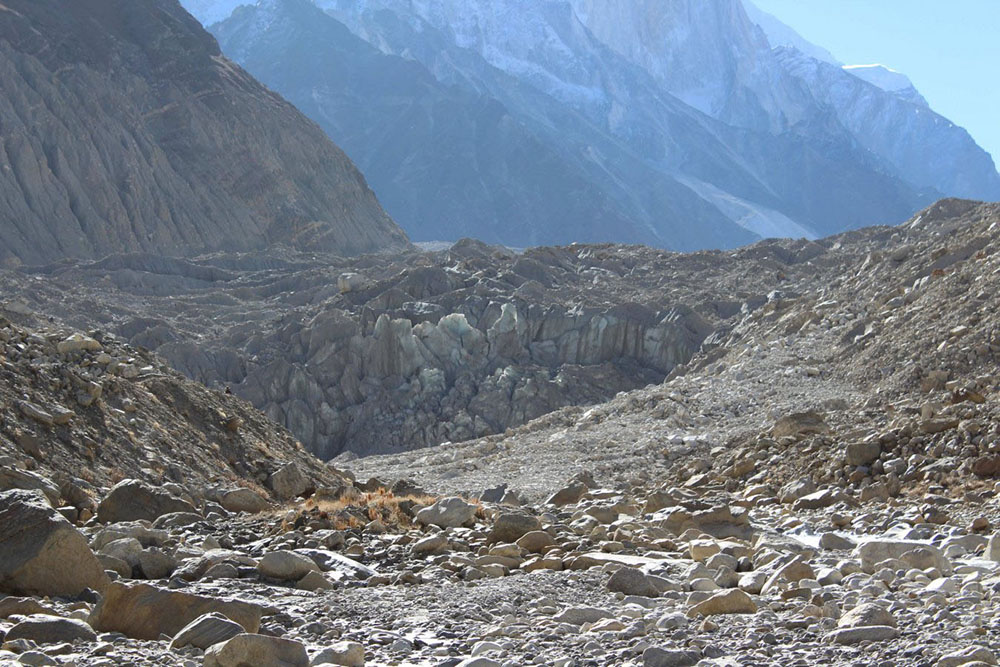 Chirbasa to Bhojbasa
Finally, we reached Chirbasa at 5 PM. Only 4 kilometers of the trek were remaining now. If you are short of stamina you must spend the night at Chirbasa and start the next morning. We felt we could push further and we started for Gaumukh. The fact however is that after Chirbasa, your every footstep feels like a mile.
Baba's tent at Chirbasa – Stay price is Rs. 150 per night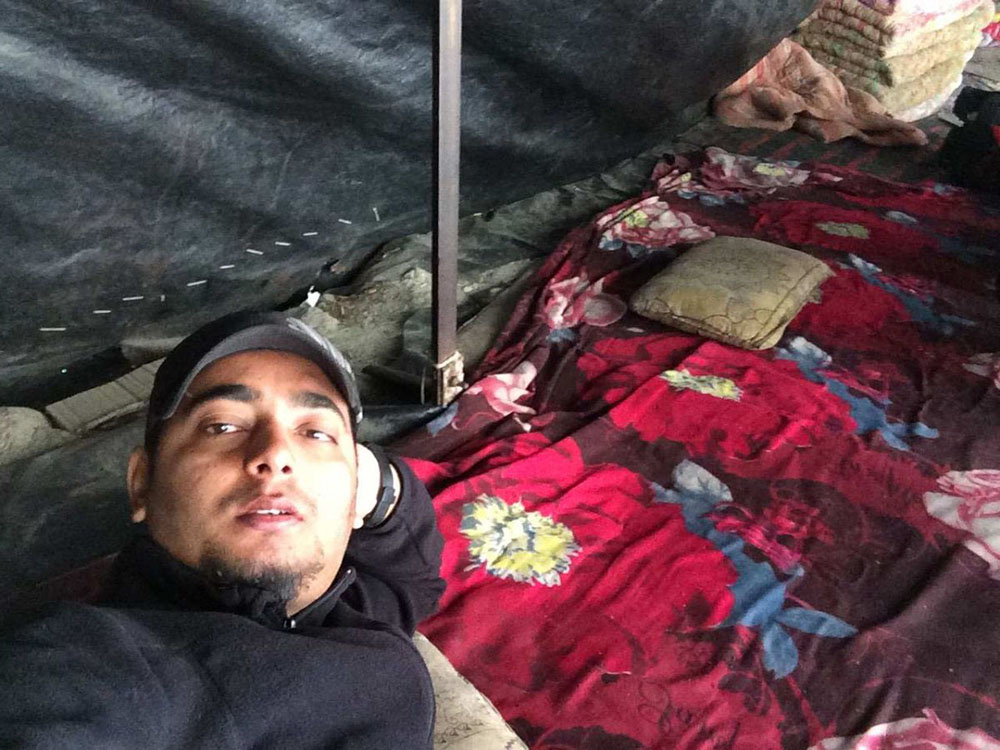 After Chirbasa, while crossing the river we met a family from West Bengal. They seemed to be really struggling. The family consisted of a man of around 55-60 years of age, his wife, and his daughter of around 25. They were accompanied by a guide/porter, so a total of 4 people.
I asked him if they were facing any issues and he said they were ok. So we moved ahead but just after 50 meters, the old man started shouting for help. I was in no mood to go back 50 meters so I asked him to come here.
Also Read: Chopta – A COMPLETE Travel Guide & Itinerary
Lending a Helping Hand
Within 5 minutes he came to me and asked for help. He said that guide was harassing his family and asking for more money. If they refused, he was threatening to leave them in the middle of the jungle. He asked us to help and let them tag along.
Well, it was a tough call for us. We were at our own pace and our target was to reach Bhojbasa before 7 PM. We didn't even have a torch if we delayed here. But another point was of humanity. We could not leave this family in the middle of nowhere. It was very tough terrain and it was also starting to get dark.
They were already harassed by the guide/porter. So we finally decided to help them. They had many small bags which the guide denied carrying. So we decided to carry those bags one by one if needed.
I saw that old lady walking very slowly or you can say she was not able to walk at all. To help them I gave her some dark chocolate, Revital, and a bottle of RedBull. Then we ended up having an argument with their porter also. We told him we will report this to the army and told few local names.
Bhojbasa
Time was passing on very fast as compared to us and it was getting darker. We all were exhausted so we decided to take a long break for 15 minutes even though we had quite a bit of a distance ahead of us.
Because of the slow movement, we reached Lal Baba ashram at Bhojbasa at 8:45 PM while people there were already preparing to go to sleep. We told them the situation and about that family and the guide. People there at baba's ashram also shouted at the guide and refused to provide him any hospitality.
Also Read: Tungnath Chandrashila Trek – A COMPLETE Travel Guide
We were hungry and were served hot food. It was rice and pulse only but believe me, it tasted like I am having something in heaven itself. It was one of the most delicious foods of my life.
Well, that family initially refused to eat without a vegetable. They were negotiating with Baba's guys and arguing that they are taking Rs. 300 and still not serving vegetables. At that moment and seeing their overall attitude, I was regretting that I helped this family. It also made me wonder if they even misbehaved with the guide which triggered him to behave the way he did.
Well after having dinner we settled on the bed and within five minutes, we were in a deep slumber.
Day 4 – Bhojbasa to Gaumukh to Gangotri
The next morning we woke up at 6:30. After freshening up, we clicked some pics and headed towards Gaumukh.
Pictures to see how Bhojbasa village looks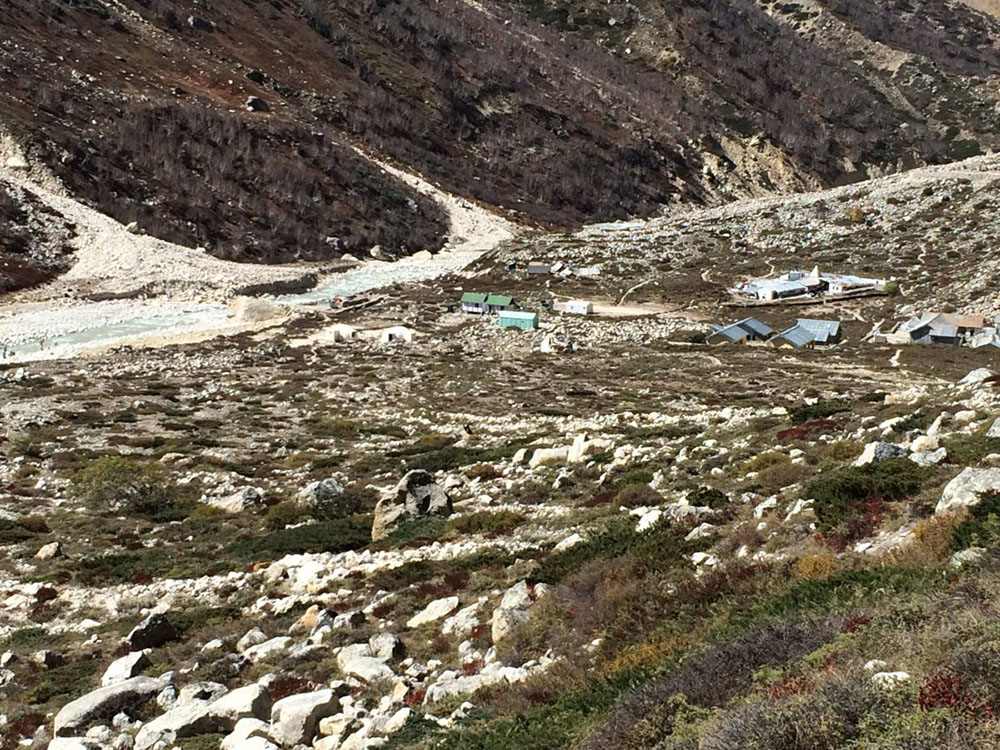 From Bhojbasa to Gaumukh is almost 2 kilometers with no clearly defined path. This is the trickiest stretch of the entire Gangotri to Gaumukh trek. You have to walk on the boulders only. With each step, you will gain altitude. After moving 100 meters you will get a good view of the Trishul range.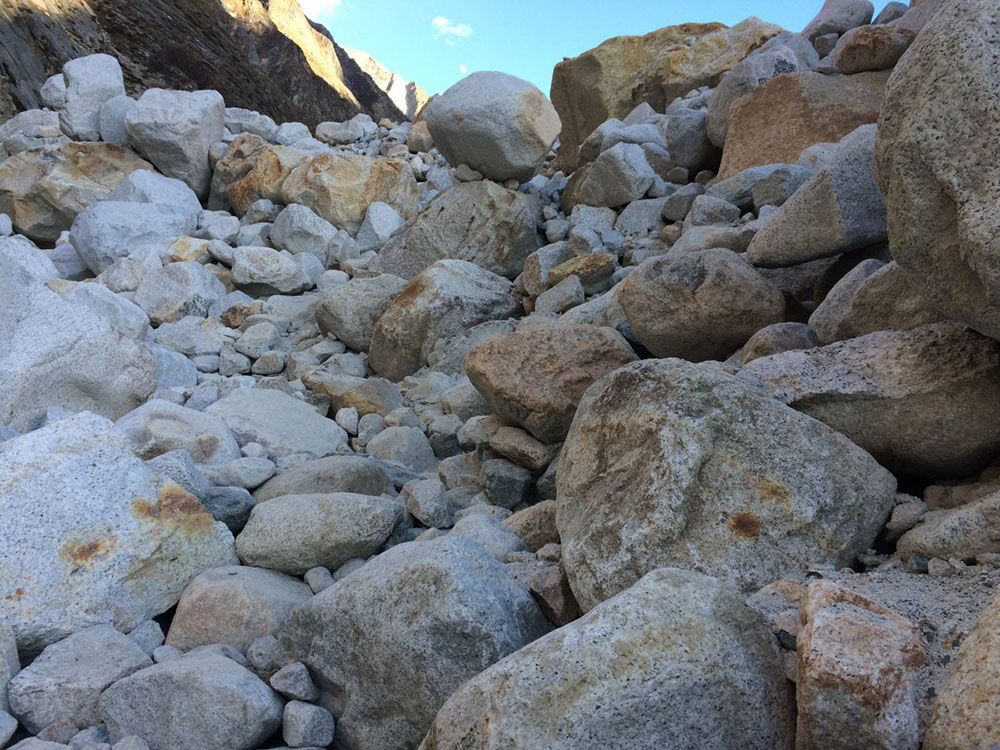 Now Rawat Bhai will never ever say anything about cold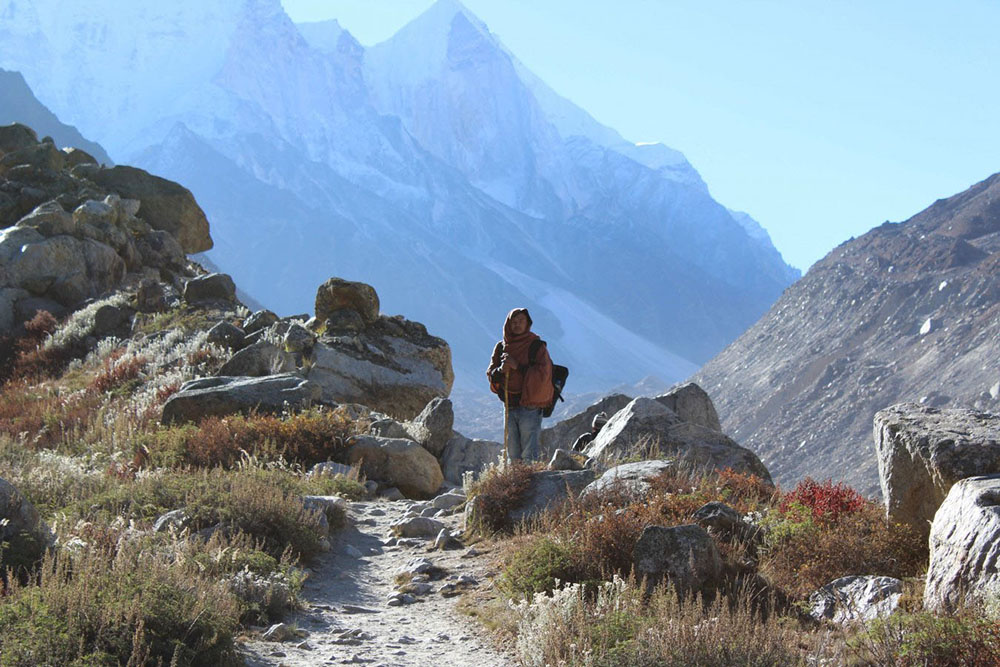 We reached Gaumukh eventually. We bowed our heads and prayed to God, and thanked him for helping us in this wonderful journey. Rawat filled two bottles of holy water and we were set for the return journey.
No, we were not going to Tapovan. It was not in our plans and we didn't have a sleeping bag or tent for the worse case. We also did not have the permits for Tapovan.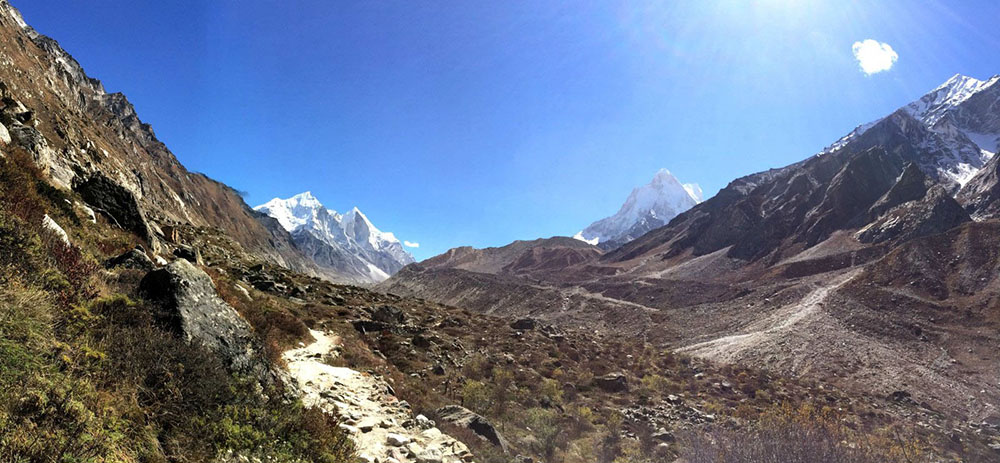 This was the path that was more dangerous in descending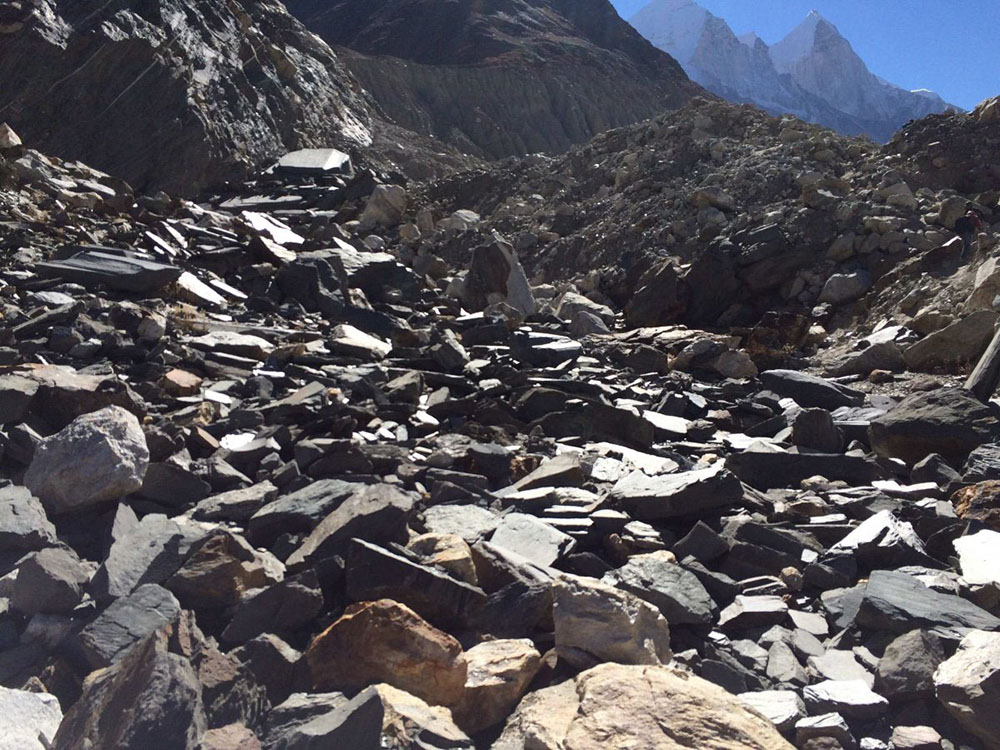 Return to Gangotri
So the main part of the journey was over. We returned to Gangotri in the evening by 6:30 PM, on the same day from Gaumukh. We covered almost 20KM today.
Completely exhausted, we had a cup of tea and headed towards Mandakini Hotel. I have already stayed in the same hotel so after some bargaining, he agreed to Rs. 300/night. I paid Rs. 50 and asked for hot water to take bath. Meanwhile, Rawat Bhai brought some eatables and after some gossips, we called it a day.
Also Read: Binsar Travel Guide – How to Plan your Trip
Day 5 – Gangotri to Rishikesh to Delhi
The next morning we were feeling fresh and confident. Today our main task was to find a bus or taxi to reach Rishikesh. Since everybody was running behind each taxi, it was difficult to reserve a seat but finally, we got three seats in a taxi.
We started at 10 AM and reached Rishikesh at 6:30 PM. We paid Rs. 500 for each passenger and in 5 minutes got another bus for Delhi.
It was an Uttar Pradesh Parivahan Bus. The condition of the bus was really bad and it made the journey difficult. Some people were drinking alcohol in the back seat. This bus was full of drunk people. We had some arguments also but again the bus driver told us to ignore them.
Around 12 AM we reached Delhi, said goodbye to each other, booked an OLA cab, and in 1 hour reached my destination, HOME.
That was it. It was one of the most adventurous trips of life. We have successfully completed this trip and would like to thank Rawat Bhai, Bidi wale uncle Ji, taxi driver, and many more people who helped us.
At last special thanks to Rawat Bhai because he was the one who felt all the ups and downs along with me.
The trip is complete but I promised myself that soon I will go there again, not till Gomukh but beyond it, probably Tapovan or beyond for sure !!
Gangotri to Gaumukh Trek – Conclusion
I hope the travelogue, pictures, and information on Gangotri to Gaumukh trek were of help. If you have any questions or need any other details, please feel free to ask in the comments section below or at our Community Forum, and I will be glad to answer.