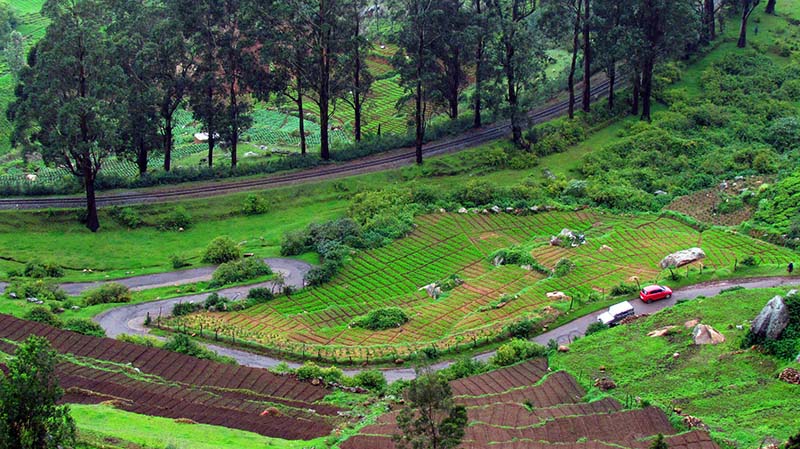 Pack of Vehement Wanderers, Metaled Roads, Swanky Wildlife, Lush Green Forests, Pleasant Subtropical Climate & a Plethora of Emotions. That just about sums up my bike trip to Ooty. It was an experience like never before, one that I was bound to cherish for years to come.
1 year 10 months. Yeah, that's how long it's been that I took some quality scribbling time out from my as-per-schedule life. And I'm back. Work drags us in many ways, however, there's one thing in everyone's life that they won't jeopardize no matter what keeps them from it.
Getting out on a weekend, on the road with my metal friend, capturing the precious moments that take my breath away, soaking in nature's gift & letting you all know about it, is what I have really close to my heart. Scribbling about my wander experiences on the road completes my intent for life. What is that one thing that makes you feel so?
You can question yourself later, for right now, you're about to get your head into my latest riding extravaganza that took me deep into the Nilgiri Hills.
About Ooty
Smooth tarmacs, humble curves in the countryside, hairpin bends upon the hills & riding at altitudes of 8600 ft. above sea level to reach the highest peak in the Nilgiris, this ride had it all. Queen of Hill Stations, that's what they call it.
Of course, I googled it. No wonder I thought Shimla up there held a somewhat similar nickname. Not to mention, this was my debut ride into the Nilgiri Hills, taking me through the city of Mysore, Bandipur Tiger Reserve & Mudumalai National Park, finally reaching Ooty (short form for Ootacamund).
I remember my dad telling me about how beautiful & aesthetic treads of nature could be witnessed in Ooty, way back when I was a kid. Well, this was my chance to experience that ecstasy in person, and what better way to do so other than going on a bike trip to Ooty.
Situated at a height of 7350 ft. above sea level, Ooty enjoys pleasantly mild climatic conditions throughout the year. Though, January & February could be the coldest months with chilling nights. Plan your vacation wisely!
Wanderers
Rahul – HH Hunk
Sonu – Bajaj Discover
Vinay – Yamaha Fazer
Srikanth – Bajaj Avenger
Route: Bangalore-Mysore-Ooty  (285kms as per Hunk's odometer)
Equipment: Canon EOS 550D Kit (EF 18-55mm IS lens).
Bike Trip to Ooty
"I can't believe you actually woke up at 02:30 AM as you said you would. If it was for me, I'd have taken a longer nap & started riding at dawn"
Srikanth said while we packed our bags & got ready for the much-awaited ride. Clocks hit 03:30 AM & we started on our bike trip to Ooty.
Also Read: Bike Trip to Nandi Hills – Dawn At Hill's Edge
Bangalore
Seeping through the confusing route out of Srikanth's place up till the NH-209 (Bangalore Mysore Highway), it was 04:00 AM already. The highway is clean except for some muddy patches on the outskirts of Bangalore city & alongside the small towns of Ramanagaram, Channapatna & Srirangapatna.
Not many options for a decent pit stop, but outlets like CCD, McDonalds & some regional restaurants can be considered en route. Bangalore to Mysore is a fine stretch & offers a complete package of riding tarmacs, viz. a metaled highway & slight countryside.
The trip was 30 km down & we took our first halt into the long night at a Café Coffee Day outlet to grab some coffee, no wonder it was a little cold out there, unlike Bangalore's regular weather. Another pit stop came at the 120 km mark, near Mandya, where we managed to put the DSLR at work. Here are some clicks from the place.
Mysore
The first major halt was at Mysore where we stopped for refreshments. Lots of options once you enter the city, especially near the City Bus Stand. Some popular attractions in Mysore are the Chamundi Hills, Karanji Lake, Mysore Palace, Wax Museum & many more.
Mysore to Nanjangud is a rough ride with not-so-pleasant but a good aura of the countryside. I was longing to ride through the countryside, for it's got its own charm for a wanderer to revive his obsession & break out from the shackles of city commuting.
I loved it, that's what I meant! We had a small break at a roadside dhaba in another district, Gundlupet which is 45kms down the road from Nanjangud on NH-67. Didn't expect one could get such decent quality of Poori-Sabzi at this remote location, kudos to the people taking care of it.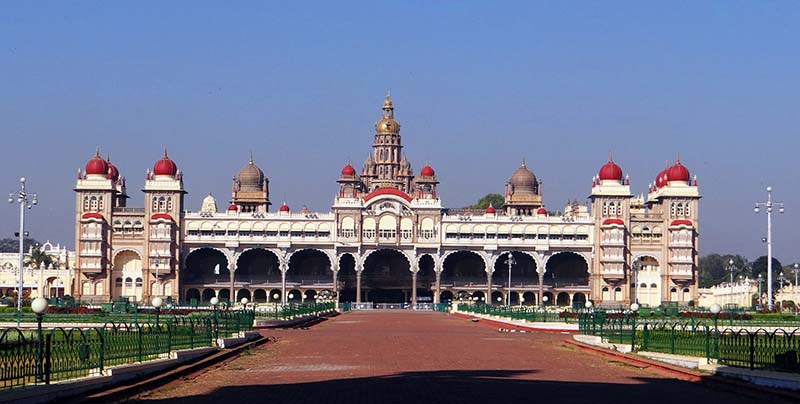 Bandipur Tiger Reserve
Now the sun was almost on us & we were just 20kms away from entering into the Bandipur Tiger Reserve. A quick ride from the dhaba lead us to Bandipur entrance gate in 30 minutes through some better roads. I got hold of Srikanth's Avenger on that stretch; cruisers have their own vibe though.
Once in, vehicles are restricted to ride under 40kmph without honking or overtaking. On the way, one can see signs saying "Wildlife has the Right of Way", which actually is a respectful job done by the Bandipur authorities. And in line with that notion, we rode at controlled speeds in a blissful manner on the well-maintained roads through the forest.
I must say the forest authorities have put immense effort into maintaining roads & signs in those areas. One can easily ride at 35-40s & take leisure in being close to the wildlife. Humps at regular stretches kept the traffic going peacefully.
In no time, we crossed Bandipur & reached Mudumalai National Park in Theppakadu district of Tamil Nadu. Karnataka-Tamil Nadu border check-post is well placed in the woods & officials make sure they check the vehicles thoroughly. We had no trouble though!
Also Read: Bike Trip to Wayanad – A Ride to The God's Own Country
Ooty
From Theppakadu, we took a left turn to reach Ooty in an hour. This was actually a short-cut, the actual way is through the Mudumalai National Park that goes via Gundlur & the roads are way better than this route. We decided to take that route on the way back.
Clocks hit 11:45 AM, trippos said 285 km & we arrived at our hotel, Hotel Lakeview in Ooty. At 1500 a night, it was a fair deal. The hotel staff is aptly welcoming & the services are worth it too. The rooms are tidy with almost all the amenities, with a small garden upfront.
Also Read: Bike Trip to Darjeeling in Winter – A Ride to Remember
Sightseeing in Ooty
The plan was to head for Government Botanical Gardens & then to Doddabetta Peak to witness the sun-set from the highest point in the Nilgiris. We got ready & rode straight to the Botanical Gardens, some 2 km from our hotel. Parking is ample, so no worries about that. Tickets are given away at reasonable prices, with some extra charges if you take along a camera with you. But after all that, Botanical Gardens are a treat to watch.
Botanical Gardens
Well maintained lush green gardens, extending up on the mountain with perfectly laid out walk-ways & decorated balconies. Opened in 1847, the gardens boast a vast land cover of 22 acres. In the month of May, a Flower exhibition takes place that showcases flowers & plants of rare species that would be unseen by many of us.
All that could be noticed there was the bright green blanket hosting a little touch of colored flowers posing for a perfect picture.
Also Read: Bike Trip to Shimla – Delhi to Shimla Bike Ride
Doddabetta Peak
After an hour-long walk around the greens, we headed towards Doddabetta Peak. The peak lies 10 km from Ooty & is located at the junction of Western and Eastern Ghats. At an altitude of 8600 ft. above sea level, it's the highest peak in the Nilgiris & offers amazing panoramic views of the splendid beauty of the Nilgiris.
What gets to you is the freshness in & around the place. It's a vulnerable spot for spending the evening at & be there until the sunset, that, of course, pulls out a must-watch show from the hill-top. To add to the utilization of the height & availability of vast clarity of landscapes from the peak, they have installed a telescope at a juncture that caters to the exploration this place deserves.
With clear skies, one can easily view the entire length of Ooty, the city of Coimbatore, Chamundi Hills (Mysore) & many more places into the hills. Unfortunately, we were not that lucky, for all that we could view from the lens was just clouds. It was too foggy, but that surely didn't turn out to be a disappointment as I managed to capture a lot from the place in my lens.
We waited until 06:00 pm there as we couldn't wait to get a glimpse of the sunset from the summit, but then, we had to leave as it was closing time. Nevertheless, we did manage to witness the beautiful sunset amidst the hills on the horizon while on our way back down to Ooty. Roads are pathetic in this region but the zeal of getting close to sunset is a moment to cherish.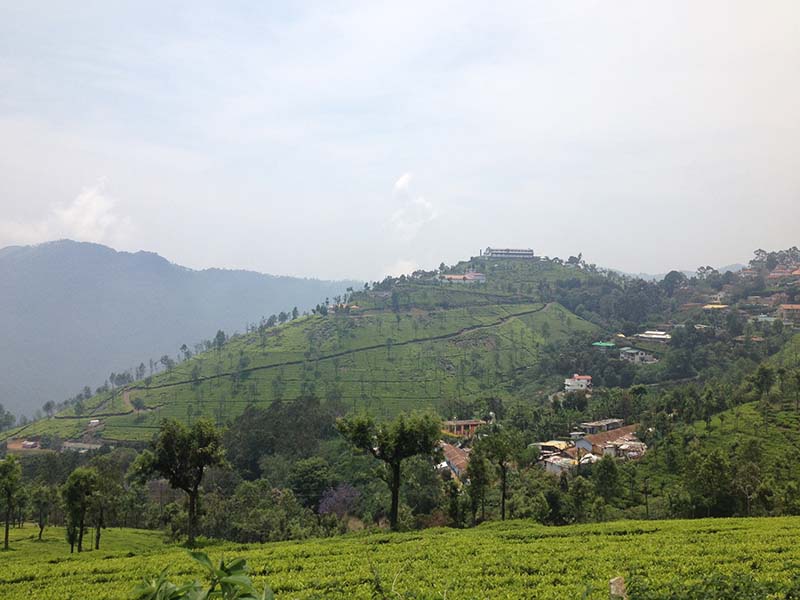 Ooty Commercial Street
07:00 pm already! Hopping on to your favorite cuisine is not that tough a job when you are at the Ooty Commercial Street. It's got everything a tourist would want from the distant pleasant land. From regional restaurants to International brand outlets, you name it, it's there.
We although were not in the mood for experimenting & pulled over at a Domino's Pizza outlet. Drenched with oodles of moments to picture & tired of course, we made our way to the hotel. Hotel Lakeview is situated near the backwaters of Ooty Lake.
One has to take the road alongside the lake to reach the hotel. And hell yea the lake looks beautiful under the moonlight. Pretty much to gasp for the day, a good sleep wrapped up the Day 1 story folks.
Also Read: Delhi to Agra Bike Trip – A Short 2 Days Ride to Agra
Ooty Lake
Welcome Day 2!! It was bright sunshine & I didn't want to stay in my bed waiting for morning tea to arrive. I got hold of my camera & clicked some quick shots before my co-riders woke up. Soaking in the morning breeze on a hill station is something you can't afford to miss. Bright sunlight pinging on the lush green pine trees is a sight I couldn't let go of.
We checked out of the hotel & rode to Ooty Lake. Now the Ooty Lake is one spot I'd suggest everyone should visit, for it's a complete package for tourists offering good restaurants, amusement park, boating facilities, sight-seeing, Hercules Mountain-Biking track, Horse riding & many more.
It's a complete carnival with something for everyone. We got hold of a decent restaurant & had a heavy breakfast, for we had got a long day ahead of us. One can make the most of his time by enjoying the Scary House & Mirror Maze situated just above the restaurant. So did we.
Then came the most exciting part, Mountain-Biking. It's a nicely laid out track, offering a close feel of real mountain biking. Get hold of a bike & you're on your own for the ride. Some clicks from the Hercules Mountain-Biking track:
While others took aside a corner in the garden to lie down after a tiring biking session, I roamed around to ease the shutterbug. Ooty Lake has a lot to offer to photographers.
Also Read: Mysore Coorg Ooty Road Trip – How to Plan & What to See
Ooty to Bangalore
It was 12:30 PM already & we were to get back to Bangalore, bringing an end to our bike trip to Ooty. Bidding goodbye to the astonishing hills, we set our rides on the road. This time, as we decided earlier, we took a longer route via Gundlur. That road goes down from the famous Pine Forest in the region & making its way through the Mudumalai National Park, it enters Karnataka at the junction of Bandipur Tiger Reserve.
"Sir, is this Bullet?" an officer at the border check-post asked Srikanth, referring to his Avenger.
"No Sir, it's the Avenger! So do you want to see my documents?" Srikanth replied humbly.
"No No Sir. That's okay. Does this run on Diesel or Petrol?" the officer showered his genius questions.
"It's a petrol bike, Sir. No bike runs on diesel these days!" Srikanth responded amusingly. I'm sure the officer was heart-broken. We stopped for a few clicks on the way to Mudumalai National Park. Tea Plantation can be seen running alongside the road descending down to Gundlur. Pulling over & having a nice cup of tea was a perfect idea to absorb the aura.
I believe no ride wraps us ever. It keeps up with the wanderer throughout his time. We rode through the green & lively forests, enjoyed nature's majestic offerings & had good memories to take home. Hills seldom disappoint a rider; it's up to the rider how he perceives the ride.
We chose to respect wildlife & nature's integrity, which in my view is one's responsibility. And yeah we had a great run too. Until next time folks, while I look around for another destination into the heart of South India.
Bike Trip to Ooty – Conclusion
Mother Nature has so much to offer, we can't measure. Respect it & you might feel the magic. Get lost, surrender yourselves to the never-ending ionic fervor & you have a chance to find yourself. In the arms of nature, a wanderer feels at home & that's the best feeling ever.
I hope the travelogue and pictures of my bike trip to Ooty were of help. If you have any questions or need any other details, please feel free to ask in the comments section below or at our Community Forum, and I will be glad to answer.