I recently completed a Mysore Coorg Ooty Road Trip and it turned out to be one of the most favorite trips of my life. After all, it was a family trip. I had planned everything and booked everything in advance. Since I was traveling with my family, I made sure to leave no stone unturned and everything was pitch-perfect.
It was a long trip of almost 10 days. Along the way, I experienced a number of things and food and historic places, etc. The route that was planned was Bangalore >Mysore >Coorg >Ooty> Bangalore >Home. It was one of a kind of a trip. It was not exactly a road trip, but since the places were so far from each other, we made sure to explore every bit of a place on the way. In the post below, I will share some of the things I learned about visiting Mysore, Coorg and Ooty that can be of help to others.
How to Reach Bangalore?
The first part of our plan was to get to Bangalore and move to Mysore from there. This was really the easy part. You can either reach Bangalore via Airport or Train. Make sure to book your hotel somewhere in the city so that your transportation becomes easier for the next destination.
By Train: Bengaluru City Junction Railway Station
By Air: Kempegowda International Airport Bengaluru
We stayed in Bangalore for a Day so that we get prepped up for what the next day had for us.
Also Read: How to Plan a trip to Shimla
Best Time to Visit Mysore Coorg Ooty
The best time to plan a trip here would be during the winter season, from December till February. Monsoons and Summers are not the best seasons to visit these places as It would be too hot and heavy rainfall could spoil the trip. Now let us take a look at all these destinations one by one and I will explain what you should be doing here as a tourist.
Mysore
Mysore is known as the city of palaces. The city was earlier the capital of the Wodeyar rulers who were great patrons of art and culture. Once you explore the palaces and architecture you will see the rich heritage of the city. Apart from that, the city is also known for sandalwood products and the Dasara festival (Navaratri) held every year. Make sure to buy Authentic Sandalwood products from the local market.
We visited the Mysore Palace. I was spellbound. It was an excellent combination of Dravidian, Indo-Saracenic, Oriental and Roman styles of architecture. The Maharaja's Palace is a beautiful three storied stone building of fine gray granite and rich pink marble domes.  Overlooking this structure is a huge tower whose domes were painted in gold. Photography is strictly prohibited.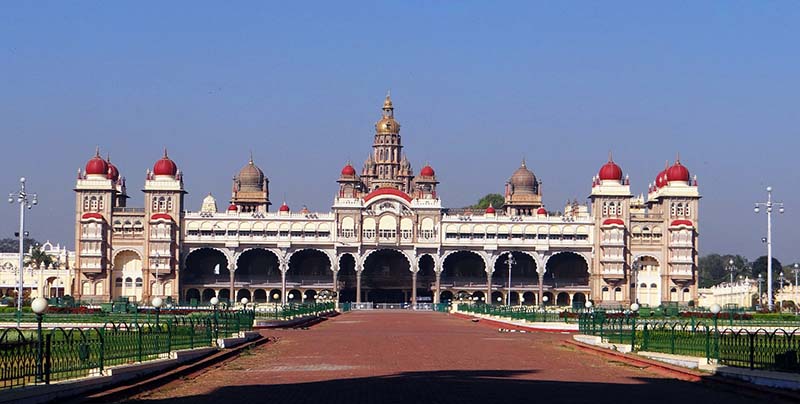 Next on the list was Mysuru Zoo. It was started by Chamarajendra Wadiyar X initially as a private Zoo. The Zoo has about 1000s animals. Mysuru Zoo was the first in the country to obtain Gorillas and Penguins. Even though, now there were no big animals in the zoo, we still enjoyed being there.
Next on the list was the Brindavan Garden. The Brindavan Gardens were located just below one of the dams, often described as the best example of illuminated terrace gardens in the country.
Mysore to Coorg
The distance from Mysore to Coorg is about 120 km and can be covered in approximately 2.5 hrs. Coorg is located in the south-west part of Karnataka, bordering Kerala. Coorg is India's famous travel destination and has been called the Scotland of India by the British. It is sometimes also referred to as the Kashmir of South India. I was awestruck with its beauty as I had never imagined it to be so beautiful. The natural beauty of the region, the warmth of its people, the culture and the food are the major attractions that draw people to Coorg.
Also Read: How to Plan a Trip to Manali
What to see in Coorg
The first place to see in Coorg was the Tibetan Golden Temple near Bailkoppa. This Tibetan Temple and the settlement here was the second largest Tibetan settlement outside Tibet. As soon as we reached the place, we saw so many Tibetans. There were the famous Tibetan flags in the place. After asking my driver I came to know that there are over 7,000 monks and students at the Tibetan monastery.
The Buddhist Monastery was re-built here in 1972. The 40 ft tall golden Buddha statue was the major attraction of Bailkoppa. The statues of Buddha and Amitayus are notable ones. The walls of the temples and the institutions were decorated with colorful paintings depicting gods and demons from Tibetan Buddhist mythology. The altar was decorated with flowers, candles and incense sticks.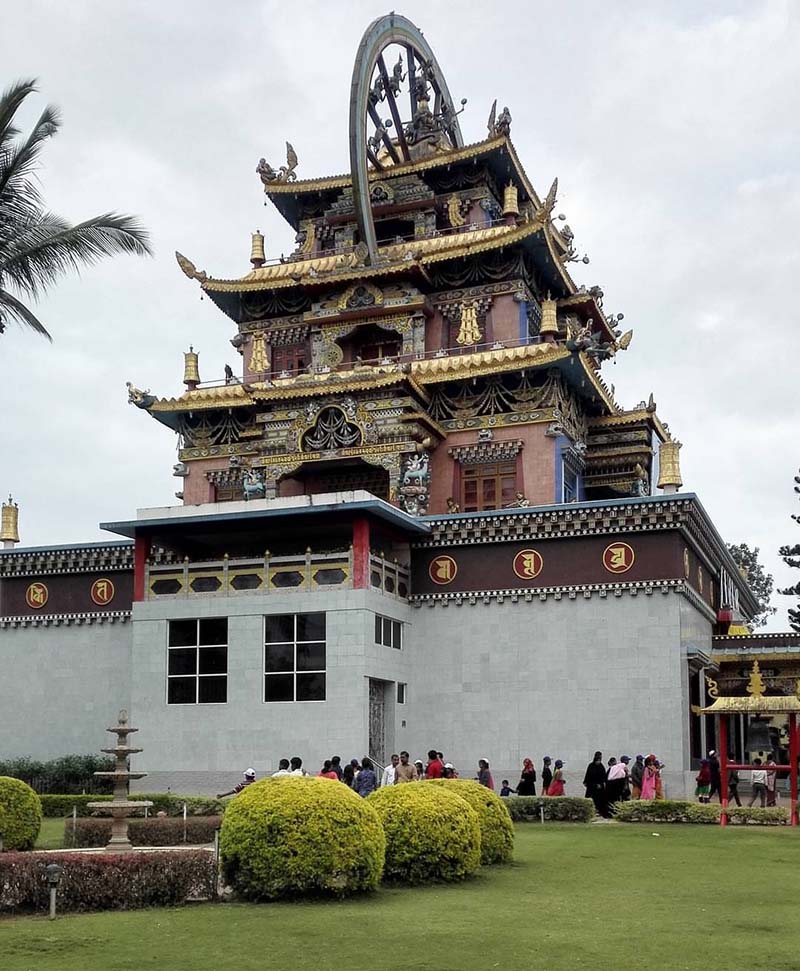 Apart from the calm and peaceful surroundings, there was a Tibetan market near the temples that sold traditional Tibetan items like costumes, statues, carpets, jewelry, etc.
In the evening we visited the Raja's Seat or the Seat of the King. The Raja's seat is a famous sunset point in Madikeri. In fact, it used to be once the platform from which the kings of Kodagu used to enjoy glorious sunsets. The place got its name as it was the favorite recreational place for the king. Raja's seat stands inside an amazing garden of seasonal flowers and musical fountains. Today it is a famous destination of Madikeri which is visited by tourists throughout the year.
Madikeri Fort and Abbey Falls
Next on the list was, TheMadikeri Fort. It has an intriguing historical past. It was initially built of mud and later replaced with the present structure by Tipu Sultan. The fort also holds some remains of the British era, including a vintage clock tower. Sunsets viewed from the fort are simply beautiful.
Also Read: How to Plan a Trip to Ladakh
Abbey falls is one of the most viewed attractions in Coorg.  The picturesque view of the fall will surely take your breath away. It will also provide you with quite a few photographic moments. The waterfall comes down from a height of around 50 feet and provides a superb vista. The monsoon season, from June to September, is a great time to visit Abbey Falls. This is when the water levels are at their highest and most powerful.
Coorg to Ooty
Oots is located at a distance of about 240 km from Coorg and can be reached in approximately 5.5 hrs. Ooty is popularly called as "The Queen of Hill Stations". It mixes up Indian bustle with lovely parks and gardens and charming Raj-era bungalows.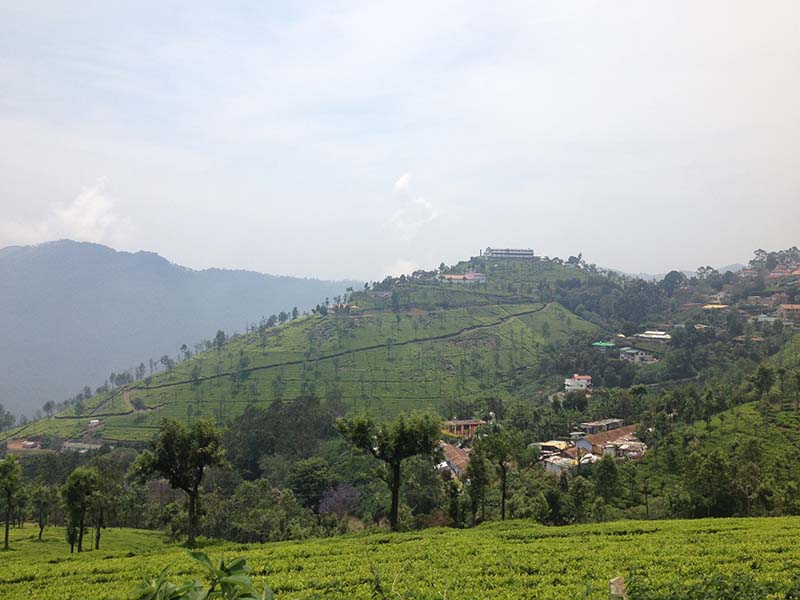 Places to visit in Ooty and Things to Do
Sightseeing the Botanical Garden will be the first and one of the most popular things to do here. Ooty Botanical Garden is divided into six areas, which include the Lower Garden, New Garden, Italian Garden, Conservatory, Fountain Terrace and Nurseries. As soon as we reached there, all we could see was a riot of colors. A wide range of spreading flower beds was an intrinsic part of Ooty Botanical Gardens. It is also a popular haunt for tourists and offers a variety of trees, shrubs, and flowers.
Go for Boating in Ooty Lake
There were two kinds of boats available; pedal and motorboats. Adjacent to the lake there are a lot of activities such as Toy train ride, 3-D shows, Tora-Tora ride & also ponies were available for rides.
Also Read: How to Plan a Trip to Spiti Valley
The Very Beautiful Centenary Rose Garden
This Rose garden is not like any other garden. It is in fact laid on huge acres of land. This garden is beautifully laid out in terraces with rose, pergolas and rose creepers. I have seen all the types, size and colors of roses here. It has the largest collections of roses in the country. Around 3600 varieties of roses are found here, like Hybrid Tea Roses, miniature rose, Floribunda, Ramblers, roses of unusual colors like black, yellow, green, white and many more varieties that will captivate your senses.
Our hotel was located at the top and the roads were all about Hairpin turns and dives. I encountered around 36 Hairpins and bend curves on the way. It was both fascinating and a bit scary as well.
The Tea Factory
As soon as we entered the vicinity, we could smell everything Tea. Of course, after all, it was The Tea Factory. It has a two-story building that had tea leaves driers on the second floor, while the walls are splattered with the history of tea and the art of tea-making via paintings and more. You can buy varieties of Tea from there. You can also see the whole process of Tea Making and taste some of the significant Tea. We bought a few Tea Packets from there.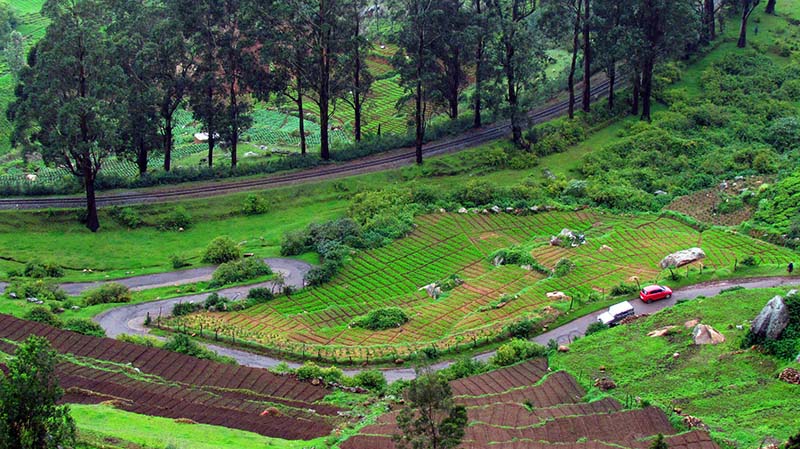 Catch a Landscape view of Coimbatore
The Doddabetta Peak stands at height of 2,623 meters. It is the highest point in the district, offering a bird's eye view of the whole of Coimbatore and the adjoining areas around it. One of the most remarkable things about Doddabetta is its top summit, which makes you see and wonder in amazement. The area around the peak is a reserved forest and is home to many endangered species of flora and fauna.
Also Read: How to Plan a Trip to Gulmarg
What can you buy in Mysore Coorg Ooty
The first item would be Coffee. The organic unadulterated coffee grown in Coorg should be there at the top of your shopping list.
Coffee Scrubs and Face Packs
You should also buy some Coorg Honey. Honey in Coorg is matchless in terms of purity and flavor and it is always in high demand
Tibetan Artefacts woul dbe next on the list, including items like Tibetans Flags and Sarees.
Authentic Sandalwood
Homemade chocolates of Coorg can make a great souvenir. Choci Coorg in Madikeri is a great place to find a variety of homemade local chocolates.
Last but not least would be Mysore Pak. You will find the authentic Mysore Pak only in Bangalore. Buy some for yourself or as a gift for your friends and family
What to Pack for such a long trip
Casual Comfortable clothes for the Car Journey
Warm clothes as it will be really cold on Top of the Ooty Mountains in the Hotels.
Few Indian Snacks
First Aid Kit
Casual Slippers and Woollen Socks
Conclusion
In the end, it was surely a lovely and dramatic trip. It would not have been possible to cover so many places had it not been by our own car. So plan your trip accordingly and in advance so that you don't miss out on these places to visit. I hope the information provided above on the Mysore Coorg Ooty Road trip was of help. If you have any questions; or need any other details; please feel free to ask in the comments section below; or at our Community Forum; and I will be glad to answer.