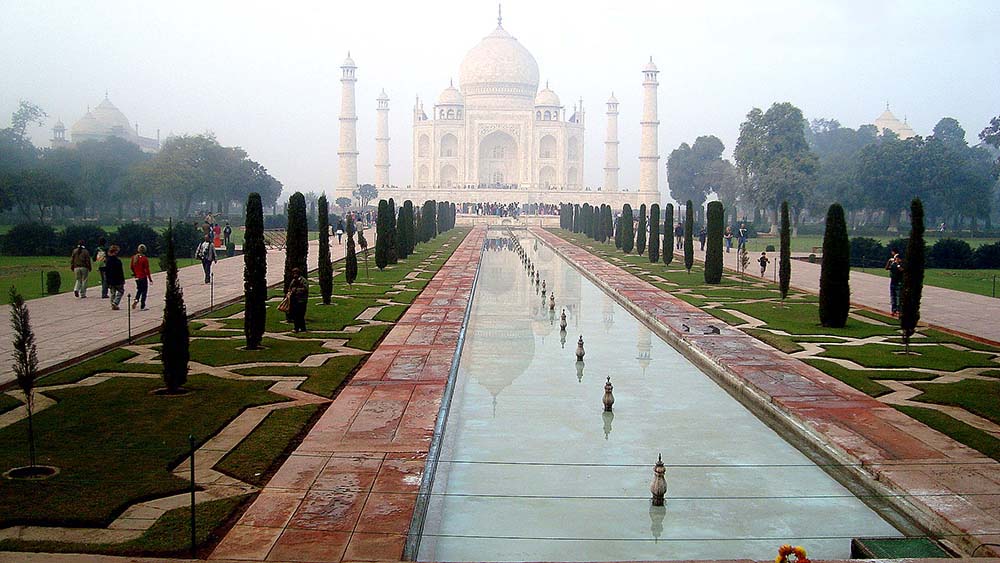 Hey guys, I'm Rahul Arora from Delhi. I and my cousin Karan Bajaj recently completed a Delhi to Agra Bike Trip. After long discussions, agreements & disagreements of riders to join us for the tour due to chilling winters or so-called Dilli ki Sardi, both of us completed it on our own.
Rides and The Riders
Rahul Arora – Hero Honda Hunk
Karan Bajaj – Bajaj Pulsar200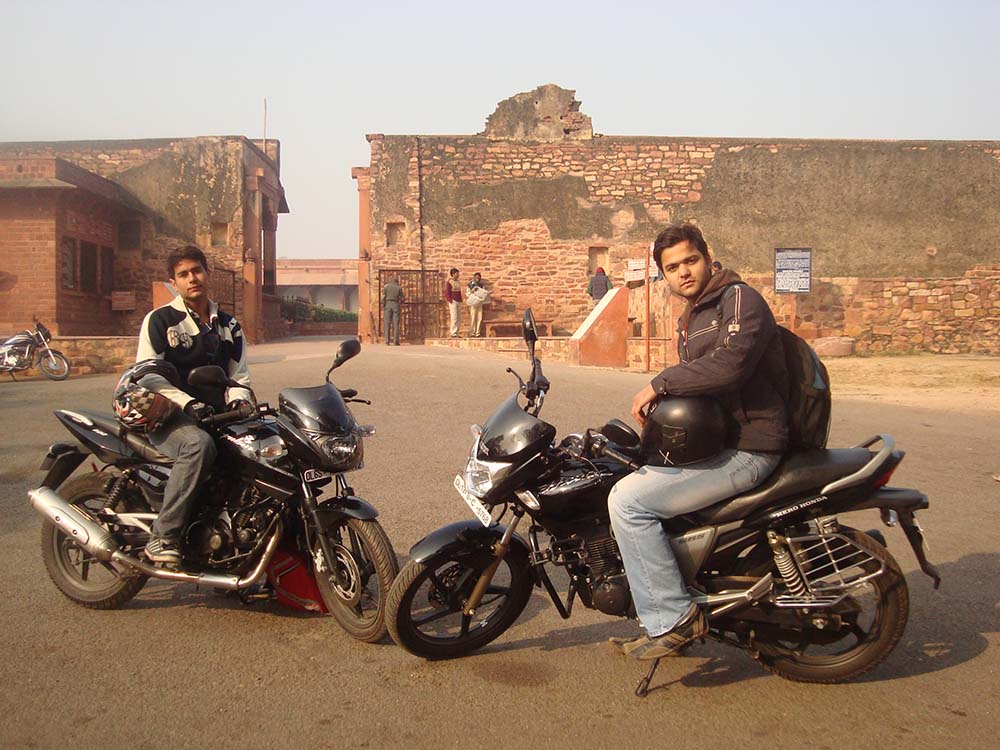 Delhi to Agra Bike Trip
253 km South-East of Delhi, Agra is situated on the Bank of Yamuna river and houses some of the important historical sites that bear memories of the valor and nobility of the magnificent past. The city of Agra stands in testimony to the great amount of architectural activity of the Mughals.
The city still breathes in the past and is considered as the Mecca of art and romance, carved on the grand monuments and forts. The beautiful Taj Mahal is a wonderful example of passionate romance enshrined on earth. Delhi- Agra tour indeed unleashes the rich cultural diversity of India.
Agra was the capital city of Sikander Lodhi, the second ruler of the Lodhi dynasty, who was defeated by the Afghan King Babar in 1526 AD. After Babar, in 1530 AD Humayun took over the throne of Agra. Sher Shah Soori also continued Agra as his Capital. During the rule of Akbar (1556 to 1605 AD) Agra earned fame all over the world and was counted as one of the great and beautiful cities of India.
Day 1 – Delhi to Agra
I got my bike properly washed, oiled, lights, indicators n horn checked a day before the trip & Karan got his bike (Pulsar200) serviced a week before. Karan and I decided to meet at the Ghazipur traffic signal near East Delhi Mall, Kaushambi, on the morning of 7th Jan 2009 Wednesday at 10:00
I reached there at 10:00 AM and waited for Karan. He was there at 10:05 AM. We both had woolens stuck on us. Obviously, no one wanted to get drenched in the chill. Apart from what, we wore jackets n gloves.
We head out for Agra at 10:15 AM from Ghazipur signal & I signaled Karan to stay behind me till we crossed Faridabad. After that, we were on National Highway-2, a straight way to Agra. The city of Agra is roughly 205 km from Delhi & the route followed was as follows:
Delhi – 35 – Faridabad – 25 – Palwal – 140 – Mathura – 51 – Agra  (distances as per my bike's odometer)
Our machines at Hodal, NH-2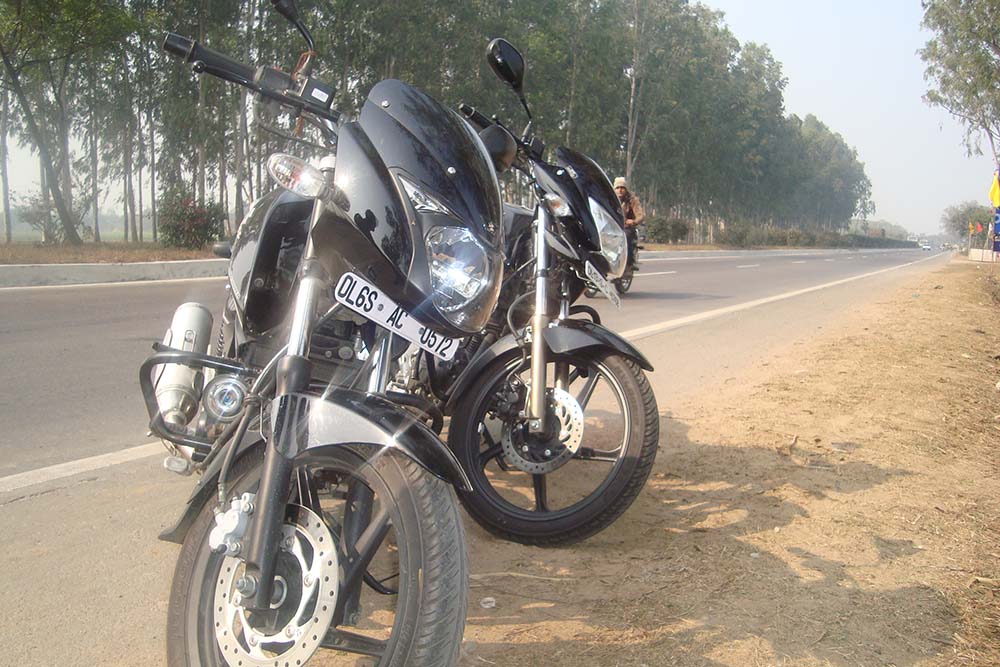 The Ride
Let me tell u that the road conditions were great throughout the trip. We crossed Faridabad at 11:15 AM being done 35kms with our machines. Faridabad has a bulk of industries running the heart of business in Delhi & NCR.
Riding via Palwal, we stopped at a Vaishno Dhaba in Hodal, Haryana. The time was 12:25 PM and our trip-meters read 100 km. It was pre-decided that we were gonna stop n give rest to ourselves and the bikes of course in the middle of the journey.
Now we had another 105 km to go. After having hot paranthas with cups of tea on that cold day, we re-entered the road at 01:05 PM. Now we clicked some pics of the highway, bikes, we with bikes, bikes with us, etc. PJ.
Agra was some odd 60 km ahead when we halted at Mathura McDonald's Restaurant situated on the NH-2, just opposite the Mathura Oil Refinery in Sector-27D. McDonald's Mathura is a favorite stopover point for travelers on Delhi-Agra Highway. The restaurant itself is quite spacious and there are other service outlets outside the restaurant like the SBI ATM, a grocery and provision shop, and a sweet shop too.
Sikandra Fort
Done with the gulping part, we drove for a continuous stretch of 2 hours covering a distance of approx. 60 km and reached Sikandra situated on the outskirts of the city of Agra.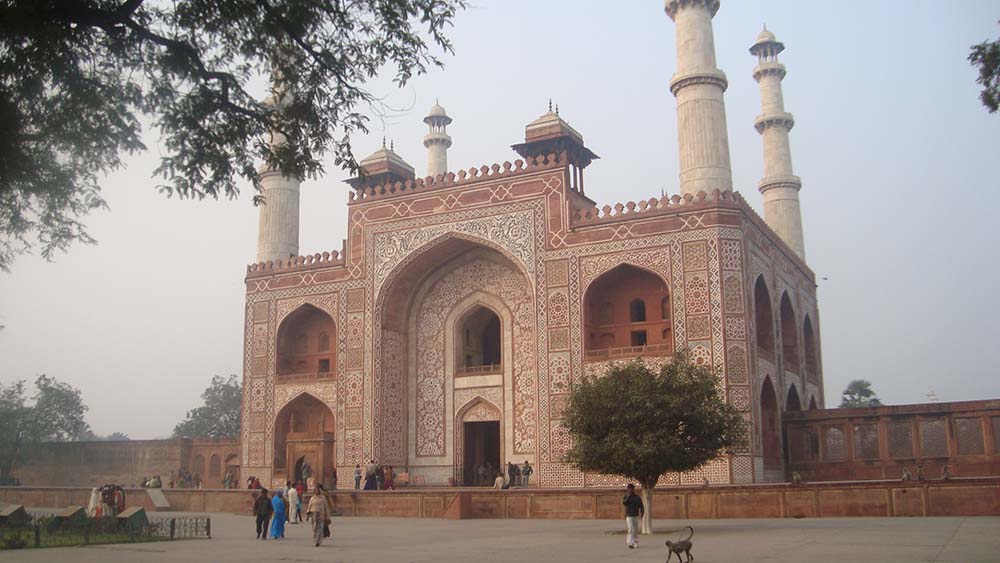 Here is situated the Akbar's Tomb, whose construction started under the reign of Akbar but it was completed by his son Jahangir 1605 after Akbar died. Inside the main gate of the monument lies the grave of Akbar. That's why people say, visit Akbar's Tomb is essential to make your Agra tour complete.
It was 03:00 PM on the clock when we had our bikes fetched out of the parking area outside the monument n headed towards the city which was 3 km from there. But as we started to ride, we got to know from the sign-boards that the Taj Mahal was situated in the outer region of the city for which we had turn ourselves rightwards, leaving the highway.
Taj Mahal – The Star of our Delhi Agra Bike Trip
At 04:50 PM we reached outside The Symbol of Love itself, the Taj Mahal. Getting out bikes parked on the roadside, coz there was no authorized parking there, we went to explore what both of us were looking for for years.
Taj Mahal is a symbol of the devotion and dedication of love. It is a monument built by emperor Shah Jahan In the memory of her wife Mumtaz Mahal. Taj Mahal expresses the magnificence of Mughal architecture.
The Taj has done wonders for Agra Tourism. Anyone who misses a visit to Taj, being in Agra, is surely a fool. Taj Mahal is the epitome of love, poem in white marble, one of the Seven Wonders of the World besides being the pride of India.
At the Taj Itself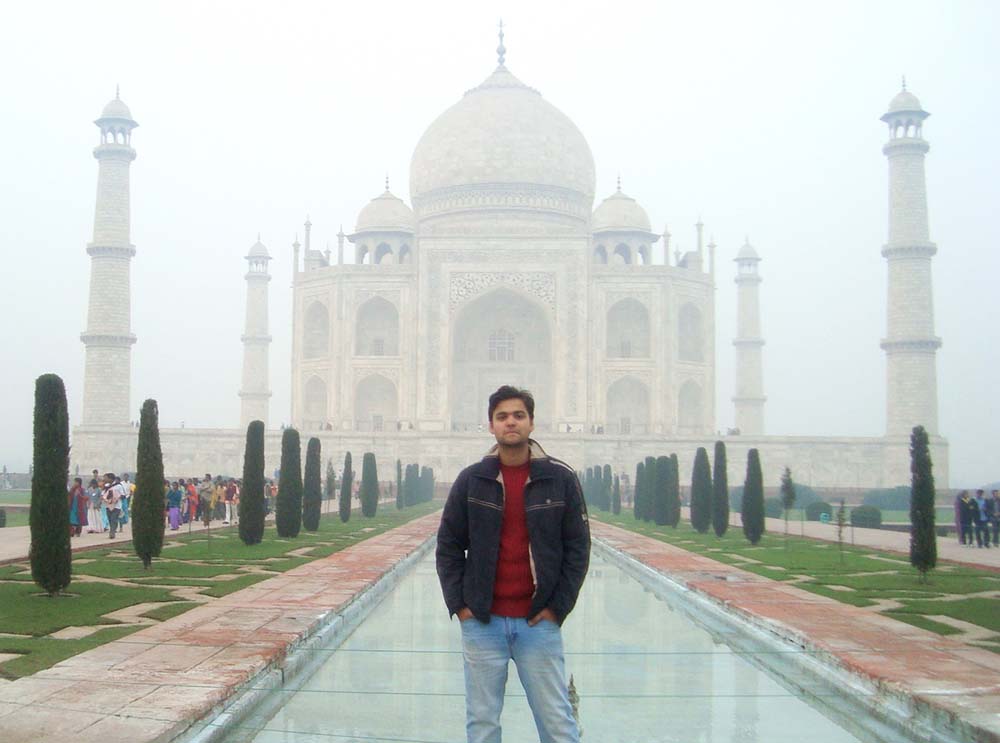 It was a tight security cover outside the Taj, for obvious reasons. Alright, it was 06:30 PM in the evening. As it was getting dark a bit & we didn't want to get stranded in an unknown city, we surely needed shelter now. The Taj is surrounded by a kinda slum area in a metro city. The small houses, short n narrow roads freaked me out sometimes.
It's pretty difficult to ride in such conditions when u have a chilling night following your ass. So we rode our bikes through the narrow streets n landed up at the Agra Hotel, on the Field Marshal Cariappa Road, Agra.
Hotel
Agra Hotel is a decent place with rooms equipped with hot water bath facilities for Rs 175/225, with air-cooling Rs 200-/400, and Rs 400/500 with A/C. It is an older peaceful place with a garden and a view of the Taj Mahal, but it looks a little aged. (Email: [email protected], Ph: 0562-2463331, 0562-2463985)
We parked our rides near the lawn outside the main office of the hotel and went in to check-in. We took a single room for 400 bucks; pretty affordable it was for both of us. We decided to go out & find a Punjabi dhaba in the heart of the city for dinner after freshening up.
We dusted ourselves up, unpacked stuff from our bags & turned out for dinner at 08:00 PM. It was fun riding on those roads that were just outside the hotel coz it was less crowded then & the streets were wide enough to ride comfortably.
An Evening in Agra
Agra is a lively place at night, especially the Handicrafts market that remains splendid with the beautiful works of handicrafts & embroidery. Agra is also known for its fabulous marble and soft stone inlay work. As per our requirement, we found a Punjabi dhaba shortly after we entered the crowded bazaar.
I was hungry enough to let Karan park both the bikes & me getting lucky with the delicious food. But yet, I kept patience though and we parked the bikes outside the dhaba.
It was just a one-room dhaba, with four tables with chairs. We luckily found one for ourselves n settled in there. I asked the gatekeeper to take care of the bikes until we get back n guess what he said, "Sahab, don't worry, we keep good care of Delhi vehicles especially." I was moved by this, but maybe he was a biking enthusiast himself, God knows.
Having good food doesn't really let you stand straight. Consequently, we felt like hitting the beds in the hotel. We gulped pastries, bought World-Famous Agra ka petha, and landed in the hotel at 09:45 PM. I went out n locked both the bikes together with a steel chain, for security.
In the hotel room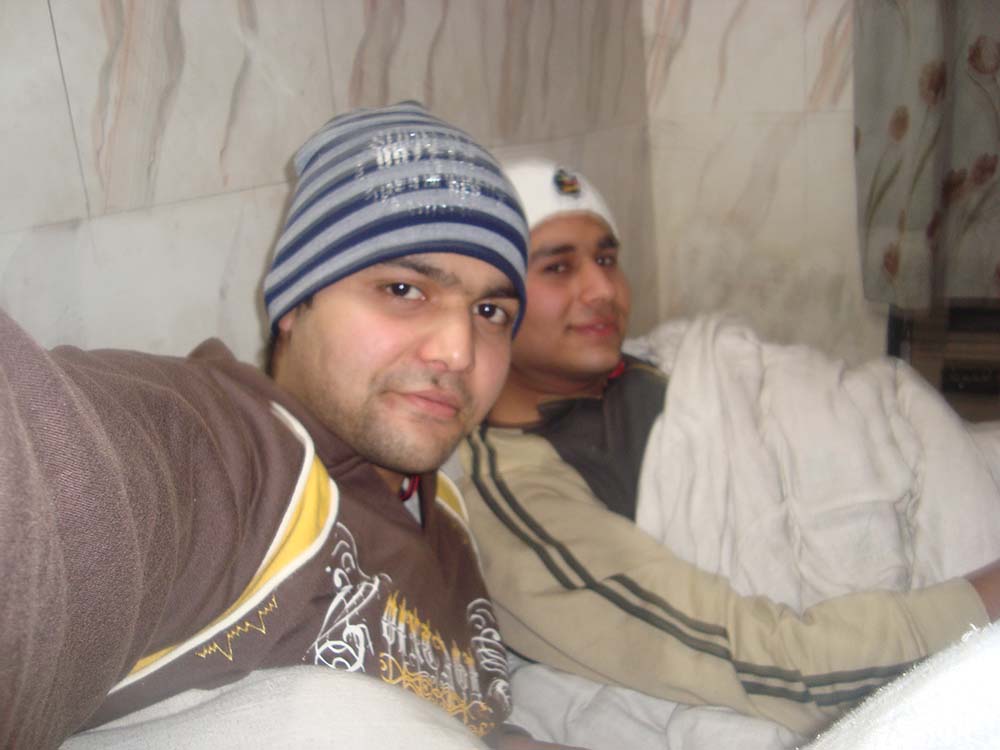 Now it was time to sleep, so we stretched ourselves a bit and what else, Good Night folks.
Day 2 – Agra to Delhi
Karan woke up earlier than me in the morning, though we were equally tired. We checked out of the hotel at 08:30 AM, 8th Jan 2009, Thursday and headed towards Fatehpur Sikri, famously known as the city of Ghosts.
Fatehpur Sikri is a place worth visiting to discover how once the city could have been which has now turned into ruins. Mughal Emperor Akbar used to live there with his three wives or say, queens. The route was pretty simple on NH-11.
Fatehpur Sikri
Buland Darwaza (back side) at Fatehpur Sikri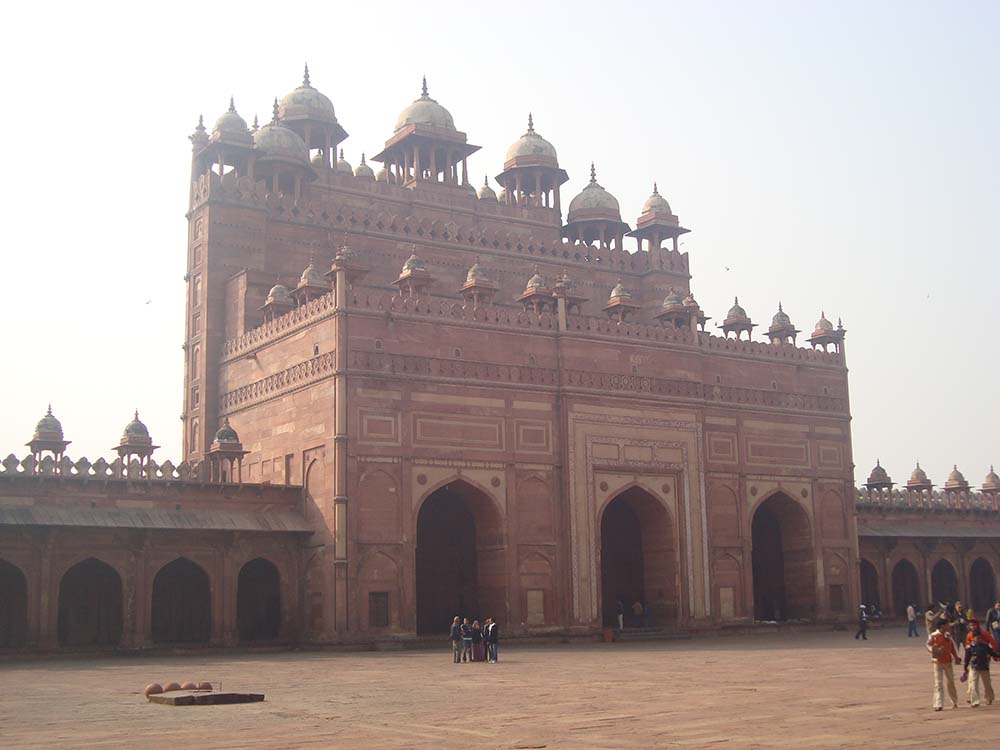 This part of the trip led us to one of the worst road conditions in Uttar Pradesh. The roads were horrible, full of cracks n a few potholes. We hardly drove above 50kmph there. At 10:00 AM we reached Fatehpur Sikri, just touching the UP-Rajasthan border.
I had to apologize to my bike for the severely bad roads. We hired a guide there who led us through the whole lifestyle of Akbar and his home. Again, there was no proper parking there, we parked our bikes near a boundary grill on top of the hill.
After experiencing the cosmic and universal charisma of the place, we headed ourselves out of there at 12:15 PM where my bike's trip meter read 261. On our way back, we stopped at dhaba after crossing Mathura at 02:25 PM in the afternoon. Bikes ran 346kms till then.
We stopped again in between coz of the beautiful scenery out there on the NH-2. Obviously, I also had to stretch myself a bit. Delhi was just 52 km away from there now. Karan clicked some good pictures of the view and the bikes, our partners for the journey.
On our way back home.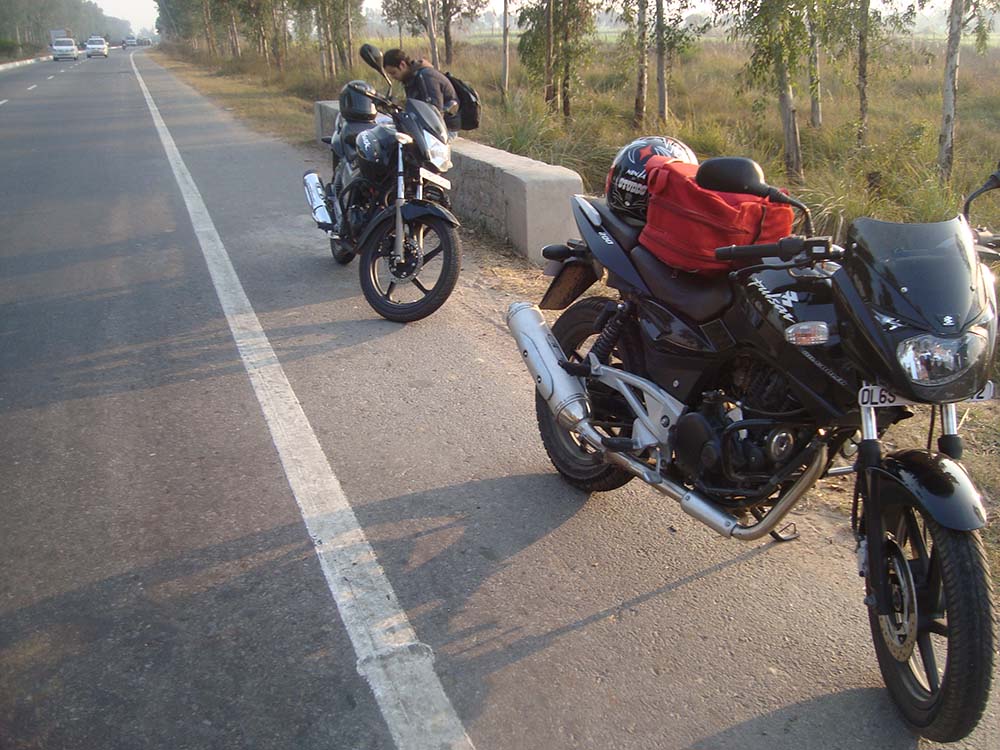 Our Delhi to Agra Bike trip ended when we hit Delhi at 06:00 PM with our bikes turned over 500kms. The overall experience was awesome firstly coz we had never been to Agra before, so we were full of excitement and secondly coz we had our bikes with us, accompanying us without any technical failure or breakdown.
Some Points to Mention about Delhi to Agra Bike Trip
Total distance covered – 504 km
Fuel burnt – 10.2 liters
Total cash spent – 1000 per person
Debut ride accomplished!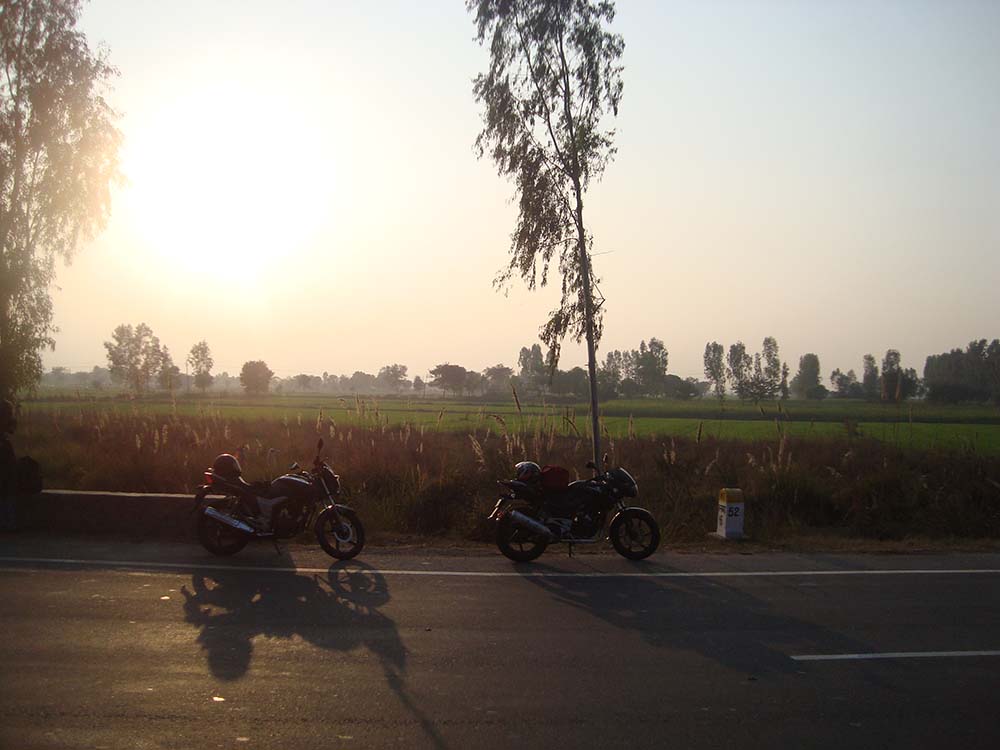 I managed to get some useful phone numbers list from the Hotel in Agra & is worth mentioning here:
Head Post Office: 0562 – 2363884
Taj Mahal: 0562 – 2330498
Agra Fort: 0562 – 2364512
Sikandra: 0562 – 2371230
Fatehpur Sikri: 05613 – 2882248
Foreigners Regional Registration Office, 16 Idgah Colony: 0562 – 2367563
District Information Centre, Near Idgah Bus Stand: 0562 – 2372346
Other Tourist Places around Agra
Mathura
Also known as the Brajbhoomi, is famous as the birthplace of Lord Krishna, an important deity in the Hindu religious pantheon. It is an important pilgrim place of the Hindus and one of the seven sacred cities in India. It is a part of the great northern plains and is situated on the west bank of the river Yamuna. Mathura is 141 km south of Delhi and 47 km northwest of Agra.
Vrindavan
Vrindavan is a sacred destination of the Hindus and is revered for its association with the life of Lord Krishna. There are as many as 4,000 temples in Vrindavan, most of them dedicated to Lord Krishna.
One of the most impressive temples is another new construction, the ISKCON Temple (ISKCON: International Society of Krishna Consciousness), which was built with funds from devotees overseas.
Bateshwar
Temples, temples, and temples. That's what greets you, spellbinds you, and blesses you in Bateshwar which appears to have derived its name from Bateshwarnath, a title of Lord Shiva. In the world of towering skyscrapers and congested skyline, the sight of 101 temples is both refreshing and invigorating. Bateshwar lies 70 km east of Agra.
Bharatpur Bird Sanctuary
The Keoladeo Ghana National Park, also known as the Bharatpur Bird Sanctuary lies between two of India's most historic cities, Agra and Jaipur. This north Indian sanctuary is situated in the country's northwestern state of Rajasthan, about 190 km from the national capital of Delhi, and is 21 km northeast of Agra. Bharatpur hosts a variety of bird species from across the globe.
Close to 380 species of birds are found in this 29 sq km stretch, approximately 10 sq km of which comprises of marshes and bogs. The rest of the area comprises scrublands, grasslands, and more than 44,000 trees that are used for nesting by birds each year.
Delhi to Agra Bike Trip – Conclusion
Delhi to Agra bike trip is worth mentioning as one of the most knowledgeable & exciting experiences to date that behold the resplendence of beauty & art. I hope you enjoyed reading the travelogue. If you have any questions, please feel free to ask in the comments section below or at our Community Forum and I will be glad to answer.