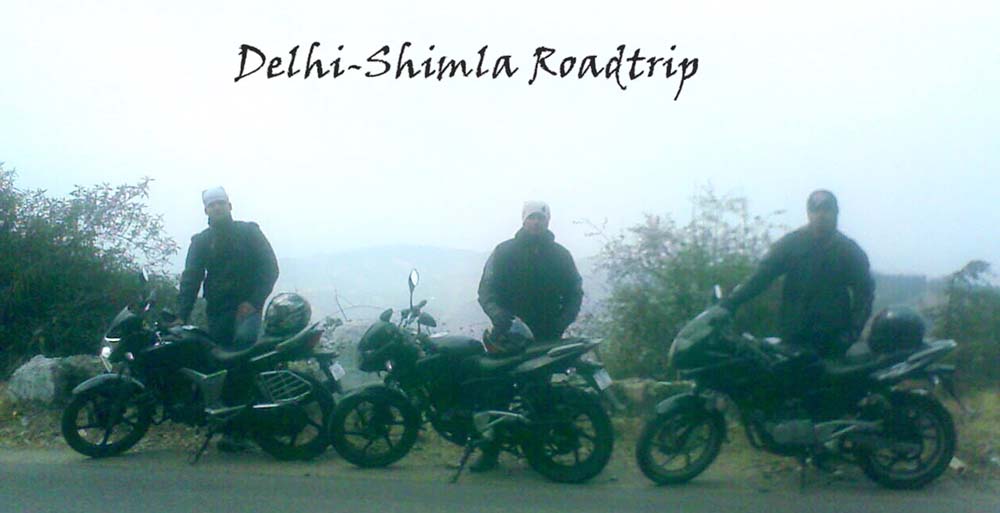 Yet another day, yet another ride. We bikers think this way. The much-awaited bike trip to Shimla has been accomplished. The machines have rolled, and the riders have pushed the throttles at last. I have had my best experience of motorcycling at last. It was not spontaneous that we sailed our rides to the Himalayas/ The Delhi to Shimla bike ride was planned long back but could not be executed until now.
Now, this was the time that my hunger & stride for a road trip compelled me to ask Karan (my cousin) & Priyansh for the same. Karan had plans for heading to Chandigarh in January already. I & Priyansh were looking for a way to capture the heights, on the other hand. So the plan for traversing to Shimla via Chandigarh came up.
Rides & The Riders
Rahul – Hunk
Karan – Pulsar 200
Priyansh – Pulsar 220
(Hunk & Honda Shine from Chandigarh to Shimla)
Bike Trip to Shimla
The day was 28th Jan'10. It was a not-so-cold morning & the fog was less as compared to what it was a few days before. We decided to start off as early as possible so that we could reach Chandigarh by noon. Karan stayed at my place. Bags were packed, bikes were all-set & the minds were blank, for we didn't know what's in store for the high ride. I got my ride washed & oiled a day before, for I couldn't let friction take away the joy.
The time struck! It was 04:30 AM. I got up & kicked my fellow rider hard enough to wake him up as well, though I couldn't sleep the whole night coz of the excitement. The clock struck 06:30 AM when we went down to uncover our rides & get a glimpse of the dew that lay down on our machines.
With the "0" by the trippos, we started off our journey at 06:45 AM. Priyansh was to meet us at Jhilmil Metro Station and so did he. We caught up, talked about the ride, shared individual feelings & that's all, we rode. The first stoppage was decided & it was my favorite highway destination, Murthal (Haryana).
Also Read: Shimla Manali Dharamshala Dalhousie Trip Itinerary
Delhi to Murthal
We rode down from the usual route to NH-1 & reached Sukhdev Dhaba in Murthal at 08:10 AM, trip meters read 62. The joy of the ride enhances with good food on the way, that's what I feel. The lovely paranthas were quite enough while the soothing ginger-tea added to the flavor of the time.
The fresh wind blowing down the fields that morning seemed to be favoring us in the deepest sense & adding to the zeal that we had for the journey. We ate, we chatted, we eased up & at 08:50 AM, we went on.
While we head for the parking of the dhaba, Priyansh managed to be there at the earliest & clicked some outstanding pics of the bikes! Some of them are attached here.
Sukhdev Dhaba, Murthal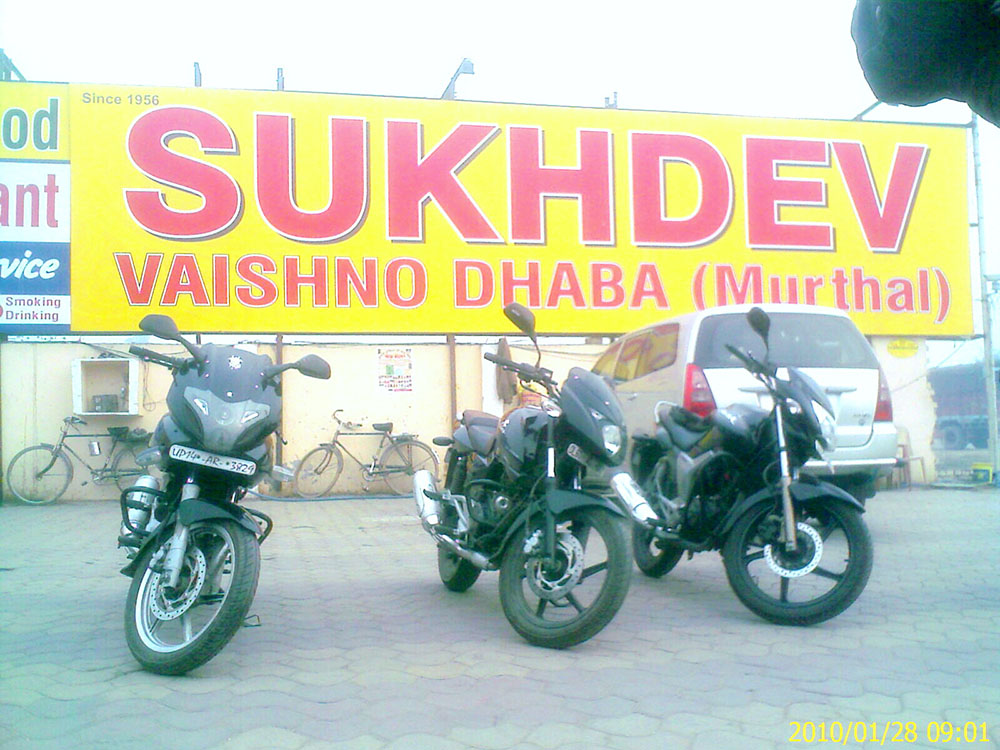 Murthal to Kurukshetra
The morning favored us as the sunlight welcomed us with its warmth as soon as we hit the road after the halt. We stopped for a halt after riding some 11 odd km after Murthal near the Toll Plaza on NH-1. Here some of us attended to nature's call while some couldn't resist clicking the bright morning in the shade of the bikes.
We decided to ride along for a long stretch of around 100 km after that for it was comfortable enough for us to ride in the warm sun & the roads were inviting already.
That's what happened next. We crossed Panipat in no time, for the newly formed flyover lets you traverse above the city easily. I was able to push my ride to a new speed record of 128kmph on the same highway.
Also Read: Shimla Bus Timetable | Buses to & from Shimla
Kurukshetra to Chandigarh
My bike's trip meter read 174. We were at a dhaba near Kurukshetra (Haryana). It was 11:15 AM by the clock already. We took a 15mins halt, had tea with some snacks. It was relaxing enough that after a ride of some 175 odd km, you get to breathe in warm air in those cold January days.
Chandigarh was still 88kms away, so we got on our bikes, followed the road again. At 01:40 PM, we reached Chandigarh, the city beautiful, having jotted down 262kms on our machines.
The route followed:
Delhi – 62 – Murthal – 112 – Kurukshetra – 88 – Chandigarh

Chandigarh
The pleasant aura of freshness was present & was welcoming us for a sneak peek into the beautiful city. We headed straight to Sector -17 market of Chandigarh, one of the most lively & renowned places in the city.
Karan informed his friend, Mohit Gandhi who's living in Chandigarh, pursuing his engineering studies at Panjab University. While Mohit was on the move to meet us, we hanged around & discovered the lovely crowd.
The Sector-17 market has it all, be it the most popular brands showrooms or the most delicious eatables & resto-bars. The parking was quite spacious, so there's been minimal effort required for searching for a good place for the bikes to rest.
Mohit was there in no time, while we were serving ourselves some cool drinks. The energy of the crowd was tremendous; it almost felt like I was in Greater Kailash or Connaught Place in Delhi. After an hour of roaming around in the market, we rode with Mohit to his hostel at Punjab University.
Let me tell you something. Punjab University Campus is no less than IIT Delhi Campus that I've personally seen. The buildings, the greenery, cafeterias, parking & hostel facilities are up to the mark. It was an amazing experience visiting the campus.
Somewhere in my mind, I was regretting why I didn't opt for engineering studies from Punjab & chose to stay in NCR. Well, that's just gone by, so no more thoughts for the same!
We carried on, rested in Mohit's room in the hostel for about half-an-hour and then went for lunch in the campus's cafeteria where there was a wide variety of cuisines available, from South Indian to Dal-roti & from Pizzas to Kababs.
Sightseeing in Chandigarh
Our plan was to visit Rock Garden, Pinjore Garden & Sukhna Lake in Chandigarh. But as suggested by Mohit, we kept it to Rock Garden & Sukhna Lake only, for he felt that Pinjore Garden was not much of our interest.
Also Read: Places to Visit in Chandigarh and Things to Do
Rock Garden
We had to agree & started riding on those lovely roads of Chandigarh & reached Rock Garden in about 15mins. Mohit wasn't with us, for he had some football match to play with his colleagues. I, Karan & Priyansh was on our first tourist expedition in Chandigarh. Tickets for the Rock Garden are easily available from the ticket window for Rs.10 for adults & Rs.5 for children.
Rock Garden is a sculpture garden in Chandigarh, also known as Nek Chand's Rock Garden, after its founder, Nek Chand, a government official who started the garden secretly in his spare time in 1957. Today it is spread over an area of forty-acre (160,000 m²); it is completely built of industrial & home waste and thrown-away items.
The garden is a complex of interlinked courtyards, each filled with hundreds of pottery-covered concrete sculptures of dancers, musicians, and animals along with man-made interlinked waterfalls.
The beauty of such an extravagant place can't be wrapped only in words, for which some photographs of Rock Garden are attached below.
Sukhna Lake
The next stop was Sukhna Lake in Chandigarh. It was 05:30 PM & a perfect time to visit the lake. Sukhna Lake is a beautiful lake that lies in the foothills of the Shivalik range. The unique thing about Sukhna is that it is a manmade lake.
It is a 3 km long lake that was created in the year 1958. People visit this place in the morning to enjoy the cool breeze and the beauty of nature. Chandigarh Sukhna Lake serves as a great picnic spot and an apt place for pursuing water sport activities like boating, yachting and water skiing, etc.
The atmosphere here is very serene, so if you need to rejuvenate yourself, then Sukhna Lake is the perfect destination for you.
Sukhna Lake, Chandigarh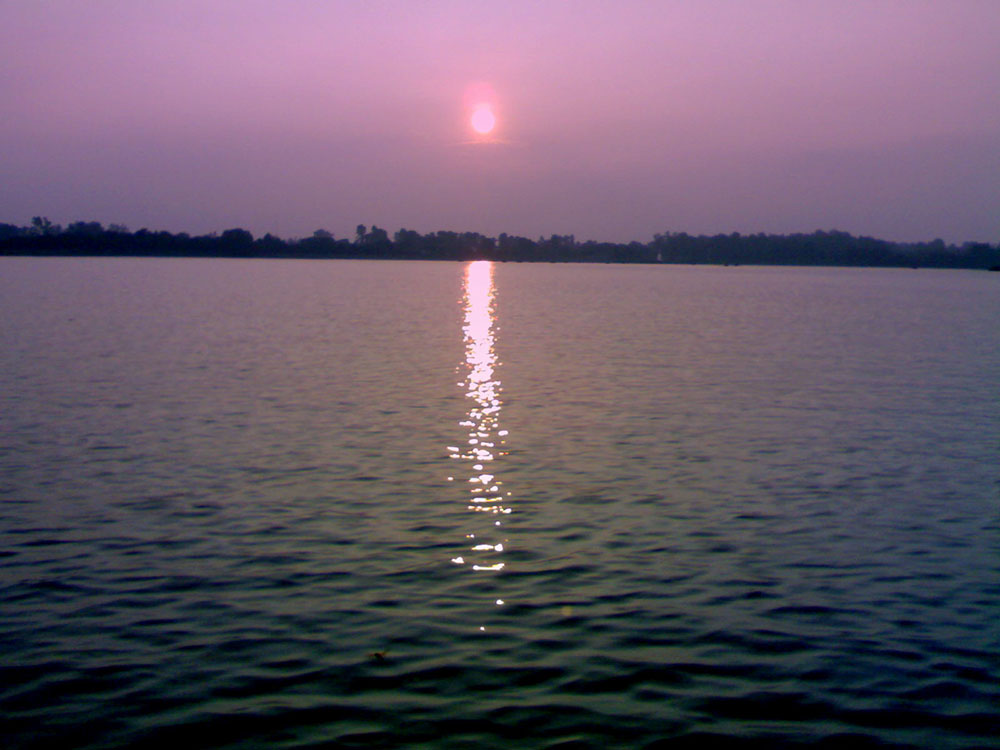 Mohit called up & asked us to meet him outside the Sukhna Lake parking. The time was around 07:00 PM and it was getting dark. We took a half-n-hour walk on the pavement built just next to the lake in order to refresh ourselves with the soothing wind blowing over the lake towards us.
After this, we headed towards the Sector-8 market where we had the vegetable soup from a famous shop & shared some talkies for another half-n-hour.
Also Read: Kalka to Shimla Toy Train – How to Plan your Trip! 
The New Plan
Then was the time that we decided to head for Shimla in the night only. I wasn't actually convinced by the plan at first, looking at the safety issues of riding in the hills at night.
However my co-riders seemed to be pretty excited about the ride, so I had to get along & be in for the night ride. Mohit called up some more of his friends to join us for the ride to Shimla. And by the time it was 10:30 PM at night, we were 7 people with 5 bikes on the way to Shimla.
We rolled from the hostel in Chandigarh at 10:45 PM, it was chilling already & I discovered that I had lost my pair of gloves at the parking outside the Rock Garden. But never too late, Mohit came in as the savior with a pair of leather gloves from one of his juniors in the hostel. We were all set to go.
The bikes included 2 Hunks, a P200, a P220 & a Splendor+. Riding through the outskirts of Chandigarh, we reached the Pinjore Garden that lies 20kms outside the city of Chandigarh at 11:10 PM.
Also Read: Shimla Bus Timetable | Buses to & from Shimla
Chandigarh to Shimla
The ride ahead was long & scary enough to rest at the spot, so we continued riding. Soon we crossed the Himachal Pradesh & Haryana border. And before we knew the road, the slope began to rise & we entered the Lower Himalayan range through the Shivalik ranges. It was dark & one couldn't see what's next. With the time passing, the heat was dropping drastically & the road was steeper than before.
Midnight struck! It was a dark night and one could barely see what lied next to the ridges, the rocks, or the deep valleys. Only the white clouds with unending depth were there to be seen. The only light that struggled to pave way for us was from the headlamps of the bikes.
The aura was filled with the thrill of riding on those heights at night & the excitement of reaching Shimla before the sun was in our eye. Shimla lies some 100 odd km away from Chandigarh but on hills, this distance seems much more than on a linear scale.
At some point in time, I discovered that I was in the middle of my co-riders who were nowhere to be seen. Karan & Priyansh were speeding safely upwards with their 200cc machines, while the Splendor+ & Hunk were easing their way up the hill. And I was left alone to decide whether to get slow & wait for Mohit & his friends to come or to catch up with the big machines forward.
Also Read: Best Time to Visit Shimla – When to go to Shimla
Shimla
I felt scared but because of the joy of riding & the zeal that existed in me, for it was my first ever hill ride, I pushed myself through. In no time, I could see Karan & Priyansh riding in front of my bike. It was a sigh of relief, for I was riding alone on that dark road for a long time, at that God forbidden time.
The three of us were quite ahead of our fellow riders, so we decided to take a halt & wait for others. We stopped at a hillside near the cliff wall. The time was 02:45 AM & we were at a height of about 5000 ft. As soon as we got to know this, we were amazed.
For the first time, I rode that high. I was proud of myself & my fellow riders. There's a photo of Priyansh put below sitting next to the cliff wall, with a woolen muffler wound around his neck & he seemed all packed up. This was clicked in the headlamps light, for it was the only source of light at that time!
The sky was blue-black & we were looking to reach Shimla, which was still 28kms away, in an hour from then. The others were nowhere to be seen. Karan called up some of the guys, but at those heights, our prepaid networks died.
So, with a cumulative decision, we rolled down the heights by ourselves & reached Shimla riding with an average speed of 40kmph at 03:50 AM in the morning. My bike rolled down 368kms.
The route followed:
Chandigarh – 29 – Kalka – 26 – Dharampur – 62 – Shimla
(Distances as per my bike's odometer)
Shimla – The Queen of Hills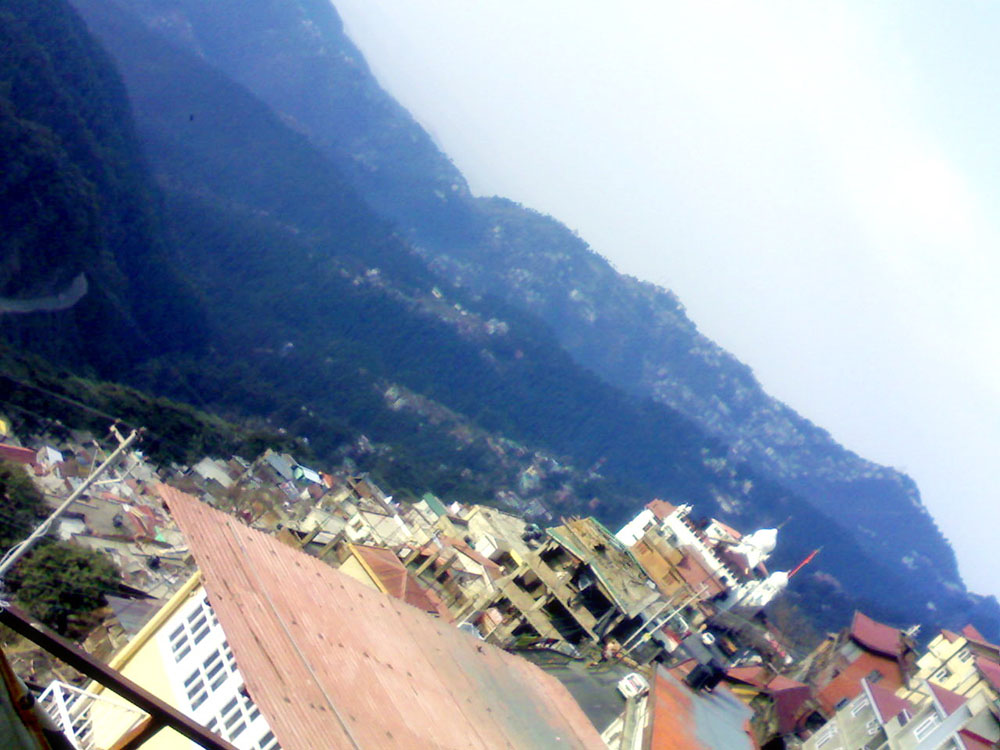 About Shimla
Shimla is located in the north-western ranges of the Himalayas. Draped in forests of pine, rhododendron, and oak, Shimla experiences pleasant summers and cold, snowy winters. In 1864, Shimla was declared the summer capital of the British Raj in India.
Shimla is often referred to as the "Queen of Hills". The city is famous for its buildings styled in Tudorbethan and neo-gothic architecture dating from the colonial era. The city is named after the goddess Shyamala Devi, an incarnation of the Hindu Goddess Kali. Shimla is approximately 115kms from Chandigarh and 365kms from New Delhi.
At an average altitude of 2397 meters (7866 ft) above mean sea level, the city is spread on a ridge and its seven spurs. The city stretches nearly 9.2 km from east to west. The highest point in Shimla, at 2454 meters (8051 ft), is the Jakhoo Hill. The climate in Shimla is predominantly cold during winters and moderately warm during summers. The temperatures range from 3.95 °C to 32.95 °C over the year.
Also Read: What to See in Shimla – Fun Things to do in Shimla
Hotel Hunting in Shimla
We waited for others to arrive at the Shimla Bus Stand. While we were capturing the beauty of the "Queen of Hills" itself, Mohit arrived with the other riders.
The clock hit 04:20 AM. We were tired of riding, for it's tougher to ride in hills at breath-taking altitudes than riding on straight roads. Taking up a room to rest was the common decision, as all of us were yelling for hitting the bed as soon as possible.
The place we went to was "Hotel Mid Town" at Ganj Road, Shimla, Ph No. 0177-6535704, 2657962. The rooms were available at Rs. 500 per room. The time was 05:30 AM. We went to sleep & committed to get our lazy arses up at 08:30 AM.
But that never happened, as we managed to get up by 09:30 AM. Though it was not in our best interests to sleep that long while we were on a tour, taking rest was much needed for a fresh ride back home.
Where we stayed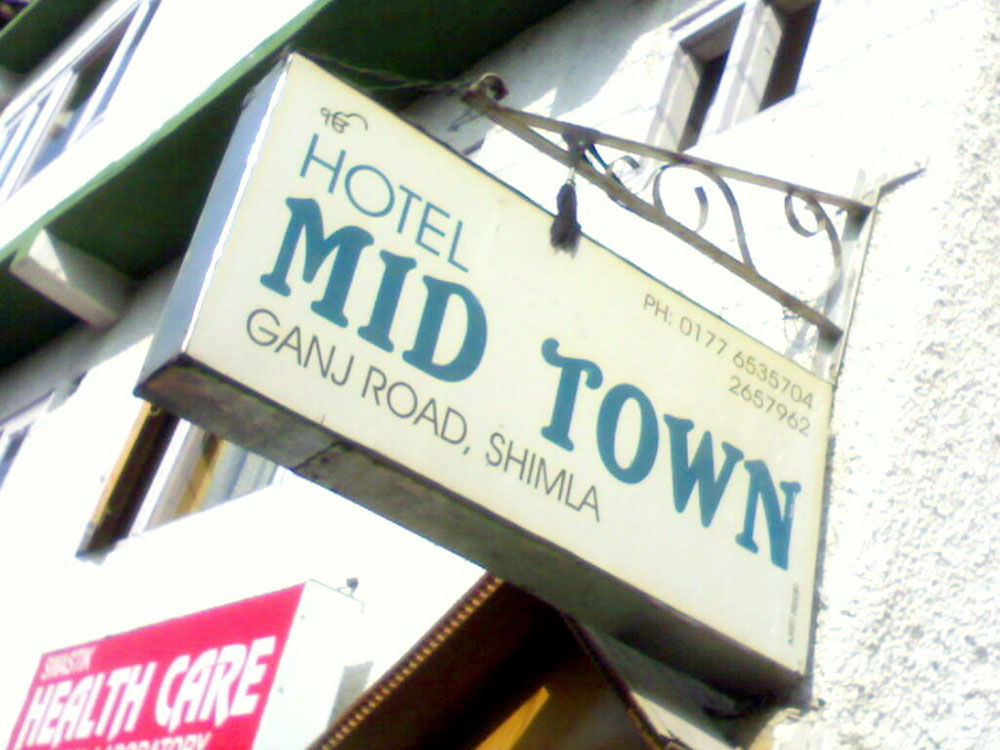 Sightseeing in Shimla
While the three of us were willing to walk up to the famous Mall Road from the hotel, Mohit & his university friends were more interested in continuing their journey till Kufri. We were short of time, as we had head back to our own city the day itself. Thus, we kept our selves to the ground & walked towards the Mall bidding goodbyes to others.
Mall Road in Shimla is a place that cannot be left untouched by any visitor. The lifeline of Shimla, Mall road, is the main tourist attraction in the town. The mall is the center of Shimla's bustling social life. It is a fairly level meandering esplanade that runs along the ridge.
Mall Road has numerous showrooms, stores, departmental stores, shops, restaurants, and cafes stuck closely to each other.
The main attraction on the Mall road is the Christ Church. The Christ Church is the second oldest church in North India. The Church's exquisite beauty comes alive with the stained glasses that are fitted on its windows.
It was already 11:10 AM & I was willing to head back, for we had a long ride of 370 odd km back home. We clicked a few photos of the scene, got ourselves clicked by others & captured the pines in our 2 MP lenses. Then after, having a cup of coffee with sandwiches in the nearby café, we headed back to the hotel to get our bikes. The ride was long, the weather was chilling but the spirits to get back home safely were high.
Way to Mall Road, Shimla
Mall Road, Shimla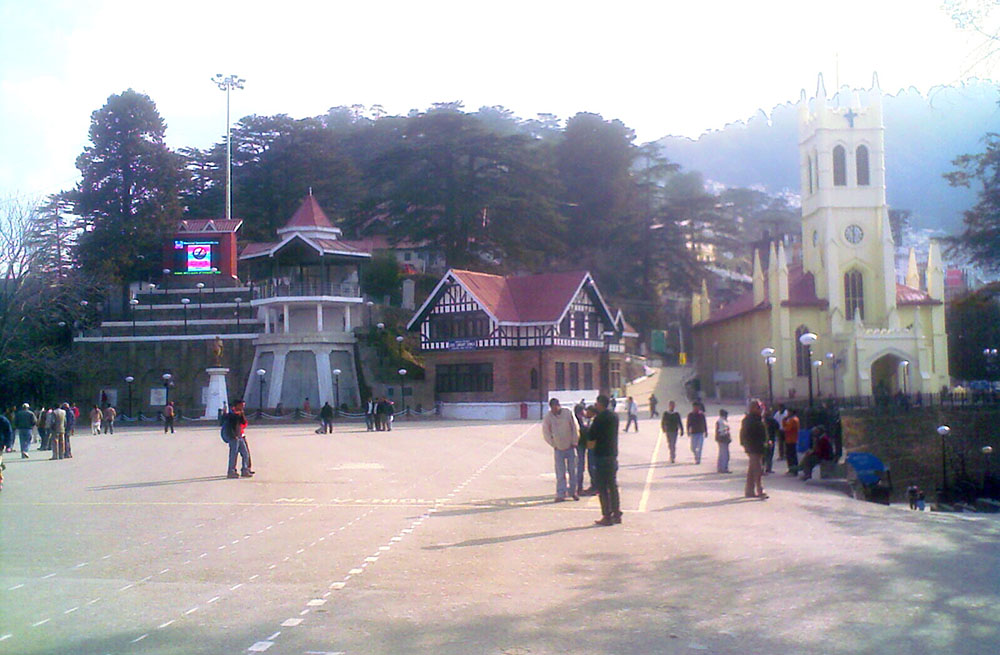 Shimla to Chandigarh
We started off at 11:40 AM from Shimla. Riding through the shades of the pines & dry oak, we descended down the slope with our engines off for most of the time. At a roadside dhaba near Dharampur, we took a halt to rest for a while & for the machines to breathe in. Clocks said 01:20 PM and the trip meters showed 530kms.
The slope was again downward steep while we were riding after the halt. On the hills, vehicles move in their respective lanes strictly to avoid any mishap. But things go out of the way sometimes. Priyansh & Karan were ahead of me and I was about to take a right turn in my lane.
The Accident
The moment I leaned in to execute the turn, I saw an Indica V2 car coming right towards me out of its own lane. The speed of the car was high enough to let me go off the road in the sand & gravel path just next to the road along the ridge boundary. This didn't allow me enough time to execute the turn properly & I went straight in order to avoid a collision.
I could fall off the ridge into the valley if I didn't apply the brakes, lean my bike away from the cliff & make it fall on the sand. As I stopped, lying in front of the bike, I saw that the bike's front wheel just touched the ridge boundary. And that's how I avoided a major accident. Karan saw me in his rearview mirror & managed to get back to me in no time.
I was safe apart from some minor bruces on my knees & the bike got a few more stains I did. The leg guard got tilted in an awkward direction, the rearview mirror on the right-hand side tore apart, the keyhole at the seat cowl got damaged (maybe something hit it straight) & the front visor of the bike got damaged. By God's grace, I & the bike were good to continue the journey.
Also Read: Shimla – A Complete Travel Guide & Itinerary
Chandigarh
It was 02:30 PM in the afternoon & the sun was on the high. The wounds didn't counter my spirit for completing the ride. I stood up, dusted myself up, checked the bike for any leakage & major damage, and went on. After this, as a matter of fact, our average speed on the hills came down for obvious reasons.
We reached Chandigarh at 03:45 PM. Karan took his bag & some belongings that he had left in Mohit's room. After resting for half-n-hour there, we pushed the throttles again at 04:30 PM & this time we were boosted up & were looking for a smooth & safe ride home.
Chandigarh to Delhi
Our first stop after we rode from Chandigarh was near Kurukshetra (Haryana) at 06:30 PM. Delhi was still 160kms away & we were dead tired already. We had our meal, some delicious veggies with Tandoori Rotis.
I was gulping down my 5th or 6th roll when Priyansh confessed that he was so tired that he couldn't imagine riding forward. On an honest note, all of us felt the same. I had pain in my shoulders & Karan's head was aching like hell. However, what we had to do, we had to do.
The time was 07:30 PM. We decided to reach Murthal in another hour & a half. That 90+ km seemed achievable in those 90 mins on that speeding highway. The roads were indeed good.
We were maintaining 80+ easily & riding through the chilling night, with me having no gloves on, we reached Murthal at 09:30 PM with our bikes rolled moved 820kms. Time was running & we wanted to reach home safely. That's why we just took a short while to have a tea & continued with the ride.
Roads that followed were more than familiar, for I had done Delhi-Murthal several times. In an hour's time from then, we entered our very own city. By the time it was 11:10 PM, we were at Welcome Metro Station, Delhi. Karan took his way back home leaving me & Priyansh, for we had to head another way.
As soon as we reached the Delhi-UP border near Dilshad Garden Metro Station, we couldn't think of stopping & having a chat. Having bid goodbyes to my co-riders, I reached home safely at 11:30 PM.
Also Read: Shimla Manali Trip Itinerary – How to Plan Your Journey
Places to visit in & around Chandigarh
Rock Garden
Sukhna Lake
Leisure valley
Open Hand Monument
Rose Garden
Pinjore Garden
Places to visit in & around Shimla
Chail
Kasauli
Kufri
Naldehra
Narkanda
Renuka Lake
Jhakoo Hill
Bike Trip to Shimla – Conclusion
The memories of this ride can't be washed away. My first ever hill-ride, Delhi-Shimla Roadtrip 2010 was fun, thrilling, exciting, extravagant, tiring, hurting (in my case), memorable & above all, an experience of a lifetime.
We managed to get a glimpse of the Sculptures of the Rock Garden, got to feel the strides & the pleasant aura of Sukhna Lake, rode on bikes on scary dark roads at height of 6000ft., fell off on the mountains avoiding further falls & experienced the beauty of Himalayas in the beautiful Shimla in a single journey.
Despite the fall that I had & all the hurdles that we managed to cross, I can proudly say that it was my best motorcycle ride so far, for it gave me an edge of a completely different forte of motorcycling. My bike has been a supportive companion all through the ride & I'm glad that it still looks good.
I'll come back for another bike trip to Shimla for sure, with much higher spirits & safer riding skills. If you have any questions about planning your own bike ride, please feel free to ask in the comments section below or at our Community Forum and I will be glad to answer.