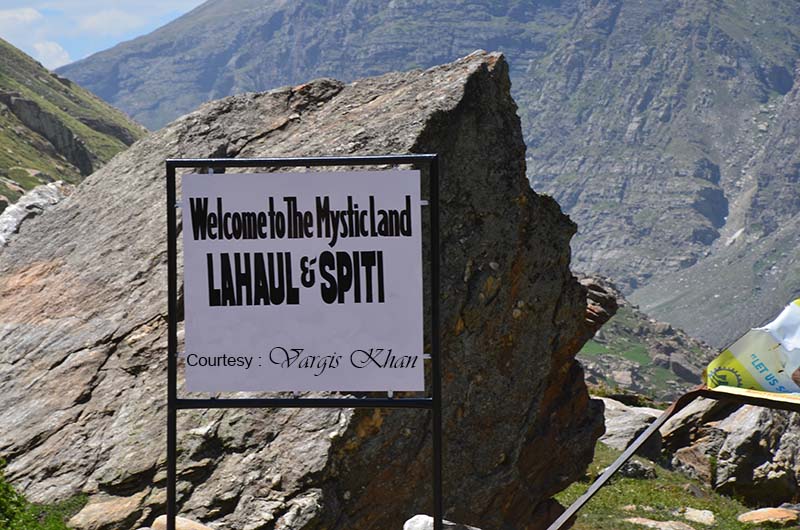 Spiti Valley vs Leh Ladakh, this is a comparison or question that can never have a direct or straight answer. And to be very honest, a comparison between the two is not fair either. Both these places are equally beautiful and have their own charm. No one can claim either Ladakh or Spiti to be better than the other and in my opinion; you must plan a visit to both.
However, if you were forced to pick one and were wondering where to go; below are a few reasons why or when can Spiti be a better choice than Ladakh. I am not trying to prove Ladakh as an unworthy destination; but rather listing down conditions when heading out to Spiti will be a wiser choice.
Spiti Valley Vs Leh Ladakh
Let me first mention that in terms of natural beauty, both Ladakh and Spiti are equal. The only difference is that Ladakh is a little bigger in size than Spiti Valley. But it does not undermine Spiti in any way and a trip here will be equally satisfying.
So if your confusion was about which of the two places is more beautiful then trying to find an answer will be extremely difficult. You will have to and must consider other factors, as mentioned below.
Also Read: How to Plan a Trip to Spiti Valley
Takes Lesser Time
A road trip to Ladakh is ideally an affair of at least 14 days; that is when you are truly going to enjoy it. At the least, you should have 11-12 days in hand and even then, you will be rushing through the journey and will miss out on several places.
On the other hand, a trip to Spiti can easily be planned in 7 days covering the entire circuit. If you were short on time, you can just go via Manali and take off another day or two. If you could afford 9 days, you will travel through at a relaxed pace and will be able to visit all major tourist places.
I agree that you can also fly to Ladakh if you were short on time but then it will not be a road trip. Ladakh fight tickets are also not cheap so it will also increase the overall cost of the trip which brings us to the next point.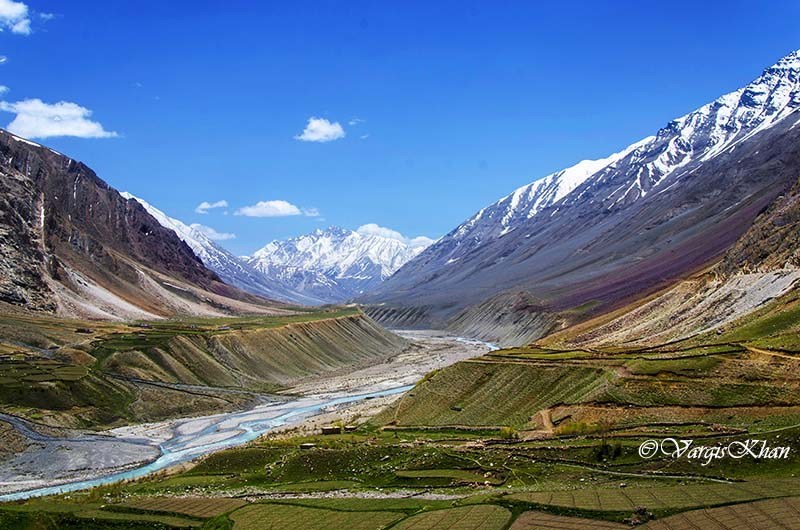 Budget Trip
Due to the recent boom in tourism, everything in Ladakh has gotten expensive. Irrespective of how you were traveling, your overall cost of the trip to Ladakh will be much higher than what you will pay for Spiti. Accommodation, food, motorcycle rentals, taxi charges, cost of public transport, and everything else is costlier.
So if you were short on funds and could not afford to spend too much, visiting Spiti will be a much better option. You can leave Ladakh for a later time when the budget will not be a problem.
Also Read: How to Plan a Trip to Ladakh with Family
Never Crowded
Spiti Valley is not yet affected by tourism mania and still receives only a limited number of travelers each year. I am using the word traveler and not tourists because the ones you find here will mostly be either adventure junkies, motorcycle enthusiasts, or people looking for an offbeat place to spend some time in peace.
What this means is that Spiti is a perfect place if you want to get away from the crowd. It is true that it can be done in Ladakh as well; but during the peak tourist season, even Leh City now feels like Manali. The number of people traveling to Ladakh now is much higher than Spiti or most of the other tourist places in our country.
When in Spiti, you will truly get a chance to experience the local culture in its authenticity. Nothing is yet made up for the sake of tourism. In some villages, you will probably be the only tourist; which will give you a great chance to speak to the locals, listen to their stories, and learn about their culture.
Truly offbeat
Ladakh was once an offbeat destination but not anymore really. It is true that there are some places in Ladakh that are still offbeat but you will have to go look for them. Main tourist attractions like Leh City, Nubra Valley, and Pangong Tso cannot be called offbeat anymore. In tourist season, the kind of crowd you will see here will remind you of 'Kumbh ka Mela'. At Khardung La, you will have to get in a queue and wait to get a photo clicked in front of the board that reads 'Highest Motorable Road'. That is how things now are in Ladakh.
Spiti on the other hand is still all offbeat. Go to any village or in any direction and you will be traveling into the unknown. Simple guest houses or homestays with basic amenities and minimal comfort, not one living soul for miles, tough challenging roads that will make your heart skip a beat will remind you that you are out on an adventure and not just another vacation.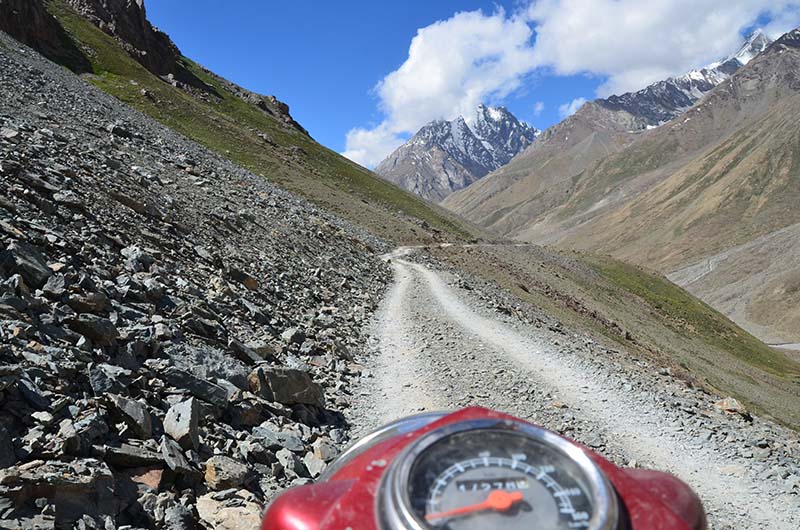 Off-Roading Adventure
Spiti is where you go if you want to have an off-roading adventure. The roads out here are much rugged than Ladakh. The infamous Batal Gramphu stretch will have your heart jumping to your mouth at several places. On this stretch, I once counted as many as 40 water crossings in 60 kilometers. There is no road in Ladakh that can even come close to it. The narrow road to Chandratal is barely wide enough for one car and will make you think twice before getting on it.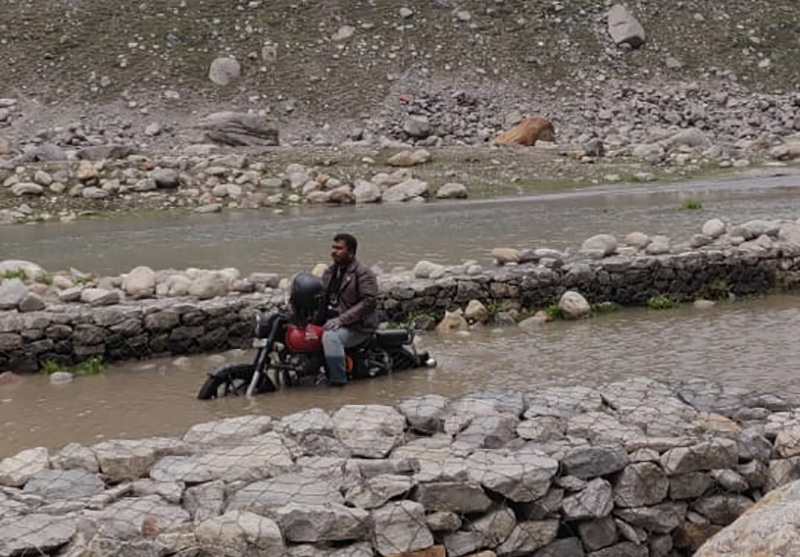 Permits
Visting Ladakh means getting several permits. This is both an additional task as well as an additional expense. Depending on the number of days and people in your group; you will have to pay for these permits and also spend an additional day in Leh arranging for them.
Spiti valley has no such restriction. As an Indian citizen, you are free to travel through the valley. All that you need is a valid government-issued Identity card.
Even foreign citizens can reach Spiti via Manali without needing a permit. Inner Line Permit for foreigners is only required if you travel from Spiti to Kinnaur Valley but not for traveling within the valley.
Spiti Valley Vs Leh Ladakh – Conclusion
I hope the information above on Spiti Valley vs Leh Ladakh was of help. If you have any questions, or need any other details, please feel free to ask in the comments section below, or at our Community Forum, and I will be glad to answer.