A trip to Spiti Valley holds different significance to every traveler. To some, it is the adventure that they have been waiting for. For some, it is another new place they explored. But to a lot of people these days, it is another place that they just had to visit because everyone was talking about it and they saw some really cool pictures of it on Facebook. But sometimes, what people do not realize is that it is not just another place where you can just pack your bags and go. Spiti is a place of challenging roads, harsh living conditions, rugged terrain, and extreme weather. Hence, thinking about visiting here comes with a set of conditions, a set of Spiti Valley precautions, that you must listen and adhere to; in order to ensure a safe and hassle-free trip.
Also Read: How to Plan a Trip to Spiti Valley – A Complete Travel Guide
Did you know that until a few years ago, tourism in Spiti valley was actually not even allowed? It is true. Due to its close proximity to the border, civilian movement in the area was restricted. However, ever since the restriction was lifted, tourism here has been on a rise. Thousands of people now visit each year and the number goes up even higher each season. It is not just motorcycles enthusiasts anymore but also people with their families who would like to spend their vacation in Spiti and its neighboring valleys. If you have been thinking about doing the same then listed below are a few tips on how you can visit this part of our country safely; irrespective of whether you were traveling solo, with family or friends.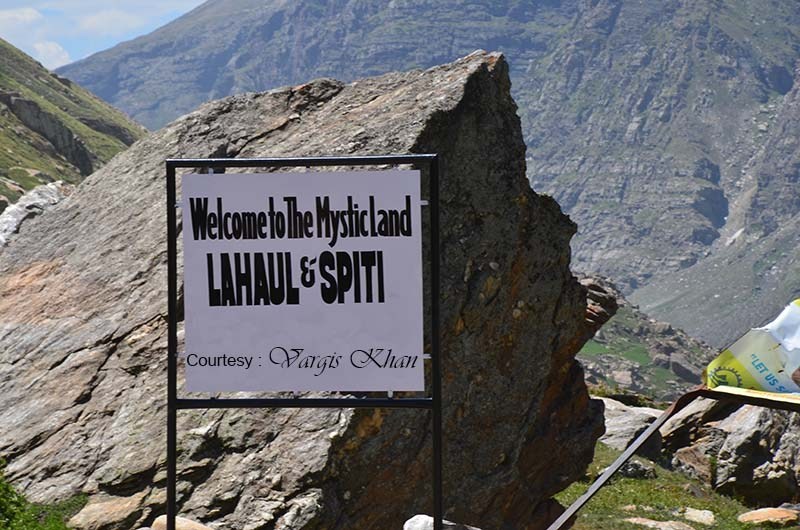 Spiti Valley Precautions
Let me first talk about why this air of seriousness exists. No matter how much Spiti gets promoted as a tourist destination, the fact cannot be denied that the nature of this region is harsh and the weather here is unforgiving. The cold never really ends and the temperature drops way below 0 Degree Celsius during the winter season. Some of the most challenging roads you have been on are located in Spiti Valley. Last but not least, tourists have in the past, lost their lives while visiting here. And this is the reason your trip must be meticulously planned and well thought of.
Start from Shimla
You should make every effort to start from your trip from Shimla and end at Manali. This will be beneficial in two ways. The first is that it will allow your body enough time to acclimatize to the altitude. The gain in height from the Shimla side is gradual and spread over a few days. Whereas from Manali side, it is way too sudden and way too much. This may trigger altitude sickness which is not a matter to be taken lightly. The second benefit of starting from Shimla is that it will save you the hassle of procuring the Rohtang Pass permit. Since you are coming from the Kaza side, you do not need to get the permit anymore and can just cross over the pass to reach Manali.
Do not ignore Acute Mountain Sickness (AMS)
I have actually covered this topic in greater detail in another post, How to Handle Acute Mountain Sickness in Spiti Valley, that I will urge you to read. In this post, I have provided information on what mountain sickness is, what its symptoms are, how serious can it be and how you can deal with it better.
But for a brief summary, altitude sickness is a condition caused by rapid exposure to low amounts of oxygen at high elevation. If gotten worse, it can lead to even more serious conditions called HAPE and HACE which can be fatal. I am not really aware of an incident where people died in Spiti because of AMS but in Ladakh, this has happened quite often. Only last month, one of my friends died in Ladakh after his condition got worse and medical help could not be reached in time. This should give you an idea of how serious mountain sickness can be.
Avoid Night Stay at Chandratal If …
Camping at Chandratal is one of the most exciting parts of a trip to Spiti Valley. But you should also know that this is the highest altitude that you will reach during the trip. You should avoid staying here for the night if,
You were starting your trip from Manali. In this case, you can visit Chandratal on the way but should head straight to Kaza for a night stay. Chandratal is a lake in the middle of nowhere, and chances are that you will definitely suffer from AMS here if you came straight via Manali. If your condition at night got worse, there is no help for miles and you will be stuck. Better would be to go to Kaza instead where there is a hospital available if needed.
If you had kids in the group, I will not recommend camping at Chandratal. It gets way too cold here and the risk of AMS too will remain.
If you were not feeling too well
If anyone in the group had respiratory or heart-related ailments.
Also Read: How to Plan a Trip to Chandratal
Beware of shooting Stones
What is a shooting stone? In very simple words, it is a piece of rock (or even a huge boulder) that falls from the hill above down on the road. If there was someone unfortunate enough to be on the road at that time, it will fall on their head and may even kill them. This year, two bikers traveling from Kinnaur to Spiti died on the spot when huge rocks fell on them as they were riding along. So yes, the risk is very serious and very real.
Fortunately, these spots are always marked by BRO. If you read a sign that says "Shooting Stones", you will have to be very careful, especially if you were on a motorcycle. Do not take your helmet off at any cost. If with a pillion, ask your co-passenger to keep their eye to the sky. Do not stop at such places and just pass through.
Avoid Manali to Kaza in October
It starts to snow at both Rohtang Pass and Kunzum Pass in the month of October. Chandratal gets closed after October 10th. It is best advised that if you were planning a trip to Spiti in October or in later months, you should reach Kaza via Shimla and return the same way. Do not risk Manali to Kaza even if it was open. A sudden change in weather or blizzard can have you getting stuck anywhere along the route. Do a Google search and you will know that this is not something uncommon in the case of Spiti. Just last week, a bunch of travelers were stuck at Rohtang, Kunzum and on the route and had to be airlifted after the entire region got hit with a blizzard.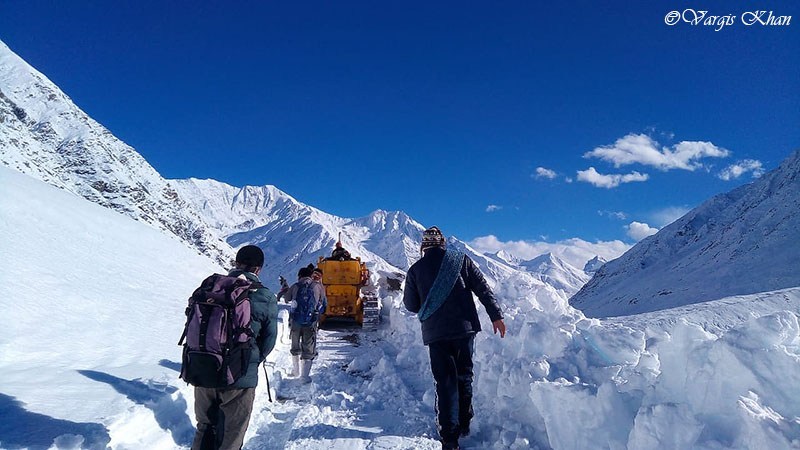 Avoid traveling late or early in the season
If possible, avoid traveling to Spiti between the months of October to April. Spiti is best experienced between May to September and this is when you should plan your trip. Visit Spiti in winter only if,
You have been to Spiti before and this is not your first trip
You know the risks involved with a winter trip to Spiti; and have fully prepared for it
You are traveling either solo or with friends and not with family including kids and elders.
Respiratory or Heart Ailments
If you are suffering from conditions like Asthma or Chronic Heart disease, then you MUST NOT visit Spiti unless you have consulted a doctor first. I cannot stress enough on the importance of this factor. This also applies to any other medical condition that can turn serious or fatal. Talk to your doctor first and definitely do not look for an answer over the web (or go around asking bloggers like me because we have no clue about it). For someone suffering from any such ailments, this will actually be the number one item in the list of Spiti Valley precautions.
Driving Experience
Irrespective of whether you were traveling by car or a motorcycle, it is of utmost importance that you have some experience on the wheel and in the mountain areas. If you do not, then first get some experience. Spiti is not the place that you want as your first driving experience. Drive around in the city for a while, go for a short trip to some other hill station and learn how to maneuver a vehicle first.
Prepare Well for a Safe Spiti Valley Trip

This will mean the following:
Travel in a Group
If possible, avoid traveling alone. Be in a group consisting of at least 2 vehicles. If that is not a possibility, then tag along with some other groups riding on the circuit. I do not mean that you get all friendly with them and join their group but just remain in close proximity. This will apply more if you were traveling early or late in the season.
Check the weather
Irrespective of which month you were traveling in, first find out how the weather was trending. If there were reports of heavy snowfall or crazy rains, then best cancel or postpone your plans. There have been instances when hundreds of people were stranded and some even got killed because of the weather turning extreme. Read the news reports here and you will realize the gravity of what I am saying. People have gotten stuck for days even in Chitkul in Kinnaur and died there. Adventure is fun only if you are prepared and well aware. No destination or adventure is worth losing your life over.
Keep Buffer Days
This too will remain applicable irrespective of when you went to Spiti. Always keep at least 2 to 3 days as a buffer over and above your actual itinerary. This way, if you got stuck somewhere for any reason, you will not run into any trouble or losses back home.
Also Read: An Ideal Itinerary for Spiti Valley with Road Map
Necessary Information
Write your name, address and emergency contact number on a piece of paper and keep it in your pocket. No do not save this on your phone or keep with the rest of your luggage. Write it down and stuff it in your pocket and have it on you every day.  If possible, also write down your blood group and if you had any allergies. This should be your step number 1 if you were traveling alone.
Let your folks know
This also can be broken down into two parts.
Let your family know about your entire itinerary; where you intend to be on which date. If you made hotel bookings in advance, give them the names and numbers of the hotels.
While traveling, whenever possible, call your family and apprise them of your whereabouts.
Do not be a fool
I will let the following picture do the talking. Just do not be like this guy anywhere on the route. Spiti is fun but also very unforgiving.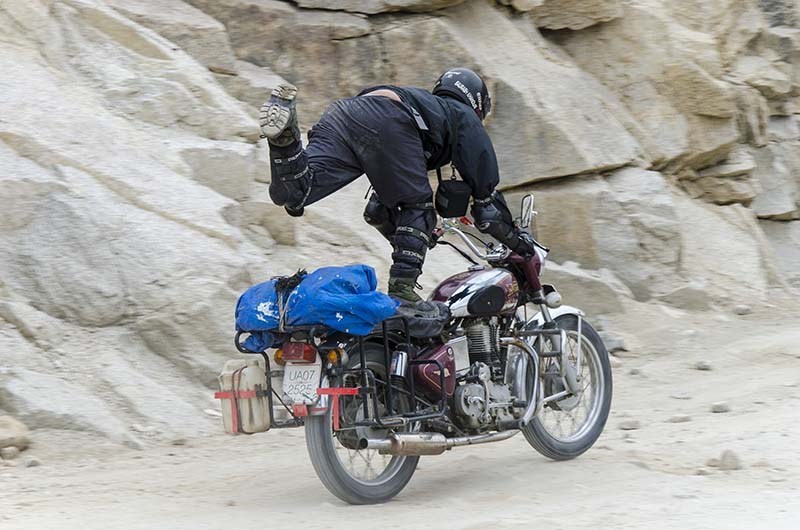 Spiti Valley Precautions – Conclusion
I hope the information above on Safety Tips for Spiti Valley Trip was of help. If you have been to Spiti and have some other tips to share that can be of help to others. please do kindly mention. If you have any questions; or need any other details; please feel free to ask in the comments section below; or at our Community Forum; and I will be glad to answer.