Can you visit Spiti valley in November? The answer to this question is actually a yes. Contrary to common belief, Spiti valley actually remains accessible by road throughout the year; even in dead of winter. However if you ask whether or not November is a good time to be in Spiti; my answer would be a straight no. There are several things that you will miss out and November to be honest doesn't really have much to offer here. Should you plan at trip to Spiti valley in November will depend on several factors that I will discuss in this article; along with a few tips on how you can plan this trip for better if you must.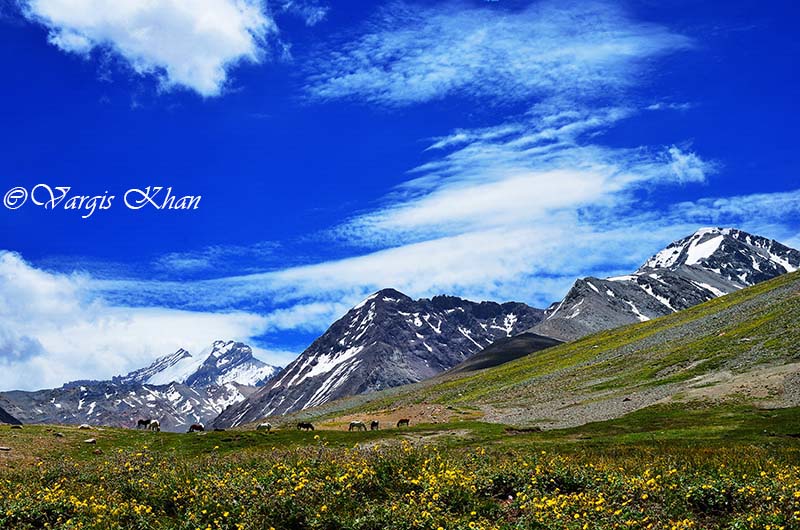 Kaza is the headquarters of Spiti valley and there are two roads that you can take to reach here. One is from Shimla via Rampur, Reckong Peo, Pooh, Nako and Tabo. The other road is from Manali via Rohtang Pass, Gramphoo, Batal, Kunzum Pass and Losar. This entire stretch from Shimla to Manali via Kaza is known as the Spiti circuit; and the most common and traditional way of visiting Spiti Valley is to start from Shimla and exit via Manali.
The road from Shimla side remains open throughout the year. During peak winter when it snows heavily in the region, there could be an occasional road block but it usually gets cleared within a day or two at most. The road from Manali crosses two high altitude passes, Rohtang and Kunzum; and remains open from June till Mid-October.  For remaining months, this section of the road remains closed owing to heavy snow at Kunzum Pass.
So If you are planning a trip to Spiti valley in November; you have no other choice but to reach there via Shimla and return the same way. You cannot travel via Manali because Kunzum Pass would already have closed; and chances are the Rohtang Pass as well would have snowed out. Other than this there are several other disadvantages that I will discuss in detail further in the article but your biggest concern will be of cold. Spiti is among the coldest inhabited regions of our country; and temperature at nights here drops several degrees below zero at nights. This is not the climate that we city folks are used to; and several people will find it difficult to cope with.
For more details on an ideal time to plan a journey through Spiti circuit, please take a look at the article below.
Also read: When is the best time to visit Spiti valley?
For a complete list of places to visit in Spiti valley please read through the following article.
Also read: Tourist Attractions in Spiti Valley and its vicinity
How to Plan a Trip to Spiti Valley in November?
In the end however; if November is the only time that you can afford to be away from our regular lives and plan this trip; yes you can definitely do so but will have to keep a few things in mind.
Plan in Early November
You should plan your trip as early as possible in November; if you can at all. This will be beneficial in several ways. As winter settles, weather will continue to keep getting colder by each passing day. Traveling early will ensure that you did not have to face as much cold as it would be in later part of the month. Chances of finding accommodation and other basic facilities would also be a little better in early November.
Spiti valley weather in November
Cold and harsh are the two words that describe the weather of Spiti valley the best. It can get cold here to an extent that even the water in taps and pipes freezes; which means that there will be no running water and you will have to rely on hot water in buckets. You must prepare yourself for extreme cold; both physically and mentally.
Pack Accordingly
This will relate to the point above. You need to pack clothes that will be able to keep you warm. Good thermals are must, followed by woolens and a heavy windproof jacket. Good quality gloves and warm socks are a must. Apart from your head, you also need to cover your face, neck and ears and should carry a cap and muffler that can get the task done.
Also read: Clothes for Spiti trip: what to Pack?
Do not Plan on the entire Circuit
As I mentioned above; Manali to Kaza road will remain in accessible in November and you are best leaving it out of your travel plan. Do not take the risk of traveling on this route even if the locals told you that it is open right now for any reason. Black ice, road blocks, snowfall are several threats that you may have to encounter but may not be prepared for.
Avoid a bike trip if possible
For a trip to Spiti valley in November, plan your trip by a car and avoid a bike trip; if at all possible. Riding in such weather with cold wind blowing on your face; freezing your hands may not be the best idea. If you do however choose to go by bike, then ensure that your gloves are really good and warm. Protect your face under the helmet so that you do not end up catching a cold. Wear warm thermals underneath your trousers to also keep your lower body warm. Ensure that you are carrying woolen socks and good pair of shoes that can protect your feet. Read How to Prepare your motorcycle for Spiti trip for details on how to get your bike ready.
Start a bit late in the day
Black ice is one of the biggest threats of traveling in the region during winter. What is black ice? It is a thin coating of ice on surface of the road. It is formed on relatively dry roads because of moisture present in the road texture which when frozen; creates a honeycombed invisible sheet of ice. The ice itself is not black, but visually transparent, allowing the often black road below to be seen through it. There is, thus, a risk of skidding and subsequent accident due to the unexpected loss of traction.
In order to avoid any unfortunate incidents; it is best to wait for the sun to come up. A couple of hours of sunlight will ensure that the black ice has melted and the road is relatively safer to travel on.
Keep Buffer Days
It is always wise to not keep your itinerary strictly bound to a set timeline. Keep at least one day as buffer so that if you do get stuck somewhere; your entire plan does not go for a toss. If the trip was event-less and you traveled as decided, this day can be used to relax at the last destination of your trip; or maybe to rest at home after coming back from the trip before you went back to work.
Advantages of Traveling to Spiti Valley in November
I know I said that November is not really the ideal time to be visiting Spiti but nonetheless, this month too has a few advantages of its own. Since the tourist season in the valley has already ended and there aren't many people around, you will actually get that feeling of being away from every inch of civilization that so many people come here seeking. You may even get a good deal on hotels because most of them will be empty at this time anyways; making them prone to negotiating the price down. The biggest charm will however be catching a live snowfall during the trip. If you did not catch it live then you can take a drive towards Kunzum Pass from Kaza; go as far as you can safely; and you will definitely get to see some snow there.
Disadvantages of Spiti Valley in November
Now let us take a look at some factors which make November a bad month to be visiting Spiti. Manali Kaza road will come at the top. This small stretch is one of the prime attractions of the Spiti circuit because it takes you across two high altitude passes and one of the most challenging and adventurous road that you have ever been on. Traveling in November will mean that you will have to keep this route out of your plan. Chandratal will come next in line. The lake gets closed for tourists by mid October so you will have to exclude it from your itinerary too.
Since you will be traveling from and to Shimla, you will need at least 1 week for the trip and cannot make it a short one. Cold will be a challenge at a whole another level. In winter, cost of goes up in Spiti so it is possible that you may end up paying more for even some of the basic commodities. Black ice if you weren't careful can cause serious damage. If the road ahead is now open due to recent snowfall, you will have no choice but to wait it out until the authorities declare it safe to travel on.
A lot of people go to Spiti in winter wanting to see the white valley, covered under a thick sheet of snow. This too will not be the case in November. Even though it may snow, it won't really be that much since the winter has just arrived a few weeks ago. If you want to experience white Spiti, best postpone your plan for January or February.
Conclusion
I hope the information above was of help. If you have any further questions, please feel free to ask in the comments section below; or at our Community Forum and I will be glad to answer.