This article is in continuation to a previous one and a part of my complete Hampi, Badami, Aihole, Pattadakal, and Vijayapura trip from Mumbai. The post below talks about the tourist places to visit in Vijayapura that we covered during our stay there. To read the previous parts of the travelogue, please click on the links below.
Journey So Far: 
After spending some time in Pattadakal on the fifth day of our trip, we decided to move on to Almatti Dam and continue to Vijayapura from there.
Pattadakal to Almatti Dam
To go to Almatti dam from Pattadakal, one has to reach Aihole first via Badami-Pattadakal-Aihole road and from there, has to take SH35. Our final destination for the day was Vijayapura (Bijapur). From Almatti to Vijayapura it is NH 50.
We reached Aihole around 10.30 am. As mentioned earlier, we could not see all the attractions of Aihole properly in the previous day on account of the paucity of time. While crossing Aihole, we noticed another temple complex that we did not go previous day. So, we stopped our car momentarily and took some photos from the car.
SH35 is a single lane. But the road surface is very good and very less traffic was plying on the road. Therefore, driving was a pleasure. We encountered more bullock carts than motor cars on the road.
It seems that Sunflower cultivation is quite popular here. At many places, sunflowers were being cultivated on a huge tract of land on both sides of the road.
Almatti Dam & Town
We reached near Almatti dam around 11.30 am. Just before the bridge on the Krishna River, we took a left turn to find a viewpoint in the vicinity of the waterbody. After driving westward for a few kilometers, finally, we got a viewpoint. There is a water purification plant and its elevated approach way offers a good view of the waterbody.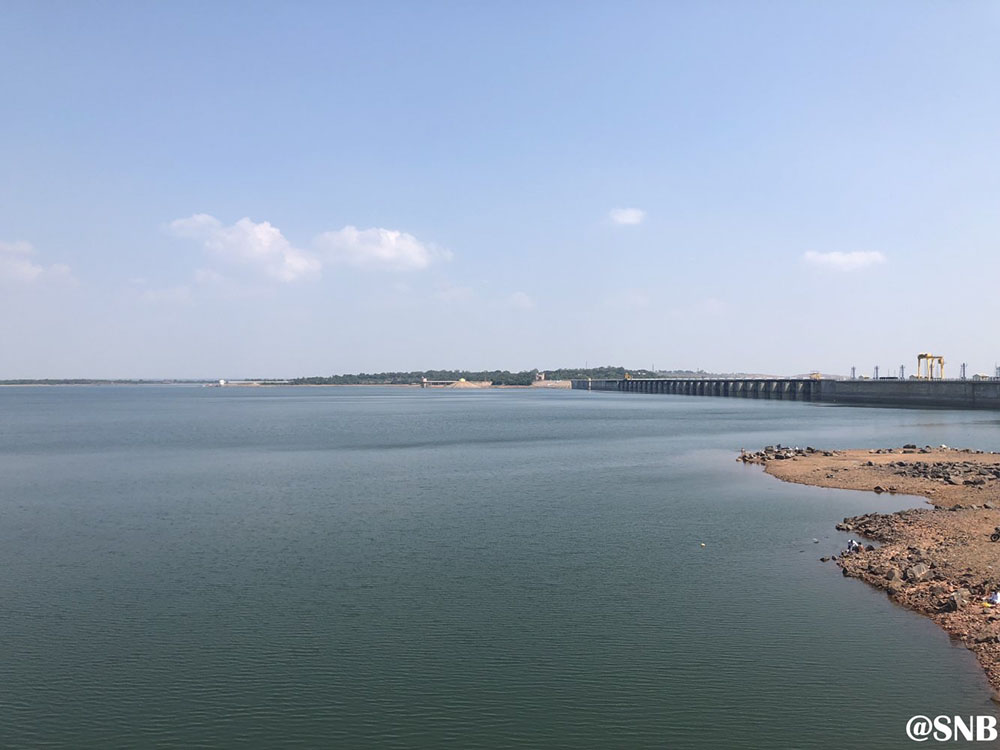 We resumed our journey around 11.45 am, came back to SH35, and crossed the Krishna River to enter Almatti town.
While crossing Almatii town, we saw the entrance of the Almatti Dam Park and realized that this was the main viewpoint for Almatti Dam. However, we did not stop there and after a few minutes, we were on NH50. The junction was a bit crowded because of Diwali festivals. Once we crossed that area, it was a fantastic highway all the way to Vijayapura.
Day 5: Places to Visit in Vijayapura
We reached Vijayapura around 12.45 pm and Gol Gumbaz was visible from a distance. Our hotel at Vijayapura was pre-booked. However, we decided not to check-in then but rather to cover the various attractions and during the daytime and do check-in just before the evening.
So we proceeded towards Gol Gumbaz with the help of Google Map and reached there at around 1 pm. There is a parking lot where we parked our car and took the tickets from the counter at the entrance.
Gol Gumbaz
From the ticket counter, it is a short walk. At that point in time, only the top of Gol Gumbaz was visible. There is the two-storied Naqqar Khana (House of Drums) just in front of Gol Gumbaz, which prohibits getting a full view of Gol Gumbaz from a distance.
It was built to offer a grand royal reception to the royal visitors by beating drums. It has been converted to a museum now.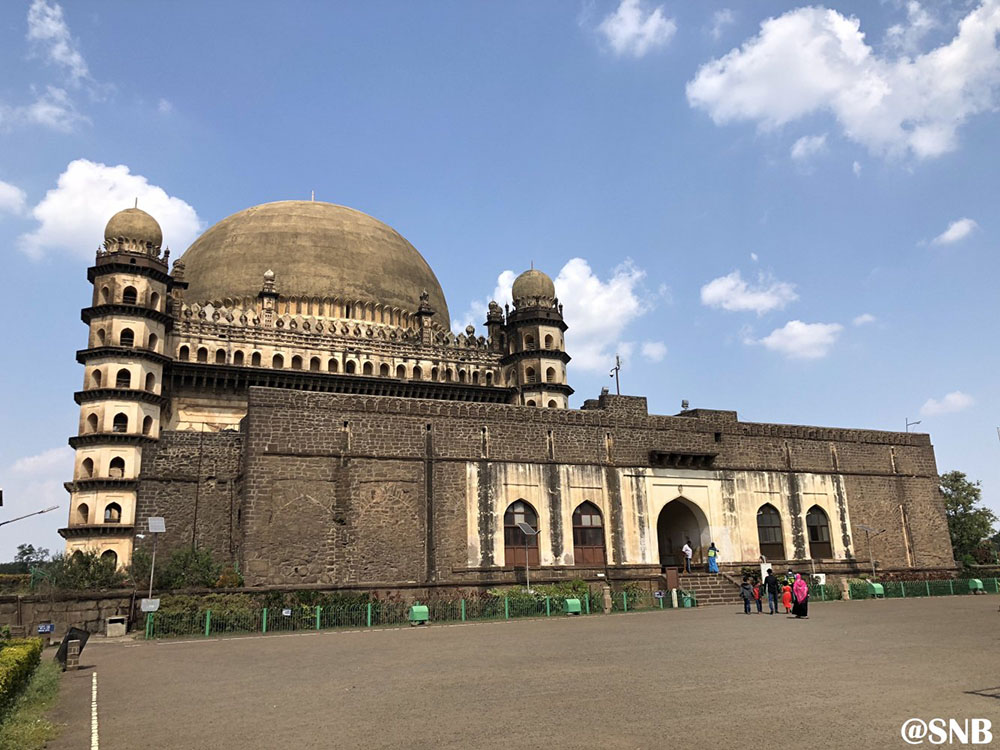 There are well-maintained lawns and gardens on both sides of the pathway with remnants of some old structures on the other side.
We skipped the museum. The main compound of Gol Gumbaz is protected by a boundary wall and there is a security check at the gate. After crossing the gate, we arrived at the courtyard, and then Gol Gumbaz became visible in its entirety with full grandeur.
It was a very simple yet immensely elegant building with minimal ornamentation and four Minar's or towers stuck on four corners. The arched openings on each floor look amazing from the ground.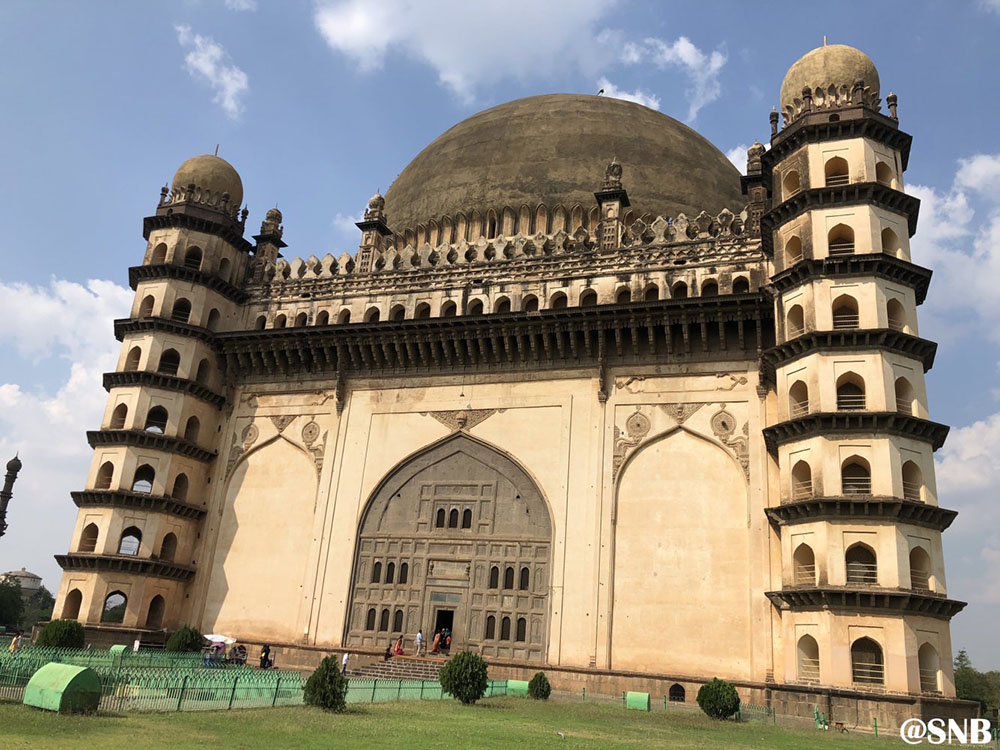 Crossing the courtyard, we removed our shoes and entered Gol Gumbaz.
History of Gol Gumbaz
Gol Gumbaz was constructed by Mohammed Adil shah who started the construction of his own tomb to bury his mortal remains right after his ascent to the throne in 1626. Mohammed Adil shah intended to build for himself a mausoleum comparable and possibly grander in scale than the Ibrahim Rauza, the tomb of his father, Ibrahim Adil Shah II.
The composition and ornamentation of the Ibrahim Rauza are exceptionally intricate and beautiful. Going for size, the Gol Gumbaz was planned as a mammoth single-chamber structure and remains one of the biggest in the world to date.
The construction of the tomb continued throughout Mohammed Adil Shah's regime but could not be executed to the full extent due to the sudden demise of the Sultan in 1656. Buried along with the Sultan are his two wives, Taj Jahan Begum and Aroos Bibi, his mistress Rambha, his daughter, and his grandson.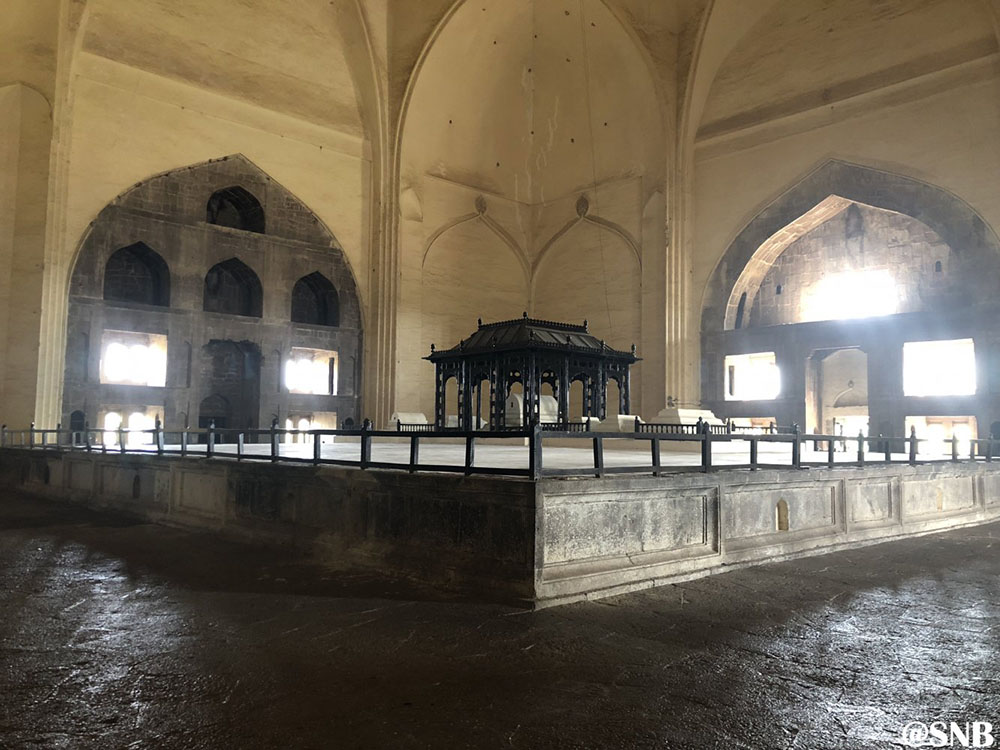 Architecture
It was designed by an architect named Yaqut of Dabul. Dabul, also known as Dabhol, is a small seaport town in Ratnagiri District, Maharashtra, India. The mausoleum has been built in dark grey Basalt stone and the facade is decorated with plaster.
The architectural style of the building is Deccan Indo-Islamic which is a perfect confluence of Indo-Islamic and Dravidian architecture. Deccan rulers produced an independent style of their own, largely ignoring the locally predominant architectural styles and, were primarily influenced by the Persian and Mughal architectural nuances.
The tomb is a giant cube topped with a hemispherical dome. The entire structure is fitted on a 600 feet podium. The dome is the second-largest in the world, with a diameter of almost 600 feet, next only to St. Peter's Basilica in Rome.
It is one of the largest single structure chambers in the world, and the space it encloses (almost 1700 sq. meters) is the largest in the world covered by a single dome.
Staircases in the walls of the main building lead to the seven-story octagonal tower at each of the four corners. The stairs pass through a narrow, steep, and winding tunnel which becomes narrower and steeper as it moves up.
So, someone needs a lot of physical endurance to climb to the top. Thankfully, after each story, the tunnel opens up into an open platform where you can take a rest to regain your breath. And that's what we did.
Each story has seven arched windows and all are capped by smaller domes. The seven floors of the towers are demarcated by a projecting cornice and a row of arched openings marking each level.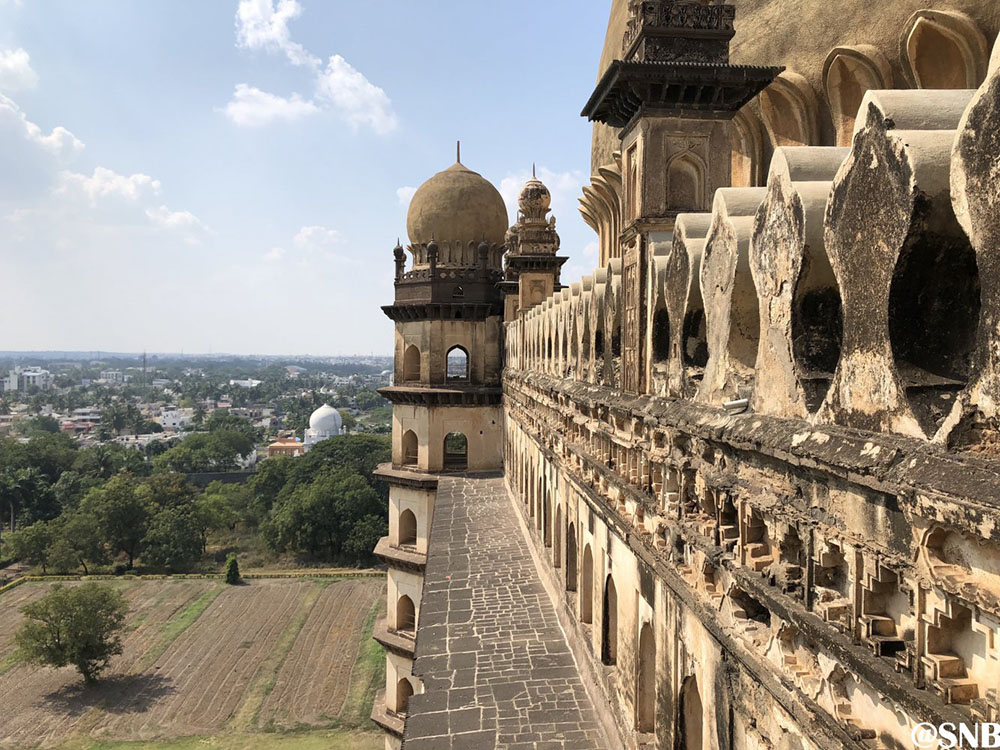 Gallery
On the top floor, there is a hanging gallery inside, encircling the dome. This gallery is an acoustic marvel and is called the "Whispering Gallery". A commendable piece of civil engineering, this amazing echo system reflects any sound over eleven times.
It has been designed in such a way that one can even hear the faintest tick of a watch across a distance of about 37 meters within the vast dome.
This gallery also offers a hair-raising top view of the ground floor.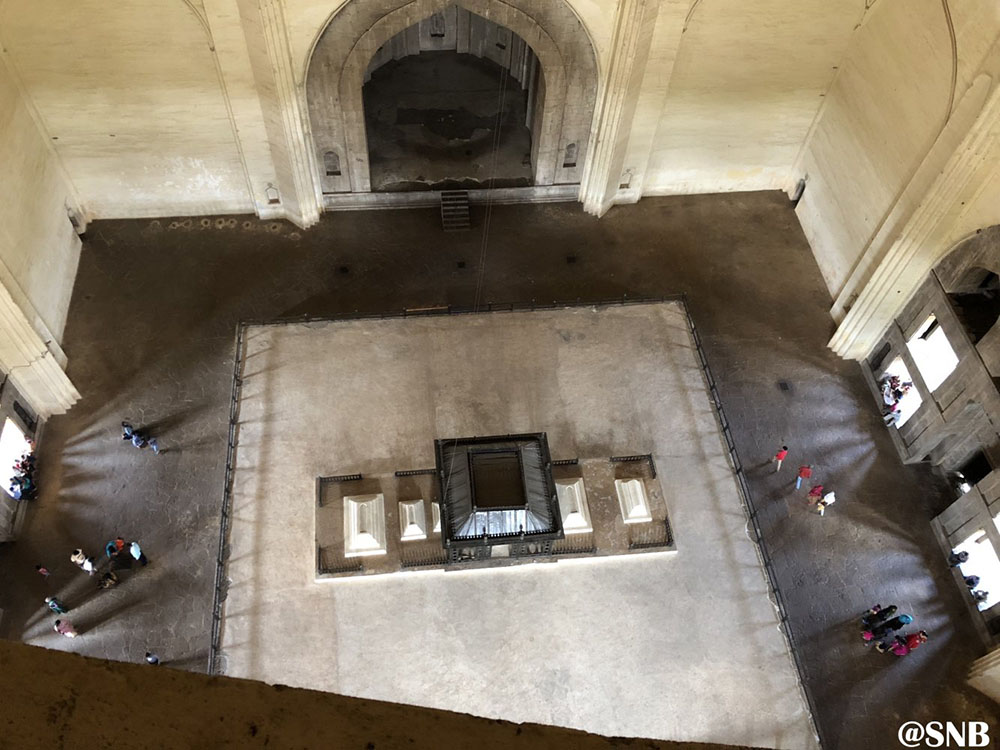 The outside terrace of the top floor offers a panoramic view of the city. We indulged ourselves in taking some self-photographs.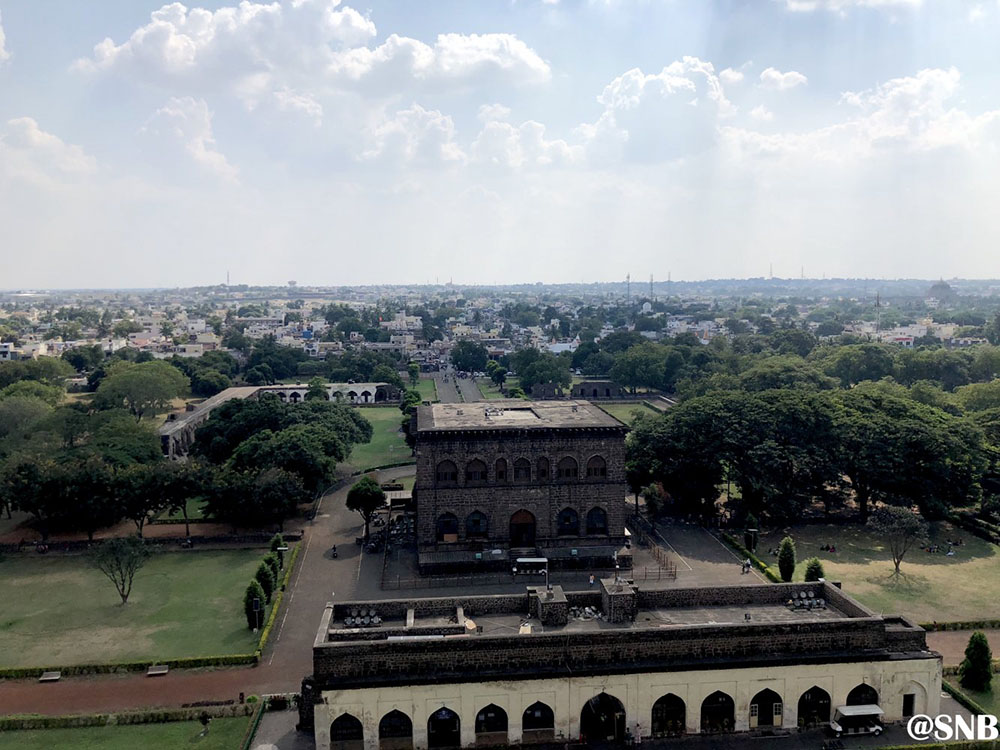 There is a mosque on the western side of Gol Gumbaz. That was not accessible. By the time, we came out of Gol Gumbaz, one and half an hour had passed. It was lunchtime.
Sangeeth Nari Mahal
Post lunch, we proceeded towards Sangeeth Nari Mahal at Navraspur. It is outside of Vijayapura town, at a distance of ~ 8 km from Gol Gumbaz. We reached there around 4 pm.
Sangeeth Nari Mahal was built by Adil Shah II in the 16th century. He was a great musician of his age and tried to bring cultural harmony between Shias and Sunnis and between Hindus and Muslims through music. He maintained an inordinately a large number of musicians and minstrels (three or four thousand) at his court.
The band of musicians was known as Lashkar-e-Nauras (army of Nauras) and they were paid by the government regularly. He constructed Sangeet Mahal and residential mansions for songsters, minstrels, and dancing girls. With great pomp, the festival of Nauras (musical concert) was celebrated during his time at Sangeeth Mahal.
Now the entire complex is in ruins enclosed by a high wall.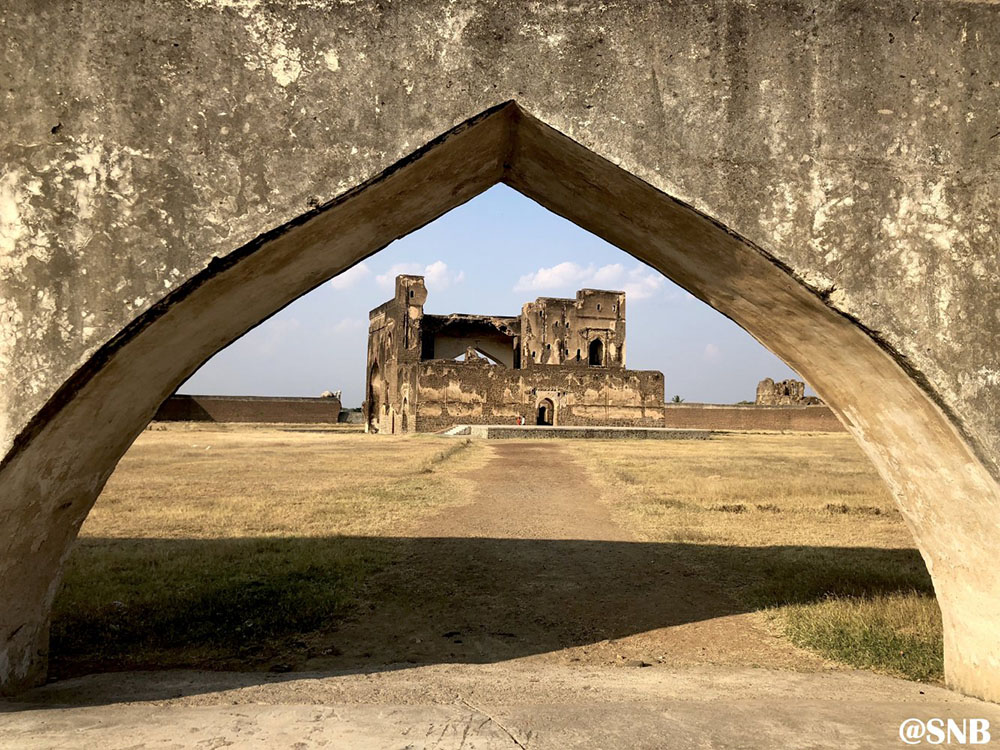 Ibrahim Rauza
We reached our next destination Ibrahim Rauza at 4.30 pm. It is also spelled as Ibrahim Roza and also known as Bijapur Fort.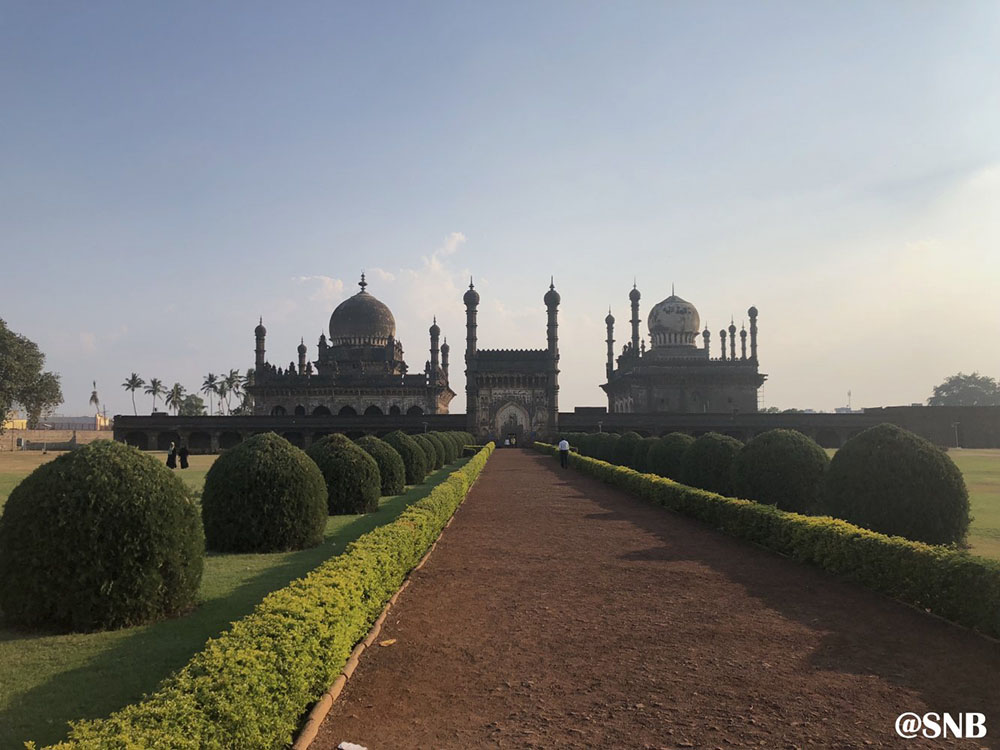 Ibrahim Rauza complex was built by Ibrahim Adil Shah II. It was completed in 1627. At one side of the complex, there is the tomb of Ibrahim Adil Shah II with his wife Taj Sultana, two sons, and mother.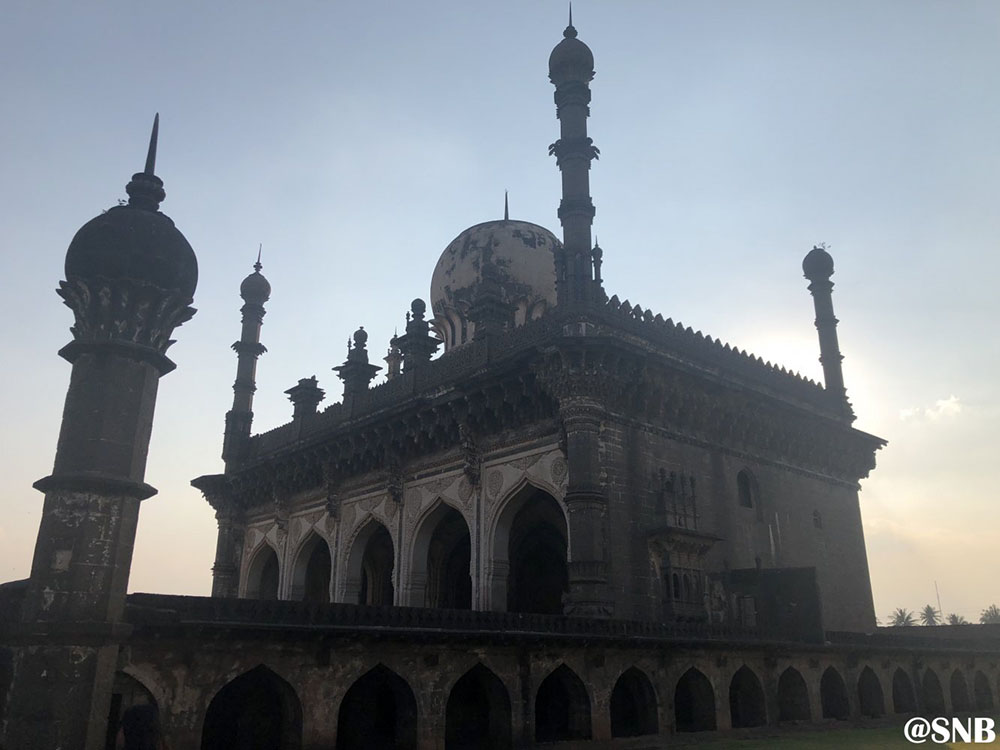 On the other side, there is a mosque, separated from the tomb by a big fountain and reservoir.
Ibrahim Rouza is one of the beautiful instances of Islamic architecture with graceful arches, halls, intricate designs with large crowning onion domes. The domes are topped with the crescent moons and surrounded on the four corners with symmetrical minarets.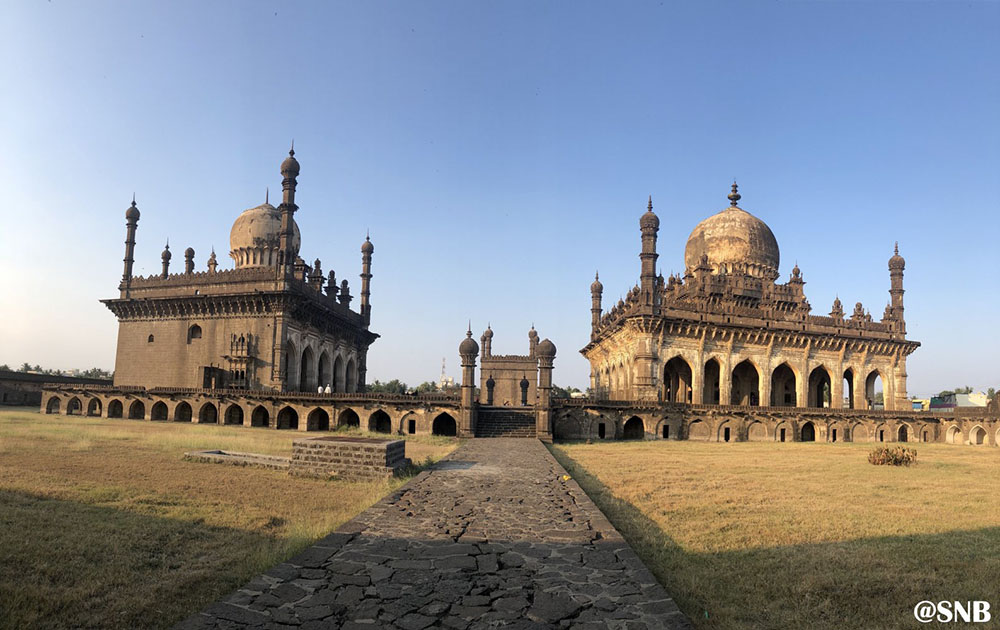 Taj Bawdi
We reached our next destination Taj Bawdi at 5.10 pm.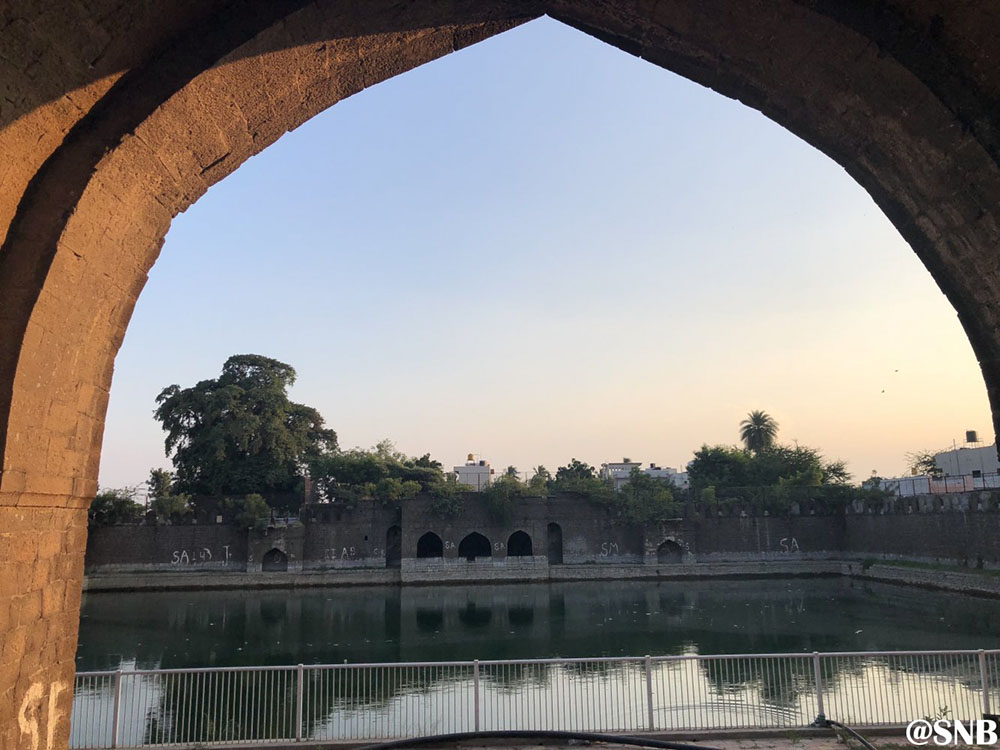 Taj Bawadi is a big water tank built by Ibrahim Adil Shah II in remembrance of his first wife Taj Sultana. This is situated at the heart of the Vijayapura city and was the main source of water during the Adil Shah dynasty. The tank is believed to be 100 ft deep at its center.
Asar Mahal
Our next destination was Bijapur fort. But Google maps did not help. We tried to get directions from a few local people. But that failed too. At that time, I was not aware that it is Ibrahim Roza itself that is known as Bijapur fort. Finally, we arrived at Asar Mahal.
In hindsight, I think that we should have taken a local guide at Bijapur.
The Asar Mahal was built in 1646 as a Hall of Justice. Later when some hair (moo e Mubarak) from the Prophet's beard was brought and kept here it became a sacred sanctuary. Today it's treated like a dargah and women aren't allowed in.
The word 'Asar' here stands for holy relics.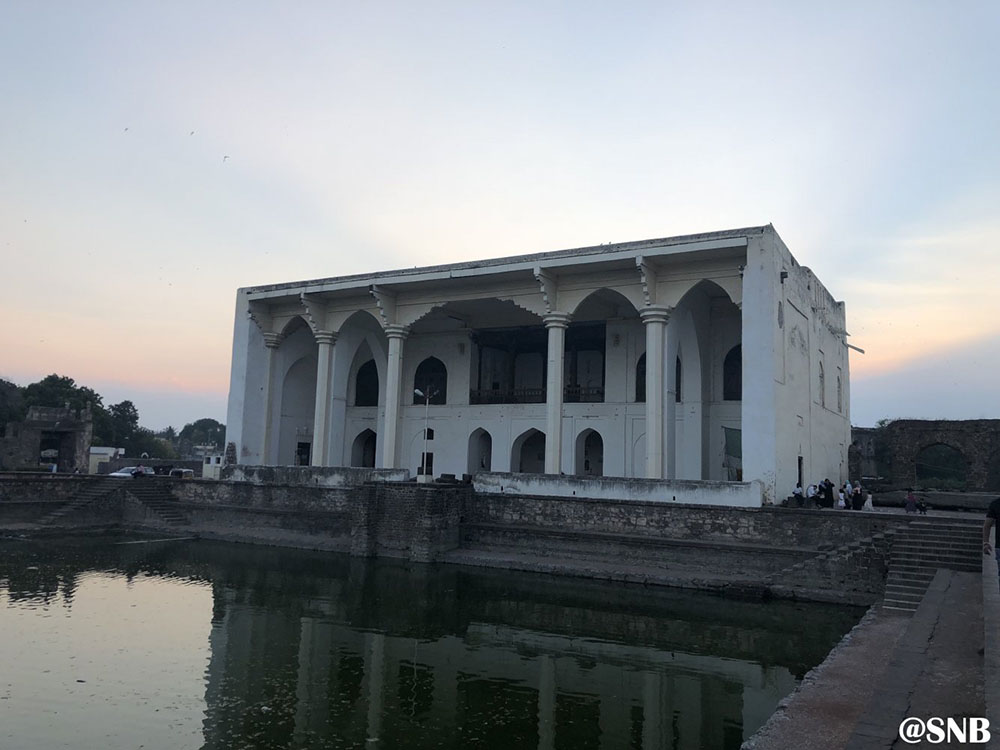 There are ruins of some old structures around Asar Mahal. It was almost dark when we completed the visit of Asar Mahal. So, we decided to go to our hotel for check-in and celebrate Diwali in the evening.
Day 6: Sightseeing in Vijayapura
This was the last day of our trip. The plan for the day was to visit the remaining attraction of Vijayapura and then to head for Mumbai.
We started from our hotel at 9.15 am after having breakfast. The first destination was the tomb and mosque of Afzal Khan. On the way, we noticed ruins of some old structures.
Tomb and Mosque of Afzal Khan
We reached our destination in around 25 minutes.
Afzal Khan was Muhammad Adil Shah's most trusted general and died in 1653. Afzal Khan's tomb, which was never finished, has a disproportionately large dome. It is believed he began the tomb in his lifetime but eventually was not be buried here. The adjoining mosque has two-storeys, with the upper level duplicating the hall beneath.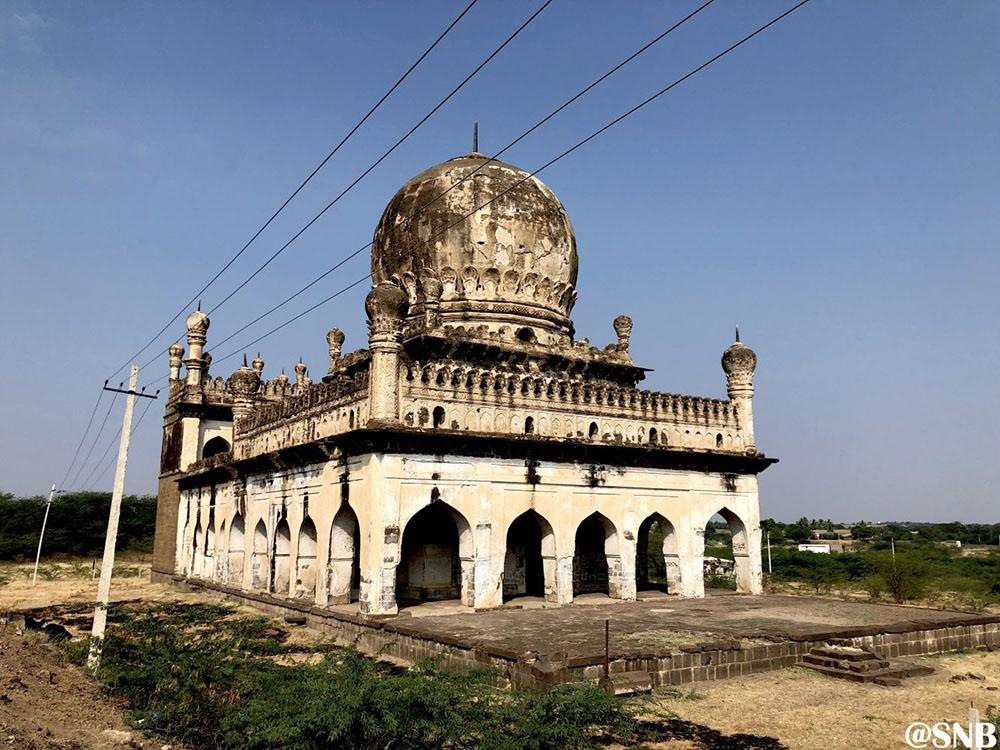 Our next destination was Malik-e-Maidan Top.
Malik-e-Maidan Top
Malik-e-Maidan or 'Lord of the Battlefield', is a huge cannon set up by Muhammad Adil Shah I in 1549 on the top of Sherzah Burj in Bijapur. It faces towards the west at the plains outside the city of Bijapur.
This cannon is believed to be the largest warhead of the medieval era. The nozzle of the weapon is designed into the shape of a lion with open jaws. There is a small elephant between the two large fangs of a lion being crushed to death. There is also an inscription made by Aurangzeb on the top of the cannon.
This 55 tons heavy cannon has a diameter of 1.5 m and its length is 4.45 m. This legendary cannon has a unique feature that is even in the blazing sun it remains cool and when it is gently tapped, it tinkles very softly just like a bell.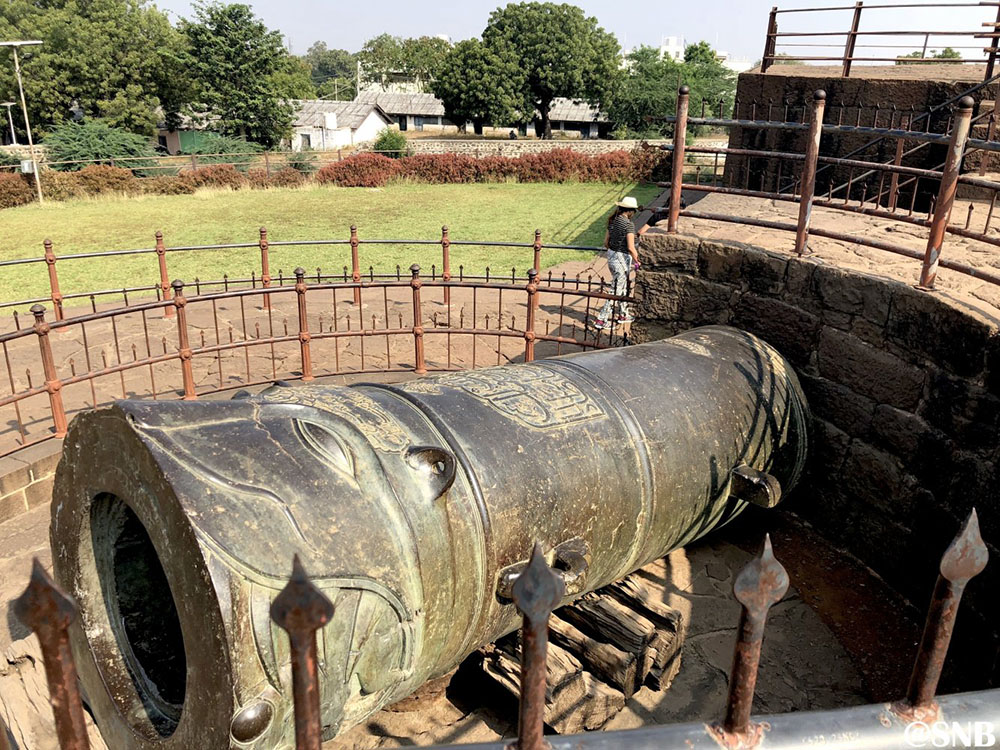 Uppali Buruz
The next destination was Uppali Buruz. It's an 80 feet high watchtower, built around 1584 AD by Hyder Khan. Spherical in shape, it has stone steps all around. Two large cannons are placed on this tower. Furthermore, it contains various guns, powder chambers, war materials, and water cisterns.
This tower is also known by some other names such as Hyder Burj and Upri Burj. Ony can see the 360-degree view of Bijapur from the top of this tower. One has to climb a few steps to reach the top.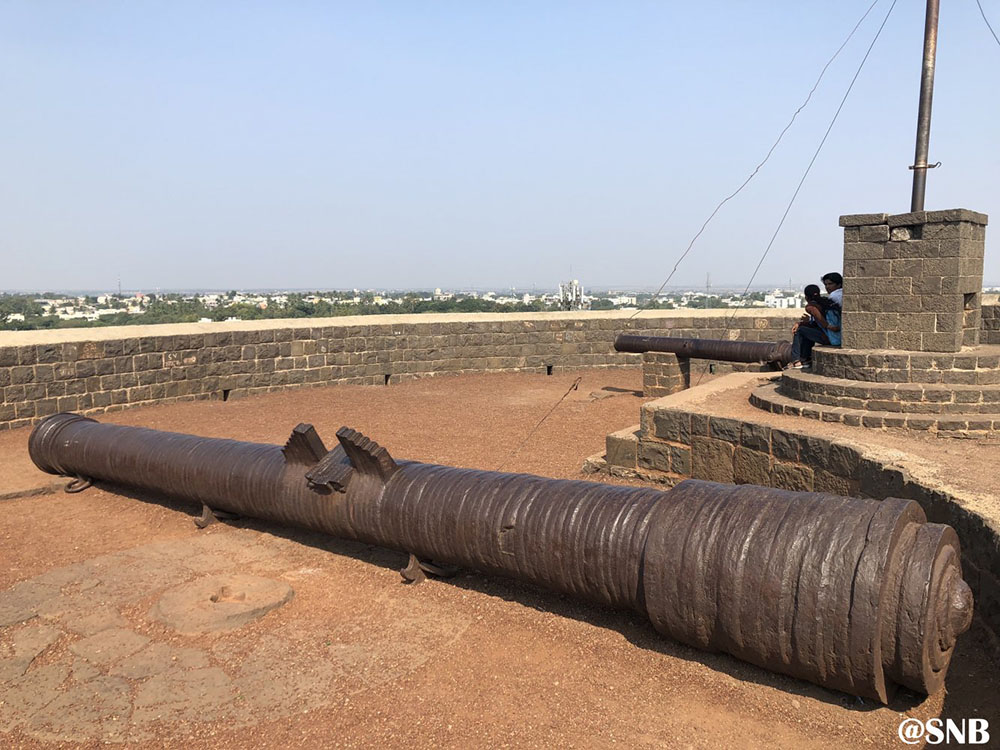 From Uppali Buruz, we went to Bara Kaman.
Bara Kaman
Bara Kaman is the unfinished mausoleum of Ali Adil Shah II. It was built in 1672AD and was supposed to be the burial mausoleum for the king and his wives.
However, before the Bara Kaman could be completed, Ali Adil Shah II was murdered by his own father Muhammad Adil Shah, who did not want the Bara Kaman to lessen the glory of the Gol Gumbaz. Bara Kaman has the tombs of Ali Adil Shah II, his wife Chand Bibi, his mistresses, and his daughters.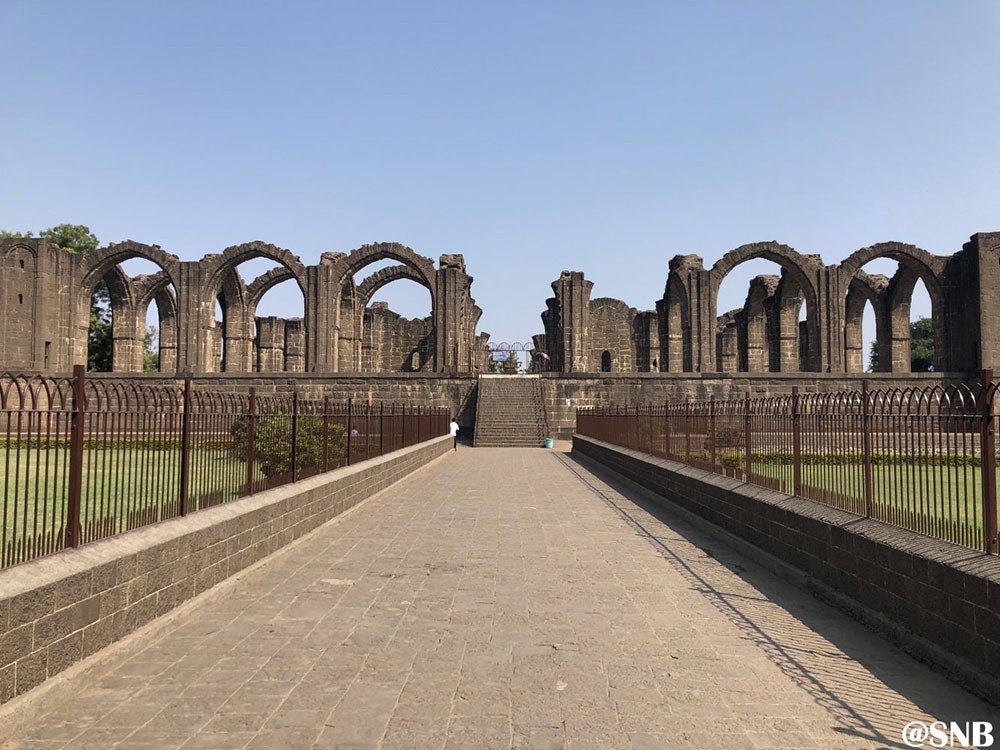 It was planned to be built as a mausoleum of unmatched architectural quality. As per the plan. twelve arches were to be placed vertically as well as horizontally surrounding the tomb.
However, the work on the structure was left incomplete, only two arches were raised vertically. Nowadays the remains of the twelve horizontally placed arches can still be seen. The architect of Bara Kaman was Malik Sandal.
The structure has raised walls in concentric arches. After the arches were erected, the inner arches were toppled, leaving only the outermost arch. No cement was used, instead of iron rings were used to hold the stones together.
Return to Mumbai
When we finished Bara Kaman, it was 10.45 am. So, we decided to start for Mumbai. The route was via Solapur and Pune.
It is NH52 from Vijayapura to Solapur. The distance is around 100 km. It's a single lane. The road surface at the Karnataka side (around 65 km) is very good. Therefore, it is easy to maintain good speed. But once we entered Maharashtra crossing the Doni river, the road condition became poor.
Just before entering Solapur, there is a bypass that took us on NH65. NH65 is in excellent condition and we sped up towards Pune. Around 1.30 pm we took our lunch break at a roadside Dhaba. The food was vegetarian and the taste was great.
It took us around 30 minutes to finish our lunch. From there, it was a continuous drive except for a tea break on the Mumbai-Pune expressway. The condition of the road for this entire stretch is excellent.
The only problem we faced was crossing Pune city from east to west for getting on to NH48 (Bengaluru-Pune-Mumbai highway). It took us more than one hour to cross it.
We reached home at Goregaon around 8 pm and our trip came to an end.
Places to Visit in Vijayapura – Conclusion
I hope the travelogue, pictures, and information on places to visit in Vijayapura were of help. If you have any questions, please feel free to ask in the comments section below or at our Community Forum, and I will be happy to answer. You can also follow me on Instagram and chat with me live there or subscribe to my YouTube channel and ask a question there.