A few years backs, I visited the temple complex at Belur and Halebidu, Karnataka to see the two architectural marvels developed during the rules of Hoysala. That architecture is known as Hoysala architecture. This Diwali, I planned for a Mumbai to Hampi Road Trip, covering Hampi, Aihole, Pattadakal, Badami, and Bijapur.
It was a 5 night/ 6 days plan from Mumbai by road with two nights stay at Hosapete (for Hampi), two nights stay at Badami, and one night stay at Bijapur.
Lately, I have developed an interest in the history of middle-aged India especially that of South India. Somehow, I feel that South India has been neglected by our historians.
We got detailed descriptions of various kingdoms/dynasties of medieval North India but our history textbooks, surprisingly, contain very few details about the dynasties which were based in South India. The achievements of those dynasties not only in terms of territory but also in terms of trade and commerce, art, and literature deserve more attention.
Mumbai to Hampi Road Trip
Our plan for the day was to reach Hosapete. We had pre-booked accommodation at Hotel Maurya Viajynagar TB Dam, Hosapete.
Though the plan was to start by 6.30 am, we could not start before 8.15 am. My father-in-law and brother-in-law were joining from Kolkata and their train was later. We took JVLR-Powai-Airoli route. Being a Saturday, we did not encounter much traffic in Mumbai and Navi Mumbai and it was all clear on the expressway after Kalamboli.
Also Read: Bike Trip to Wayanad – A Ride to The God's Own Country
The first break of the day was taken at Khalapur for breakfast at the food court immediately after the Khalapur toll booth.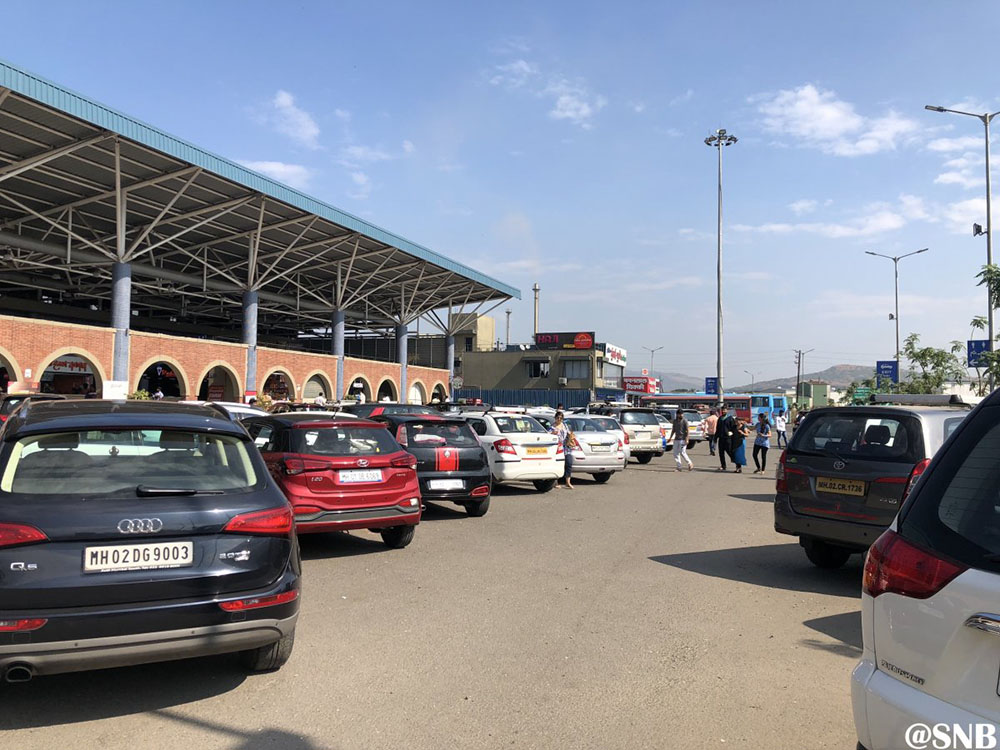 After spending around 30 minutes there, we resumed our journey at 10.15 am.
We took an unplanned tea break at a roadside tea stall at Kothrud, Pune because I was feeling a bit drowsy. We crossed Satara around 1.15 pm. While approaching Satara, we encountered a slight drizzle.
Also Read: Mysore Coorg Ooty Road Trip – How to Plan & What to See
For the first day's lunch, we were carrying homemade food. Around 1.45 pm, we parked our car on the service road at Karad and had our lunch, and resumed our journey around 2.15 pm.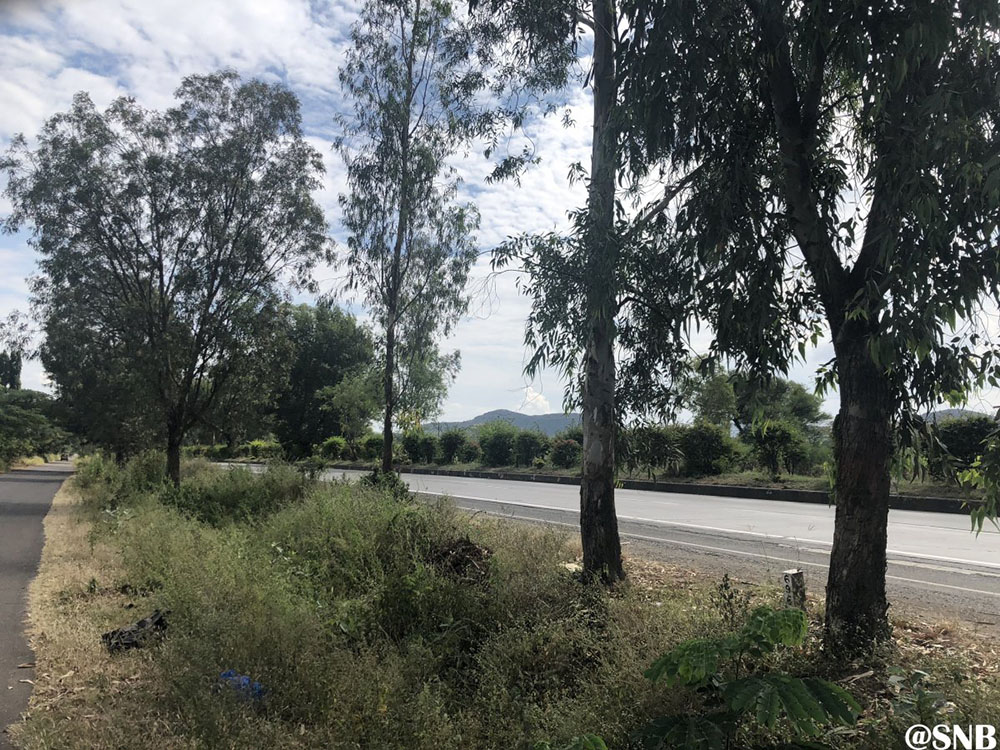 The Brake Problem
Then we faced the first major problem of the day or the only major problem of the entire trip. After crossing a toll booth, 11-12 kms before Kolhapur, I realized that the brake is not working. Fortunately, at that point in time speed was low since we just started from the toll booth.
There was a truck in front of us but I managed to avoid any collision somehow and parked the car at the side of the road. Then we started looking for any garage/mechanic on google map and found one garage 3-3.5 kms away towards Kolhapur. So we took the car to that garage driving slowly using the left lane.
While doing so, we found that though the brake was not working at the first stroke, it was working on the second stroke. We were a bit perplexed because I got my car serviced a few days back and got brake pads changed.
Also Read: Bike Trip to Nandi Hills – Dawn At Hill's Edge
The Solution
I called up the service center and reported the problem to them. They were also confused. After reaching the garage, we explained the problem to the mechanic and made him talk to the service center. Then the mechanic took the car for a drive and came back after 5 minutes stating the problem has been resolved.
What he explained to me that while the brake pads are new, the brake shoes are old and worn out, that's why the problem took place. Had the car run for another 200 kms, this problem would not have happened.
What he did (as described by my brother-in-law and wife, because I was not accompanying him during the drive) was to apply full brake after picking up a high speed. Apparently, he did it 3-4 times. When he delivered the car, I found the brake perfectly normal.
He assured me that the problem has been completely resolved and I can drive the car confidently. We had spent around 45 minutes sorting out this issue.
Also Read: Bike Trip to Ooty – A Bike Ride from Bangalore to Ooty
Kolhapur
After some time, we crossed Kolhapur. Though the mechanic had told me that the problem was completely resolved, I drove the car at moderate speed for the first 30-40 kms and applied brake multiple times. After being sure that the brake was working perfectly, I started speeding up.
I had covered almost the entire NH48 (from Delhi to Bengaluru) in relation to my earlier trips and found Kolhapur-Belagavi (Belgaum)-Dharwad stretch is one of the best sections and a speed of 100-120km/hr can be maintained easily.
We crossed Belagavi (Belgaum) around 5.15 pm and reached Dharwad by 6 pm. After Belagavi, we again experienced some rains. By the time we reached Dharwad, it was dark.
Dharwad – Hubbali
Dharwad-Hubbali stretch of NH48 (~18 km) is a single-lane highway. There was considerable traffic in both directions. Since it was dark by that time, it was very difficult to overtake. So we have to drive slowly. The road surface is good. Therefore, though the drive was slow, it was not painful.
After reaching Hubbali, we had to leave NH48. Google Map navigated us through Hubbali town and its outskirts and got us on NH67 for the final stretch of the day's journey. As per, Google Map, we were 120 km away from the destination of the day. We took a break of 15 minutes and then resumed around 7.15 pm. And the worst nightmarish drive of the entire trip commenced.
Work is going on for making NH67 a four-lane highway. As a result, the condition of the road is very poor. It was a bumpy, dusty ride with recurring changes of the lane. After a tiring drive of ~ 115 km, we finally got a good road for the last 10 kms and reached Hotel Maurya Vijayanagara TB Dam at 10 pm.
We had our dinner immediately after reaching there and retired for the day. This distance traveled on day 1 is 752 km.
Also Read: Road Trip to Madikeri – Boat Rafting in Madikeri
Hotel Maurya Vijayanagara TB Dam
Hotel Maurya Vijaynagar TB Dam is a KSTDC property. It is quite an old property. Its foundation stone was laid on 10th August 1960 and it was opened on 16th June. At that time Hosapete was a part of Mysore State. Mysore was renamed Karnataka in 1973.
The rooms were quite spacious. The service was very good. Still, I would not recommend staying here because of the conditions of the room and bathrooms. As per the manager of the property, funds have been approved for the renovation of this property. I hope they renovate this property as soon as possible.
Routes
From Mumbai/Pune, there are three routes for Hosapete.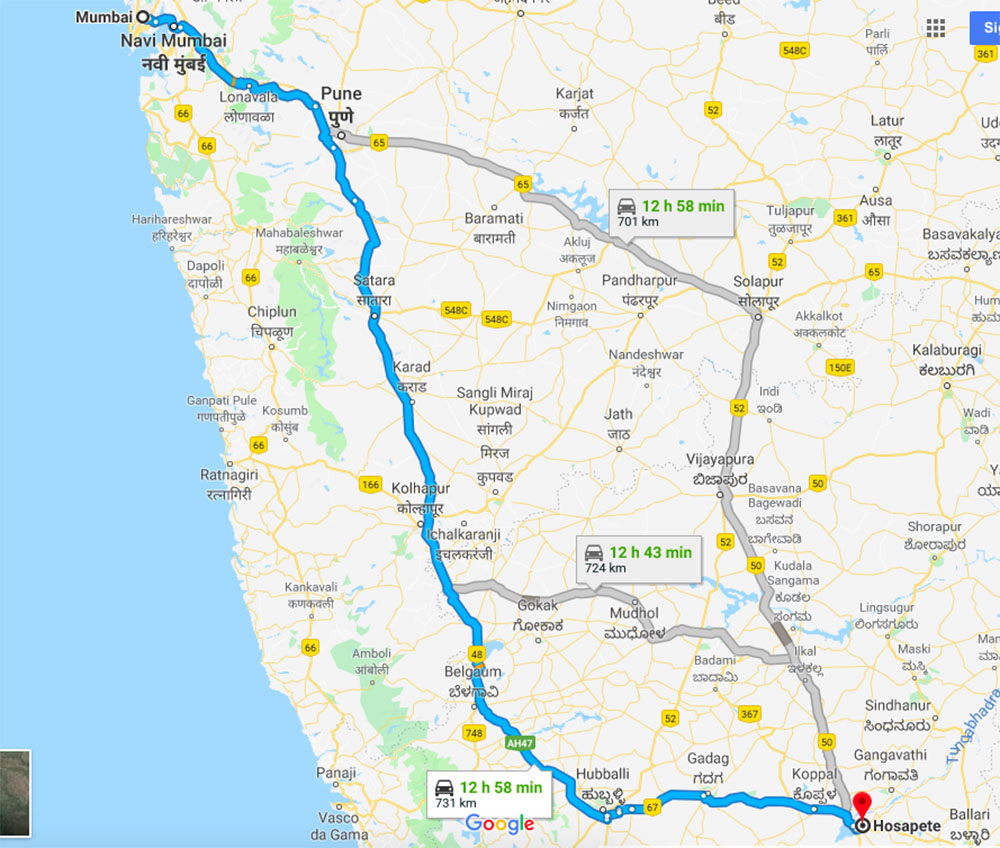 Route 2: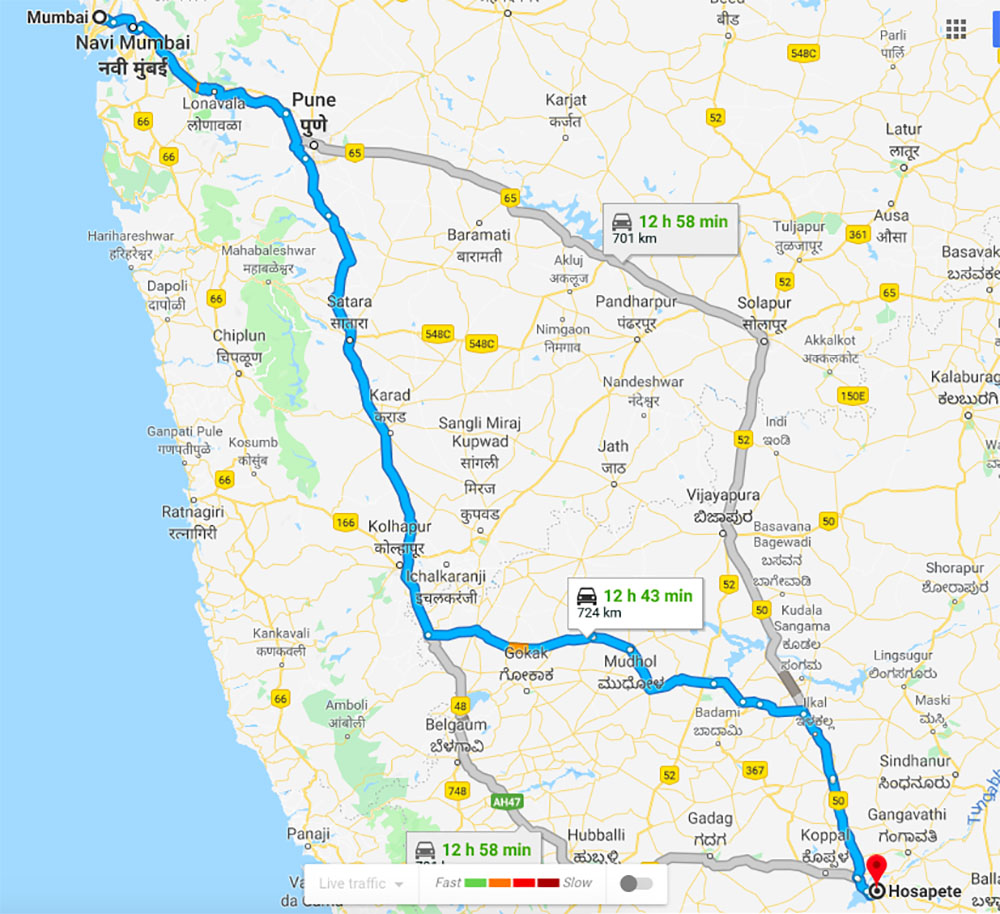 Route 3: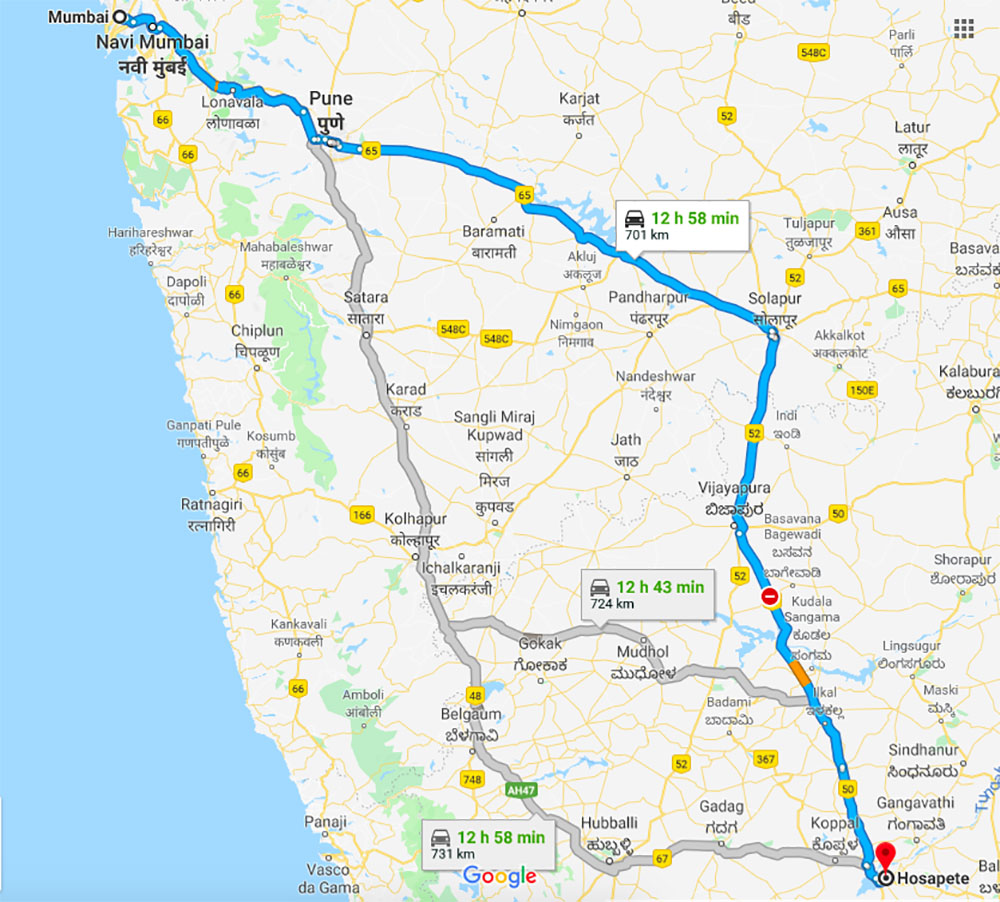 While going, we used route 1 i.e up to Hubbali via NH48 and from there to Hosapete via NH67. At present, NH67 is in pathetic condition and more than 100 km has to be covered to reach Hosapete from Hubbali. Therefore, I would recommend avoiding this route.
While returning, we used route 3 with a detour for Badami, Pattadakal, and Aihole. Road condition in this route is fantastic. Hosapete to Vijaypura (Bijapur) by NH50 which is in superb condition. Vijaypura to Sholapur (Approx 95 km) via NH52. This stretch is a single lane.
But the condition of the road is quite good especially on the Karnataka side (~70% of this stretch). Sholapur to Pune (approx. 200 km) via NH 65 which also offers a delightful driving experience. Pune to Mumbai via the expressway and therefore does not require any further elaboration.
The only challenge in this route is Pune city has to be crossed in the east-west direction which can become very painful during pick hours. Still, I rate route 3 higher than route 1.
It is a bit difficult for me to comment on route 2 since we have not taken this route in either direction, but I guess it would be better than route 1 given the current condition of NH67.
Sightseeing in Hampi
Please find the recommended itinerary for sightseeing in Hampi. Hampi is a vast place and therefore, seeing all the attractions without a car is nearly impossible. You can also continue reading the next part of the travelogue to know more in detail.
Day 1
If you want, you may skip the Gaali Anjaneya temple
Just before reaching, Krishna Temple, on the right-hand side there is a place where there is a row of stone plates. That place was a dining hall of army garrison. Please tell the guide to show the place
Adjacent to Krishna temple, there are attractions like Lakshmi Narasimha idol (Ugra Narasimha idol), Badaviling temple Sasaivekalu (Muster Seed) Ganesha idol, Krishna Bazar, Krishna Pushkarini
Sasaivekalu (Muster Seed) Ganesha idol is at the base of Hemkutha Hill on the northern side. There is a walking path for reaching the top of the Hemkutha Hill starting from the Sasaivekalu (Muster Seed) Ganesha idol.
However, the Hemkutha hill temple complex is on the southern slope of the hill. Therefore, you may consider avoiding this hike until and unless you are keen to see the sunset from the top of Hemkutha Hill.
Your next stop will be Kadalakelu Ganesha temple which is again at the foothill of Hemkutha temple on the eastern side. There is a walking path from the backside of the Kadalakelu Ganesha temple which goes towards the northern slope of Hemkutha hill.
This is a stoned flat walking trail and therefore is easily walkable. This will lead to the main gate of the Hemkutha hill complex. After that gate, the slope starts. So once reaching the gate, take a call whether you want to stroll on the slope. Even if you do not go for the walk, the view of the temple complex from the gate itself is quite majestic.
Then you go to Virupaksha temple. In front of Virupakha temple is Virupaksha bazar. At the other end of the Bazar is the statue of a monolithic bull.
From the monolithic bull, trekking routes start for the Achutya Raya temple complex and Matanga Hill. These two places cannot be accessed by car.
The next destination for the day is the Kodandaram temple. Though, the google map shows it is accessible by road, our experience was a bit different.
From the monolithic bull idol, the road takes a left turn and after proceeding a few hundred meters, there is a parking lot. From there you have to walk up to Kodandarama temple. The road is a bit uneven but manageable.
After seeing the Kodandarama temple, you may go boating on the Tungabhadra River.
Your last stop for the day is Chandikeshwara temple. If there is a paucity of time, you may include it in the next day's itinerary. Please also see Uddana Birbhadra Temple which is adjacent to Chandikeshwara temple
If you are keen to see the sunset, come back to Sasaivekalu (Muster Seed) Ganesha and walk up to the top of Hemkutha Hill.
Day 2
Start the days with the Vijay Vitthala temple. First, you have to go to the parking lot of Vijay Vitthala temple which is a few hundred meters away from the temple. From the parking lot, you can reach the temple by walking or by trolley bus.
Please also see Gejjala Mandapa which is very near to the parking lot. Further, while going to Vijay Vitthala temple, you will see Vijay Vitthala Bazar on the right-hand side and Kudure Gompe Mandapa on the left-hand side.
Your next destination is the Queen's bath. There are other three attractions near Queen's Bath namely Chandrasekhara temple, Saraswati temple, and Octagonal bath. Those are not exactly on the main road but a few hundred meters walk from the main road.
After Queen's bath, you will take a right turn leaving the main road for a gravel road which leads to the Royal Enclosure followed by Hajararama temple.
After Hajararama temple, the road bifurcates. Take the right prong for Zenana Enclosure. Zenana Enclosure houses Queen's palace (only basement) and Lotus Mahal. Other adjacent attractions are Elephants' stable, Guards quarter, Madhava (Ranga) temple, and Jain temple (for this you have to walk a bit)
From there come to the junction and take the right turn. Immediately after taking the right turn, you will find the palace of Vir Harihara and mint on your left-hand side. This is basically adjacent to Hajararama temple, at its backside. This would be followed by an old mosque and watchtower.
Once you proceed further, the gravel road will again connect to the main road which you would have left at Queen's Bath. At that junction is Prasanna Virupaksha temple
That would be the end of day 2. If you have some time left you can cover any of the attractions missed on day 1 or for a repeat visit
Please click on the link above to continue reading the next part of this travelogue.
Mumbai to Hampi Road Trip – Conclusion
I hope the travelogue, pictures, and information on a Mumbai to Hampi road trip were of help. If you have any questions or need any other details, please feel free to ask in the comments section below or at our Community Forum, and I will be happy to answer. You can also follow me on Instagram and chat with me live there or subscribe to my YouTube channel and ask a question there.