Traveling by Taxi is the best way to plan a trip to Ladakh for people who cannot afford to bring their own vehicle for the journey for any reason. It is true that it will cost you a bit much, but you at least get to travel comfortably at your own pace. You can take as many breaks as needed and will not have to depend on the timings of public transport. With that being said, things are a little complicated when it comes to the local taxi service in Ladakh.
There are a few rules that have been self-created and imposed by the locals. You should follow these rules as a tourist for your own safety. What these restrictions are and how does the taxi service in Ladakh looks in the years 2020 and 2021 is what I will be providing details on in this article.
Also Read: How to Plan a Trip to Ladakh – A Complete Travel Guide
This article is actually a third in a series detailing taxi travels in Ladakh. In the first two posts in this series, I talked about the Leh Ladakh Taxi Rental Rates and the Tempo Travelers Rates in Ladakh in the year 2020. In this particular post, I will talk about some quick but important information while renting a taxi either in Ladakh itself or from some other city like Srinagar, Manali, or even Delhi.
If you are looking for information on how much is it going to cost you to rent a taxi or tempo traveler in Ladakh, please take a look at the other two articles I provided a link to.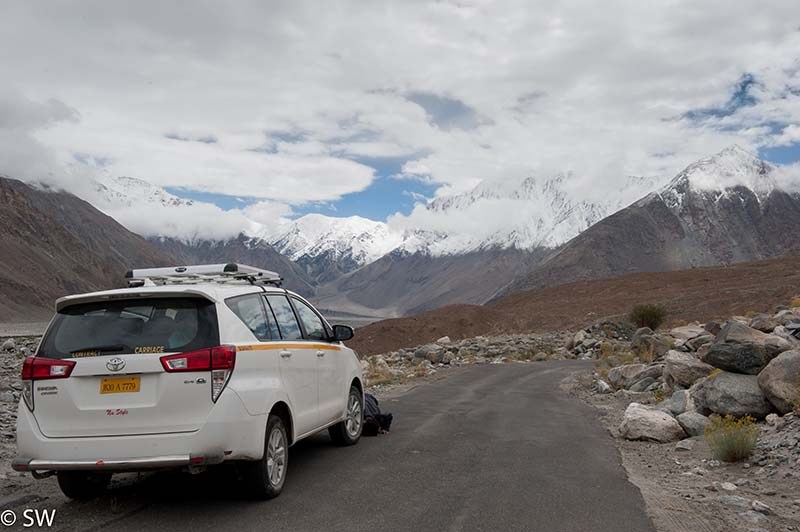 Non Local Taxis in Ladakh
Let me start with what started the whole issue around taxi and motorcycle rentals in the Ladakh region. There was no such issue about 10 years ago when only a handful of people ever went to Ladakh. But with the boost in tourism, came the opportunity of making money for both the locals and non-local tourist agencies.
Local people of Ladakh invested money in taxis and motorcycles to offer to tourists as rentals. The idea did not work. The majority of the tourists would either come by their own vehicle or by a taxi rented from their hometown itself. Not many opt for renting a taxi from Leh. This started to seem like a huge loss for the local population.
And this is when they came up with the regulation around non-local taxis in Ladakh. As per the rule, any vehicle rented outside Ladakh can only be used to reach Leh City. But for sightseeing in Leh and other areas of Ladakh, a tourist must rent another local taxi or motorcycle from Leh City. The vehicle rented outside of Ladakh then would have to be left parked at the hotel.
Also Read: Lakes of Ladakh – A Travel Guide
Is it serious?
Yes, it is a very serious matter. Local put up barriers at almost every tourist route where they will stop and check papers to ensure that the vehicle is not a rented one.
Is it a government rule?
No, it is not a rule made by the government. The local population came up with it and imposed it by force.
Why do the authorities not do anything about it?
Because the authorities themselves are the locals of Ladakh. If the officials themselves have money invested in taxis and other tourism-related ventures, why would they take action against anything that is helping them make money?
What is the rule exactly around the non-local taxis and motorcycles in Ladakh?
There are basically two rules around it. The first one is any non-Leh registered taxi will not be allowed to be used for sightseeing in either Leh city or any other area in Ladakh like Nubra Valley or Pangong Tso. This rule is applicable to commercial vehicles with Yellow number plates.
If the vehicle is a private one and has a white number plate, then the owner of the vehicle must be the one driving it or sitting inside it. What it means is that you cannot bring a car or motorcycle belonging to a friend or cousin. Either the vehicle must be registered in your name or your parents.
If the vehicle belongs to your brother or sister then you must bring some sort of family document showing that the owner of the vehicle is your immediate sibling. If you say that the car/motorcycle belongs to your friend or cousin, they will send you back to Leh asking you to rent a local taxi or bike.
Why? Because the locals think that people are trying to fool them out of their money by renting white number plate vehicles and getting away with it by saying that the owner is a friend.
Also Read: How to Travel in Ladakh by Public Transport
Is there a way around it?
Unfortunately not. This is a really serious matter and you must stick to this rule. There have been instances when a few people refused to follow it and their vehicles were attacked and vandalized by the locals. When they complained, local authorities took no action at all.
Does it apply to Manali and Srinagar rented vehicles too?
Yes, it does. Actually, it applies more to Manali registered taxis and motorcycles. Each year, the rental associations of both these places get into disputes over this matter. Let me explain how this works. There are basically 4 rental associations here; Manali, Leh, Kargil, and Srinagar.
So for example, if you rented a taxi from Manali or Srinagar, you cannot use it anywhere in Ladakh except to reach Leh. Same way, a Leh registered taxi can only drop you till Manali or Srinagar but cannot show you around in Manali or Kashmir.
If you way rented a vehicle from Leh, Manali, or Srinagar, you cannot use it to go towards Zanskar. For that, you will have to rent a Kargil registered vehicle. Sham Valley, fortunately, is not a part of this dispute yet and any taxi can take you sightseeing there.
Is this justified?
I really do not want to get into the whole argument around whether it is right or wrong because it wouldn't matter. The fact is that this is the way it is and a tourist has to follow the rule. Locals have their own reasons to justify this action; and as a tourist for a week or 10 days, there is nothing you can do to change it. This is how the local taxi service in Ladakh operates and you will have to accept it.
Self Drive Car in Ladakh
There are no self-drive rentals available in Ladakh. You will have to hire a taxi with the driver. If you are interested in driving in Ladakh, you can request the driver to allow you to handle the vehicle for some time. Or you can rent a self-drive car from either Delhi or Chandigarh but can only drive it till Leh City. After that, you will have to leave it parked at the hotel and rent a local taxi again.
Zoomcar in Leh Ladakh
The same rule that I described above applies to Zoom Car as well. If you rented a self-drive rental from Zoom Car, you can only bring it to Leh; but will then have to leave it parked at the hotel. Actually, the whole attacking and vandalizing of the vehicles happened with Zoom Car taxis only.
Also Read: Festivals of Ladakh
Shared Taxi in Ladakh
I agree that the cost of renting a private tourist taxi in Ladakh is a bit much and not everyone will be able to afford it. This is where the whole idea of shared taxis comes into the picture.
There are two types of shared taxis available in Ladakh. One is that you can board on the spot and the other is the pre-planned ones.  For an on-the-spot deal, just reach Leh Bus stand in the morning and you will find plenty of taxis headed towards Nubra, Pangong Lake, Tso Moriri, or other tourist places. It is much like a Bus actually. Your search for a cab, find one, board it, pay for the ticket, and reach your destination.
Second is the shared tours organized by tour agents. They merge a few people together in the form of a group and the taxi rental gets divided among them all. For this, you can contact any tour agency in Ladakh and will easily get a deal. You will also notice a lot of flyers put up by people at restaurants, cafes, and travel agencies wanting to share the taxis for different trips within Ladakh.
Local Taxi Service in Ladakh – Conclusion
I hope the information above on the local taxi service in Ladakh was of help. If you have any questions, please feel free to ask in the comments section below and I will be happy to answer. You can also follow me on Instagram and chat with me live there or subscribe to my YouTube channel and ask a question there.