This article is in continuation to a previous one and a part of my Mumbai to Tawang trip log. The post below is a detailed narration of our drive from Dirang to Mandala Top and Guwahati. After spending memorable 2 days in Tawang, we first drove from Tawang to Dirang, spent a day there exploring Sangti Valley, and then drove back to Guwahati. To read about the previous part of the journey, please click on the links below.
Journey So Far:
The eighth day of our trip was supposed to be a boring and uneventful one. We were all a little sad about the trip coming to an end and this was just going to be a drive back home. Contrary to our thoughts, this day, in the end, turned out to be the most eventful and worrying one.
Dirang to Guwahati
We were supposed to cover a long distance – from Dirang to Guwahati. So, we got ready by 8 am. I took some random snaps before the start from the rooftop of Hotel Snow Lion.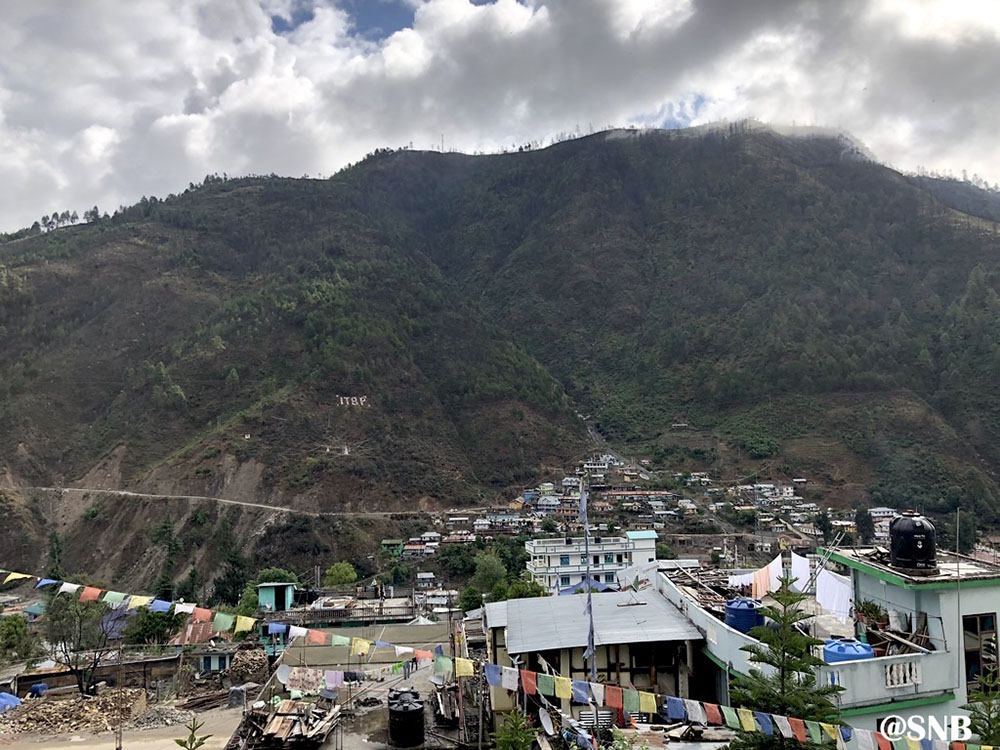 While planning for the trip, I read in a travelogue that there is a road from Dirang by which it is possible to reach directly to Rupa-Kalaktang-Balemu highway bypassing Bomdila. It meets the highway near Shergaon. I searched in Google Map and Google Map showed the direction. So we decided to take that route though we had no other information about this road.
Dirang to Mandala Top
After driving a few kilometers towards Bomdila from Dirang, we found the intended right turn. There we took a brief stop to pick up a few bottles of water.
In the shop, the shop owner asked where we were going and we told him our plan. Knowing that we are driving the car ourselves he advised us not to take the road because there is no support system along that road and if some problem happens to the vehicle, we would not get any help.
We did not pay any attention to his advice and stuck to our plan. Now we realized that we should have listened to him. We got stuck in a precarious situation and somehow managed to come out of that soup with the help of a few unknown helpful strangers.
After the right turn, the uphill drive started. From the milestones, we came to know we were heading towards Mandala Pass. We came to know about that Pass for the first time. Later, from Google, I came to know that this Pass and surrounding area is famous for bird watching.
The approximate distance of the Pass from where we took the right turn is about 20 km, though I cannot say it with complete certainty because I did not take any noting.
The road was narrow. But the surface was good. There was hardly any other vehicle plying on the road. We did not cross more than 2-3 vehicles coming from the opposite direction till we reached Mandala Pass. So, the drive was peaceful. Those vehicles were local passenger vehicles.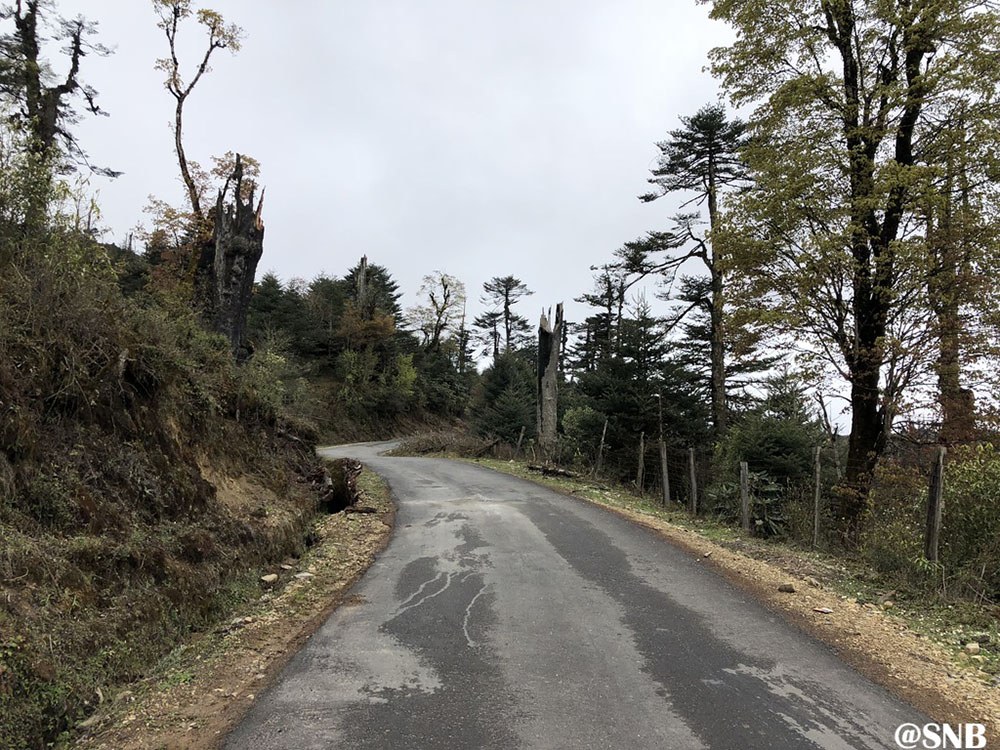 We were gaining height swiftly. The type of vegetation along the road was also changing rapidly.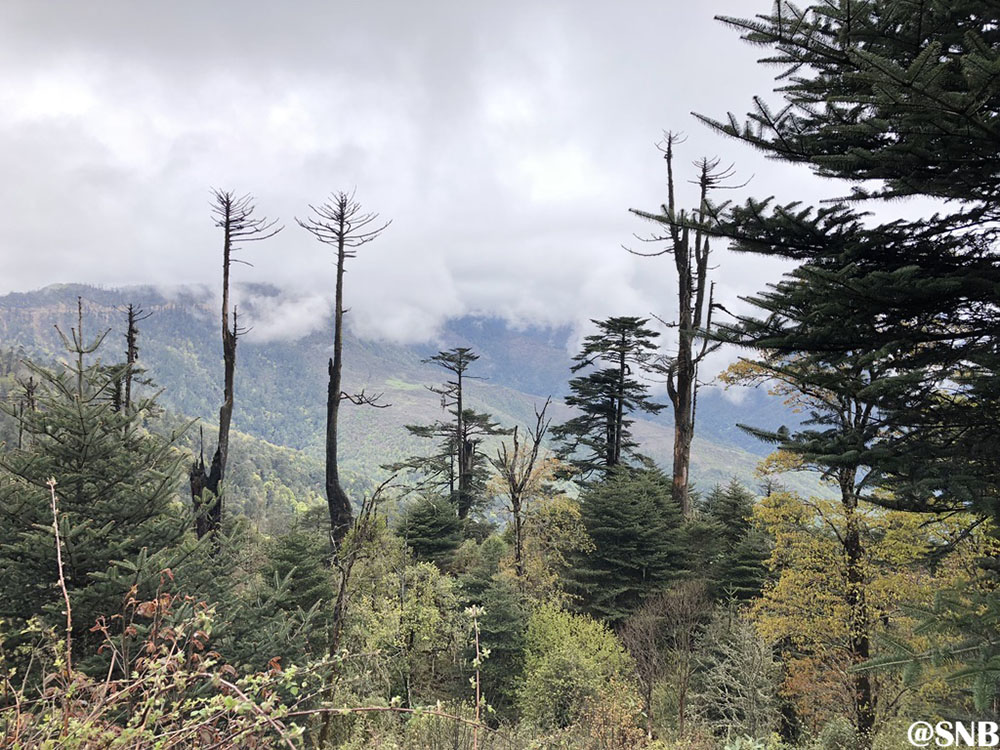 Mandala Top
After a 60-75 minutes drive, we reached the roof of the hill. We understood that we have reached Mandala Pass. We decided to take a break. Though as per the milestones, we were still almost a km away from Pass.
Till that time, we did not find any habitation or shop along the road. At a couple of places, there were few hutments at the side of the road but it seemed that nobody had been living there for some time.
 We stayed there for around 15 minutes. We did not see anyone.
After moving a few hundred meters ahead, we came to a fork and Google Map advised us to take the left prong though the right prong was looking like the main road. The road condition worsened significantly after we took the turn. The road became narrower and it was not a proper 'pucca' road. At some place, water was flowing over the road.
At some places, there was quite a deep slush. The road was through decently thick woods. We realized that we took more risk than what was called for. We also realized that the vehicles, which we crossed while coming to Mandala Pass, had come from the other prong.
This road does not belong to normal routes and vehicles rarely ply on this road. We just kept on following Google Map.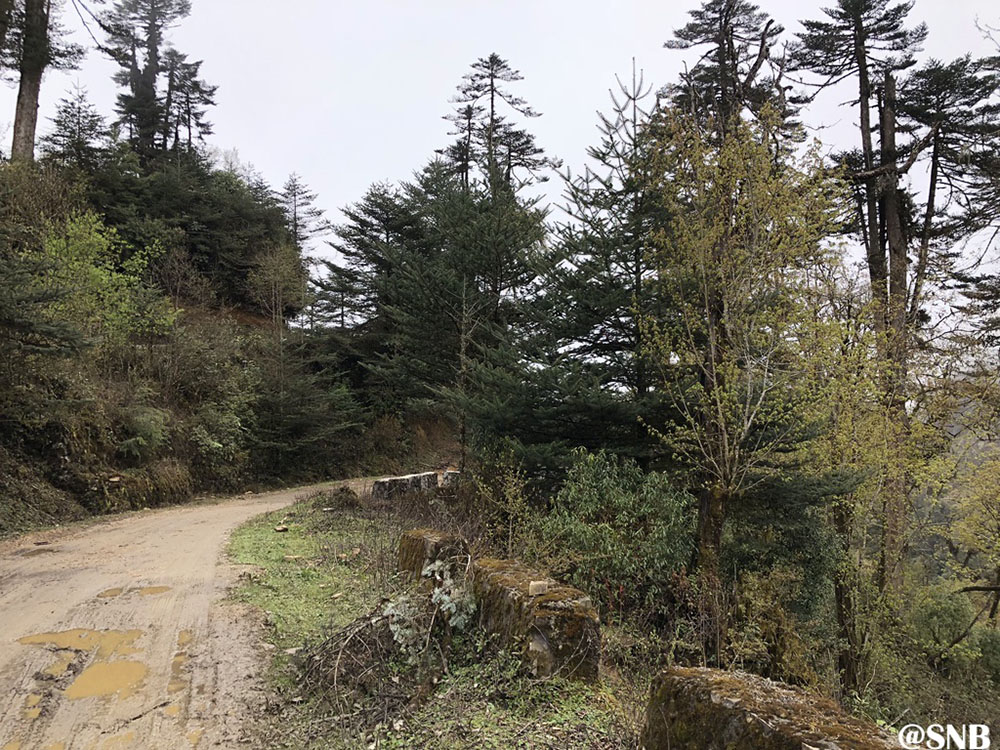 The Monastery
 After some time, we saw a Monastery from a distance.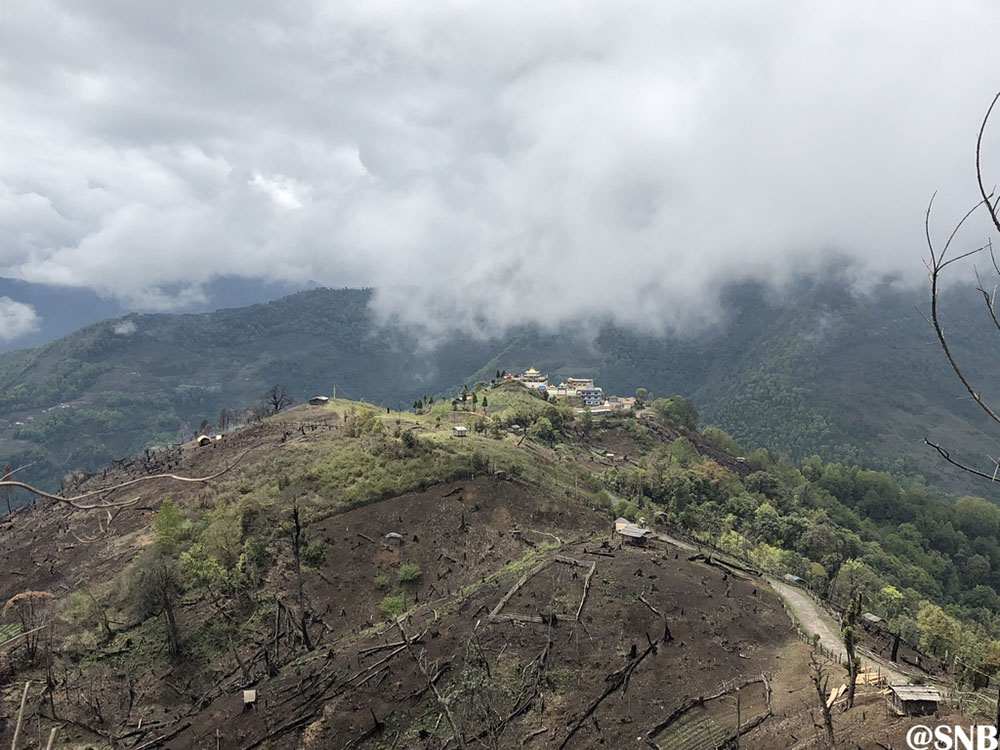 The road led to the Monastery. After reaching the monastery, we did not see anyone nearby. So, we got down there just for taking some photos and then continued.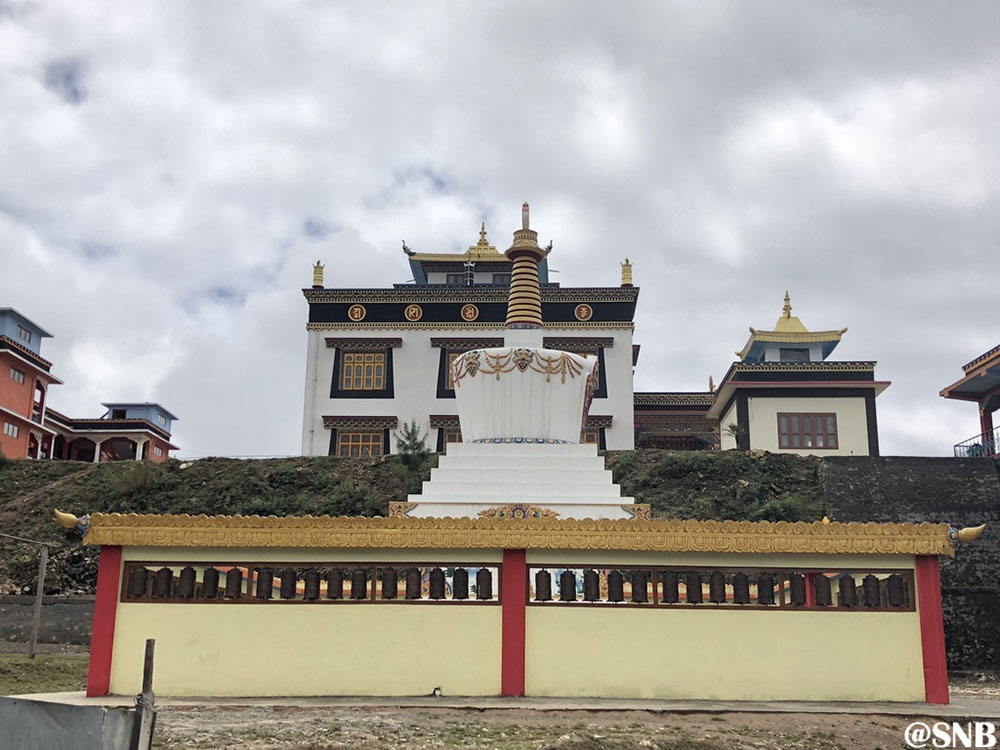 The road condition remained the same.
The First Sign of Trouble
After some time, we encountered the first problem of the day with our Innova. It appeared that there is some issue with the clutch and Innova was not picking up speed. So, we were forced to take a break for 10-15 minutes to let the car cool down. We had no idea exactly where were we were.
Vegetation at both sides of the road was quite thick. It was almost 11 am. Since we started quite early, we could not have proper breakfast. Everyone was feeling hungry. The situation was becoming worrisome.
After some time, we came to a road, which we found much better in condition. However, we could not utilize the road condition because we were driving in 2nd gear. Though Innova was started behaving properly by that time, we did not want to take any risk. We did realize that if the car broke down there, we would not get any help.
Finally, we got our meal around 12 noon, a few kilometers before touching the Rupa-Kalaktang-Balemu highway. We heartily had spicy Thukpa and tea there. When you are hungry, you will find the taste of food good invariably. So did we. We started from there after taking a break of around 45 minutes.
 Flat Tire
After some time, we touched Rupa-Klakatang-Balemu highway near Shergaon and took a right turn towards Balemu. By that time, we were a bit relaxed. We had driven on this road only a few days back.
There was relatively higher vehicular movement on the road. We were just 90 minutes -2 hours away from the plains. And then the front wheel of the right side gave up.
Though I go for long drives regularly, I did not develop worthy expertise in changing car tires. On top of that, I had never driven an Innova earlier. We were in a bit of trouble. At that time, a gentleman named Mr. Sang Chwang Khirmey, along with his wife and two kids, was crossing that place in his car.
He got down from his car to help us out. Practically, he replaced the punctured tire with the spare one with our limited assistance. I would like to profusely thank Mr. Khirmey for his kind help on that day. Mr. Khirmey is a government employee and stays at Rupa.
Flat Tire, Again
We wasted around 45 minutes in this episode. After moving ahead a few kilometers, we found a tire repairing shop. We went there to repair the damaged tire. The mechanic said that the punctured tire is beyond repair.
So, we had to move on without any spare tire. I was desperately hoping that Innova would not give any further trouble at least till we get down from the hills. But that was not the case to be.
When we were around 12-13 km away from Balemu, the front left wheel-tire also gave up and as told above, we did not have any spare.
There was no locality nearby. We were amidst hills and thick woods. It was around 4-4.30 pm then. Shadows of the hills have started growing taller and started enveloping the surroundings. There was no mobile connectivity.
Stranger to Rescue
At that point in time, like an Angel, a biker appeared. He was also going downhill. Hearing our plight, he offered to be a pillion rider so as to get a mechanic/alternate vehicle from the plains.
His name was Sunil (sorry I did not ask for his surname). He was from Bengaluru and came for a bike expedition. I am not sure whether he is a member of this forum but I would like to use this opportunity to convey my sincere thanks to him. Without his help, we could not have managed to get out of that soup.
We came down to Balemu hoping that we would get some Tata Sumo or similar type of vehicle there. The idea was to park our Innova at the side of the road and to inform the rental agency as and when we get mobile connectivity while going to Guwahati by the to-be-found vehicle.
But nothing was available at Balemu. People advised us to go to Bhairabkunda. We went to Bhairabkunda which was another 10-12 km away from Balemu. In between, we tried our luck at an army camp, at some houses with a parked vehicle but nothing clicked.
While Balemu is in Arunachal Pradesh, Bhairabkunda is in Assam. Basically, this area is a meeting point of the borders of Assam, Arunachal Pradesh, and Bhutan. Few people asked us whether we were coming from Bhutan.
The Desperation
When we went to Bhaiabkunda market, no Sumo or similar type of vehicle was available. All vehicles there were essentially passenger vehicles and were plying on designated local routes. Nobody could tell when those vehicles will be back at the market, leave aside whether they would agree to go to Guwahati.
By that time almost one hour has passed since I left our vehicle and other members. It was getting darker. I was not being able to speak with them, as there was no mobile connectivity at the place where our vehicle was stuck.
Neither I could speak to the rental agency as Balemu and Bhairabkunda too were outside of the coverage of any network other than BSNL. It was a hopeless and frustrating situation. Sunil was also getting late. But he decided not to leave me until and unless some solution got worked out.
We realized that instead of searching for a vehicle for Guwahati, we should first ensure bringing down the other members and luggage so that all of us could be together. We saw a Tata Magic standing there. The driver was a young lad. We told him our problem. He agreed to come along with me. Sunil resumed his journey.
After getting into the vehicle, I became a bit skeptical about whether all of us will fit in this vehicle. The driver assured me. Anyway, I had no other choice at that point in time.
The Magic of Tata Magic
Tata Magic had its own limitation. It was not equipped for a steep climb. So, we had to stop a couple of times to let the engine cool off. Finally, when I reached the place where the Innova was parked. It was almost dark. Everyone was inside the Innova keeping the door locked and the parking light on.
After seeing me, the way they celebrated that was not less joyous than the celebration of the French football team after winning the FIFA World cup. When chips are down then only we realize how much family members care for each other.
The driver of the Tata Magic advised us not to leave the Innova there. That place was completely forlorn and it would not be safe to leave Innova there. He told that somehow, we had to get the car to some shop/house. Since we did not have any spare tires, we interchanged the front and rear tires using the torch of our mobile phones.
It was decided that I would slowly drive the Innova till we reach a suitable place to park it. My Brother-in-Law will be along with me. The Tata Magic would come behind the Innova with the other six members and the entire luggage.
We found a small shop when we had more or less reached Balemu. We requested the shopkeeper for permission to leave the Innova in front of his shop. He agreed. So, we left the Innova there. I do not know how eight people and entire luggage did fit in a Tata Magic. But Tata Magic did magic literally.
Drive Back to Guwahati
We reached Bhairabkunda market around 8 pm. Barring a few, all others shops had closed for the day. There was no streetlight in the market. It was absolutely dark. We started searching for a bigger vehicle frantically.
Finally, after half an hour's effort, we managed to get a Winger. The owner cum driver was ready to go to Guwahati for Rs. 6000/-. We immediately hired it without any bargain.
The mobile network became become available sometime after leaving Bhairabkunda. I called the car rental company and informed them about the problem. We called up our relatives at Kolkata too.
On the way, we had our dinner at a Dhaba. At someplace on the highway, there was a huge traffic jam. So, the driver took a village road. When we reached Tranqville Guest House at Guwahati, it was another day.
Finally, the eventful but not so memorable day came to an end. We thanked our stars and slept off.
Train Back to Mumbai
Our return tickets were booked on Saraighat Express on 10th May. We kept 9th May as the buffer day.
In the morning, we went to Kamakhya Temple. It was fairly crowded. Parents managed to go inside the main temple on account of being senior citizens. The rest of us offered prayer to the Goddess from outside. I did take some photos of the temple but misplaced the same while transferring the photos from my mobile to my laptop.
The rest of the day was spent settling the matter with the car rental agency. So, we could not see anything else in Guwahati. I guess we were not that keen also. Nobody wants to have Dal-Roti after having Biriyani (no offense to the vegetarians).
Saraighat Express departed from Guwahati Station at right time on 10th May. Thus, our beautiful trip came to an end.
This is our first trip to North-East if we do not include Sikkim. Arunachal Pradesh has mesmerized us with its amazing beauty. So I hope, this is the beginning of the journey to explore the North-East more.
Awe Rides or Awful Rides?
We had a heated argument with a car rental agency. The car rental agency is 'Awe Rides'. Now, I jokingly call them 'Awful Rides'. When I searched in Google, I found three agencies in Guwahati (other than Zoom Car) which give cars on rent for self-driving.
As per customers' feedback, their ranking was the lowest. But I had to go with them because of the reason stated above. They also provide bikes for rent and it seems bike customers are happy.
It seems that they do not have their own fleet. They hire the same from private individuals and then in turn give it on rent to people like us. So, they were not ready to take responsibility for any safety-related issue. In my opinion, this is unacceptable.
We demanded a partial refund of the rent paid by us. But they refunded only the deposit amount. I guess, they also had to spend some amount from their pocket to get the car down from the hills.
They charged us Rs. 24500/- for 9 days. I guess Innova for self-driving would be available @ Rs. 2500/- day. So, they overcharged us Rs. 2000/-. I was aware of that from the beginning but had no other option. We booked the car at the last moment and only they were offering Innova. We had to take Innova because we were an 8-member team.
Our total fuel bill was ~ Rs. 8,300. So far, I can recall, we did not have to pay any toll anywhere.
Accommodation in Dirang
In Dirang, we stayed at Hotel Snow Lion (84149 95556). We took 2 triple rooms and 1 double room there. All the rooms were on the 1st floor and front-facing. They charged an overall amount of Rs. 8,800 on a room-only basis.
There, the room rate varies as per floor and facing. The food there is a bit expensive. It seems that they encourage having food at the hotel.
Since Dirang does not have many hotels, it is better to go there with pre-booking. There is Hotel Pemaling (82589 19962). I first tried this hotel over the phone but the room was not available.
It is just before the entry of Dirang almost a km away from the main market center at the Bomdial side. Since it is not in the market and on the highway, in my opinion, it offers the best view among all Dirang Hotels provided you get value facing room.
There is hotel Samdup Khang. This is just beside Hotel Snow Lion. It does not offer any view it seems. Since I did not try there, I do not have their phone number.
The most expensive hotel at Dirang is Hotel Norphel Retreat. At the time of our travel, they were charging Rs. 4000 per double bedroom. It is on the opposite of the Dirang river on the elevated river bed.
Since it is very near to the Dirang River and has a lot of open land surrounding it, it definitely offers a pleasant staying experience. But it is a little away from the Dirang market. It would be really difficult to access the market from there in the dark.
I also noticed Hotel Diarng Resort: [email protected]; [email protected].
While traveling in Sangti valley, I saw a board of a homestay 'Lanjom Homestay' (82588 27576/ 094362 25154)
Dirang to Mandala Top & Guwahati – Conclusion
I hope the travelogue, pictures, and information on the drive from Dirang to Mandala Top and Guwahati were of help. If you have any questions, please feel free to ask in the comments section below or at our Community Forum, and I will be happy to answer. You can also follow me on Instagram and chat with me live there or subscribe to my YouTube channel and ask a question there.