After planning for a Mumbai to Tawang road trip for several years, we finally managed to do it this year in early May. In this travelogue, I would like to share my experience of the trip. Since I did not take notes during the trip, there may be some errors in the distance, timing mentioned in this travelogue. I hope members won't mind that.
The team consisted of eight members – three members from Mumbai (me, my wife, and daughter), one member from Delhi (my sister-in-law from Delhi), and four members from Kolkata (my parents, my father-in-law, and my brother-in-law).
My parents are above 70 and my father-in-Law is above 60. Though I have read at many places that it is a bit risky to take senior citizens to a high-altitude place like Tawang. But fortunately, they did not face any difficulty during the trip.
A few years back, I took my parents to Spiti, and there also they did not face any problem. So Spiti trip experience gave me the confidence to take them to Tawang also. In this post and the subsequent posts, I will give day-to-day updates of our Mumbai to Tawang Road Trip.
Mumbai to Tawang Road Trip
Typically, for a trip of this nature, I do proper planning and book everything well before the trip. But his time, other than booking air tickets of Mumbai-Kolkata-Guwahati and return ticket from Guwahati to Kolkata to Mumbai (combination of Rail and Air) and arranging ILP, I could not do anything upfront.
So even seven days before our Mumbai to Tawang road trip, the exact route to be taken, places to stay and see, vehicle and hotels were uncertain.
Our scheduled start day from Guwahati was 28th April and the return date from Guwahati was 7th May. The initial itinerary prepared by me was as follows:
Guwahati to Tejpur/Bhalukpong – Day 1
Tejpur/Bhalukpong to Bomdila – Day 2
Bomdila to Tawang – Day 3
Obtaining necessary permission for Bumla pass and Tawang local sightseeing – Day 4
Tawang to Bum La Pass, Pengateng Tso Lake (PT Tso Lake) and Shonga-tser Lake (Madhuri Lake) – Day 5
Day trip to Lumla and Zemithang from Tawang – Day 6
Tawang to Dirang – Day 7
Dirang to Guwahati – Day 8
Local sightseeing at Guwahati – Day 9
Commencement of return journey – Day 10
Inner Line Permit for Tawang
We got our ILP from Kolkata. A couple of months before the trip, I was in Kolkata. During that time, I went to Arunachal Bhavan in Salt Lake. They gave a form. The form was pretty simple. After submitting the form along with photos and identity documents, I came back to Mumbai.
I gave the receipt of submission of the form to my brother-in-law and he collected the ILP after a couple of weeks. If I am not wrong, it cost Rs. 10/- per person. It was a pretty simple, inexpensive, and efficient process.
Best time to Visit Tawang
One of my cousins stays at Itanagar. When he came to know about the trip plan, he advised to change it and to undertake the trip latest by mid-April because rain starts by May in Arunachal Pradesh. But by the time the tickets have been booked so date change was not possible.
It was also not possible otherwise because the summer vacation of my daughter was scheduled to start from 28th April. So, we stuck to our original travel dates for Mumbai to Tawang road trip. During the trip, my cousin's prediction proved true. We encountered moderate to severe rain during the trip.
The sky was always cloudy. We rarely got sunny days. So, the dream of clicking ice-clad picks and blue water lake on sunny days remains unfulfilled. But the brighter side is we experienced abundant snowfall at Sela Pass and Bumla. And for the people from the plains, experiencing snowfall is second to none.
Tempo Traveler
Initially, it was planned that we would take two Sumo/Innova from Guwahati for the entire trip. For the Bumla day trip from Tawang, we would take local vehicles because the local taxi union does not allow outside vehicles to go to Bumla. Over a while, the plan of taking two Sumo/Innova from Guwahati changed to taking one Tempo Traveller from Guwahati.
I discussed this matter with my cousin who stays at Itanagar and he told me that he would arrange the tempo traveler.
But it took quite a long time to arrange the tempo traveler. It got finalized only 15 days before the trip and the charge was Rs. 50000/-, all-inclusive, for the entire trip, from Guwahati to Guwahati. I was fine with that.
But when that fellow that the entire amount has to be given him in advance through net banking, I became a bit hesitant. After giving him the entire money, if I cannot trace him at Guwahati Airport, that would be a huge problem. And my cousin stays at Itanagar and therefore, he cannot be of any help in that eventuality.
Taxi for Tawang Trip
So, I started looking for alternate options over the net and came across three companies (not zoom car) that offer self-driven vehicles on rent and immediately contacted them. My requirement was an Innova because eight people with luggage will not fit in a Scorpio and Ertiga.
But it proved to be difficult to get an Innova on such short notice. Finally, one of the agencies, which ranks at the bottom as per customer review, offered an Innova. Their charge was Rs. 25000/- for 9 days.
I knew that they were charging more than the market rate, which is Rs. 2500 per day, but I did not have any option other than taking Innova from them despite the higher charge and pathetic reputation. So I confirmed my booking with them.
They told me that the car will be delivered to a place within 2 kms from the airport so we can straightway head to our destination from Guwahati airport.
Just two days before the commencement of our Mumbai to Tawang road trip, the car agency informed us that they could not deliver the vehicle to the airport. We will be required to pick up the Innova from the city office which is good ~ 25 km away from the airport. So, it would take precious 2-3 hours of the morning.
Route Planning
As the tour plan took the shape of traveling through a self-driven vehicle, we started looking at the routes in more detail. And then I came across an alternate route to Bomdila from Guwahati via Kalaktang.
As per a few trip reports available on the internet, the road condition is very good in most of the parts of the Kalaktang road and there will be very little traffic. Guwahati to Bomdila is very much possible in a day.
So, we decided to take this route. Further, I read from the Internet that the road condition of the Bhalukpong-Bomdila stretch of the traditional route is very pathetic. That also prompted me to try this newfound route.
However, there was a word of caution about the Kalaktang route. This route is primarily used by the army. Very few local vehicles and tourist vehicles ply on this route. No support system in form of food stalls, a car mechanic is available along this route. We understood the ramification of the same a very hard way while returning along the same route.
Since we were saving one day in this new route, the itinerary changed a bit and the new itinerary was as follows:
Guwahati to Bomdila – Day 1
Bomdila to Tawang – Day 2
Obtaining necessary permission for Bumla pass and Tawang local sightseeing – Day 3
Tawang to Bum La Pass, Pengateng Tso Lake (PT Tso Lake) and Sangetsar Lake (Madhuri Lake) – Day 4
Day trip to Lumla and Zemithang from Tawang – Day 5
Tawang to Dirang – Day 6
Dirang Local Sightseeing – Day 7
Dirang to Guwahati – Day 8
Local sightseeing at Guwahati – Day 9
Commencement of return journey – Day 10
Accommodation & Packing
While booking the self-driven vehicle, I came to know that these vehicles do not have overhead carriers because that is not permitted. That gave me another headache about how to fit the luggage.
So, we decided to carry clothes and foodstuff in Rucksacks and Kitbags and not to carry any hard body Suitcase because it is easy to fit Rucksacks and Kitbags because of the flexible shape.
After finalizing the vehicle and the route, I started the process of booking accommodation only 7 days before the commencement of the trip. Then I realized that it is high season and no rooms were available in the hotels (which are listed on the internet) at Bomdila and Tawang.
At Dirang, rooms were available at the hotel 'Snow Lion' so booked that immediately because Dirang has few staying options. For Bomdila and Tawang, I started hoping that since those two places have plenty of hotels, we would get something after reaching there. For Guwahati, we booked Tranqville Guesthouse.
All of us were very excited about the trip to Tawang and Bumla. At the same time, there were few apprehensions in my mind on account of the decision of self-driving on a route where few have gone by driving themselves (compared to Ladakh, Spiti, or elsewhere), accommodation not confirmed, the chance of rain, etc.
But then "Sochna Keya, Jo Bhi Hoga Dekha Jayega" spirit prevailed and the trip took off. On the 27th evening, we started for Mumbai airport from Goregaon for catching the 11.10 pm Go Air flight to Kolkata.
Mumbai to Tawang Road Trip Cost
Before I provide a detailed narration of our journey, below are some facts and numbers after the trip ended.
The car rental agency charged us Rs. 24500/- for 9 days. I guess Innova for self-driving would be available @ Rs. 2500/- day. So, they overcharged us Rs. 2000/-. I was aware of that from the beginning but had no other option.
We booked the car at the last moment and only they were offering Innova. We had to take Innova because we were an 8-member team. Our total fuel bill was ~ Rs. 8,300. So far, I can recall, we did not have to pay any toll anywhere.
For Tawang to Bumla and Sangetsar Lake, the local driver charged Rs. 5000/- all-inclusive though we finally could not go to Sangetsar Lake. Had we booked for Sangetsar Lake only, it would have cost us Rs. 3,000/-. PT Taso Lake is on the way and therefore automatically gets included in the package.
Hotels & Contact Info
Bomdila
I did not take any noting. Since Bomdila has many hotels, you can go there without any pre-booking
Tawang
We stayed first 2 days at Hotel Menda-La Fooding & Lodging (82579 61910). We took 2 triple bedrooms and 1 double bedroom. For the triple bedrooms, they charged Rs. 1,700/- per day and for the double bedroom they charged Rs. 1,500/- per day. The food there is a bit expensive.
We stayed at Hotel White House (84020 41966) for the next 2 days. We took 4 double bedrooms there for two days. For each double bedroom, they charge Rs. 1,500/- day including breakfast. In breakfast, they offer limited items but it was useful and effective. The lunch/Dinner rate is quite reasonable, Rs.80/- per Thali.
Among both the hotels, I prefer the White House because of the view it offers and the quality of the room. In addition, it is easily accessible from the Highway and a bit outside the market and therefore, relatively peaceful.
Since Tawang has a number of hotels, you can go there without any pre-booking. There are multiple eating options in Tawang Market.
Dirang
In Dirang, we stayed at Hotel Snow Lion (84149 95556). We took 2 triple rooms and 1 double room there. All the rooms were on the 1st floor and front-facing. They charged an overall amount of Rs. 8,800 on a room-only basis. There, the room rate varies as per floor and facing. The food there is a bit expensive. It seems that they encourage having food at the hotel.
Since Dirang does not have many hotels, it is better to go there with pre-booking.
There is Hotel Pemaling (82589 19962). I first tried this hotel over the phone but the room was not available. It is just before the entry of Dirang almost a km away from the main market center at the Bomdial side. Since it is not in the market and on the highway, in my opinion, it offers the best view among all Dirang Hotels provided you get value facing room.
There is hotel Samdup Khang. This is just beside Hotel Snow Lion. It does not offer any view it seems. Since I did not try there, I do not have their phone number.
The most expensive hotel at Dirang is Hotel Norphel Retreat. At the time of our travel, they were charging Rs. 4000 per double bedroom. It is on the opposite of the Dirang river on the elevated river bed.
Since it is very near to the Dirang River and has a lot of open land surrounding it, it definitely offers a pleasant staying experience. But it is a little away from the Dirang market and it would be really difficult to access the market from there in the dark.
While roaming in Dirang, I noticed Hotel Diarng Resort: [email protected]; [email protected].
Sangti Valley
While traveling in Sangti valley, I saw a board of a homestay 'Lanjom Homestay' (82588 27576/ 094362 25154)
Day 1: Mumbai to Kolkata to Bomdila
Our flight from Mumbai was delayed by ~ 1hrs. But that did not become an issue because the connecting flight from Kolkata to Guwahati was at 5.20 am. It was an Indigo flight.
Kolkata
By the time we landed at Kolkata airport, Sister-in-Law had already reached there from Delhi, and Parents and In-Laws also were at the airport. So, we spent a few hours at Kolkata airport by chitchatting and having some early morning snacks. I was a bit worried about the sleepless night because a long drive was waiting for the day but did not have any option.
The flight took off on time from Kolkata. It reached Guwahati 15-20 minutes before the scheduled time. It was a sunny morning at Guwahati.
Guwahati
We took two cabs to reach the office of the car rental company. First, we tried Ola/Uber and then finally opted for a normal taxi. In the process, we lost almost 30 minutes. Then it took around 45 minutes to reach their office.
Since it was Saturday, their office was not fully operational. There was only one fellow for completing the paper works and delivering the car. When we reached there, he was busy delivering a bike to an adventurist who was heading for a bike tour of Mizoram.
After that process got over, then he took our papers, security deposit and gave the key to the Innova. The car was quite old and already covered ~ 78000 km. It did not have any GPS, charging point, and the music system was not fully functioning. But as we were running late, we did not have the time to get into an argument on these matters.
Because of the paucity of time, we also could not check the overall condition of the vehicle properly for which we faced trouble later.
Somehow, we managed to fit all living and non-living objects participating in the trip in Innova and finally started from Guwahati around 9.30 am.
Balemu
From the car rental office, we drove back towards the airport and from the mid-way took the right turn to cross the mighty Brahmaputra via Saraighat Bridge. Initially, we had plans to take some photos of might Brahmaputra but abandoned that pal because we were running late.
After crossing the Brahmaputra, the road was good. It was a two-lane highway and the surface was smooth. Though the road condition was good, I was driving at a speed slower than 80 kms/hr because it was a new vehicle to me and I was trying to get a hang of it. This was the first time I was driving an Innova.
We did not have anything since morning and therefore started feeling hungry and started looking for a decent roadside food joint for having something. Finally, we found a decent food joint and had our brunch with Puri-Sabji.
The place was most probably Mangaldoi, though I am not quite sure. After this place, the road became a single lane so our speed came down. But the road condition was good. Our next stoppage was a petrol pump. Immediately after that Google Map advised us to leave NH and take a left turn. We obliged.
From there single-lane village road started. The road condition was good. So driving was not a hassle. Sometimes we were moving northward and sometimes eastward.
The road was through green agricultural land dotted by villages, markets, and schools. After 45-60 minutes, the landscape started changing. Rocky uneven surfaces started emerging and the Great Himalayas became visible.
We entered Arunachal Pradesh at a place called Balemu.
Arunachal Pradesh
Hill road started from Balemu. It is called Trans-Himalayan Highway. The condition of the road matched exactly to its description available on the Internet. The surface was good. The road was quite wide. Driving on this road was an absolute pleasure.
There was almost no traffic. There were absolutely no passenger vehicles plying on this road. On the entire journey along this route, we encountered very few vehicles and all those were army ones. We also crossed a couple of army convoys.
There was no locality in the vicinity of the road and there were no shops too. Around 1.30/2 pm we gave a stop for having some dry snacks which we were carrying.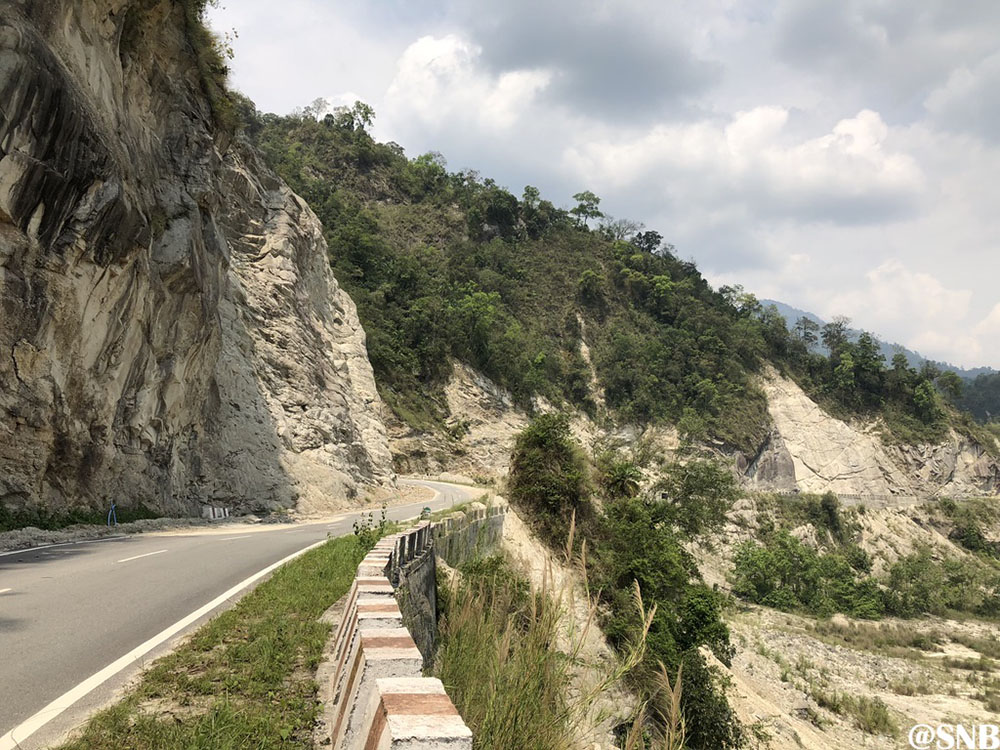 Kalaktang
After a 10-15 minutes' break, the wheels started to roll again. By that time clouds started ringing the closing bell for the bright sunny day experienced by us till that time. The surrounding started getting dark. We also started getting worried about whether we would be able to reach Bomdila before evening.
We finally managed a get a food stall after non-stop driving for 2 hours. By that time, we had crossed Kalaktang. In between, we encountered a few spells of drizzle. The Sun also came out a few times making the lush green of surroundings brighter.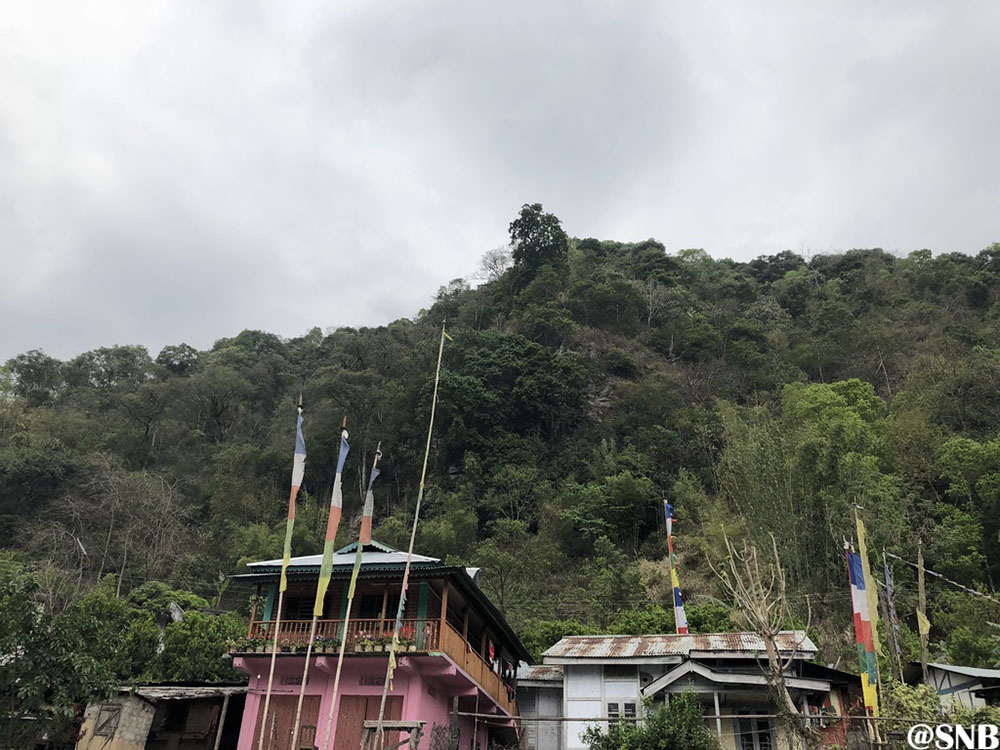 Only Thukpa was available in the food stall. So, we had that. For the next few days, Momo and Thukpa became our staple diet. In the stall, we asked local people about how long it would take to reach Bomdila.
They said that the road was in good condition and we would be able to reach Bomdila in 2 hours – one hour to Rupa from that place and another hour from Rupa to Bomdila. After finishing Thukpa followed by hot tea, we started driving towards Rupa.
Shergaon Valley
After a 15-20 minutes' drive, the road opened up to a beautiful valley. The road surface became smoother. The surroundings were lush green. The sun also came out. It was a mesmerizing experience. We were crossing the beautiful Shergaon valley.
Once we crossed the valley, again the narrow mountain road started with high peaks on one side and a deep gorge on the other side. Here the mountains were completely barren and the rocks were multi-colored.
A closer look at the rocks revealed that it was a landslide-prone area. So, we did not take the chance of stopping the vehicle there and took photographs from the moving vehicle.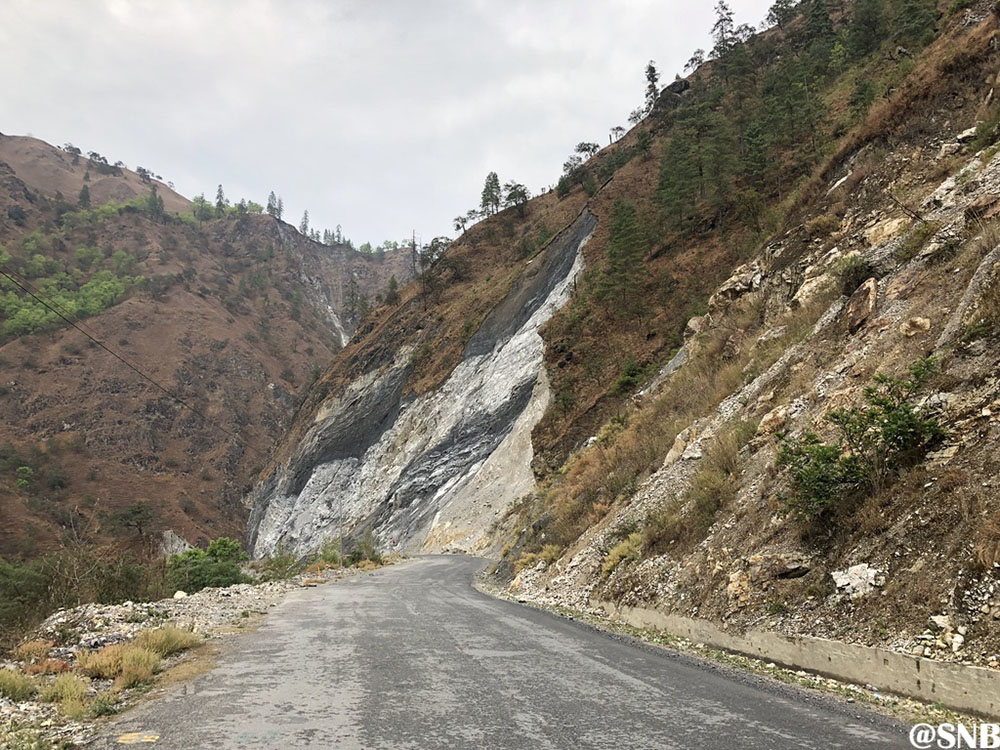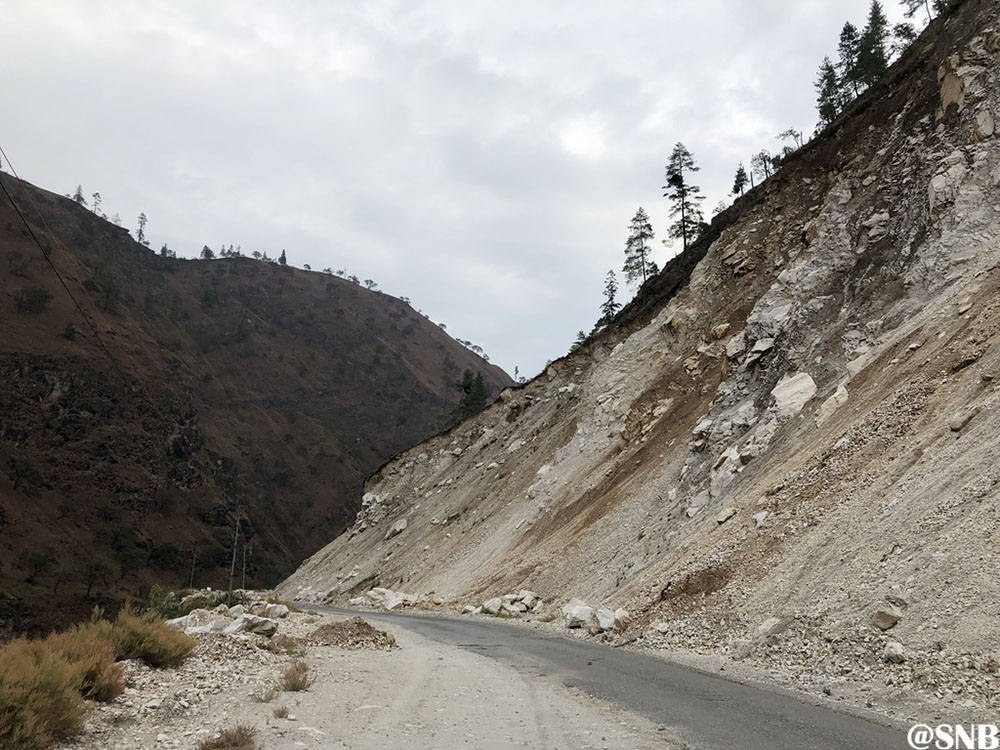 We were approaching Rupa. There was a diversion from the main road. In all probability, it was for Silipaung Monastery. But we did not take the detour and continued our progress toward Rupa along the main road. The objective was to reach Bomdila before evening especially given the fact that we had not booked our accommodation.
Rupa
When we are 3 /4 kms away from Rupa, we found a stoppage signal. There was a boom barrier blocking the road. An army personnel was sitting there. We got down from the car and enquired the army man whether we can move ahead. The reply was 'no'. So, we started wondering how we would reach Bomdila.
We started thinking about whether we should go back to take the diversion and reach Bomdila via the Silipaung Monastery route. In the meantime, we heard the army man was talking to someone over the phone and could make out from the conversation that an army convoy was approaching that stretch from Kalaktang's side.
Once the telephonic conversion got over, the boom barrier got lifted and we were allowed to move ahead. I guess that army allows civilians to cross this stretch along with army vehicles only because of slide prone nature of this area.
After some time, we reached Rupa and joined the Bhalukpong-Bomdila-Dirang-Tawang road, and took a left turn towards Bomdila. Immediately after taking the left turn, we crossed a small river and the welcome gate of Rupa.
Bomdila
The road started ascending after crossing the army cantonment at Rupa. We reached Bomdila around 6 pm.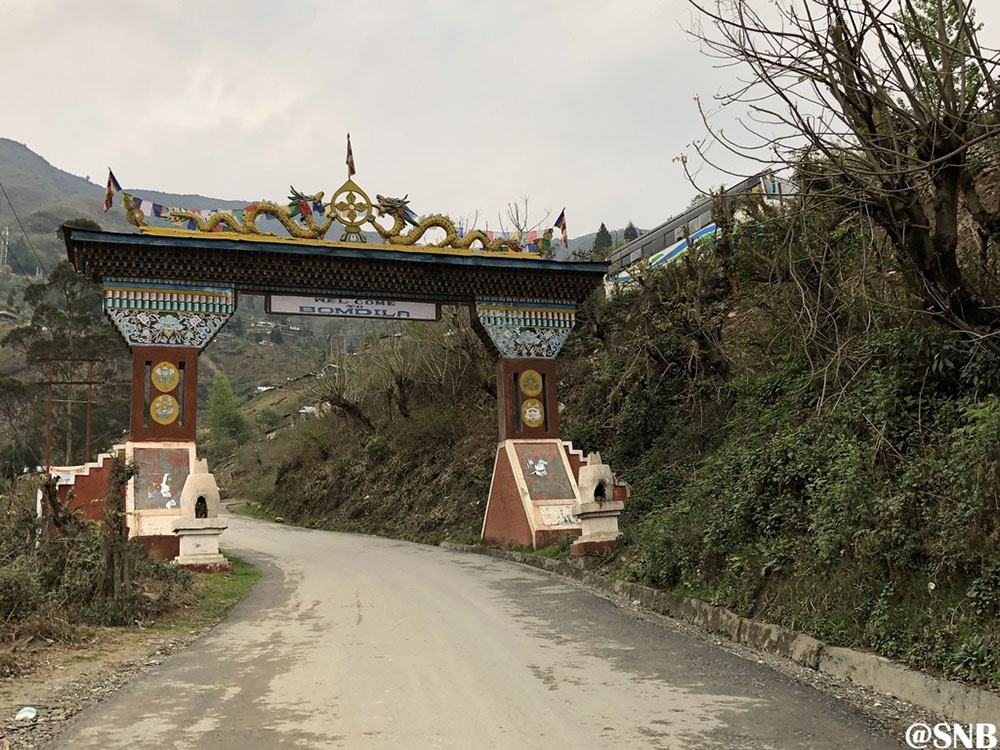 After checking a couple of hotels there, we finally got a hotel where rooms were available as well as a parking slot. We booked 4 rooms – 3 valley views and one road/hill view.
The temperature was ~ 8 degrees. We were shivering. But I guess that was not because of the absolute level of the temperature. That was the effect of a change of temperature from above 30 degrees to sub-10 degrees in just 8 hours.
Since it was a long day, we had an early dinner and retired. Please click on the link above to continue reading the next part of this travelogue.
Mumbai to Tawang Road Trip – Conclusion
I hope the travelogue, pictures, and information on Mumbai to Tawang road trip were of help. If you have any questions, please feel free to ask in the comments section below or at our Community Forum, and I will be happy to answer. You can also follow me on Instagram and chat with me live there or subscribe to my YouTube channel and ask a question there.