This article is in continuation to a previous one and a part of my Mumbai to Tawang trip log. The post below is a detailed narration of our drive from Tawang to Zemithang on the fifth day of the trip. To read about the previous part of the journey, please click on the links below.
Journey So Far:
There are two routes for Zemithang, one via Lumla and another via Sangetsar Lake.  We went via Lumla and did not face any problem. If you try to go via Sangetsar Lake, you may face some problems from the local vehicle drivers/owners.
Another option, which you may consider (on which we did not work thoroughly because of our foolishness) is to go to Zemithang via Lumla and come back via Sangetsar Lake, thus completing the full circuit either in a single day or with a night stay at Zemithang.
In this option, since you will be approaching Sangetsar Lake from Zemithang, there will be no one to object. But what I have heard is that the Zemithang – T-Gompa –  Sangetsar Lake stretch is very bad and army vehicles ply on that stretch very infrequently. Therefore, if there is any problem in your vehicle on that stretch, it would be difficult to get help.
Zemithang can be visited by non-Tawng vehicle. Theoretically, even Bumla can be accessed by own vehicle but local taxi unions do obstruct going to Bumla and Sangetsar Lake from Tawang using private vehicles.
Day 5 – Tawang to Zemithang
This day was allocated for Zemithang via Lumla. It was also an overcast morning.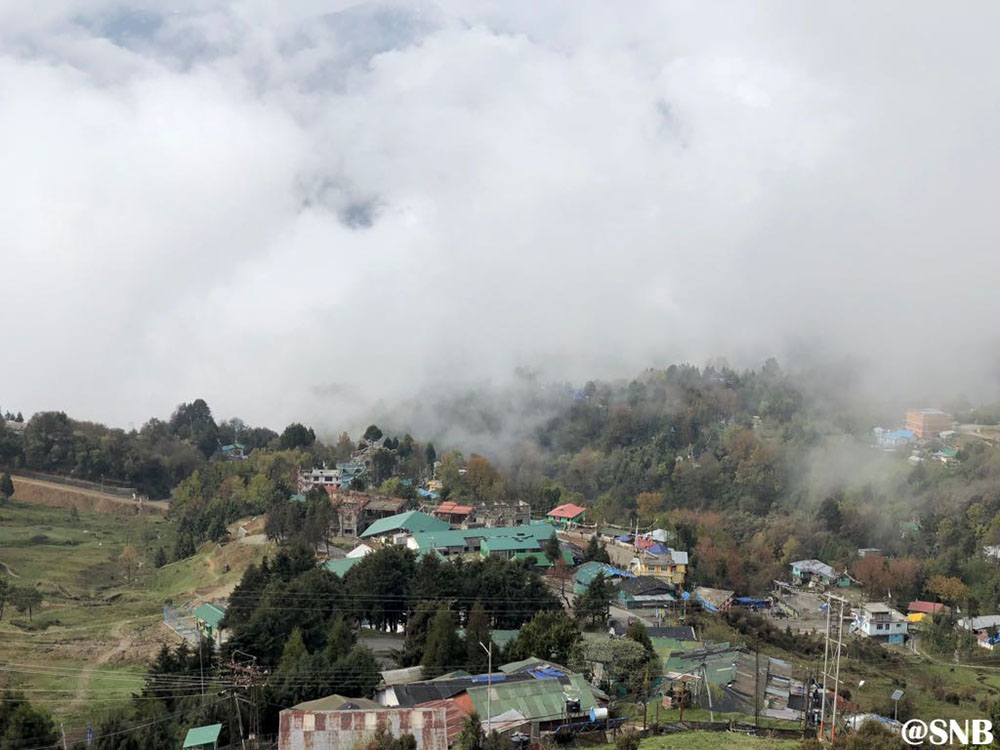 We started around 10 am but wasted more than half an hour in Tawang town itself searching for Petrol Pump.
To go to Zemithang from Tawang via Lumla, you have to backtrack around 5 km from Tawang towards Jung/Sela Pass along the National Highway and then you have to take a very sharp right turn for Zemithang. On the day of arrival at Tawang, we actually took this turn wrongly. So traveling by this road was in our destiny I guess.
It was a downhill drive from Tawang for the first 7-8 km. Then gradual ascent started. The road condition was varying from good to average to bad and then again in the reverse order. Topography was distinctly different from that of the Bumla's side. It was lush green all around with occasional streams flowing down from the hills.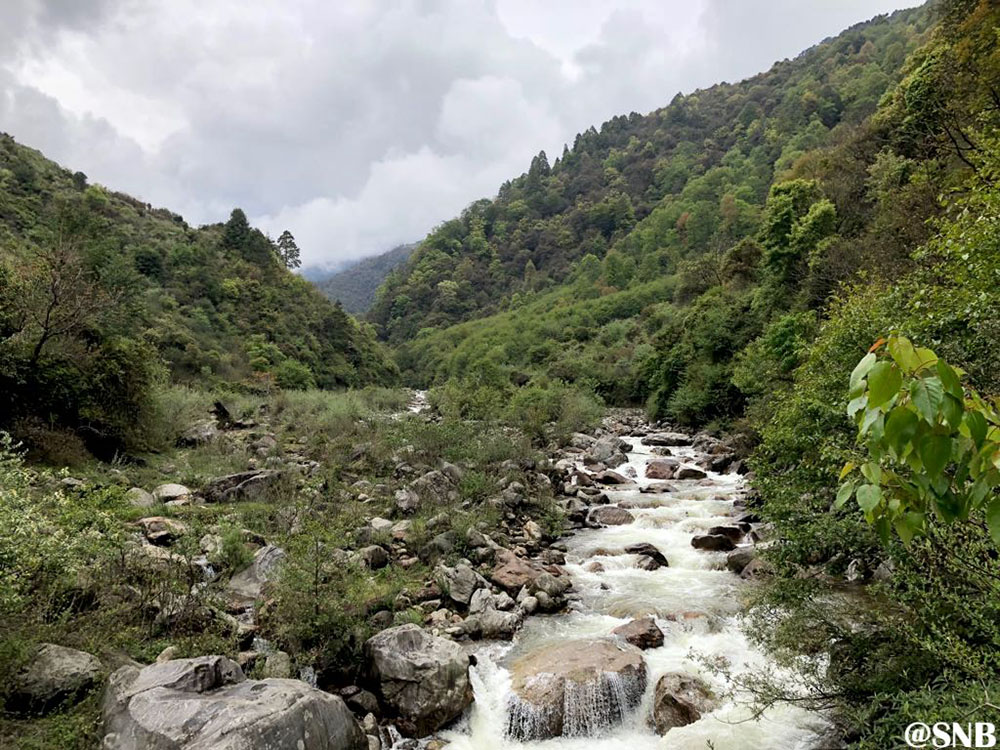 Lumla
After driving around 60 minutes, we crossed the welcome gate of Lumla. But it took another 30 minutes to reach Lumla market. On the way, we had crossed several villages along the road.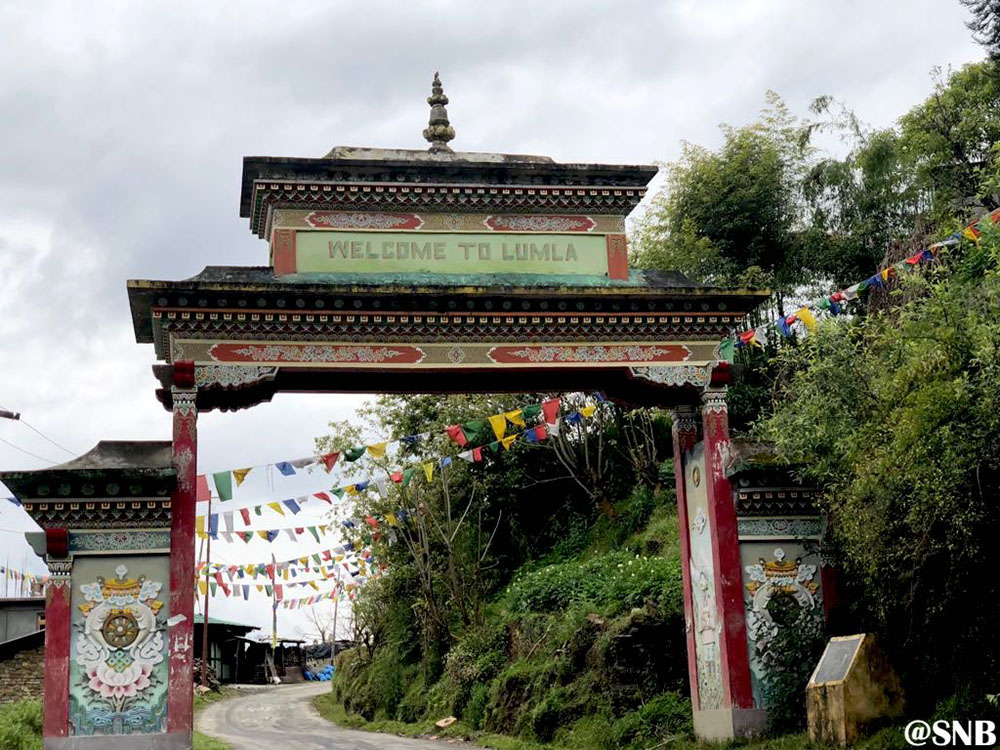 From Lumla, the road bifurcates. The right one goes to Zemithang. The left one goes to the Indo-Bhutan border. What I read is that the road on the Indian side is ready but it is more or less non-existent on the Bhutan side.
The Bhutan Government, for whatever reason, is not developing the road on their side. If developed, it can be an alternate route to Tawang bypassing the mighty Sela.
We took a longish break there to have our lunch. After lunch, we started from Lumla market around 1 pm. Lumla is at a height. So downhill drive started. The road condition worsened. It literally became a gravel road. At some places, water streams were flowing over the road causing very thick mud. So we had to drive cautiously.
BTK Waterfall
After some time, we came down at the level of Nyamjang Chu River, which originates from Zemithang valley. It was on our left-hand side. We took our next stop at BTK Waterfall.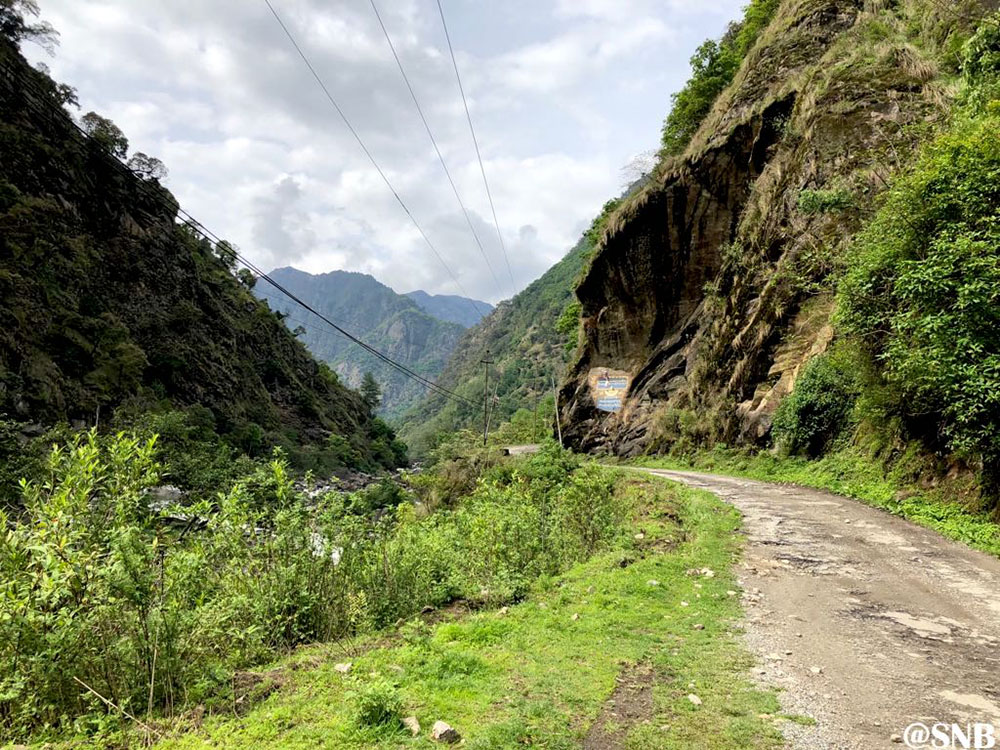 After a few kilometers from BTK Waterfall, we crossed the river and went to the other bank. As per the instructions, photography of the bridges is not allowed. So we took photos of downstream and upstream of the river near that bridge and moved on.
Gorsam Chorten
Our next stop was Gorsam Chorten. It is huge. When we reached there, there was no one. It is at a completely secluded place and I guess is a perfect place to offer prayer to the almighty.
There is a steep hill on one side of which acts as a backdrop. Nyamjang Chu river is flowing on the other side. The road passes through the narrow stretch between Gorsam Chorten and Nyamjang Chu River.
From Gorsam Chorten, an uphill drive started.
Zemithang
After around 10-15 minutes, we reached Zemithang. There was an army check post just before entering Zemithang. They enquired us whether we had a permit. We told them that we did not have a permit because as per our understanding it was not required.
They asked about our plan. We told them that we would spend some time in Zemithang and then would come back along the same route. They took our identity cards and let us go. I guess, they were apprehensive whether we would return via T Gompa, Sangetsar Lake, and Y-Junction.
Since it was late afternoon by that time, they took our identity cards just to ensure that we did not become too adventurous and returned to Tawang via Lumla only.
Zemithang is on the other bank of the river and we had to again cross the river using the bridge. Our initial idea was to roam around in Zemithang village for some time.
But it was well past 3 pm. So we got down immediately after crossing the bridge, spent 5-10 minutes there, and did not go inside the village. We took some photos and started the return drive.
In the future, whenever I come to Tawang, I will try to do this full circuit of Tawang-Lumla-Zemithang-T Gompa-Sangetsar Lake-Y Junction-Tawang possibly with a night halt at Zemithang.
Tawang
We reached Lumla around 5.30 pm. All of us were feeling hungry. We went to a shop and ordered for Momo and Thukpa. It was not ready. They took some time to prepare the same. By the time we started, it was past 6 pm and completely dark. The good thing was it was not raining and there was almost no vehicle on the road.
We finally reached Tawang around 8 pm after cautious driving. Since we were scheduled to start our return journey the next day, we quickly finished our packing and retired for the day.
Tawang to Zemithang Permits
Pass is required only for Bumla. No pass is required for Sangetsar Lake or Zemithang. However, when we are going to Zemithang, at a check post just before Zemithang, army personnel kept my identity cards.
In all probability, they did it to ensure we come back to Tawang via Lumla only and do not try T Gompa – Sangetsar Lake – Y Junction route because it was 3 pm already. While returning, they gave back my identity cards.
As per as I know, Bumla is open every day. But you have to obtain a permit from the DC office at Tawang. So you should not reach Tawang on Friday & Saturday because the DC office will remain closed on next day and one day may be wasted.
Even if you can cover Sangetsar and Bumla in a day, you may consider going to Zemithang via Lumla. The visit is worth it. The next day we started our drive back to Dirang while covering attractions like Khinmey Monastery, Jaswant Garh War Memorial, and Nuranang waterfall on the way. Please click on the link above to continue reading the next part of the travelogue.
Tawang to Zemithang – Conclusion
I hope the travelogue, pictures, and information on Tawang to Zemithang road trip were of help. If you have any questions, please feel free to ask in the comments section below or at our Community Forum, and I will be happy to answer. You can also follow me on Instagram and chat with me live there or subscribe to my YouTube channel and ask a question there.