This article is in continuation to a previous one and a part of my Mumbai to Tawang trip log. The post below is a detailed narration of our second day of the trip when we drove from Bomdila to Tawang via Sela Pass. To read about the previous part of the journey, please click on the link below.
Since it was a long day yesterday, we had an early dinner and retired. The temperature was ~ 8 degrees and we were all shivering. But I guess that was not because of the absolute level of the temperature. That was the effect of a change of temperature from above 30 degrees to sub-10 degrees in just 8 hours.
After a sound sleep, I was the first one to get up.  The Sun rises early in this part of the country. By nature, I am an early riser so got up around 5 am. The sky was overcast.
Day 2 – Bomdila to Tawang
It was a long drive yesterday. The morning was pretty cold. There were few senior citizens in the group. So, we could not start before 9.30 am.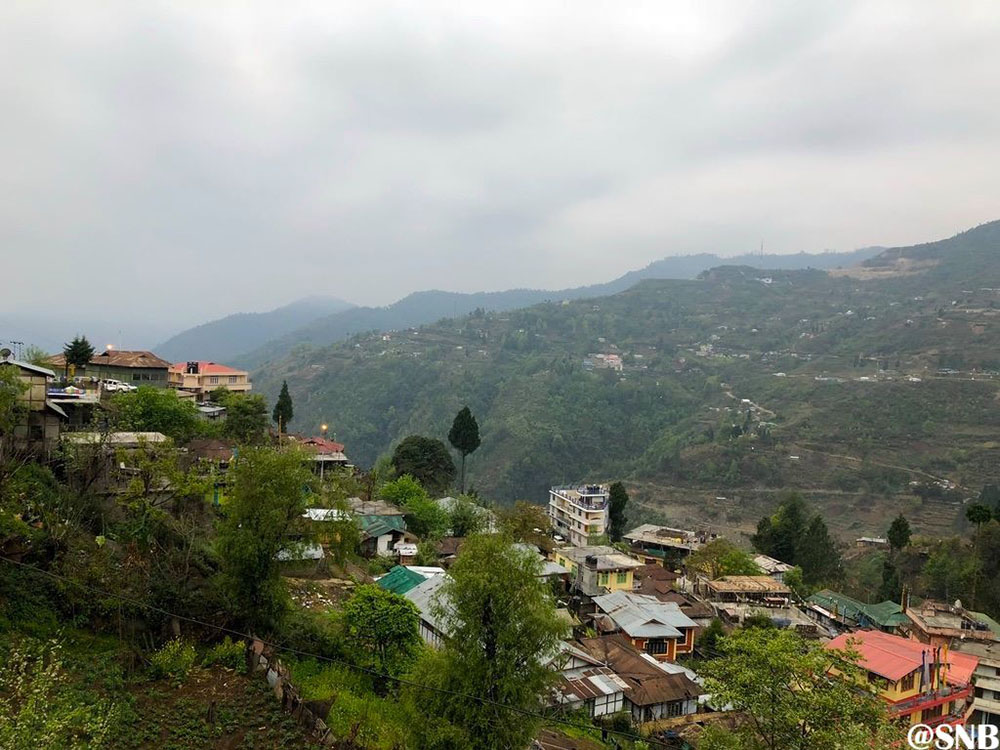 We had our breakfast at the hotel where we did a night stay. It was part of the package. They charged us Rs. 1500/- per double bedroom. It had good facilities. Unfortunately, I do not recall the name of the Hotel now.
Bomdila Monastery
Our first destination for the day was Bomdila Monastery. You need to take a left turn from the market and drive uphill to reach there. Though the road goes up to Bomdila Monastery, the last 500 meters were blocked for road repairing. So, we parked our Innova and covered the rest of the distance by walking.
The monastery is truly magnificent.
We spent around 45 minutes there and then started our journey towards Dirang. The final destination for the day was Tawang. The moment we started the car, the rain started.
At Bomdila Monastery, we met a group who returned from Tawang to Bomdila the previous day. They said that they got heavy snowfall at Sela Pass yesterday and Sela Pass was full of ice.
Bomdila to Dirang
Dirang is at a lower elevation compared to Bomdila. So, the road was downhill. The condition of the road was good. It was a comfortable drive. There is a fuel pump just before entering Dirang. We got our tank filled up there. Surprisingly, they accepted a credit card. We reached Dirang around 11.30 am.
Dirang is the only place where we pre-booked our accommodation at a hotel named Snow Lion. The booking was for the return leg. We were supposed to pay some advance. So, we stopped there to pay that advance.
We enquired there whether we can get something for lunch. They said that there was no arrangement for lunch. They recommended a place called 'Padma Dhaba' around 10 km from Dirang towards Sela Pass for lunch.
From the hotel Snow Lion, the Dirang market starts. There are several shops in the market for clothes, medicines, mobile accessories, foodstuffs, and liquor. We stopped at one of the liquor shops to pick up some stuff. The price quoted made me grin. An Old Monk 750 ml bottle costs Rs. 140.
Dirang market is on a junction. Bomdila-Dirang-Tawang road has been perpendicularly cut by another road, which in one direction goes uphill to Dirang Monastery and in the opposite direction, goes downhill towards Dirang valley and the river.
After the market, the army camp area starts. In this route, we saw innumerable army camps. That might be because this area is one of the highly sensitive areas along the entire India-China Border.
Padma Dhaba
After some time, we reached Padma Dhaba. On the way, we have crossed the river and came to the other Bank. The Dhaba is on the bank of the river, on the narrow stretch of land between the road and the river.
It is a simple, neat, and clean facility for food. It also provides a toilet facility which is of immense help for people making a long drive. The same owner also runs a small cigarette shop alongside the Dhaba.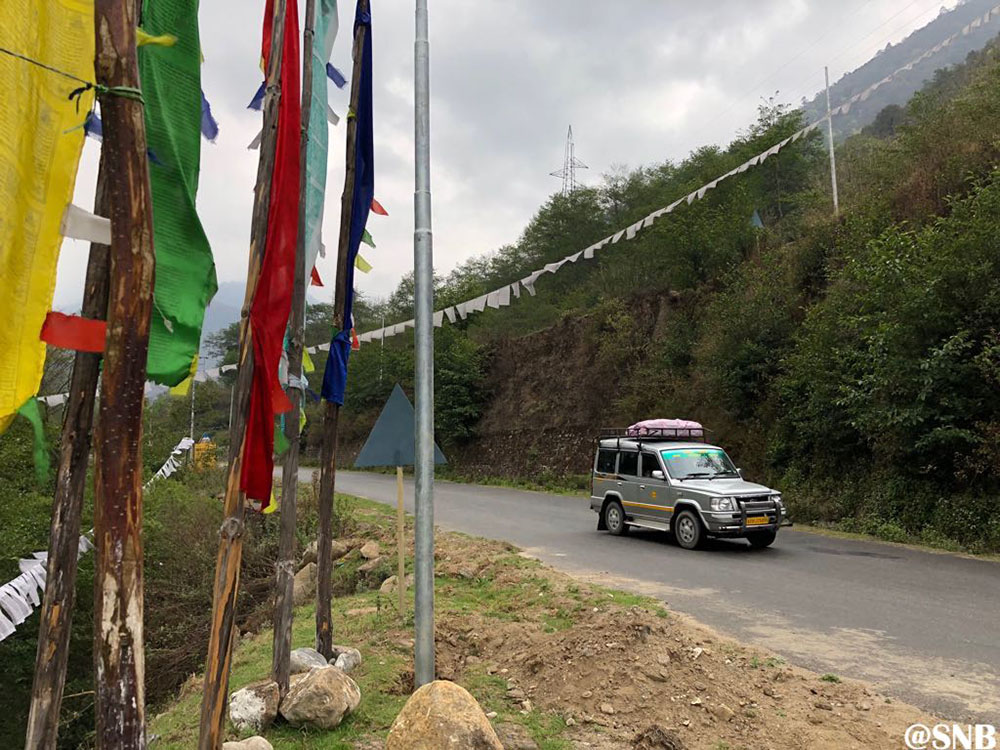 The food was good. They charged Rs. 80/- for Vegetarian Thali. For non-vegetarian Thali, the rate was Rs. 140/-. I guess. On inquiry, I came to know that their cook is Bengali. In all probability, that's why the taste of the food was compatible with our taste buds.
During this entire trip, I found many Bengali-speaking people at Dirang and Tawang. They migrated primarily from Assam and ran small stationery shops, food stalls, Pan-Bidi shops, etc.
In Padma Dhaba, we met with a family returning on that day from Tawang. Their destination for the day was Dirang. They informed us that Tawang is fairly crowded and advised us to check Hotel Menda-La and Hotel White House for accommodation.
Another important piece of advice they gave to me was to start as early as possible for Bumla from Tawang. Though the local drivers take full charge for Bumla Pass and Shangetsar Lake (Madhuri Lake) trip from Tawang, they deliberately start late.  In most cases, tourists like us had to skip Shangetsar Lake (Madhuri Lake) because the army did not allow them to venture to that side in the late afternoon. They also confirmed that yes, it was snowing at Sela.
Dirang to Sela Pass
We started from Padma Dhaba around 1 pm. We noticed a few other eating places after Padma Dhaba and drove for 45 minutes – 1hour without any hassle. Both the sides of the road were completely green.
The ascent was gradual without many loops. The condition of the road was generally good and it was decently wide. There were a few muddy patches where the driving was a bit difficult but on an overall basis, it was a gentle and pleasant drive.
Thereafter, the steep ascent for Sela Pass commenced and so did the rains. What made driving more difficult are the innumerable number of loops. The intensity of rains was increasing in proportion to the height we were gaining.
The visibility was decreasing in inverse proportion. Managing the sharp curves with a steep incline in heavy rain and very poor visibility was too challenging.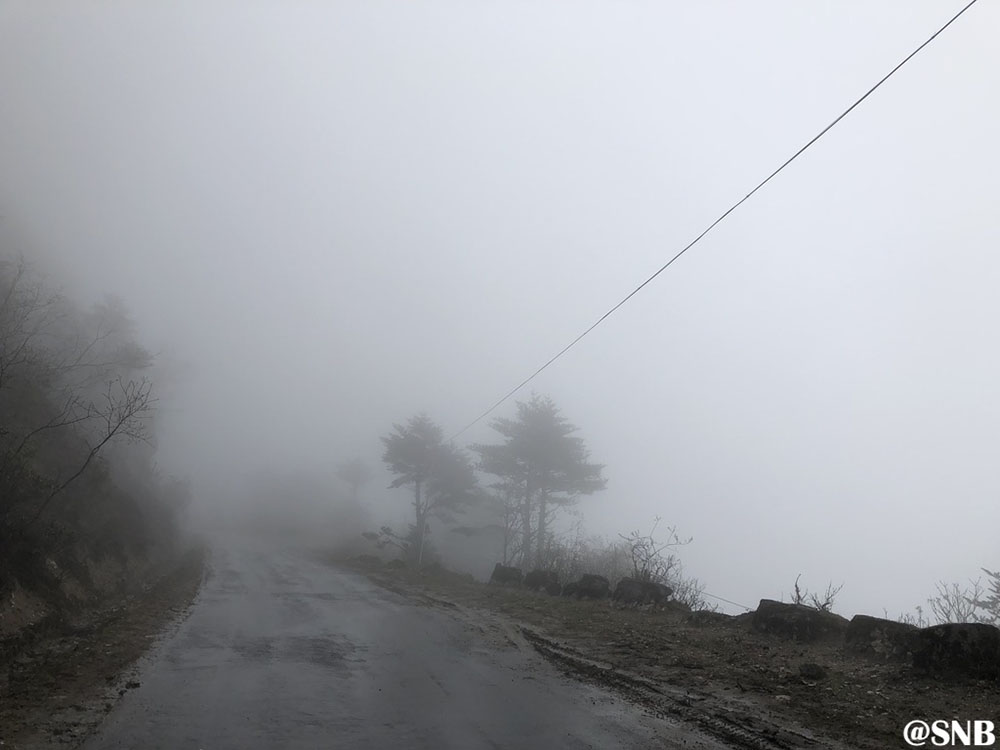 Earlier, I drove at Kinnaur, Spiti, Kumaon, and Ghats of Western and Southern India. But drive to Sela Pass was of a different class. It is because of prolonged steep ascent, unending loops, strong wind, heavy rainfall/snowfall, and low visibility. Though I am not sure whether the weather we faced during our trip is a permanent feature of the Sela Pass.
The Innova was primarily on 1st gear and occasionally on 2nd gear. The headlights were on. The Horn did not get any respite. We finally reached Sela Pass around 3 pm.
Sela Pass
When we reached Sela Pass, there was another tram. They were returning from Tawang. They left after 5-10 minutes. The army canteen was closed. It typically closes by 2 pm. In all probability, there were few people inside the canteen. But no one was visible from outside.
So we were all alone at Sela Pass, completely cut off from the rest of the world. In whatever direction we looked, it was all white. It was snowing profusely. But we did not have any complaints about that. We were letting the feeling sink into us.
We spent around 10-15 minutes there. From the place of the Welcome Gate, Sela Lake was faintly visible. But we decided not to venture closer to the lake and kept it for the return leg.
The road condition became very poor immediately after Sela Pass. Stones of various sizes and shapes were scattered on the road surface we were navigating carefully through those stones. After some time, the surface itself disappeared. We were driving through thick slush of mud and had no idea about what was there beneath the mud.
This stretch continued for 2-3 kms, I guess. Then the road condition improved somewhat. Crossing this stretch with a Hatchback of Sedan will be a nightmarish effort.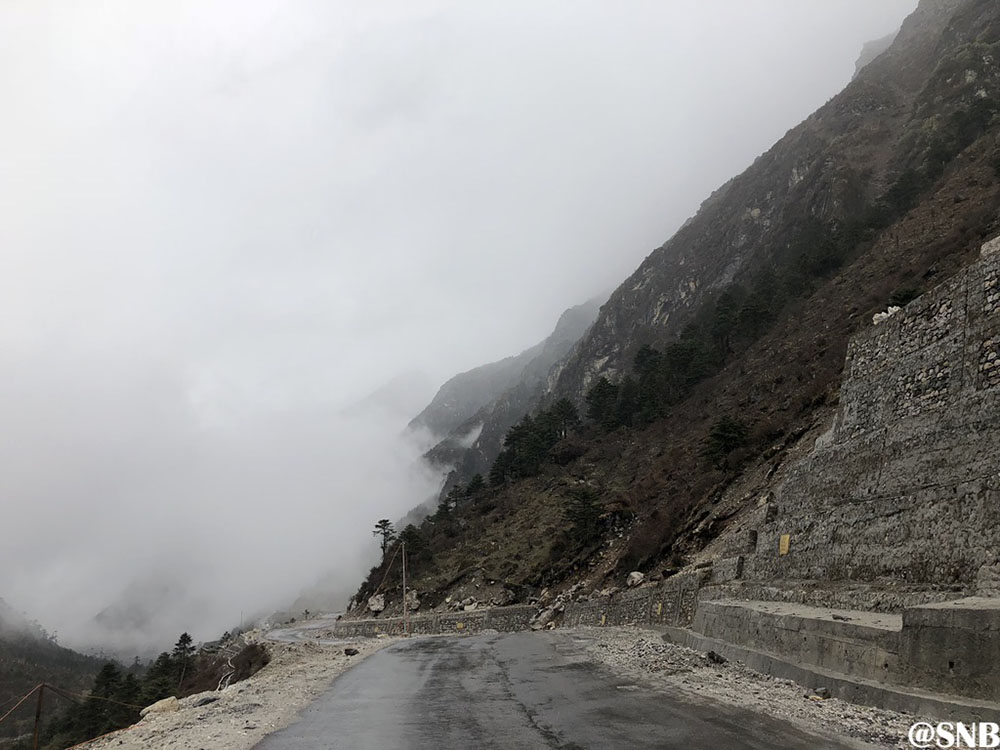 Sela Pass to Tawang
The road condition improved considerably when we reached Jung. By that time rain had also stopped. On the way, we have crossed Jaswant Garh War Memorial deciding to keep that for the return leg. We also skipped Nuranang Waterfall at Jung deciding to visit that on the return journey.
Nuranang Waterfall is not exactly on the main road. When coming back from Tawang, you have to cross a bridge just before entering Jung, and immediately after crossing the bridge, you have to take a left turn. Similarly, while coming from Sela Pass, if you have to take a right turn just before the bridge. I will post more about Nuranang Waterfall later.
The idea was to reach Tawang as early as possible because we had not booked our accommodation at Tawang and already got an understanding that Tawang was pretty filled up with tourists.
But we had to take a few unplanned stops at no man's land. Few team members were feeling uneasy and started vomiting. So we took a couple of breaks of 15 minutes each. It became dark before we reached Tawang.
But the road condition was good. It was decently wide with very little traffic. The rain had stopped because we have come down to lower heights. So we were navigating smoothly. After some time, the lights of Tawang town became visible. We were delighted.
Tawang
What I observed about Google Map is that it guides you through the entire journey very efficiently but always fumbles just when you are about to reach the destination. The same thing happened here.
When we were 5-7 kms away from Tawang, we encountered a fork and Google Map advised us to take left. So did we. Because it was dark, we couldn't see where that branch was leading to and where the other prong was. There were some shops there and we should have gone down and enquired with them. But Humans are supposed to commit mistakes.
After driving for 5-10 minutes, we realized that we were going downhill, we were moving away from the cluster of lights, the locality is getting thinner and the surroundings are becoming darker. We understood that we took a wrong turn. So, we backtracked and came back to the fork. The shopkeepers confirmed that we took the wrong prong and we took the right one.
Hotel Menda-La
We decided to give Hotel Menda-La the first shot. It was at the Northern end of the Tawang Market. When we reached there, it was around 8 pm. The shops in the market were shutting down. Fortunately, rooms were available there. We took 3 rooms on the 3rd floor – 2 triple rooms and 1 double room.
They charged Rs. 1400/- per night for the double room and Rs. 1700/- night for the triple room. The rooms were quite spacious and cozy. Room Heaters were available for an extra payment of Rs. 300/- per room heater. Breakfast was not covered in the room tariff. Overall, we were happy with what we got at that time of the day.
The only irritation was that rooms were available only for the first 2 days of our planned 4 days' stay at Tawang which meant that we had to find some other place for the 3rd and 4th days.
We ordered dinner there. We found the charges a bit expensive. But we were in no mood to venture out. It was cold, it was drizzling and we were damn tired. It was well past 9 pm so all the shops were expected to be shut.
Mentioned below are some other helpful details about a journey from Bomdila to Tawang. You can also skip it and click on the link above to continue reading the next part of this travelogue.
Bomdila to Tawang Distance in Kilometers
The total distance from Bomdila to Tawang is approximately 175 kilometers in total.
Bomdila to Tawang Distance in Road Condition
The road condition is smooth for the most part of the journey. The only bad part is after you cross Sela Pass. Other than that, you will be driving on a tarred road. It does get bad at a few places but only for short distances.
Bomdila to Tawang Bus Fare
Bomdila to Tawang bus fare is about Rs. 350 per person for an ordinary bus. The bus starts in the morning at 5 am and the journey takes about 10 to 11 hours to complete. The fare can go as high as Rs. 1000 per person if you opt for a private non-AC deluxe bus.
Bomdila to Tawang Sumo Fare
If you do not wish to travel by bus or the timing did not match with yours, the next best option is the shared cabs, which in all likelihood will be a Sumo. Bomdila to Tawang Sumo fare is Rs. 600 per person.
There are a few hotels in Dirang as well. So if you did not find a place to stay in Bomdila, you can check out the hotels in Dirang. A shared cab from Bomdila to Tawang will cost you about Rs. 150 per person. The fare from Dirang to Tawang is the same as from Bomdila, that is Rs. 600 per person.
Conclusion
I hope the travelogue, pictures, and information on Bomdila to Tawang road trip were of help. If you have any questions, please feel free to ask in the comments section below or at our Community Forum, and I will be happy to answer. You can also follow me on Instagram and chat with me live there or subscribe to my YouTube channel and ask a question there.