I actually ended up watching Bhram quite by chance. I opened Zee5 to watch the Aayushman Khurana starrer Dreamgirl and after watching that movie, I started to browse to see what else was available on Zee5. That is how I came across Bhram. Before this, I wasn't even aware that there was such a series available. The name, description, and poster looked interesting enough and after a bit of thought, I decided to give it a try. For the next few hours, I was glued to my TV, binge-watching episode after episode. By the time the series ended, I was very pleasantly surprised. I wouldn't say that the show just blew my mind away but it definitely exceeded my expectations by a huge margin and I will definitely recommend watching it. Below is a short Bhram Zee5 Series review detailing what I liked and didn't like about the show.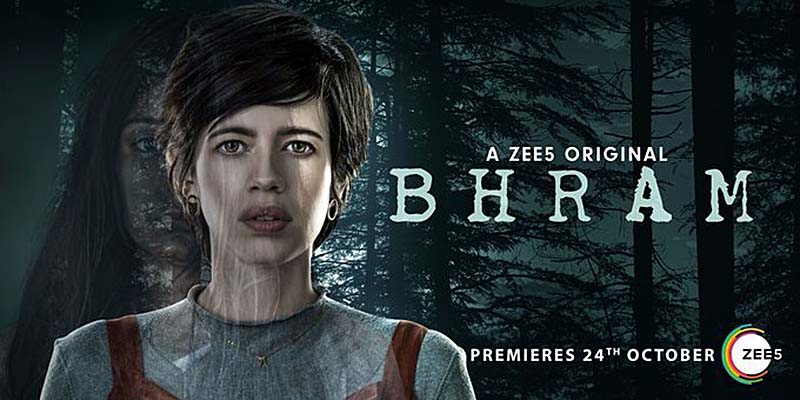 Bhram Zee5 Series
My experience with Zee5 before this show was not good at all. Even though I have their subscription, I rarely even open the website. The first movie that I ever watched on Zee5 was Posham Pa which was a complete disaster and a total embarrassment. The next movie I watched was Barot House which was just about OK but nothing impressive. Then I gave Rangbaaz a try and that turned out to be another average show. After this, I gave up on Zee5 entirely and actually even forgot that I had their annual subscription.
So why did I watch Bhram? There were three reasons behind it actually. It was a Sunday night and I had nothing better to do. The star cast of the show looked a little promising. The biggest reason, however, was that each episode was only some 20 odd minutes long. So at worst, I would have watched one episode and wasted 20 minutes. With this thought, I started watching Zee5 Bhram and did not stop until I finished it.
Bhram Zee5 Series Review
The show is promoted as a horror-thriller but it is actually more of a suspense thriller; a typical whodunnit show. There is an angle of supernatural to it but strictly limited to a few scenes only. There are no jump scares and ugly looking zombies involved. What you get instead is a murder mystery that holds until the very last episode; and the identity of the killer is revealed only in the last few minutes.
I would not say that the storyline is anything new. I do not want to go telling the story and the plot here because that will just become a spoiler. But the basic idea is what has already been done to death by Hollywood. We have our main lead who is going through some personal issues and trying to cope up with life. She moves to a new place for a change. There she starts seeing a dead girl's ghost who was killed several years ago but the killer has not yet been punished. Our protagonist then starts to investigate and finally ends up finding who the true killer was. Sounds familiar? Yes, it is the plot of the majority of Hollywood horror thrillers but can still be called something new in Bollywood.
Should you Watch It?
Is Bhram worth watching? It definitely is. Even though the story sounds a little too known, the entire build-up is really good. It manages to keep its viewer engrossed for its entire length of 8 episodes. The final twist does really come as a surprise.
The story is based on K Hari Kumar's book 'The Other Side of Her' and is both gripping and extremely interesting right from the start. It gives you a sense of chill and invokes your interest. At the same time, its makers never try to get too creative and stick with the basic storyline. The screenplay, cinematography, and direction are rightfully interlinked. The whole setting of the place as well is quite good. It successfully manages to create that spooky atmosphere. The background score and cinematography blends nicely with the mysterious air.
In terms of acting, Kalki Koechlin pretty much carries it on her shoulders alone. The series does have quite a good star cast like Bhumika Chawla, Sanjay Suri, and Eijaz Khan but they all fail to impress. Bhumika Chawla disappoints the greatest. Her dialogues sound like she is reading from a page. There was a bit of nudity and sex involved which just seems unnecessary and forced. The director could have easily done without it. The show shuffles between past and present and the storyline seems to get a little confusing in the first few episodes. Character building is almost next to none.
Conclusion
But despite its drawbacks, Bhram is a really interesting show that will not disappoint you at all. Give it a try over the weekend and you will not regret it. It is 8 episodes long and every episode is about 20 minutes so you can easily watch it on a Sunday night. If murder mysteries are your thing then you will totally love this one. If you were looking for a horror show that can make you jump out of your seat then give this one a pass. There is only one jump scare in the second episode and that is pretty much it. I hope the above Bhram Zee5 Series Review was of help. If you have seen the show, do let me know how you liked in the comments below.