Some time ago, I got a subscription for ZEE5. They had this offer running offering 50% off at the time of Independence day and were giving out their 1-year subscription for less than Rs. 500. Posham Pa was actually the movie that I wanted to watch on the recommendation of a friend, so I bought the subscription. As it turned out, it was a joke being played on me. Posham Pa is probably one of the worst movies ever made in the history of cinema and my friend recommended it to me as a prank. Nonetheless, I had the subscription so I decided to check out a few other shows. The name Rangbaaz caught my eye and I decided to give it a try.
This show was actually released in December 2018 so I was a bit late in watching it and definitely very late in posting this review. Before this show, I watched Posham Pa which was a complete disaster. Then I watched Barot House which was just about OK. So my expectations with ZEE5 were anyway very low but thankfully, Rangbaaz did not turn out to be as bad as I was dreading.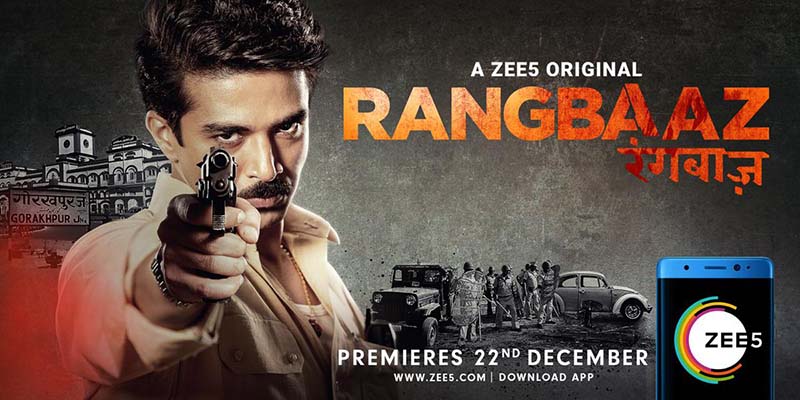 A common theme that I noticed on ZEE5 was that their movies and shows were 'based on actual events'. This is literally the case with Rangbaaz. It is based on the life of a gangster from Uttar Pradesh, 'Shri Prakash Shukla' whose name in the series has been changed to Shiv Prakash Shukla. The previous two shows that I mentioned, Posham Pa and Barot House too are based on real-life cases, though I actually could not find anything on the real story behind Barot House.
Rangbaaz Review
Coming to Rangbaaz, the show is a power-house in terms of performances. It's four lead characters, Saqib Saleem, Tigmanshu Dhulia, Ravi Kishan and Ranvir Shorey will really leave you impressed. The supporting cast too delivers great acting. Tigmanshu Dhulia outshines them all and the entire series has his name written all over it.
In terms of the story, there is nothing new really. We have all seen it numerous times and Bollywood has already done it to death. We have a simple mind small-town boy who ends up killing someone by mistake; and then slowly starts to climb the stairs of the underworld from there. He gets noticed by the local politician who starts to use him for his own personal gain. Then the gangster becomes too ambitious, starts making his own decision; and sets off a chain of events in motion that results in his death. Yes, we have all head this story many times before; but the fact that it is, in fact, a true one does make it a bit intriguing.
What worked & What Didn't
Overall, Rangabaaz is a decent enough show, good for a one-time watch. If you compare it to Mirzapur then you will definitely get disappointed. It has its own pros and cons; but is definitely not as huge as Mirzapur. It actually reminds of Arshad Warsi's Sehar as the story progresses (If you haven't yet seen it then you should watch it. It is a great movie). The use of derogatory remarks and cuss words have been kept at a lower side but still seems forced (and the smoking scenes as well). The direction is weak in some places mainly in terms of character building.
My biggest complaint with the show is that nothing big really happens. There is no logic or reason in what our lead character does and why. You wait and watch for something grand; and then suddenly you are in the last episode watching the police gunning down the gangster. I think it could have been better and more successful with some more fictional elements and a bit of a drama. They kept the story very to the point and it all seems over too soon. I know some people will call it good and it is just a matter of opinion; but I think the original storyline could have been changed and dramatized a bit more to make the show interesting.
Conclusion
In the end, Rangbaaz is overall a good attempt. It could have been better but I wouldn't really call it all that bad. The backdrop of eastern up is showcased very well. Casting, acting, location, cinematography are good. There is no sex, nudity, or excessive blood and gore. Just do not expect something like Sacred Games or Mirzapur and you will not be disappointed. Watch it over a weekend and you may actually like it.