Prashar Lake in my opinion is one of the hidden jewels of Himachal Pradesh. Why do I call it hidden? Because even though it lies on one of the most traveled upon tourist routes of our country, not many people care to venture in its direction. Delhi to Prashar Lake can easily be done in a single day and the distance even shortens if you are starting from a place like Chandigarh. Still, the number of tourists that visit here each year is probably not even 1% of the total tourist movement in this area. People are either just not familiar with the name; or the ones who are never really think of it as worth visiting. I have been traveling to Himalayas and blogging about it for several years now and even I did not go towards Prashar Lake until now.
For a bit of an introduction, Prashar Lake (also known as Parashar Lake) is a small lake about 50 kilometers from Mandi in Himachal Pradesh. It is considered sacred in reference to sage Prashar who is believed to have meditated here. There is a three storied pagoda like temple on its banks dedicated to the sage; which, as the legend goes, was built by a baby from a single tree. The lake has a floating Phumdi Island in it and it is said that the true depth of its waters is still unknown.
Also read: How to Plan a Trip to Prashar Lake
In order to reach the lake, you will have to take a diversion from the small town of Mandi; which is about 120 kilometers from Manali. This is the reason why I said that this lake is on one of the most traveled upon tourist routes of country. Hundreds of thousands travel to Manali each year, all year long, and cross Mandi. Only a handful however take the 50 kilometers long road that goes uphill all the way to Prashar Lake. Most just continue towards Manali unaware of the beautiful lake that lies on their way.
I remember the first picture I saw of Prashar Lake a couple of years ago. Someone mentioned the name to me and after Googling it, I saw the below picture on Wikipedia.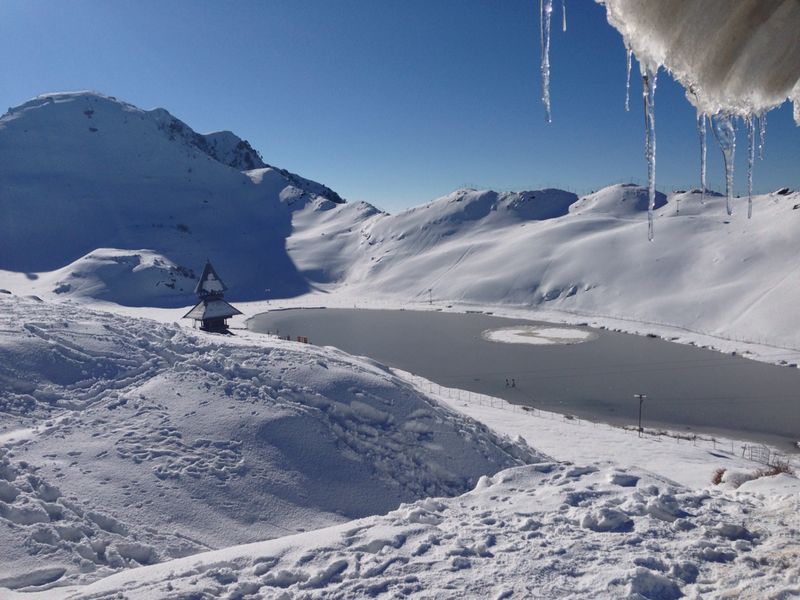 The moment I saw this, my immediate thought was that I want to be here in peak winter. The place just looks amazing covered completely in snow. A few other pictures I came across were of monsoon season; where the entire area around the lake was all lush green. Seeing those captures, my final decision was simple; I have to visit the lake either in peak winter or in Monsoon. Little did I know then that how hard it was going to be.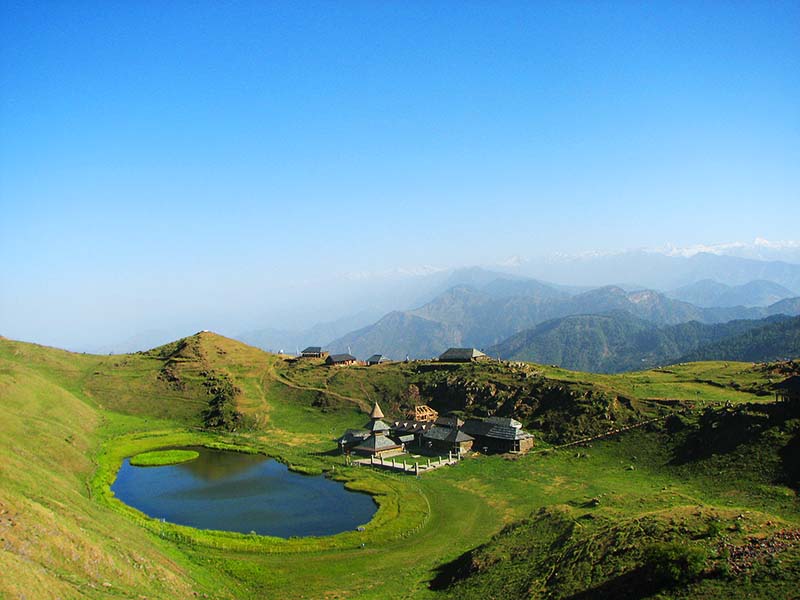 For the next 2 years, I made a plan several times but always for one reason or another; it kept on getting cancelled. When I really could have gone were not the months of winter or monsoon so I was not really too eager to go. Prashar Lake continued to remain on my "list of places to visit" for a long time until finally fortune favored and a plan materialized.
It was the winter of 2018 and much to everyone's surprise, it either did not snow anywhere in the Himalayas at all; or it was very less. Even Spiti valley that year received its first snowfall towards late February. Passes like Rohtang, Sach, Kunzum and Baralacha La that receive 20 to 30 feet of snow each year only got about 4 to 5 feet of snow in 2018. These weren't really good signs and just when I was beginning to think that Prashar Lake was not going to happen this year as well, there were news of snowfall all across the hills. Yes, Prashar Lake too received some amount of snow so a plan was immediately put in place.
A group of 3 was formed for the trip. Shoaib, Lavish and I have been on bike rides numerous times before and we were all aware of each other's capabilities of riding and traveling. Lavish as a matter of fact was on a trip to McLeodganj at that time whereas Shoaib and I were in Delhi. We called him and he agreed to meet us at Mandi which is about 5-6 hours from McLeodganj. For the three of us, our taste in terms of what to expect during a trip and what kind of places would we want to go to is quite same.
So one thing was for sure, this was going to be a fun trip with no one from the group cribbing or complaining about anything. Shoaib and I had not met Lavish in a while since he moved out of Delhi so this was also kind of a get together as well. More like a reunion thing for three old friends.
So final plan was something like this. Shoaib and I were to travel from Delhi and rendezvous with Lavish at Mandi. From there, we would travel to the lake together, stay there for the night and day after; and return back on the third day. I initially thought to make this a bike trip but then decided to bring my Thar along.
A contact of mine in Manali told me that even though there is some snow at the lake, it is not really that much and the road is open all the way till the top. Now this was a bit of both good and bad news. Bad because snow all around was our expectation from the trip but it was not going to be fulfilled. Good because it meant that we can now drive up all the way to the top and will not have to trek; something we did not really even have time for.
Delayed Start
I am not really sure if it is just with me or everyone but I have never been able to leave for a trip at the decided time ever. Always for one reason or another I will get delayed and start a couple of hours late. Same thing happened on this trip as well. Delhi to Prashar Lake is a 500 kilometers long journey so the idea was to start early.
Apart from the long journey, another reason was that we were not sure how far we will be able to drive up. There was some snow at the lake for sure so it meant that the road could be blocked as well. If that happened, then we may also have to walk a little so it was important that we reached there well in time. I wanted to start by 3 AM from my house but by the time we did leave, it was slightly past 5 AM.
Also read: How to Plan a Trip to Chandratal Lake
I called Lavish before leaving and told him to reach Mandi and ask around. If the road until Prashar was blocked then he was to meet us at Baggi and we will trek to the lake the next day after staying for the night at any of the villages en route. If the road was open completely, then he will continue all the way up and look for accommodation at the lake. This way, at least one of us was reaching the destination well in time for no surprises.
Delhi to Chandigarh
Luckily 5 AM in winters is still early for Delhi roads to be crawling with the usual traffic so in less than an hour, we were out on NH1, driving towards Chandigarh. Nothing much to add to this part of the journey really except for the fact that it is just a long and monotonous drive. Shoaib accompanied me in the passenger seat only till Sonipat though; post which he moved horizontally to the rear seats and was soon fast asleep.
This became a bit of a situation. Even I was awake since last evening, had not slept the entire night before and was tired. On top of it, the only other guy in the car was snoring out loud happily. To not disturb his sleep, I turn down the volume of the stereo so now I was driving listening to him snore while feeling sleepy myself. Not an ideal situation but still we managed to reached the outskirts of Chandigarh slightly before 10 AM and took the bypass towards Kiratpur. Shoaib too by now was awake and back in the passenger seat with me.
I was hoping that the Bypass will provide us with a quick escape from the usual Chandigarh traffic but quite the contrary happened. There was some construction work going on at the road there and our speed was reduced to a painful slow. A flyover was getting built due to which the driving lanes on both sides of the road were barely wide enough for one car to pass through. And then of courses there were buses plying on that road too. Slowly we continued crawling and it took us well over an hour and a half to cross that bypass and reach the other end of Chandigarh city.
Chandigarh to Mandi
Lavish called while we were still at the bypass and informed us that he had already reached Mandi. I looked at the watch and it was not even 11 AM and we were still far away from Mandi. I instructed him to not wait for us and continue towards the lake. He was on his Royal Enfield which was a good thing because he could then update us on the road condition ahead; and on the fact whether or not we will be able to drive all the way to the top.
After the bypass, road until Kiratpur Sahib was a smooth run but then turned into a nightmare after the hilly area started. One thing that I hate the most about Chandigarh Manali highway is the high number of trucks that travel on this road. The road condition too is not that great. For the first 1 hour or so after you start climbing, it mostly is a badly broken stretch with dust flying all across. After you cross that, well until Bilaspur and Mandi, you will be traveling through a series of trucks climbing up at a speed of merely 5 to 10 kilometers. It is a single lane highway with traffic from both sides so taking the trucks over too is not that easy. Kiratpur to Mandi is merely a distance of about 110 kilometers but it will easily take you about 3 and a half hours to cover.
Mandi to Prashar Lake
Same thing happened with us. One after one we continued taking the trucks over but it never really ended. Finally after what seemed like an eternity of torturous driving, we reached Mandi at half past 3. Lavish called in between and informed us that he had almost reached the lake. Road was open and clear until about 2 kilometers before the lake after which it was covered with light snow. He was able to cross his bike over with some difficulty but was doubtful if we will be able to get the car across; because the snow was completely frozen on the road like a sheet of glass and was very slippery. I called him again after reaching Mandi but his number was out of reach which meant that he was already at the lake. Keeping our fingers crossed, we took the diversion and started driving up towards Prashar.
Also read: Delhi to Chandratal Lake
Mandi to Prashar is about 50 kilometers but will take you close to 2.5 to 3 hours to cover. The road is quite narrow and a very steep climb. Good part however was that it is not too bad in condition and even a small hatchback can easily make the journey.
Accommodation At Prashar Lake
Lavish somehow managed to get a signal and called at about 4 PM asking about accommodation. There are two guest houses next to the lake, one of PWD and other one of Forest department. He was however unable to get accommodation in either of them as the caretakers refused to open. This was actually expected because they usually do not allow anyone to stay unless there is a prior booking. Letting people stay means additional work for the caretaker as he will have to open the room, get it ready and then clean up after the guests leave. To avoid this, they just refuse accommodation to everyone who arrives.
Second choice was of the dormitory rooms but those were not hygienic enough. So the only choice left was of the camp sites. There were a few of them available. Our preferred choice was the camp site close the lake but there was no washrooms available. There was another camp site by the name of Krishna Camps that had washrooms available but it was about 2 kilometers from the lake. I told Lavish to take a look at all options and make the best choice.
Finally at around 5.30 PM we reached the spot after which the road was mostly covered in snow. We were in a Thar which meant that I could just engage 4×4 and drive over. However, my experience on driving on snow was zero. A bigger problem was that the rear 2 tyres of my Thar were almost bald so there was not going to be much traction anyways. Deciding not to take the risk, I left my car parked along the road, locked it well, took our bags out and started walking the final stretch to the lake.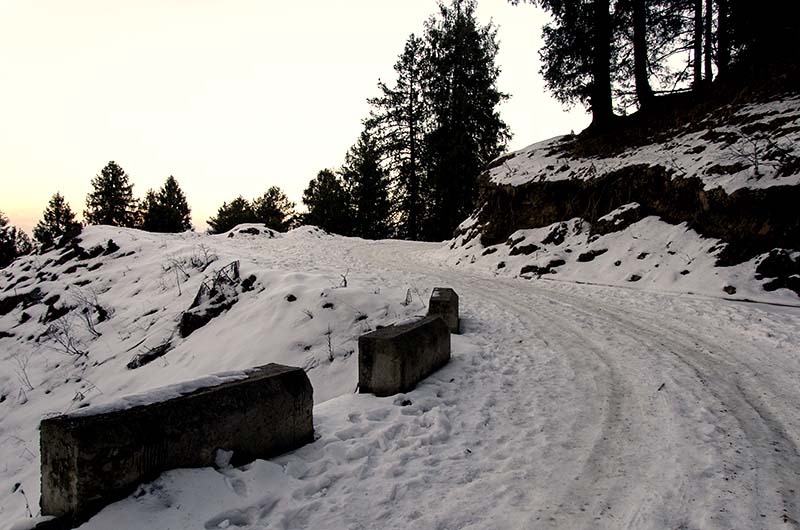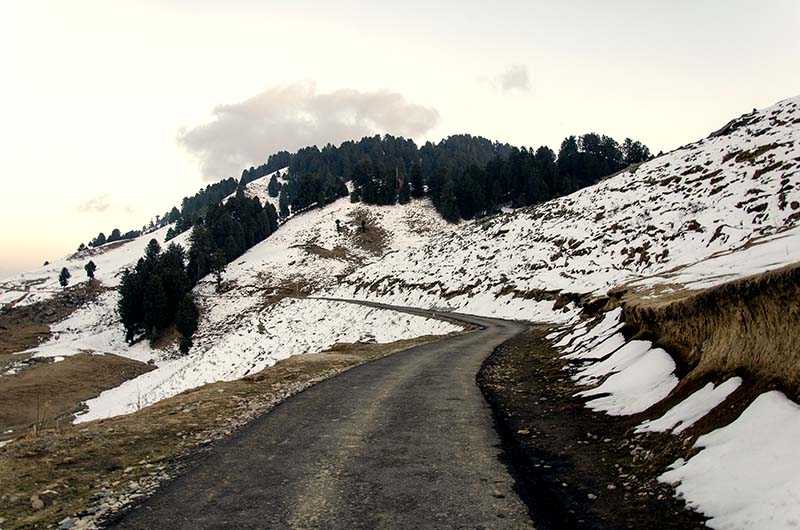 The Walk in The Dark
Our cellphones were well out of range so I could not call Lavish. Dark settled in sooner than I expected and within half an hour, we were walking through complete dark. I was expecting that we will easily be able to spot the lake and camp sites but with dark all around, it was impossible to tell. After a while, we noticed a couple of buildings and guessed that these must be the guest houses. There was however no light anywhere in the buildings and not even a single person in sight. With no other choice left, Shoaib and I both started screaming Lavish's name at the top of our voice.
No reply however came so we guessed that he did not check in to the guest houses. The walk continued and after a while we noticed a camp site at a distance. The camps were however on top of a small hill to our right; and we could not find a spot to climb up to it. So once again, we shouted Lavish's name but still no reply. Fortunately however, a Bolero approached us from the other direction and seeing us walking, he stopped.
"Aap Thar wale hi ho na?" He asked us
"Haan" We replied
"Aapka friend hamare camp site par hi ruka hua hai" He said
"Kahan hai camp?" We asked
"Thoda aage hi hai. Aap yahin ruko, main aage se gaadi ghuma kar lata hoon" He told us and drove off.
The Camp Site, Finally !!!
We however just continued walking in the direction he said his camp site was; rather than standing there waiting for him. The Bolero arrived again after about 15-20 minutes with more people in it. This is what he actually went for, to pick more tourists for his camps. We too boarded the small truck and reached the camps in another 5-10 minutes.
Not much to write after about this really. We met Lavish at the camp site. He had instructed the Bolero driver to keep looking out for a Thar and pick us up as well. It was snow all around and I am sure the temperature was well below zero. The camp site we were staying at was Krishna Camps and they were OK I guess. The food served was good, the owner was a friendly guy, and the tents were warm at least; if not comfortable. The three of us stayed up for another few hours; did a bit of chatting and catching up and then retired in our camp for the day.
And that was our journey for Day 1. Please read Prashar Lake to Delhi – The Lazy Journey Home to read next part of this travelogue. Below is some good to know information on traveling from Delhi to Prashar Lake.
Delhi to Prashar Lake Distance
Depending on where you are starting from in Delhi, total distance between Delhi and Prashar Lake is about 500 kilometers. This journey can easily take you about 12 hours to complete depending upon your speed and breaks.
How to reach Prashar Lake from Delhi
In order to reach Prashar Lake from Delhi, you will have to first reach Amabla via NH1. Then just before Chandigarh, take the bypass towards Kiratpur Sahib. After Kiratpur, the hilly region will start and you will continue driving to Mandi via Bilaspur. Once at Mandi, leave the highway and take the diversion towards Prashar Lake; which is about 50 kilometers of drive from here.
Delhi to Prashar Lake Bus
There is no direct bus from Delhi to Prashar Lake so you will have to change your mode of commute a couple of times. Several daily buses ply for Manali from Delhi ISBT, some overnight and some during day. You can board either of the buses heading to Manali and ravel all the way to Mandi. From Mandi you will have to look for a mode of transport to the lake or at least Baggi Village.
An HRTC bus starts from Mandi at 7 AM everyday and reaches Prashar Lake at about 11 AM. The same bus then starts on its way back from the lake at 1 PM and reaches Mandi at approximately 5 PM. There is however no bus in the months of winter. So if there is snow on the road, then the bus from Mandi will only ply till Baggi Village; after which you will have to trek to the lake.
If you made it to Mandi in time then you can board this bus. Several private bus and shared taxi operators too operate on this that you can inquire about at Mandi Bus stand. If you were in a group, then I would recommend hiring a private taxi from Mandi Bus stand;  a round trip in private taxi will cost you about Rs. 2,000 to Rs. 3,000.
How to reach Prashar Lake from Delhi by Train
If you want to travel from Delhi to Prashar Lake by Train; then you will first have to reach Chandigarh station by train. From Chandigarh you will board a bus for Mandi; and then board the Prashar Lake bus from Mandi, or look for an alternate mode of transport.
Delhi to Prashar Lake Trek
If you were in a mood for a bit of trekking; then the journey until Mandi will remain the same as I explained above. However after Mandi, you will get a mode of transport that can drop you at Baggi Village.
Trek actually starts from different points; of which nearest and recommended one is Baggi Village, about 7 -8 kilometers. The trek route is well defined through the dense forest and you can actually just walk through on your own. I will however recommend that you ask a local to accompany you from the village; a guide who of course you will pay to navigate you through. The forest around the trek is quite dense and there is a chance of getting lost. It will take you approximately 5 hours to reach the top; depending on earlier trekking experience, climate and if there is any snow on the way.
I have continued this travelogue at  Prashar Lake to Delhi – The Lazy Journey Home detailing our time spent in sightseeing at the lake and our return journey home with a short break at Sundernagar.
Conclusion
I hope the information above was of help. If you have any further questions, or need any further help planning your trip from Delhi to Prashar Lake; then please feel free to ask in the comments section below; or at our Community Forum and I will be glad to answer.