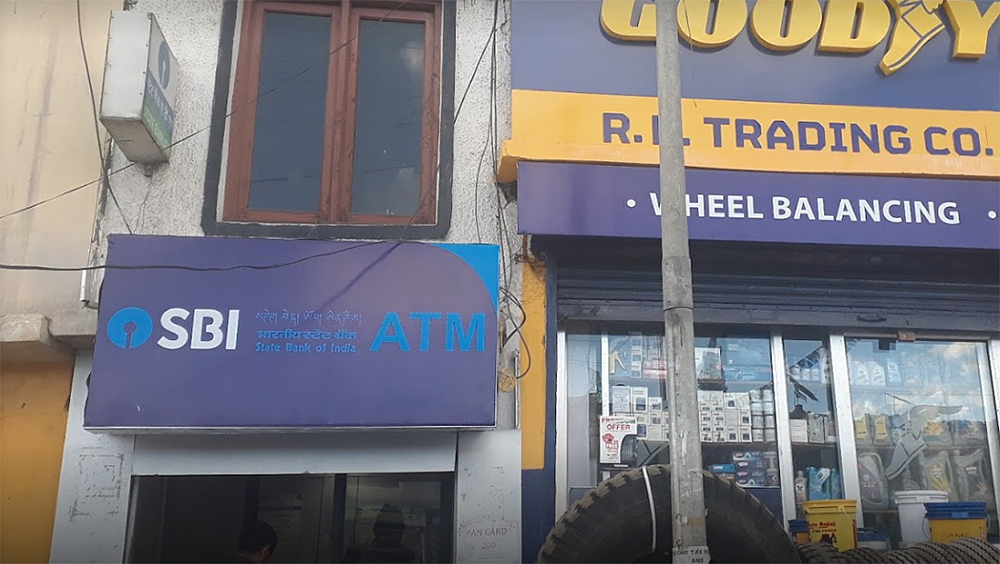 Are banking services available in Ladakh? Can I use my ATM or my credit card there? Where can I expect to find a bank or ATM? These are some of the questions that are bound to come to mind when you plan a trip to a remote place like Ladakh. In this article, I will provide some useful information on banks in Ladakh, their locations, and ATM services. Please note that in this post, I am only talking about Banks / ATMs in Ladakh. For more details on your trip planning, please take a look at How to Plan a Trip to Leh Ladakh.
To answer the question in one line, yes there are banks in Ladakh but not at all places. The availability of ATMs is strictly limited and you cannot really use plastic money at a lot of places. Other than Leh City, most of your journey will be dependent on cash transactions, including Manali – Leh, and Srinagar – Leh highways. Read on to find out more.
Banks in Ladakh & ATM Services
One of the many preparations you need to make while taking a road trip to Ladakh is keeping the cash handy. It is not one of your regular tourist destinations where you will come across an ATM at every corner.
There was one instance when I went to Ladakh and we had to survive the entire route back until Srinagar on the cash that we withdrew from Manali. It was because there was a network problem due to which, there was no ATM functional and cards could not be swiped at hotels or restaurants either.
This was several years ago and at that time there were only two ATMs in Leh. Both remained out of service during our stay and we had to budget our expenses on the cash we had in our pockets.
Fortunately for us, we did plan in a way that we withdrew enough at Manali and the petrol pumps in Leh accepted the debit card. Or else, we would have been in serious trouble and would have to stay in Leh until the ATMs were functional again. Things however have greatly improved now after the recent boost in tourism here.
Banks in Leh City
In all of Ladakh, Leh city is the only place where you will find a bank and can walk into a branch. About 6-7 years ago, there were only 2 government banks here but now there are several. Below is a list.
List of Banks in Leh
Axis Bank
Central Bank of India
HDFC Bank
ICICI Bank
IDBI Bank
Jammu And Kashmir Bank
Punjab National Bank
State Bank Of India
Canara Bank (Formerly Syndicate Bank)
Yes Bank
All of these banks are spread around the main market, Fort road, and Khardung La road. They are all also equipped with online banking and transactions. I wanted to post their IFSC codes here as well but you can do a Google search for that information rather than relying on my information.
ATMs in Leh City
State Bank of India has the widest network of ATMs in Leh City. The last time I was there, I counted at least 6 or 7 SBI ATMs spread in different parts of the city.
Other than SBI, the following banks also have their ATMs in Leh that I know of. As I mentioned, there could be more but these are the ones I noticed.
ICICI Bank
HDFC Bank
Punjab National Bank
J&K Bank
Canara Bank
Axis Bank
Banks & ATM on Manali Leh Highway
The last Bank on Manali Leh Highway is in Keylong. There are branches of the State Bank of India and The Kangra Central Cooperative Bank Ltd in Keylong and they also have their ATMS. Kangra Bank in fact also has a branch in Sissu.
The problem however is that the ATM at your time of arrival may not be functional or maybe out of cash. Hence, I will advise you to withdraw sufficient cash from Manali itself. Almost all major banks have branches in Manali and you will easily be able to withdraw sufficient cash from there to see you through the trip.
If you are planning to tank up fuel in Tandi, then you got to carry cash for that as well because they do not have the facilities to accept plastic there.
Excluding the fuel charges, a two to three-day travel from Manali to Leh can easily be managed in as little as Rs. 1000/head, depending on your expenses. There are decent enough and reasonably priced hotels in Keylong, tenting accommodations in Jispa and Pang.  So your budget per person can range anywhere from Rs. 1000 / head to whatever your wallet is capable of.
There are no banks or ATMs in Karu or Upshi as well that I know of.
Banks & ATM on Srinagar Leh Highway
As compared to the Manali Leh route, Srinagar Leh Highway is better populated. Hence, the facilities here are better as well. Srinagar of course has all major banks and their ATMs. Between Srinagar and Sonamarg, you will find branches of SBI, J&K Bank, and Ellaquai Dehati Bank at several places.
After Sonamarg, you will cross Zojila Pass and can find an ATM in Dras and Kargil both. After Kargil, there is a bank in Mulbekh. Axis Bank has a branch in Khalsi as well. After that, it is a straight run to Leh City anyway.
The only problem is of availability of cash in these ATMs. A safer bet is to withdraw cash at Srinagar or Leh, depending on which side you are travelling from, enough to last the entire route. Petrol pumps in Kargil may not accept credit or debit cards so you will have to pay up in cash.
Banks & ATM in Other Parts of Ladakh
Let us now take a look at the other sightseeing places in the Ladakh region.
Nubra Valley
There are no banks or ATMs anywhere in Nubra Valley. Between Leh and Nubra Valley, the last ATM you will find is on Khardung La road, as you start climbing up the mighty pass.
Pangong Tso
There is again no ATM near Pangong Lake or anywhere on the route for that matter. For a trip to the lake, you will have to carry sufficient cash from Leh City only.
Tso Moriri
There is no bank or ATM at Tso Moriri as well or on the route. You will have to bring enough cash from Leh City only.
Banks & ATM in Zanskar Valley
For anyone planning a trip to Zanskar Valley, the last place where you have the surety of finding a functional ATM is in Kargil. SBI and J&K Bank both have branches in Sankoo as well but I will advise against relying on their ATM here for cash. The best thing to do is to withdraw enough cash from Kargil only.
There is no Bank or ATM in Padum or anywhere else in Zanskar Valley. They do not accept cards as well and all your transactions would have to be cash-based only.
Banks in Ladakh & ATM Services – Conclusion
I hope the information above on Banks in Ladakh and ATM services was of help. If you have any questions or need any other details, please feel free to ask in the comments section below, or at our Community Forum, and I will be glad to answer.