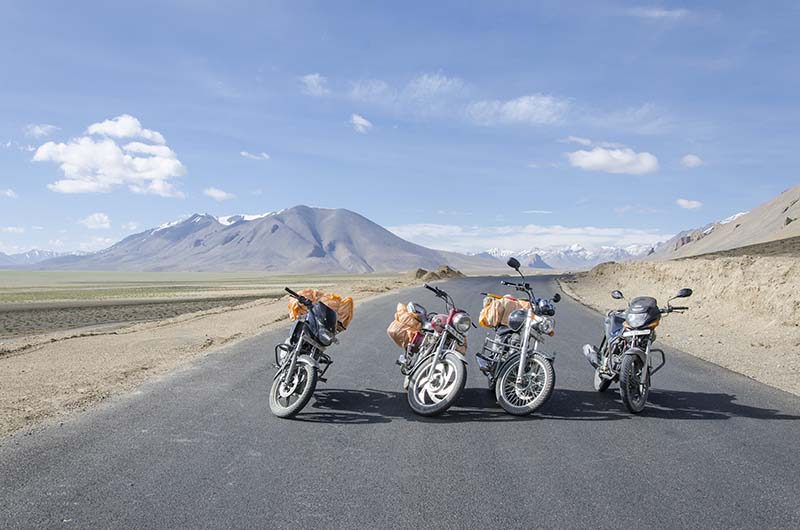 Are vehicles registered outside J&K or HP allowed in Ladakh? This is one of the most frequent questions I get asked by people planning their Ladakh trip; or if they need to acquire a separate permit for their cars or motorcycles? Are cars and motorcycles registered in another state of India allowed in Ladakh or are they only allowed in certain areas of Ladakh?
The answer is that Ladakh is a part of India and like any other state or region in the country, you are free to travel here by your vehicle whether it is registered in J&K, Himachal, or any other state. You do not need to get a special permit for your car or motorcycle. There are however certain things that you should be aware of.
Are vehicles registered outside J&K or HP allowed in Ladakh?
Tourism in Ladakh is pretty much limited to 5 months a year when both the roads leading to the region are open. Add to it the fact that the livelihood of the locals here depends heavily on tourism. In these 5 months, everyone who is involved in tourism-related activities tries to get the biggest share of the cake.
This has resulted in the monopoly by taxi union and motorcycle rental association and their self devised laws. About a decade ago, this was not that big a problem but with tourism in Ladakh on the rise, each year the situation continues to get worse; and troublesome for tourists.
Also read: 10 reasons why you should NEVER visit Ladakh
If you are planning a trip to Ladakh by either your own private vehicle, a family member's or a friend's vehicle, or a rented one; mentioned below are the dos and don'ts and permits that you need to obtain.
Inner Line Permit
Inner line permit is permission to travel to areas close to the border. No permit is needed to reach Leh but for traveling any further; you will need to obtain an Inner Line Permit. Places like Nubra Valley, Pangong Tso, and Tso Moriri all fall under inner line areas and you will not be allowed to visit here unless you have the permit.
You can either get this permit from DM office Leh upon reaching there or apply for it online. For more details on the areas you need permit for and how to get it, read How to obtain Inner line permit for Ladakh. There is no daily limit on Inner Line Permit and they are issued as many as required.
Rohtang Pass Permit
The second permit comes in the name of Rohtang Pass. If you are planning to travel from Manali, you need to acquire a permit at Manali's DM office to cross over the high altitude pass. This permit has a daily limit of 2000 vehicles and is given on a first come first serve basis.
This permit too can either be obtained in person from SDM office Manali or applied for online. Please read How to Obtain a Permit for Rohtang Pass for more details.
Please note that even HP registered vehicles are required to get this permit; unless it has a private registration of Manali, areas in Lahaul or Spiti valley. This rule online applies if you travel from the Manali side but if you are coming from another side of Rohtang towards Manali, there is no permit needed.
Also read: Spare Fuel For Ladakh – Where do you need it
Old Vehicles
Vehicles 10 years of age or older are no longer allowed to travel to or beyond Rohtang. So If your vehicle is a vintage one, then you will be denied the required permit to cross Rohtang and need to consider taking an alternate route.
You can travel from Srinagar to Leh and return via Manali, or you can take Spiti or Sach Pass route. This restriction is only if you are going to Rohtang from the Manali side. This restriction is only applicable for Rohtang, nowhere else in Ladakh or Kashmir.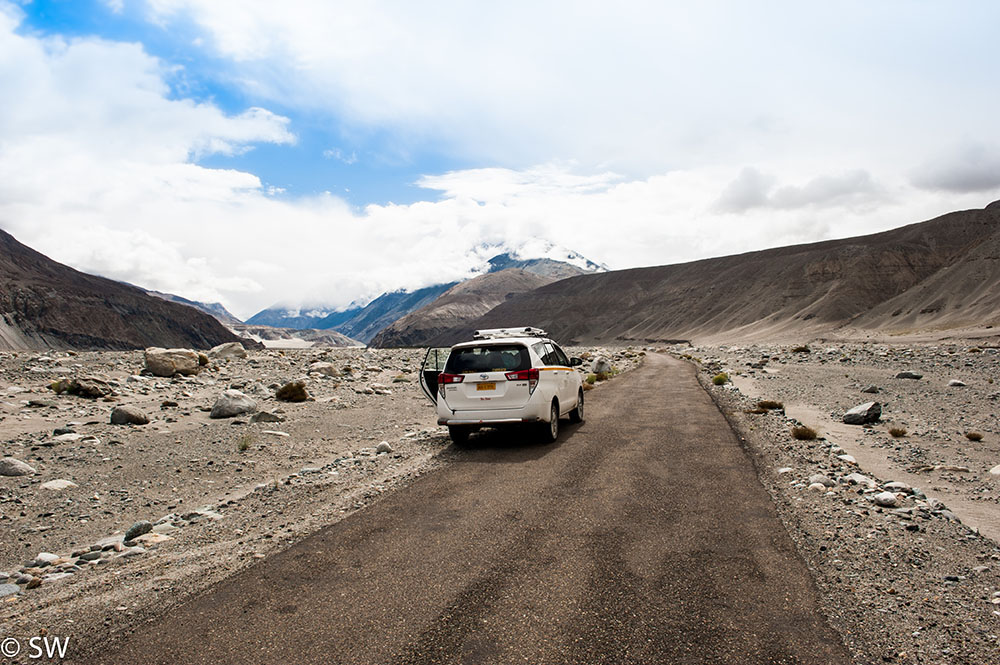 Self-Drive Rentals & Taxis
If you are traveling in a self-drive taxi or by a motorcycle you rented at any other place than Leh; you can only use it to reach Leh. This vehicle will not be allowed for local sightseeing and you cannot take it to places like Nubra, Pangong, or Moriri.
For sightseeing, you will have to rent another local vehicle in Leh. There is no way around it and please do not take a chance. Locals here put up barricades at random places. If they stopped you somewhere, you will not be allowed to travel any further and sent back. There have been instances where even the rented vehicles were attacked and vandalized.
This rule applies to self-drive rentals, non-local taxis with drivers, and rented motorcycles. Even renting a vehicle from Manali, Kargil or Srinagar will not work. Similarly, vehicles rented from Ladakh cannot be used in Manali, Kargil, Srinagar, or Zanskar.
Also read: How to Handle Acute Mountain Sickness in Ladakh
Vehicle Registered in Family or Friend's Name
If you are traveling by vehicle registered to a family member, you need to carry identity proofs that can validate your relationship and prove that the vehicle is not a rented one.
For example, if the vehicle is in your father's mother's or sibling's name; you need to carry identity proofs that can establish your relationship with them. Do not take vehicles registered to any other family member; like uncles or cousins. If you do, then take them only as far as Leh. For sightseeing, rent another vehicle when you reach Leh.
The same rule applies to vehicles that you borrowed from a friend. Take them only as far as Leh and not for any other place in Ladakh.
Other Reads:
Conclusion
So are vehicles registered outside J&K or HP allowed in Ladakh? The answer to this question is yes but after the above-mentioned conditions. I hope this information was helpful. If you have any further questions, please feel free to ask in the comments section below or at our Community Forum and I will be glad to answer.