Update: It would seem that to everyone's benefit, the bike rental associations of Manali and Leh have reached a mutual agreement. Please find below a copy of the circular listing the details. Now if you are visiting Ladakh, you can rent a bike from Keylong and take it to Leh. However you cannot use it for visiting areas like Nubra valley and Pangong. For this, you will need to rent another bike from Leh city.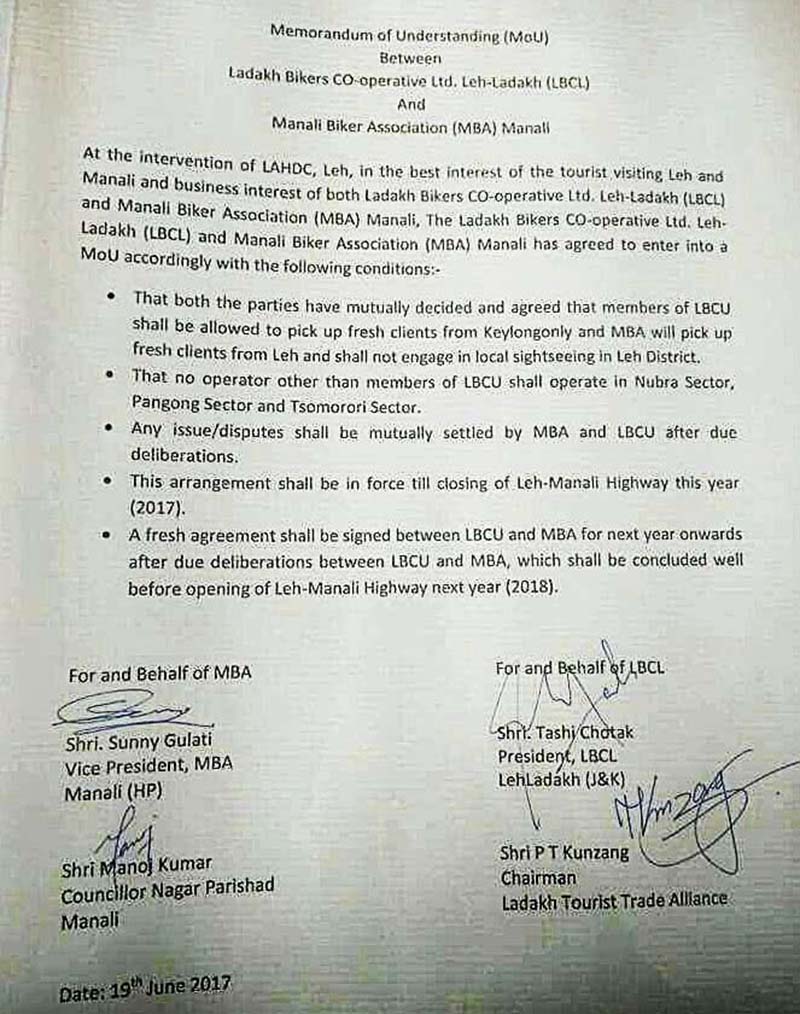 It seems that going Ladakh continues to keep getting difficult with each passing year; and this year was no different. First there was unrest in Srinagar as soon as the highway opened; then the entire fuss about Rohtang Permits; then talks about restricting the number of vehicles crossing over; then the Manali taxi union strike and here comes the newest entry in the list. Effective immediately, Ladakh motorcycle rental association has decided to ban HP registered motorcycles anywhere in Ladakh. Below is a copy of the circular.
What it necessarily means is;
You cannot rent a motorcycle in Manali and take it to Leh.
You cannot rent a motorcycle in Leh and bring it to Manali.
Since Sarchu is the border of the states of J&K and HP, it will also act as the border for the two motorcycle rental associations.
If you rented a motorcycle from either Leh or Manali, you can only bring it as far as Sarchu where the border ends.
Though the circular states "HP registered motorcycles"; it only applies to commercial (rented) motorcycles. For private motorcycles, the restriction does not apply.
This definitely is very annoying for tourists and I am not really sure who is getting the negative impact of this if not for the rental association themselves. The only way I can put is that human greed no boundaries. The limited window of tourism in Ladakh has become a small piece of cake that everyone wants to get their hands on and snatch a piece out of.
If you are planning a trip to Ladakh anytime soon; and if renting a motorcycle for the purpose was on your mind; then I recommend that you do so from your home town. Delhi has several places where you can rent a good motorcycle from and so does Chandigarh. Best place would be to rent a motorcycle from Srinagar. If you truly want to enjoy a motorcycle trip then keep it only on Srinagar Leh highway for now; both for reaching Leh and getting back. Only way to reach back Manali would be to either catch a bus or a shared taxi. Let me know if you need a recommended name in Srinagar to rent a bike from.
The best however would be to take your own motorcycle. If you do not own one, borrow one from a family member but only an immediate family member; with whom you have an identity card to prove your relationship.
Conclusion:
 For now, avoid taking Manali bikes to Leh and Leh bikes to Manali. The locals may even cause damage to motorcycles for which you will end up paying. If you have any further questions, please feel free to ask in the comments section below or at our Community Forum and I will be glad to answer.