This article is in continuation with a previous one and a part of my Ladakh bike trip log. We reached Leh City from Delhi in a total of 4 days. Our Day 5 turned out to be an exciting and adventurous one as we rode our bikes to Khardung La amidst a Chakka Jam, city-wide Bandh, and protests all across. On Day 6, we traveled from Leh to Pangong Lake via Changla pass, details of which are mentioned in this post.
To read the previous parts of the travelogue, please click on the links below.
The Journey So Far:
The next morning we ended up sleeping till late. Even though the plan was of starting early towards Pangong, we just could not get ourselves to leave the bed. I usually wake up early when in the mountains but that day, even I slept till well past 8 am.
Finally, our day started. We got up, got ready, and packed our bags to check out of the hotel. From hereon, we were going to circle back on Manali Leh highway via Pangong, Hanle, Tso Moriri and continue to Manali from there.
We bid our host goodbye and checked out of the hotel. While the others spent time packing and getting spare fuel for the journey ahead, I went to the nearby ATM to withdraw cash. On the way back, I noticed a small garment shop and bought T-Shirts for everyone that read 'Ladakh', a sort of memoir of the journey.
Leh to Pangong Lake via Changla Pass
It was well past 10 by the time we left Leh. We were already 3 hours behind our planned schedule and started riding back on the now-familiar Manali Leh highway
The first stop came a little after at Karu for a much-needed cup of tea and some breakfast. There was an Army truck parked nearby selling more Ladakh souvenirs and we decided to buy a few hats.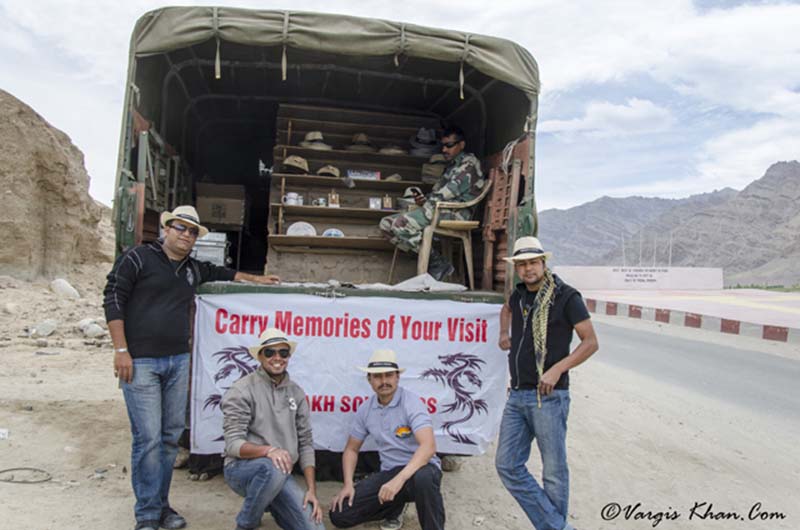 After Karu, we took the diversion towards Sakti and got our permits checked. Soon we were on the ascent towards Mighty Chang La.
The road was mostly good for the initial part. It was a fun ride. Our bikes were serviced just the day before and were performing really well. All the previous problems that bothered us on our journey from Delhi to Leh were now resolved.
This was really a big relief because I knew that the region we were headed towards had no mechanics at all. In case of a breakdown, we would be all by ourselves and stranded in the middle of nowhere.
Also Read: How to Plan a Trip from Leh to Pangong Lake
Chang La Pass
The road turned really ugly towards Chang La top. The entire journey did not take us long enough and pretty soon, we were posing for pictures at Chang La top.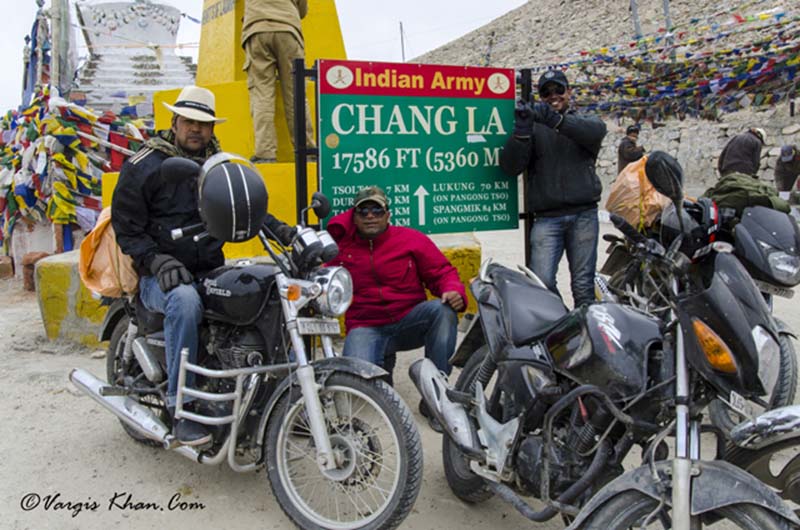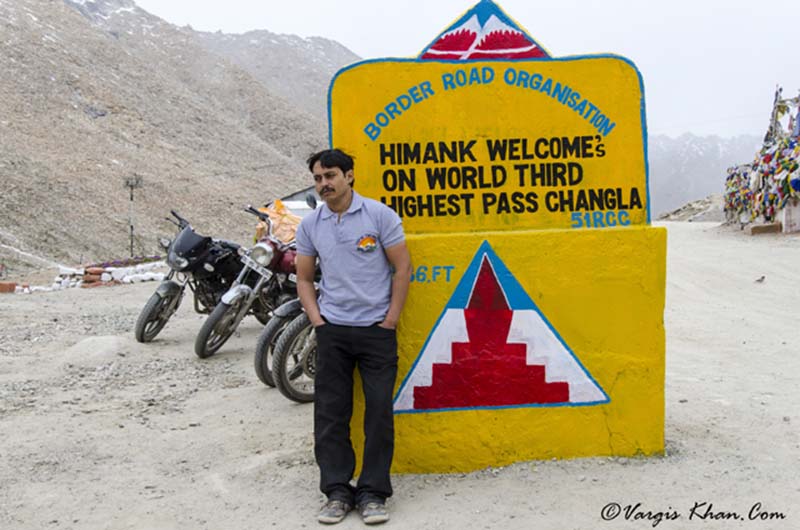 Snowfall at Chang La
After spending some time, having something to eat and drink at the army cafeteria, we continued towards Pangong. The moment we started, to all our surprises, it started to snow at Chang La.
Also Read: Leh to Pangong Lake Bus: Schedule, Timing, and Fare
I was not expecting this at all since it was the month of July we were traveling in. But that light shower of snow sure added a pleasant charm to our overall experience. The temperature suddenly dropped at an alarming rate while we hurried down.
Not long after, we came across our 4th high-altitude lake of the journey, Tso Ltak, located at the foot of Chang La.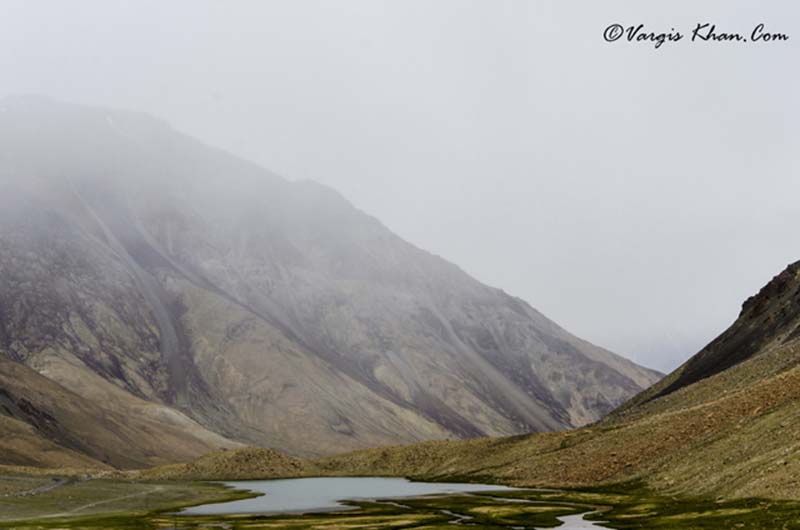 The Serpent. This part of the Leh to Pangong Lake road has always amazed me, no matter how many times I have been on it.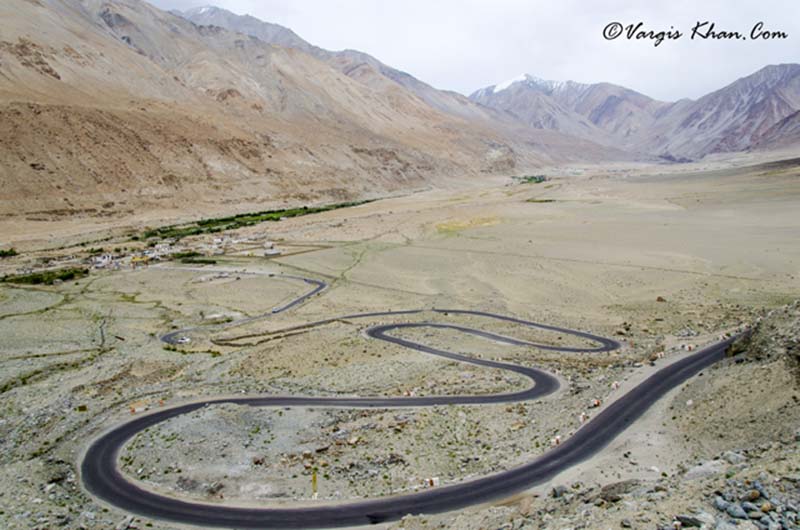 I stopped to take a few pictures somewhere around in the pic below while others carried on. After clicking some shots, I moved to catch up only to find Sunny and Shoaib on the ground a few meters ahead.
Also Read: Hotels, Guesthouses, Homestays and Campsites at Pangong Lake
At a sharp turn, there was a lot of sand on the road which caused their motorcycles to disbalance. Luckily it was the sand itself that avoided any injuries to either of them. After getting them back on their feet and a hearty laugh, we continued on the journey.
Sunny and Shoaib on the ground.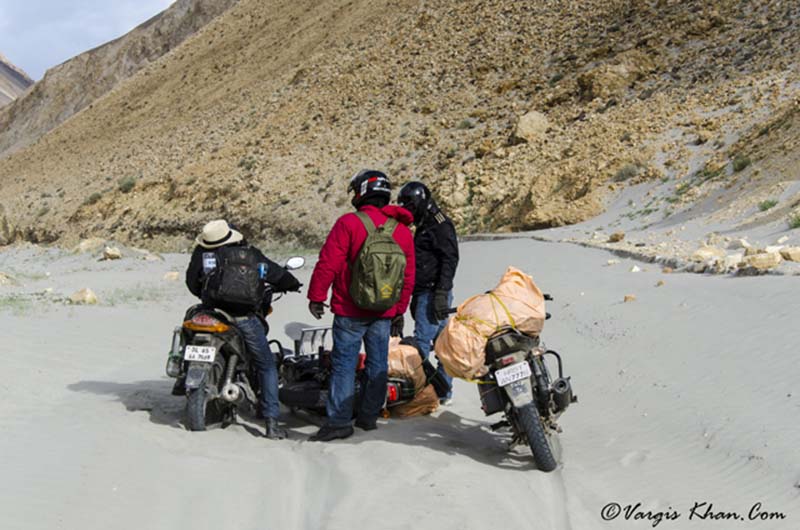 There was an entire stretch of the road completely covered with sand. I decided to go first, crossed it successfully without falling down, and others followed.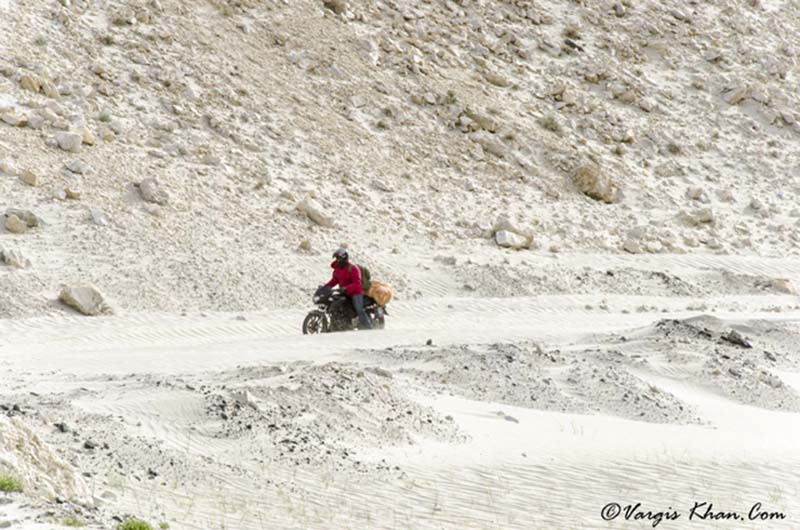 Chagar Tso
We registered ourselves at Tangste and paid a fee of Rs. 10 per person to visit Pangong. It wasn't the case the last time we were here. But considering the crowd that has started to come this way now and the mess they make at the banks of the lake, it is quite reasonable to charge.
After Tangtse and just a little before Pangong, came our 5th high altitude lake, Chagar Tso. This lake is a beauty in itself. But everyone is so occupied with the idea of reaching Pangong that this lake remains invisible to everyone; except for the ones looking for it which I happened to be.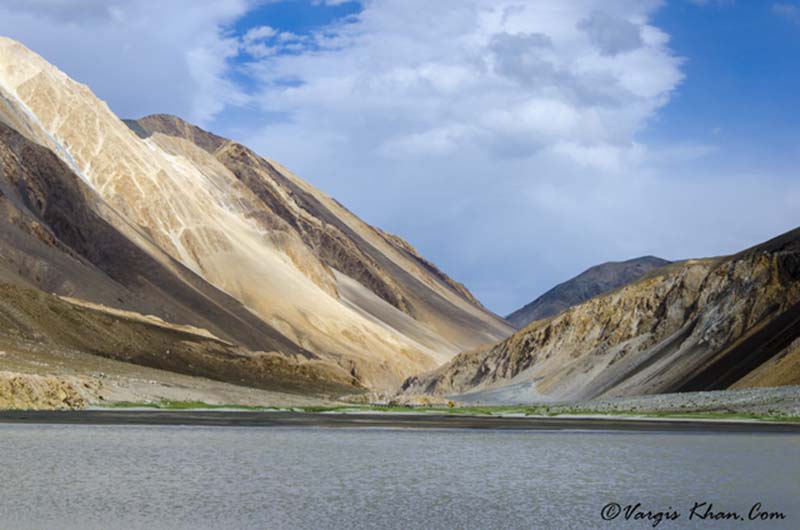 It didn't take us long to reach Spangmik, thanks to the good road conditions. Both Shoaib and I were shocked upon reaching there. The last time we visited Pangong, there was nothing but a government-run hotel here and only one camping site.
But this year, it was an entirely different story. There were dhabas and camping sites all around which kind of also killed our spirits in a way.
Camping at Pangong Lake
We located one campsite where there were no guests at all. We decided to check that one out because it was the solace that we were expecting here. Some alone time in peace and silence on the banks of the beautiful lake.
The owner of the campsite quoted Rs. 5000 for 4 people for 2 tents, dinner and breakfast. I knew that he was going to be easy to talk down since he had no other guests at all. In the end, he agreed on Rs. 2500 for 4 people.
We looked at the camps. They were spacious, clean, and had attached washrooms. It was a good deal so we took it and checked in.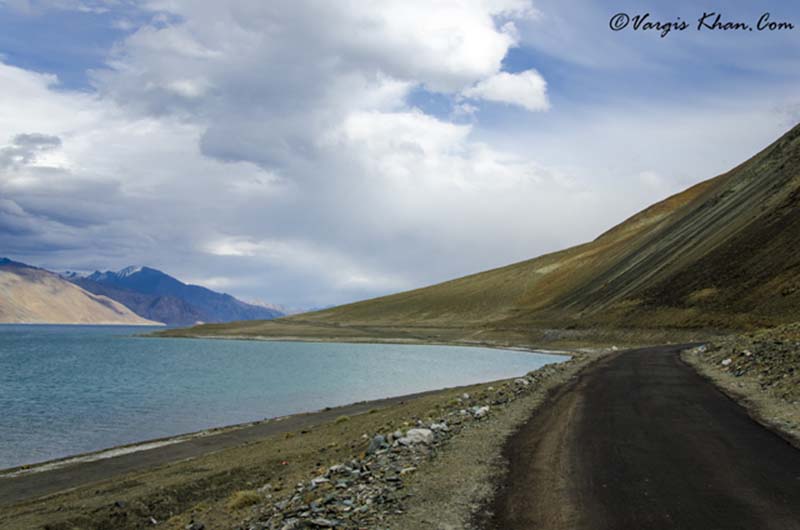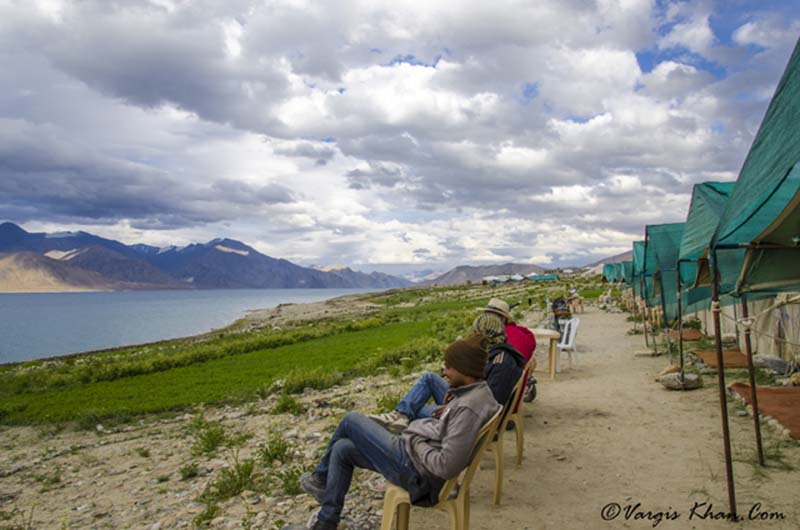 A Memorable Evening on the Banks of Pangong Tso
We rested for a while in the tent and got something to eat. What followed was a long walk along the banks of Pangong lake, tons of pictures, and plenty of fun. I don't even know how long we sat there looking at the water but it must have been hours.
The sound of the water, the grace of the mountains ahead, the cold weather, the fading light of the setting sun, and the company of good friends made the evening a memorable one.
Soon dark took over and we returned to the campsite. The owner was kind enough to arrange a bonfire and served us dinner right there.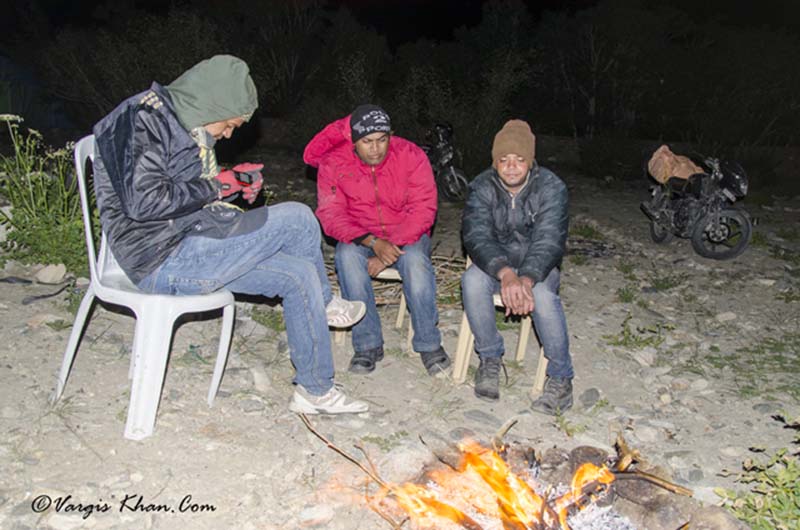 After dinner, it was time to call it a day and crawl under blankets in our tent.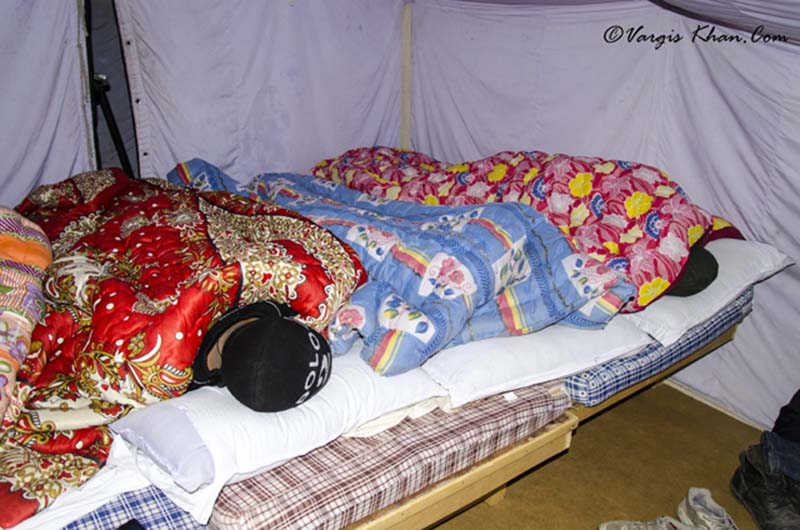 And so ended our 5th day of the journey. Our next day of the trip turned out to be the longest one and completely unpredictable. The plan for tomorrow was to ride on the Chushul route and reach Hanle. We were going to stay there for the night and go to Tso Moriri the day after.
But nothing really turned out to be the way we planned. With no idea about how adventurous the next day was going to be, all of us soon dozed off. Please click on the link above to continue reading the next part of the travelogue.
Leh to Pangong Lake via Changla Pass – Conclusion
The road from Leh to Pangong Tso is mostly all good, except for a few bad patches in between. The really ugly stretch is around Chang La top. But except for those few kilometers, the rest of the journey is smooth.
Depending on your breaks and speed, the entire journey will take you about 6-8 hours. If you wanted to travel by public transport, there are shared cabs and buses to Pangong available from the Leh bus stand.
I hope the travelogue, pictures, and information on traveling from Leh to Pangong Lake via Changla pass were of help. If you have any questions, please feel free to ask in the comments section below, or at our Community Forum, and I will be happy to answer.