This article is in continuation with a previous one and a part of my Ladakh bike trip log. We reached Leh City on Day 4 after a long day of troubles and breakdowns. Our Day 5 turned out to be equally adventurous as we traveled from Leh to Khardung La by bike amidst a Chakka Jam, city-wide Bandh, and protests all across.
To read the previous parts of the travelogue, please click on the links below.
The Journey So Far:
A Buddhist monastery in Bihar was attacked with serial blasts a day before we arrived in Leh. This caused anger in the Buddhist community of Leh and in order to protest, they decided to call a 2-day bandh across the town. The day when we reached Leh happened to be Day 1 of the Bandh.
The Day 5 of our trip was the second day of the Bandh. Our plans for this day were to get our bikes fixed and do some local sightseeing in the city. But by the looks of it, none of it was going to happen. Today, as we were told by the locals, was going to be a Bandh in the city as well as a Chakka Jam in effect from 10 AM till 4 PM.
Day 5: Leh to Khardung La by Bike
There were 2 things on my agenda for that day when I woke up that morning. The first was to find a mechanic to get my motorcycle fixed as well as Sunny's CBZ. The second was to check back into Shanti Palace hotel.
After our morning tea, which was again quite a hassle to get, I went out in search of a Mechanic. The remaining three started to check out, and move our luggage back to Hotel Shanti Palace.
Also Read: Good Budget Hotels in Leh City with Tariff
Trouble in Leh City
After almost an hour of roaming around in Leh City, I still could not find a mechanic shop open. Upon asking a few people, I was told that any chance of finding a mechanic was only going to be late in the evening; since it was going to be a Chakka Jam in a couple of hours.
Finally, when I was about to give up on my search, luck favored. I stopped at a tea shop and just for the sake of it, asked the owner of a mechanic while sipping down the tea. He instantly took his cellphone out and called some guy, asking if he was going to open his garage today.
Fortunately, the mechanic on the other end too was also interested in a customer on a day when the entire town was going to be closed. The tea stall guy pointed me in the direction of where the mechanic lived which was just a few steps away.
I walked over to the place and spoke to the mechanic. He agreed to take a look at our bikes which was a big relief to me at that time. I walk back to our hotel, informed the others of the good news, and brought my motorcycle to the mechanic's shop.
My luck was definitely shining bright since we found a matching ball bearing in a few minutes. By the time he finished with my motorcycle, the clock was showing 9 AM.
The Delay
Our original plan was to make a day trip from Leh to Khardung La by bike that day. I didn't want to visit Nubra Valley again as I had already been there a few times. There was still an hour left before the bandh and Chakka Jam was to come in effect.
It meant that we could get the other 3 motorcycles checked and be on our way to Khardung for the entire day while Leh City remained closed. It however took longer than I expected. The other three finished checking into Shanti Palace and it was almost 10 when they reached the mechanic's shop with the other 3 motorcycles.
At this time, Shoaib and Sunny came up with the weird plan of visiting Khardung on bicycles. I say weird because they wanted to ride up to a pass which claims itself to be the highest motor-able road in the world on bicycles. Neither of them even remembered the last time they sat on a bicycle.
I knew this plan was not going to work because it was a steep climb of 35 km. There was no way that either of us could just do it in a few hours.
After a long discussion and a hell of a convincing Shoaib and Sunny, the plan was trashed. We again focused on getting the motorcycles fixed but it was a bit too late for Khardung La already.
The  Chakka Jam



Finally, all three motorcycles were checked and repaired. Clutch plates on both Sunny's CBZ and Rohit's pulsar were completely burnt out and had to be replaced.
Now came the tough part of deciding what to do. Shoaib had already gone back to the hotel before Chakka Jam came into effect. But Rohit, Sunny, and I were still at the Mechanic's shop.
There were locals walking around with lathis in their hands forcing people to shut their shops down. Police jeeps had already started to drive around advising people to not take their vehicles out until 4 pm. But we could not just stay out there for the next 6 hrs. We had to go back to the hotel.
The Mob
We looked at our watches. It was half an hour past 10. Deciding to take a chance, we kick-started our bike with our minds made up that no matter what, we aren't going to stop before reaching the hotel.
Sunny, the brave one, started a few minutes ahead. Rohit went after him and I was the last one. The moment I came out of the narrow gali, on the main road, I noticed Rohit riding his motorcycle back towards me. A few meters ahead of him was Sunny, surrounded by a huge crowd of locals and a police jeep standing right next to him.
Out of impulse, watching Rohit coming back towards me, I also turned back. We both again parked our motorcycles in the gali, outside the mechanic's shop, and ran out again on foot, to where Sunny was being held by the locals. But by the time we came out, which was just in a matter of a couple of minutes, he wasn't there.
The police Jeep was gone too and the crowd was walking away.
Not knowing what happened, we called Sunny's cell immediately. To both of our reliefs, he was already at the hotel. From what he told us later, the crowd threatened him a little, the cops warned him using enough of the "F" word and then let him go.
The Hotel
Now with Sunny gone, It was me and Rohit left standing on the road. After watching what happened with Sunny, our spirits were already shaken enough.
For a moment we thought to let our motorcycles be parked where they were. We could come back in the evening to collect but that was also a risk, considering the tension and excitement in the air. Someone could damage the bikes, or worse, steal them.
We walked a little ahead and the road seemed clear. The crowd at the chowk was gone and only a couple of cops were standing a little ahead. It seemed safe and clear enough to take a chance again.
We brought the engines back to life once again and with a final nod to each other, accelerated. It was hardly a matter of a few minutes and a short distance to the hotel. But at that time, that small distance was also covered with our speedometer needles pointing at a speed of 80 km/hr.
We only stopped after we had safely parked our motorcycles at the hotel.
The deserted Chowk where all this drama happened. The locals were stopping every passing by vehicle.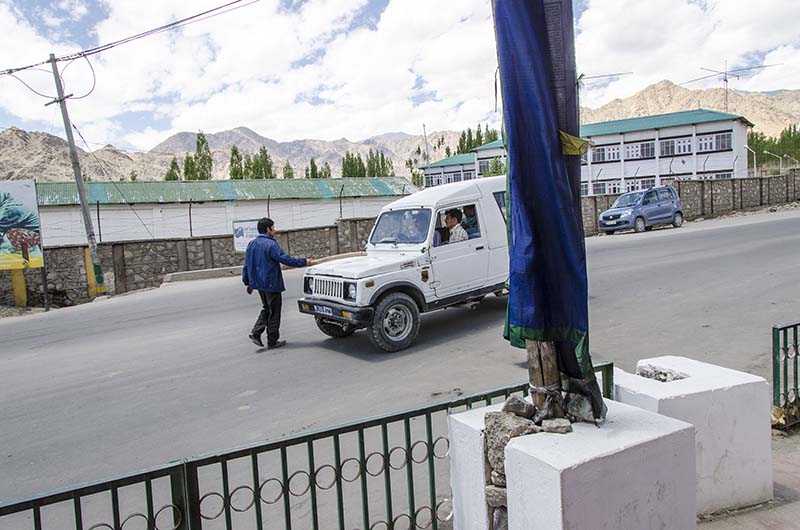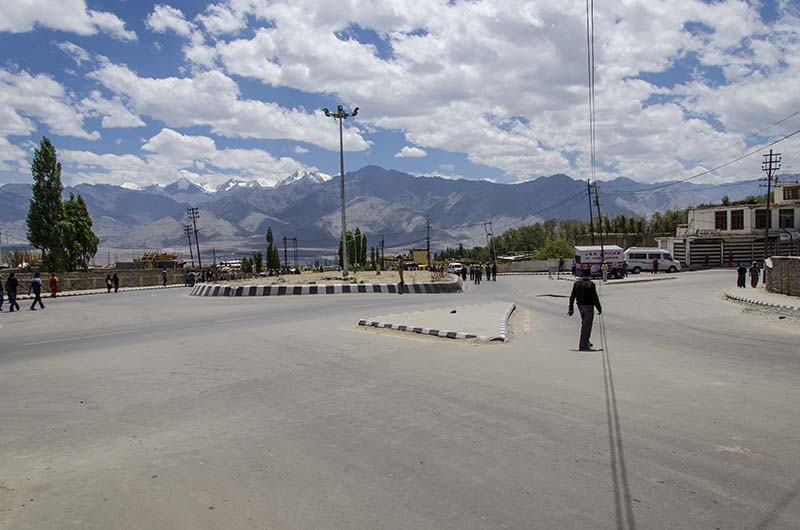 The Walk
Now there was nothing much we could till 4 except for just sitting idle. I decided to go out for a walk and Rohit agreed to join. Shoaib refused to get out of the bed and Sunny, after his recent encounter, was in no mood to step out. The very mention of going out for a walk made him crawl under the blanket.
Also Read: How to Plan a Trip to Leh Ladakh –  A Complete Travel Guide
I was a little apprehensive about taking my camera out with me. But then I noticed a few other tourists taking a stroll with their cameras in their hands. You do not see an environment like this in a peaceful town like Leh City and I did not want to miss the opportunity of clicking a few pictures.
With Rohit on my side, we stepped out of the hotel and the next 3 hours were spent walking around in the city.
No one was allowed to drive around. If you were out already, you were to drag your vehicle back home but can not bring the engine to life. Even cops were not allowed to drive around, except for the ones on patrol.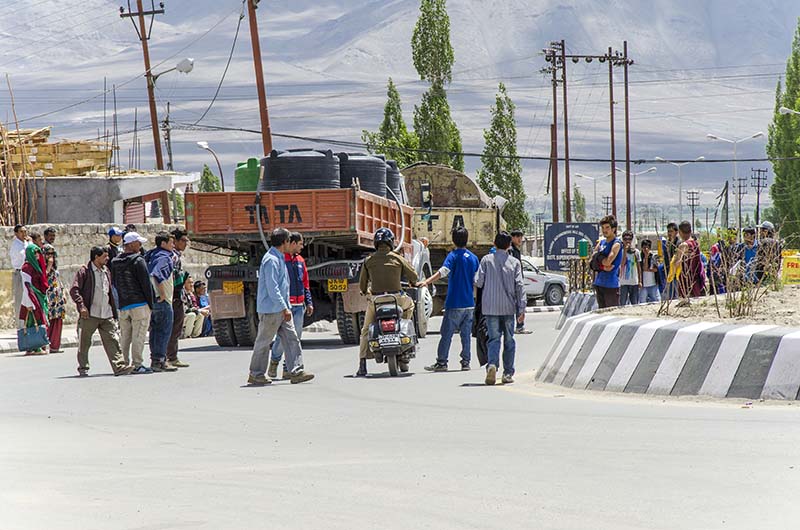 Khardung La by Bike
After walking around for a couple of hours, we returned to the hotel at around Lunchtime.
Finally, the bandh ended at 4 pm. There was still sometime before dark and we could still manage to cover Khardung La Pass. The top of the pass is only about 35 kilometers from the city and a round-trip can easily be done in a couple of hours.
After making sure that there were enough vehicles on the road already, the four of us took our bikes out and started on the ascent from Leh to Khardung La by Bike. For more details on the pass, please take a look at How to Plan a Trip to Khardung La from Leh.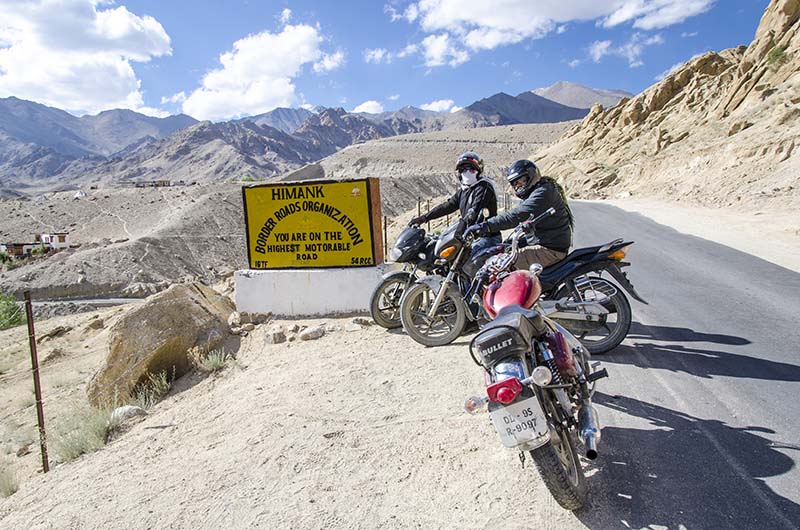 We were at Khardung Top in about an hour, our 6th high-altitude pass in the journey so far.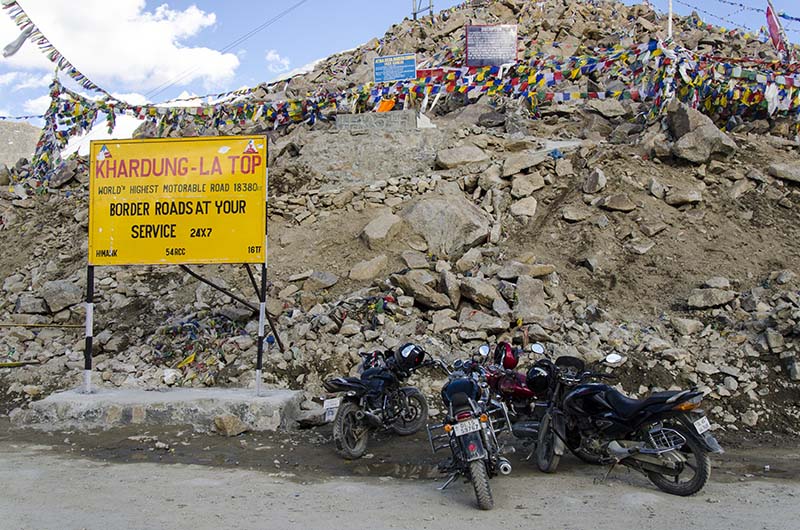 Back to Leh City
After spending some time, a cup of black tea, and clicking enough pictures, it was time to head back to Leh. It was already dark by the time Rohit and I entered the city.
Sunny and Shoaib had already reached ahead of us. I was clicking a lot of pictures due to which we fell behind a little. We reached the hotel and met them there.
All of us wanted to eat non-vegetarian for dinner. The problem was that most of the restaurants were still closed due to the bandh.
On top of it, I don't know why but all of a sudden, I wanted to get rid of the beard and mustache that I had been carrying around for the last few months. We also had to buy some stuff before we leave Leh City for Pangong. So it was decided that Rohit and I would go visit the barber while the other two would go do some shopping.
Though the plans were of a clean shave, I decided to let the mustache stay.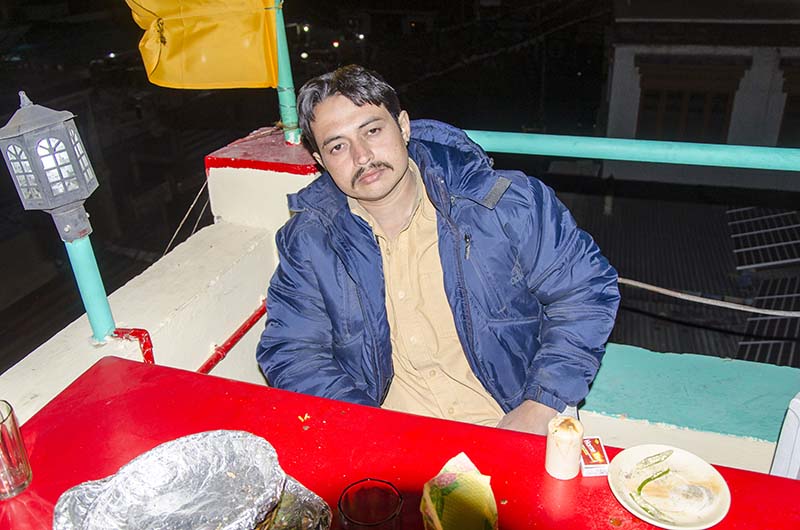 We all met at the hotel again an hour later. After Sunny had a hearty laugh looking at me in mustache, It was time to go find a place to eat.
Also Read: List of Good & Recommended Restaurants in Leh
Non-Vegetarian Food in Leh City
Half an hour's worth of search later, we found a restaurant that was serving non-vegetarian. Because of the bandh today, most of the restaurants were closed. The ones open only had vegetarian on the menu. So it took quite some effort to find a place to eat non-veg.
The roof-top restaurant where we ate.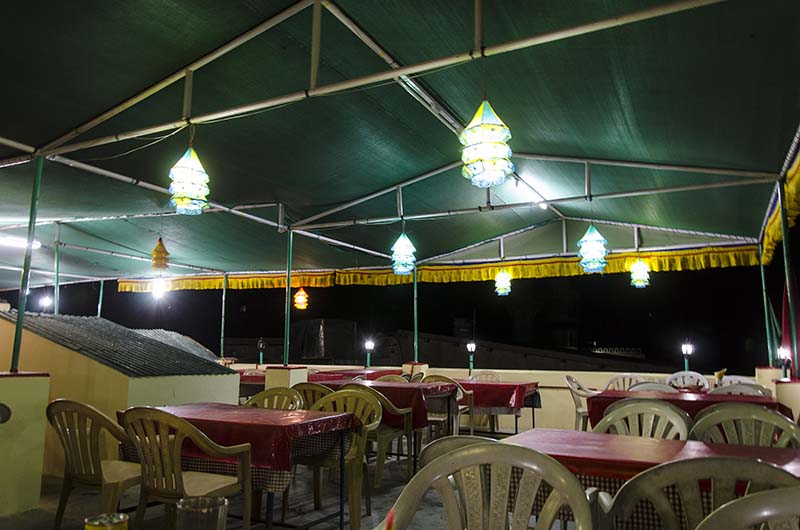 End Of Day
With our bellies full, we returned to the hotel. A little bit of TV, some chit chat and It was time to go to sleep. So far we have had 6 breakdowns, had been at the top of 6 high-altitude passes, one of us almost got manhandled by a mob, had seen a peaceful town in protest, rode around in a Chakka jam, and almost got arrested for doing so.
But the fun was not yet over. Our trip was turning out to be totally different than what we planned and there were yet more surprises and adventures waiting for us in the coming days. Please click on the link above to continue reading the next part of the travelogue.
Leh to Khardung La by Bike – Conclusion
I hope you liked the travelogue and the pictures so far. In case you were wondering, Leh to Khardung La by Bike is a trip of about 3 hours. It will take you an hour to get to the top, you will spend some time at the pass and then another 30-45 minutes for the ride down. If you have any questions, please feel free to ask in the comments section below or at our Community Forum, and I will be happy to answer.