This article is in continuation with a previous one and a part of my Ladakh bike trip log. We arrived in Leh City from Delhi and then spent the next day arranging permits and on a short trip to Khardung La Pass. On Day 6, we reached Pangong Lake and stayed at a camp for the night. The next day, we traveled from Pangong to Tso Moriri via Chushul in a single day, details of which are mentioned in this post.
To read the previous parts of the travelogue, please click on the links below.
The Journey So Far:
There are days when you plan things and everything goes as planned. Then there are days when you don't plan anything and let the day unfold on its own. But then there are also days when you have a plan, and you try your level best to stick to the plan. But no matter what you do, the plan doesn't stick and things continue to remain out of your control.
This day was going to fall in the 3rd category for us, a day of chaos.
Pangong to Tso moriri via Chushul
I woke up early to a beautiful morning, with no idea that this was just the calm before a tempest. I wanted to get some morning shots before the sun was up. This is the best time if you want to get the reflection of the mountains in the lake. Once the sun comes up, the wind starts to create waves and there is no way you can get a reflection shot.
The other three were still fast asleep. Leaving the others still in their respective dreamland, I picked up the camera and went for a walk. The timing was perfect, and a few beautiful shots I did manage to get.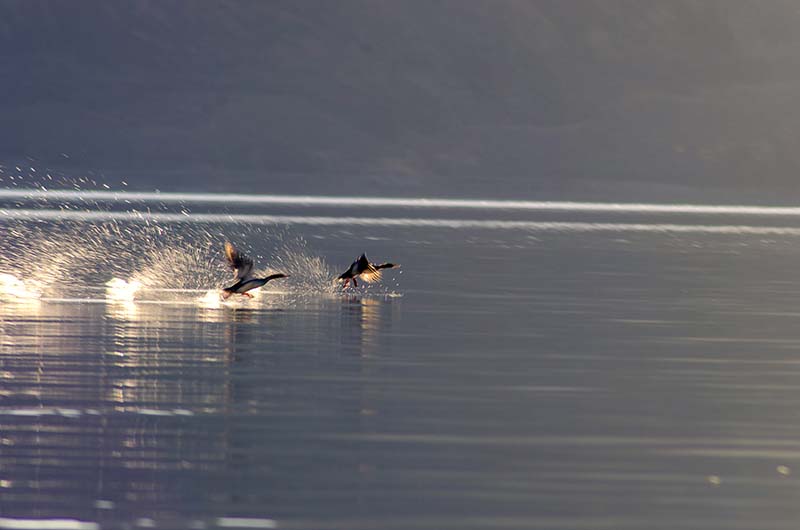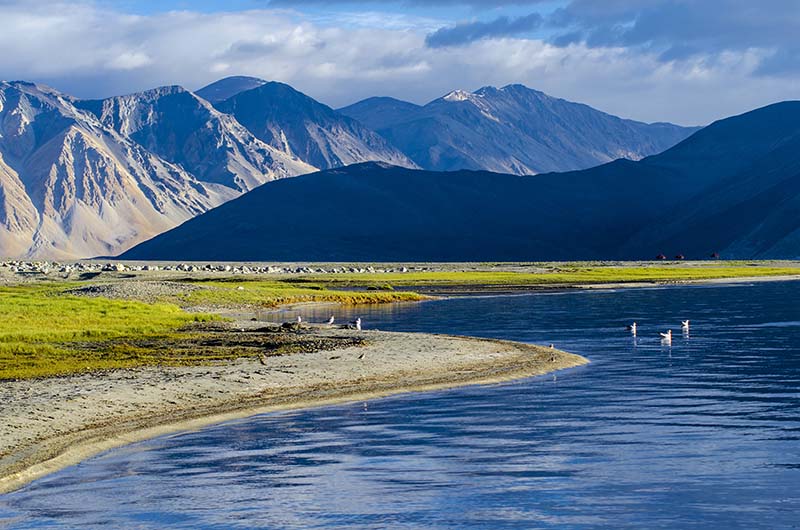 After a long walk and numerous pictures, I returned to our camp. The other three were already up so it was time for us to pack, have breakfast and continue on our journey.
Both Shoaib and I had been to Ladakh and Pangong before. So the "something new" part of the trip was going to start from here for us. Beyond Pangong were territories that none of us had previously visited, and we were all pretty excited about it.
The plan was to reach Hanle today; stay there for the night, and then continue to Tso Moriri the day after. But that was just the plan. By 10 am, with our bellies full and luggage all tied up on motorcycles, we were all set to start our journey from Pangong to Tso Moriri via Chushul.
Petrol Pump Near Pangong Lake
There is no petrol pump near Pangong Lake; or anywhere on the route for that matter once you have left the town of Leh. Depending on how long your journey is going to be, you will have to get your vehicle's tank filled and make arrangements to carry spare fuel. The only gas station in Ladakh is in Leh City, nowhere else.
With that being said, however, you can get fuel at increased prices at almost all the Dhabas these days, including the ones at Pangong Tso as well.
Our campsite owner knew that we were heading towards Chushul. Without even asking he told us that we could get petrol at Lukung if we wanted to; since there was not going to be a gas station after this anywhere.
Even though we were already carrying enough fuel with us, I still decided to at least get the motorcycle tanks filled. With that thought in mind, we backtracked about 10 kilometers from Spangmik towards the numerous dhabas at Lukung; right where the lake starts.
Stopped in between to click some more pictures.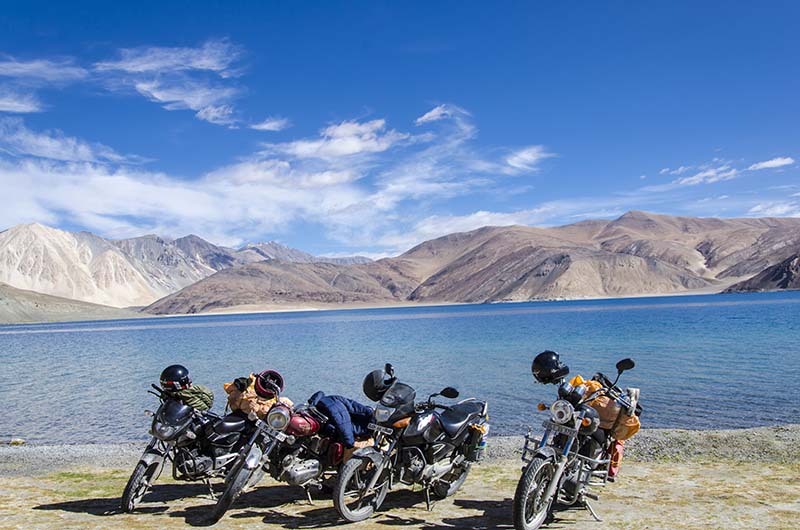 We asked around at a few chadar tents. As it turned out, they were all indeed selling Petrol at a price of Rs. 100 per liter. The market price was Rs. 70 per liter at that time. The quality of the petrol was indeed questionable but we still decided to get the tanks filled anyways.
With this done, we again went all the way back to Spangmik. From there, we took the dirt trail right next to Pangong, towards Man, Merak, and then Chushul.
Merak Village
The road was almost non-existent. Thanks to mesmerizing Pangong, the breaks were also frequent, making our progress very slow. A little later, we realized that we were not carrying any water with us and our throats were running dry.
We crossed Man, but could not find a shop where we could buy some drinking water. As a matter of fact, we didn't even spot a person in the village. We continued till Merak and the situation remained the same. The entire village looked like a ghost town; with not a single soul in sight anywhere.
Finally, with no option left, this is how we ended up getting some water.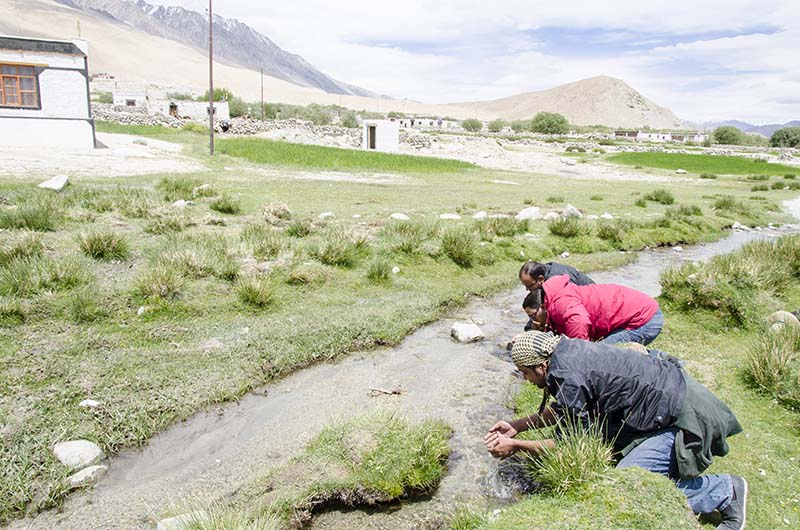 Finally, I spotted a few locals in Merak and asked one elderly gentleman if we could find a tea stall in the village. The answer was negative but he offered us tea at his own home which we for some reason readily accepted.
For a moment I thought of those Hollywood movies where tourists get invited by some stranger and then get butchered. But we went to his place nonetheless and the tea was quite good, I must accept. It was a gentle touch of hospitality in a small village in the middle of nowhere.
Chushul
After getting some water and tea, the journey continued. We registered ourselves and submitted permits after Merak and continued towards Chushul. There was still no sign of Tarmac on the road; if you can even call it a road.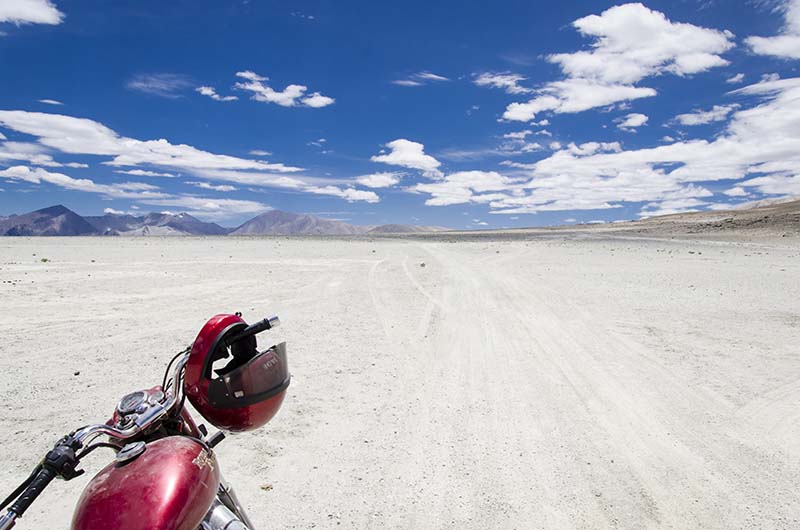 Our 8th pass came in the form of an unknown pass. It wasn't really of that high altitude as well. As a matter of fact, we wouldn't even have realized that we were crossing a pass if it wasn't for this sign.
Pretty soon we reached Chushul and it was time for a photo session at the war memorial. This is one of the must-visit places while traveling from Pangong to Tso Moriri via Chushul.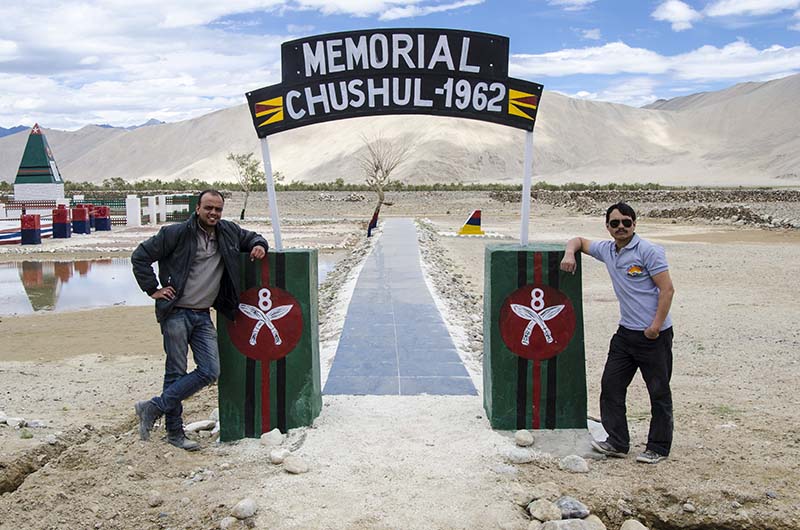 Rezang la
I was hoping to see Black Tarmac after Chushul but disappointed I remained. We still continued to travel on a dirt track. Our guide and map all the way from Pangong to Chushul were the electricity wires which we followed knowing that these wires are connecting the villages.
We arrived at our 9th high altitude pass of the trip, Rezang La. To read about the battle that took place here and the valor of our soldiers, please read Lest We Forget: The Heroes of Rezang La.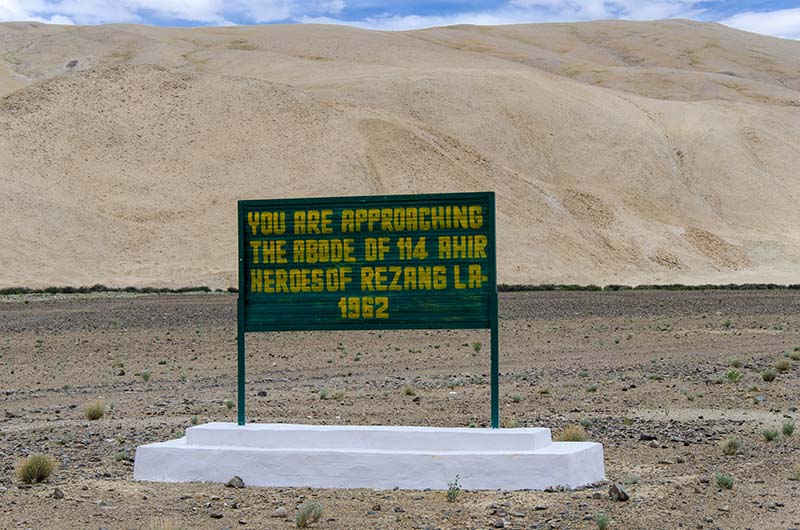 Things were fine until now except for the road. But even the dirt track was adding a little to the charm of the day. The first disaster of the day struck when the rear tire of my Enfield went flat after we had crossed Rezang La.
It was the 7th breakdown of the journey ever since we started from Delhi.
Now, this was a little troublesome because we were standing in the middle of nowhere. Even though we had all the necessary equipment to fix it, It was going to be our first time on our own.
We managed to get the wheel out after some struggle and found the culprit in the form of a nail. It was buried deep in the rubber and we needed something to pull it out or something pointy to push it out. But the problem was that we had nothing that could do the job.
While we were trying to figure out a way to pull the nail out, an army truck approached us. We waived at it to stop hoping that they might have a screwdriver or some other tool but unfortunately even they didn't. After a lot of trouble, we finally managed to pull the nail out using just our fingernails.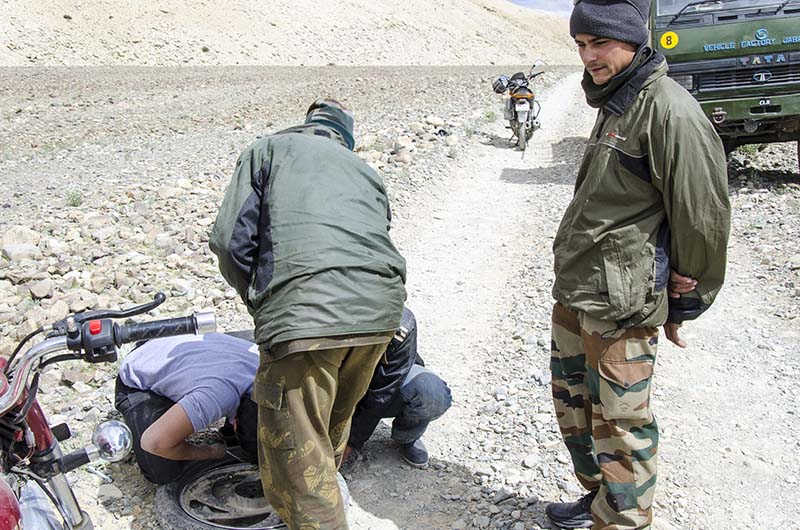 Tsaga La
We waived goodbyes to the army folks and after the truck was gone, we got back to the task of putting the wheel back in. Just when we were finishing up, an Army Gypsy approached and stopped right next to us, without us waiving for it.
"What are you guys doing in this area?" The army Major in the gypsy inquired as I walked up to them.
"We are going towards Hanle" I replied.
"Do you have the permits?" He asked.
"Yes," I said.
"Show me"
We produced our permits which he first looked at himself and then showed to another guy sitting in the gypsy. Once convinced, they left us to ourselves and drove off.
Just for the sake of information, your regular Inner line permit works for traveling from Pangong to Tso Moriri via Chushul as well. But you need to make sure that get the stamp of Hanle on it. Otherwise, it will not be deemed valid.
More than an hour got wasted here before we could finally be on our way to Chagga La also known as Tsaga La.
Finally atop Chagga La or Tsaga La. Our 10th high altitude pass.
We registered ourselves again at the check post after Chagga La, and finally found what we have all been hoping for. A ROAD.
It was well past 3 by now and we inquired the ITBP guys at the check post about where we could get something to eat. The answer was Loma, which was only about 20 km away. Even though the road was also awesome, once again thanks to our frequent breaks, we reached Loma at around 4.30 PM.
The Dog Episode
While entering the village, I was riding a little behind the other three, because I was stopping every now and then to take pictures. As we entered the village, I stopped again to click a shot. Just then I noticed 2 puppies of Bhutia Breed coming towards me.
They looked very cute and I thought of taking a picture. But there was something sinister in their way of approaching. My sixth sense told me to get going before they got close. Fortunately, I had not gotten off my motorcycle or killed the engine by then. This made it easier for me to be on my way before the puppies could get to me.
I had gone only a few meters when I noticed a whole bunch of dogs on the slope of a hill. They were all running towards me crazily from a distance. I knew that they were coming for me; probably because of the fact that they are not used to seeing too many motorcycles in this area.
"You are far away guys, would never get to me" I chuckled to myself; only to realize that one of them already had. A dog was running right next to me on the road. I was so engrossed in watching the ones coming from the hilltop that I didn't even see the one on the road. I accelerated just in time and got away.
We crossed the village and reached the check post where you are required to register and take a left turn towards Hanle, approximately 50 km from there. The road towards the right goes to Nyoma.
Our plan was to go to Hanle today. We were to stay there for the night, backtrack 50 km tomorrow till Loma, and then continue towards Nyoma.
The Checkpost at Loma
While we were registering at the check post, I mentioned the dogs to the Army person and this is what he said,
"They were not chasing you for fun like city dogs. They would actually have attacked you and if no one interfered, killed you"
This was enough to drain the color out of my cheeks. So dangerous these dogs were that when we asked for drinking water, a couple of army guys escorted us to the place where they had a water arrangement.
"We can't let you go alone, because of these dogs here. They would definitely attack if they see a stranger alone"
"Why do you keep them around if they are so dangerous?" Was my question.
"They belong to the villagers. They are a great help in keeping a watch against any wild animal" Was the answer I got.
"Don't they attack the army guys then?"
"They get used to seeing us around, get to know us but still we have to be careful around the dogs. There had been incidents"
"Incidents?" I asked, "Like?"
"We don't usually step out alone at night in open because of these dogs" He started telling me, "A few years ago, an army Subedar at one of the posts around here got drunk at night and made the mistake of coming out alone. Since he was drunk, he must have hit or tried to shoo away the dogs which resulted in an immediate attack. By the time we found him in the morning, the dogs had already eaten him up. Only part of his body that remained was the ones inside his shoes, his feet"
The Change in Plan
This scared the hell out of all of us. I did not want to discuss the topic any further and started to get ready to move on.
"You will have to leave your camera here," Said the army guy when he noticed me picking up my DSLR.
"Why?"
"You are not allowed to carry a camera beyond this point towards Hanle"
Now, this was a problem. There was no way I was going to leave such an expensive piece of equipment here at the check post. Moreover, I did not want to go anywhere on this trip unless I had my camera in my hand.
My apprehension was such that after discussing with the other three, we decided to not go to Hanle and continue towards Nyoma. For some reason, they too were not very keen on riding 50 km now and then ride back the entire 50 tomorrow morning.
Somewhere deep inside, I believe all of us knew that we were so scared of the dogs that we refused to go any further in uncharted territories. The camera I believe was just an excuse that day. The main reason was the dogs and then also the fact that we were all pretty exhausted by then and wanted to check in to the next available hotel, as soon as possible.
I looked at my watch. It was already 5 pm.
"Can we get someplace to stay here for the night?" I asked the Army guy but the answer was negative.
"Go to Nyoma, it is just some 20 km from here and you can easily get a place there," He said.
Nyoma & Mahe
This was a big change in the plan. We skipped Hanle altogether, took the turn towards the right, and continued towards Nyoma.
On the way, every time we crossed an Army check post, my eyes would automatically start looking for any signs of a dog coming towards us. Such was the fear that had crept in all our hearts.
It did not take us long to reach Nyoma, but all our hopes came crashing down when we found out that there is no hotel; or a guest house in Nyoma.
"What now?" Shoaib asked me.
"We continue to Mahe" Was my answer.
Another unknown lake on the way, our 7th high altitude lake for the trip.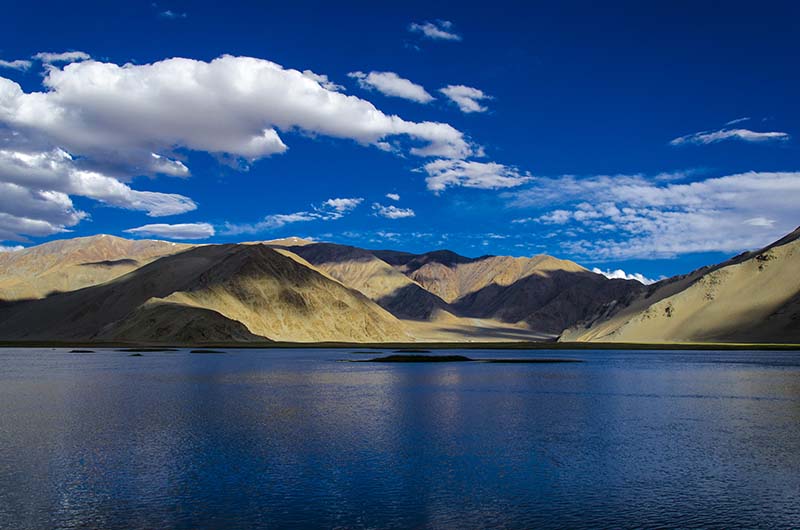 And so we continued to ride ahead with dark approaching soon and no idea of what lay ahead for us in the journey. All we wanted at that moment was to find a place where we could spend the night but had little idea about the trouble we were about to get in.
Please click on the link below to continue reading the next part of this travelogue
Pangong to Tso moriri via Chushul – Conclusion
I hope the travelogue, pictures, and information on traveling from Pangong to Tso Moriri via Chushul were of help. If you have any questions, please feel free to ask in the comments section below or at our Community Forum, and I will be happy to answer.