This post is in continuation of a previous one and a part of my Bhutan travelogue. We traveled from Delhi to Bhutan via Siliguri on bikes and rode to the Thrumshing La Pass on Day 9. After Dochu La, this was the second mountain pass that we covered during the trip. To read the previous part of the travelogue, please click on the link below.
Journey so Far
The plan for the day was to reach Mongar, which was 230 km, or approximately 8 hours of riding. In retrospect, it was quite ambitious considering the terrain that awaited us. We started at a reasonable time, 9 am, as we had to pass through the forests of Bumthang and clear Thrumshing La, and then do another 90 km to Mongar.
About Thrumshing La
Thrumshing La, also called Thrumshingla Pass and Donga Pass is the second-highest mountain pass in Bhutan. The elevation of the pass is 3,780 meters (12,402 ft). The pass is often closed during winter due to heavy snowfall, shutting off land communication along the Lateral Road.
During road closures, commercial and public vehicles are prohibited from attempting Thrumshing La, however, private vehicles may proceed at their own risk. (Source: Wikipedia)
Day 9: Trongsa to Thrumshing La
It was an overcast day and we somehow got strung out in a longer file than we ever had earlier. Rohan, as was his habit, was bringing up the rear. I was riding 3rd, and after a couple of hours of riding, I could not locate him in my mirrors. I signaled Jaya who was just ahead of me to slow down, and when I caught up with her I told her about Rohan.
Meanwhile, Sushant continued to ride at his normal speed and was out of sight. We were not sure whether to try to catch Sushant or to go back for Rohan. We decided to chase down Sushant first since we were wary that he might not realize that no one was following him anymore.
The Fork
A little distance down the flat open valley we were in, we came to a fork in the road. Normally you can see and tell which fork is the main road, but in this case, we could not. We stood there wondering which would be the correct fork, and which one would Sushant have taken, and were faced with the prospect of the pack being broken into multiple parts for the first time in the trip.
The Alpine autumn of Bumthang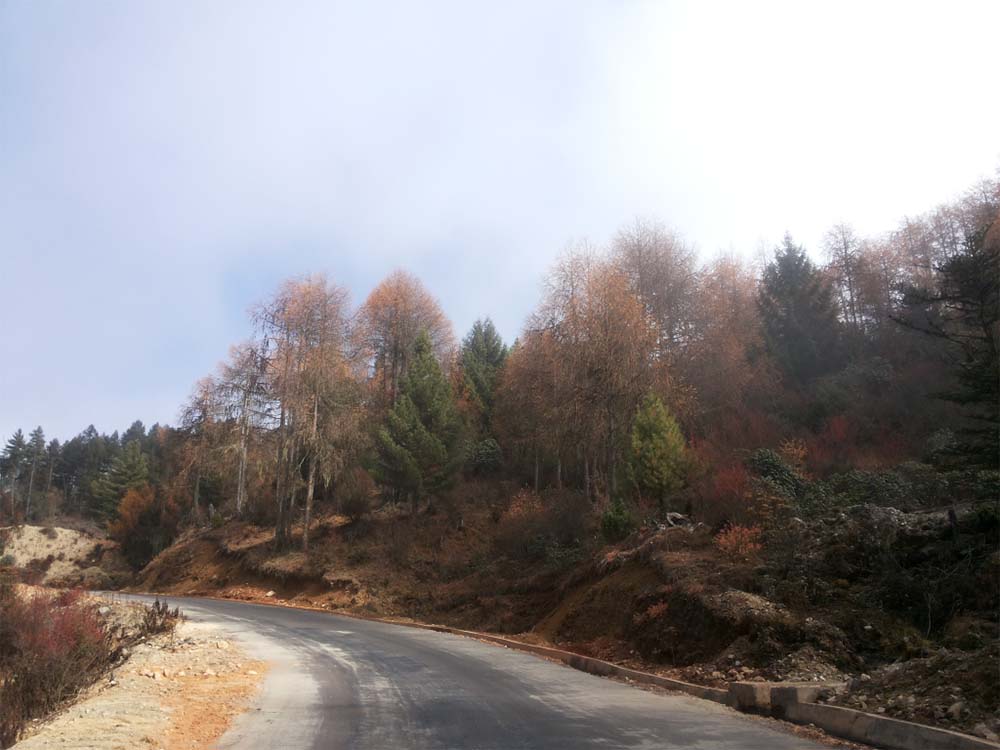 The weather had turned quite cold, in what was just around noontime. Blustery cold winds howling through the flat valley floor drove needles of cold through the open helmet visors as we talked. And then we saw Sushant coming back from the right-hand fork which I felt was the correct road. He instead told us that it wasn't!
We were all hungry and cold, and I am sure so was Rohan, wherever he was. So we decided that Sushant will rush back to find Rohan and help him, while I and Jaya would ride on ahead to the next village, find an eating place order some nourishment. We rode sedately, somberly aware that if Rohan had an issue with his bike, the ambitious ride plan for the day was skewered.
Also Read: Bhutan Travelogue – One Step Closer to my Soul
The Thukpa
About 10-15km on the road climbed up the valley, and at a higher outcrop, we found a solitary wooden house, with the chimney trailing smoke. When we stopped to ask for directions to the next village, through the narrow entrance door we saw tables and chairs laid out like in an eating place.
The place looked warm and inviting inside, and a moment later we were sitting, taking off our gloves and helmet, exchanging greetings, and enquiring about the menu. The old lady in charge said that we could have all forms of Thukpa, and we ordered three for us.
From the rear window, we could see the road we had come on snaking out into the flat valley below for kilometers. After 10 min or so, I saw 2 motorbikes winding their way along the road, and I ordered 2 more Thukpas.
Rohan had been having some issues with the throttle, and the engine would not move beyond idling. A little bit of fiddling fixed the issue, and by that time Sushant had reached him.
Steeds waiting while we warmed up on the best Thukpa in Bhutan, Bumthang province.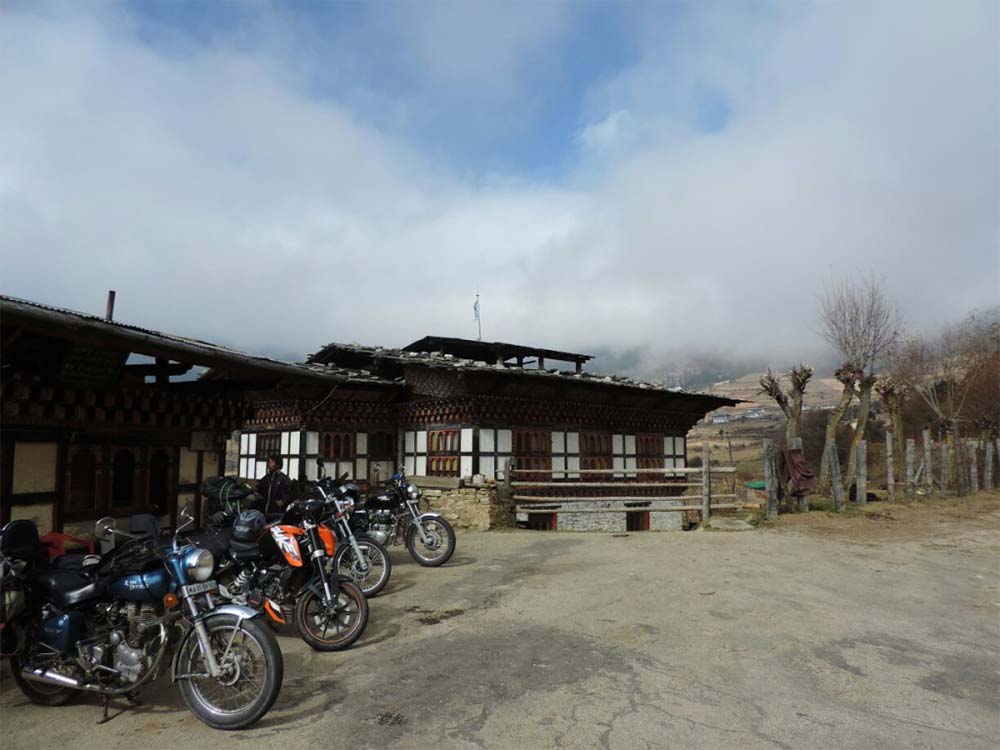 Continuing the Ride
Feeling warm and strong with the Thukpa inside us, we hopped onto the bikes again. It was only 12:30 pm, and we were getting ready for the climb up to Thrumshing La. But the road decided to get decidedly bumpy.
After a good hour of riding through the beautiful alpine forests of Bumhtang on a fairly long dirt track, we stopped for tea and snacks at a family-run place just before the ominously tall and dark mountains that were home to the Thrumshing La. It was a beautifully made log café, sitting alone along the forested road. Famished as we were, we took a longish break and recharged ourselves for the final climb up the pass.
Also Read: Bhutan – From the Eyes of a 12-Year-Old
When we restarted, the climb was more difficult. Having food in the tummy made the road feel bumpier, and the inclines increased considerably. On my Electra, I had all the luggage for my family, and Mehr wedged between the backpacks on her sides and a tall backrest behind her.
All of us together weighed about 340 kgs. Soon my Electra was climbing in 1st gear half the time and in 2nd the rest of the time. After a while, I looked ahead to see where the pack was. They were not on the same straight as me. The road took a right turn onto the adjoining mountain face, where I could see it snaking up the mountain in a series of hairpin bends.
Looking up I spotted the three bikes 3 hairpin bends further ahead. This incident really drove home the horsepower handicap I suffered on this trip.
At worlds end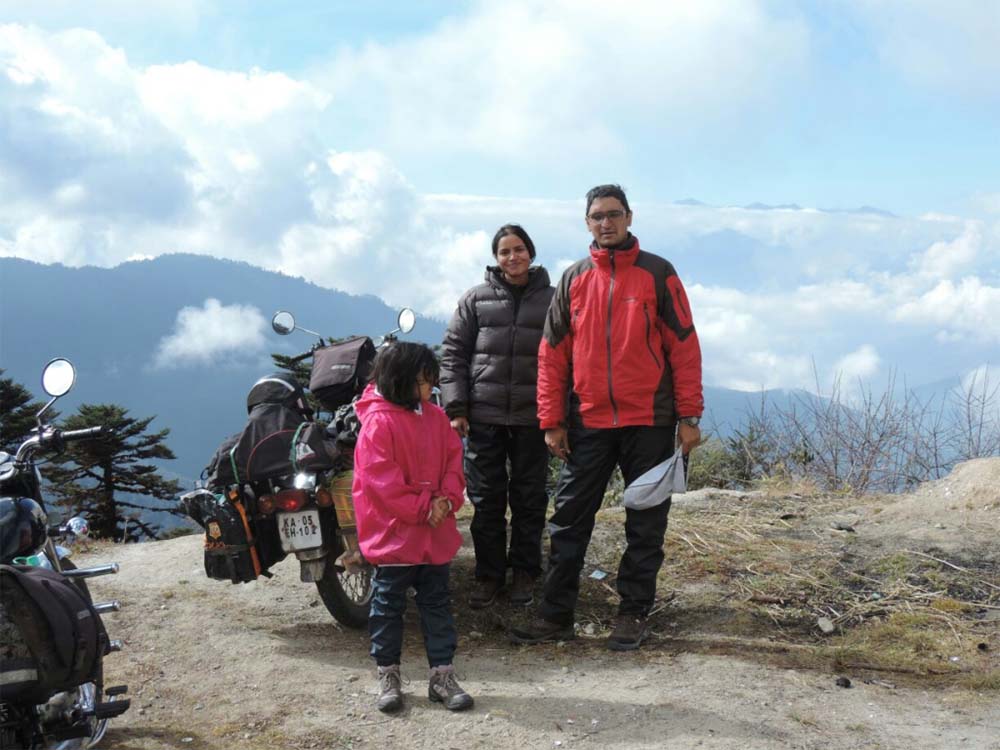 Thrumshing La Top
Another half an hour's climb and we could sense that we were close to Thrumshing la. Not only could we could see clouds below us, pushed by the wind, but the clouds were also climbing up the mountain and passing over us. It was a magical experience. We pushed on, and in 10 min of riding, we reached the top of the pass.
In those 10 mins, the weather had gone from sunny to cloudy, with a lot of mist and bitingly cold on fingers and toes. We really celebrated reaching the top of this difficult pass, which unlike some of the Indian passes was difficult to climb not because of pathetic roads, slush, or traffic, but because of the sheer incline, we had to encounter for an extended duration.
Also Read: Road Trip to Bhutan – Journey of a Lifetime
But at the back of our minds was the fact that it was 3 pm, and the sun would go down at 4 pm, it was already bitterly cold, and we had another 90 km to reach our planned destination. Threshing La is in the middle of a forest, which makes it even colder. There was no traffic either, it seemed we had the forest to ourselves.
Thrumshing La: It was cold, and a steep climb.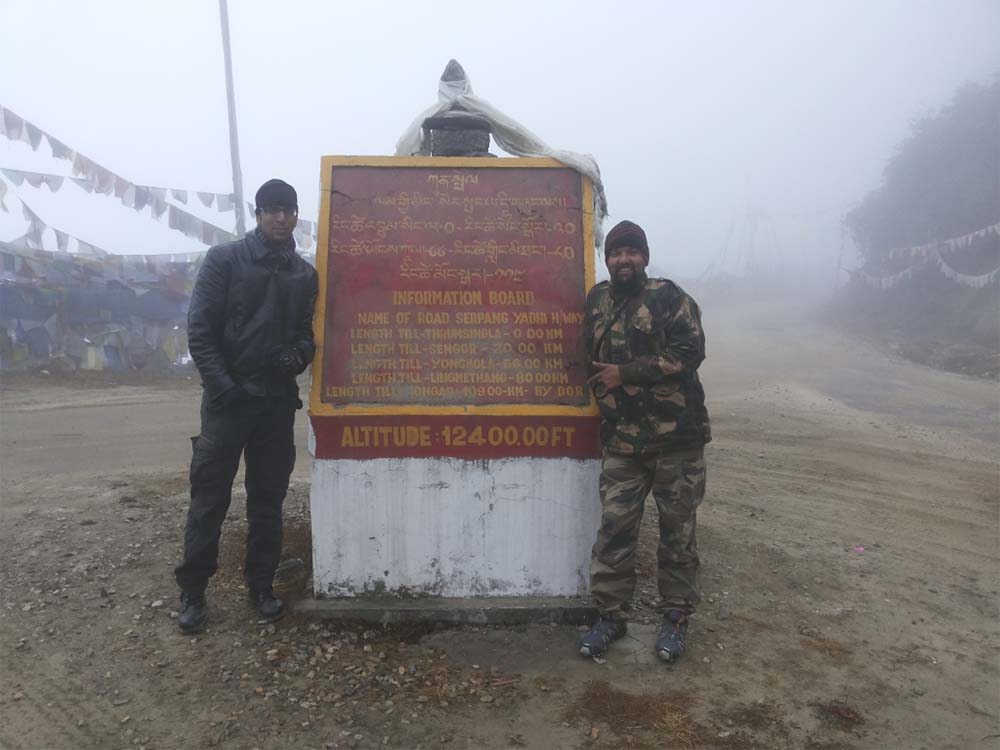 The Fire
Spurred by this knowledge, we started our descent quickly, hairpin after hairpin dispatched fast. My 340 kg leviathan was slow on the climb, but going down it could dance its own dance. Some 10-15 km of descent later, leaning into a right-hand curve, from the corner of my eye I saw something that looked like smoke and embers.
Instinct taking over, I braked hard and turned back. Someone had lit a fire which they had left, and it was not completely extinguished. By the time the rest of the gang came, I had already added leaves and twigs to the embers and was fanning it.
Also Read: Dubai Travelogue – A Vacation in the City of Dreams
In a few minutes, we had a nice little fire going, in the middle of a forest, at 3500 meters altitude. It was so comforting to sit beside the fire and warm our bitterly cold hands and feet that we forgot about the time. I reminded folks that we had a long-distance to go, but Crash, Eddy, and Mehr revolted and said no. Jaya didn't want to move either.
A warm fire at 3500 meters, close to sunset, in the middle of a forest.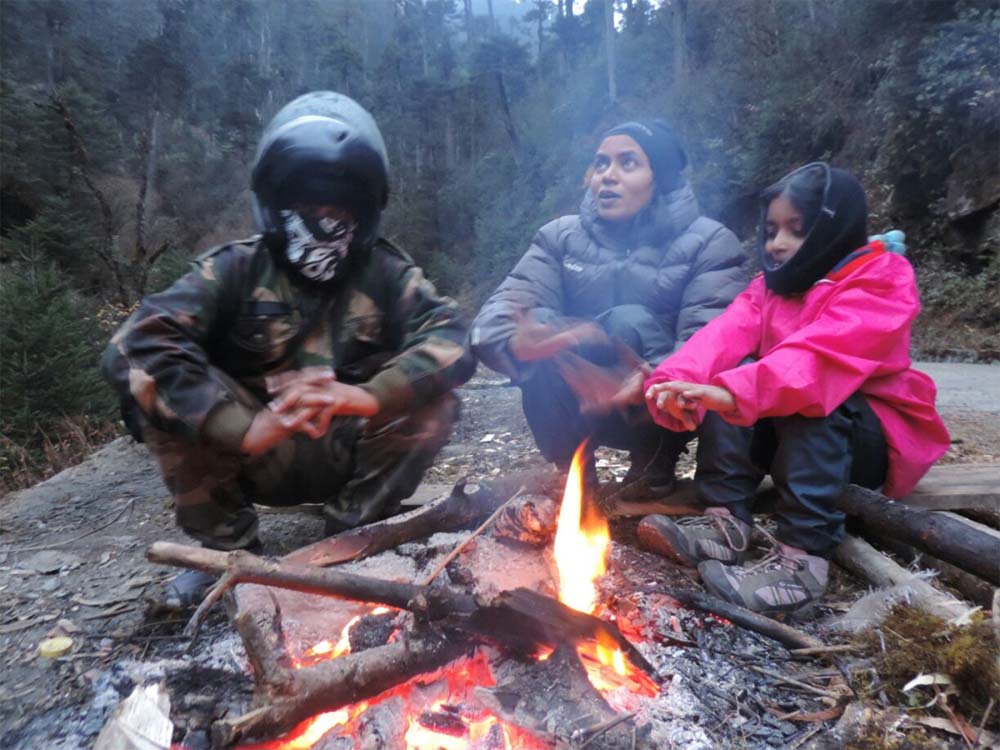 The House in the Middle of Nowhere
By the time we got up, it was 4.30 pm, it was dark and cold. Luckily, the altitude dropped quickly thereafter, although the road condition didn't improve. I kept egging the pack to go a little faster, but it was pitch dark. With the given road condition and narrow road, no one was particularly keen to go any faster.
Sushant in particular was advocating safety at the cost of going incredibly slow. It was a hangover from an incredibly stupid, dangerous, and retrospectively hilarious incident he had had earlier that year. The best we could do was to put Rohan on his Thuderbird up ahead. His bike had the best headlight and gave superb illumination for close to half a km.
By 7 pm, with 45 km to go to Mongar, we saw lights from a big solitary house. Jaya declared that she was stopping for the day, at that house. I couldn't understand how that would happen, as it was a house, not a hotel or a lodge. That wouldn't stop Jaya. She just parked her bike, walked up to the door, knocked, and started talking to the person who appeared at the door.
She came back a few minutes later, triumphant. It turned out that the big house belonged to the local Zamindar (landlord). He had a couple of empty rooms on the 1st floor, which he happily let out to us for the night. And his wife made us a piping hot, sumptuous Bhutanese dinner.
This was an amazing stroke of luck, bone-tired as we were after the jarring and tiring climb and descent. The rooms were cozy and comfortable, and I don't even remember climbing into the bed after dinner.
Thrumshing La Pass – Conclusion
This was it for the day. We retired to our beds both happy and tired. Tomorrow we had a long ride ahead of us back to Guwahati. Please click on the link above to continue reading the next part of this travelogue.
I hope the details and pictures of the ride to Thrumshing La Pass were of help. If you have any questions, please feel free to ask in the comments section below or at our Community Forum, and I will be glad to answer.