Bhutan has everything of its own. It is complete within itself quite successfully. So to experience that difference I planned out a small trip to Bhutan. Have you ever thought about a place which is quiet and calm like a mountain and adventurous like sea waves? Then, believe me, Bhutan is a place which fits into both categories. I was recently on a trip to this beautiful land and below is my brief Bhutan Travelogue listing down my travels; and some information that hopefully can be for you as well.
If you are planning for a short trip to Bhutan, you should remember a few things which will help you out greatly.
Never take the help of a guide, just be yourself (follow the traffic rules).
Travel in a local bus to experience the authenticity of Bhutanese people, which will change your all misconception of living life and the best way to see the difference between our country and Bhutan.
Go for local food
Bhutan Travelogue
Below is a brief overview of how my journey went and how I earned memories that I will cherish for all of my life.
Routes to reach Bhutan
There are several routes to reach Bhutan by road. It is always better to start your Journey from India (for my overseas friends) but if you wanted to land straight into Bhutan, there is an international airport at Paro which is also the only airport there. If you landed in India, then there are few routes which will take you to Bhutan without any hassle.
Nearest Railway Station to Bhutan

As I live in Hyderabad I choose a morning flight for Kolkata (CCU) and started my journey from there. A train is my favorite, and also the most comfortable mode of vehicle, in my opinion. So I booked my tickets in Kanchankanya Express (train no 13150) from Sealdah (boarding time: 8.30 PM) to Hasimara (destination time: 10.46 AM). There are many trains which are connected to the north Bengal from where Bhutan is easily reachable. For my Indian friends, it's always best to take the railway to experience the beauty of North Bengal forests and mountains in the journey.
Also Read: The Smiling Faces of Bayon, Cambodia
There is no train route in Bhutan. Tourist are required to reach any of the train stations located in Indian territory and board a cab or local transport for Bhutan. New Alipurduar, Siliguri, New Jalpaiguri Station and Hasimara are some of the railways stations nearby of which, Hasimara situated in West Bengal is only 17 km away from Phuentsholing.
Airport in Bhutan
For my overseas friends, Paro Airport is the only international airport, situated in the deep river valley of Paro Chuu. There are regular flights from Delhi, Mumbai, Bangkok, Nepal, Kathmandu, Dhaka, Singapore, Bagdogra, Gaya, and Gelephu. Flight tickets are comparatively costly throughout the seasons.
Permit or Visa for Bhutan
Next essential thing is the permit or Visa. Indian, Bangladesh, and Maldives citizens are the luckiest one to travel in Bhutan without Visa. The only thing required is a Permit. Now there are various ways to get this permit. Those who are flying from India to Bhutan can easily get the permit done at The Paro international airport immigration service. I got my permit after reaching Phuntsholing. Phuntsholing, also spelled as Phuentsholing is a border town in southern Bhutan and is the administrative seat of Chukha District.
How did I reach Bhutan?
I took a shared auto from Hasimara railway station which took only 40 rupees in INR; and dropped me at the Phuentsholing border in 30 minutes. I had to rush because the Immigration office closes at 5 PM (originally 4.25 PM IST).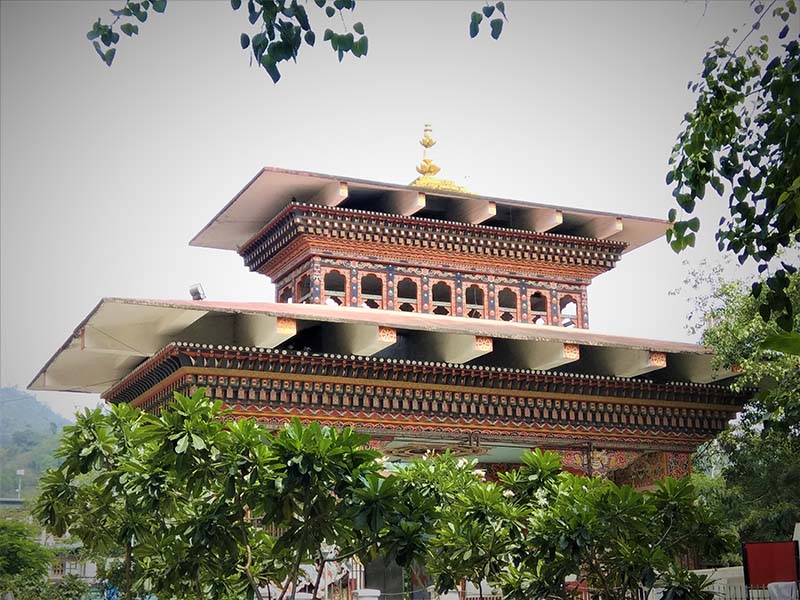 Bhutan Permit Process at Phuntsholing
A few things you are required to bring in order to get your permit are as mentioned below.
Your Hotel booking receipt. If you are someone who don't like to book hotels in advance then book one that is not asking you to pay upfront. Later, when you reach Bhutan, you can find another hotel as per your liking, negotiate an on the spot deal and check.
Complete travel plan or itinerary written on a white paper. It should include all the places you intend to visit from the starting date to the end date.
Identity proof (passport/ Voter ID) and passport size photo.
You need to fill up the Immigration form by stating the dates, purpose, and ID number, etc. Attach all your documents carefully along with the form and submit to the collectors. You need to go through a basic verification while submitting the documents. Once the documents are submitted you need to wait for at least half an hour for the final call where you will be actually appearing for the identification. It did not take more than 40 minutes for me but to be on a safer side, you should keep about 2 to 3 hours for your permit process, depending on the rush.
The most important thing to remember is the duration of the permit is for 6 days. If there is any extension required can be done from Thimphu Immigration service center.
Hotels in Phuentsholing
I finished my work a little late so I had to stay back in Phuentsholing. There are many hotels in Phuentsholing at reasonable prices. I stayed in a hotel called 'Karma'. The charge was Rs. 500 for a single bed and Rs. 800 to1000 for a double bedroom.
Also Read: Lakshadweep Diaries – A Journey to the Paradise
Local SIM Card for Bhutan
Another important thing is to buy a local SIM card which can be issued from Phuentsholing. They will charge 100-150 with the talk time and you will get a pre-activated SIM card.
Phuentsholing to Paro
The very next morning I started my journey to Paro.  A bus is the best mode of travel for this part of the trip. I will recommend not traveling in a cab because it's quite expensive and boring. The bus fare is 210/- per person from Phuentsholing to Paro which is approx 7 hours journey with the lunch break. There are private cabs available as well but they are expensive. They will charge you about Rs. 2000 to Rs. 3000 for a drop to Paro.
Paro
The landscapes are lustrous and picturesque. You will be crossing several mountains on your way to Paro and believe me; this journey will be the most remarkable and memorable journey of your life. In between the bus took a halt for lunch break. You can have your lunch here for as less as Rs.100. They will serve you hot brown rice and any curry (vegetarian and non-vegetarian both.
After this yummy lunch and a breathtaking journey, I reached Paro at around 4 pm and started searching for hotels. There were a few locals from Paro in the bus who I got talking to and was able to get some helpful information regarding hotels. After a quick search, I found a very good hotel call 'Hotel All Season' and booked a single room for 600/- per night. They have a restaurant inside so you can have your meal there also. After quick refreshment, I went out to explore the beauty of Paro. It's a town with good and humble people, breathtaking views of snow-capped mountains, monasteries, and a few rivers.
Tiger's Nest Monastery
My plan for next day was to trek to Paro Taktsang Monastery, also known as Tiger's Nest Monastery; and I was very excited about it. I started accumulating data related to the journey such as cab service, ticket fare, timing, etc. I booked a cab for the next day which asked for 1100/- for pickup from the hotel and drop. The monastery was quite far from my hotel so I agreed to this price. I was picked from the hotel at 7.30 AM and started on my way to the most awaiting trek of my life, Paro Taksang. It is considered as one of the most sacred Himalayan Buddhist sites and was built in 1692.
Also Read: The Bards of Bengal
Trek to Tiger's Nest Monastery
My driver dropped me at the foothill from where I bought the entry ticket for Rs. 500. If you are trekking to Tiger's Nest Monastery, there are a few things that you must remember to bring along.
Water bottle
Cap
Sunglass
Dry fruits
Biscuits
A full sleeve jacket/ T-shirt as visitors in sleeveless dresses are allowed in the Monastery.
It is better that you keep a whole day for this trek and start the trek early because the weather in the mountains here can change unpredictably. Near the ticket counter, you can borrow walking sticks (for Rs.50) or you can carry your own. Walking sticks are very helpful to balance your body weight and support on the stiff trek. The highest elevation is 10,232 feet. The whole trail is a bit stiff but you can complete the trek within 6-7 hours including the visit in the Monastery.
Once you reach the Monastery you will found a check post where you need to show your ticket and leave all your belongings except money. A phone is strictly prohibited inside. There are six different temples where you will find a mixed feel of history, faith, believe and thrill. The constructions, paintings, architecture, signs, and symbols all will take you to the revealing mystery land from where you will never want a return. I completed the visit by 30 minutes and started trekking down. It was an awesome experience where your expectation of trekking meets an adventure with a touch of history and myth.
The trek is about 6.5 kilometers round trip with an elevation gain of 1,700 feet. The highest elevation point is at 10,232 feet. Total time you will need is about 5 to 7 hours for the entire visit.
Thimphu
Next day I left for Thimphu as I needed to get my permit extended from Thimphu Immigration office. As I mentioned before, a bus is the best mode of transport to travel in Bhutan so I boarded a bus from Paro and reached Thimphu in about two and a half hours. The modernization has touched Thimphu and it is a bit densely populated.  But I was amazed to see how structured things here were; no red lights anywhere, cars that don't blow their horns unnecessarily and people crossing the roads by following the zebra crossing only. What a truly blessed country.
It was not that hard to find a hotel in Thimphu. I got a room for Rs. 800 and got my permit extended for three more days. At the evening I explored the local markets and bought some souvenirs for friends and family.
Also Read: Kedarnath – The Holy Adobe of Mahadev
Buddha Point
Next day I decided to visit the Buddha point and planned to leave for Punakha. Though the Buddha point was made for commercial purpose, I was very keen to see the Buddhist Jataka paintings inside the museum. The gigantic golden sculpture of seated Shakyamuni will mesmerize you. It's almost 177 feet in height and creates a surreal effect with the wide open blue sky and mountain as a backdrop. A cab is the only option to visit the place and it's easily available.
Punakha
Punakha is another beauty of Bhutan. This place is quite rural and its population is also very less. The main source of income is cultivation. The beautiful juncture of Pho and Mo Chu River is truly sublime. The main attraction is Punakha Dzong, A 17th-century fortress. It serves as the head office for administrative and religious purposes. The lush green Punakha valley is mesmerizing. Staying here is a bit costly depending on the visiting time. Mostly the people communicate in their local languages so it is a bit difficult to stay and communicate there.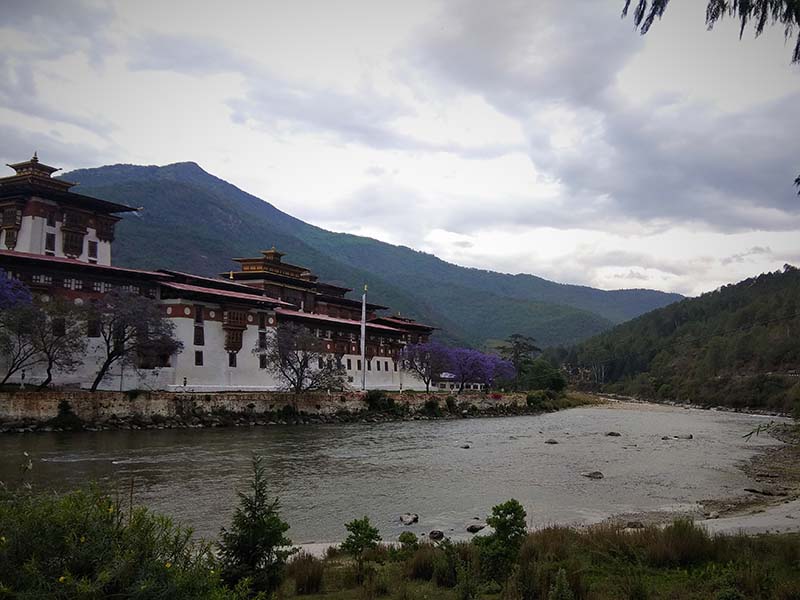 Other Places
There are few more places in Punakha which should be in your bucket list. I could not visit all of them because I had limited time in hand. But places like Chimi Lakhang, Khamsum Yulley Namgyel Chorten, Talo, and Punakha Ritsha village are well worth visiting. All these places are in a way a perfect mix of nature, peace, and harmony. Natural beauty is so well preserved here that it feels like a fantasy land on earth. I returned on the next day to Thimphu as I had to return to Phuentsholing to end my journey and be on my way back home.
A few more details that could be of help.
The Immigration office is located near Bhutan Gate. It's 5 minutes walking distance from the Bhutan Gate. The name is written clearly on the building; also the huge crowd will catch your eyes .
The permit is free for Indians, Maldive and Bangladeshi citizens.
The Sim cards are easily available in Phuentsholing. After immigration one can visit the local markets to get the Sim card.
The total trip was for 9 days.
Bhutan Travelogue – Conclusion
And that was my journey to Bhutan, a most peaceful, scenic and tranquil place I have ever been to in my life. I hope the travelogue and information above was of help. If you have any questions; or need any further details; please feel free to ask in the comments section below; or at our Community Forum; and I will be glad to answer.