This post is in continuation of a previous one and a part of my Bhutan Bike Trip travelogue. We rode from Delhi to Thimphu via Siliguri in 6 days and then continued from Thimphu to Dochula Pass and Punakha Valley on Day 8. To read the previous part of the travelogue, please click on the link below.
I also realized an issue with my bike, that the oversized jets (in Carburettor) I was using in the Electra were running too rich for the thin air. At higher altitude the mixture would become too rich, and foul the plugs, not allowing me to use high rpm which I would require to cross the high passes.
Good thing I changed the jets to the standard size ones I was carrying, as I later discovered when riding up Thrumshig La in the first gear at high rpm. Crash and Eddy went to visit the giant Buddha statue overlooking Thimphu from an adjacent mountain top.
Day 7: Thimphu
In Thimphu, the King's birthday is celebrated with day-long events at the national stadium. We spent a lot of time watching traditional dances, songs, recitals, and music.
King's birthday celebrations in Thimphu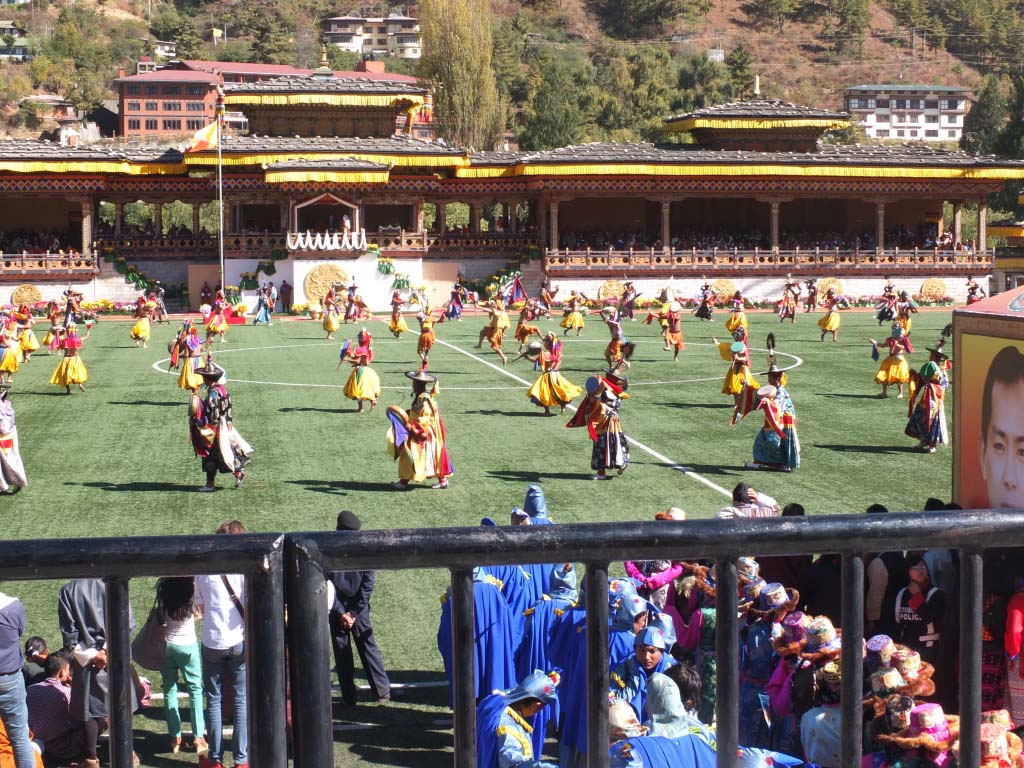 May you be blessed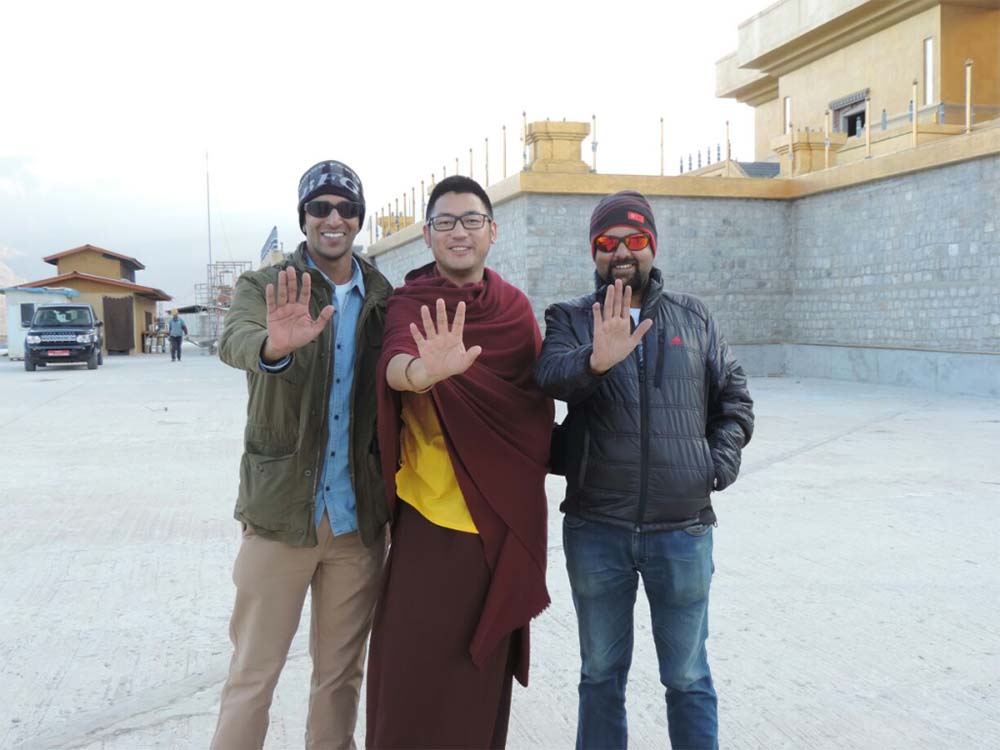 The Mountaintop Buddha at Thimphu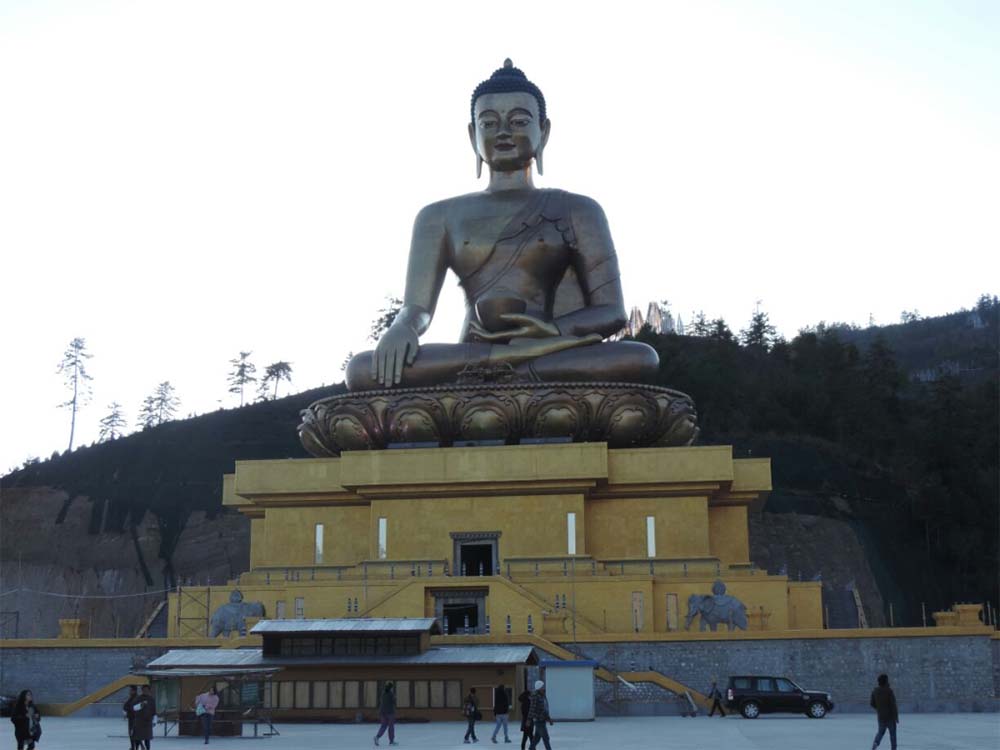 Chhang
We roamed around the streets of Thimphu, taking in the atmosphere, gathering a few souvenirs for friends. Meanwhile, Jaya got it in her head that she wanted to taste Chhang, the local brew of Bhutan. It was easily available, sold in re-used 1-liter plastic bottles.
I can say that Chhang is an acquired taste, but it was smooth. We managed to finish the bottle, and that should be counted as a success. When we settled for dinner, we realized a particular trait of Rohan. We could be at the best Bhutanese restaurant with a smorgasbord of Bhutanese dishes, but Rohan would make sure he orders a Chicken Chowmien. That was the dish he loved and felt safe with, and I realized the wisdom of ordering this "hard to get wrong dish" over the duration of the trip.
Also Read: Bhutan Travelogue – One Step Closer to my Soul
Exploring the Town
Walking down various boulevards, we ended up in a shady part of the town, where most buildings looked boarded up, but one had a brightly lit entrance which decreed it to be a Karaoke bar. The contrast between the atmosphere outside and the atmosphere inside was stark.
Neon lighting, couples lounging on couches, all the beers and cocktails one could wish for, and a proper Karaoke set-up. We all got our drinks and sat down to enjoy the evening. The host was an enthusiastic chap who pulled up me and Jaya and got us to sing Hotel California. I think we damned near scared away all the couples lounging there!
We retired really early, as we had a long ride ahead of us the next day. We were aiming to cross Dochu La, enter Punakha valley, and visit Punakha monastery, which has one of the most beautiful ones in Bhutan, and then continue to Trongsa. It was a 10-hour ride necessitated due to compressing the planned 5 days of a ride into 4 days, and this was the day that would test our endurance. We went to sleep knowing we had a big day ahead.
Day 8: Thimphu to Punakha
The plan for the day was to ride East from Thimphu to Wangdue Phodrang, crossing Dochu La on the way, turn North into Punakha valley to see the namesake monastery, return to Wangdue Phodrang, and resume on the eastward axis towards Trongsa.
Thimphu to Dochula Pass
The distance was 225 km, about 8 hours of riding. We got moving by 6 am. It was bitterly cold, and the extremities (fingers and toes) stayed cold in spite of our carefully planned riding gear. We were supposed to stop at a checkpoint a little outside Thimphu, where our permits would be verified.
With Sushant leading the way out of Thimphu, we never saw the checkpoint. When Sushant rides, he only sees the road, and how quickly he can cover the distance. A little out of Thimphu is DochuLa Pass, a decently high pass, but with the roads being good and wide, the bikes never felt the strain and we reached there quickly.
Also Read: Bhutan – From the Eyes of a 12-Year-Old
Dochula Pass
Dochu La was terribly cold at 7:30 am in the morning. We were shivering when we got off the bikes. The last bit of climb had happened so quickly, that before we could realize the drop in temperature, we had gone really cold. The beauty of Dochu La, with the 100 odd Chortens was surreal, especially in the morning light.
Luckily, there was a cafe with warm Bukhari. We went inside and had tea and breakfast. Mehr was shivering with cold, which was observed by a kind Japanese lady. She came over and talked to Mehr, and gave her a chemical warmer pouch. This she attached to the inside of Mehr's shirt, and it quickly warmed her up and made her really cheerful.
The Chortens at Dochu La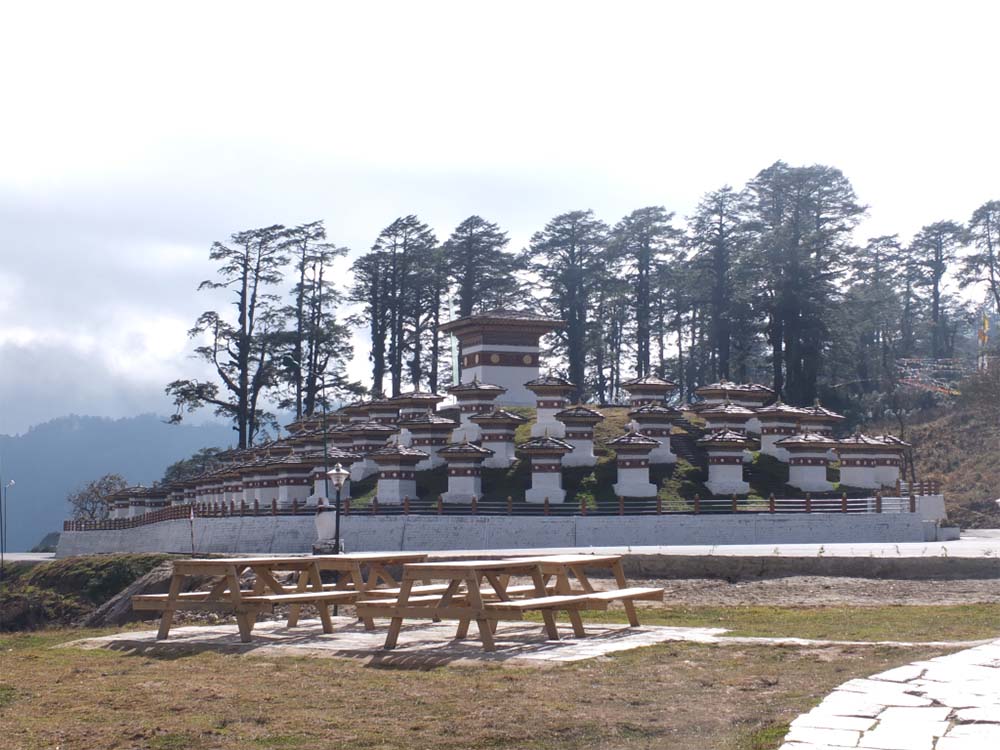 Big Chief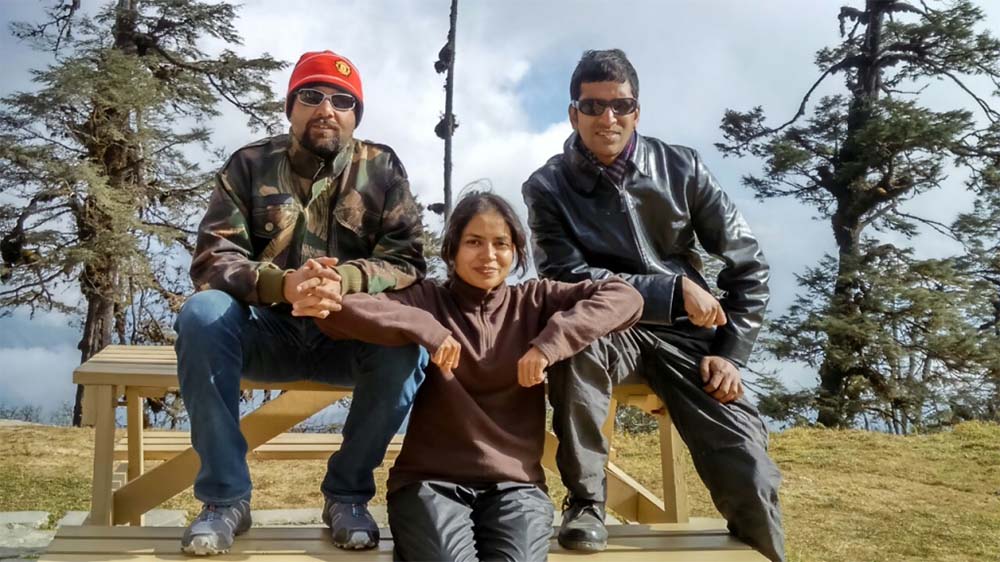 The Chomolhari just hid behind the clouds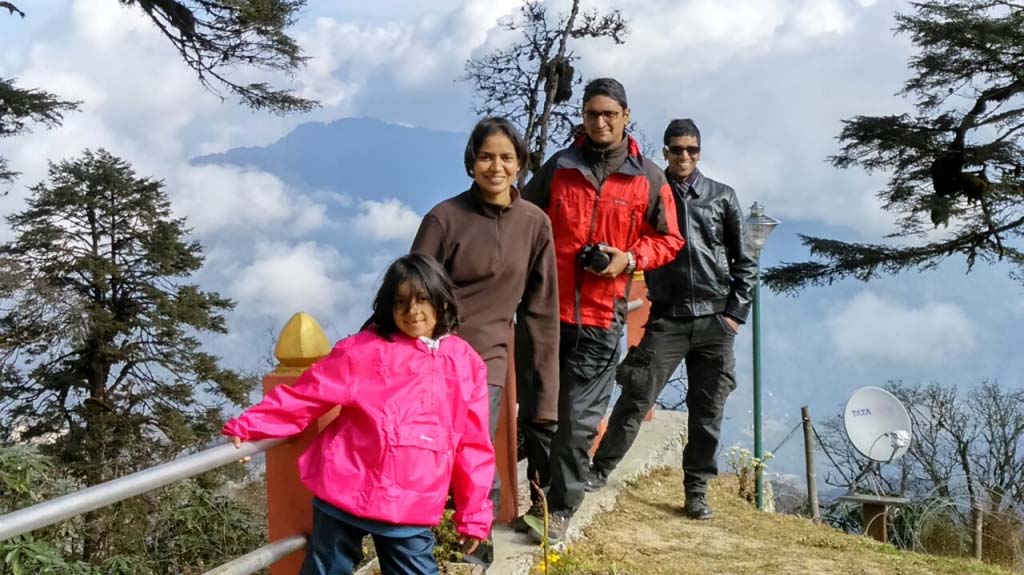 Meanwhile, we learned that the road ahead was closed till 10 am due to road construction. In mountains, road construction means moving mountains by blasting, so no traffic can move. This gave us a welcome respite from riding in the cold. We spent time gazing at the spectacular Chomaldhari, which was visible from there.
Also Read: Road Trip to Bhutan – Journey of a Lifetime
Dochula Pass to Punakha Monastery
When the road opened, it was a 3-hour ride to Punakha monastery due to some road closures. Punakha valley opens up slowly into a beautiful wide valley, with the monastery standing at the confluence of two rivers, which endows it with some special mythical significance. While we loved the place, we had very little time to spend.
We stood on the wooden bridge that crosses the river and leads to the monastery, with the wind blowing along the river and carrying prayers from the Buddhist prayer flags fluttering in the wind. It was like meditating.
The most serene place in Bhutan, Punakha.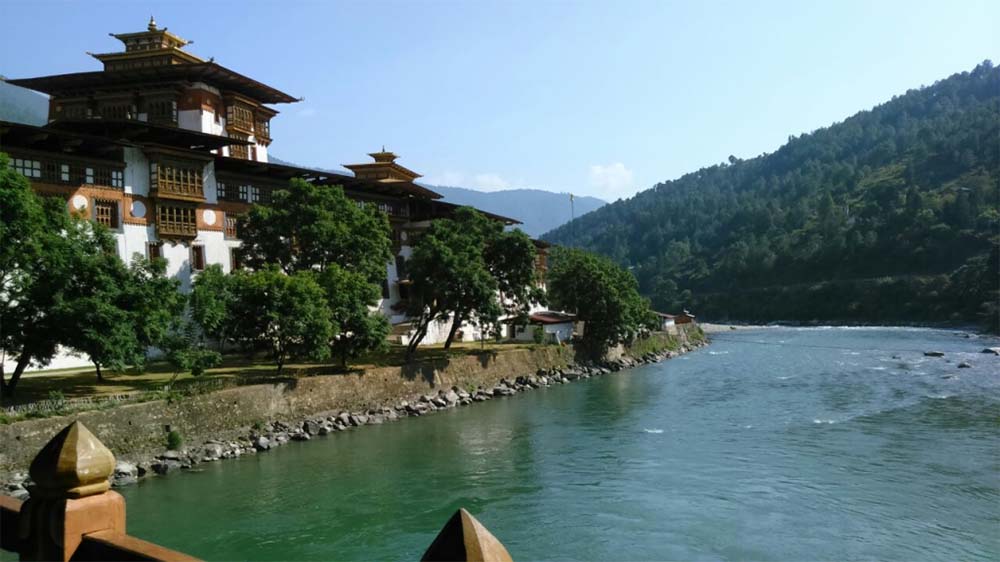 Leaving Punakha, with the Dzong and river confluence in the backdrop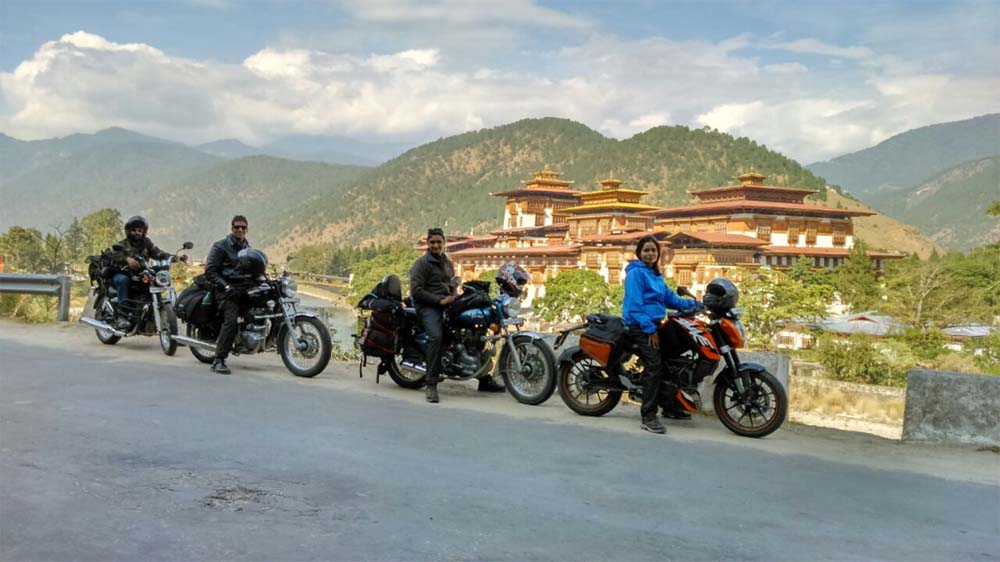 Punakha Monastery to Trongsa
By 2:30 pm we mounted our bikes and left the achingly beautiful Punakha monastery to ride towards Wangdue Phodrang. At Wangdue Phodrang the road forks East and West. The West branch goes back to Thimphu, and we took the East fork towards Trongsa, our stop for the night.
The ride to Trongsa was uneventful. We reached there by our standard 7:30 pm time. We found a suitable lodge right on the side of the river that flows at the start of the town. I would think that we had our most sumptuous and satisfying dinner at Trongsa, accompanied by a variety of alcohol, including some special scotch called Kings V, which had been created especially for the coronation of the present King.
I think we Indians can learn a thing a two about celebrating from Bhutanese. Dinners were always special in Bhutan because on riding days (which means most days) we would usually not have time for a hearty breakfast or lunch.
Celebrating our first climb up a nominal pass. Thrumshing La must be smiling.
Overall, it was a good day. We had kept to the schedule despite setbacks due to roadwork, and we had reached in time to get a good night's rest. We discussed the next day's ride to cross the highest pass in Bhutan, Thrumshing La, and cross Bumthang province, which being at high altitude had alpine flora.
We were excited about what was to come yet and with that excitement, we called it a day and retired for the seventh day of our Bhutan bike trip.
Thimphu to Dochula Pass to Punakha – Conclusion
Please click on the link above to continue reading the next part of this travelogue. I hope the pictures and information above riding from Thimphu to Dochula Pass to Punakha were of help. If you have any questions, please feel free to ask in the comments section below or at our Community Forum, and I will be happy to answer.