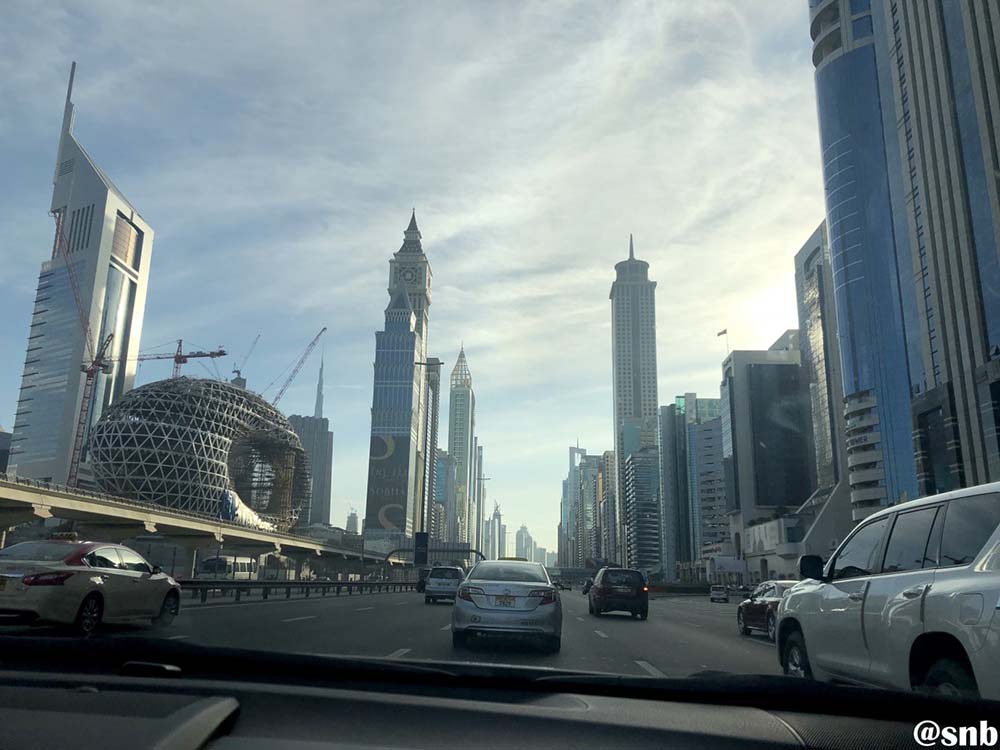 We were planning a trip to Dubai for quite a long time. The plan did not realize for a while for one reason or another. Finally, we were able to visit the city of dreams last Christmas and spent a few memorable days there. Below is my Dubai Travelogue providing a detailed account of our trip. Hopefully, the details below can be of help in planning your own vacation.
Dubai is one of the most frequently visited overseas destinations by Indian tourists. The primary reason for the same is the glamour of Dubai, I guess. There are many man-made wonders that have made Dubai one of the sought after tourist destinations especially to Indians. The short travel time and availability of Indian Diaspora and food also act as catalysts.
But we were not only interested to see and experience the man-made marvels at Dubai. We were also keen to go beyond those glitzy sky-scrapers to get a feel of the old world, to get the smell of the desert and the barren land. So, in addition to spending time in modern Dubai, we spent considerable time on the streets of Bur Dubai and Deira.
We strolled along Dubai creek and crossed it by Abra multiple times. We did day trips to Al Ain and Fujairah. To be honest, we found these excursions to be more rewarding (and less expensive) than aimlessly and endlessly walking and shopping in the gigantic malls in Dubai.
Dubai Travelogue
We did the trip almost 4 months back. I did not make a detailed noting of the trip. Therefore, it is a bit difficult for me to construct day by day narratives. Further, there are many places which we had visited more than one time. So, a day by day narration would have some element of repetition.
Therefore, I would construct this narrative on the basis of the places visited by us. The broad classification is as follows:
Dubai
Bur Dubai
Deira
Al-Ain
Fujairah
In the subsequent posts, I will narrate various attractions of those places which were visited by us.
About Dubai
Whenever we hear Dubai, we instantaneously visualize an ultra-modern city backed up by superb infrastructure. It enjoys an impeccable reputation as a trade and financial nerve center of the entire globe. Dubai, as perceived by us, is out an out futuristic city.
But Dubai does have a history and that too is almost 5000 years old. Let us take a brief look at the history of Dubai and its places. If you would rather not read so much, you can skip this section entirely and go straight to the trip planning part.
Also Read: Solo Trek to Everest Base Camp – Blog and Travel Guide
History of Dubai
Dubai's history can be dated back to 3000 BC. Archeological excavations at Hatta, Al Quasis, and Jumeirah reveal that there was a high degree of civilization in the Dubai area around 3000 BC as well as in the early and middle Islamic period. An Italian explorer in 1580 described Dubai as a prosperous community when the people of Dubai were engaged in pearl diving.
Occupation dating to the third millennium BC (Early Bronze Age) has been found not only in Dubai but also throughout the emirates, as evidenced by the settlement along the western coast of the Arabian Gulf and in the interior oasis and mountain wadis. In Dubai, Bronze Age settlements have been found at two sites – Matta and Al-Sufouh.
This civilization, contemporary with other major civilizations in Mesopotamia and the Indus valley, flourished in the Emirates. As per the archeologists, this civilization was known in Mesopotamian texts as Magan, one of Mesopotamia's major copper supplier.
Matta and Al-Sufouh
The geographical location of Matta and Al-Sufouh contributed to their playing an important role in the trade and transportation of copper from the mountains for export, consolidating their position and status with the other the then ancient civilizations.
The populations of these areas were dependent upon agriculture, grazing, fishing, pearling, and manufacturing of bronze and ceramics for their livelihood. Hatta and Umm Suqeim are the oldest human settlements discovered in the Emirate of Dubai to date.
The settlement at Al-Sufouh is dated 2500-2000 BC. Located close to the main settlement, is a circular stone-built communal grave, over six and a half meters in diameter, the largest tomb yet found in Dubai. The outer walls of the tomb are built of carefully cut and shaped blocks of beach stone up to 90 cm in length, 55 cm in height, and 10 cm in thickness, which fit together to create a smooth, convex exterior face.
Internally, the tomb is divided into two apparently unconnected halves which are approached by two opposite doorways of 50 cm in width. Further, internal walls divide each half of the tomb into three separate chambers, all accessible via a narrow passage next to the external wall.
Contained in these chambers were the skeletal remains of many men, women, and children, distributed with no apparent chamber specialization according to age and sex. Funerary gifts included ceramic vessels, bronze daggers, and rings as well as many beads, necklaces all dating to the second half of the third millennium (2500-2000 B.C.), an era locally knowns as Umm Annar period.
Many tombs of similar structure and content have been excavated throughout Emirates providing evidence of a widespread and flourishing culture that existed in the region at that time.
Al Qusais
An archeological site of importance in this regard is Al Qusais. It represents a center of civilization and contains the remains of a small human settlement that dates back to the third millennium BC.
Discoveries included the remains of a small temple, which probably was used to worship snakes, and fields of graves of different shapes; rectangular graves (second millennium B.C.); oval-shaped graves (second half of second millennium B.C.) and shoe-shaped graves (first millennium B.C.). Some of these graves contained skeletons that were almost intact.
One of the most interesting discoveries was that of a grave with two intertwined skeletons, most probably of a husband and wife. The wife was facing the South, which was the direction of the human settlements, an indication of regular daily requirements, while the male was facing the sea, the source of making a living through fishing and sailing.
This shows a civilized society with religion with belief in life after death. The dead were provided with funeral gifts including pottery, stone vessels, bronze items which were used as weapons, beads, and shells. Al Qusais site referred to a superior civilization which resulted from commercial relation, geographical location, and local manufacturing.
Al Quasis is located 15 km east of Deira.
Islamic Era
With the rise of Islam, the Emirate became part of the Arab-Islamic civilization. Archeological evidence of the early Islamic era, the Umayyad and Abbasid era have been discovered at Al Jumeirah. This site, admeasuring approximately around 20 hectares, has the remains of many houses, large buildings, and commercial shops built of stone and covered with plaster.
The architecture of Al Jumeirah is characterized by the use of arches, columns, and towers, as well as ornamentation and engravings as facades, doors, and windows. Glass and Pottery similar to those found in Al Jumeirah, have also been found in Mesopotamia indicating the existence of a connection between Emirates and Mesopotamia and importance of Emirates as a commercial center and caravan station en route to Mesopotamia and perhaps other parts of Arabian Peninsula.
Also Read: Road Trip to Bhutan – Journey of a Lifetime
Jumeirah beach
The relics of Islamic Jumeirah are located along Jumeirah beach. It includes the remains of big buildings, a mosque, a number of shops and separate houses. Those remains date back to the pre-Islamic era and the rise of Arabic-Islamic civilization. The archeological discovery shows that the city of Dubai reached its zenith during the Abbasid era (ninth century AD).
The sophistication of this civilization is reflected in its architecture which included the use of arches, towers, and different stucco decorations. The ancient city flourished due to its location as a trade station between Oman, the heart of the Arabian Peninsula, and Mesopotamia. This made the population rich and allowed them to lead a developed and advanced lifestyle.
One excavated building in Jumeirah shows the development of architecture in the Emirates from the pre-Islamic eras up to the end of the second Abbasid era (5th-12th century A.D.)
The building is rectangular and was constructed in an area of approximately 347 square meters. It includes eighteen rooms of different sizes and shapes. It was built in two stages. The old part is made of eight rectangular rooms (5th-6th century A.D.).
The other part is an addition that was made during the Umayyad and Abbasid eras and includes ten rooms built around an open courtyard. The entrance of the building is on the eastern side and has two quadrant towers. On the four corners of the building, there are circular towers, while semi-circular towers are present on the remaining walls of the buildings. Rooms, internal and external walls, and floors were plastered with pure gypsum.
Bur Dubai
Dubai first became an independent political entity in 1833, when 800 men of the Bu Falasah tribe, under the leadership of Maktoum Bin Butti, settled in the area. Most of the population settled in Bur Dubai, which was surrounded by a defensive wall. But Deira was not populated in large numbers until 1841, followed by Al Shindagha.
Dubai's economy prospered after 1894 when Sheikh Maktoum Bin Hasher Al Maktoum gave tax exemption to foreign traders. At that time, the city's exports were pearl and dried fish.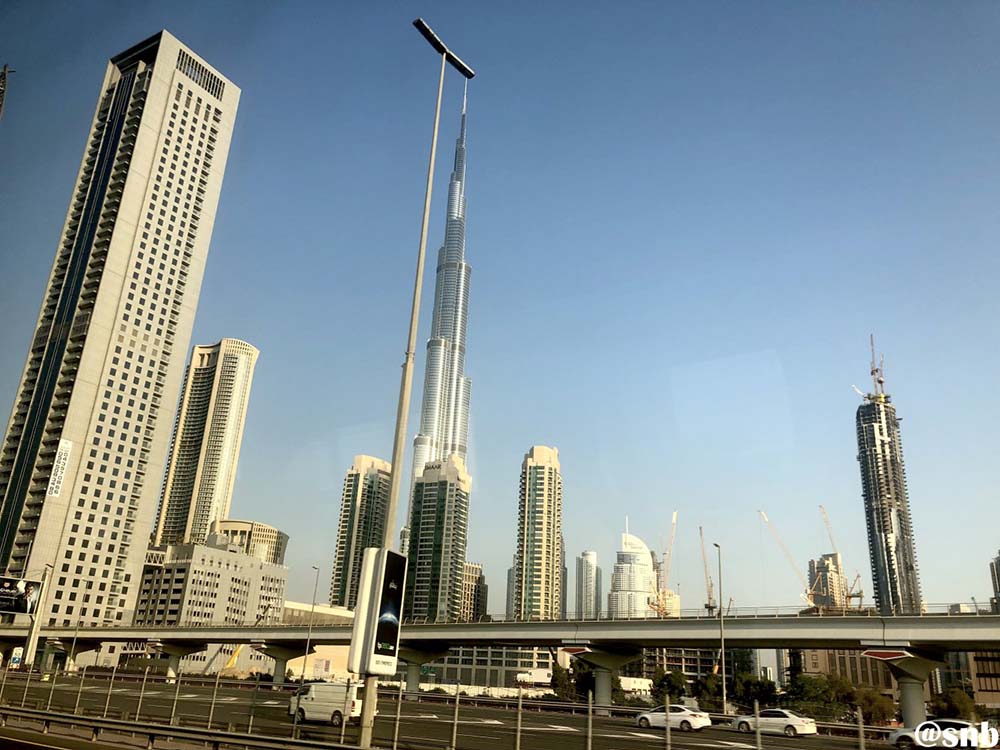 Trip Planning
Ok, enough history has been discussed. So, I should get into the narration of the specific places visited by us in Dubai.
Whenever, we plan a trip, domestic as well as overseas, we prefer to plan and execute the same on our own. For that, we take inputs from various websites including BCMTouring. We strictly avoid conducted trips. We also do not avail of the guided tour arrangements available in those destinations.
This has positive as well as negative sides.
One of the negatives aspects of self-planned, self-arranged, and self-managed trips is that the trip always becomes sub-optimal. On our every trip, we end up missing a few places which should have been covered. Further, sometimes, our lack of knowledge about the background or context of the attractions restricts our ability to comprehend the significance of that attraction.
The positive side is that we do the trips at our own pace. We see what we want to see and we overstay at those places where we want to spend time. We feel the places in our own way. It allows us to interact with local people, use local transport, and get a feel of local culture. And last but not the least, it allows us to experience the joy of planning the trip from scratch which is as important as the trip itself.
Also Read: Mount Batur Sunrise Trek – A Hike to Remember
Places we visited in Dubai
In Dubai, we visited Burj Khalifa, Dubai Frame, Dubai Fountain, Miracle Garden, Global Village, and The Lost Chambers Aquarium housed in Atlantis the Palm hotel at Palm Jumeirah. We deliberately missed the Emirates Mall.
We were forced to give a glance to the Dubai mall because accesses to Burj Khalifa and Dubai Fountain are through Dubai Mall. Similarly, we gave a cursory glance to Atlantis the Palm hotel and Palm Jumeirah while going to and returning from the Lost Chambers Aquarium.
We did not go to Dubai Marina because neither we had the time nor we were very inclined to see Dubai Marina. We also gave passes to Dubai Marina Cruise and Dhow Cruise on Dubai creek. However, we have crossed the Dubai creek multiple times by Abra. We also did a desert safari but did not click many photos.
Before details of the specific attraction of Dubai visited by us, let me post some random photos of Dubai taken during our stay there. Those photos were primarily taken from the moving cars, and therefore, the clarity of the photos may not be good.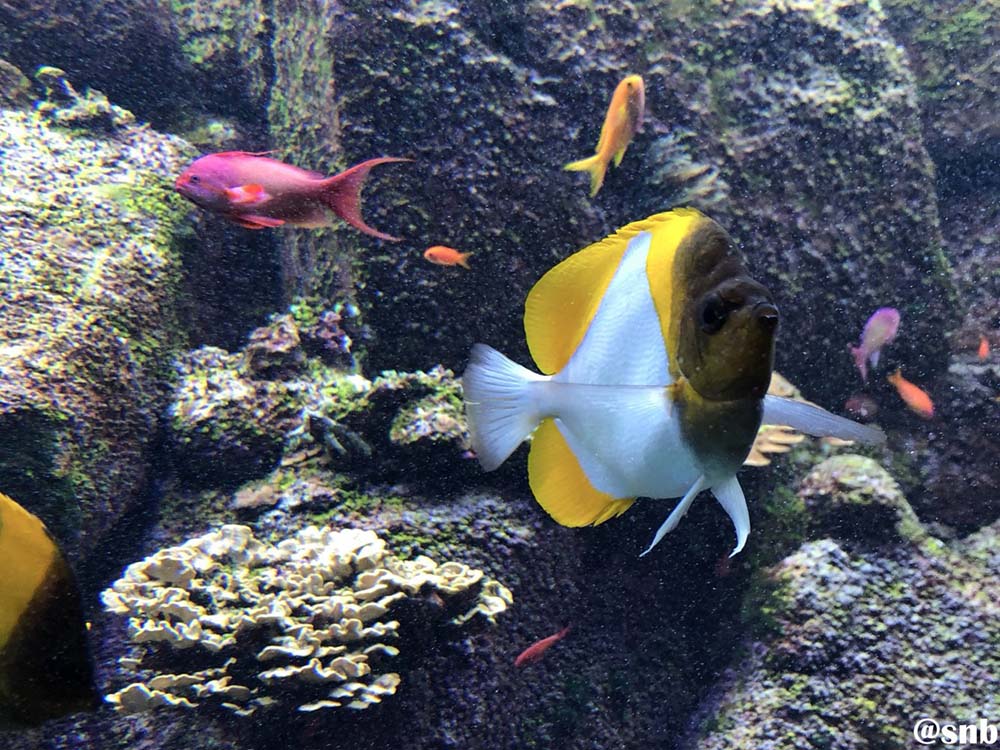 The Lost Chambers Aquarium
This is UAE's largest aquarium. The other notable aquarium is at Dubai Mall.
The Lost Chambers Aquarium is in Atlantis the Palm hotel at Palm Jumeirah. It has been created using the lost city of Atlantis as the background. It has 10 chambers and it houses around 65000 marine animals.
Its ticket costs 405 AED per person. It takes around 2 hours to see this aquarium thoroughly.
There are other attractions like Dolphin Bay, Sea Lion Point, Aqua venture Water Park, Diving in Atlantis but we skipped those. Mentioned below are some of the fishes found here.
Also Read: How to plan a trip to Armenia, Georgia and Azerbaijan ?
Some of the Fishes Found in the Aquarium
Arapaima: It is a native fish to the freshwater system in South America. It is one of the largest freshwater fish in the world. It can grow up to 3 meters in length and weigh up to 90 kg. Due to overfishing, the species is near extinction and has been listed as an endangered one.
Gourami: This fish is native to South America, which can grow up to 1.8 meters and 80 kg in weight. This freshwater fish has been around 13 million years.
Albino Pacu: Albino species is extremely rare and unusual. Albino Pacu does have all the characteristics of others of their species except they are all white in color. It lacs melanin or pigment in their skin creating a milky skin color and pink eyes.
Jellyfish Sting: The stinging cells of the jellyfish are found on the tentacles. These are microscopic harpoons which in milliseconds are fired to stun its prey. The intensity of the sting will kill its prey instantly, or cause anywhere from an itch to a burning sensation.
Moorish Idol-Gill: Gill is the heavily-scarred Moorish Idol fish and the leader of the Tank Gang who, along with his companions manages to escape. The Moorish Idol got its name from the Moors of Africa, who supposedly believed that this fish brings happiness.
Queensland Grouper: The Queensland Grouper is one of the biggest species of Grouper. They can reach a maximum size of 400 kg and live up to 40 years of age. Almost all Grouper start off as female and when matures, become male based on unknown social or environmental factor
Clownfish: clownfish have a special relationship with their host anemone, in that the anemone offers it protection from predators, and clownfish provides anemone scrap of food.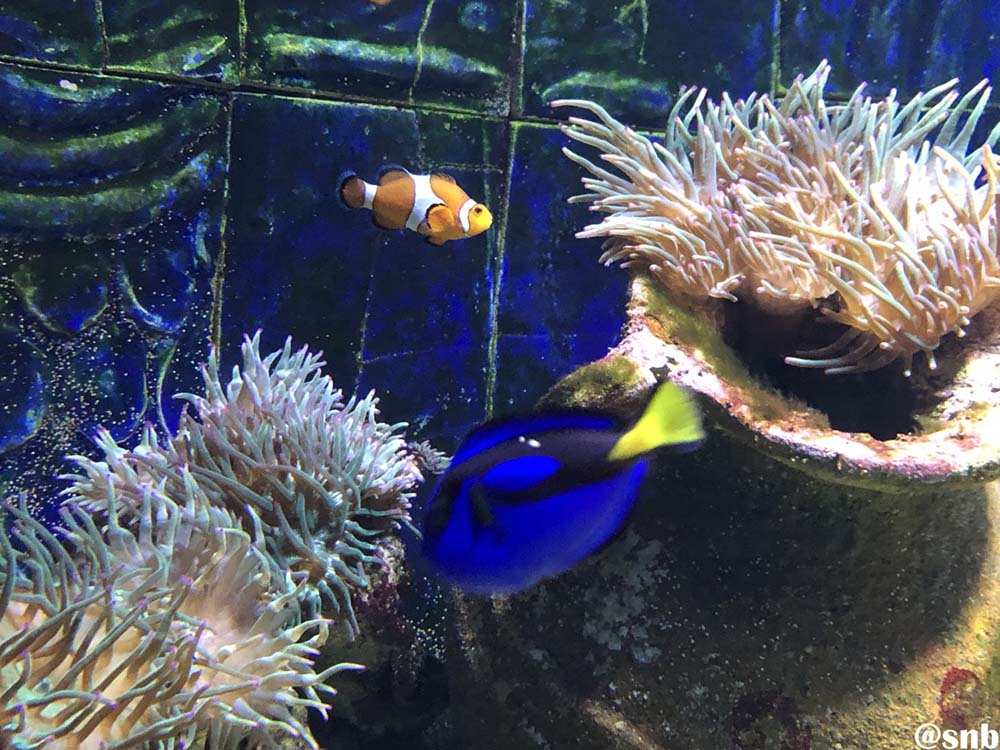 Palm Jumeirah and Atlantis the Palm
The Palm Jumeirah is an artificial archipelago, created using land reclamation which extends into the Persian Gulf.
Atlantis the Palm is located at the apex of Palm Jumeirah. Apparently, the movie "Happy New Year" was shot in Atlantis the Palm.
We have not specifically visited these places. While going to the 'The Lost Chambers Aquarium', we took a few photos of Palm Jumeirah and Atlantis the Palm.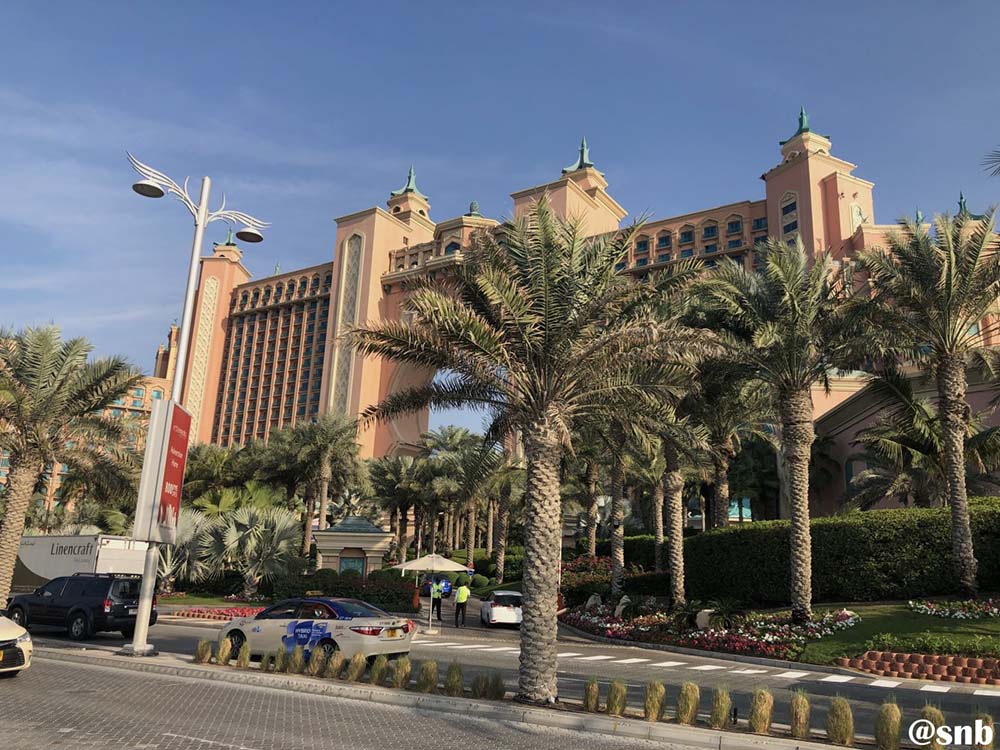 Dubai Miracle Garden
Our next destination was Dubai Miracle Garden.
The miracle garden is a flower garden. It was launched in 2013 on Valentine's day. The garden occupies over 72000 square meters making it the world's largest natural flower garden featuring over 50 million flowers and 250 million plants.
Its various attractions are hearts passage, floral clocks, floral castle, Emirates A380, Big Teddy Bear, Mickey Mouse, Lost Paradis, etc. The park remains open from 9 am to 9 pm on weekdays and from 9 am to 11 am on weekends. The price of entry tickets is 50AED per person.
During the summer months, it remains closed for 6 months to protect the plants from excessive heat.
Since we went there late afternoon, after some time, evening descended. The Miracle Garden was looking equally stunning under the light also.
The Global village
Our next destination was Global Village. It is situated on the outskirts of Dubai on Sheikh Mohammed Bin Zayed Road. It consists of a pavilion of almost 90 countries where visitors get tastes of their culture, food and can also buy products. In a nutshell, it is a family destination for culture, entertainment, and shopping altogether.
Other than country-specific pavilions, it does have replicas of world-famous architectures, food courts, and stages/platforms for cultural function and game shows.
Also Read: San Francisco to Los Angeles – How to Plan a Road Trip
Global Village Timings and Tickets
It typically remains open from October to April. The price of the entry ticket is 15 AED.
After entering Global Village, we started going through the pavilions of various countries. The pavilions consist of counters for spice, apparel, perfume, and food. Some of the pavilions also have a small stage for the cultural program. We occasionally bargained here and there and finally bought one woolen garment from a shop in the pavilion of Pakistan.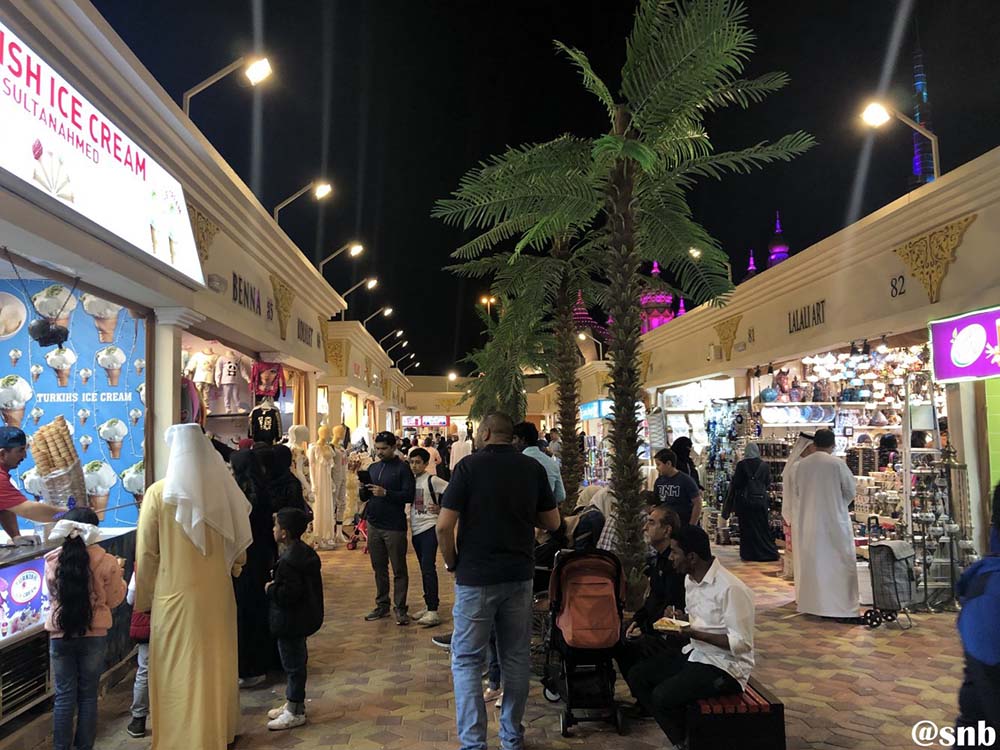 The global village is quite big. Further, it was the last place to be visited by us on that day. So we were tired and feeling hungry. So, we took a break at the first food court to eat something.
Cultural and Dance Performances
On a stage adjacent to the food court, some local cultural program was going on. A representative flea market was also there.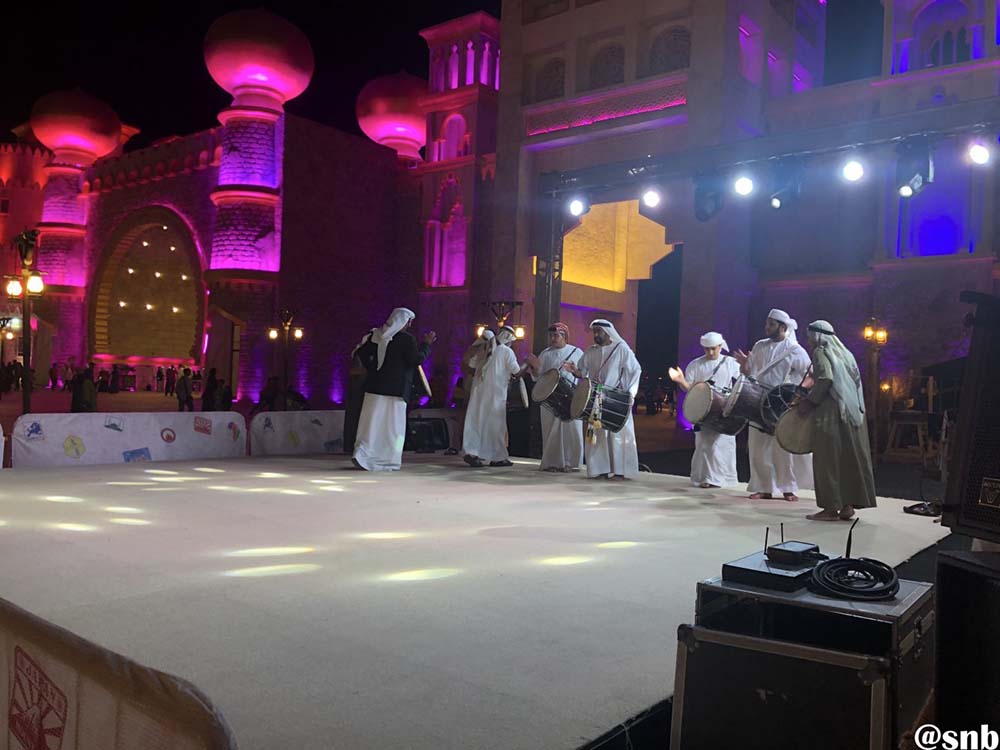 After filling up our stomach, we resumed pavilion hopping. We really liked the pavilion of Bosnia. Then, the second food court came. It is essentially a play area. Though we did not consume anything there, we sat for a while for taking some rest. Since the entire Global village is to be covered by foot, it requires a lot of energy.
Then we resumed the final round.
While we entered the pavilion of Syria, we found that a cultural program was about to start. So we waited there. It was a group dance performance. It was mesmerizing.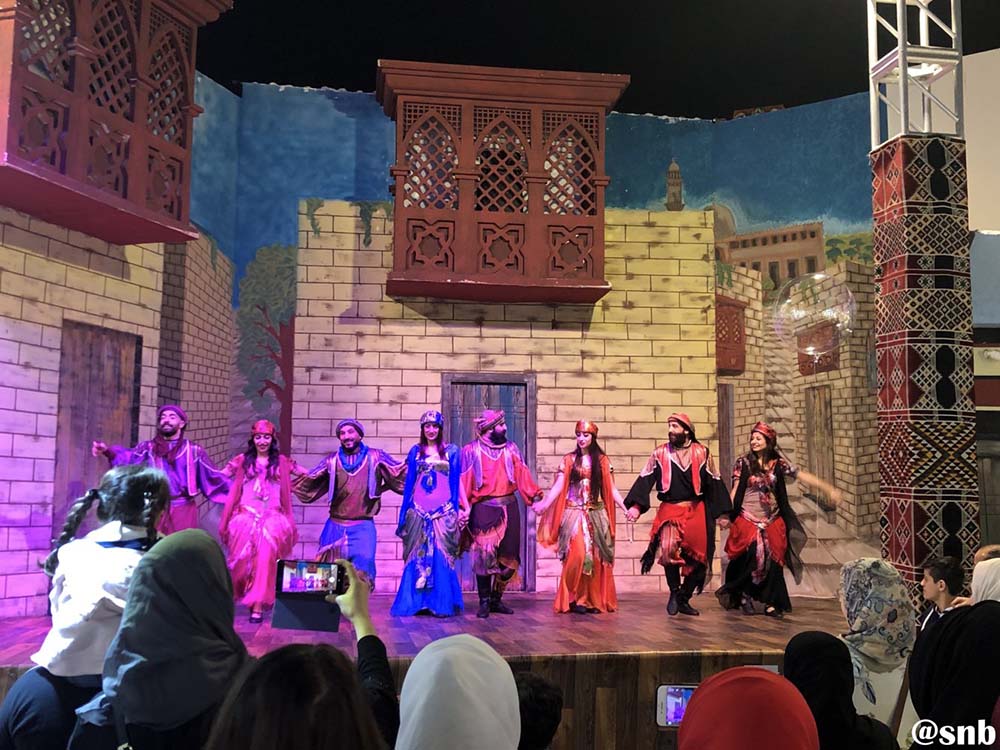 We also spent some time in the pavilion of Iran. The strange thing about Iran's platform is that if someone has to form an opinion about the religious inclination of Iran solely based on that pavilion, he/she will definitely end up concluding that the primary practicing religion of Iran is Zoroastrianism.
I am not sure whether Iran prefers to present itself in this way or whether this a deliberate attempt by the Sunni Arab world to create a wrong impression of Shia Iran in the minds of the visitors.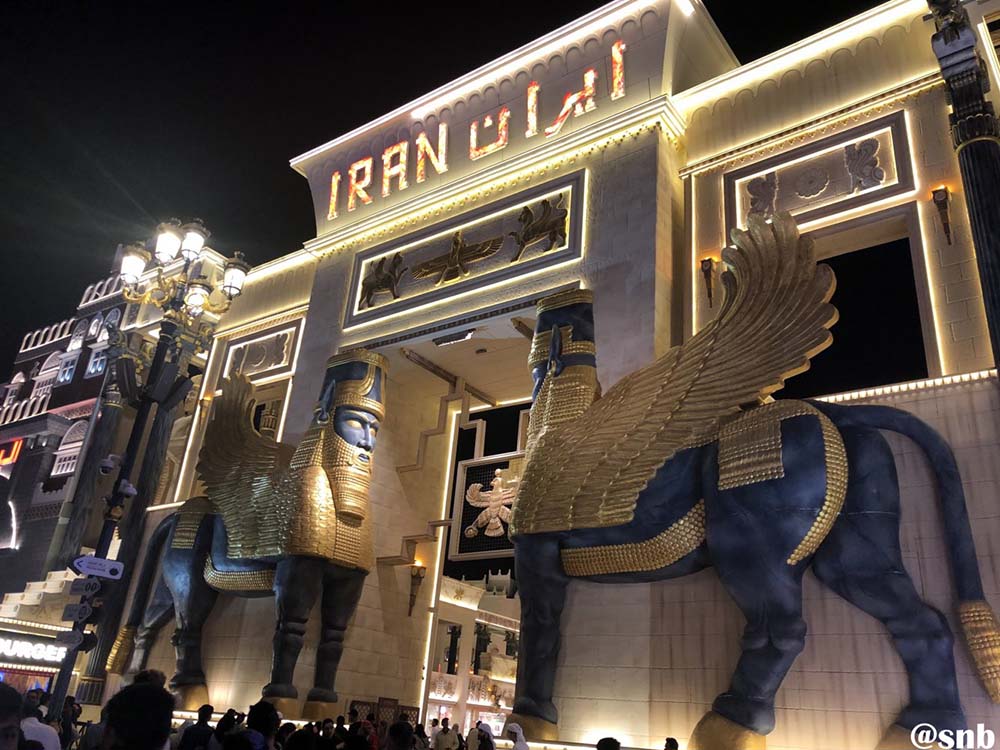 After that, we were so exhausted that we just gave pavilions of other countries including that of India a cursory look. We did not have the energy to explore those pavilions minutely. There is an artificial water body which was looking truly magnificent.
We left Global Village around 11 pm local time. It was still crowded though the crowd was thinning out.
Dubai Frame
The Dubai Frame is in Zabeel Park. As per The Guardian newspaper, it "the biggest picture frame on the planet".
There are two 150 meters tall towers at a distance of 93 meters from each other. The two towers are connected by an encapsulated bridge at the top. Since the structures resemble a picture frame, that's why it is called Dubai frame.
We reached Dubai Frame in the afternoon and bought tickets at the counter. There was some queue. The ticket price was Dhs 50 per adult. On the ground floor, there were some security check related formalities. Then, we went to the first floor. There they took us through the history of Dubai.
Then we went to the top by a high-speed lift. Both sides of the bridge were made of glass which was offering a sweeping panoramic view of Dubai.
Dubai's historic district was to the north. The south was providing the breath-taking vistas of the skyline of downtown Dubai.
The most interesting part of the Dubai Frame is that a 50 meters stretch of the floor of the sky bridge is made of opaque glass. Crafted from liquid crystal with an underlying film triggered by sensors, the floor becomes clear only when a visitor walks over it. Peering at the ground beneath, we were feeling like we were walking on air.
After spending around 15-20 minutes there, we came down to the first floor by another high-speed lift in the second tower. There was an audio-visual presentation on what Dubai intends to be in the future. It was more like a sci-fi movie. Essentially, the entire program has been designed to show the past, present, and future of Dubai.
Before leaving, we took a few more photos of Dubai Frame.
Burj Khalifa
Our next destination was Burj Khalifa. With a total height of 829.8 meters (2,722 ft) and a roof height (excluding antenna) of 828 meters (2,717 ft), the Burj Khalifa has been the tallest structure and building in the world since its topping out in 2009 and therefore, remains in the 'to do' list of visitors like us.
Also Read: Bai Tu Long Bay Cruise – Traveling through the Paradise
Burj Khalifa Entry Fees and Timings
It has two observatory decks – one at level 124 & 125 and another at level 148. It has a longed at levels 152, 153, and 154. So the more you go up, you need to shell out more money. Even for the same level, the ticket price varies depending upon the time slots (time slots during sunrise and sunset are the costliest) and whether you opt for a fast track entry or normal entry.
The entry to Burj Khalifa is through Dubai Mall. We booked our tickets for observatory decks at level 124 & 125 and our time slot was 5 pm. The idea was to watch the sunset from Burj Khalifa. We did not opt for the fast track. Our entire planning was sub-optimal.
We were at the entry point at 4.15 pm. We were sure that we would be at the observatory deck by 5 pm because we had more almost one hour cushion. But our assumptions were wrong. They were not checking the time slots at all. Therefore, people with tickets of different time slots were also present causing a huge queue. Further, people with tickets of the upper deck and lounge were being given preference. That was the case with the fast track. The situation was really frustrating.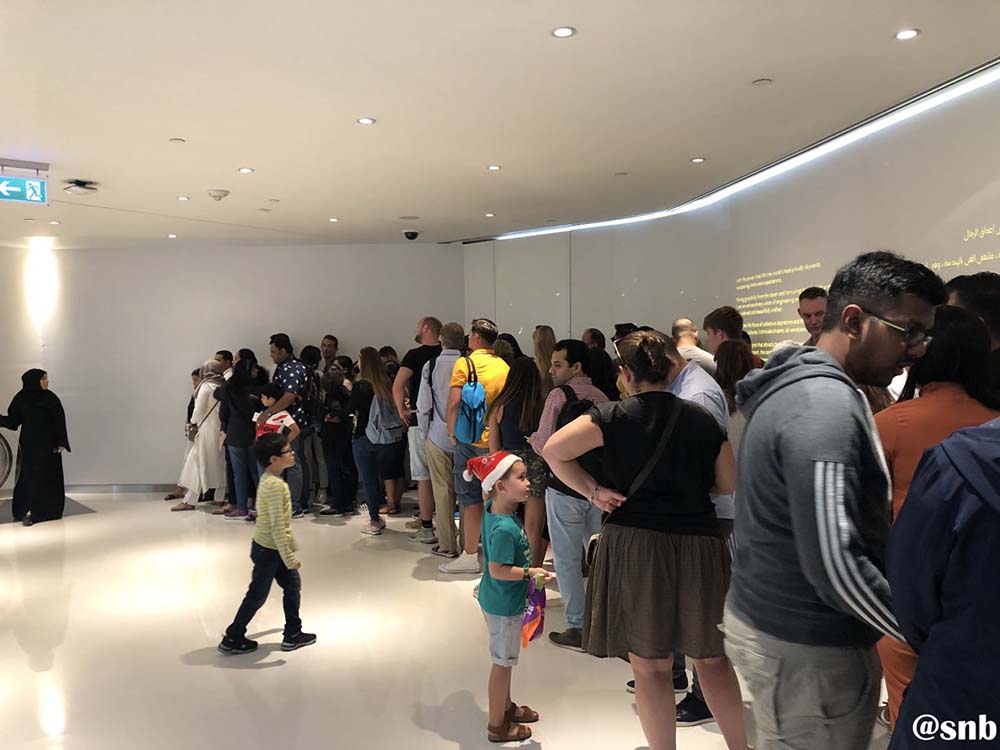 It took us almost 1 hour 30 minutes to reach the main lift which would take us to the 124th floor. Finally, we reached the 124th floor at 5.45 pm. By that time sunset was over.
We were feeling a bit disappointed. Since there was no time restriction on staying, we decided to spend some time there. The changing look of Dubai drove out that feeling of disappointment.
Also Read: Bhutan – From the Eyes of a 12-Year-Old
Dubai view from Burj Khalifa
As darkness darkened, Dubai was looking more extravagant. We tried to take photos of the upper part of the building from the 124th floor.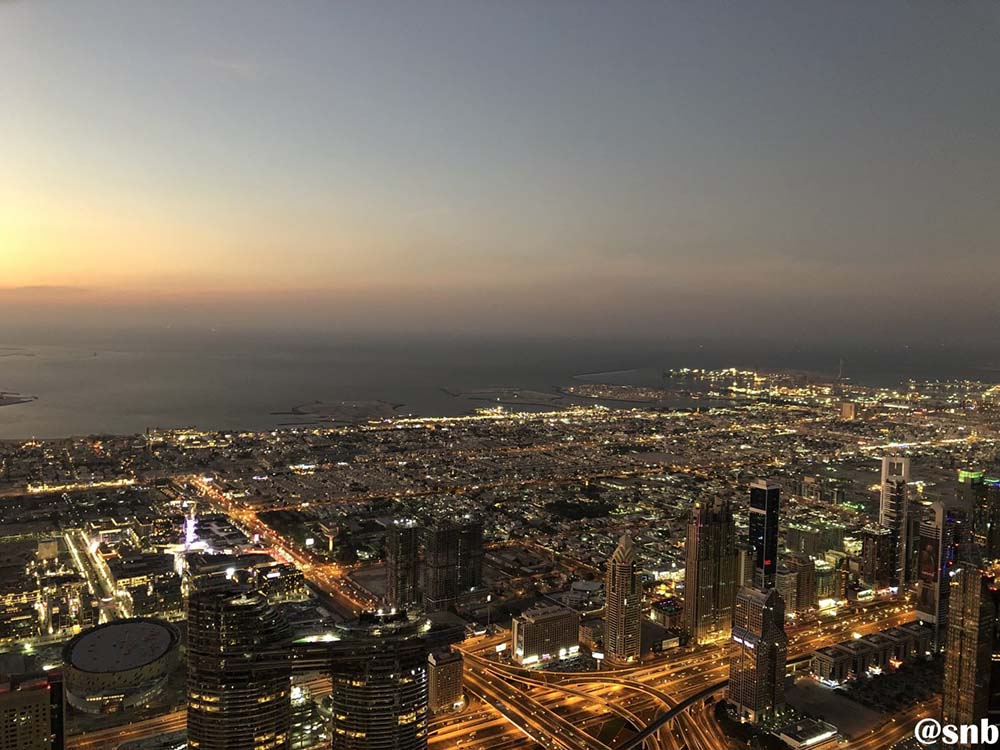 After spending around half an hour on the 124th-floor deck, we went up to the 125th floor. That was an enclosed area. There are some food and souvenir shops. So we did not spend much time there. There was a queue for coming down also but fortunately, that was shorter.
After coming down, we went to see the Dubai fountain, which is in an open space adjacent to a Dubai Mall. In a way, that open space is a part of Dubai Mall. From that open space, Burj Khalifa was looking mesmerizing.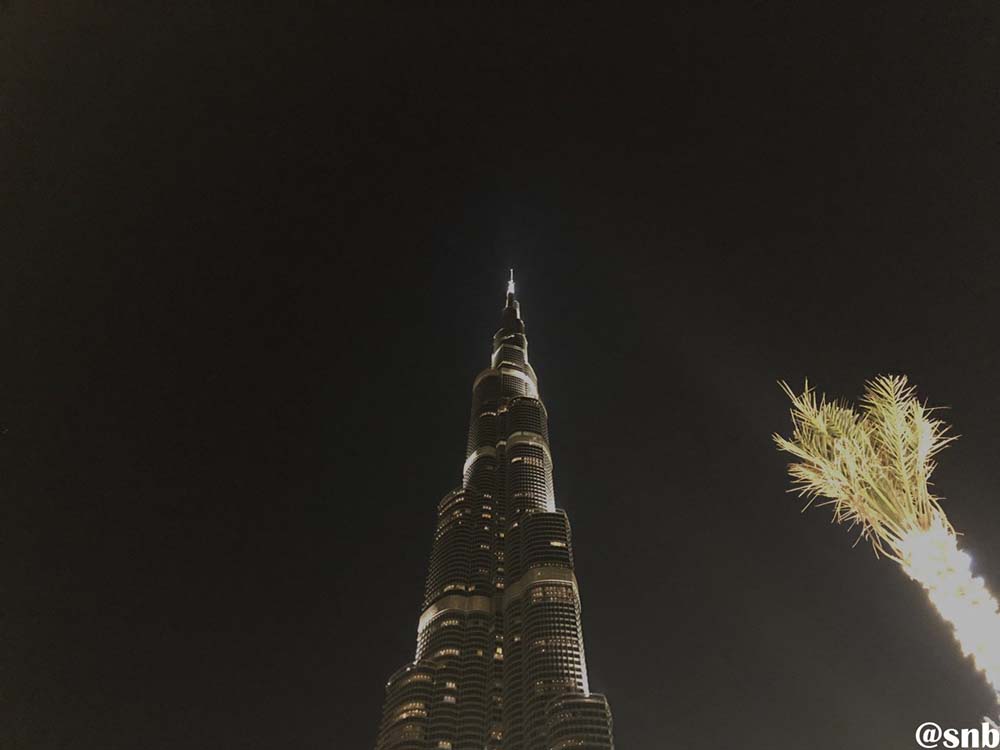 Based on our experience of visiting Burj Khalifa, we think that
Level 124 is sufficient to get a spectacular view of Dubai. There is no point in going to higher floors spending more money until and unless this becomes an issue of ego satisfaction
There is no point in targeting the sunset slot. Even if you are there on time, you may not be able to see it because of clouds/haziness on the horizon. There are many places around us to see the sunset. Instead of that, someone should target the evening/night slot. Dubai, wrapped in artificial light, looks awesome from the top
If anyone is still keen to see the sunset from the top of Burj Khalifa, he/she should book a fast-track pass.
Dubai Fountain
The Dubai Fountain is the world's largest choreographed fountain system. It is set on the 30-acre manmade lake in the Dubai Mall complex.
The fountain is animated with performances set to light and music. Performances take place at 1:00 pm and at 1:30 pm as well as every 30 minutes from 6 pm to 10 pm on weekdays, and from 6 pm to 11 pm on weekends (weekends being Thursday, Friday, and Saturday).
We went there twice. We took a video on one day and still photos on another day.
Dubai Mall
Dubai Mall is the second-largest mall in the world by total land area and the 20th-largest shopping mall in the world by gross leasable area. However, it was not on our destination list. Since access to Burj Khalifa and Dubai Fountain are through Dubai mall, we were there and took few pictures.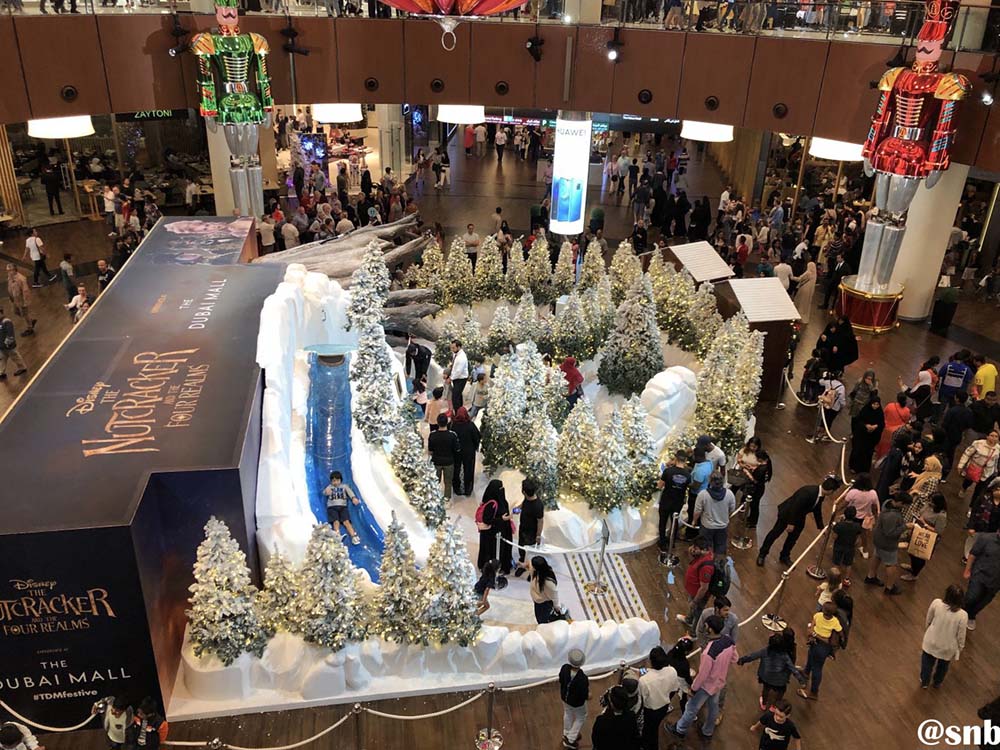 Our next few days were spent exploring the other areas around Dubai, like Bur Dubai, Al Ain, and Fujairah. These were all day long excursions that we made by public transport. Please click on the link above to continue reading the next part of this travelogue.
Dubai Travelogue – Conclusion
I hope my Dubai Travelogue and the information above on visiting places in Dubai were of help. If you have any questions or need any other details, please feel free to ask in the comments section below, or at our Community Forum, and I will be glad to answer.