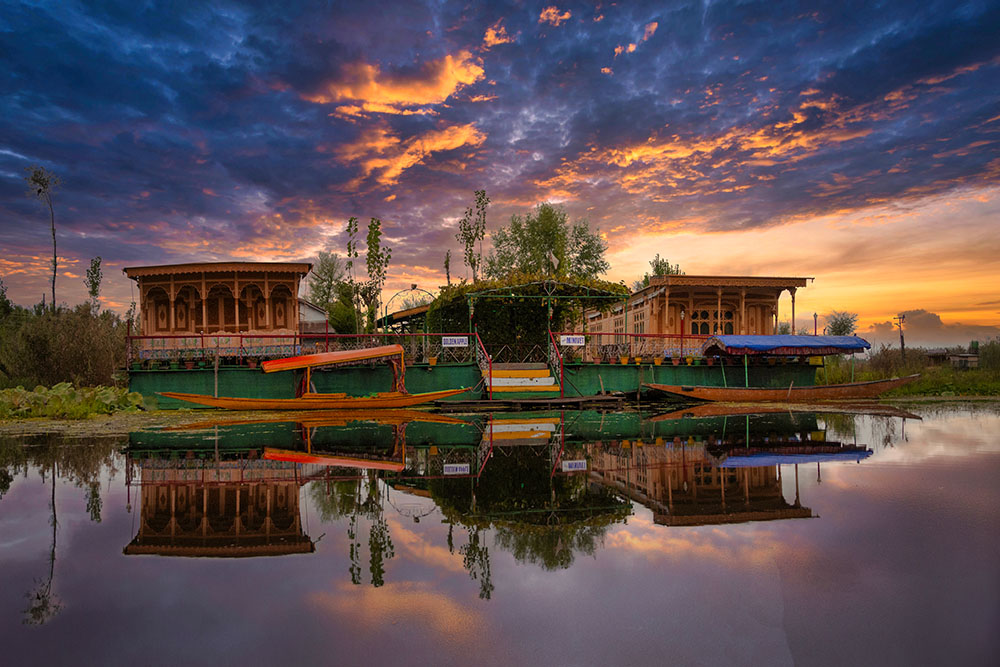 When you talk about places to visit in Srinagar city, the list can really be a long one. From beautiful gardens to gorgeous lakes, vibrant markets to places of religious significance, colorful Shikaras to snow-capped mountains, Srinagar has them all.
Most of the tourists visiting Kashmir rush towards places like Gulmarg, Sonamarg, and Pahalgam. Not a lot of them want to spend time in Srinagar. A common notion is that it is just another city and there isn't much to see here which is not true at all.
If you are visiting Kashmir and skipping Srinagar, you are really missing a lot. It is not just a base to explore Kashmir but rather a place that deserves to be explored, a place of both natural and man-made beauty.
In this list, I will provide detailed information on places to visit in Srinagar and things to do. For other details on visiting Kashmir, including information like what to see, public transport, where to stay, mobile connectivity, itinerary planning, taxi rates, etc., please take a look at How to Plan a Trip to Kashmir – A Complete Travel Guide.
For getting the best hotel rates, and taxi charges, and to organize your trip to Kashmir, you can speak with Kunal @ 9910 402 252. Give him my reference and you will surely get a discounted rate.
Tourist Places to Visit in Srinagar and Things to Do
In the post below, I will provide a complete list of places to visit in Srinagar City and tourist activities that you can enjoy. How many of these are you able to cover will entirely depend on the time you have in hand.
In my opinion, you should plan your trip in a way that you are spending at least 2 days in the city itself. That is how you will properly be able to explore it.
Dal Lake
Dal Lake is popularly known as 'Srinagar's Jewel' or 'Jewel in the crown of Kashmir'. Covering an area of 18 square kilometers, this is the second-largest lake in Kashmir. Over a period of time, has become the very symbol of the city and the valley.
A trip to Srinagar is definitely incomplete without spending some time at this beautiful lake. If you wish to, you can also rent a houseboat and stay a night on the lake itself.
The best time to visit Dal Lake in my opinion is during sunset. The drama in the sky that unfolds every evening as the sun goes down is truly a sight to behold. Take a look at Sunset at Dal Lake to see what I mean.
The pictures I posted in the post above were all taken on different days. You can see how the sight is different but beautiful every evening.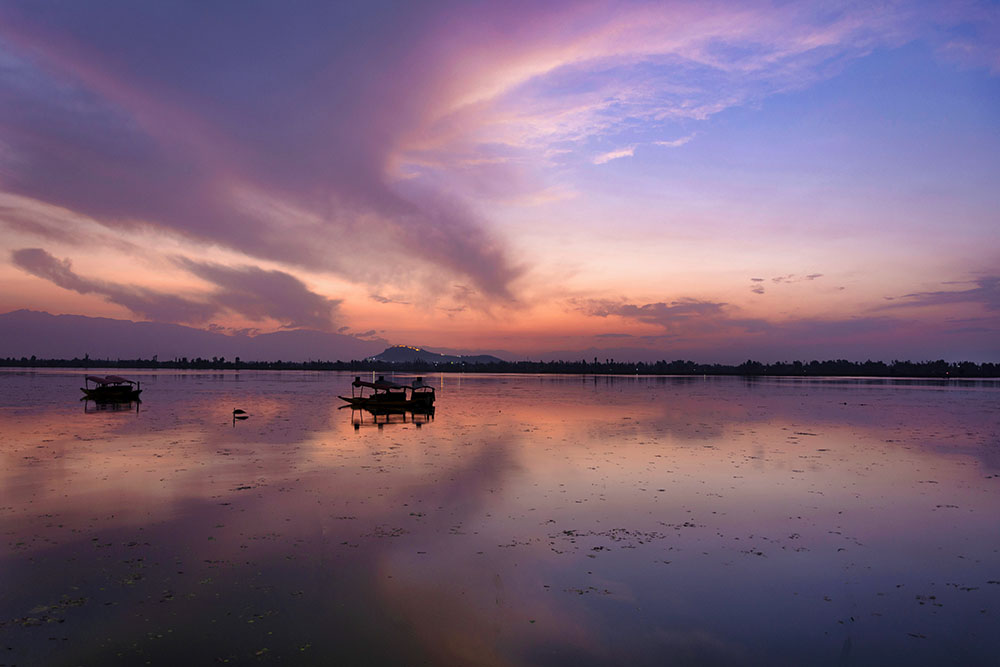 Shalimar Bagh
Also known by the names of Faiz Baksh and Farah Baksh, this beautiful garden was built by Emperor Shah Jahan in 1616 for his wife Noor Jahan.
It has three terraces, fountains, and a canal that is connected to Dal Lake, for the purpose of watering the gardens. The Garden is considered the high point of Mughal horticulture and its beauty is unmatched in the Autumn and Spring seasons.
For more details, you can also take a look at Shalimar Bagh Entry Fee, Timings, and Trip Planning.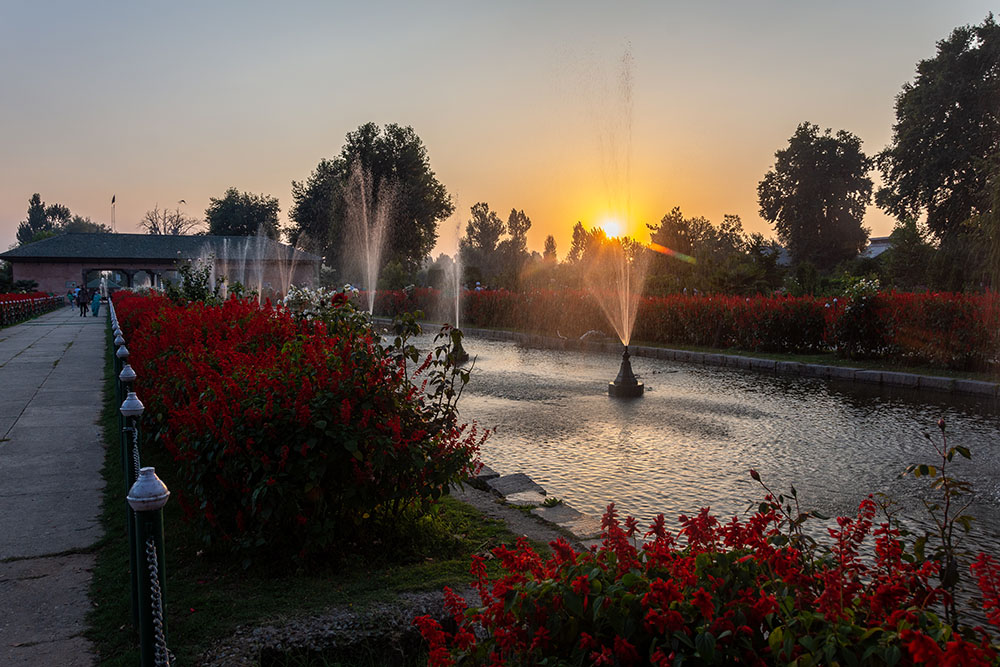 Nishat Bagh
The name Nishat Bagh can mean 'Garden of Joy', 'Garden of Gladness' and "Garden of Delight". It is the second-largest Mughal garden in Kashmir valley, located on the eastern side of Dal Lake.
Nishat Bagh was built in 1633 by Abdul Hasan Asaf Khan, brother of Nur Jahan and father of Mumtaz Mahal. It is a terraced garden that has around 12 terraces, fountains, flowerbeds, and huge lawns.
It is said that Shah Jahan was so impressed with the beauty of this garden that he hoped that his father-in-law would gift it to him. When this did not happen, the Mughal Emperor was so disappointed that he immediately closed the water supply to this garden leading the garden to be deserted.
He realized his mistake later and ordered full restoration rights for the supply of water to the garden to Asif Khan, his Prime Minister, and father-in-law.
Located on the bank of the Dal Lake and the Zabarwan Mountains as its backdrop, Nishat Bagh commands a magnificent view of the lake beneath the snow-capped Pir Panjal mountain range that stands far away to the west of the valley.
For more details, you can also take a look at Nishat Bagh Entry Fee, Timings, and Trip Planning.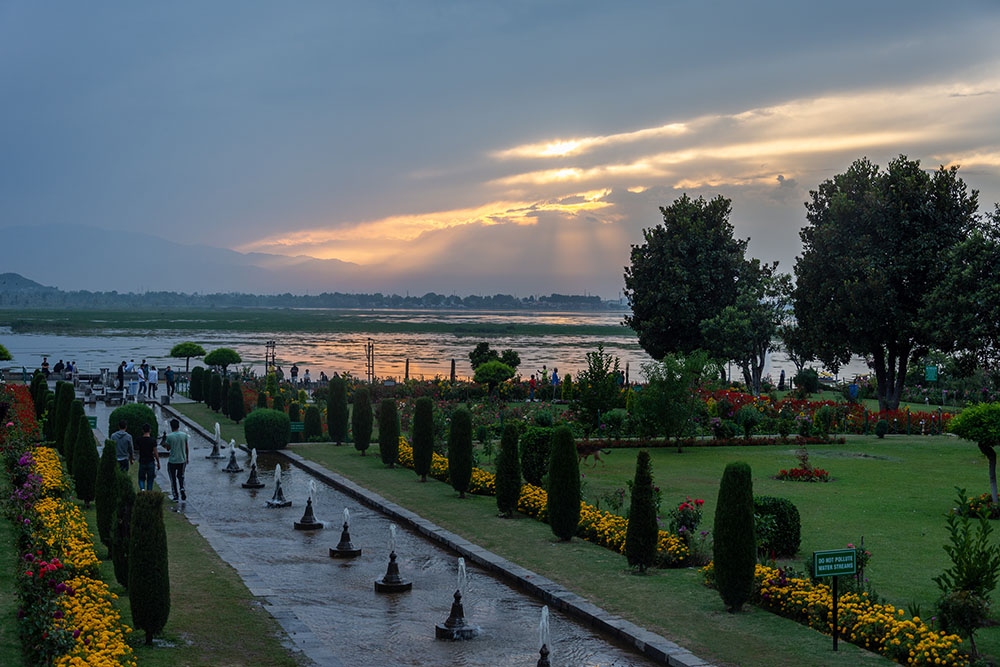 Pari Mahal
Pari Mahal Srinagar, also known as Peer Mahal, is one of the most visited tourist attractions in Kashmir. It is a seven-terraced Mughal garden that may not be the largest but definitely sits at the best location of them all. It is also one of the best points to view the sunset in Srinagar.
The name of the garden literally means the palace of fairies. It was built by Mughal Prince Dara Shikoh in 1650 as his personal library and residence. He is said to have lived here for several years and also used it as a place to learn astronomy.
Today, the garden sits on the slope of a mountain, overlooking the city of Srinagar and Dal Lake. It is beautifully built and maintained and is a great spot to spend some time in the evening.
The view of the setting sun that you get from Pari Mahal is really amazing which makes it a perfect spot for photography as well.
For more details, you can also take a look at How to Plan a Visit to Pari Mahal in Srinagar.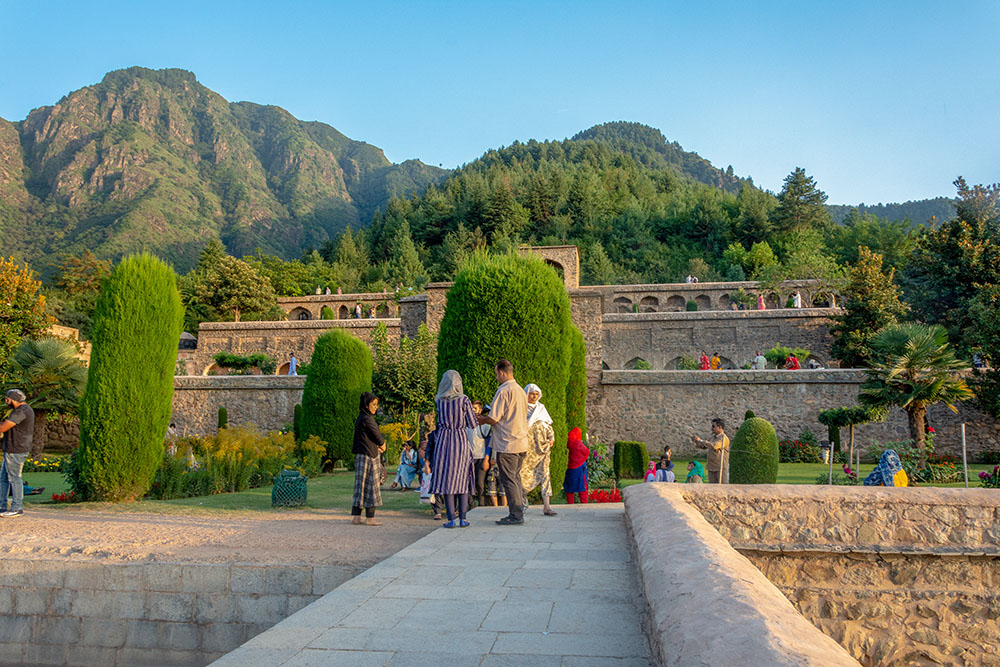 Chashm-e-Shahi
The name of this garden is written in a few different ways. It is also spelled as Chashm-e-Shahi, Chashma-i-Shahi, or Cheshma Shahi. It was built in the year 1632 by governor Ali Mardan Khan, on the orders of Emperor Shah Jahan.
Shah Jahan intended this garden to be a gift to his favorite son, Dara Shikoh. A residence was also built for the prince near the garden and now is known as the Pari Mahal.
For more details, you can also take a look at How to Plan a Visit to Chashm-e-Shahi in Srinagar.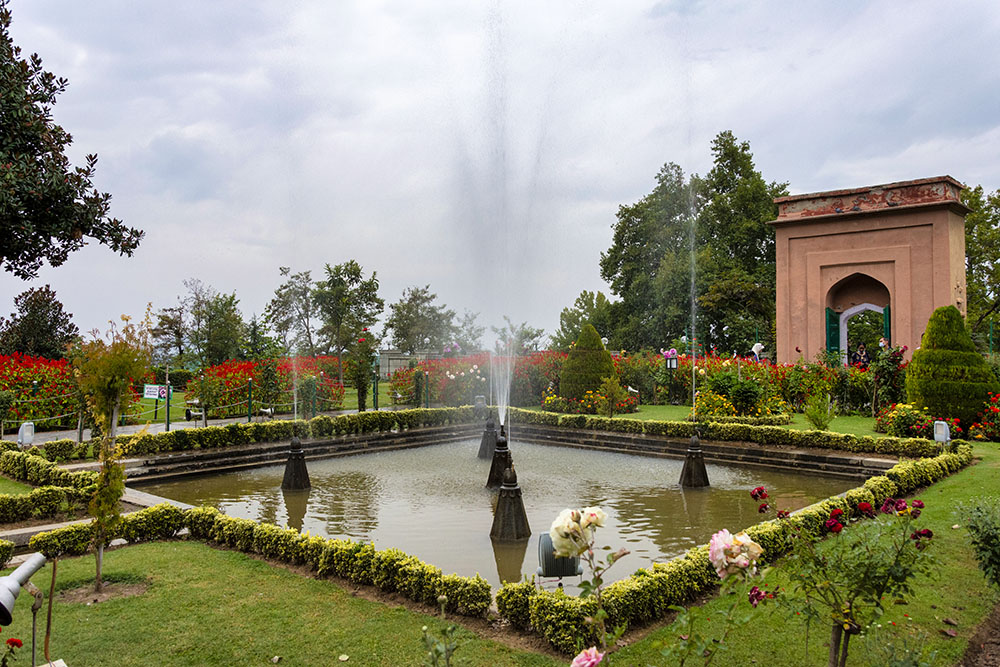 Hari Parbat Fort
Hari Parbat fort was built in the 18th century by an Afghan governor Atta Muhammad Khan and restored by Emperor Akbar in 1590. This fort is located on the west of Dal Lake. It hosts a famous Hindu temple, two shrines of locally venerated Muslim saints, and a Sikh Gurudwara.
Shankaracharya Temple
Overlooking the city of Srinagar, Shankaracharya temple sits at a height of 1,000 ft on a summit of the same name. The temple is also known as Jyeshteshwara Temple and Takht-e-Sulaiman. It is an ancient shrine, considered to be as old as 200 BCE.
We visited the temple during a recent trip to Kashmir. The road from Dal Lake to Shankaracharya temple is a 5 kilometers long uphill drive that starts near Dal Gate. For more details, you can take a look at Dal Lake to Shankaracharya temple.
Hazratbal

The Hazratbal Shrine is a Muslim shrine located in Srinagar, on the banks of Dal Lake. Also known as, Dargah Sharif, it contains a relic, Moi-e-Muqqadas, which is widely believed to be the hair of the Islamic prophet Muhammad.
The shrine is a place of high religious importance and also has quite a bit of history related to it. But other than that, it is also a very beautiful shrine that has also been gaining tourist attention in the last few years.
For more details, you can also take a look at How to Plan a Visit to Hazratbal in Srinagar. Below is a video of Hazratbal shrine that you can take a look at.
Char Chinar
This is actually a part of Dal Lake. Char Chinar consists of four chinar trees standing on a small island within Dal Lake. Most of the Shikara rides from the area near Ghat No. 23 will take you to Char Chinar.
It is a small park-like area now. You can take a break at Char Chinar, rest for a while, and can also get something to eat and drink there.
Challi Point
It is a popular tourist spot in Srinagar. Located right next to Dal Lake. It is more of a place where you can get a lot of street food. What makes the place worth it though is that it is located right next to Dal Lake and a great spot to spend some time in the evening.
Astanmarg
Astanmarg is a viewpoint, a meadow on top of the Zabarwan range surrounded by a couple of small villages. You drive up the mountain on a steep and narrow road and reach a point where the road ends, leaving you with an amazing view of the entire Srinagar city and Dal Lake.
It is located at a distance of about 10 kilometers from Dal Lake. To know more details on how to reach there and the best time, please take a look at Astanmarg – The Best Viewpoint in Srinagar.
Floating Vegetable Market
The floating vegetable market of Srinagar is really an experience in itself. Also known as the floating flower market of Srinagar, this small market takes its form every morning on Dal Lake for about 60 minutes to 90 minutes only.
The location of market is in a small village on the lake near Dal Gate. You will have to rent a Shikara to get to the market and it is only open in the early morning hours.
In the same area is the floating market of Srinagar that remains open all day, selling groceries and other day-to-day items. For more details, please take a look at How to Plan a Visit to the Floating Vegetable Market of Srinagar. Below is a video of the market that you can check out.
Indira Gandhi Tulip Garden
As the name suggests, this garden is famous for over 70 different varieties of colored tulip flowers. It is located approximately 8 kms from Srinagar. The only time it is worth visiting is actually in April when Tulips are in full blossom.
Pathar Masjid
Also known as Naev Masheed, this mosque was built by Mughal Empress Noor Jehan, the wife of emperor Jehangir. It is famous for its distinct construction like no traditional pyramidal roof, with nine mihrabs (arches), the central one being larger than the others.
Jawaharlal Nehru Memorial Botanical Garden
Also known only as the Botanical garden, it is another beautiful garden located on the same road that goes towards Chasm-e-Shahi and Pari Mahal. You can cover it either while going to Pari Mahal or on your way back.
Nigeen Lake
Nigeen Lake is situated right next to Dal Lake and is often called 'Jewel in the Ring'. There is a small causeway separating both these lakes but it is also sometimes considered a part of Dal Lake itself.
The actual name of this beautiful water body is actually Nageena, given because of the surrounding large number of willow and poplar trees. 'Nigeen' is a local variant of the 'Nageena'.
Houseboats are available in Nigeen Lake as well. Some tourists actually prefer to rent a houseboat in Nigeen lake because it is less crowded than Dal Lake and quieter. Shikara rides are however mostly available in Dal Lake only.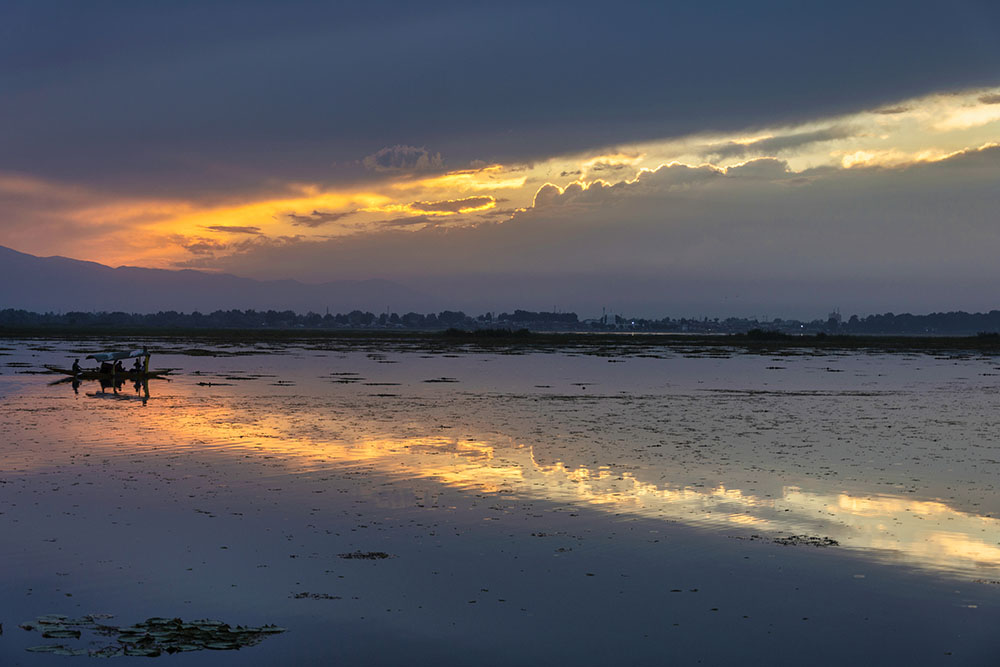 Things to Do in Srinagar City
Other than sightseeing at all of the places listed above, mentioned below are a few other tourist activities that you can enjoy in the city.
Go for a Shikara Ride
This by far is the most popular tourist activity that everyone looks forward to. The best time to go for a Shikara ride will either be at the time of sunset or in the early morning hours to the vegetable and flower market.
See the Sound & Light Show
Sound and light show in Srinagar is something that not many tourists know of. It is a beautiful event organized every evening on the banks of Dal Lake and by far is one of the best such programs that I have ever attended.
If you are going to visit Kashmir anytime soon and had a day planned in Srinagar, I will highly recommend attending this show in the evening. It starts at around 8 pm, lasts for about 30 minutes, and is a perfect way to spend an evening on Dal Lake.
You can first go for a Shikara ride in the evening and then reach the open-theater-like area where this show is organized. For more details, please take a look at the Sound and Light Show in Srinagar City.
Stay at a Houseboat
If you have a couple of nights to spend in Srinagar, I will highly recommend staying in a houseboat for at least one night. It is really an amazing experience. The houseboats are very comfortable on the inside and you will really love the experience.
Most of the houseboats are lined up near Dal Gate but I will recommend choosing one that is in the open lake. Those are much quieter and offer a better view.
Paragliding
Paragliding is an adventure sport that has recently been introduced in Srinagar. Astanmarg is the point where the paragliding starts but you will have to book one in advance in Srinagar only. There is no readily available service at the paragliding point.
Shopping
If you are in Srinagar, there is no way that you can skip the shopping part. The city is famous for its dry fruits, saffron, handicraft items, shawls, pashmina, woolens, and several other items that you will just love.
Places to Visit in Srinagar in 2 Days
Most tourists spend 2 days in Srinagar so let me lay out an example of a sightseeing itinerary that you can follow.
Start your Day 1 with a visit to Nishat Bagh and Shalimar Bagh in the morning. After that, take a drive around Dal Lake and visit Hari Parbat fort. After that, return to your hotel for lunch.
Rest for a while and in the evening, go to Dal Lake again. Do a Shikara ride, then see the sound and the light show and spend some time at Challi point.
On Day 2, get up early in the morning and go to Dal Gate. Hire a Shikara and go for a ride to the vegetable market. From there, drive to Hazratbal Shrine. Drive back to Dal Gate again and visit the Shankaracharya temple.
In the evening, first, go to Chashm-e-Shahi garden. Then go to Pari Mahal and see the sunset from there. Return to your hotel after sunset.
Best Places to Visit in Srinagar
It is really hard to pick one place over another but if I must, I will list the following as the best places to visit in Srinagar.
Dal Lake
Shalimar Bagh
Nishat Bagh
Pari Mahal
Hazratbal
Shankaracharya Temple
Floating Vegetable Market
Astanmarg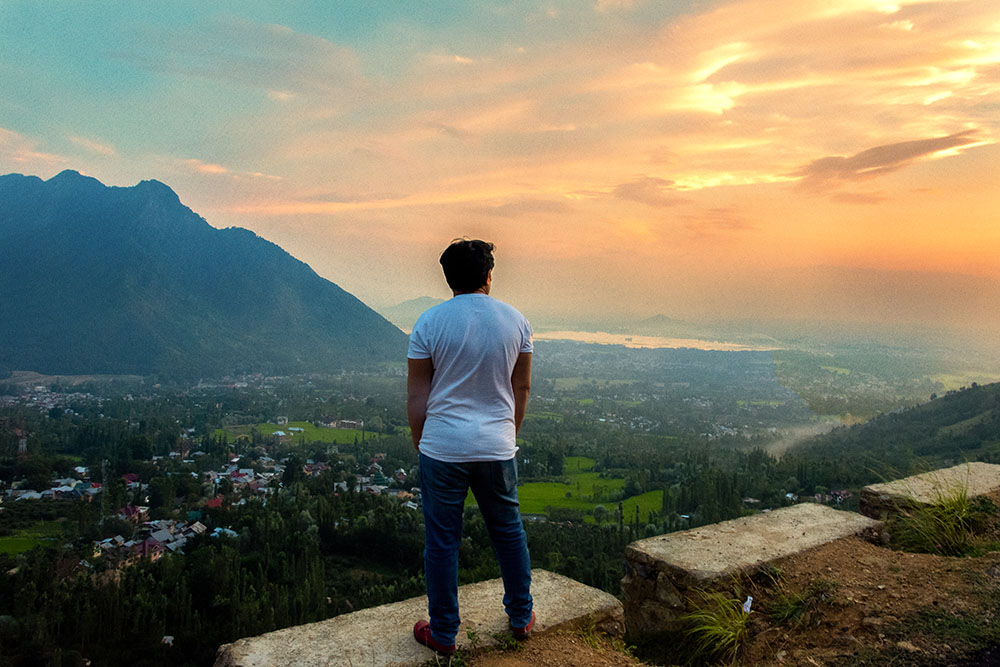 Other Places to Visit in Srinagar
Mentioned below are some other places in Srinagar that you can visit if you had the time.
Manasbal Lake
Mansabal Lake is located at a distance of 30 km from Srinagar. This lake is a good place for bird watching as it is one of the largest natural stamping grounds for aquatic birds in Kashmir.
Though much smaller in size, the setting and surroundings of Mansabal Lake are very charming. It is not popular among tourists so hardly anyone goes this way. Most of the people you will find at Mansabal Lake will be the locals only.
Wular Lake
Wular Lake is one of the largest freshwater lakes in Asia and is considered the largest in India. It drains water from the Jhelum river and there is a lot of wildlife in and around this lake.
It is home to several species of birds which is because of the fact that it is located near the Nal Sarovar Bird Sanctuary. Several species of fish like Rosy Barb, Common Carp, and mosquito fish are found in this lake.
Another interesting thing is that the size of this lake depends on the season and can vary from 30 sq. km to 260 sq. km.
Please note that Wular Lake is not located within the city of Srinagar. It is at a distance of about 65 km from the city, on the way to Bandipora.
Nasim Bagh
Built on the banks of River Jhelum in 1586 by Emperor Akbar, it is a popular camping site among tourists. The garden sits on the west side of Dal, overlooking the beautiful lake.
Chinar Bagh
Recently developed by the Tourism Department, this park is known for its musical fountains and holding an open theater. Several tourist activities like a campfire, fishing, and swimming competitions are also arranged here.
Harwan Gardens
Located about 15 kms from Srinagar, it is another one of the most beautiful gardens in Kashmir valley.
Badamwari Garden
Not many people have heard this name. This small quiet garden is situated on the banks of Nigeen lake and is named after Almond trees, planted by the ruling king at that time. The garden was revived by the JK Bank and formally thrown open to the public in 2008.
Dachigam Wildlife Sanctuary
A permit is required to enter this wildlife sanctuary. It is home to a variety of wildlife and is a popular tourist spot. It is located near the Shalimar area in Srinagar.
Sri Pratap Singh Museum
It is a historical place famous for several ancient artifacts as old as the 3rd and 4th centuries.
Burzahom
Literally meaning "place of birth", it is an archaeological site from where artifacts as old as 5000 years ago were recovered. Animal. Human skeletons of the Neolithic era have also been collected from this site.
Parihaspore
Located 22 kms from Srinagar, these are ruins of an ancient town built in 700 AD and served as the capital of Kashmir.
Khanqah-e-Moula
Popularly known as just Khanqah, it is the first mosque in Kashmir. It was built in 1395 by Sultan Sikander in honor of Mir Syed Ali Hamdani, who popularized Islam in the state of Jammu and Kashmir.
Situated on the right bank of the river Jhelum, it is famous for its wooden structure which has a covered roof and hanging bells.
Kheer Bhawani Temple
Located about 20 kms from Srinagar, it is a beautiful temple of Goddess Bhawani.
Jamia Masjid
This mosque was built in 1394 and destroyed and restored several times since then. It is one of the oldest mosques in Srinagar.
Gurdwara Chatti Patshahi
Located in the Rainawari area of Srinagar, it is a sacred site famous for a Gurudwara built by Guru Hargobind Sahib Ji.
Roza Bal
The Roza Bal, Rouza Bal, or Rozabal is a shrine located in the downtown area of Srinagar. What makes it famous though is that several people believe it to be the burial site of Jesus Christ himself, a claim that is of course highly disputed.
Madin Sahib
It is an ancient mosque famous for its unique and rare tile work that is not seen in any other monument in the Indian sub-continent.
Dastgeer Sahib
This shrine was built in 1806 and is known for an old Quran written by Hazrat Abu Bakr Sidiqqi, Hazrat Ali, and the Mouia Pak, a piece of hair from Gous E Azam.
Makhdum Sahib
It is an ancient mosque built in the name of Sufi Saint Makhdum Sahib or Hazrat Sultan.
Masjid of Akhund Mullah
Considered a mosque within a mosque, it is a small mosque located close to Maskhdum Sahib Mosque. It is known for its stone lotus on top of the podium and a specially constructed prayer chamber.
Imambara Hassanabad
It is another ancient mosque in the region known for its distinct Indo-Iranian construction style. It was built in 1857 in the shape of an octagon with five entry points for women worshipers.
Khanqah of Khwaja Moinuddin Naqshbandi
Popularly known as just Naqshband Shrine, this mosque is known for being the place where the hair of Prophet Muhammad was kept before getting moved to the Hazratbal Mosque.
The places I listed above are just a few of the ancient and historical sites located in the city. I am sure there are many that I have missed here. You can probably spend a week just exploring these historical sites.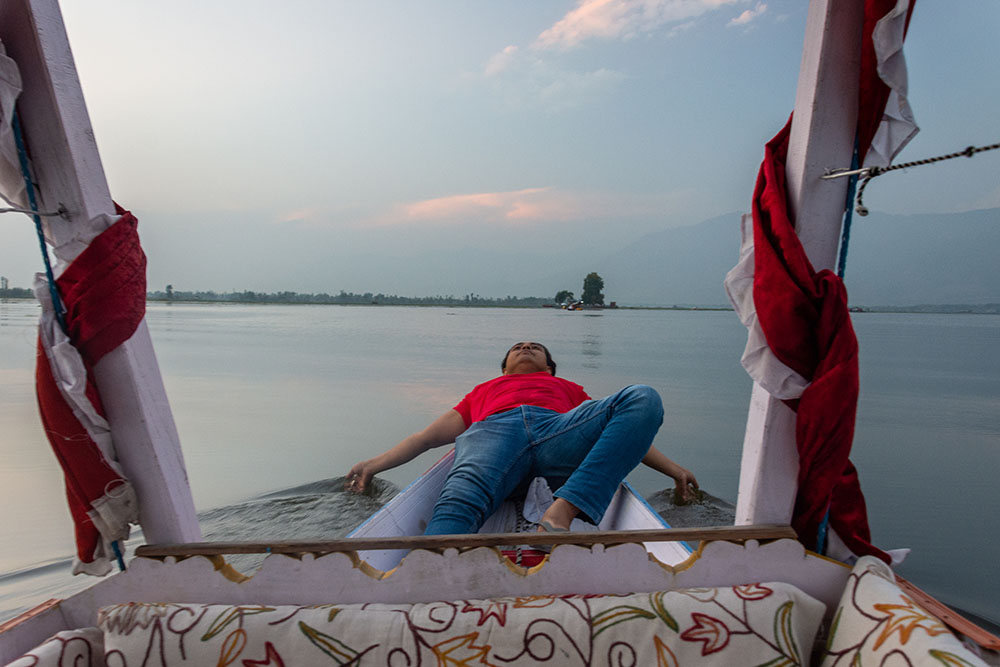 Top 5 Places to Visit in Srinagar
If I am to pick the top 5 places to visit in Srinagar, those will be as mentioned below.
Dal Lake
Nishat Bagh
Shalimar Bagh
Pari Mahal
Astanmarg
Top 10 Places to Visit in Srinagar
If I am to extend this list by 5 more places, then my top 10 favorite places in Srinagar will be as listed below.
Dal Lake
Nishat Bagh
Shalimar Bagh
Pari Mahal
Astanmarg
Shankaracharya Temple
Hazratbal
Floating Vegetable Market
Hari Parbat Fort
Sound and Light Show
Places to Visit in Srinagar – Conclusion
I hope the information above on places to visit in Srinagar & things to do was of help. If you have any questions, you can contact me on Instagram and I will be happy to answer. You can also consider subscribing to my YouTube channel and asking a question there.