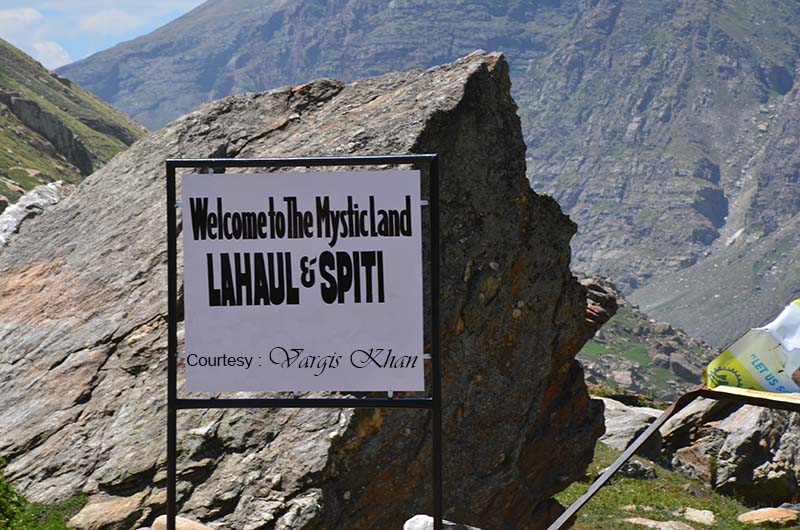 Not many people will be keen on the idea of traveling to Spiti Valley by public transport, and I don't really blame them. The very image of the Valley is of a place that you go to when an adventure is on your mind. This is why it is also commonly referred to as a biker's paradise. Now an adventure is something that you cannot really have when you are sitting stuffed inside a bus or a shared taxi, right? But is it all that there is to Spiti Valley?
First things first. Is a trip to Spiti by public transport possible? Yes, it is. It may be one of the least explored and sparsely populated regions of our country, but it is still very well connected. There is a daily bus available to Spiti from both Shimla and Manali and shared taxis too are easily available.
Also Read: How to Plan a Trip to Spiti Valley – A Complete Travel Guide
Now let us move to the next question? Is a trip to Spiti by Bus worth it? The answer to this question also is yes. It will be different than what it would have been if you were riding a bike but it will still be no less fun. You will still get the adventure you sought, just a different kind.
Listed below are 8 reasons why and when you should travel to Spiti Valley by public transport. If you were thinking of planning a trip but weren't sure about it, hopefully, this article will help clear any confusion.
Spiti Valley by Public Transport
My latest trip to Spiti was by public transport and I really had a great time. I had been to Spiti before by both motorcycle and a Car. So last time, just to see how the trip will be by a Bus, I decided to give it a try.
To be very honest, there were times when I did actually regret my decision. But when it was all said and done, it turned out to be an experience of a lifetime. Motivated by this trip, I in fact then also went to Ladakh by public transport.
So all of what I am sharing below is out of my own personal experience.
Will not Cost you as Much
There is no doubt in the fact that a trip to Spiti will cost you a bit. It is not your usual weekend getaway where you can just pack your bags and go. Visiting Spiti Valley means a commitment of time and money. Depending on where you were coming from, you will be covering thousands of kilometers and it will result in added cost.
The three major expenses of the trip will be fuel, lodging, and food. Going by your privately owned vehicle also means spending more money in getting it ready first and then serviced or repaired after. All of this cost can be easily cut down by almost half if you decided to board a bus instead.
There are several budget hotels and cheap dhabas available en route. The buses you will be boarding are the ordinary HRTC ones that the locals use. So if you were light on budget and were looking for a cost-effective vacation, traveling to Spiti valley by public transport is your best bet.
Also Read: How to Calculate the Cost of Spiti Valley Trip
Saves you the Hassle of Driving
There could be several reasons why you would not want to drive to Spiti. The biggest one is that you are not confident if you will be able to handle the extreme roads that Spiti offers. Another reason is that you may not want to drive for several hours every day and tire yourself. A private taxi is an option in this case but that is no way a budget-friendly option.
So what do you do then? Board a Bus. Find a comfortable seat, throw your bags in the luggage compartment, stretch your legs, sit back and enjoy the beautiful scenery out of the window.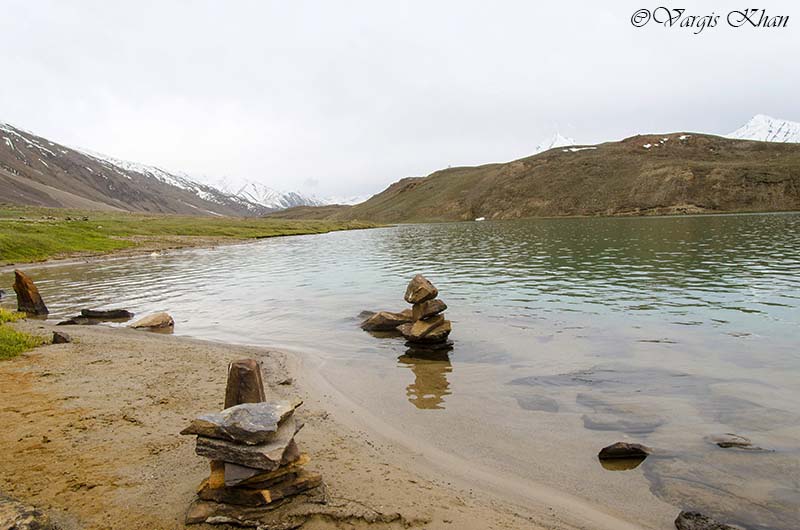 No more rented Bikes and Taxis
Not everyone has the option of bringing their own bike or car to Spiti. Some people do not own one and some others live a little too far away to be riding the bike all the way. Reaching Spiti by flight is definitely not an option like it is in the case of Leh Ladakh. So what do you do then? A popular option, in this case, is to get a motorcycle on rent.
I am not entirely opposed to the idea but there are two problems with this. The first one is that the daily rental and security deposit of these bikes. It will together be more than the entire added other expenses of the trip.
Also Read: How to rent a Bike in Manali
Depending on the bike you chose, you will be paying a rental of Rs. 1500 to Rs. 2000 per day. Add this up for 10 – 12, days and you are paying about Rs. 20000 just for a renal. Fuel expenses will be in addition to this. If you think about it, you can in fact pay this money as a down payment for a new bike of your own.
The second problem is that these motorcycles are poorly maintained and cannot be relied upon. Their fuel efficiency will be extremely bad and it may just break down on you anywhere.
A better option hence is to travel by public transport and save yourself both the money and the headache. If you do want to experience motorcycling in Spiti, I will recommend reaching Kaza by Bus and renting a bike there for a day or two.
Meet New People
Yes, one of the greatest benefits of commuting by public transport is that you get to meet new people. When you are traveling by your own vehicle, you are either just on your own or with people that you planned the trip with. But when you are traveling by Bus or a shared cab, it gives a great opportunity to make new acquaintances.
The people you meet will be a mix of both other tourists and the locals. Get talking to people, listen to their stories, share your own, and gain experience. This is the best way to learn about the Spiti way of life as well. You closely get to see how the people here go on with their daily routines, surviving in such harsh weather and terrain but with always a smile on their face.
Relax More, Enjoy More
Riding your bike or driving your car on bad broken roads can be fun or adventure but it can no way be called relaxing. In Spiti Valley, there are roads that will make your heart jump to your mouth at several places. In the rest of the places as well, even where the road is good, you cannot really afford to be relaxed at the wheel. Out here, you must be always alert with your eyes fixed on the road ahead.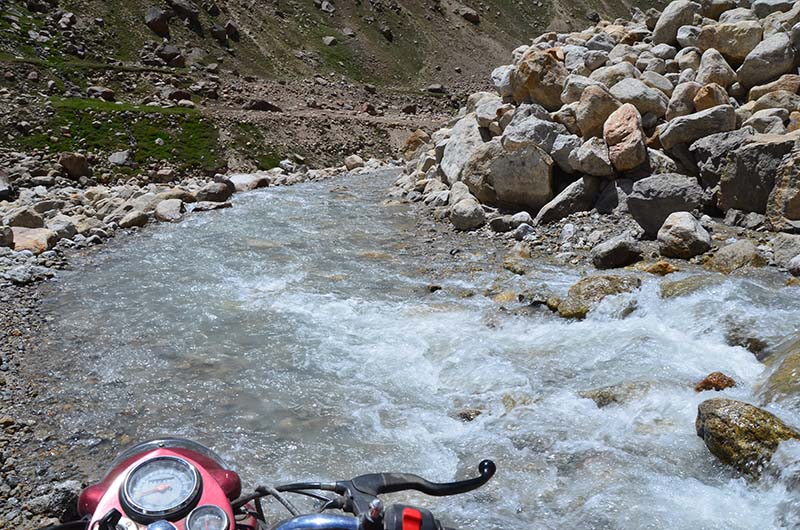 The only time in this case you relax is when you take a break or reach your destination. Since you are focused on the road, you do not fully enjoy the vistas as well.
On the other hand, sitting inside a bus means that you have all the time to yourself. Your gaze can remain fixed on the stunning scenery outside the window. Every turn of the road in Spiti will present you with a different sight and you can keep clicking pictures of all of them.
Also Read: What Clothes to Pack for Spiti Trip
Safety
By this, I do not mean to say that Spiti is unsafe. It is in fact one of the safest places to visit in our country. But the remoteness of the region is sometimes enough to spook people. Not everyone is willing to go to such a place where the nearest help is miles away and even phones do not work. Not everyone is ready to risk getting stranded alone in the middle of nowhere. The fear of getting robbed or attacked on empty roads can be a concern for a lot of people.
If this thought was bothering you as well, then you should definitely board a Bus. You will never be alone and never at risk. There will always be people around and getting stranded alone somewhere will never happen.
I know girls who have traveled to Spiti and Kinnaur alone and their preferred mode of travel was public transport. Why? Because it is in fact the safest way to go when you are traveling solo. All you need to ensure is that it is a bus that you are boarding and not hitchhiking or jumping into cabs with strangers. You can read the travelogue of a friend of mine at A Girl's Solo Trip to Kinnaur by Bus.
Disadvantages of Traveling to Spiti by Bus
Is it all good then? Of course not. Everything has its own set of pros and cons and so does traveling to Spiti valley by public transport. The biggest disadvantage will be ordinary buses. The only part of the journey when you can get a luxury or deluxe bus is between Delhi, Shimla, and Manali. For the rest of the places, you will be traveling in ordinary HRTC buses. They will not be super uncomfortable but things will not be convenient either.
The second disadvantage is the long waiting hours for a bus or a shared cab to arrive. You will be tied down with the bus timings and if you missed it, you may end up waiting for an entire day at some places.
Yes, you will be able to see plenty of views sitting on the bus. But since it is an ordinary roadways bus, it will not be stopping anywhere for sightseeing.
Last but not the least, since you will be clicking your pictures from a moving bus, there will always be a bit of motion blur in them.
Frequency of Bus Service in Spiti
The bus service in Spiti Valley remains available for all 12 months, even during the peak winters. There are daily buses between Shimla, Manali, and Kaza. The only time this service gets interrupted is if the road got blocked due to landslides in monsoon or snowfall in winter. But even if that happened, authorities clear the road just as soon as they are able to and restore connectivity.
I have covered this topic at length in another article, Spiti Valley Bus Service – Timings, Frequency, and Fare. Please take a look at this post for details on buses traveling to, from, and within Spiti Valley.
Conclusion
I hope the information I provided above on traveling to Spiti Valley by Public transport was of help. If you have any questions or need any other details, please feel free to ask in the comments section below, or at our Community Forum, and I will be glad to answer.