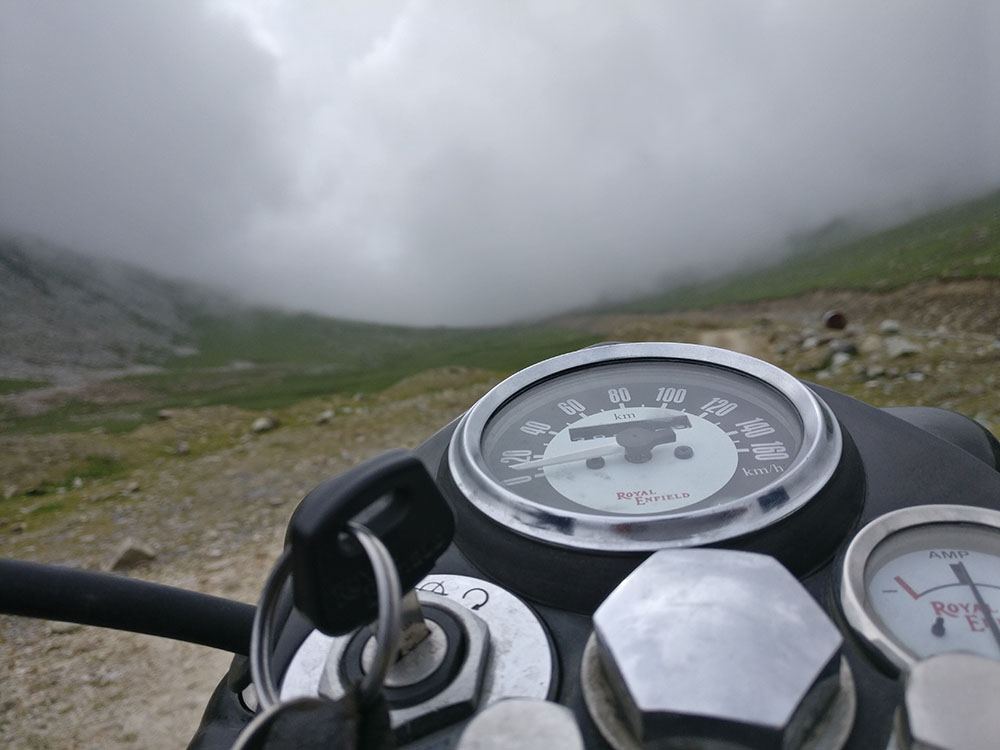 When renting a bike for a Ladakh trip, several things need to be considered. You will have to think about which motorcycle to rent, where to rent it from, what to keep in mind before renting, and where can you use the rented motorcycle. In this article, I will highlight a few quick points that you should take care of before you rent a bike for Ladakh trip.
The most important thing however though is your own biking experience. Are you renting a bike because you do not own one? In that case, do you have enough riding experience to be thinking about riding a bike in Ladakh?
A bike trip is definitely not an easy affair. If you have never been on one, then Ladakh is definitely not the place that you want to be your first. I will highly recommend making a few short trips and get some experience of a long ride. If possible, you should also try taking your bike in the mountains a few times before you go to Ladakh.
Where Can I Rent a Bike for Ladakh?
Motorcycle rentals are now available in almost every major city. Depending on your convenience, you can rent it either from your own hometown or places like Manali and Srinagar that are closer to Ladakh. The charges will depend on which bike you want to rent and for how many days.
Manali has better options than Srinagar and a larger number of rental agencies. It is not a big deal to find a motorcycle on rent here. But at the same time, they are always in some kind of argument with rental agencies in Ladakh. They also will charge you a higher amount.
Srinagar on the other hand is a better option in terms of the cost and condition of the motorcycles. Renting a bike from Srinagar means that you will get better deals and bikes in much better condition.
In the end, it will really depend on the itinerary that you are following. But if you do decide on renting a bike from Srinagar, you can talk to  Faisal @ 9596410670. He is probably the best person in Srinagar to quote you the best prices and give reliable bikes.
You can give him my reference and he will give you a discounted price.
Can I Rent a Bike in Leh?
Yes, you definitely can and even in Leh, options are in plenty. The entire town is filled with mechanics or travel agents offering all kinds of motorcycles on Leh for local sightseeing.
Depending on which motorcycle you chose, expect the rent to be anywhere from Rs. 800 to Rs. 2000 per day. I would advise against booking in advance though. When it comes to a bike, you must first check the bike thoroughly about its motorcycle and then only close the deal.
If you wish to rent a bike in Leh, you can speak with Kunal @ 9910402252. If you want to know the bike rental rates, please take a look at Ladakh Motorcycle Rental Rate List.
Which is the Best Bike for Ladakh trip?
There is no best bike as such for Ladakh. I agree that some motorcycles are better and have an advantage over others. But in the end it all depends on how well you have maintained it.
You can take even a 100CC motorcycle to Ladakh provided that you have gotten it serviced, have not abused it, and the motorcycle is not way too old. For more details on this topic, please take a look at Which is the best bike for Ladakh trip?
If you are riding with a pillion, prefer taking a motorcycle with a larger engine like Royal Enfield. This will keep the ride smooth even at those steep ascents.
If you are taking a smaller engine bike, like 100 CC or 135 CC, ride solo. You also need to consider the fact that it is not just you and your pillion but also the luggage. A 100CC bike may not be able to handle all of this at rough patches of the road. I will recommend reading How to Plan a Ladakh Trip on 100-150 CC Bikes for more details.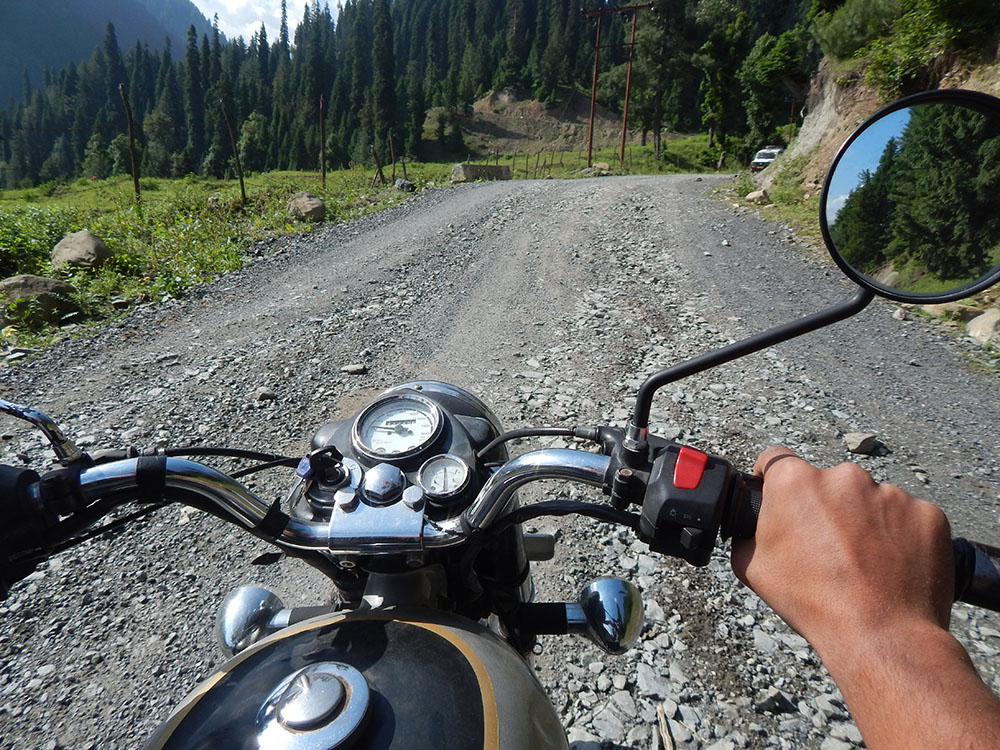 Can I Use a Non-Local Bike in Ladakh?
This is one of the most important factors you need to consider. Any motorcycle that was rented outside Ladakh is only good enough to take you to Leh.
If you rent a bike for Ladakh from Manali or Srinagar, it cannot be used to visit nearby areas like Tso Moriri, Pangong, or Nubra Valley. For this purpose, you must rent another motorcycle from Leh, a locally registered one.
I strongly suggest that you do not take any chances and leave your non-local bike at the hotel in Leh. You may be stopped at the barricades put up by the locals. If they find you riding a motorcycle registered outside Ladakh, you may get sent back to Leh. In worst cases, if the situation escalated, they may even damage that motorcycle.
There is however no concern about riding these motorcycles on the two highways leading to Leh. But once you reach there, you must leave it parked at the hotel. It cannot even be used for sightseeing within Leh City.
Is there a Minimum or Maximum Rental Period?
It depends on the rental agency but some of them do have minimum days rental criteria. This is mostly applied in Manali though. Within Srinagar and Leh, you can rent a bike for any number of days that suit you the best.
Is there a Security Deposit Needed?
Yes, there is. Expect the deposit to be anywhere between Rs. 15000 to Rs. 30000 depending on which bike you are renting and where you are renting it from. This amount is refundable at the time when you return the motorcycle with no damage.
Please make sure that you take pictures of the bike from every angle at the time of renting it. Cover every part of it and keep the pictures handy. Send them to the rental agency as well at the time of delivery. This will ensure that any existing damage on the bike does not get blamed on you at the time of return.
What to Check in the Bike?
I am not a mechanic myself but I will still list a few things. Check the condition of the chainset and ensure it is not worn out. Do a thorough inspection of the bike for any oil leakage, either from the engine or front shock absorbers.
If the motorcycle is electric start, try bringing it to life a couple of times. Ensure that it doesn't cough or give trouble when you press the start switch. If it is a kick start, check for any starting problems. The bike should be a single or at most two kicks start.
Check the condition of the tires if they are worn out. Sit down on the motorcycle to check that the seats are comfortable enough.
Check that the headlamp is bright enough and get it replaced if it is not. Also, check the tail light and that both the indicators are in working condition.
Also Read: Leh Ladakh on Scooter – An Adventurous Journey
Do I Need a Bigger Engine Bike Only?
It depends. If you are riding with a pillion, have a lot of luggage, and are planning to cover some long stretches then it is better to go for a high-powered engine. For someone who is planning to ride solo, a smaller engine bike will do equally well.
If your motorcycle is comparatively new, is very well maintained then you can take even a 100 CC motorcycle. If you are however doing so, then please ensure that you do not overdo things.
Riding a 100 or 125 CC motorcycle would mean that you will have to ride very carefully. If the motorcycle starts to cough at a certain ascent and refuses to go any further, do not try to push it too hard or ride in half clutch. Get down for a short distance and walk while accelerating slowly.
At water crossings, stop, get down, inspect the crossing, and cross where it doesn't seem too deep or doesn't have too much slush or stones. If the motorcycle gets stuck, do not accelerate too much trying to take it out. Rather, get down and push the motorcycle out.
Can I do a Ladakh Bike Trip with a Pillion Rider?
A lot of people do it and yes you certainly can.  There are however several things that come into consideration. As I mentioned above, it is not just you but also the luggage of two people on the bike.
If you are planning to ride with a pillion, chose your motorcycle carefully. If you have a Royal Enfield then it will be best. It is easier with Enfield when it comes to a comfortable ride and roping all that luggage around on it.
If not an Enfield, then at least have a 150 CC motorcycle. Engine any smaller than that and you should ride solo.
Even with a high-powered motorcycle, you must make sure that it is well maintained and well serviced. You should check that the bike is not problematic and there is no risk of a breakdown on the trip.
The most important thing however is your own riding skills. The motorcycle can be good but can you manage it well enough with a pillion and luggage on such challenging roads? Only ride with a pillion if you are sure about it. Do not carry unnecessary luggage and ride as light as you can.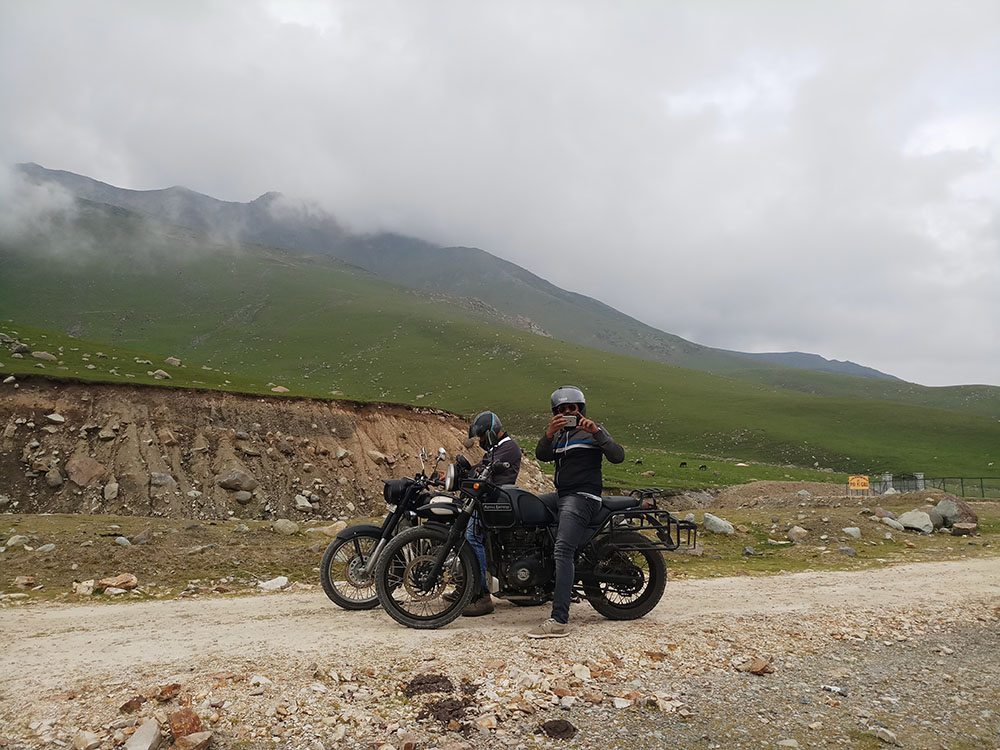 Rent a Bike for Ladakh – Conclusion
I hope the information above on how and where to rent a bike for Ladakh trip was of help. If you have any further questions, please feel free to ask in the comments section below or at our Community Forum, and I will be happy to answer.