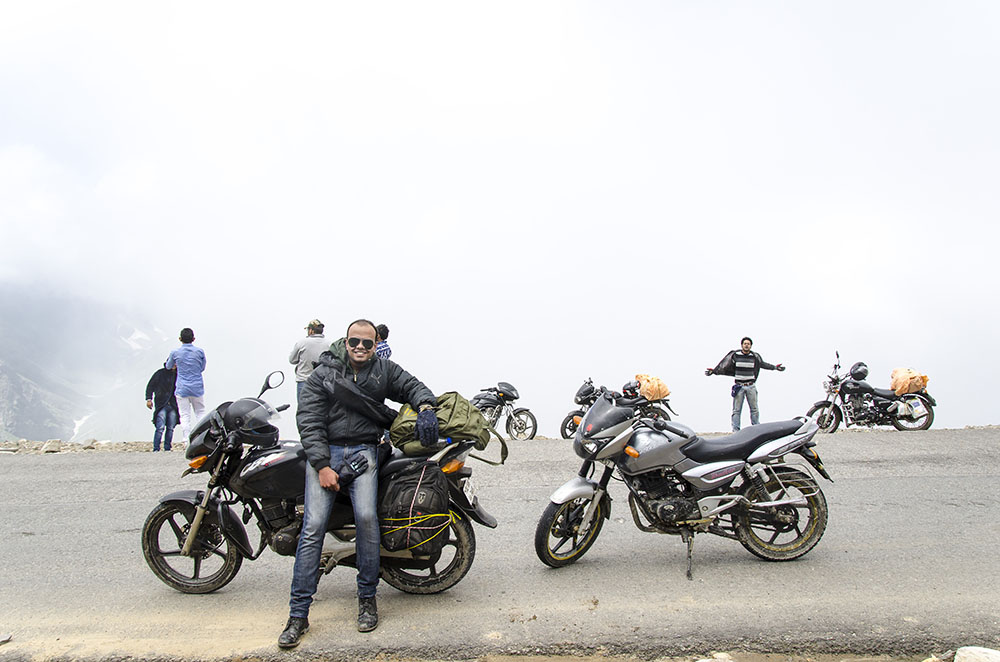 In this post, I will explain how you can rent a bike in Manali for either local sightseeing or visiting places like Leh Ladakh or Spiti Valley. I will mention some of the most important things that you must keep in mind before you decide on which bike to rent and from where. This will save you a lot of hassle and money later.
I will first talk about the money that you will end up spending in Manali on different kinds of bikes followed by the procedure and necessary tips.
How to Rent a Bike In Manali
Mentioned below are the rates for different kinds of bikes available on rent in Manali.
| | |
| --- | --- |
| Motorcycle | Per Day Rental in Rs. |
| TVS Jupiter or Activa | 500 / 800 |
| Bajaj Pulsar 180 | 800 / 1000 |
| Bajaj Avenger | 800 / 1200 |
| Royal Enfield 350 CC | 1200 / 1500 per day |
| Royal Enfield Thunderbird 350CC | 1200 /  1500 |
| KTM Duke 200 | 1500 / 1800 |
| Royal Enfield 500 CC | 1500 / 1900 |
| Royal Enfield Himalayan | 1500 / 1900 |
| Royal Enfield Thunderbird 500CC | 1500 /  2000 |
| KTM Duke 250 | 1700 /  2000 |
| KTM Duke 390 | 2000 /  2300 |
| Royal Enfield Interceptor 650 CC | 2200 /  2500 |
| Kawasaki Ninja 650 | 3500 /  4000 |
Where to rent a motorcycle in Manali?
There are several places from where you can rent a motorcycle in Manali. Almost all the travel agents and tour operators have this arrangement. In addition, the mechanics as well offer this service so finding a motorcycle to rent in Manali is not at all a difficult task. Just take a stroll around the town and you will see plenty of shops/workshops offering motorcycles for rent.
Also Read: How to Plan a Trip to Manali – A Complete Travel Guide
FAQs on How to Rent a Bike in Manali
Below are some of the most frequently asked questions about renting a bike in Manali and tips that must keep in mind.
Can I rent a motorcycle in Manali and use it in Ladakh as well?
A BIG NO. Please do not do this or you may land in trouble. If you are renting a bike in Manali, only use it to reach Leh and your return journey. For visiting the local tourist attractions like Nubra valley, Pangong and Moriri, please rent another motorcycle in Leh. The locals there do not allow tourists to use motorcycles rented outside of Ladakh to run there. You may however use it within the city of Leh.
Can I rent a motorcycle in Manali and drop it at Srinagar?
Not for free. Most of the renters will give you a straight no for this meaning that you will have to bring their motorcycles back to Manali itself. Some of them however would give you a choice to leave the motorcycle at either Srinagar or Jammu for an additional cost which could be anywhere between Rs. 10,000 to Rs. 15,000.
Can I rent a motorcycle in Manali and leave it in Leh?
Yes, this too is an option provided by some renters for an additional cost. It is very rare that you won't get charged for this. The additional cost would be around Rs. 10,000 in exchange for which you can rent a motorcycle in Manali and leave it at their drop point in Leh. That way you can either catch a flight home or make some other arrangements for your return journey.
Is there a minimum or maximum rental period?
It depends on the rental agency but some of them do have 7-day minimum criteria.
How much does it cost to rent a motorcycle in Manali?
It actually depends on which motorcycle are you renting but expect the cost to be somewhere between Rs. 1000 per day to Rs. 1500-1600 per day.  If you are thinking of a Royal Enfield, then the charge would be a minimum of Rs. 1200 per day for Classic, Standard, or Electra and close to Rs. 1600 per day for Thunderbird. For Pulsar it would be close to Rs. 1000 per day and for other motorcycles, it may be a bit less by a couple hundred.
Is this price negotiable?
Hard to answer this question but I do not think it is negotiable. They pretty much have a standard rate all across the town and no travel agent or mechanic would lower the price unless it is a known contact or your negotiation skills are of export quality. LOL.
Do you have to pay a security deposit to rent a motorcycle in Manali?
Yes, you do. No travel agent or mechanic would lend you a bike without the security deposit. The exact amount of the deposit can vary highly. It can range anywhere from Rs. 15,000 to Rs. 30,000 or maybe even more.
Usually, the renters let you pay part of the deposit and take the rest as a cheque or maybe keep your credit card or some other document as a security deposit for the remaining amount. The amount can depend on how old the motorcycle is, or the renter you are dealing with.
This amount of course will be refunded to you when you return the motorcycle. If there is any damage, the repair cost will be deducted from the deposit. If there is no damage or repair required, your deposit will be refunded in full.
What are the documents required while renting the motorcycle?
Your driving license is a must and pretty much the only document you will need to submit as it works both as an Identity proof and address proof as well. Someone asked me in an email if you have to submit the original and the answer to that is no. You are required to carry your DL with you during the trip and just need to submit a photocopy at the place you are renting the bike from in Manali.
Is Riding Gear available for rent as well?
No, it is not included with the bike rental. The only thing you may rent with the motorcycle is a helmet and that is pretty much about it. Riding jackets, knee guards, elbow guards or any other accessory will have to be paid for separately. It would be wise to discuss all these accessories in advance with the rental agency.
Is Luggage Carrier available for Rent?
Most of the Royal Enfield's available are equipped with it already. The luggage carrier along with the space for carrying Jerry cans is mounted on the motorcycles.
However, if you need an Enfield without the carrier, that is available too. If you are renting some other motorcycle and it does not have a luggage carrier, ask the mechanic if he can mount one or give you some other motorcycle.
Is there any paperwork involved while renting the motorcycle?
Yes, there is. The agent or the mechanic will have you sign a document that pretty much lays down the terms; for example, what happens if you crash or damage the motorcycle, etc. Please make sure that you pay close attention to these terms and clarify anything that you are not sure of.
What documents should you ask for along with the motorcycle?
Make sure the RC, Insurance documents, and pollution certificate is handed over to you along with the motorcycle. Check the dates carefully and ensure that all these documents are still valid and not expired.
Can I book a motorcycle in advance over the phone?
Yes, you can but you must not. The most important thing before renting the motorcycle is to test it and you will be deprived of this option if you book it in advance. The best thing would be to walk through the town, check out several options, the condition of the motorcycle, the costs involved, and then make a decision of where to rent it from.
How is the condition of the motorcycles?
It is never good is what I can say. The condition will differ from being OK to bad to even being pathetic which is why it is of utmost importance that you do not book in advance and inspect the motorcycle closely before paying the amount.
These motorcycles have been used by multiple people and always in the hilly region. Used is actually the wrong word, these motorcycles mostly get abused and hence the bad condition. From the engine to fuel efficiency, it will never be at par with a personally owned motorcycle.
What to check before renting the motorcycle?
I am not a mechanic myself but I will still list a few things about how to rent a bike in Manali. The first tip is that check how old the motorcycle is and how many kilometers are on the odometer. Try to find a motorcycle that is comparatively new, has been bought in the last couple of years, and has run lesser kilometers. Finding a new motorcycle is hard but not tough so if you find one go for it.
Check the condition of the chainset and ensure it is not worn out. If the motorcycle is an electric start, try bringing it to life a couple of times and ensure that it doesn't cough or give trouble when you press the start switch. If it is kick start, ensure that there is no starting problem and the motorcycle is a single or at most two kicks start.
Check the condition of the tires if they are worn out. Sit down on the motorcycle to check that the seats are comfortable enough. Do a thorough inspection of the motorcycle for any oil leakage, either from the engine or front shock absorbers. Check that the headlamp is bright enough and get it replaced if it is not. Also, check the tail light and that both the indicators are in working condition.
Other Tips
Make sure that you are carrying some essential spares like clutch/accelerator/brake wires, headlamp, spare tubes, a toolkit, chain link, and spark plug, etc if you are going towards Ladakh or Spiti Valley. You must learn how to take off the wheel and change the tube in case of a flat tire. Any other basic mechanical knowledge too will be beneficial to learn little basic of bike repair like fixing a puncture, changing sparkplug, clutch/cable wire, headlamp, headlight, attaching chain link, etc.
The second thing you must do is to stay in Manali for a day and test the motorcycle. Take it towards Rohtang Pass and get an idea about how it performs on steep ascents and fuel efficiency. If there is a fix required, get it done immediately. If there is a fault too big or time-consuming for repair, dump the motorcycle and find another one.
My final advice would be that do not be tied down to a particular motorcycle, do not go with the mindset that you only have to rent an Enfield or a Pulsar. Rather look for a motorcycle which is in good running condition irrespective of which brand it is.
With all this said, another point to consider here would be that if you have a motorcycle of your own, transporting it to and from Manali would actually cost you less than going through the hassle of renting a motorcycle in Manali. Since it is your own motorcycle, you will always have trust in its capabilities and hence the peace of mind. Something to think about.
How to rent a Bike in Manali – Conclusion
I hope this information on how to rent a bike in Manali was helpful. If you have any further questions; or need any other details; please feel free to ask in the comments section below, or at our Community Forum; and I will be glad to answer.