The last long drive we did was in November to Hampi, Badami, and Vijaypura. Four months have passed after that. The long weekend of the Holi week offered a perfect opportunity for another trip. An off on Friday made it an extended weekend of four days. Hence, after much consideration, Mumbai to Tarkarli road trip was decided for our next family adventure.
There are two routes for going to Tarkarli, one via NH66 (old Mumbai-Goa Highway) and another via NH48.
The distance via NH66 is ~ 500 km
The distance via NH48 is ~ 550 km.
We decided to go to Tarkarli via NH66 and return via NH48.
Mumbai Tarkarli Road Trip
Our plan was to start in the afternoon once my daughter comes back from school. It is not possible to reach Tarkarli on the same day. So, the destination for the first day was Chiplun.
Day 1: Mumbai to Chiplun
We started at 2.25 pm.
I prefer the Airoli bridge over the Vashi bridge to cross the creek and get into Navi Mumbai. So, from Jogeswari, we took JVLR to reach Airoli via Powai. Since we stay at Goregaon, we could have opted for Aarey colony rood.
We did not do that and it proved to be a mistake very soon. On account of Mumbai Metro work, JVLR has become substantially narrower. There was bumper to bumper traffic jam from Jogeswari up to the crossing of JVLR and Ballavbhai Patel road. It took around 20 minutes to cross that stretch.
Also Read: Road Trip to Gujarat – A Memorable Journey of 10 Days
Powai – Airoli – Belapur
After that traffic eased out substantially. We crossed Powai at 3.05 pm, touched Eastern Express Highway at 3.15 pm, and were at Mulund East, at the junction of Airoli-Mulund road and Eastern Express Highway by 3.20 pm.
We encountered the second round of traffic jams at Airoli, just before getting onto Thane-Belapur road and lost around 10 minutes there.
There was a sporadic traffic jam even on Thane-Belapur Road. The road became free and drive became painless only after Nerul. We crossed Belapur at 4.05 pm and by 4.18 pm, we were on Mumbai-Pune Expressway.
It was quarter to 5 pm when we reached Khalapur toll gate. After crossing the toll gate, we took a left turn for Pen-Khapoli Road. Immediately After getting onto Pen-Khapoli Road, we took a U-turn and perpendicularly crossed the Mumbai-Pune expressway by the overbridge.
Khalapur – Nagothane
There, the road trifurcates. The rightmost branch is Pen-Khapoli Road which goes towards Pen. The left-most branch goes back to the Mumbai-Pune expressway. The middle one is SH92 which goes to Nagothane. We took a 5 minutes tea break at a roadside tea stall and then proceeded towards Nagothane.
The distance between Khalapur and Nagothane is approximately 40 kms. It is a single-lane road. One of the claims to fame of this road is that Imagica Theme Park is on this road. You also need to take this road if you intend to go to Durshet forest.
I last drove on this road in December 2017. Then, the road condition was good or rather excellent. The traffic on this road is quite sparse. Driving on this road used to be a pleasure in spite of it being a single-lane road. The situation has changed now. The road is being widened. Construction work is underway. Asphalt is being replaced by cement. Now it is a broken dirt track.
The road condition improves significantly after the first 10 km and remains so for the next 15 km. The last 15km is a mix of good and bad patches.
Also Read: Mumbai to Mahabaleshwar Road Trip – A Refreshing Journey
Sahyadri Hill Range
It is a serpentine road through the Sahyadri hill range, full of twists and turns. It passes through Pali town and some villages. The grassland on both sides of the road was completely dry. In the blistering afternoon sun, it was emitting a golden glow.
In many places, the trees at the side of the road were devoid of leaves. The skeleton-like branches moved up in an apparent attempt of catching the feet of the rain god. In the afternoon Sun, the dry branches were looking a bit mystic. I am pretty sure that on a dark night, these branches look eerie in the headlight of the vehicle.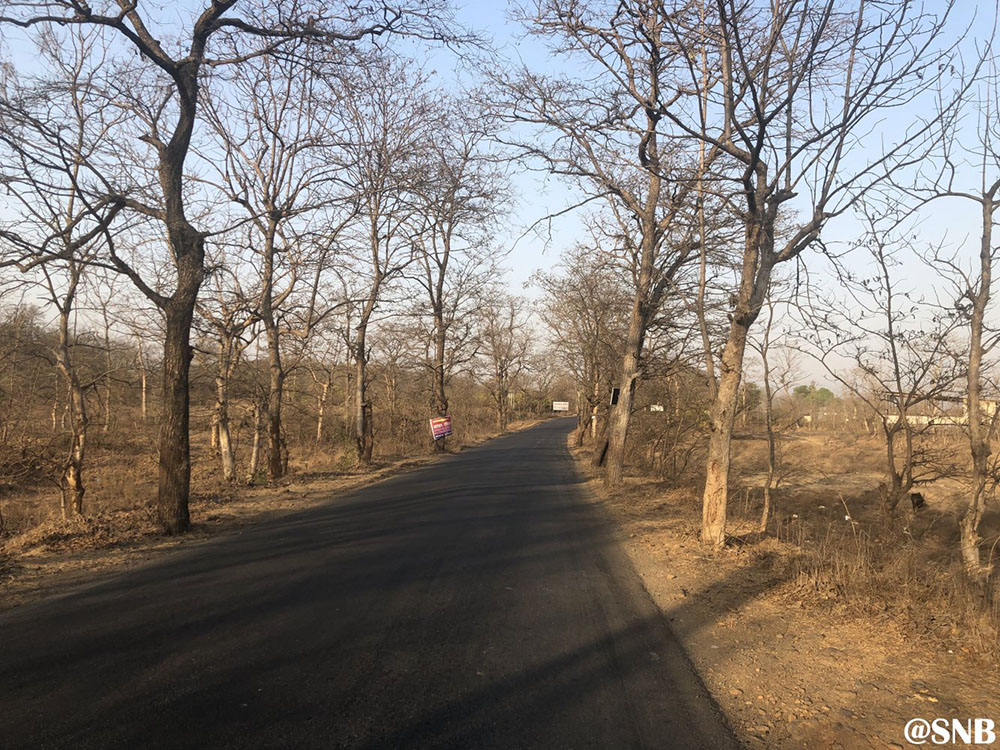 SH92 meets NH66 near Nagothane bridge on Amba river. This place is approximately 3 km after Nagothane town while you are going towards Chiplun. We reached there around 5.55 pm. By that time, we had covered a distance of 124 km. Before getting onto NH66, we took a snack break with some homemade stuff on the banks of the Amba river.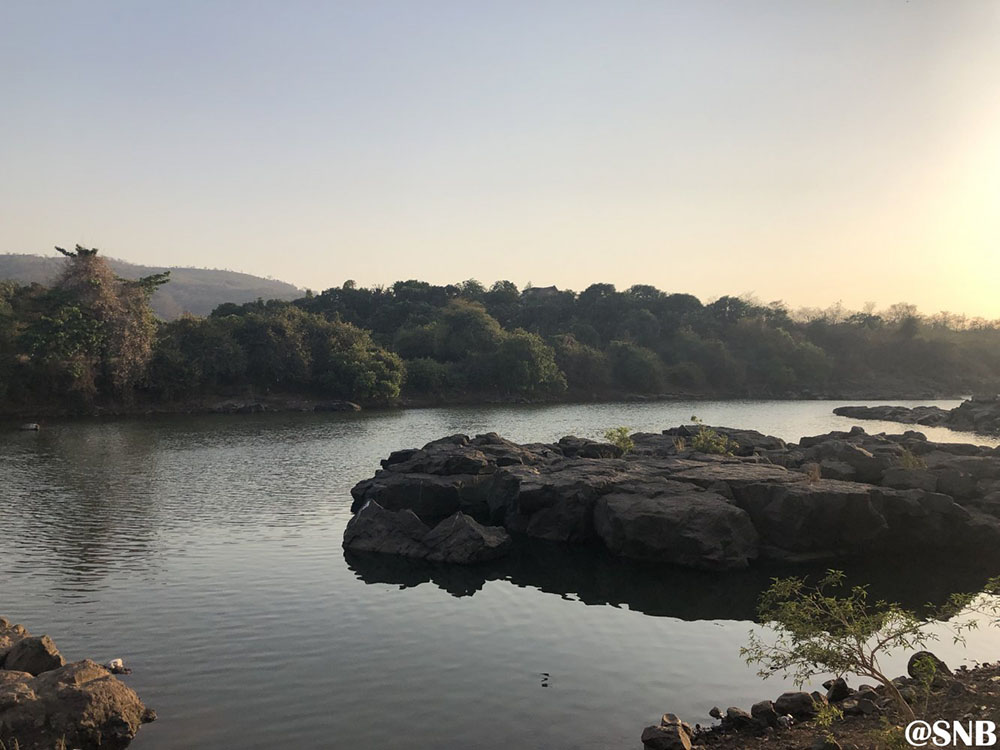 We resumed our journey after 15 minutes. Before saying goodbye to SH92 we took the last few snaps of the road. In the slanting rays of the setting sun, it was looking surreal.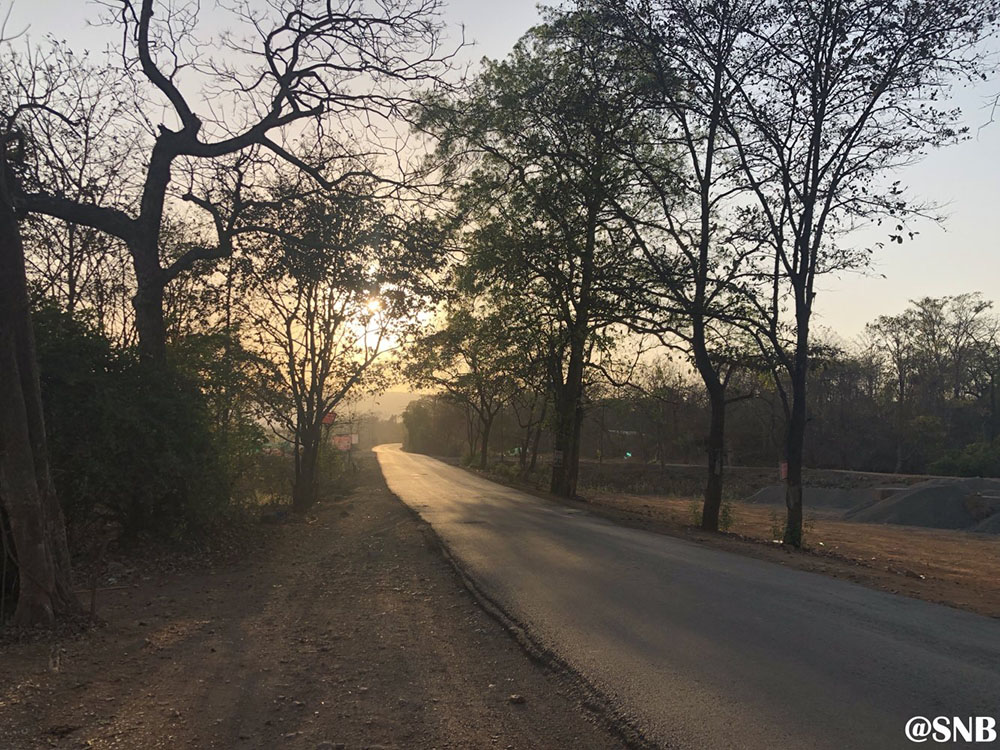 By the time we took NH66, it was already in the captivity of the shadow of the hills standing tall at the west. The dusk was setting in. The moon appeared in the east.
Managaon
By the time we crossed Mangaon, the darkness was visible.
I drove a number of times on NH66 since 2009. Though it is a single-lane hilly road, it used to be an enjoyable drive. The route offers fascinating vistas and a bit of adrenalin rush. The road surface used to be impeccably good. The traffic used to be scanty traffic, especially after Poladpur. I have even driven on this road in dark and found that pretty manageable.
The assumption of good road quality does not hold good anymore. Road widening work has been going on NH66 for the last 3-4 years. It has significantly worsened the surface quality.
When I drove last on NH66 in December 2017, the stretch up to Mangaon was affected. This time, based on this day's as well as the following days' experiences, we found that the entire NH66 has come under the ambit of road widening work.
I am ok with driving at night on a single-lane road even with twists and turns provided the road throw unpleasant surprises in form of broken track and sudden diversions. Here the case was exactly the opposite.
The track was broken at many places and it was full of diversion. To make the matter worse, most of the vehicles coming from the opposite side were engaged in a vulgar and competitive display of brightness of the headlights. It was a difficult drive.
My advice for myself and other travelers is to avoid NH66 for the next few years to the extent possible.
Poladpur – Chiplun
Driving became a bit easier once we crossed Poladpur. One of the reasons is that traffic became light after Poladpur. Another reason is that the Moon started glowing full throttle and moonlight caused darkness to disappear considerably. It was the previous evening of 'Holi Purnima'
Driving on a hilly road on a moonlit night is an exhilarating experience. The hills, the valleys, the forest were looking mystic in the moonlight. It was a treat to the eyes.
Unfortunately, I could not capture the same in the lens. You need to take a super slow shot to capture the beauty of nature. You need a proper camera and a tripod. I had ammunitions but did not have time as we were already running late.
We reached Chiplun at 9.45 pm. We had pre-booked our accommodation at 'Hotel Oasis'. It is on the highway. It is a neat and clean hotel with a restaurant and parking lot. The room is a bit smaller but quite ok for a stopover.
Also Read: Trip to Lonavala – How to Plan and What to See !!!
Day 2: Chiplun to Tarkarli
After getting up, I came out of the hotel for a stroll and found the morning bit overcast and foggy. The hotel staff told that Chiplun experiences foggy morning till March.
What I read from the internet is that Tarkarli has several other good beaches in the company, both in the north and south of it. In its north, there are beaches namely Kunkeswar beach, Achara beach, Chiwla beach, etc.
We planned to cover these beaches on our way to Tarkarli. It is difficult to get down on the beach with Sun over the head. So, we decided to start late so that we did not hit the beaches before the afternoon.
We started at 10.30 am. The toad condition was similar to what we faced the previous evening. After covering a distance of around 71km, at 12 noon, we took a left turn and left NH66 as per the advice of Google maps. It was a narrow hill road.
I was a bit surprised with Google Maps' guidance for taking left because our destination was on our right-hand side. Still, I obliged Google map hoping that it would take us to our destination using some underpass below NH66.
However, after driving a few kilometers, I realized that my apprehension was correct. This road leads to NH66 only. Google map directed us to this road instead of sticking to NH66 because as per its analytics, that was saving some time.
I am not sure whether we saved any time. But we do not have any complaints also. The road was quite scenic. Though it was narrow, its surface condition was very good. There was very less traffic on this road. We enjoyed driving there.
NH66
We came back to NH66 at 12.25 pm. From there, NH66 was in excellent condition. So, the speedometer started hovering around 100km/hr.
We took our lunch break at 1.15 pm at Hotel Gurumauli Lodging. By that time, we had covered approximately 124km. The hotel was looking quite decent from the highway. It was actually. We ordered a vegetarian Thali for my wife and one-half chicken handi with chapati and rice for my daughter and myself. The food was good. The meal cost around Rs. 500/-.
We resumed our journey at 2.05 pm. After crossing around 8 kms, we took the right turn for MDR61 and started ascending immediately. It was a nice serpentine road through greens.
Also Read: Mahabaleshwar Travel Guide | Places to Visit & Things to Do
After some time, we reached the top which is flat, essentially a plateau. The surface is rocky and barren. The black asphalt road has gone towards the horizon by splitting the plateau. We were driving on a parched land under the scorching Sun.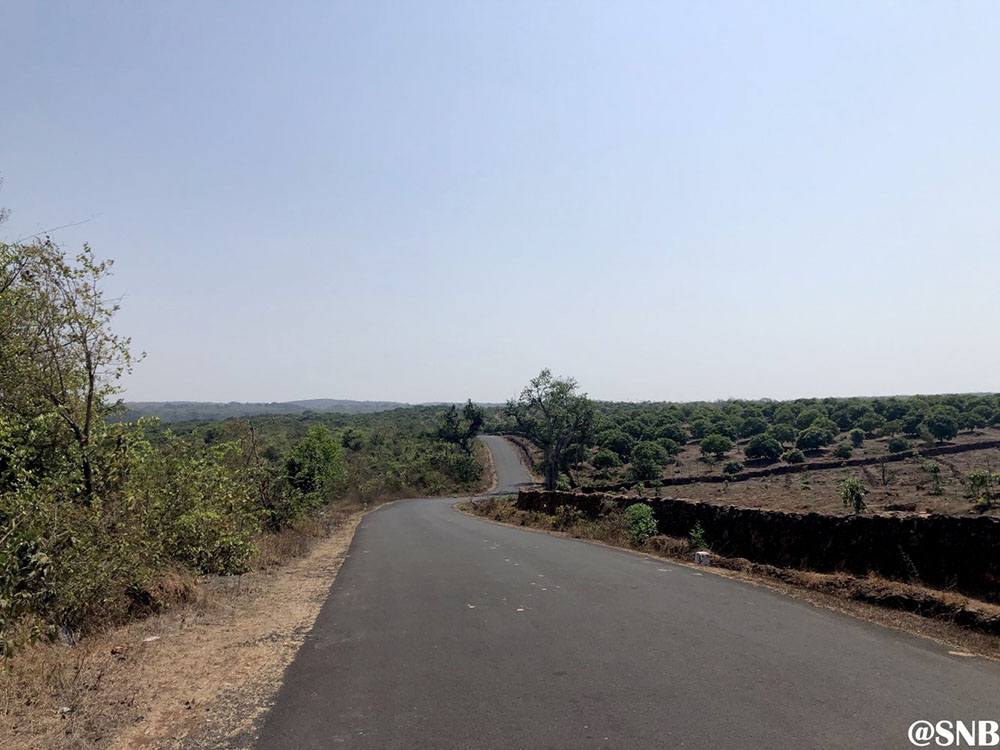 After driving for around 26 km on MDR61, we took a left turn for Rajapur road. After another 7 km, we took SH4. We crossed the Vagothan river around 2.55 pm.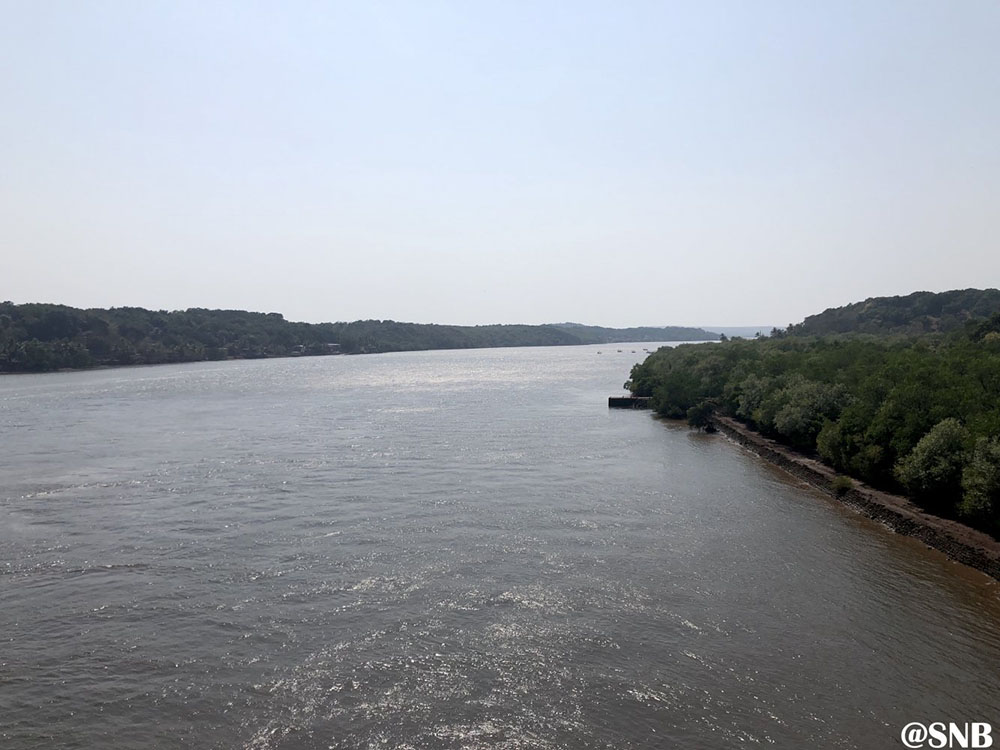 We passed through a few mango orchards in between and crossed the Kharada river around 3.20 pm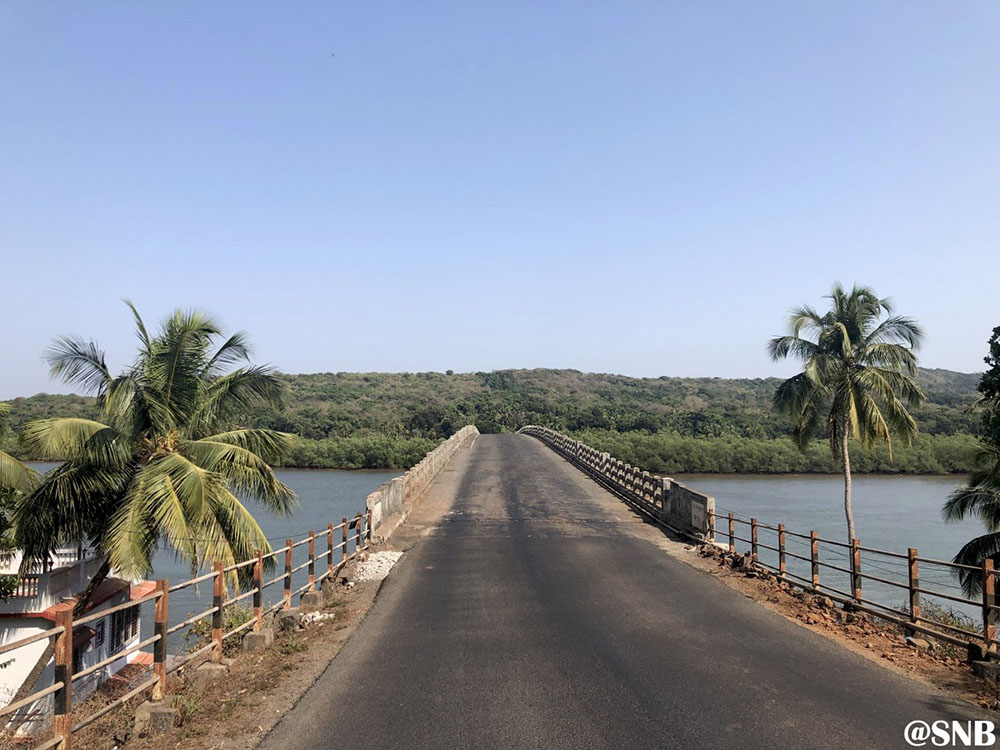 After driving for around 13 km on SH4, we took a right turn for Devgarh Nippani road around 3.25 pm.
We crossed another river around 3.30 pm name of which is unknown to me. There is a nice temple on the bank of the river on the upstream side.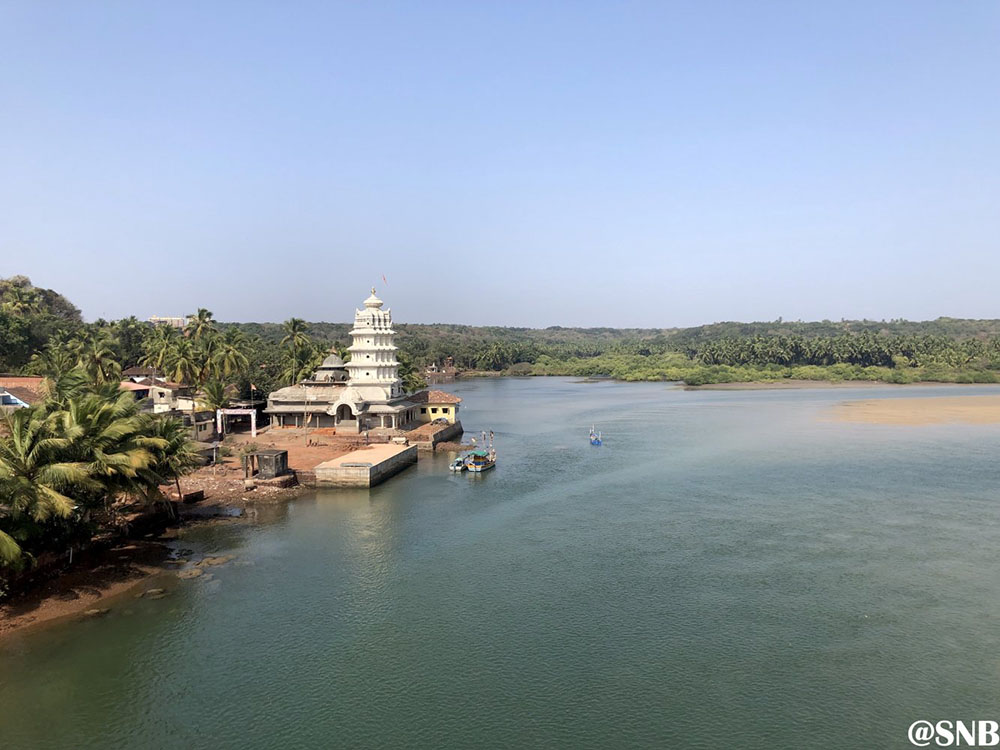 In the other direction, the confluence was visible.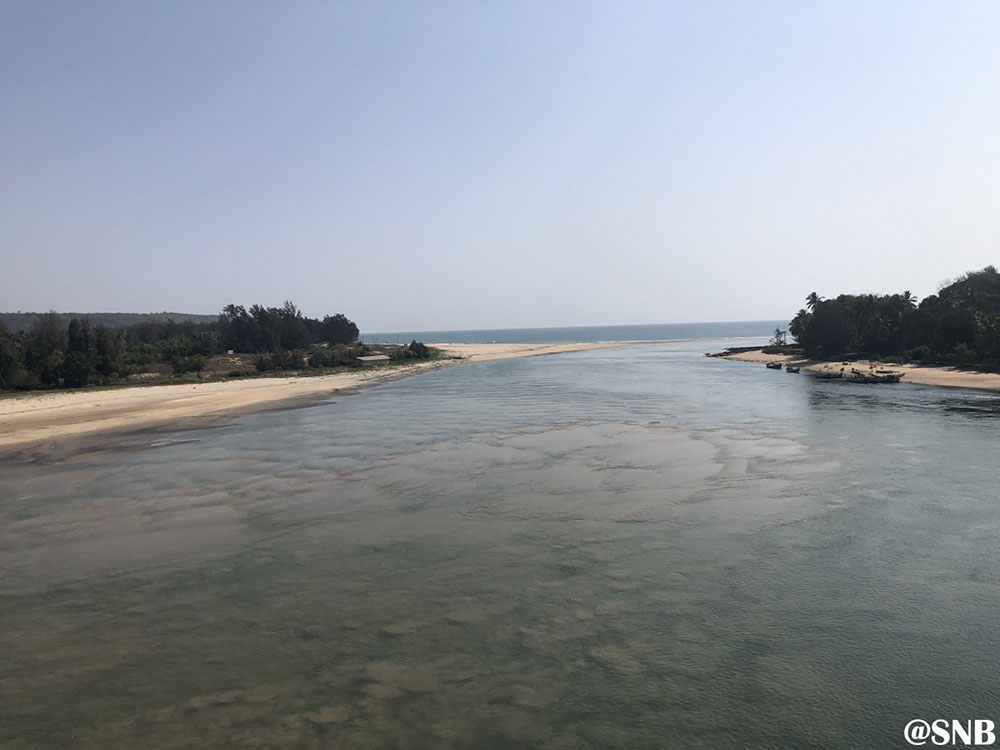 Mithmumbari Beach
We reached Mithmumbari beach immediately after that. On the other side of the confluence is Taramumbari beach.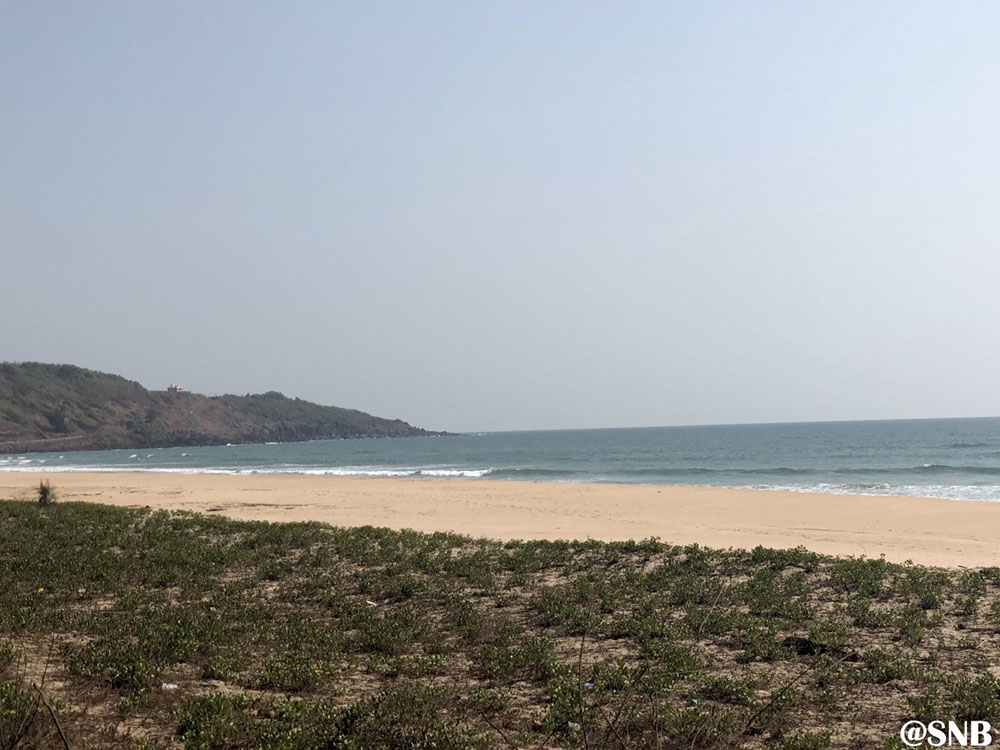 There is a narrow stretch of green separating the beach from the road. It is a white sand beach. It is completely secluded. We saw only one family there. There are a few stalls on the road selling water and cold drinks.
Though we got down from the car, we did not dare to venture to the beach. The Sun was merciless. So, we took a few photos from a distance and started for Kunkeswar beach.
By that time a problem has cropped up with my vehicle. Whenever I was applying break, a metallic sound was emanating from the rear left wheel. From my limited knowledge, I guessed that the brake shoe had completely worn out. That made me a bit worried and somewhat distracted me from enjoying the beautiful surroundings.
A small hillock separates Mithmumbari beach from Kunkeswar beach. We took one more stop before starting the uphill drive and took a photograph of Mithmumbari beach from another angle.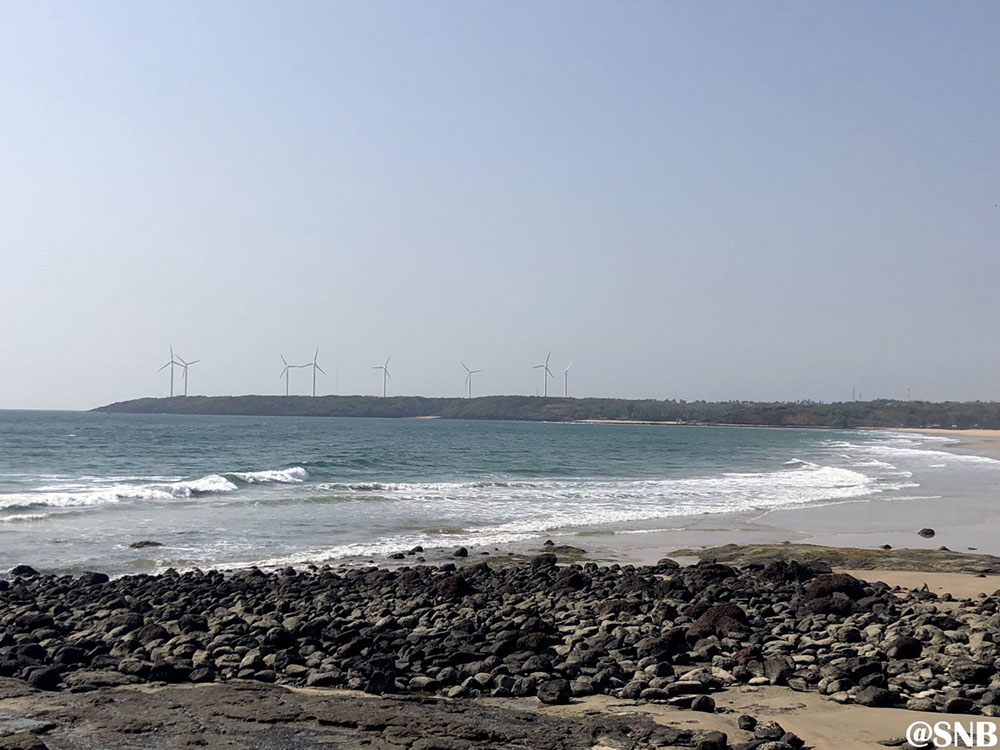 Kunkeswar Beach
Kunkeswar beach got visible immediately after the commencement of the downhill drive. It is simply stunning.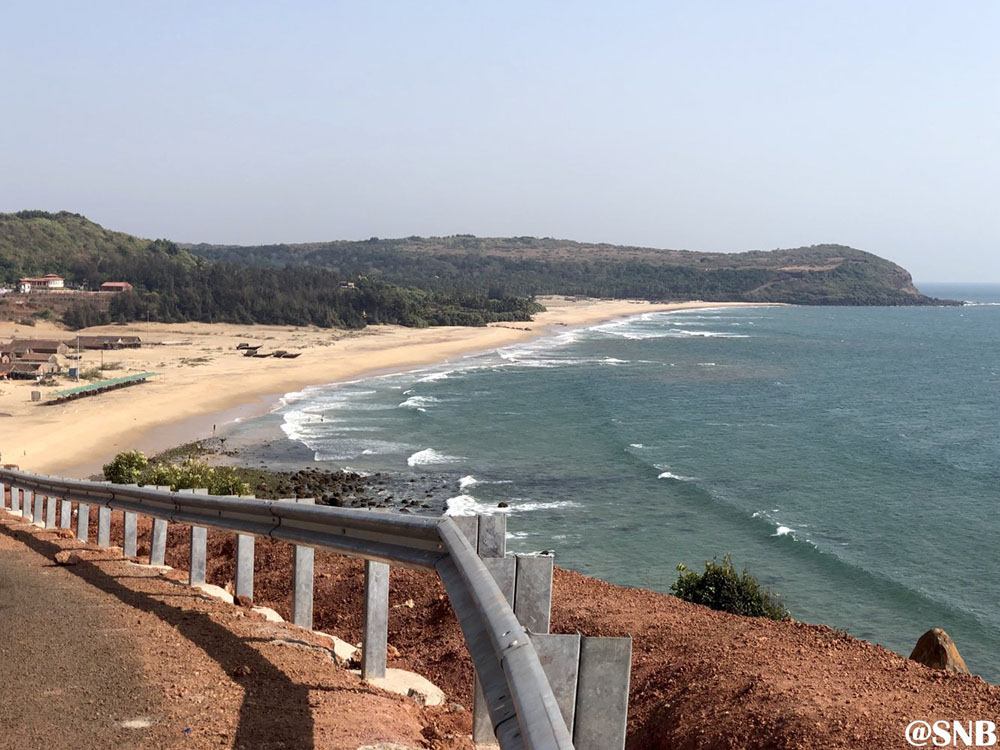 Kunkeswar beach is flanked by hillocks on both sides. The approach to the beach is a bit tricky. The road becomes really narrow at the downhill with a considerable slope. It branches into two.
We were a bit confused. Fortunately, there was a passerby at that time. He told that we could take any of the branches. The left one goes through the village. The right one goes via the Kunkeswar temple. The branches merge in the small market along the beach.
We took the right one and crossed Kunkeswar temple immediately. The temple is at the northern end of the branch. Since I was occupied with the problem of the brake, we did not stop there which I repent at the hindsight.
After crossing the Kunkeswar beach, we started climbing the hillock at the right flank of the beach. After some time, we reached the plateau. Our driving continued towards our next destination – Achra beach.
A Beautiful Drive
By that time, we discerned the sequence of the terrain. First, you will climb up to a plateau that will be rocky, arid, and lack vegetation. After some time, you will come down to a green valley and will cross a few picturesque villages. Then you will cross a river which is worth a visit on its own.
That will be followed by a few picturesque villages again. Then, you will climb up again to a dry plateau. In a way, this sequence reflects various phases of our life. The river reflects that phase of life when we are full of jest, mobile, and active. The green valley is an image of that phase of contentment.
The arid plateau is akin to that phase of life when everything around us starts departing and we helplessly watch that as mute spectators.
Though the sequence was repetitive, it was not boring at all. Every turn would offer a new vista. Every twist would show something unseen. A driving through Konkan is exhilarating in all seasons.
After some time, we came down to the valley and crossed a village temple.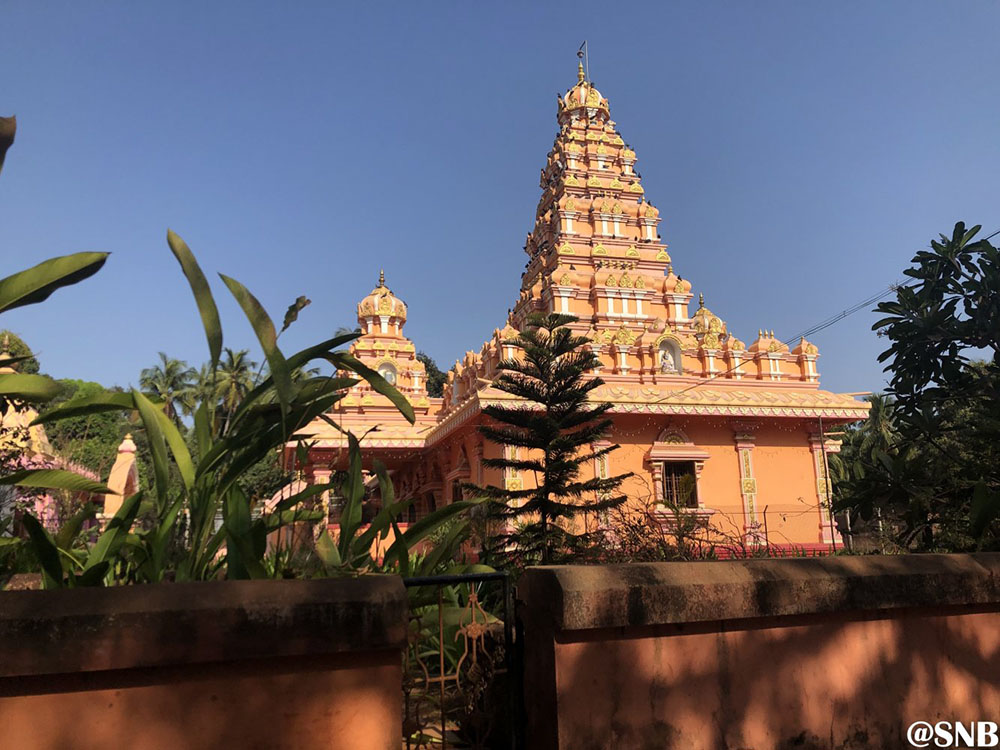 Then we crossed the Achra river.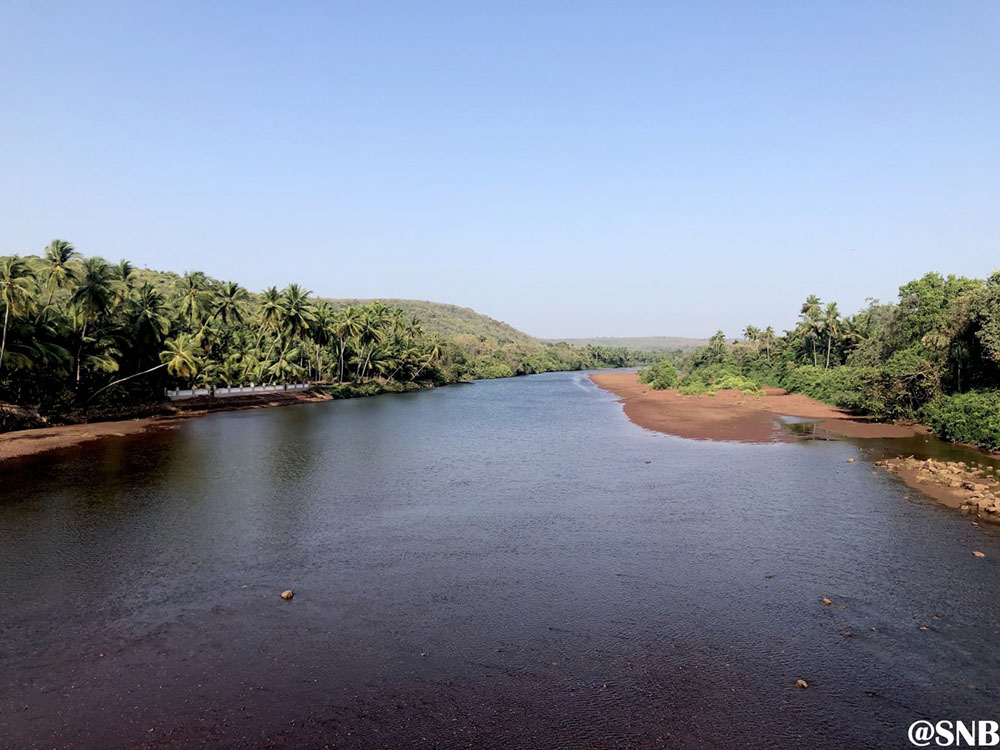 This road does not go to Acra beach. You need to take a right turn for Achra bridge after crossing Achra market. By enquiring the village people, we took the right turn from the tight junction.
Achra Beach
We were at Achra beach around 4.45 pm. The parking lot is reasonably spacious. The beach was relatively crowded compared to Mithmumbari and Kunkeswar beach.
There was one more family and a few bachelors. In total, there were 10-15 living souls on the beach at that time. There were some shops along the beach but all were closed on account of Holi. The sun was bright but not blistering. It was an ideal time to venture to the beach.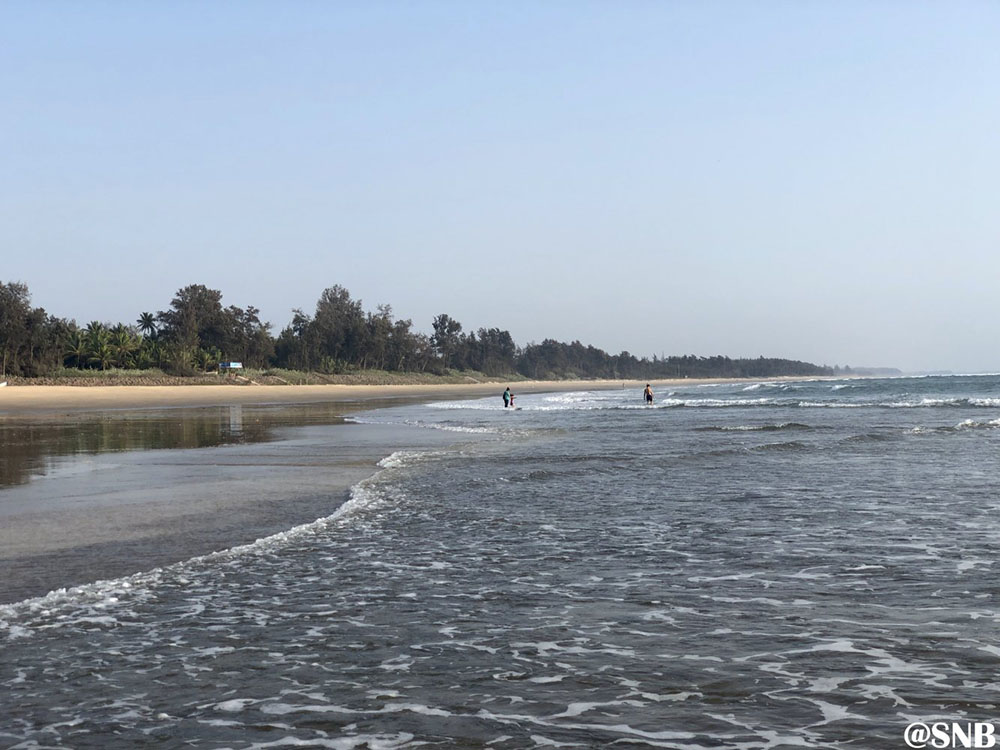 We spent around 10 minutes there and then resumed our journey. The next destination was Chiwla beach. It is adjacent to Malvan town. We came back to the junction and took a right turn. It took almost 45 minutes to reach Malvan town.
On the way, we crossed the Gad river. The lanes of Malvan town are narrow. Late afternoon marketing activities by the local populace made those lanes narrower. We carefully navigated through those lanes. By the time we reached Chiwla beach, the clock has crossed 6 pm and the Sun God is about to take leave.
Chiwla Beach
Chiwla beach does not have any designated parking space. There is a narrow lane along the circumference of the beach. We managed to park our vehicle there and got down to the beach.
It's a semi-circular beach.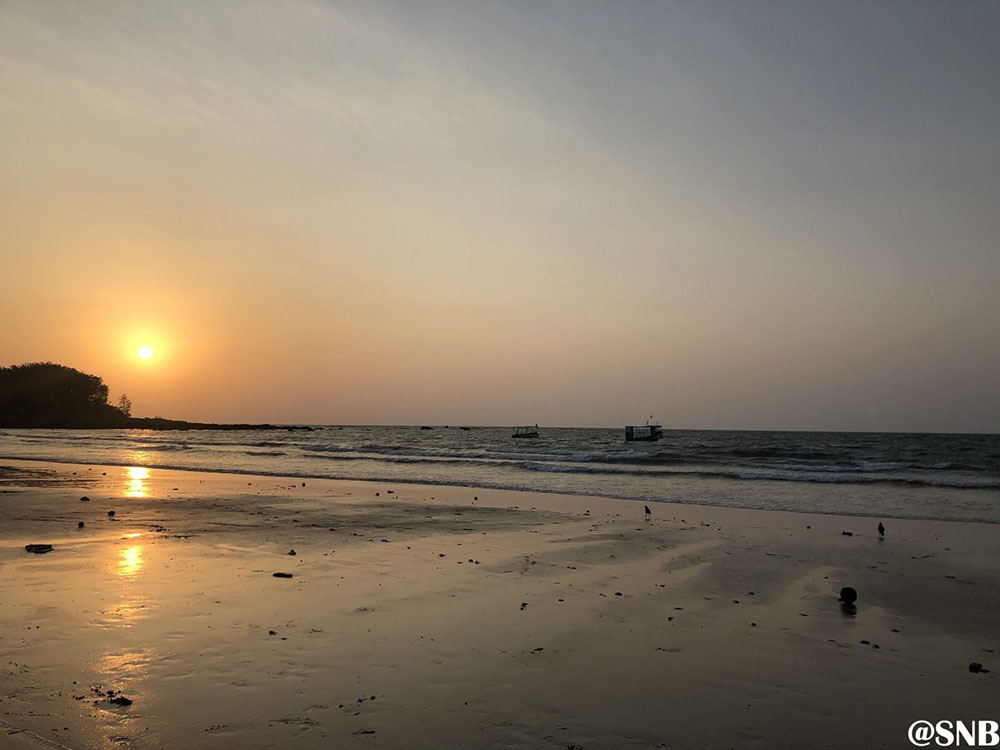 After spending some time there, while we were about to leave, we noticed a few vehicles on the beach. On inquiry, locals informed that it was allowed. So, we also took our vehicle to the beach and did some driving while watching the sunset.
Tarkarli
We started from Chiwla beach around 6.30 pm. The distance of Tarkarli is approximately 4.5 km. However, it took almost 25 minutes to reach Tarkarli since we were driving slowly on account of the brake-related issue. By the time we checked in Tarkarli Nyahari Niwas, it was past 7 pm.
Tarkarli Nyahari Niwas is quite a good place to stay at Tarkarli. The rooms are quite spacious, well decorated, and maintained. It has a parking facility. It has an in-house restaurant. Staffs are courteous and helpful.
After freshening up, when we came out, it was quite dark. The moon had just arisen on the hills at the east.
The hotel staff advised us not to venture to the beach because the beach has not been electrified. We had an early dinner and retired for the day.
Day 3: Sightseeing in Tarkarli
I got up around 5.30 am and came out of the hotel. It was still dark. So, I went back to my room.
I again came out around 6.30 am. By that time, it was clear. So, I decided to go to the beach.
The hotel staff informed us that for proper pedestrian access to the beach, we had to go to the Tarkarli beach parking lot which was adjacent to the MTDC property. That place is at a distance of approximately 1 km south of our hotel.
The alternate is to follow a walking trail starting from opposite of our hotel which goes through heaps of sand, trees, bushes, and a few hutments. Since I was going alone to the beach at that time, I opted for the later one.
Tarkarli Beach
Within a few minutes, I was on the beach. The moon was still visible.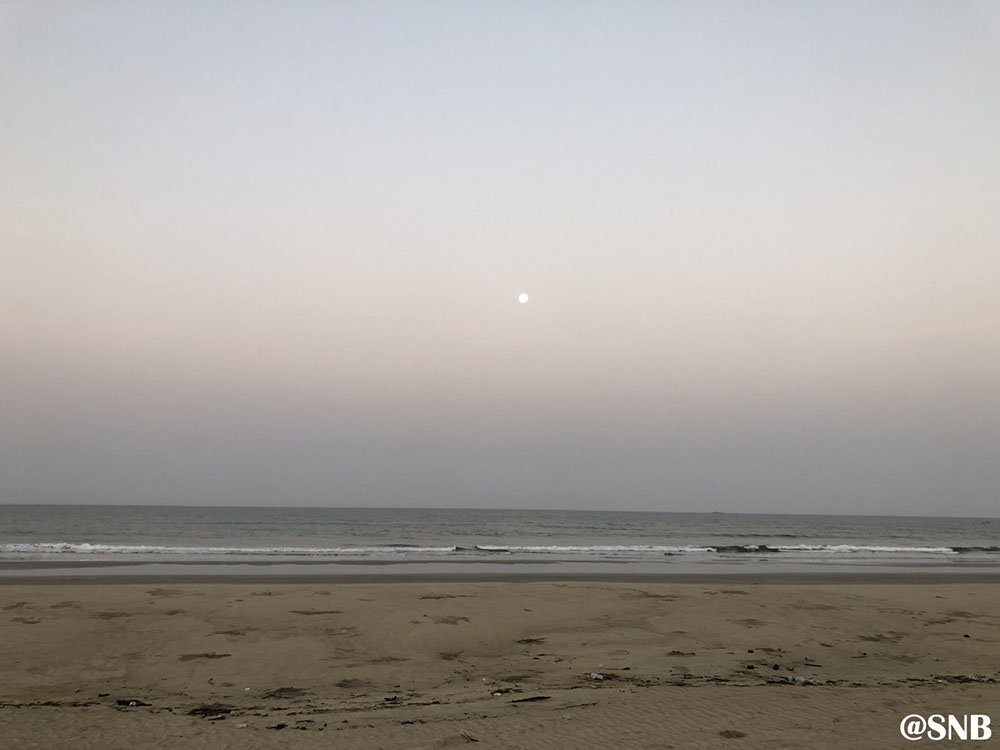 Tarkarli beach is a very pristine beach. There were no commercial activities on the beach barring a couple of food stalls just in front of the MTDC resort. It is a very calm and soothing beach. It's not obtrusive. It's not imposing. It just lovingly and caressingly hugs you.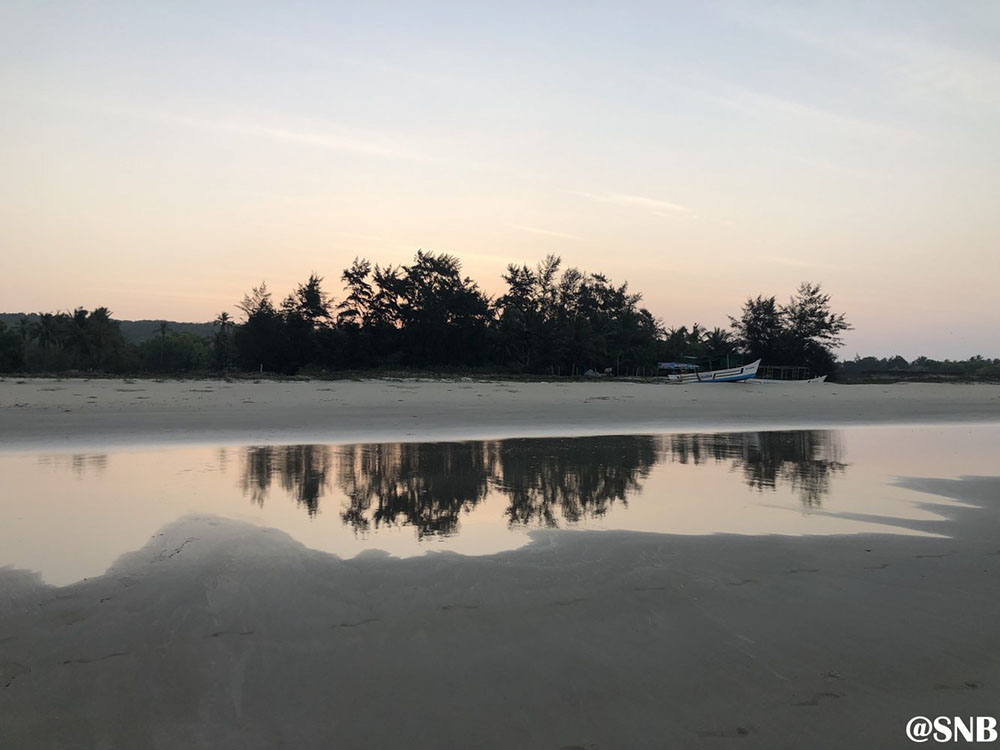 After standing at a particular place for 5-10 minutes, I started walking slowly towards the south along the waterline.
By that time the Sun had risen above the hills at east.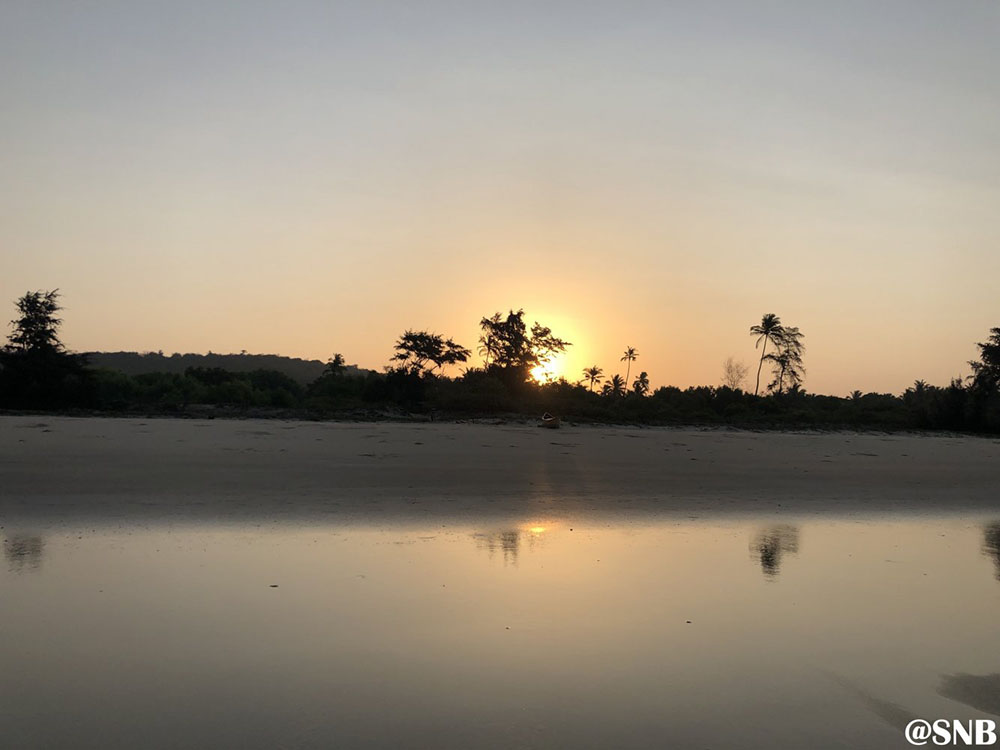 After walking for around 20-25 minutes, I took a U-turn to return to the hotel. This time, I opted for the village road. It was 7.30 AM by then. The normal village life had started. Kids were going to school. In the morning sunlight, Tarkarli village was looking very soothing.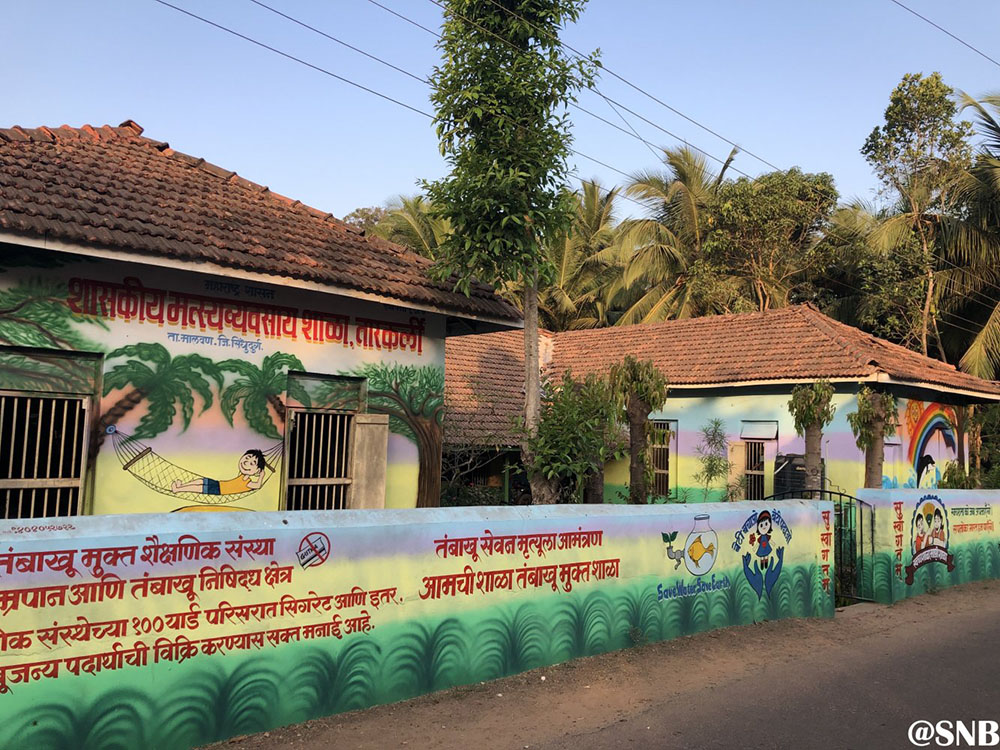 While coming back to the hotel via village road, I located the Tarkarli beach parking lot and accessed the beach through that, and stayed there for a few minutes. By the time, I reached the hotel, it was almost 8 am.
Car Mechanic
Last evening, after reaching the hotel, I requested the hotel staff to put me in touch with some local car mechanics. They told me that car mechanics would be available in Malvan town only. In the morning, they put me in touch with a local car mechanic named Mahasin Khan. Mahasin has a garage in Malvan town. He requested to get my vehicle there.
We were scheduled to go to Dandi beach in the same morning for some water sports. Dandi beach is adjacent to Malvan town. So, the plan was, after having breakfast, we would first go to the garage of Mahasin, would drop our vehicle there, and then go to Dandi beach by an autorickshaw.
Watersports in Tarkarli
There are two centers of water sports at Tarkarli and its adjacent area – Dandi beach at Malvan and Tsunami Island at Devbag Sangam beach. The offering includes scuba diving, parasailing, jet ski, banana ride, and bumper ride (two variants). Apparently, Tsunami Island is better for scuba diving.
For the rest, Dandi beach is better. The reason is that at Tsunami Island, the water sports are done in Karli River where water is relatively calm. At Dandi beach, it is done on the sea which offers waves and therefore causes more adrenalin rush. Further, the price tag at Dandi beach is slightly cheaper than that of Tsunami Island.
However, our decision to go to Dandi beach was not directed by all these technical and financial reasons. It was just a matter of convenience. Malvan town and Devbag Sangam beach were in opposite directions from Trakarli.
We were supposed to go to Malvan anyway to get the brake of our vehicle repaired and therefore it was convenient for us to go to Dandi beach from there as it is adjacent to Malvan town. Further, in the previous evening, one representative of one of the water sports agencies of Dandi beach came to our hotel and we had made an arrangement with him.
Malvan
So, after breakfast, we started for Malvan. I was driving the vehicle at a snail's pace so as to ensure minimal use of break. Once we reach Mahasin's garage, he checked the vehicle and found that the problem is with the broken shoe of the rear left wheel. It was completely worn out.
Those brake shoes were not available at Malvan and had to be brought from Kolhapur. So, the vehicle would be delivered on the next day. About cost, he said that he would inform us about the same only after procuring those brake shoes because he did not have any idea about the price of the same.
Dandi Beach
We left our vehicle at Mahasin's garage and reached Dandi beach by an auto-rickshaw. It was a short distance. However, the auto-rickshaw fellow charged Rs. 50/- realizing that we had no other option. It was around 11.30 am then.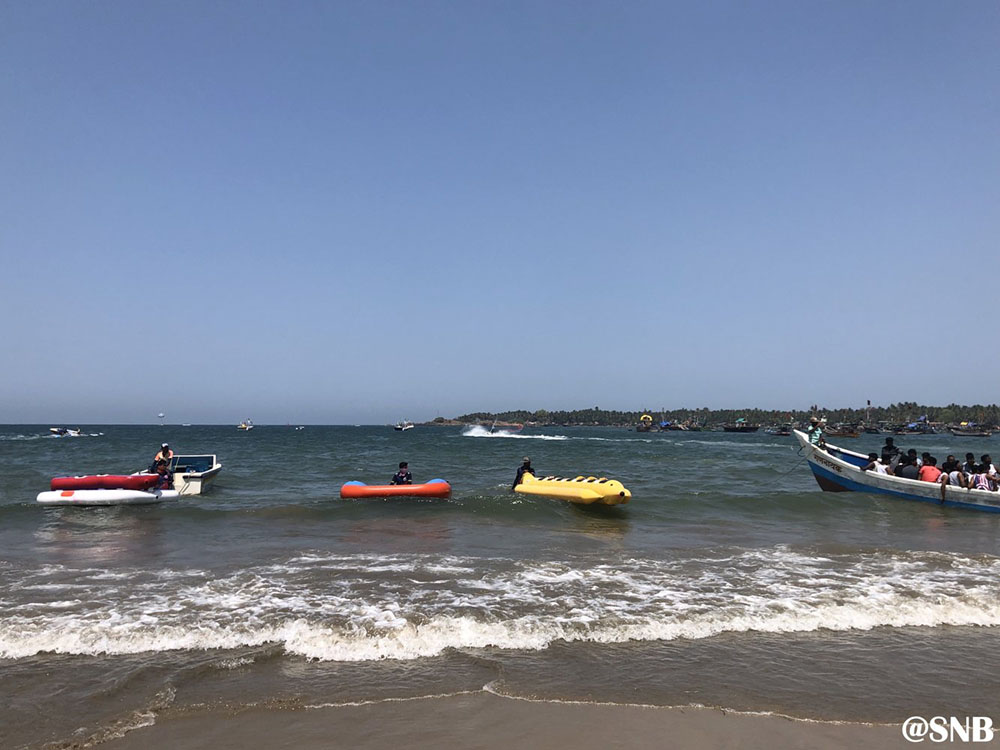 Our water sports package was comprised of parasailing, banana ride, and two variants of a bumper ride. We decided not to go scuba diving because we had concerns about the safety standards. We do not enjoy Jet Ski that much and that's why we exclude that too. The package cost was Rs. 1,000/- per person.
First, we did banana rides and bumper rides. Those were very exhilarating. Parasailing was at last. We along with 7-8 members of another group were taken a little bit inside the sea. There, we got transferred to a speed boat which took us for para-sailing. I was the first one to go.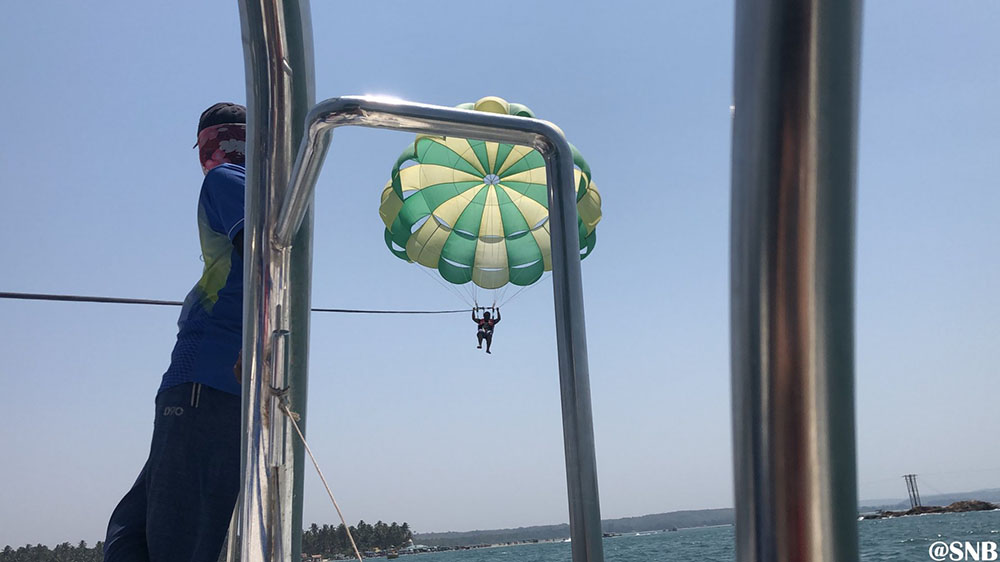 After that, while waiting for others' turns to be over, I took some random photos.
Once water sports got over, we came back to Tarkarli by auto rickshaw. Reaching Tarkarli, instead of going to the hotel, we decided to go to the beach. It was not a prudent decision. It was around 1.15 pm. By that time, beach sand was too hot. Nobody was there and we also came back from the beach to our hotel within 5 minutes.
We had our lunch at the hotel. We ordered two Surmai Thali and one Pomfret Thali. Each thali cost Rs. 300/-. Food was just ok type.
Devbag Sangam Beach
Our plan for the afternoon, rather a late afternoon, was to go to Devbag Sangam beach. Since our vehicle was at the garage, we requested the hotel staff to arrange for an autorickshaw. They obliged. The driver Nilesh Padkad was at the hotel by 4.10 pm. We started for Devbag Sangam beach at sharp 4.15 pm. The fare was settled at Rs. 150/-.
Devbag Sangam beach is at a distance of approximately 6.5 km from Tarkarli Nyahari Niwas towards the south. After the first 1 km, it is basically a narrow extension of the mainland with water bodies on both the side – Karli River at east and Arabian sea at west.
Karli river flowing from the east towards the sea takes a southward turn and flows close to the sea for about 6 Kms forming this narrow peninsula. The serpentine road passes through this narrow parcel of land from north to south with village houses on both sides. Many of those village houses have been converted into hotel/homestays.
We took a stop when we saw the Karli River for the first time.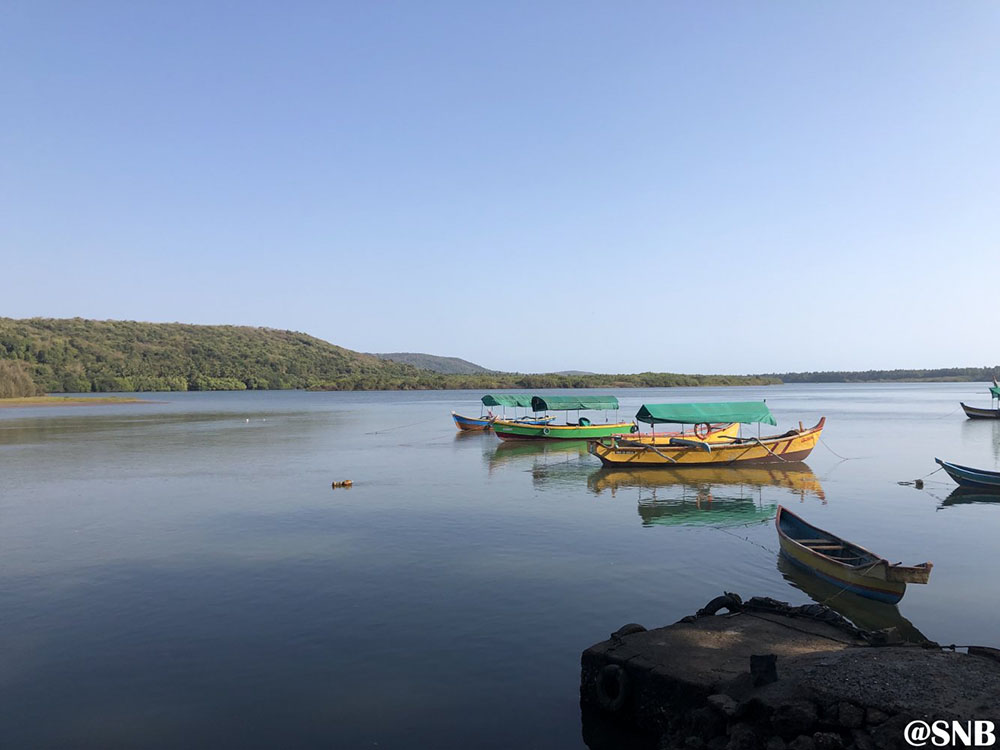 Karli River
Few people asked us whether we were interested in boat rides. We said no and resumed our journey. Since the road was serpentine and narrow, the auto-rickshaw was going at a moderate speed. We were also enjoying the view of the green village.
In between, a group of youth was enquiring whether we were keen to do water sports at Tsunami Island. Obviously, our answer was negative. Finally, we had to stop at a place almost 1km away from the final destination point – the tip of the peninsula.
They said that the main attraction of Devbag Sangam beach is Tsunami Island. That can be accessed by boat only. Instead of taking the boat from Devbag Sangam beach, if we took the boat from that particular place, we would also get an experience of a boat ride on the Karli River. We found the logic appealing and got down from the auto-rickshaw.
Nilesh took Rs. 120 instead of the agreed rate of Rs. 150 since we were getting down 1 km before the destination. Honesty does exist. Since auto rickshaws were not readily available on that rough, we took Nilesh's number so that we could call him for returning to Tarkarli.
Boat Ride
The charge for the boat ride was Rs. 600/-. It would be a 40 minutes' boating. We would be taken to Sangam Point, Bhogve beach, Seagull Island. Then we will be dropped at Tsunami Island. As and when we would wish to return from Tsunami Island, the boat would bring us back to the starting point.
From my earlier experiences, I knew that list and number of points did not matter. The 40 minutes' boat ride was the main attraction.
The boarding point was a few hundred meters away from the road towards the east.
We started the boat ride at 4.45 pm towards the confluence.
After some time, we crossed Tsunami Island but we did not get down. As per the plan, we were supposed to get down on Tsunami Island in the return leg of the boat ride.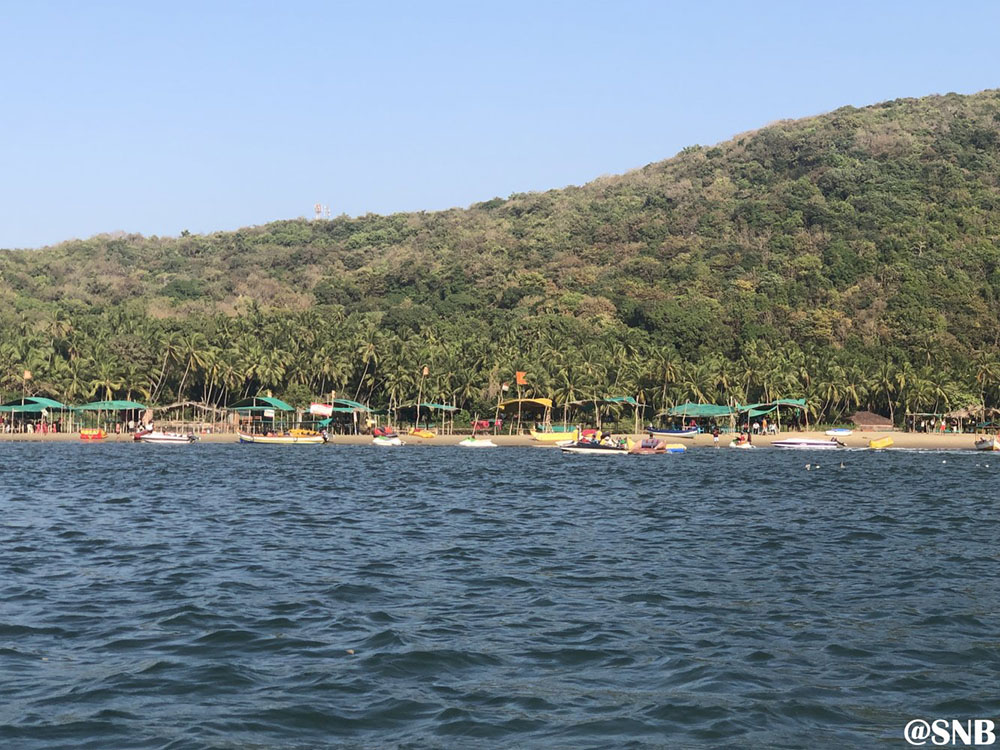 Bhogave Beach
After some time, we reached Bhogave beach. Bhogave beach is a nice secluded beach. It is on the opposite side of Devbag Sangam beach. It's part of Vengurla Taluka.
We requested the boatman to take us near to the beach and allow us to get down there. He refused to do so saying it was not allowed. Instead of arguing with him, we preferred to enjoy the beauty of the beach and the surrounding from the boat. It was the beauty of tranquility and seclusion.
However, we managed to get down on Seagull point which is essentially a tiny island full of seagulls, by paying him additional Rs. 100/-. The island is at the confluence and in all probability, goes underwater at the time of high tide. We got down at the eastern tip of this tiny island and saw a number of seagulls at the western tip.
So, we walked towards the western tip to get a closer look. But more we moved closer; more birds started flying out. So, we started taking photos from a distance.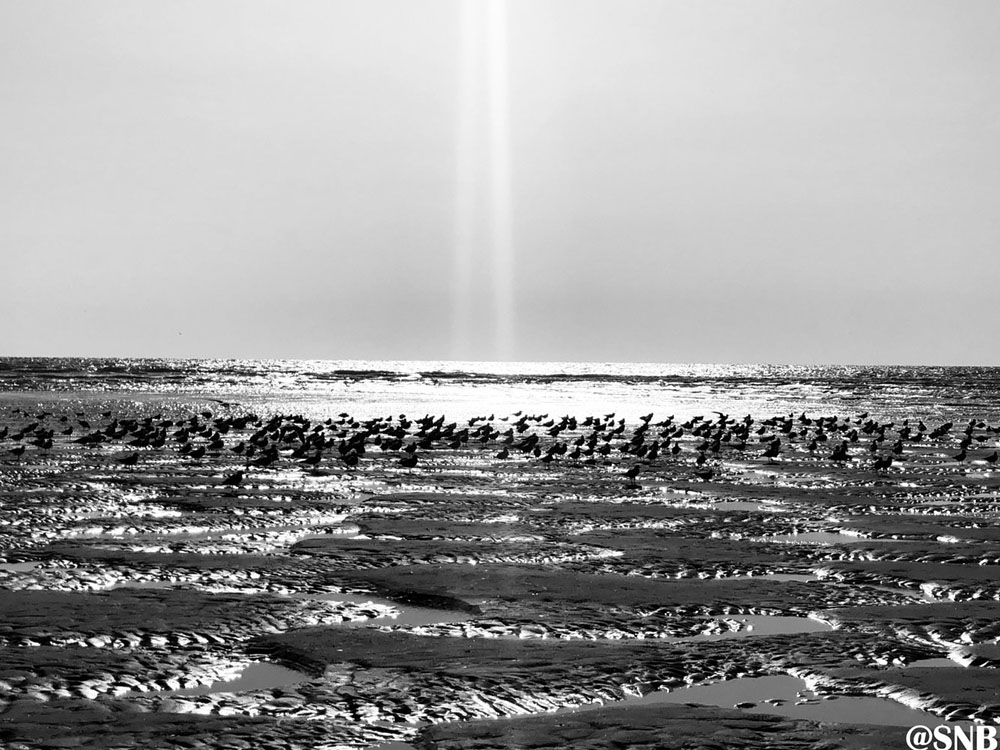 We spent around 10-15 minutes there. It was a nice feeling.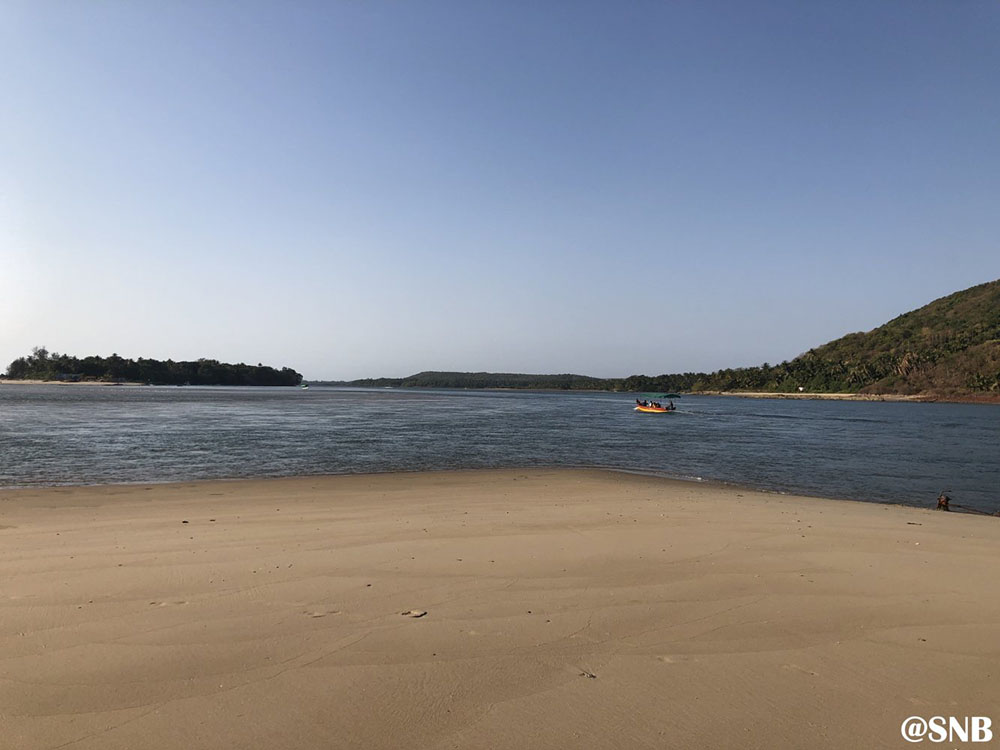 Tsunami Island
Then we started for Tsunami Island which is a bit upstream and reached there around 5.45 pm.
Locals say that Tsunami Island got formed by the 2004 tsunami. The island is a center for water sports. It has 5-6 counters of various water sports agencies. It also has 2-3 tea & food stalls. Most part of the island gets submerged water during high tide. We went there during low tide so couldn't experience that.
We spent there around 20 minutes and had tea. Since we did water sports in the morning, we were not interested in water sports there. We were just soaking the ambiance.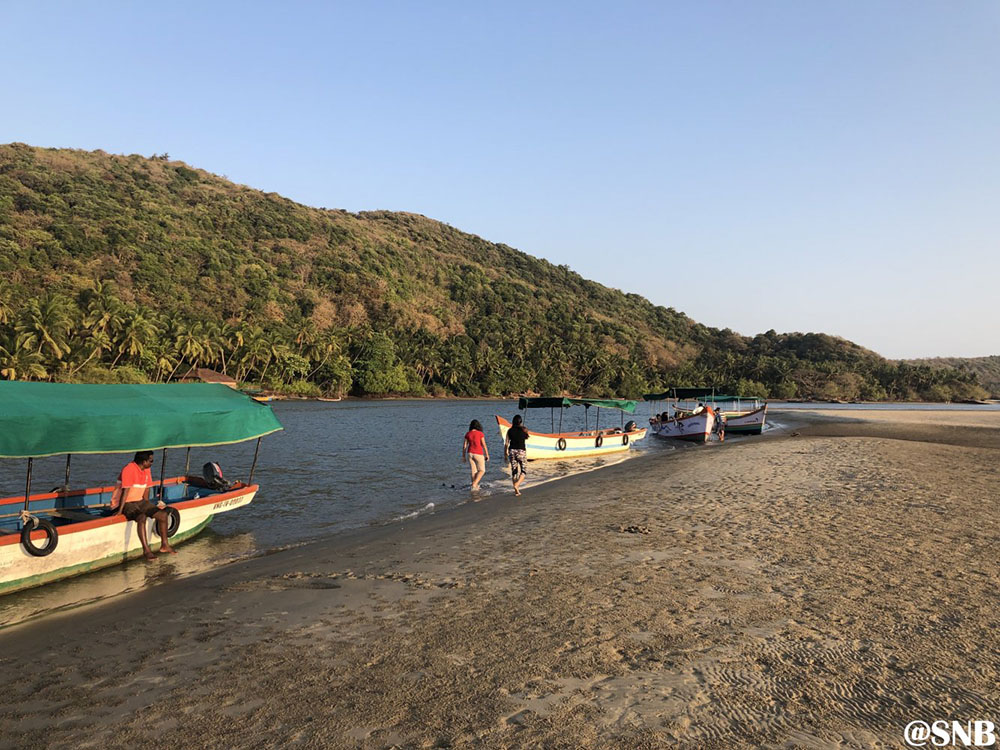 We came back to the mainland around 6.20 pm. By that time, the Sun has started hide and seek game behind the trees. Sunset was approaching fast.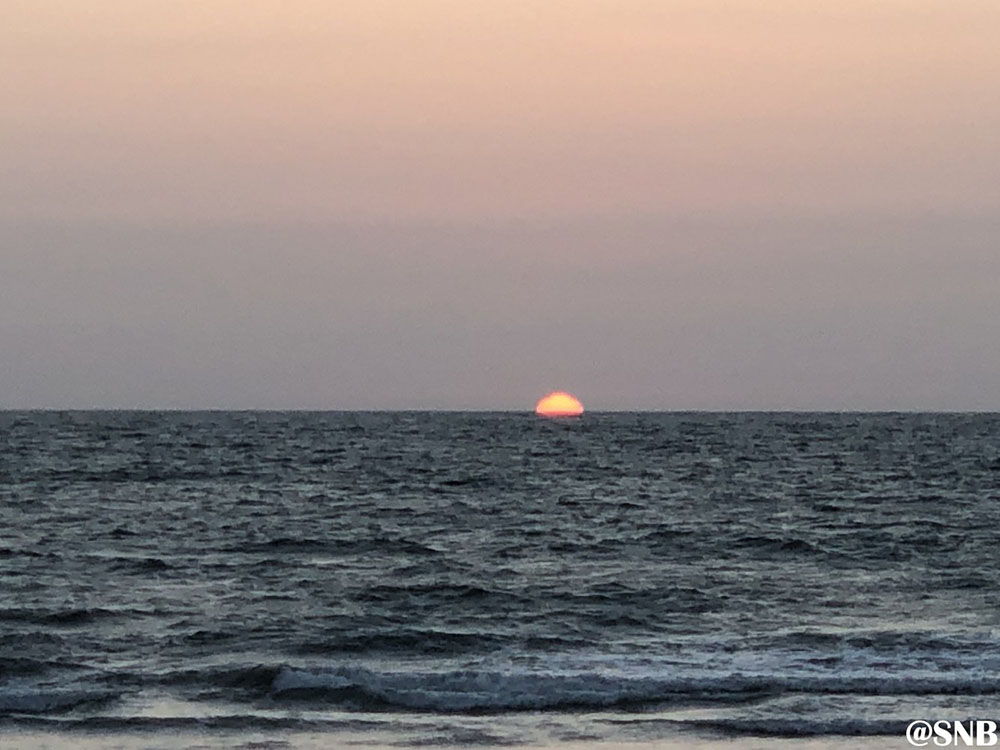 We had called Nilesh almost 15 minutes back. So, he was there. We started our return journey. Instead of directly going back to the hotel, we got down at the Tarkarli Beach Parking lot. The objective was to capture the picture of the sunset. We didn't have much time and literally ran to the beach from the parking lot.
We spent some more time on the beach and returned to our hotel when it got completely dark. Thus, day 3 of our trip came to an end. Please click on the link above to continue reading the next part of the travelogue.
Mumbai Tarkarli Road Trip – Conclusion
I hope the travelogue, pictures, and information on the Mumbai Tarkarli road trip were of help. If you have any questions or need any other details, please feel free to ask in the comments section below or at our Community Forum, and I will be happy to answer.