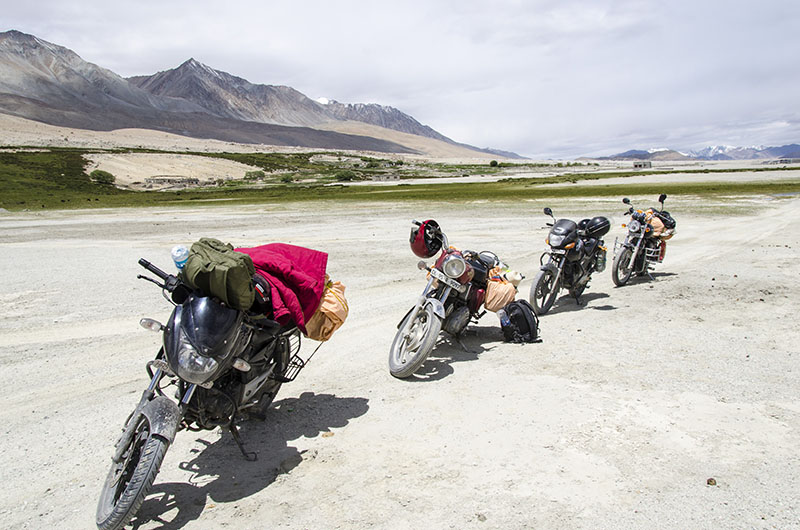 Are you thinking about riding to Leh Ladakh on 100cc bike or a Scooty? Or one of those old geared scooters maybe but weren't sure if this was doable? A one-line answer to this question is that yes it can be done but with a few conditions applied. With a little preparation and some precautions, you can achieve what definitely will be an accomplishment and trip of a lifetime. Read on to find out more.
First things first. I said geared scooters but I am surely not talking about those ancient Bajaj Chetaks or LML Vespas. Those belong in a museum now. If you went to Ladakh on one of those, then you may as well dig a grave in Ladakh, bury your scooter there, and catch a flight home. But if it was a recent electric scooter like Activa, Jupiter, Aprilia, or Vespa then yes, the ride can be done on that as well.
In this article, I will provide a few tips on how you can prepare your smaller engine bike or scooter for Ladakh, what are some of the challenges you will face, and some precautions that you must observe while on the trip. For other tips on planning your trip and sightseeing, please take a look at How to Plan a Trip to Leh Ladakh – A Complete Travel Guide.
Leh Ladakh on 100cc Bike
Some time ago, I wrote an article explaining which motorcycle can be considered best for a Ladakh trip. After posting that, I received a few queries from people asking if a 100cc or 125cc motorcycle was good enough to complete the Ladakh trip; whether motorcycles like Bajaj Discover or Honda Splendor can be considered for the job.
While to some people, this may sound like a task impossible, the truth however is that yes, with a little preparation and precautions, you can definitely ride to Leh Ladakh on 100cc bike.
The information below actually does not apply to just 100CC bikes but to also other smaller engines like 125CC and to some extent, 150 CC as well, like a Pulsar.
Challenges
Let me first list down some of the hurdles that you will be facing; both on your way to Leh and while visiting some of the nearby areas like Nubra Valley and Pangong Tso.
Handling Steep Ascents
This becomes the biggest challenge if you are riding to Ladakh on a smaller engine bike. Ladakh is a land of high altitude passes and you will be crossing several of them throughout the journey.
Some of these passes like Pensi La in  Zanskar will be easier to cross while others like Khardung La, Chang La, Tanglang La are a steep climb for several kilometers. If your motorcycle refuses to go any further and stalls, it will get difficult for you to continue the journey any further.
Bad & Broken Roads
This will actually be a hurdle no matter how strong your motorcycle is but it becomes even a bigger problem if you are going to Ladakh on a scooter like Activa. On your way, you will be crossing several rivulets, small streams of water created by melting snow, some of which can be quite deep with large stones underneath the water.
Due to the low ground clearance of a scooter, taking it across a water stream may become a challenge. At several stretches, roads will be completely broken and as you ride across, stones will keep hitting the belly of the scooter.
Long Rides
Typically, smaller engine motorcycles are considered best for city purpose; short rides from one place to another. If you ride these continuously for several hours; it may result in a heating problem. This will further lead to accelerating problems and in some cases; bike may even refuse to come alive if the engine shuts down.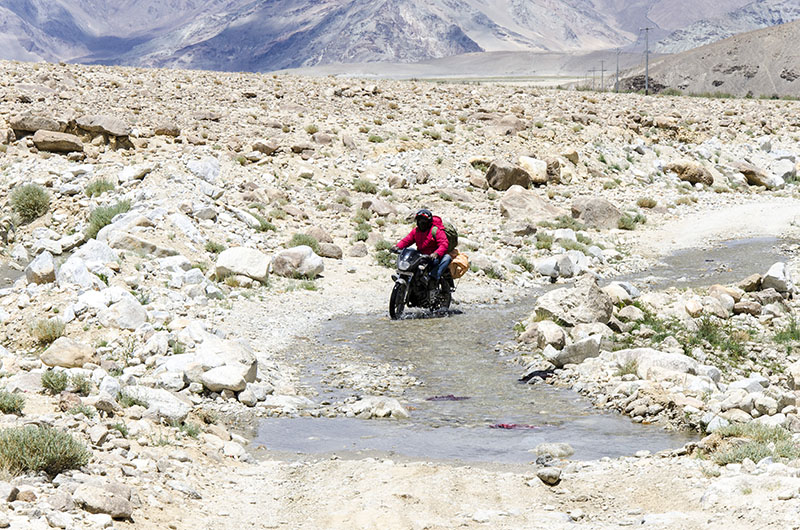 Advantages
There are of course a couple of advantages as well of riding to Ladakh on 100cc bike. What are those?
Light in weight
Bigger the engine means heavier the motorcycle. A 100 or 125 CC bike will not be that heavy which will become an advantage while maneuvering it through difficult terrains or slush. It is also easier and lighter to push.
Better Mileage
This is another big advantage. Smaller engine motorcycles come with great mileage which means you will not have to worry so much about carrying extra fuel.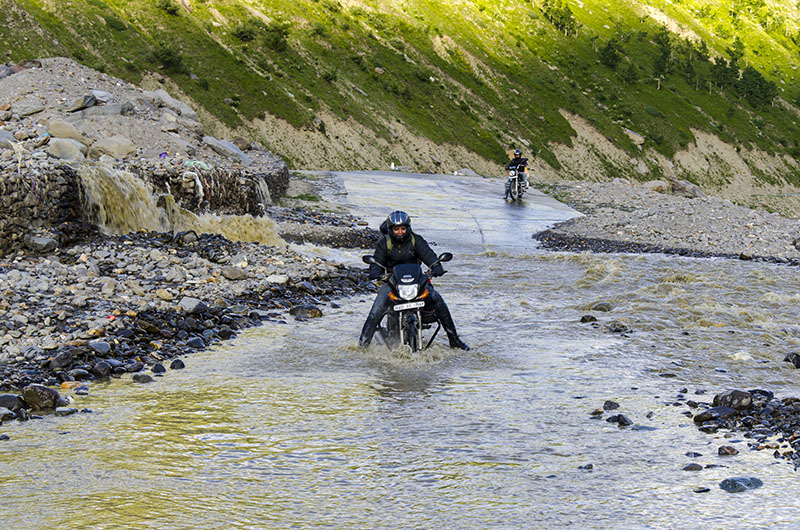 How to Prepare a 100cc Bike for Leh Ladakh
After challenges, let us take a look at how do you prepare your motorcycle for the tough ride ahead. Listed below are a few general but important tips that can be of help while going to Leh Ladakh on 100cc bike or scooty.
Know your bike
This is the most important factor. You got to know your motorcycle in and out. I have been riding a Royal Enfield for 10 years now and just by its sound, I can tell if it is running smoothly or is there any problem.
In terms of performance, I know its capabilities, where it can go, where it can climb, weight it can take and where would it ditch me. I know how to maneuver it around steep ascents and sharp turns. You go to know this about your motorcycle so that you are able to handle it properly.
This becomes of extreme importance with a smaller engine bike so that you do not end up pushing or stressing it beyond its limits. As long as you know your bike, you will plan your trip sensibly.
Also Read: Clothes to Pack for Leh Ladakh Bike Trip
Test It
This one is very important. By test, I do not mean that you test it in Ladakh because that can result in a catastrophe. If you have never taken your bike up in the hills or rode it for 8-9 hours at a stretch, then I highly recommend that you do it before going to Ladakh.
This will prove to be beneficial in several ways. Take the motorcycle to a nearby hill station on a weekend trip and you will know if the bike and you both are able to handle the climbs. Take a day trip on a Sunday, ride the bike for 6-8 hours with small breaks in between, and see how it performs.
But most of all, it will also tell you how your back and butt performed after sitting on a bike for so long. This will also give you an idea about your own readiness for a Ladakh trip.
Get it serviced
You must get your bike serviced thoroughly and you must get it done at least 7-10 days before the trip. Replace whatever seems dicey. After servicing, ride it regularly within the city for at least a week to ensure that everything is working fine. Check the tires, if they seem worn out then buy a new set.
Inspect the chainset to see if you need to replace it with a new one. Get the entire wiring system checked and if needed, get it changed. Replace clutch, accelerator, and brake wires with new ones. Get both front and rear brakes checked. If it is drum brakes then might as well just put in new brake shoe.
Check the ball bearings to ensure they are all right. Leh Ladakh on 100cc bike means that every single part of your bike will be stressed so better to put new than keeping the old ones.
Carry Necessary Spares
Ensure that you are carrying some necessary spare parts like a headlamp bulb, set of clutch/accelerator/brake wires, chain locks, a tool kit, puncture sets, a couple of spare tubes, and a foot pump.
Also Read: How to Handle Altitude Sickness in Ladakh
Learn Minor Fixes
You must learn some minor fixes yourself like tweaking the carburetor tuning, changing headlamps, tightening some bolts that may come loose, clean air filters, etc. Most important of all is to learn how to fix a punctured tire and replacing the tube.
Tires
If possible and within budget, get the regular tires with tubeless ones. If not, then carry on but ensure that you are well equipped to handle a flat tire.
The easiest thing to do in case of a flat tire in Ladakh is to replace the tube with a new one. This will save you time and the hassle of fixing the punctures. This way, you can just carry the punctured tube as a spare and get it fixed at the next repair shop. For this, you should go to a mechanic and learn the process of how to remove the wheel, replace the tube, and put the wheel back.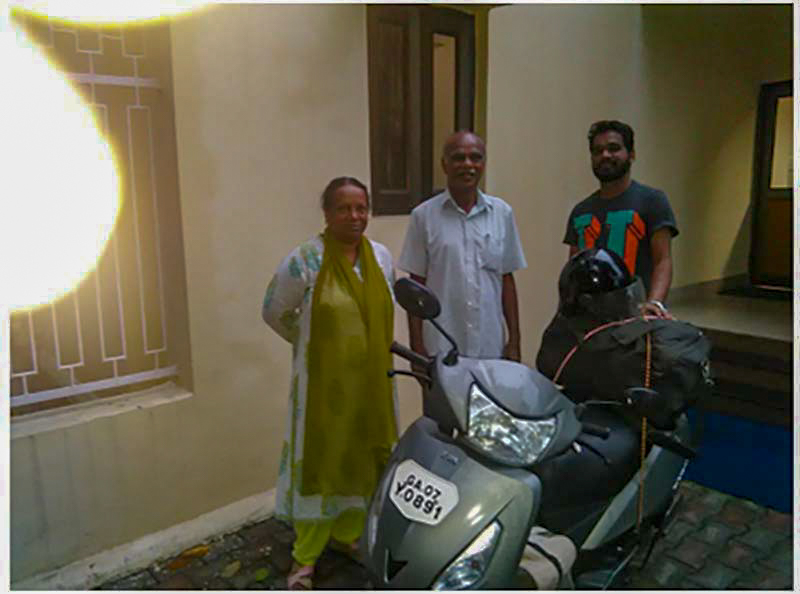 How to ride to Leh Ladakh on 100cc Bike or Scooter?
The next question is how to handle the challenges? How do you successfully ride to Leh Ladakh on 100cc bike or any smaller engine motorcycle or Scooter?
Ride Solo
By this, I do not mean that you travel all alone by yourself. No, I mean to ride without a pillion rider. Carrying a pillion not only means another person but also the luggage of two people which your motorcycle may not be able to handle.
Ride In a group if possible
Ride with a group if possible at all or at least have a few more people accompanying you on the journey on other motorcycles. This way you can be sure that if something goes wrong; if your bike breaks down or you get stuck in slush or a rivulet; there will be someone around to help.
Travel Light
Keep your luggage to a bare minimum. Just take what you will absolutely need and try to travel as light as possible. Too much luggage not only is additional weight on the motorcycle but also is a hassle to rope it around every morning and then remove every evening.
Also Read: How to Prepare your Bike for Ladakh Trip
Stay on the road
While this of course also means that do not fall off a cliff, what I meant to imply here was to avoid taking shortcuts. At several places, as the road goes uphill, you will notice a dirt trail leading straight to the upper section of the road. Do not take any shortcuts at all and stay on the road.
This is extremely dangerous for both the motorcycle and the rider. One small miscalculation or if the bike stalls midway, you will come tumbling down. I noticed a lot of people attempting this during my Ladakh travels; both people traveling in a 4X4 and motorcyclists as well. If you see anyone doing this, just ignore and continue on your way.
While this may look thrilling, you need to consider the risks involved and the consequences as well. You are on a smaller engine motorcycle which will be stressed trying to go up a steep dirt path. Some wire may snap, brakes may get burnt, and worse of all, the motorcycle may just refuse to climb any further and come to a complete halt.
You will take a fall, get hurt and the entire trip will be ruined. It is just not worth to risk for a few minutes of thrill.
Heating Problem
Since there is no engine temperatures gauge, your motorcycle may heat up at several places, especially at steep and narrow climbs while riding in lower gears. If that happens, do not panic. Take a break, enjoy the vistas around you, let the motorcycle cool down, and be on your way again.
Just make this a thumb rule that you have to take a short 10 mins break after every 20 odd kilometers; or after crossing every steep climb or after every 30 minutes of the ride. Do not climb in first or second gear for more than 2 kilometers. If you do so then take regular short breaks every 2-3 kilometers. If your engine is starting to heat, then the first sign would be the decelerating process.
Stalling
If your motorcycle stalls anywhere on a climb, let it stall and come to a complete halt while still in the gear. Do not pull the clutch. If you do so the engine braking will go, the motorcycle will start to roll backward and pull you along with it.
Chain Set
All the dust on the roads to Ladakh can settle on chains and start to make it rough. Keep an ear out for any unusual sounds from the chainset. To test, accelerate to 40-50 kilometers/hour speed on a flat stretch, get to neutral, kill the engine, and see if the chain is making noise more than usual. If it does, lubricate it. You should keep a small bottle of mobile oil for the trip handy.
Itinerary Planning
Very important; plan your itinerary in a way that you stay away from sections that are either too challenging or have a lesser number of tourists plying on the route. If you are riding to Leh Ladakh on 100cc bike, then it is best to avoid routes like Wari La, Marismik La, or areas too remote.
It will be also better to not attempt the Chushul route if you were riding alone. In case of a breakdown, there will be no help nearby, and quite possible that no one else may pass you by in the entire day.
Also Read: Ladakh Checklist – Things to Carry for Ladakh Trip
No Speeding
It is quite plain and simple, no matter what others tell you. No speeding anywhere at all, be it the plains or while riding up to Ladakh. Stay safe, ride slow, and enjoy the trip.
A smaller engine motorcycle is also lighter in weight which means that it will not handle traction well on turns if speeding. Take a look at this like this, a lighter bike with the heavy weight of the rider and all the luggage isn't really the perfect definition of "well balanced". You lean in too much at any turn or applied sudden brakes and you will be down on the road in a second.
And that is pretty much it. Just keep in mind the above-mentioned rules and you will be able to complete your trip to Leh Ladakh on 100cc bike just as well as a 500CC Royal Enfield.

Ladakh on Scooty or Scooter
Now let us take a look at some problems that are specific to riding to Ladakh on a Scooty.
Fuel Tank
You will have to make arrangements for carrying fuel and in ample amounts. Scooters usually have a smaller fuel tank. For example, a Honda Activa is only 5 liters in terms of fuel capacity and a Mahinda Gusto is 6 liters. Try to keep your itinerary in a way that you do not stay away from a gas station for way too long.
Carry ample fuel for Manali Leh highway and then come back to Leh from Nubra, Pangong, and Moriri respectively. Do not go straight from Nubra to Pangong to Moriri. For example, go to Nubra valley on Day 1, return to Leh on Day 2, Pangong on Day 3, Leh on Day 4, and so on and so forth.
On another note, fuel in Ladakh is nowadays available pretty much everywhere. The locals store and sell it in black, for Rs. 100 to 125 per liter. It remains available at hotels, guest houses, dhabas, chadar tents, and at all tourist spots. In case you were not keen on carrying too much petrol, then you can always buy it at these dhabas.
The only catch is the increased price and the quality of the fuel which cannot be guaranteed. If you asked me, I would rather buy it in black. It is only a few times anyway and only in Ladakh. This will save me the hassle of carrying extra petrol which also is a huge safety risk.
Tires
The small tires of a scooter will make it tough to take it across a rivulet, slush, and broken roads. Just ride slow and very carefully. Before you cross, stop for a minute. Get off your scooter, inspect the crossing, and find a safe path to cross. Have someone standing readily as you ride through a water stream so that in case you get stuck, someone is ready to push you out.
The same logic applies to slushy areas too. On broken roads, keep your eyes focused on the road and ride slowly, avoiding extremely damaged sections.
Shock Absorbers
Most of the scooters come with a mono-shock absorber which will put stress on the machine and the rider as well. Your back may start to hurt after continuous jolting for several hours. Plan your travel in a way so that you do not ride for over 6 hours a day. Ride slow and do not speed unnecessarily.
Also Read: Leh Ladakh on Scooter – A Travelogue
Engine Capacity
With the smaller engine and lesser torque, everything that I mentioned above for 100 CC motorcycles applies to a scooter as well. Do not ride with a pillion and travel as light as possible.
In the end, you need to remember that it is not the machine that is taking you there but it is you taking the machine to Ladakh. It all depends on the way you ride and maneuver your motorcycle or scooter. Keep your spirits high, get challenged but not defeated without being overconfident; ride slow and carefully and you will come back from Ladakh with tales to tell for several years to come.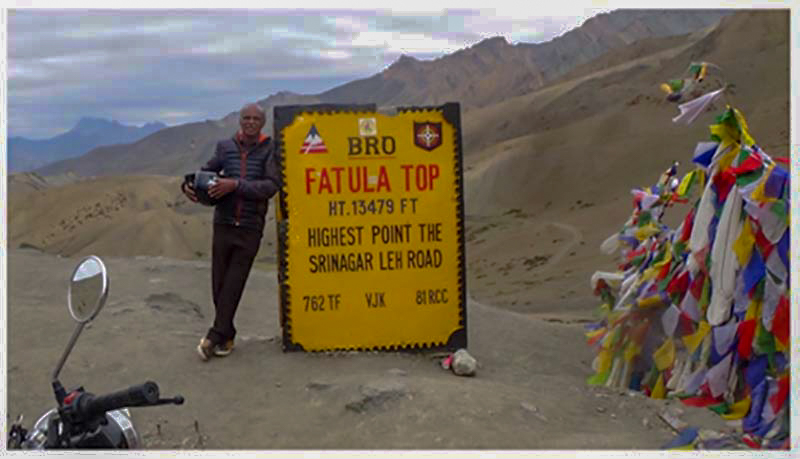 Leh Ladakh on Activa
Activa is one of the most popular choices of a scooter in Leh Ladakh. I am not being biased or anything, just stating the fact. It is available on rent with almost all major rental agencies there. So even if you reached Ladakh by Car or a flight and wanted to enjoy motorbiking there, you can rent a scooter in Leh itself and visit the nearby places like Nubra Valley, Khardugn La, and Pangong Tso.
Ladakh on Pulsar 150
Pulsar is undoubtedly one of the best selling bikes in the Indian market and a great one too. A trip to Ladakh on Pulsar can be easily done without any major challenge. In terms of engine power, it will not ditch you, nor will it give you trouble anywhere.
The only thing that you should consider is making arrangements to carry all the luggage on it. There isn't much space for too many bags on the bike and you may want to get a carrier installed.
The seat of the bike also is a little hard. So you should think about getting an extra cushion added or a cushioned seat cover.
The seating posture of a Pulsar is a bit leaning towards the front. This will put stress on your shoulders, especially on bad roads. So try and sit straight during the ride.
Leh Ladakh on Splendor
When you talk about budget and cost-efficient motorcycles in India, Splendor is a name that will probably always be on the top. Great performance added with high mileage is what makes this bike so popular. But is it good for Ladakh?
3 years ago I was leading a group of riders to Ladakh and one of them was on Splendor. Except for a flat tire once, he did not face any problem with his bike anywhere on the route. As a matter of fact, he did not even have to worry about carrying spare petrol.
So the answer is yes, Leh Ladakh on Splendor can be done as long as you travel solo and light. You can go with a pillion as well but that will just mean additional stress on the bike engine and your pillion getting off at every steep climb or high altitude pass.
Leh Ladakh on Avenger
Avenger is not really a smaller engine bike. It comes with great power and a comfortable riding posture which makes it great for a Ladakh trip. You just need to make sure that you are comfortable around sharp turns, especially while climbing up. That is when things can get a little tricky with Avenger due to a large turning radius.
Hero Honda Glamour to Leh Ladakh
If you read through the comments below, Glamour is one bike that people have asked frequently about. It is a great bike with a decent enough engine size, good fuel economy, and a comfortable seating posture. So yes, a Ladakh trip on Glamour can be easily managed. Just get it checked and serviced before the trip.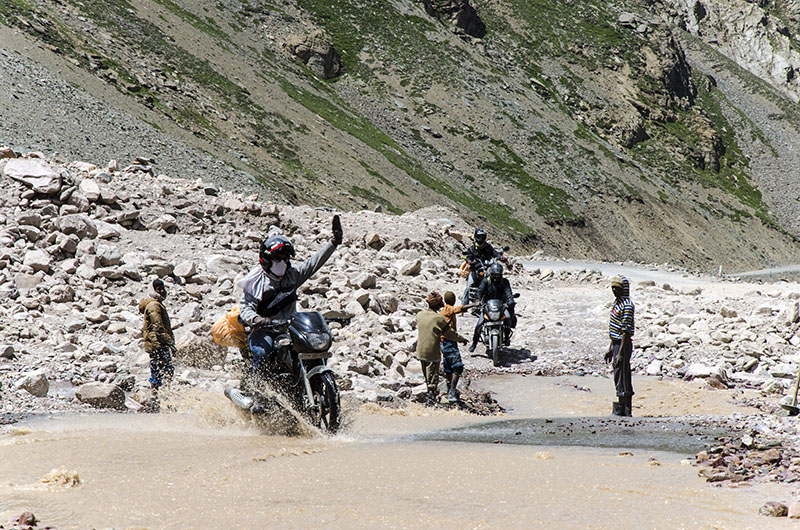 FAQs
Which is the best scooter for Ladakh?
There is really no best scooter as such. You go with what you have. Just make sure that it is well maintained, you get it serviced, and follow the tips I shared above.
Which is the Best Bike for Ladakh?
I have covered this topic in detail in another article, Best Bike for Ladakh – Explained in Detail, that I will urge you to take a look at.
What areas can I cover in Ladakh on a Scooty?
All the major tourist areas can be covered on a scooter. Srinagar to Leh route, Manali Leh highway, Khardung La, Nubra Valley, Chang La, Pangong Tso, and Tso Moriri have good motorable roads connecting them to Leh City.
Are there mechanics available in Ladakh?
You will find mechanics in Leh city that are capable of fixing all bikes and scooters. Finding a mechanic in places like Pangong or Tso Moriri is impossible though.
Can I ride on Manali Leh highway on a Scooty?
Yes, you can. The water crossing and 5 high altitude passes on the highway will pose a great challenge but it is still doable.
What areas should I avoid?
I will advise against going a little offbeat like Chushul – Hanle route, Phobrang – Marsimik La route, Kakasang La route, etc. Just stick to the main tourist areas and the highway. You will definitely not be alone this way. In case of a breakdown, there will be plenty of other riders who will be willing to help you out.
Conclusion
When someone mentions a trip to Ladakh, the image that immediately comes to mind is of a rider and his Royal Enfield. But is it really necessary? Does it have to be an RE or some other heavy motorcycle? Can you ride to Ladakh on Splendor? How about traveling to Ladakh on Activa or some other automatic bikes like Hero Maestro or Mahindra Gusto?
Well, there will definitely be some hurdles that but nothing that should stop you from realizing this dream; from accomplishing what others may just term as crazy.
I hope the information above on riding to Leh Ladakh on 100cc bike or a scooter was of help. If you have any further questions; please feel free to ask in the comments section below, or at our Community Forum, and I will be glad to answer. Also, if you have been to Ladakh on a 100cc motorcycle or a scooter, I would love to hear about your experience and welcome you to share a few tips to help others.