This post is in continuation with a previous one and part of my Lansdowne Travelogue. I and a cousin of mine made this trip in the first week of September 2015. We traveled from Delhi to Lansdowne on Day 1, spent Day 2 sightseeing in Lansdowne, and traveled back to Delhi on Day 3. Details of Day 2 are described in the article below. To read the previous part of this travelogue about our journey from Delhi, please click on the link below.
Journey So Far: Delhi to Lansdowne – A Weekend Drive
Thanks to the early sleep the day before, I woke up even before the sun was up. Part of the credit actually also goes to the uncomfortable bed that we were sleeping on. My back was hurting like crazy and that quilt on the top must-have weighed at least a ton. Even though I had a long sleep of about 8 to 9 hours, I still woke up extremely tired.
My cousin was still sleeping happily and leaving him in his dreamland, I stepped out of the hotel for a much needed cup of tea. It was still early and the tea shops were starting to open up. While I was waiting for the cup of tea, I started to think over our plan for today.
What to See in Lansdowne?
One thing was for sure. All my previous thoughts about Lansdowne were proven wrong. The place was nothing like I thought of it to be. It is an extremely scenic small town that would leave you wanting to come back again.
The entire location of the place is quite charming and much thanks to the Indian Army, it also is very clean and well maintained. There are several tourist areas here to keep you busy for a few days. I will provide a comprehensive list.
The places listed below are all within Lansdowne or at a short distance.
Bhulla Taal
Tip in Top
St. Mary's Church
St. John's Church
Durga Devi Temple
Bhim Pakora
Kaleshwar Temple
War Memorial
Darwan Singh Museum
Garhwali Mess
Hawa Ghar
What to See around Lansdowne?
Below is a list of places that are either get listed a bit low on the "must-visit places" list; or are a few kilometers away.
Santoshi Mata Temple (Sunset Point)
Satyanarayan Temple
Kilkile Wale Pirbaba Mazar
Jwalpa Devi Temple (About 44 kilometers away from Lansdowne)
Bharav Gari Temple (15 Kilometers drive from Lansdowne followed by 2 kilometers of a trek)
Tarkesh Mahadev Temple (38 Kilometers from Lansdowne)
Church Library (20 minutes film about Lansdowne Army History)
Lovers Lane (Thandi Sadak)
Aggarwal Cineplex
Sightseeing in Lansdowne
There was no way that I was going to make a trip to all these places in a day so I kept my list short to just a few within Lansdowne. Hence began our day of sightseeing in Lansdowne.
Morning at Tip in Top
The first and on the top was Tip in Top that can also be a good point for both sunrise and sunset. This place is actually known by multiple names. Mostly it is called Tip in Top but other names include Tip n Top, Tip at Top, and Tiffin Top. It is located about 1.5 kilometers from the main Lansdowne chowk and is a vantage point from where all the mountain ranges can be seen.
Standing here, the entire valley is right in front of your eyes; presenting stunning views of Sunrise and Sunset. You can either drive here or just trek 2 kilometers to the top.
After finishing up my tea, I came back to the hotel and woke my cousin. Sun was still not up so we both hurried and rushed to the spot where I left my car parked. There was no way that we could have walked in time to make it for the sunrise so a really steep drive was the only way. All the haste finally paid off and we did manage to catch a really beautiful sunrise.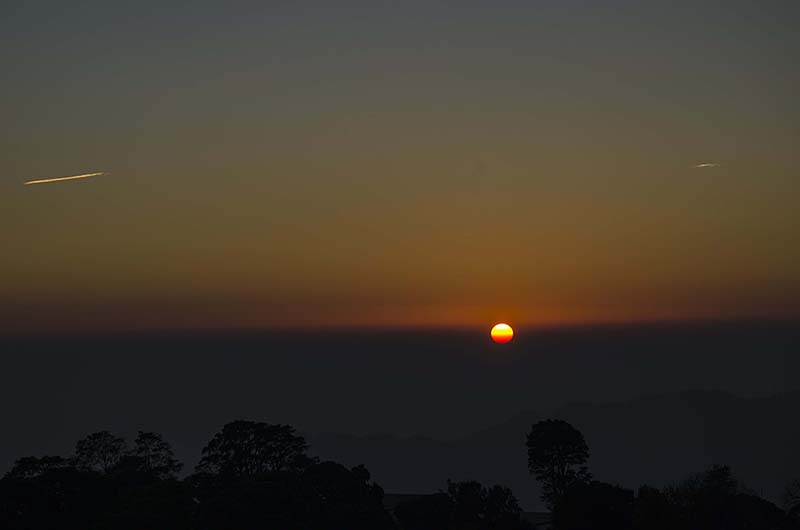 Let me add here that the drive to Tip in Top is actually very steep and winding and you will have to stop at a few places to ask for directions about which way to go. So if you don't think that your car can make the climb, you should walk all the way.
Hotel Mayur
We came back from Tip in Top and stopped at Hotel Mayur to have our breakfast. We were staying at Hotel Bhagwati Palace and since they do not serve food, eating out was the only option available.
While eating, I asked the owner of Hotel Mayur if they had any rooms available because I dreaded the thought of spending another night in our current hotel. To my pleasant surprise, he confirmed that they do have rooms available since a few of their guests checked out early in the morning.
Now Hotel Mayur is this large yellow building right at main Lansdowne chowk and a bit hard to miss. They run a restaurant on the ground floor and a hotel on the upper floors. On their roof, they have a roof garden kind of arrangement and three wooden huts set up.
It is actually one of the most favorite hotels in all of Lansdowne and one that I too will recommend. I have posted detailed information about it at Hotel Review – Hotel Mayur, Lansdowne
So on our request, the owner showed us to a room as well as the wooden hut on the roof. I will post a few pictures. This was the room which I will say was decent enough.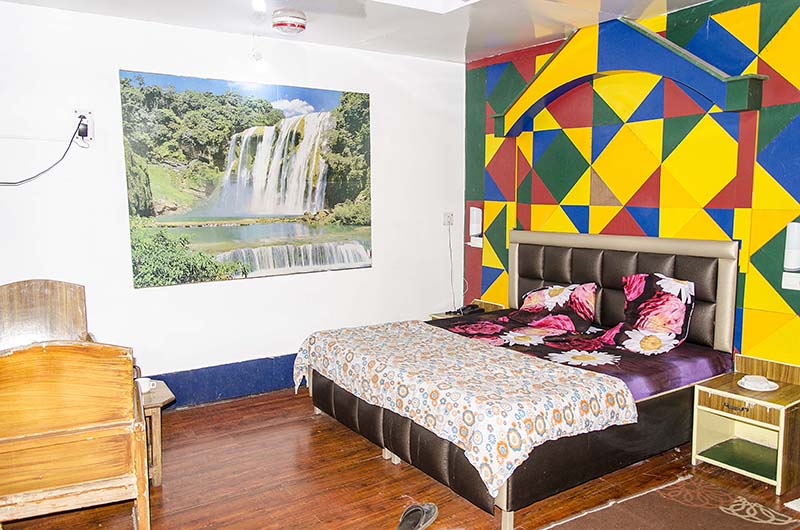 Next was the wooden cottage on the roof.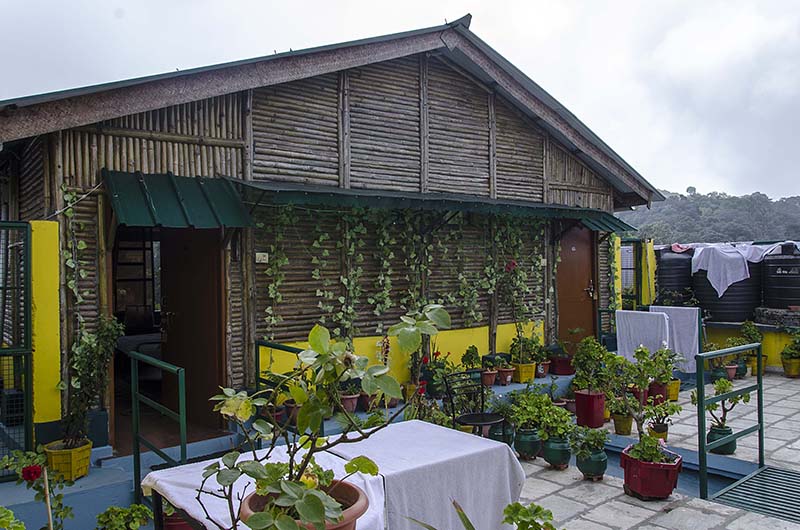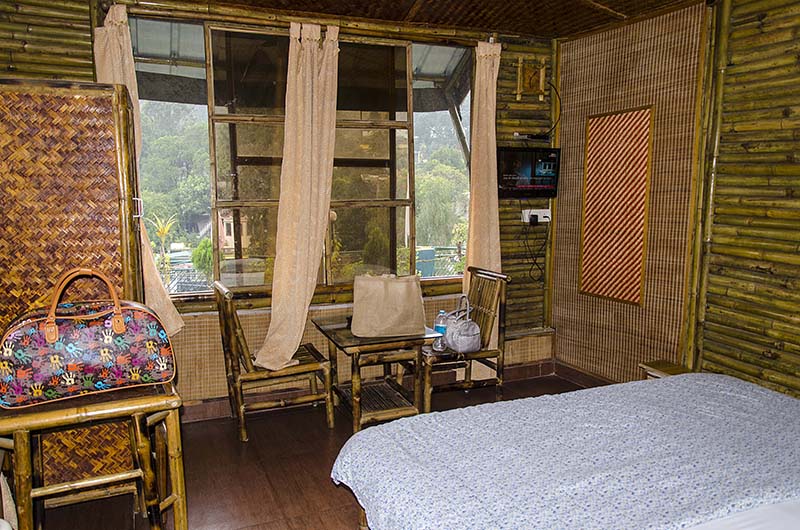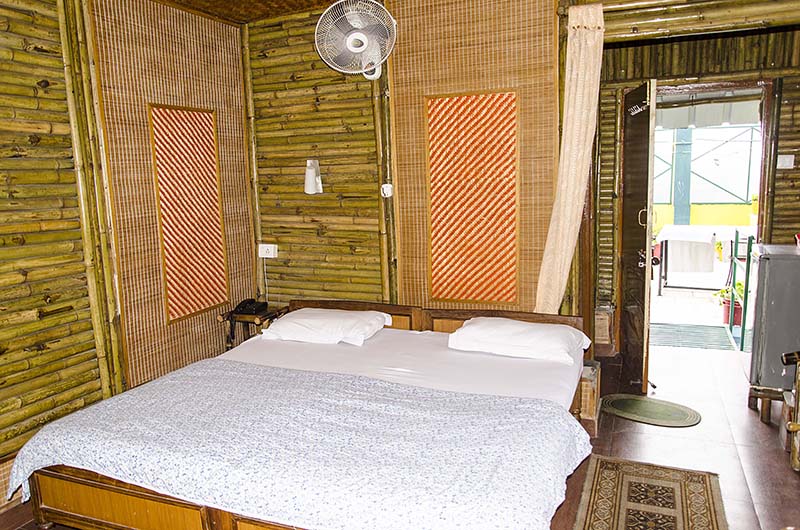 He asked us for Rs. 1800 for the room and Rs. 2200 for the hut on the roof. We almost immediately opted for the hut. We paid him the money, came back to the Hotel Bhagwati Palace, collected our stuff, checked out, and checked in to the Hotel Mayur for the day.
Bhulla Taal
Now we had the entire day to us for sightseeing in Lansdowne. First came Bhulla Taal. This man-made lake is by far the biggest attraction of Lansdowne; and not just for tourists but for the locals as well. It is quite a popular picnic spot and you will find plenty of families and kids around.
This lake was in fact created with the sole intention of promoting tourism in the area; and as far as I can tell, it has served its purpose. You can also go boating in the lake for as less as Rs. 30 to Rs. 50 per person. There are a lot of ducks around the lake which becomes a great attraction for children.
A beautiful garden with different varieties of flowers surrounds the lake. There is also a small park, a restaurant, and a small handicraft shop right next to the lake.
St. Mary's Church
Then we visited the churches of Lansdowne. The first one was the St. Mary's Church; a beautiful Catholic church built by Colonel A.H.B Hume of the Royal Engineers in 1895. The church is located on the way to Tip n Top and is known for its precise and magnificent structure. It stands tall in a really picturesque setting and is often called as hidden gem or jewel of Lansdowne.
St. John's Church
It is another Roman Catholic Church in Lansdowne. In fact, it is the only running one. It was built by the English in 1936 in a typical colonial architecture style. It is located at Mall Road, close to St. Mary's Church. Beautiful interiors and serene atmosphere definitely put this church among must-visit places in Lansdowne.
Right in front of the church, on the opposite side of the road, is a great view of the majestic Himalayan Peaks.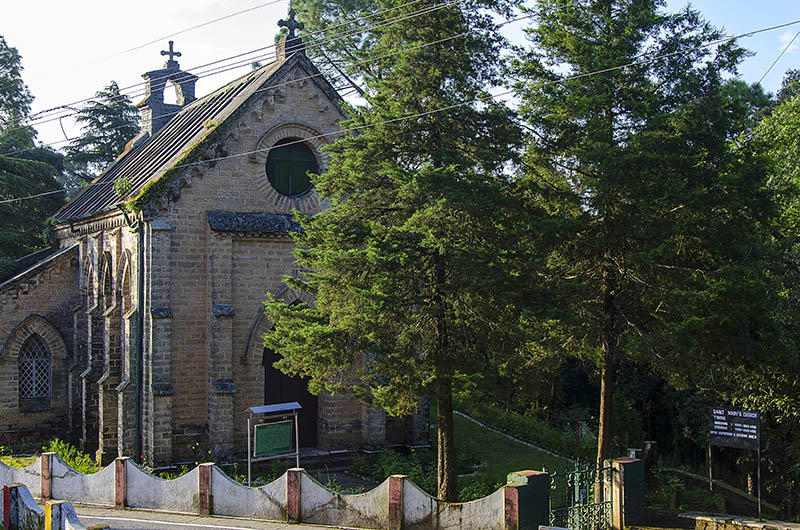 And then we visited the local market which was still packed with people from all over attending some sort of local festival. There truly were colors on display all around.
There was also a Puja in progress that we attended. I think it was of Lord Krishna but I could not really make it out entirely.
This concluded our day of sightseeing in Lansdowne. After this, we just came back to our hotel and relaxed for rest of the day. Soon the sun went down and it was dark all around. We just sat there on the roof watching the town go by and spend some time in peace.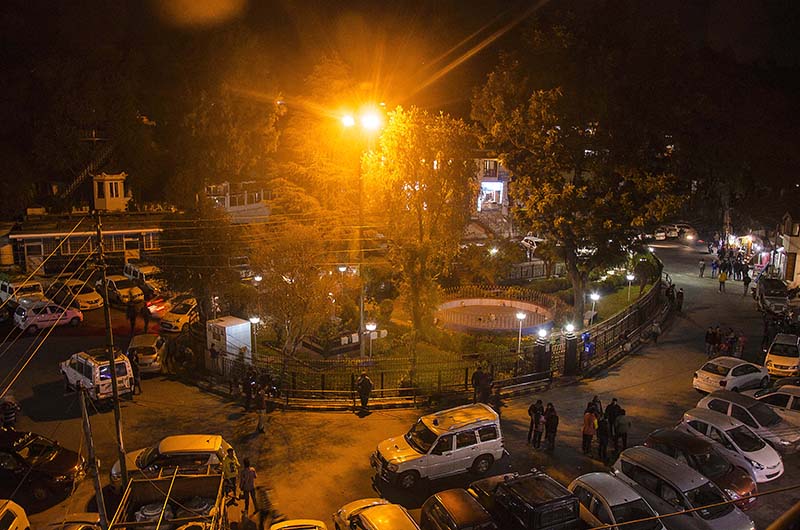 Journey Ahead: Lansdowne to Delhi – The Journey Home
Conclusion
We ordered our dinner to the hut itself and ate sitting on the roof. It really felt great, eating that delicious food under a sky lit with countless stars. And so our day of sightseeing in Lansdowne ended. Tomorrow was just the return journey home but I knew that I definitely was going to come back for more.
Please read Lansdowne to Delhi – The Return Journey Home to continue reading the last part of this travelogue. If you have any questions, please feel free to ask in the comments section below or at our Community Forum, and I will be glad to answer.