During one of my recent trips to Lansdowne, I stayed at this place called Hotel Bhagwati Palace Lansdowne, and below is a short review of how my stay here was. This is a very average hotel which in any other place I am sure would have been called a budget hotel because considering their amenities, they would have had to keep their prices too low for people to consider checking in.
Out here at Lansdowne though, they charge ridiculously high only because it gets a bit crowded over the weekends; and finding a hotel in Lansdowne without prior booking can become a bit of a challenge. You will be surprised actually that on weekends, even this hotel runs at full capacity.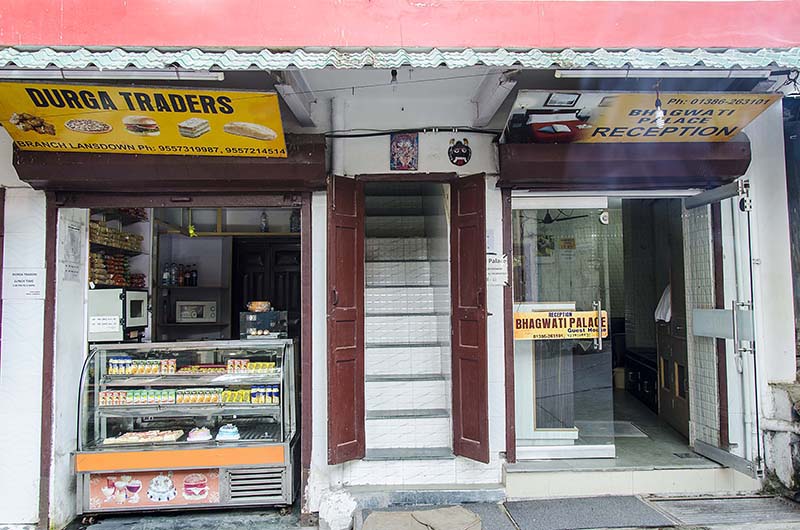 The picture above is the main building of the hotel. The door to the right is where the reception is and the narrow staircase in between is what takes you up to the rooms. They actually have a few rooms on the ground floor but just 3 or 4 I guess. The majority of the guests have to take that steep narrow staircase to go up the floors for stay.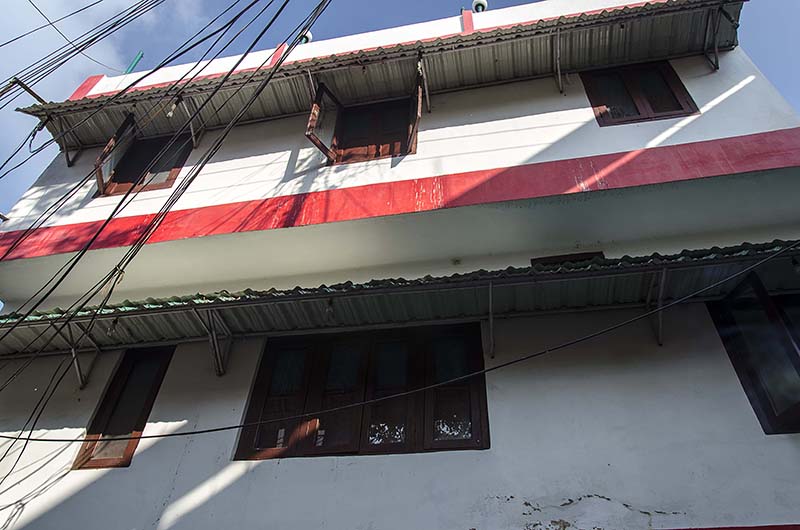 Hotel Bhagwati Palace Review
The only reason I stayed at this hotel is was because I could not find a place elsewhere after 3 hours of hotel hunting. The owner was generous enough to offer us his own room for a night in exchange for Rs. 2000 which was actually way too high. Below is a picture of the room we got. Yes, I paid Rs. 2000 for it but that was the only option I had that evening.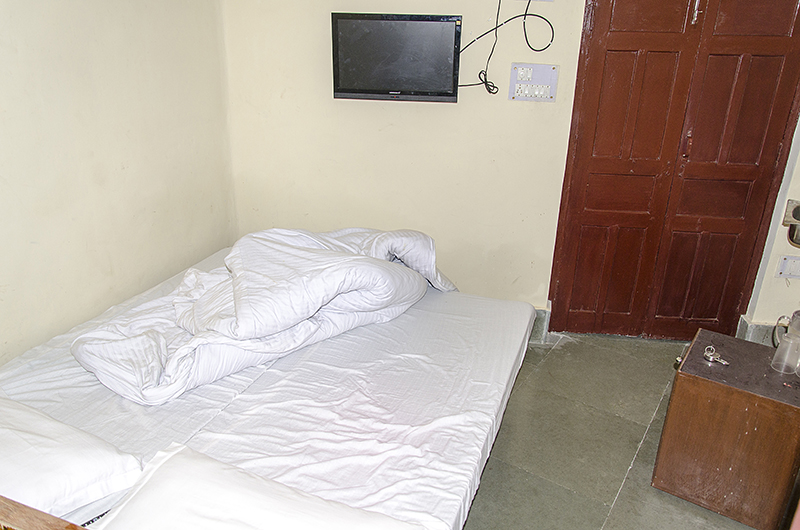 At any of the other towns, I would not have paid even Rs. 500 for this but at that time, I happily paid Rs. 2000. After coming back from the trip, I thought maybe it was kind of an opportunity that the owner took advantage of and overcharged me. But I gave them a call about a month later to book a room and it turned out that Rs. 2000 to Rs. 2500 was their standard price.
Also Read: Delhi to Lansdowne –  A Weekend Drive
So yes, as I said, the only reason why this hotel manages to overcharge is that there becomes a shortage of hotels on the weekends here. Lansdowne is merely 40 kilometers of a drive from Kotdwar and a total of 6 to 7 hours from Delhi.
The short distance makes it a perfect weekend getaway for people of nearby cities. If you arrived here without booking your stay in advance, there is a high chance that you may not find a place to stay at all; especially over the long weekend. This is the reason why every hotel here overcharges and takes advantage of the situation.
Rooms
This is a really very shabby looking hotel and the rooms are no better. These are very small and narrow rooms where you will be bumping into the bed and other furniture while walking around. Washrooms are equally small and no better either. The mattresses and blankets are too heavy and extremely uncomfortable. You will struggle hard to get a good night's sleep.
Final Verdict
The only good point this hotel has is that it is very close to the main chowk of Lansdowne, and that is pretty much it. While I truly appreciate the gentle gesture of the owner in lending us his room in our hour of need, the truth is that it is still a shabby looking hotel that I will not recommend to anyone.
Stay here only if you were unable to find any other place to crash for the night. I hope the review above was of help. If you have any other questions; please feel free to ask in the comments section below, or at our Community Forum; and I will be glad to answer.