Below is a brief writeup of my experience of cycling in Spiti Valley. It was the month of September 2016. After leading a multi-day strenuous hike, I had just arrived in Kaza, the main mountain town of the remote Spiti Valley in the Western Himalayas. All of a sudden, after a day's rest in Kaza, I decided to cycle from Kaza to Kibber, another extremely isolated hamlet perched high up at 14200 feet.
Without any proper planning and just the direction of my destination known, I decided to venture out on my own with both uncertainty and excitement in equal measure. In hindsight, it was perhaps one of the best unplanned decisions I had ever made, a decision that gave way to one of my most memorable adventures. Cycling in Spiti Valley is a tough thing to do but will leave you with memories that you will cherish for a long time.
Tip: For a complete travel guide on visiting Spiti, please read How to Plan a Trip to Spiti Valley.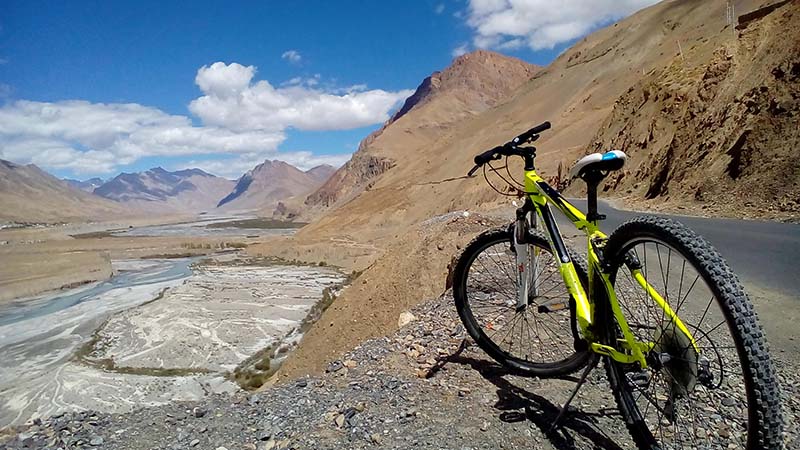 Kaza to Kibber
The remote villages of Kaza and Kibber are located very high up in the cold desert valley of Spiti in Himachal Pradesh. One of the least populated regions in the country, Kibber lies about 20 kilometers from Kaza. The most photographed spot in the entire valley, the insta-favorite Key (Ki/kee) Monastery is located on the way from Kaza to Kibber.
The roads are fairly smooth for such isolated and far-flung mountainous areas. At first glance, the total distance 40 kilometers from Kaza to Kibber and back may seem negligible from a cycling point of view, but it reaches a whole new level (quite literally) when the altitude factor is considered.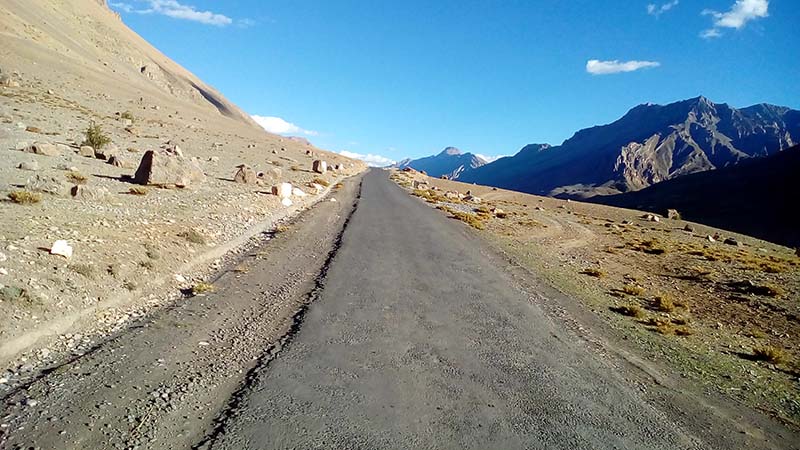 The absolute elevation and the relative difference in altitudes between the two villages posed a major challenge. Kaza is located at about 12,470 ft (3800 meters). Kibber is only 20 kilometers away but is at 14,200 ft feet (4270 meters). At such heights, everybody is susceptible to the risk of Altitude Sickness (or Acute Mountain Sickness) irrespective of their age, gender, experience or fitness levels.
Without acclimatization in such 'thin' air, any physical activity is dangerous. Luckily in my case, having trekked for 6 days and crossed the Bhaba pass (which lies at about 16,043 feet), the body was well adapted to the low-oxygen environment.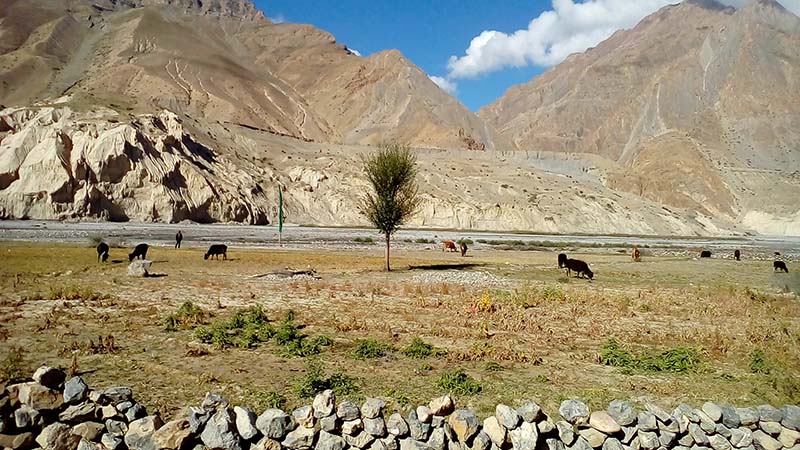 Cycling in Spiti Valley
Although I was well acclimatized, as a noob cyclist, especially with an MTB, an elevation gain of 1500 feet from Kaza to Kibber was the most formidable hurdle in front of me. I vividly remember having a very tough time pedaling on the dreaded uphill sections of the route. But coming to think of the arduous journey now, every bit of the exertion and the entire struggle endured, was certainly more than worth it.
Also Read: How to Plan a Trip to Kibber Village
It wasn't an early morning start from Kaza that day. After a hearty breakfast at a local café, I rented a sturdy-looking yellow MTB and soon I was on my way determined to seize the day. In a matter of minutes, I was already out of Kaza riding away. As I faced the wind, the veritable wonderland of Spiti slowly unfolded right in front of my eyes.
Instantly filled with awe, I marveled at the vast reddish-brown expanse under the blue sky stretching for miles with no end in view. It was love at first sight.
As I cycled my way through the mostly deserted road flanked by colossal canyons on one side and a deep drop of the massive riverbed on the other, I could sense a predilection for unplanned decisions growing inside me. Blissfully unaware of all my worries, I kept on pedaling with a new-found euphoria. All the stressful thoughts, if there were any, disappeared in a jiffy. The breathtaking vistas engulfed me at every stroke of the pedal.
Also Read: What Clothes to Pack for Spiti Valley
The Incline
Initially, it was a flat road but then soon came the uphill and downhill sections of the route. I had a blast riding on the downward sloping bits but the uphill ones were proving to be a big dampener to my growing love affair.
The inclined portions were a constant brutal reminder of the realities. It was a painful jab to stop dreaming and keep working the pedals. Few steep portions were too tiring at times and often I felt being stuck and going nowhere.
The whole trip was a pain in my backside, literally. The entire lower body was crying for help throughout the journey and the dry environment on a clear day didn't help either. In the blistering heat, my sweat glands were on fire.
The most difficult stretch of all came at the end just before the village of Kibber. It was a tortuous section full of many twists and turns with the biggest elevation gain so far.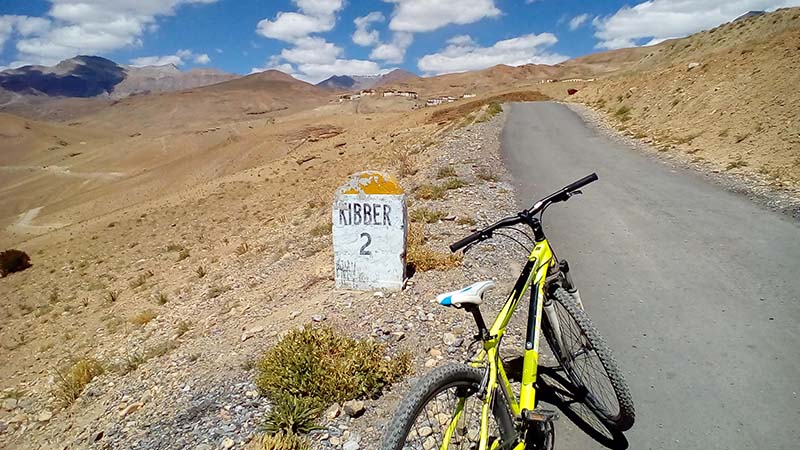 For the first time in the entire journey, I was compelled to reconsider my decisions and thoughts of giving up crossed my mind. I was completely exhausted and sapped out of all energy. My body was in pain and the heat made it even more unbearable. I was confused and disoriented.
I knew I was very close to the final destination and it did not make any sense to return now. Somehow gathering my composure, I continued pedaling with frequent breaks on the way. It was a pleasant distraction to come across informative street signs on Snow Leopards and Blue Sheep put up by the Kibber Wildlife sanctuary authorities.
Kibber Village
Yet the focus always shifted quickly to the hard slog. I pushed on at a snail's pace. Soon the beautiful village of Kibber came into sight. The little houses, distinctly white in color with black outlines and tiny windows, appeared to be welcoming me.
A sight for the sore eyes, it breathed a new lease of life in me. I continued riding and did not stop after that. With renewed vigor, I moved on, and after cycling for about half an hour, I was there. Finally, I had done it. I had managed to complete the most grueling part of the ride. A sweet smell of success was in the air.
After exploring the village and a quick lunch, it was now time to return; twenty kilometers more to go back to Kaza. The best part, however, was yet to come. The serpentine road near the village had given me the toughest of times while going up. When returning now going downhill, I was ready to enjoy the fruits of my labor.
Also Read: How to Prepare your Bike for Spiti Valley Trip
Downhill to Kaza
The twisty section was my dose of extreme adventure for the day. I made a dash down the road cutting through the wind at breakneck speed. Embracing the boost of adrenaline rushing inside my body, I carefully maneuvered through the numerous U-turns.
This thrilling part was the most perilous too. The winding roads did not have any barricades erected. They offered a dangerous free fall from the edge. One little misstep or wrong judgment on my part could be potentially fatal. With hands firmly on brakes and eyes fixed on the road, I was having the time of my life.
A sense of achievement coupled with a thrill of racing downhill with the refreshing wind hitting my sun-burnt face; oh it was nothing short of magical. Such feelings are difficult to convey in words and will always remain inexpressible.
The entire journey was a quick but intense getaway, within a span of about 7–8 hours. It was what I would call an 'Extreme Microadventure'. Cycling from Kaza to Kibber and back is perhaps not the most comfortable option to choose for day-trippers and it's certainly far from being a leisurely 'daycation'. Personally, it was quite a physically demanding and mentally taxing excursion, albeit a short one.
But more importantly, it was also a supremely rewarding experience with an awesome taste of adventure. Not only did it leave behind an indelible impression on me and tons of wonderful memories to cherish, but also it made me realize that unplanned decisions have the power to transform into magical experiences.
Tips for Cycling in Spiti Valley
If you want to give this ride a shot, here are a few things to keep in mind before you go cycling in Spiti Valley.
Acclimatization
I would recommend spending at least two-three active days in Kaza before undertaking such a strenuous physical activity. Take short hikes, explore Kaza and its surroundings, visit the cafes, the monastery, and the markets. Just be active. It will help you acclimatize to the higher altitudes of the region.
Renting a Bike
There are a lot of options in Kaza for renting bikes. In my case, I took one from The Himalayan Cafe, a very popular local cafe in the center of Kaza. They charged me rent of Rs. 500 per day.
It was a yellow Tremor MTB from Firefox. Please do not ride without a helmet. It is generally included in the rent. If you have never ridden a geared MTB, I would advise you to rent it the previous day and bike around Kaza just to get the hang of it.
Make sure to check the condition of tires, air pressure, brakes, gears, and seat adjustments. Talk to the people you're renting from, they will be able to provide good info and advice. You could also do some research on the internet about MTBs before renting.
Also Read: Motorcycle Water Crossing Technique & Tips
Getting Ready
Apply a good sunscreen, especially on the exposed surfaces to avoid sunburns. A regular tee of a moisture-wicking variety will do. Loose-fitting shorts are recommended for a hot sunny day, but make sure to keep a pair of long pants for when it gets cold quite fast when the sunsets.
Full-finger padded gloves may be available at the renting place: it's an important gear that MTB riders wear as they provide a good grip and also protection from crashes.
Wear a pair of comfortable and flat sports shoes/trainers. The rubbery sole will grip well at the pedal point. Finally, don't forget to put on your sun goggles to protect yourself from the sun's glare and any debris.
Hydration
Adequate water intake in such a dry environment will prevent any dehydration troubles and help deal with any AMS issues as well. Make sure to take along at least 2-3 L of water.
I recommend a hydration bag. As you approach the Key monastery, you will come across a few houses and a shop where you can replenish your water and food.
Things to Carry
Apart from water bottles/hydration bag, a few other important things that I always keep in my daypack are the following.
Sunscreen: A sunscreen lotion (with a good SPF) is a highly underrated item but a necessity when you're outside for continuously long hours under the sun.
Rain Jacket: Although Spiti is a cold dry region, I make sure I have a rain jacket with me every time I venture out in the outdoors anywhere
Food: Plenty of snacks for munching on the way – nuts, energy bars, and other carb-loaded food that provide a quick burst of energy. Pack a few ORS packets and don't forget to include a hand sanitizer
Headlamp/Flashlight: It's always wise to carry one in the wilderness
FAK: A good First Aid Kit for any unexpected incident is an absolute must.
Bandana/Buff: To prevent sunburn and as a protective cover from pollution.
Wide-brimmed Sun Hat: For times when you're not wearing a helmet, a hat is essential in exposed areas in the outdoors.
Conclusion
I hope the information above on cycling in Spiti Valley was of help. If you have any questions or need any other details, please feel free to ask in the comments section below, or at our Community Forum, and I will be glad to answer.