In all my years of camping, one thing that I have come to realize that it is not just the tents that make up for the experience. And I am not talking about just Chandratal Camping but camping in general. I have stayed at numerous campsites at different places, and have on several occasions pitched my own tent as well. What I have learned so far is that camping indeed can be a magical experience. But several things will have to come together to turn that one evening into a long-lasting and pleasant memory.
Tents I agree will matter because, in the end, you do need a roof over your head to keep you warm and safe for the night. But that is pretty much all there is to the tents. They alone will never make your camping memorable.
Also Read: How to Plan a Trip to Spiti Valley – Complete Travel Guide
So what is it that matters then? Several things actually but most of all, it is the location, company of the people and what you did that evening that you will remember.
Camping is often confused as sleeping in a tent in a jungle, or at a remote place; but that is not the truth; not even close actually. Camping means that you are spending an evening out there somewhere at a very scenic place; with people that you are fond of; in an amazing company; sitting around in a group; chit-chatting, eating, drinking and making merry; laughing out loud and then you finally retire and go sleep in your tent.
However, it is not sleeping in the tent that you will remember; it is what you did before that that will last long in your memory.
Disclaimer
Please note that I wrote this article over 5 years ago. Details I am providing below may have changed in recent years. Last year a few people came back to me with very negative feedback on Jamaica's tents so please do not just go by my word for it. I am not sure if he has lost his touch recently but please reach there first, inspect everything and then decide whether or not to stay.
Chandratal Camping
Of all the places that I have camped at, Chandratal by far is my favorite. And yes, I am actually comparing it to all other campsites in Ladakh, Spiti, or anywhere else in the hills for that matter. The blue of the water, green of the grass, brown of the surrounding hills, white of the snow, and then the blue of a majestic sky make it a perfect place for camping.
It does not really matter whether you stayed at a campsite or camped on your own but the time you spend here will remain with you for years to come. A trip to Spiti valley is always incomplete unless you have visited Chandratal and spent an evening there. It is in my opinion among the primary attractions of Spiti valley.
Camping at the shores of Chandratal is forbidden by the law; which means that there cannot be a campsite within three kilometers of the lake. And yes, it also prohibits self-camping at Chandratal. If you want to pitch your own tent, you will have to do so 3 kilometers away. The motorable road that goes from Batal to Chandratal also ends about 1.5 kilometers before the lake.
Also Read: Clothes for Spiti – What to Pack?
How to reach Chandratal Lake?
So here is how you reach Chandratal. If you are coming from Manali, then you will first have to reach Batal and then climb up towards Kunzum Pass for about 2 kilometers till you notice a narrow road that goes towards Chandratal lake. There is a board there that marks this narrow path which is barely wide enough for one car. If you were coming from Kaza, then you will have to get to this road after crossing the Kunzum Pass top.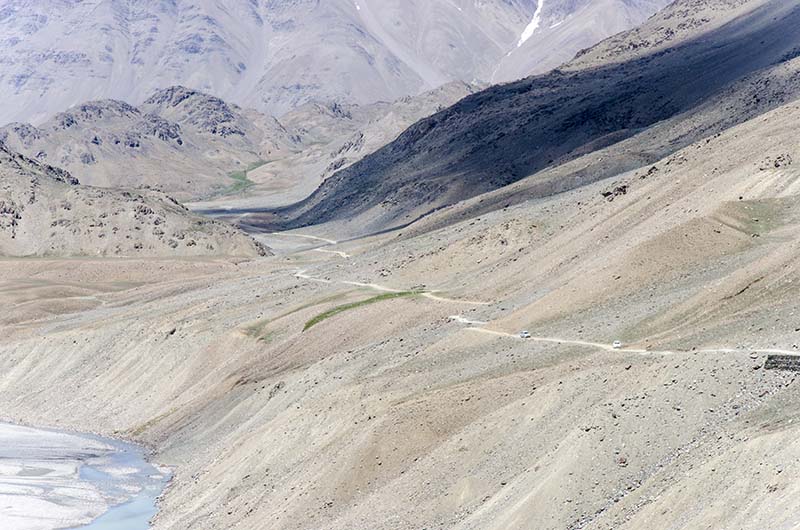 This road is about 14 kilometers in length. It is a narrow dirt track, is always in a bad condition and also has several water crossings on it. If you were driving a car on it then at several spots, your heart will jump to your mouth.
About three kilometers before the lake, you will come across a ground like area where all the campsites are. After this spot, the road runs for another 1.5 kilometers and ends at a parking-like area. You will leave your car or motorcycle here and then walk the final 1.5 kilometers to the lake.
Best Camp Site at Chandratal
There are about 10 or 12 different campsites at Chandratal. There are all pretty much located in the same area but of all these, I highly recommend staying at Jamaica's camps.
In terms of the quality of the tents, they are all pretty much the same; they will charge you about the same amount of money, but there are a few other things that will make staying with Jamaica a better experience which I will list down below.
If you were camping on your own and brought your own tents, even then you can camp with Jamaica details on which are provided further in the article.
Also Read: Why is it better to go to Spiti via Shimla?
Tents
Since we are talking about it, I will first start with tents only. All of Jamaica's tents are of high quality, capable of withstanding high cold winds, and will definitely keep you warm at nights. There will not be any air finding way into your tent bothering you at night. Trust me, at a place like Chandratal, this is of utmost importance.
Even in months like July, the temperature here is bound to fall close to zero degrees at night. The high-speed winds will make it difficult for you to stand out in the open once the sun goes down. Jamaica's tents are very comfortable in that matter. They are all air-proof, of good quality, spacious, and very warm.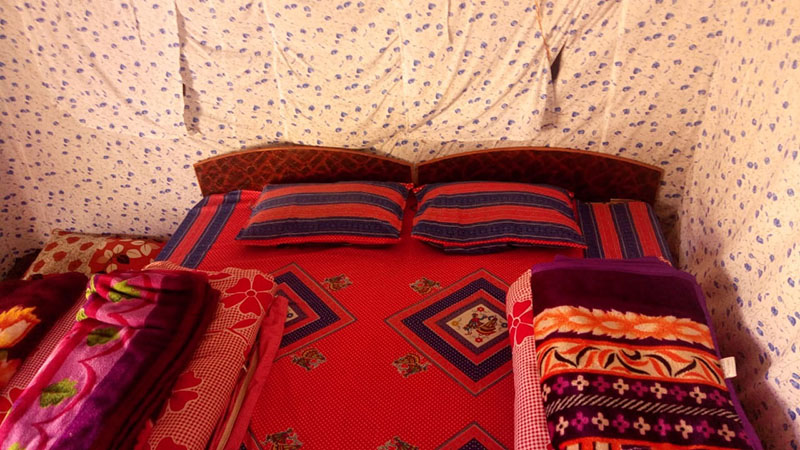 Location
As you drive towards Chandratal, all the campsites will be clustered together in one spot on your left. This is where majority of Chandratal camping happens. Jamaica's camps however are towards your right, alone at a slightly higher spot overlooking all other camps. It is right there near the road and hard to miss.
To keep everything in order, there is always a police check post and camp at Chandratal in tourist season which also is located at the same spot along with Jamaica. So if you were traveling with girls in your group, were concerned about safety, then Jamaica's camps will be perfect for you. Your tents will be right there next to the police camp.
Why do I recommend Jamaica?
I have posted a few pictures of the campsite and have detailed other aspects like washrooms further in the article. But let me first mention the greatest reason why I recommend staying with Jamaica. He is a great host who knows how to entertain his guests and take good care of them.
I have been blogging about Spiti Circuit for quite a while and have heard of instances when people staying at other campsites struggled with dinner because their host was drunk that evening.
Other campsites will take your money, allot you a tent and then will serve food but that will be all. Jamaica on the other hand plays his role of the host perfectly. He will walk around with you himself to show you around; he will sit down with you, tell you stories of the region, and serve dinner himself.
There is no bonfire allowed at Chandratal anymore but Jamaica has created a perfect substitute. He runs a central dining hall-like tent where there is an angeethi inside. Go sit there with everyone, talk, laugh, listen to other guests, and have dinner. It is a great experience in itself which will make your evening a memorable one.
There will be no case of other groups making too much noise, creating a nuisance, etc which can actually happen at other campsites. At Jamaica's it will be a very calm and peaceful evening without any kind of hassle.
Price
Whatever his price is, give my reference and you will get an immediate discount. You can contact Jamaica at 9418200183 to book your stay. There is no network at Chandratal so it is possible that you may not be able to reach him. In that case, drop him a message on Whatsapp and he will call you back.
Also Read: When should you reach Spiti via Manali?
Food
Mark my word for this, you will not be disappointed in terms of food. Whatever he serves will be delicious. Of course, considering the remoteness of the area, it will be basic food no matter which camp you stayed at but with Jamaica, he knows how to serve good food.
Cleanliness
You will not have anything to complain about if you stayed with Jamaica. All his camps are very well maintained and perfectly clean. The beds and blankets provided will be very clean without any kind of smell.
Also Read: How to Plan a Trip to Chandratal?
Washrooms
There are two options here. You can either opt for an attached washroom tent in which case you will have a washroom of your own. Or you can pay a little less, stay at one of the regular tents, and use a common washroom. Whatever the case is, it will be properly cleaned and very well maintained washrooms and you will not have any complaints in terms of hygiene.
Hot Water
There, of course, cannot be any running hot water here but it will be provided in buckets whenever you need it. No matter how many times you ask, he will arrange hot water for you without any problem at all.
Also Read: List of Tourist Attractions in Spiti Valley
Self-Camping at Chandratal
Let me first mention that there is wildlife around here at the lake. When I say wildlife, I mean wolves and possibly snow leopards as well. Why am I saying this? Because I am discouraging you from camping in the middle of nowhere.
You will of course have to camp away from the lake with the rest of the campsites but do not do so at a spot of your own. Apart from the wildlife, the other campsites owners too may bother you. There are the gaddi shepherds in this area who may also claim the spot to be theirs and demand money from you.
Best would be to talk to any of the campsite owners and ask them to give you a spot. The usual charge here is I believe Rs. 300 to Rs. 500. In return for this money, the campsite owner will give you a place to pitch your tent and will also let you use their washrooms. Another benefit is that you can also ask them to serve you dinner and save yourself the hassle of cooking on your own.
Camping at Chandratal – Conclusion
I have stayed with Jamaica and have received feedback from other people as well. Everyone came back with great words about him so yes, in the end, I will highly recommend staying with Jamaica at Chandratal. Drop him a message at 9418200183 to book your stay. I hope the information above on Chandratal Camping was of help. If you need any further details or have any further questions, please feel free to ask in the comments section below; or at our Community Forum; and I will be glad to answer.