For anyone visiting Ladakh or Lahaul & Spiti, crossing Rohtang Pass goes without saying but there are certain people who visit Manali each year to just to travel to this high altitude pass. This pass is a legend in itself and the 50 kms road from Manali to Rohtang is a beautiful drive passing through awe inspiring vistas. In my opinion, it probably wouldn't be wrong to name Rohtang as the "Most popular high altitude pass in India". Below are a few tips for travelling to Rohtang Pass that can help you plan your trip better.
The word Rohtang literally means "a pile of corpses". How it earned a name so notorious is a mystery in itself but the best guess would be that a lot of people must have died trying to cross in old times. It is located in Pir Panjal range and the road over the pass connects the Kullu Valley with Lahaul and Spiti Valleys. The top of the mountain is at an approximate distance of 50 kms from Manali and the ascent is quite steep. The pass is an ancient trade route and there are speculations that this is probably is one of the oldest and most frequented passes of the world.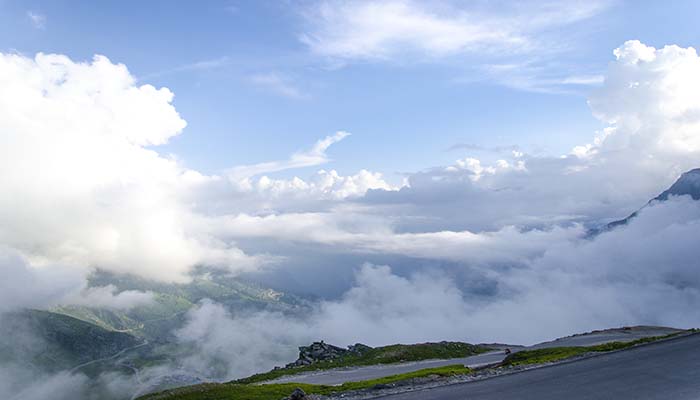 Best time to visit: The pass is open from May till November. It is not particularly difficult to cross Rohtang however it does have a well-deserved reputation for being dangerous because of narrow and curvy roads, unpredictable landslide, slush due to melting snow, sudden snowstorms and blizzards. The best time to travel to Rohtang would probably be in June, early July or September. May is not really a good month because the pass had just been declared open and the roads aren't in the best shape. Late July and August is the monsoon season and there is always a risk of landslides and the pass can close at any time. It starts to snow in late October which again creates the possibility of the pass closing down temporarily. So your best and safest bet is to either travel in June, early July, September or early October. September is probably the best month of all as it had just rained in August and the entire valley blossoms under a thick sheet of green.
Places of Interest: The entire 50 kms stretch from Manali to Leh in my opinion is a place of interest. The primary attraction of the valley of course is its natural beauty. Lush green hills, colorful flowers, mesmerizing waterfall and the list is endless. There are several sites in between where you can enjoy paragliding. At the top, there are several places where you can skii. Another activity that you can indulge in is scooters and ATV bikes rides which will cost you around Rs. 2500 for one ride. Paragliding is anywhere between Rs. 1500 to Rs. 3500 depending on the distance and height.
Things to consider: Here are a few things that you must consider before going towards Rohtang. The pass is closed on Tuesday for tourists so you need to plan your journey accordingly. In my opinion, avoid going on the day after as well because there is always a crazy traffic on Wednesdays. Always check on the weather before heading out. If it is raining heavily, best to cancel your plan for the next and stay back at the hotel in Manali. If you have health concerns like Asthama or breathing problem, do not continue all the way to the top. Go as far as your health allows and return. Same thing applies if you start to suffer from acute mountain sickness.
Start from Manali as early as you can primarily for two reasons. One is that you get to view the sunrise while on the way to Rohtang and it is a sight that you must not miss. Second reason is that if you left early, it gives you ample time to enjoy the journey and be back on time. If there is a landslide or glacier slide, then too you will have enough time to be back in Manali if you left early in the morning. If it interests you, you can also enjoy paragliding which you won't be able to if you started late from Manali.
If you plan on skiing, then hire an instructor from Manali itself. The skiing equipment and instructors available on the way and at the top will charge you much more than what you will pay in Manali. Be prepared with good quality boots for skiing and dress heavily. If you need to rent the snow dresses and boots available on the way, then it is best to purchase the socks and caps from Manali. Trust me; the rent of these two items is more than the actual cost. It is also better to carry snacks and eatables from Manali itself as the price of almost everything at the top is higher than actual.
Private vehicles are no longer allowed towards Rohtang unless you intend to cross the pass and travel towards either Ladakh or Lahaul and Spiti. You will have to hire a taxi in Manali for your journey to Rohtang and it will cost you anywhere between Rs. 1800 to Rs. 3000, depending on which car you chose.
There were plans for constructing a ropeway from Rohtang top to Palchan but that was later scrapped. The idea behind the ropeway was to reduce the daily amount of traffic but there were heavy protests again the idea by local tourist community claiming that it would cause unemployment for hundreds of taxi drivers.
If you are planning to visit the pass in winter, Gulaba is a preferred spot to enjoy the snow. The road till Gulaba remains open throughout the year and you should not have trouble reaching there. A good spot to picnic with the family is the Rahala Falls located at about 16 kms from Manali towards Rohtang.