Just finished reading another Ladakh Travelogue. Read about someone else's Leh Ladakh Trip by Car. Read about how someone else visited this little piece of heaven on earth and how they made memories enough to last a lifetime. Saw the pictures they clicked and read the log of their trip.
It was great!
It was Inspirational!
We were so inspired that it was decided. We too were going to Ladakh to experience the journey.
Soon the discussions began in August of 2017
Discussions continued all the way till September and October of 2017
But then we realized that the winter was already upon us and visiting Ladakh by road was no longer a possibility. So we had to shift the plan to early June of 2018. The plan was shifted to another month and to another year but the 'Irada' remained 'mazboot'. The passion still stirred in our hearts as days, weeks, and then months passed us by.
Also Read: How to Plan a Trip to Leh Ladakh –  A Complete Travel Guide
Leh Ladakh Trip by Car
For almost 6 months there were no discussions. We all remained firm on our resolution but no one really talked about it. Finally, as March ended, the travel bug started to bite us again.
News of the opening of different passes was trickling in slowly and we were at it again. We were again reading through the new travelogues posted and watching Travel Video logs on YouTube.
As this was our first trip to the Ladakh region, it was decided to take the safest time to travel with almost zero water crossings. After all the information we gathered it was decided that September 2nd week would be a safer bet. A safe enough time to live our dream; the dream of traveling to Leh Ladakh.
The Three Musketeers who finally completed this trip were my cousin Sunit, my brother –in – Law Rakesh G, and myself of course.
And the machine? It was my Cutie Pie.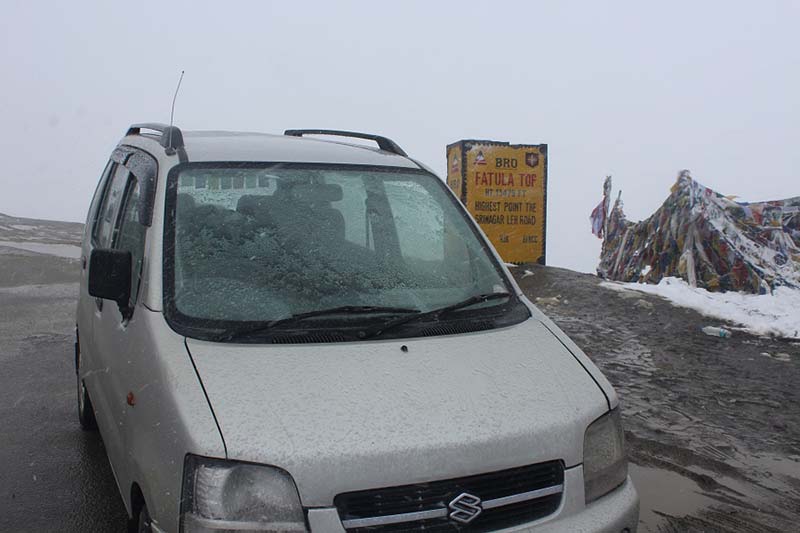 So the final preparations began but before that, we had to take permission from our family. Their reactions were mostly around the following two questions.
Why only Leh?
It is risky, especially in an old car.
It took some time to convince everyone to let me follow my dream and do the circuit. Well, my prayers were answered soon with a YES from everyone.
Also Read: What Clothes to Pack for Ladakh Trip
Car Preparation for Leh Trip
So with the permission on our side including that of my Sweet Wife & Kids & Parents, it was time to start preparing for the journey of a lifetime. Ladakh is not a place where you can just pack your bags and go. A trip here has to be carefully planned and meticulously prepared for.
And hence began a long series of preparations; especially of a 13-year-old car with a ground clearance of just 165mm. It was my WagonR that I fondly refer to as Cutie Pie.
I know it may sound a little weird to you but that is how my attachment with this little wonder of a car is. I did have an option to complete the journey in a Duster instead, but Cutie Pie was in full mood to fight it out.
"What's new in doing it on Duster? Everyone does it. Do the trip with 13 years old Wagon R. That is the real challenge" Sunit said.
Although my Cutie Pie has never let me down but till now, she needed to get the medical certificate to prove that she is fit and fine to take a trip to the land of high passes.
So she was taken to the hospital to get a full-body check-up done. Please click on the link below to continue reading this travelogue and to know how a 13-year-old Car was prepared to handle Ladakh.
Ladakh by Car
For now, let us start with some teaser pictures. After you have gone through the pictures, please click on the link above to take you to the next part of this trip log.
 Conclusion
Please click the link above to continue reading the next part of this travelogue. If you have any questions about making a Leh Ladakh Trip by Car, please feel free to ask in the comments section below or at our Community Forum, and I will be happy to answer.